Wandering outside the hotel on Tuesday morning I was greeted by the sight of a seagull eating a pigeon. Weirdly fascinating but at the same time slightly disturbing. I did get photos, but in case you're squeamish I won't post them here! I was getting some stares taking photos of it, but then a man joined in to take a video, so I didn't feel so bad!
Soon Neil and I were off to get some breakfast. We wandered to La Rambla and down to the Gothic Quarter, as Neil had visited a good spot for breakfast before. Soon we'd arrived at Milk.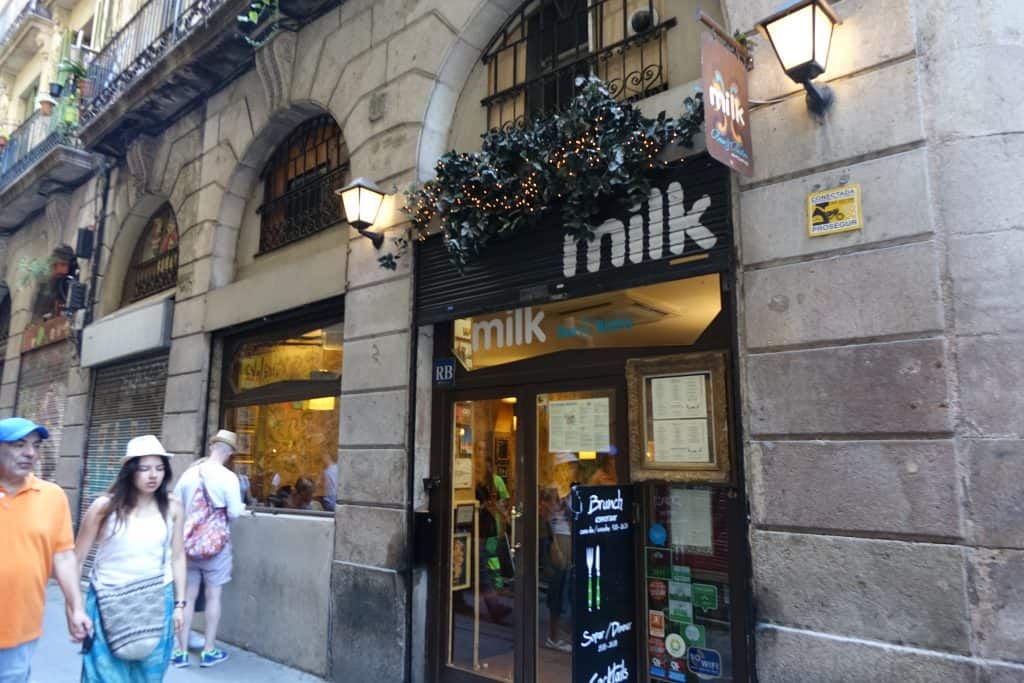 We were lucky to get one of the last tables, and after perusing the menu, I settled on eggs benedict and a steaming mug of americano – I was desperate to get some coffee in to me for some reason!
The Spanish know how to do good breakfasts! It was perfect.
We didn't really have a plan today, apart from an appointment later in the day, so decided to wander down to the beach.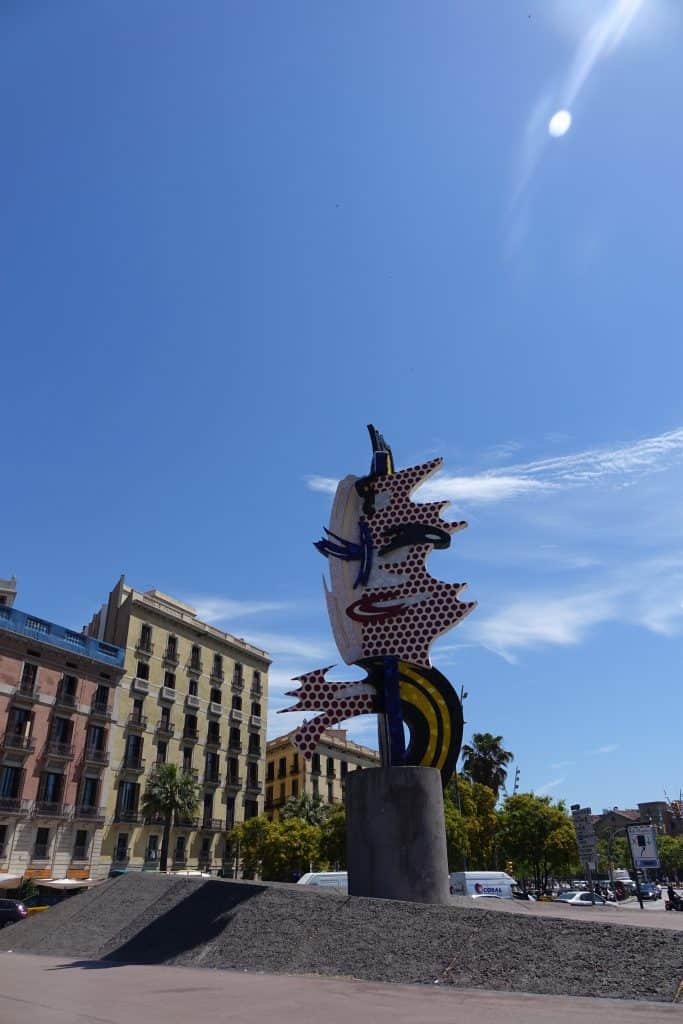 Almost every building in Barcelona's beautiful – just really neat and old looking, and there's loads of public art all around. I really love how there's parks dotted all over the place and big squares too – which are never mobbed like they are in London.
The sun was once more shining as we passed men selling perhaps not 100% genuine watches, football shirts and sunglasses. Then we headed along a promenade beside the beach.
It doesn't look like it in that picture, but the beach was packed – I couldn't understand why everyone wasn't at work! Maybe they were just on a day off or chilling. There were also several people in their birthday suits strolling around on the sand.
Eventually Neil decided we were going the wrong way to get the Frappuccino he wanted, so we walked all the way back along the promenade, back across the river, and to the nearest Starbucks showing on Google Maps. It was in a small shopping centre which seemed a bit in the middle of nowhere.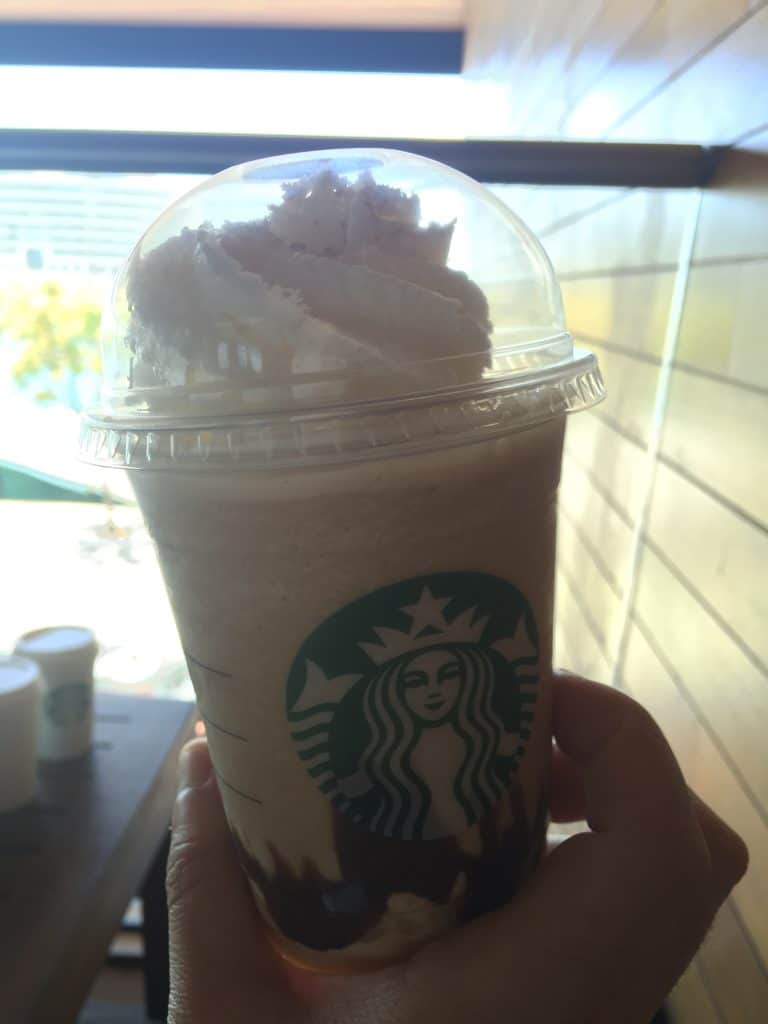 Sometimes they do just hit the spot! We sat there for a while talking about the upcoming EU referendum (still furious about the outcome of that – and a bit worried!), then I sat and wrote all my postcards. We walked back in to town – stopping off to take in our surroundings as we went.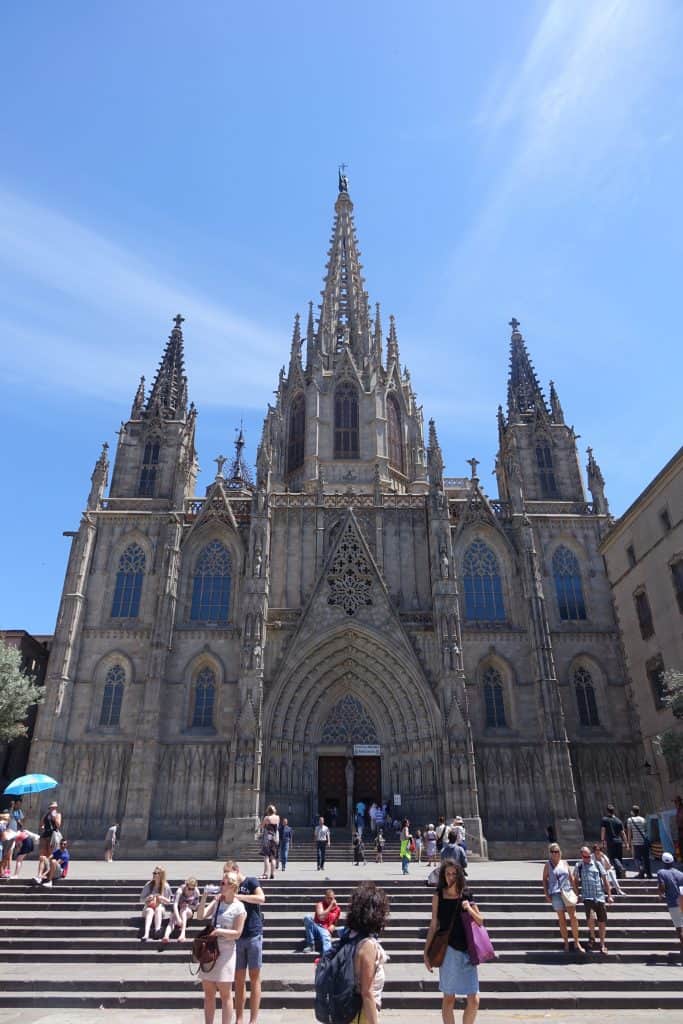 Wandering back up to Plaça Catalunya, I waited for what seemed like an eternity for the person in front of me to be served in the Post Office before posting my cards. Then we decided to head back to our hotel to chill out for a bit before heading to our 5.30 appointment. We hadn't had lunch, so I grabbed a quick frankfurter empanada from Carrefour to wolf down.
We were both staying at Barcelo Raval, which is a pretty modern building in El Raval. I thought it was pretty decent to be honest.
The interiors were really modern, and my room was really well designed – compact but really with enough space for everything. The reception area gives you a feel for the place…
It's really pretty central too. Anyway, soon it was 5.15, and we headed to a nearby supermarket to buy some booze (beer for me, Spanish vino for Neil) before we caught a taxi to… a Paella cooking class!
I'd found it online, and Neil managed to get a last minute space after he decided to come to Barcelona. So soon we were ringing Marta's doorbell in a smart building in Example.
After a very European kiss on each cheek from our host, we were sitting down in Marta's apartment with around twelve other people on the class. She handed out the recipe after everyone introduced themselves, and then got all the ingredients for the paella out on the table, chatting about them and giving tips as she went.
Soon I was dicing green pepper, as others tackled the cuttlefish, mussels, and all the other ingredients, until everything was prepped and ready.
Can you see how well I diced that green pepper? 😉 Full marks from Marta for that for the soffritto!
Then we were out on the balcony of the apartment while Marta started cooking… the view was pretty good! Catalonian flags hung from the balcony of the building opposite.
I offered to help as one of the people handing ingredients over to Marta as she cooked – that also meant washing up every dish that had contained the ingredients 🙁 I got a bit distracted by chatting to an American student as well, so didn't get to pay full attention to what was going on with the food!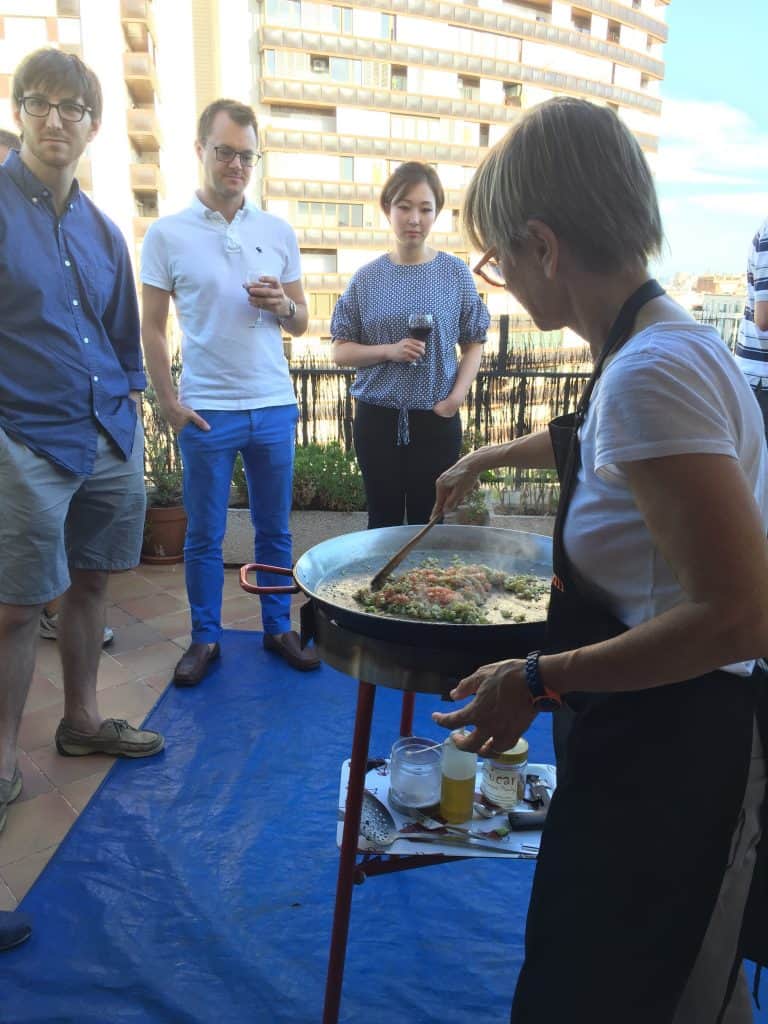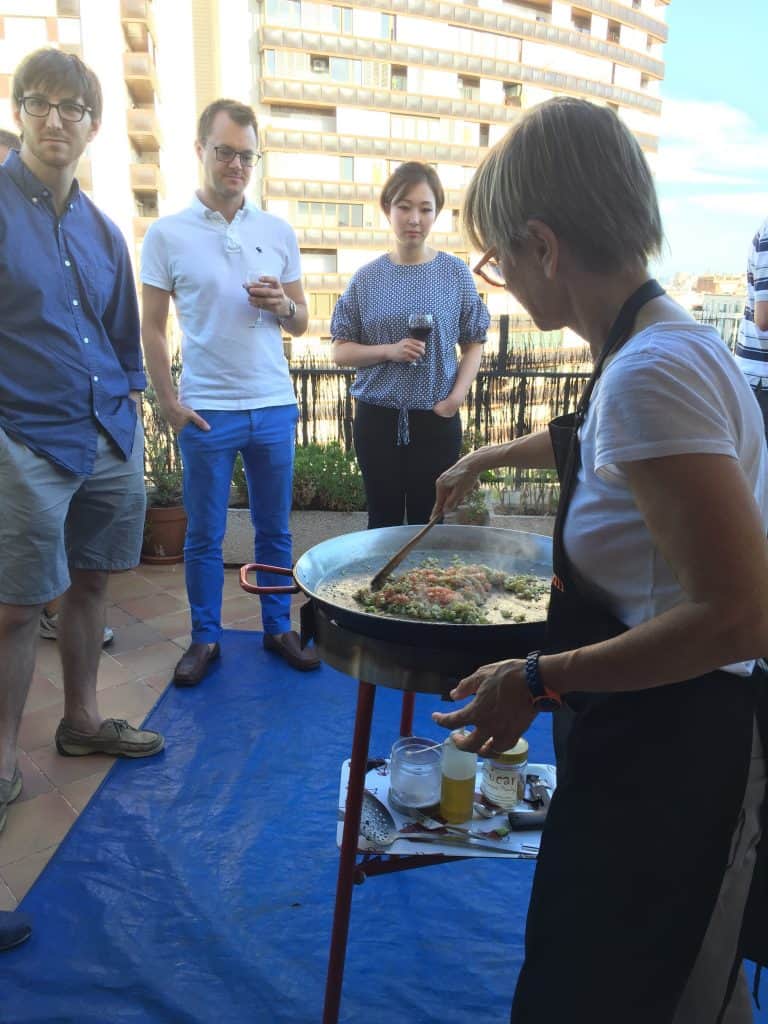 Pretty quickly the paella was coming together, and we set a big table to sit down and eat.
Here's the finished dish – impressive, eh?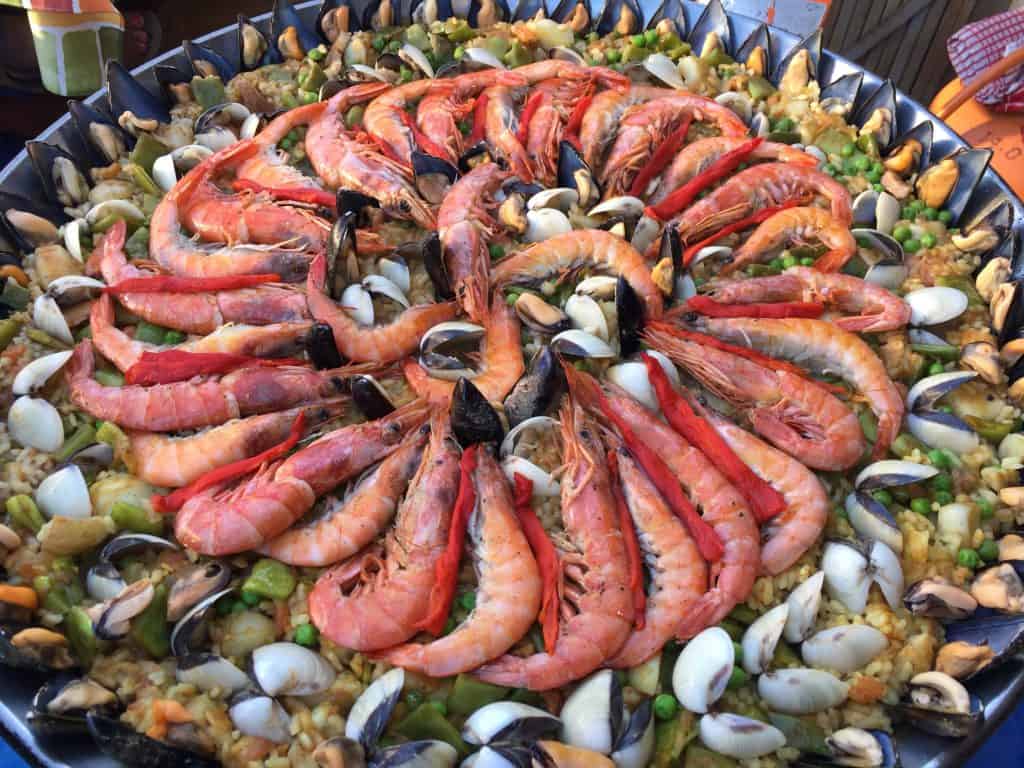 It was really tasty, and I think pretty possible to re-create at home in the UK – the main ingredients were langoustine, prawn, chicken, cuttlefish, clams and mussels.
Before I knew it I was back at the sink helping the American student wash up all the dishes – I did think it was a bit rude that some people just sat on their ass not doing anything to help!
It was hard to believe (and the drink possibly helped here) but we'd been in Marta's apartment for three hours, and it felt more like twenty minutes! I'd definitely recommend the class if you're in Barcelona. Marta was really lovely and funny, and interesting to chat to over dinner. You can message her about her class on Facebook here – it costs €39 per person.
After the class was finished, obviously we wanted more booze. We grabbed a metro to La Ramblas with two other people from the class, and headed to Plaça Reial, which I'd mentioned looked like Cuba the other day.
There was a really nice atmosphere – it was full of families having dinner and kids running about. We went inside (no seats available outside) a bar called Ocańa.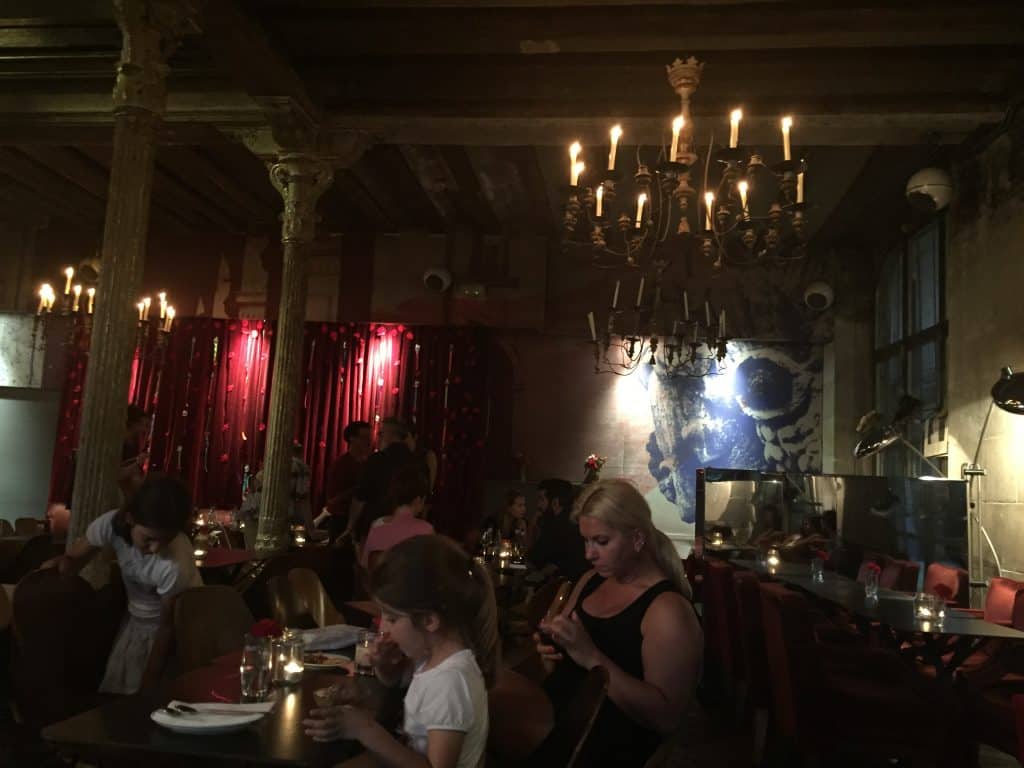 Not a great photo that sorry, remember I had been drinking 😉
We stayed for I think three drinks? And had a good chat with our paella classmates, and a fiancé of one of them that joined us. Pretty soon we were adding each other on Facebook.
Venturing out into the square I ended up spending five euros on toys for my nephew and niece (last of the big spenders, hey!) which I'd seen kids all over the place playing with. They're kind of bits of plastic with a light on them which you shoot up into the air with an elastic band – then they fall back down to earth. I'm not doing a good job of describing that.
Back inside though I realised I had no idea how to use them, so here's another video of the guy trying to explain it to me, you'll see what they do here!
I could have easily stayed out for another four, five or ten drinks, but I think Neil and I both had our sensible hats on and wanted to get out for breakfast in the morning for our last day, so we said our goodbyes.
At this point I had a dilemma. I wasn't that hungry, but I was struggling with the thought of leaving Barcelona without trying the Grand Big Mac Chicken. Neil and I to'd and fro'd for twenty seconds over it, but I decided to leave it. Will I ever get to taste it?!!! Maybe not!
We then thought about going for one more drink at the rooftop bar – but decided against that and headed to bed. I must be getting sensible! 🙁