I had great plans to be up at 7am on Sunday morning – it was the only full day left that I had in Ho Chi Minh, and there were loads of places I wanted to visit. Several of them opened very early in the morning so I thought getting up early was the way to squeeze them all in.
Obviously I slept in – still exhausted from the long haul flight and walking around the day previously, I must have needed my sleep! I eventually managed to haul myself out of bed at about 9am. There went my amazing plan!
The War Remnants Museum
First on my list of sites was the War Remnants Museum. It was a short walk from my hotel, and we'd briefly stopped outside it the day before on my walking tour.
I knew very little about the Vietnam war, except that it was deeply unpleasant – although of course all wars are – and that the US had lost. That pretty much summed up my knowledge of it, so I was looking forward to learning a bit more about the events that shaped the country today.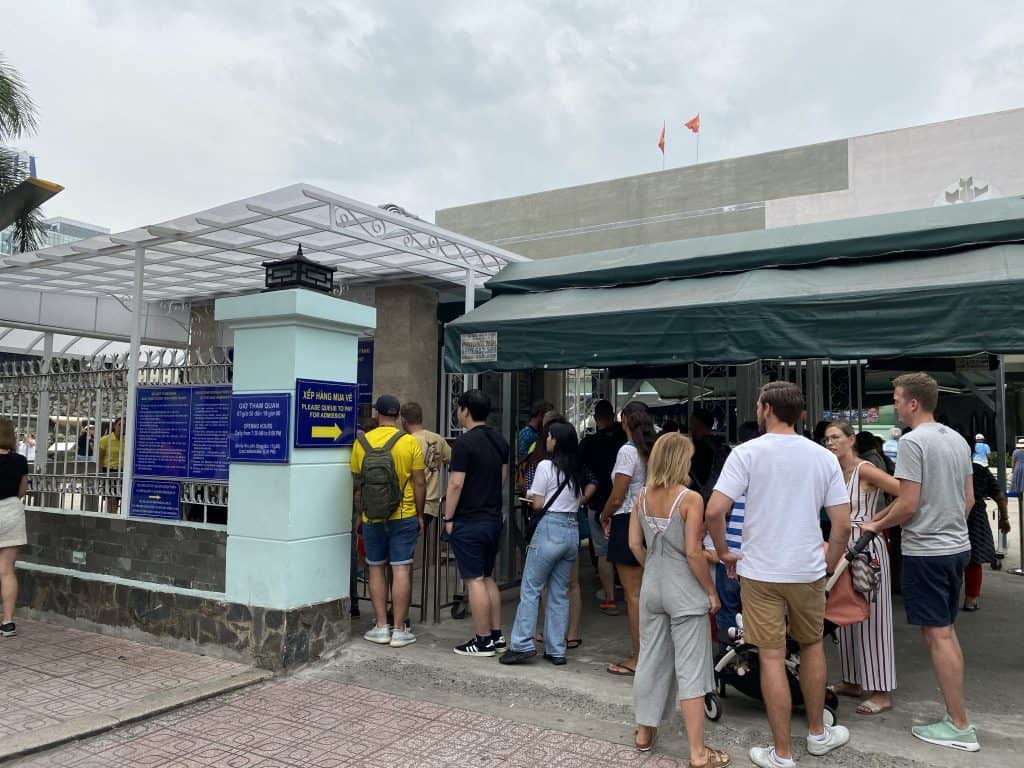 I paid my 15,000 dong entrance fee (about 50p) and a little extra for a pamphlet, and wandered through the gate. The first thing I came across was a man with amputated lower arms who held one out to shake my hand. He told me he'd lost his limbs due to a landmine. It was a fast introduction to the impact of the war.
One interesting fact about the museum itself is that it used to be called the "Exhibition House for US and Puppet Crimes" when it opened in 1975 not long after the fall of Saigon. Its name eventually became what it is today after Vietnam and the US normalised their relationship.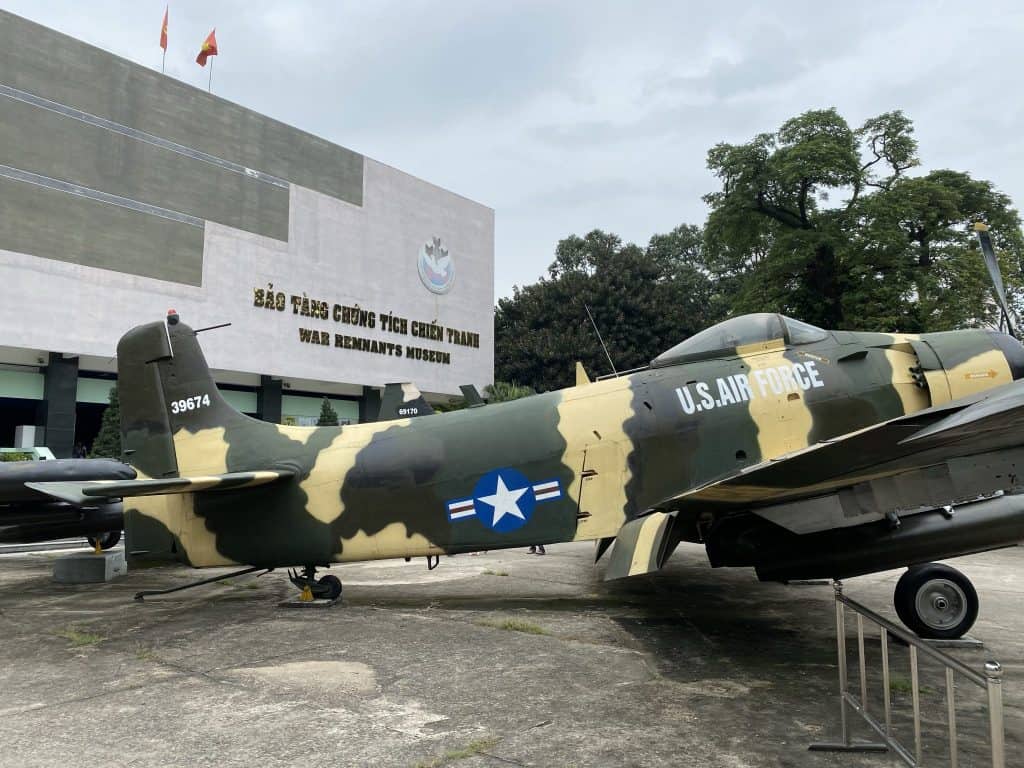 Around the outside of the building are numerous bits of American military equipment left behind as the country's military fled Vietnam. There are planes, helicopters, even bombs – which take it from me are absolutely enormous. It wasn't hard to imagine the damage one of those would have wrought after falling from the sky.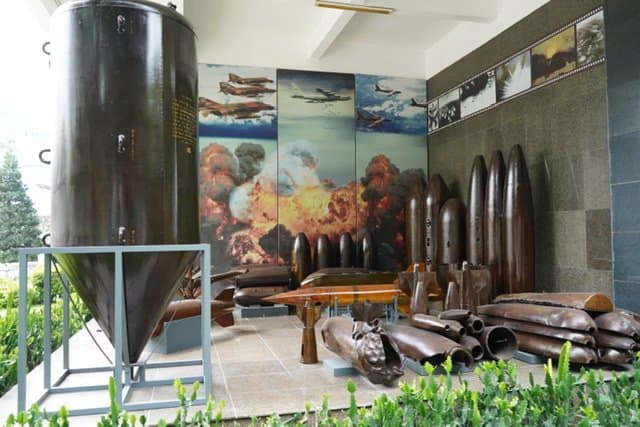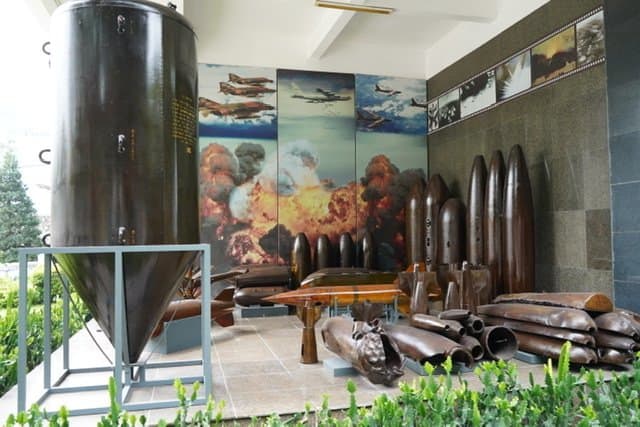 Today though, kids were spinning bits of military hardware around with the help of their parents – gleefully laughing as they did so.
I stepped inside and took the stairs up to the top floor – this is a museum that you explore from the top (second) floor down.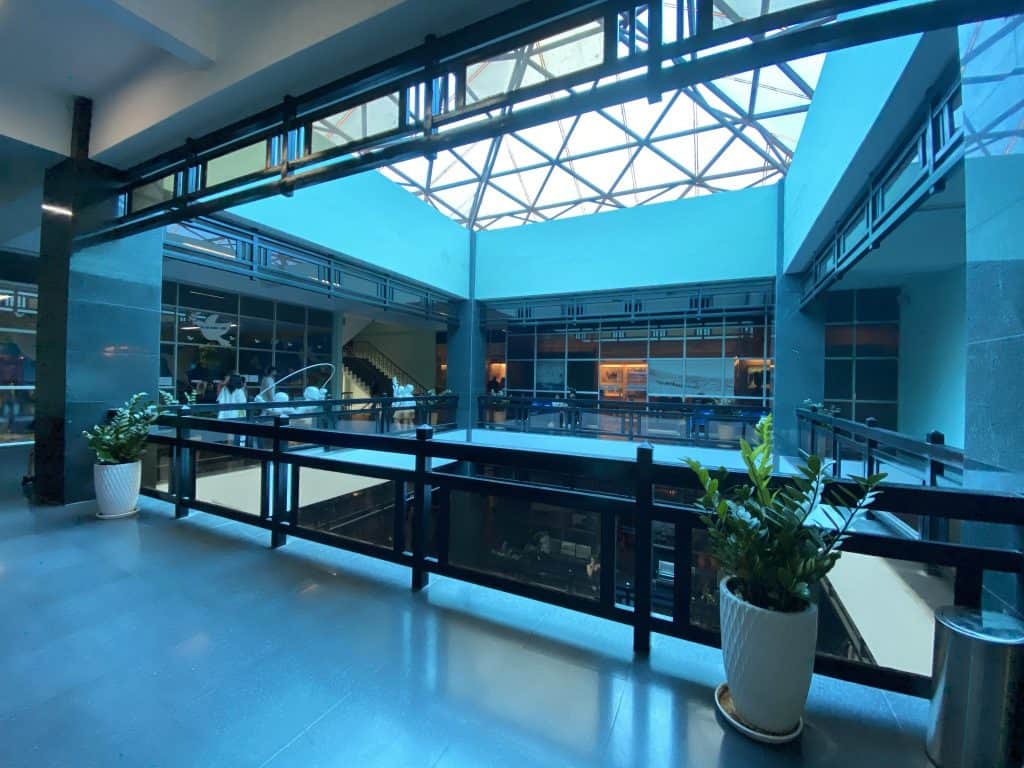 Each floor consists of a couple of rooms which have some items from the period displayed, but are mostly made up of photographs. The first room was called "Historic Truths" and basically told the story of the war.
Pretty quickly though the photographs got extremely graphic – nothing is held back at all in the display, and there were a couple of photographs I wish I hadn't seen. The only way I can describe them is that they were deeply distressing. And shocking.
One thing I very quickly noticed however, was that the museum tells the story of the war with a very heavy stance against America and its allies. While terrible atrocities were no doubt carried out by them, there is no mention – that I could see – of anything the other side did – and I'm pretty sure they were responsible for terrible deeds too.
So that was something I had to keep in mind as I walked around.
Room two was called "Requiem – A photo collection of the American war of aggression in Vietnam". It basically catalogued the work of some photojournalists during the war.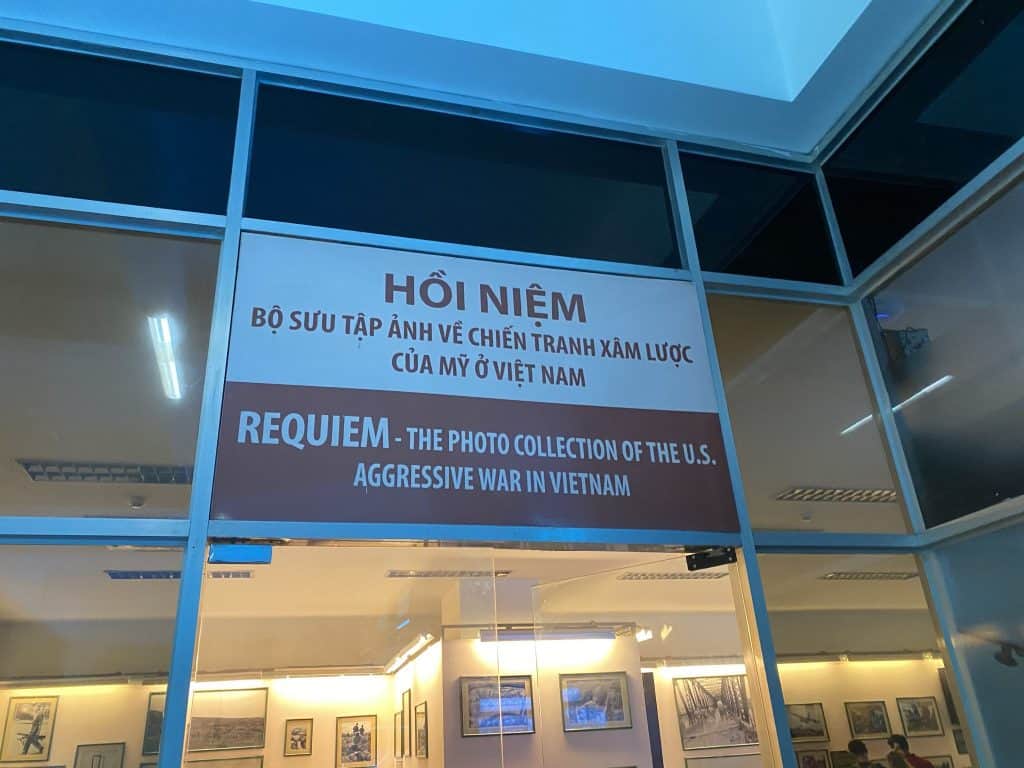 The photos in this room weren't quite as graphic but they were still a vivid reminder of the horrors of war. There were photographs of a American soldier bent over his desk crying after returning from a mission, and of a mother with four children fleeing through a river – in a photo which won a Pulitzer Prize.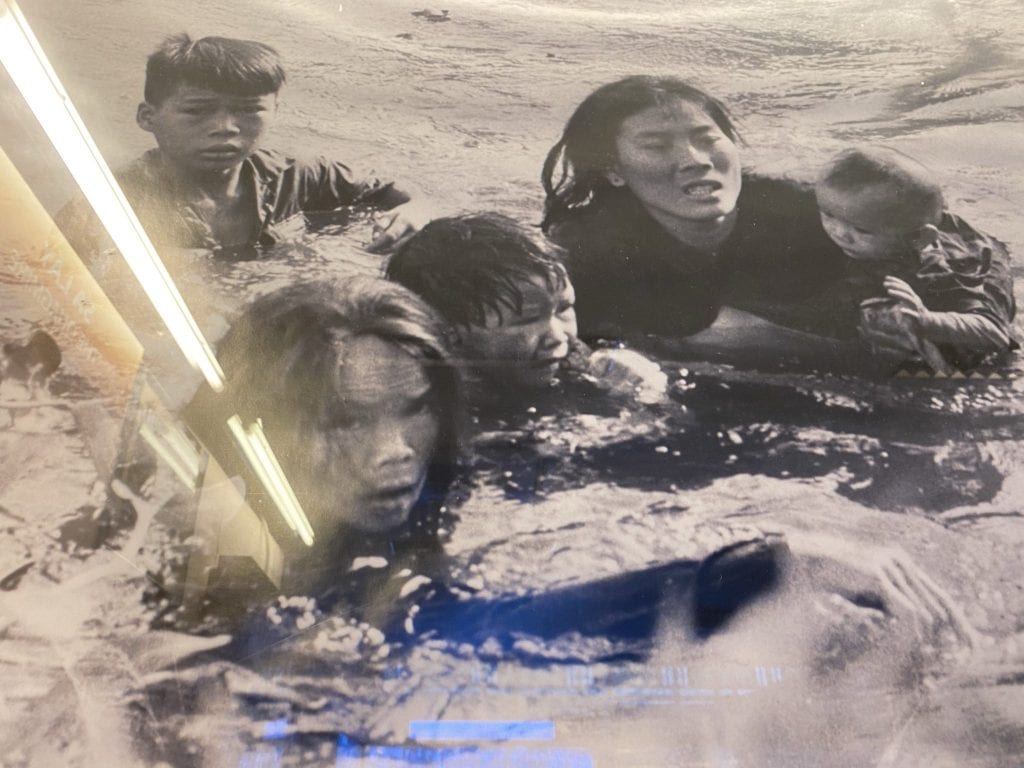 Beside it was an image taken later of the photographer presenting a print of the photograph to the family.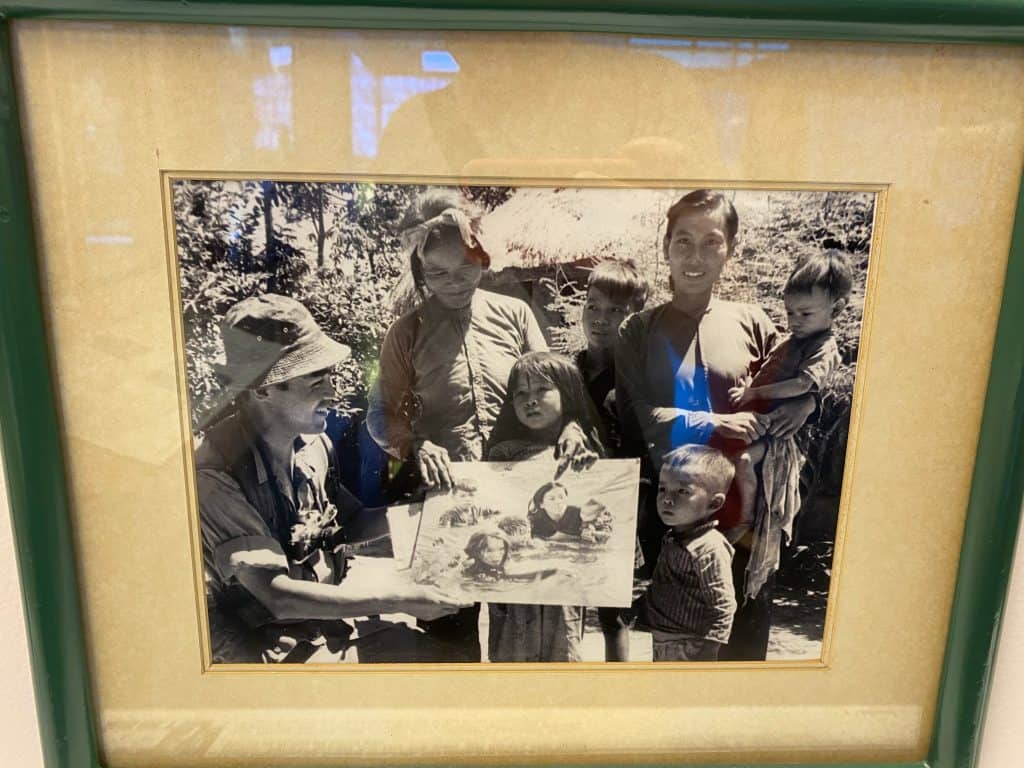 Display panels also told of the deaths of many war photographers during the conflict – including Robert Capa who was killed by a landmine. Images from the last roll of film he ever used was on display.
Moving down a floor, a room was dedicated to the use of Agent Orange during the war. I had heard of it, but didn't know what it was. It turns out that it was a chemical sprayed across sections of Vietnam by the US to destroy vegetation, and the peoples' ability to grow crops.
Photographs showed not only the devastation the chemical wreaked on the landscape, with trees reduced to bare sticks, but also the effects on people – the use of agent orange led to many people being born with cruel deformities. Again it was powerful stuff.
I moved down on to the ground floor and had a quick look in a souvenir shop before entering another exhibit about the rise of American protests against the war.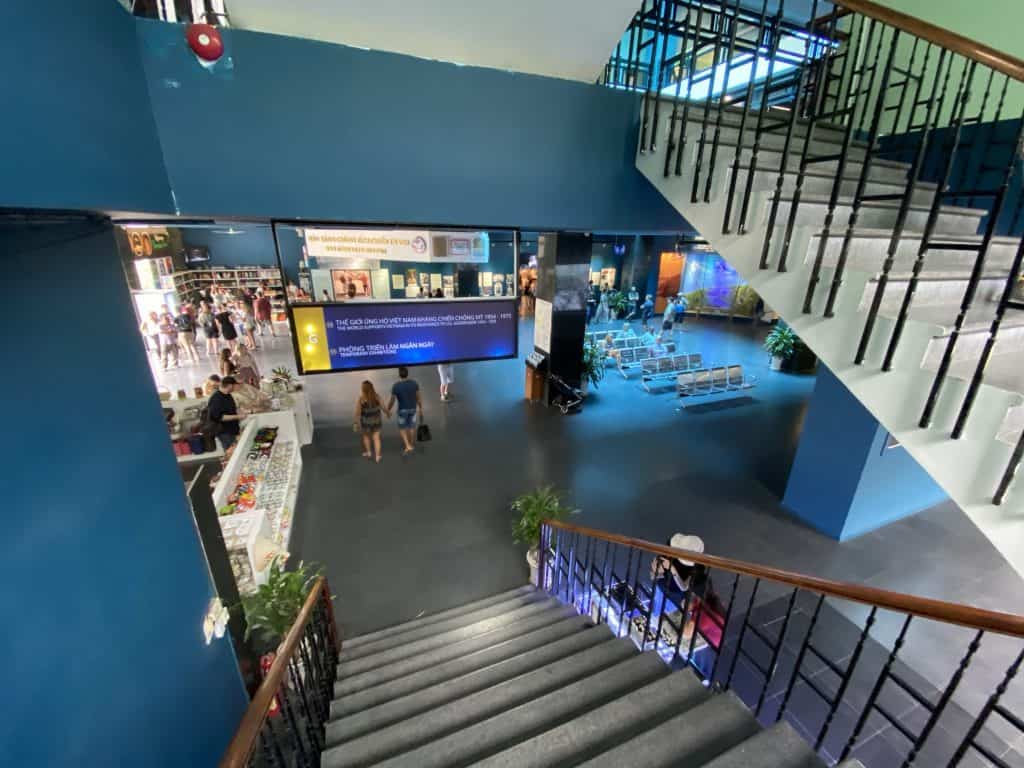 There were some interesting tales of anti-war propaganda campaigns and literature produced by soldiers within US ranks.
Outside, to the right of the main building was a small stone building which showed some of the conditions prisoners were kept under. I shuddered when I saw a guillotine that had been used which still looked razor sharp, and gazed at 'tiger cages' – where prisoners were kept in all weathers, unable to do anything but crouch.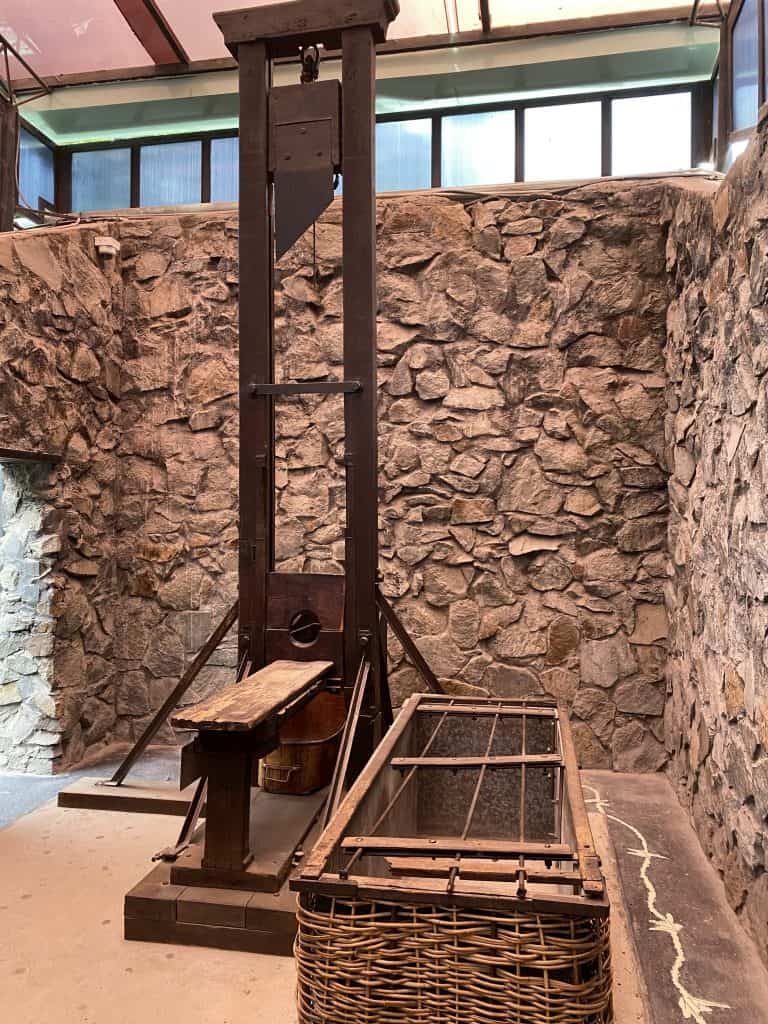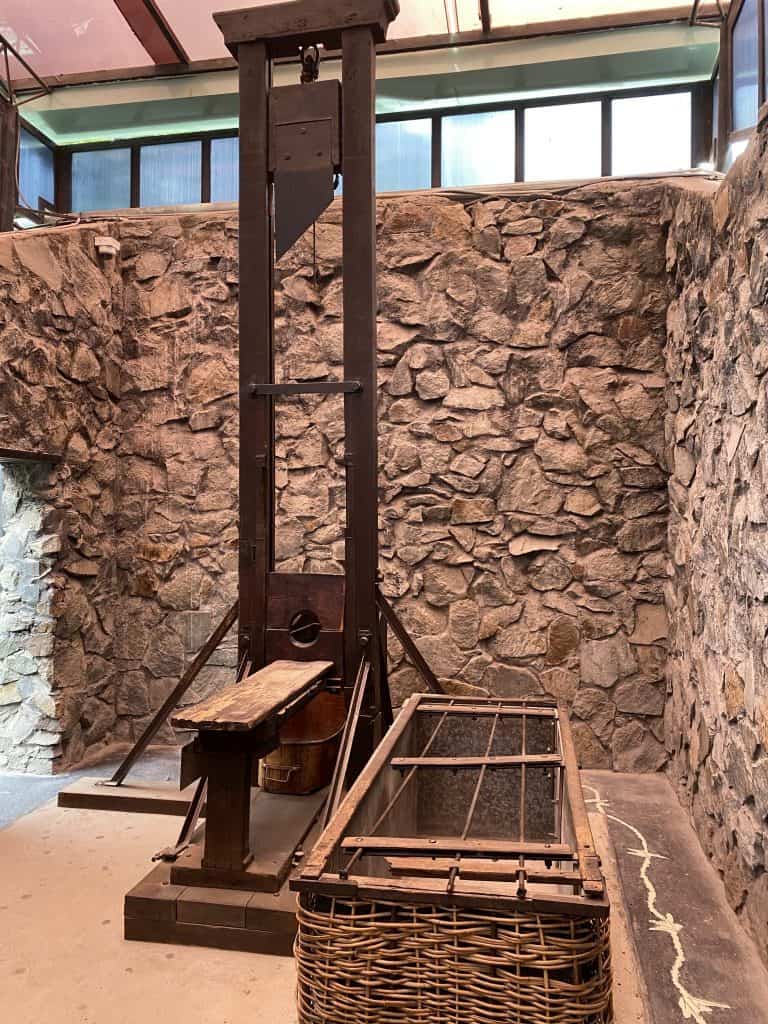 The War Remnants Museum is a powerful introduction to the history and terrible events of the Vietnam War, but my advice would be to go prepared to be upset. When I was there I did see children, but I wouldn't recommend taking them into most of the exhibits. I spent around two hours at the museum.
A traditional lunch and a rose-y view
After leaving the museum, I walked back to the hotel and grabbed a quick snack of onigiri from 7-Eleven. I wrote a bit more of my blog and caught up on emails before ordering my first Grab.
Kim from the walking tour had emailed Orlando and I to advise us to use the service – and it is brilliant. It's basically Uber in South East Asia, and you can use the company's one app to order food, transportation, deliveries, and much more. I ended up deleting Uber a while back, but Grab just seems a bit more honest as a company, and the app (most of which is available in English) is really easy to use.
In reception, I ordered a car (you can also order a moped ride) to take me to a place that Kim had recommended for lunch. I really wanted to visit her recommendation for pho, but unfortunately that place was closed over lunchtime!
Pretty soon my driver and I were dodging speeding mopeds and riding through the streets of Ho Chi Minh towards District 10. Twenty minutes later, I was dropped and charged just 21,000 dong – 71p! I gave the driver a good tip.
Gazing around, I couldn't actually see the restaurant. Google Maps showed me I was standing right outside it when I walked around the corner, but it wasn't until I looked across the road I spotted it.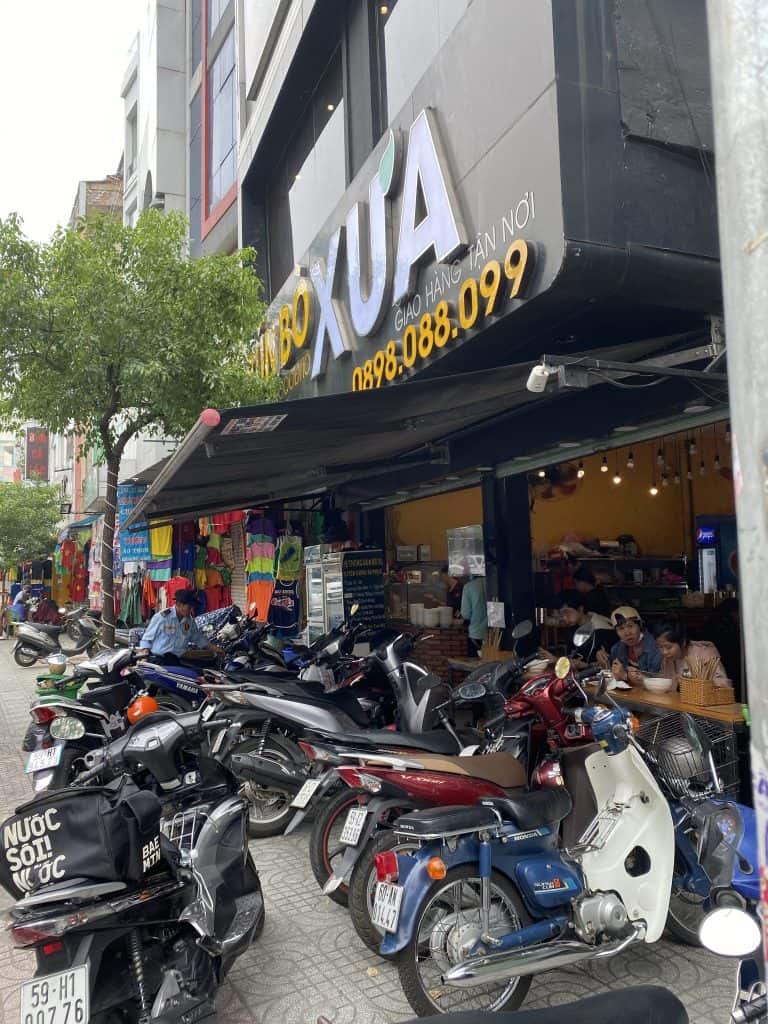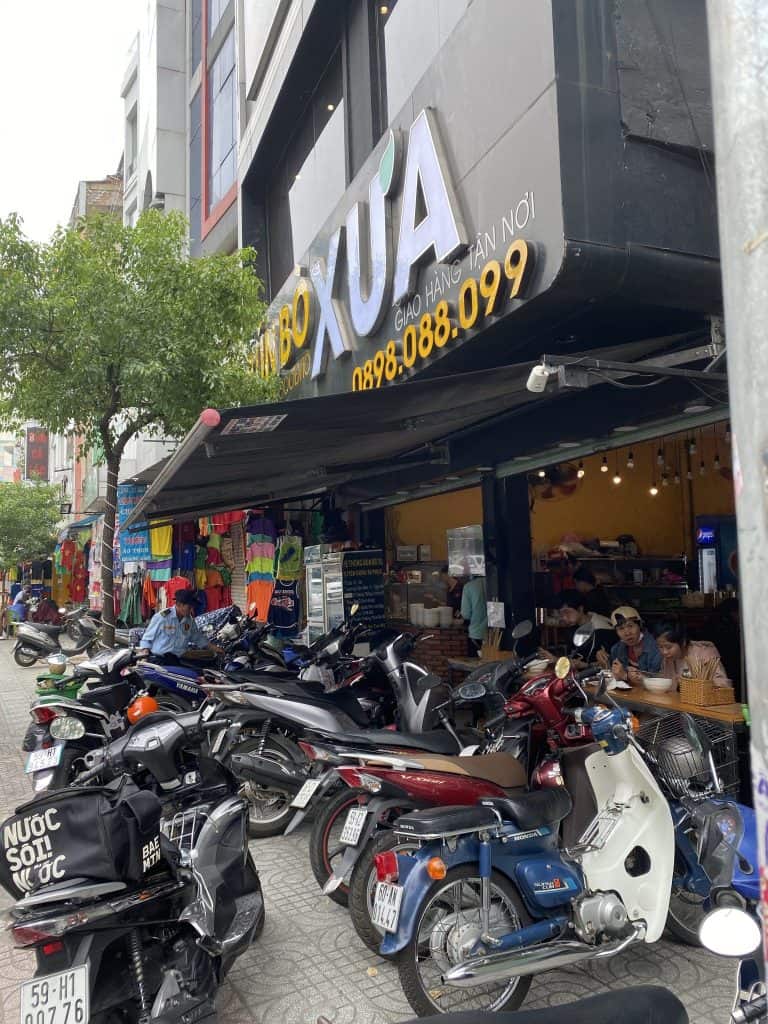 I'd come to Bún Bò Xưa for some Kim-recommended Bún Bò – or beef noodle soup. I squeezed past the tiny counter and tables and took the stairs to the seating area on the first floor.
I picked a menu off the table which was written completely in Vietnamese. I have since found a picture of an English menu but I didn't unfortunately have that at the time!
Using that rubbish camera feature in Google Translate (I can never get it to work properly!) I managed to work out that the options were soup with different kinds of meat in it – including cartilage. I chose rare beef and meatballs and sat back and waited.
For about two minutes! Before a bowl of steaming hot noodle broth was placed in front of me, along with a small dish of what looked like dried vegetables and bean sprouts. I added some of them to the broth, not sure if that's what I was meant to do, before tucking in, skilfully (well I think so anyway) slurping on the noodles with my chopsticks while savouring the hot broth with a spoon.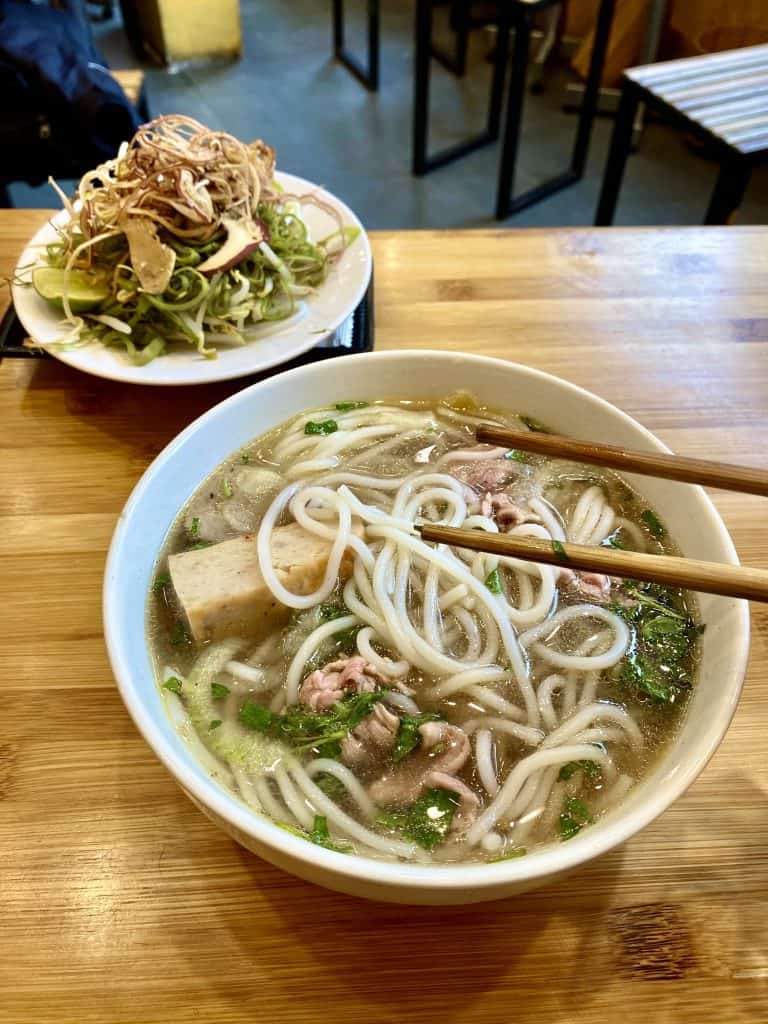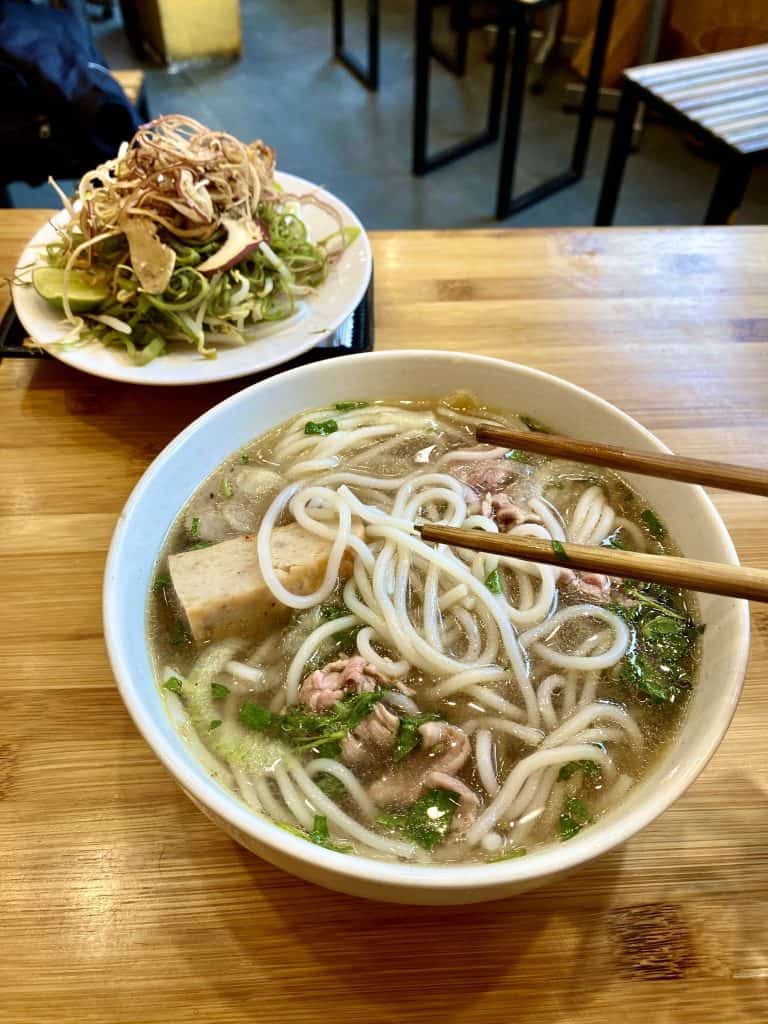 I've got to say it was pretty tasty. And a steal at just £1.28. There was what looked suspiciously like chilli paste in a bowl on the table which I presumed was for adding to the soup, but I treaded carefully and just added a tiny bit.
Downstairs I paid for my meal, and grabbed a quick shot of the chef in action….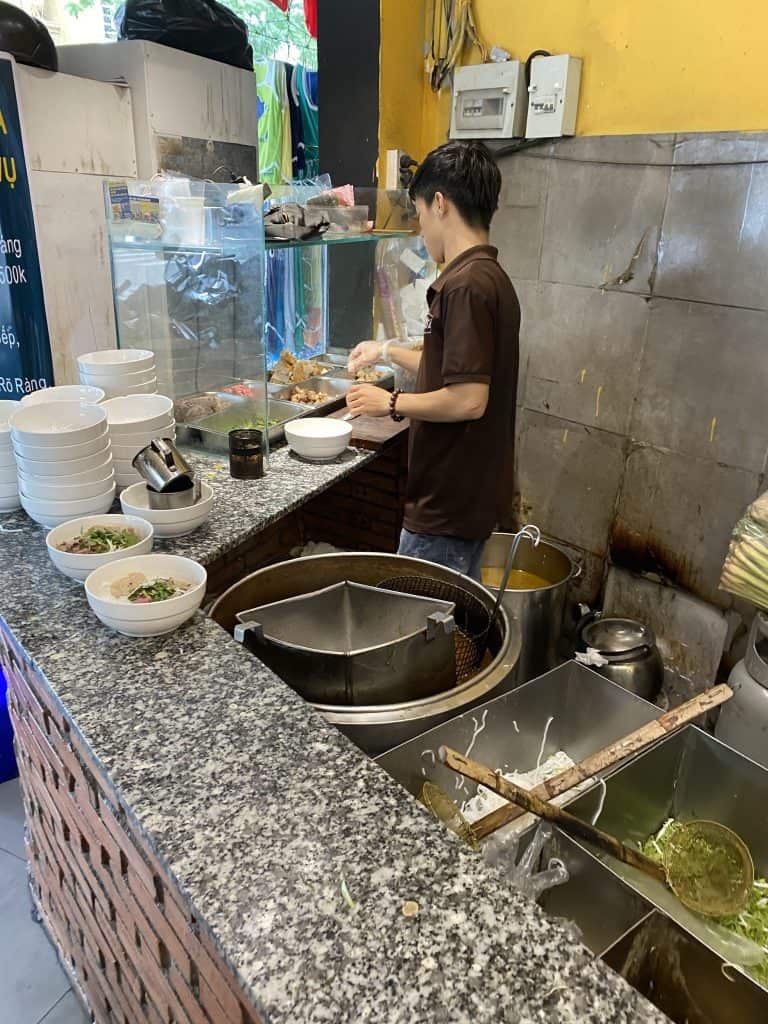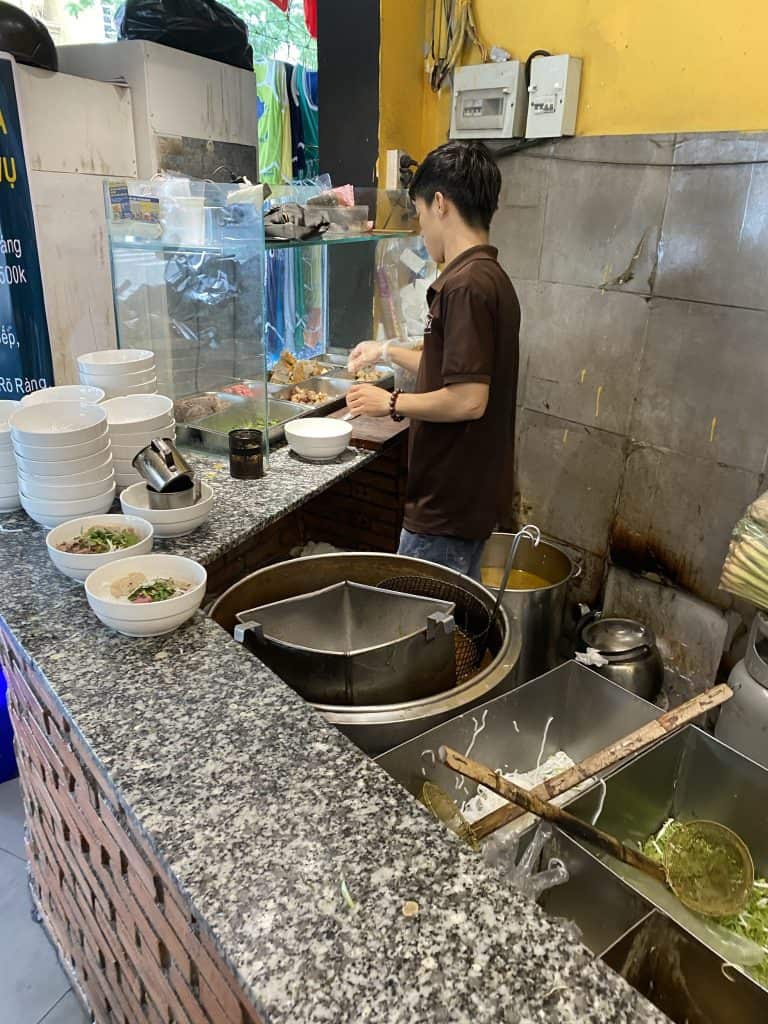 …before deciding to forego a Grab and walk the ten minutes or so to the next attraction I wanted to visit.
My stroll through the residential District 10 took me across a genuinely hair-raising street crossing (just to the right of the pic below)…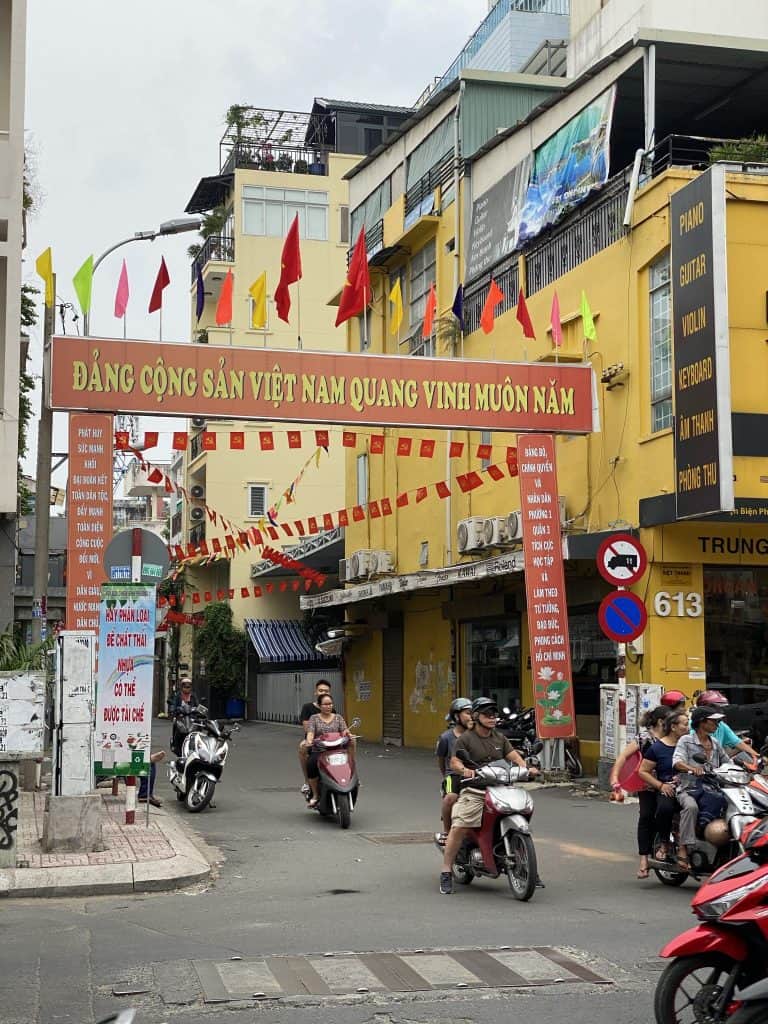 Past propaganda posters…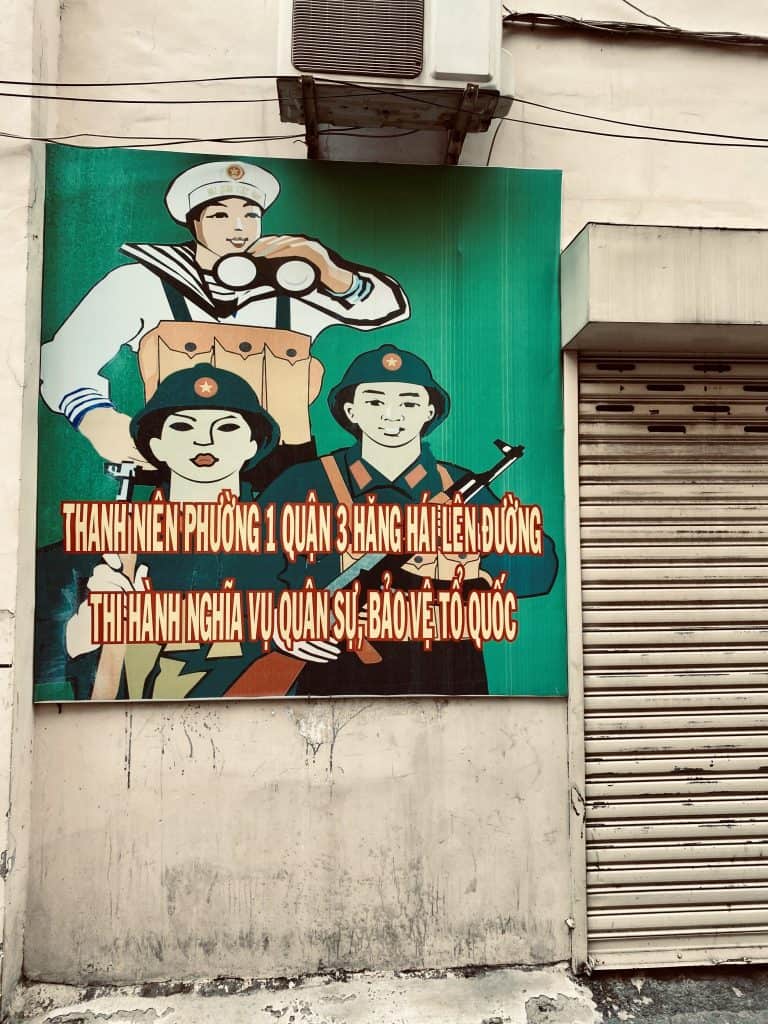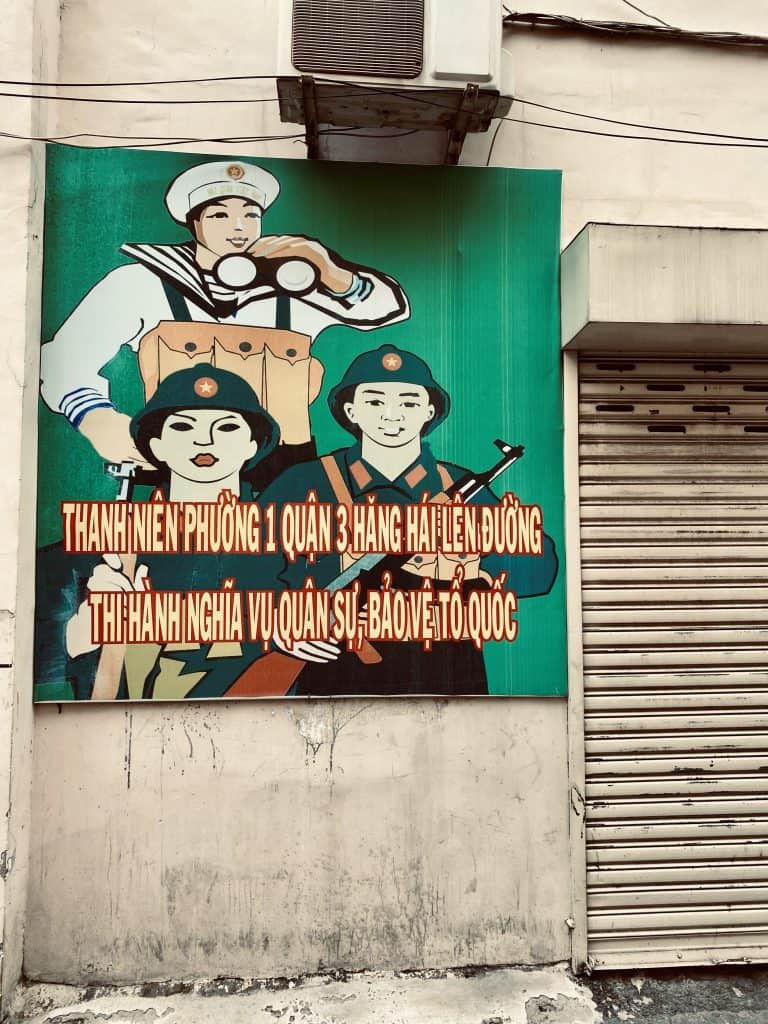 And through tiny lanes with houses crammed in on each side.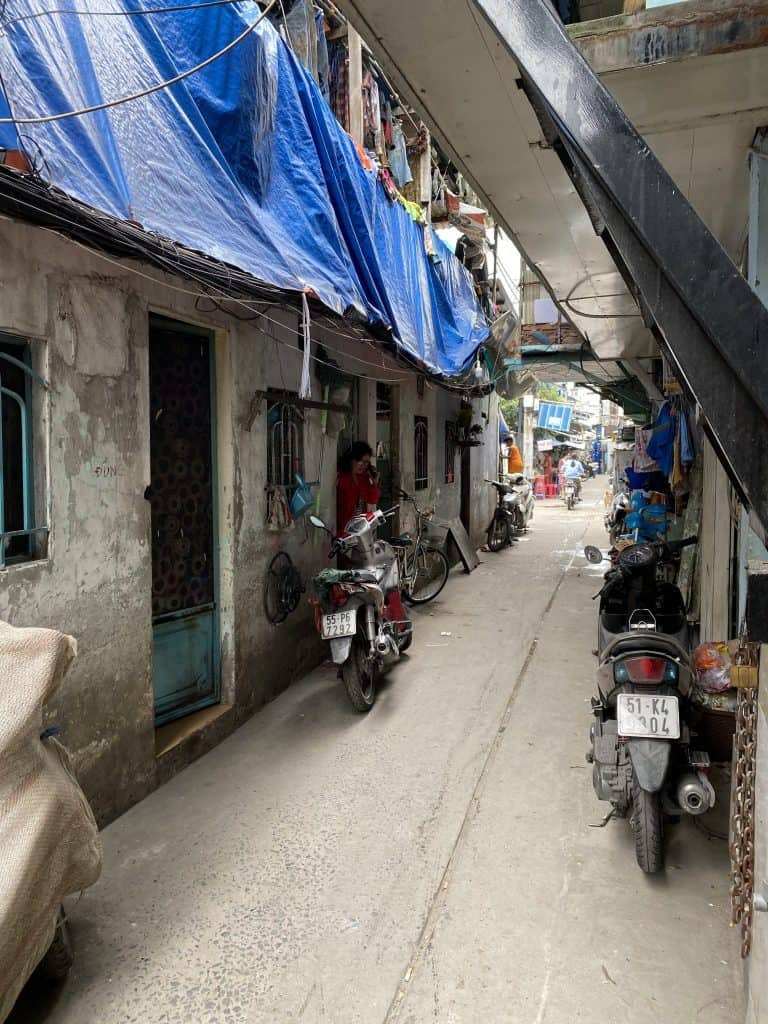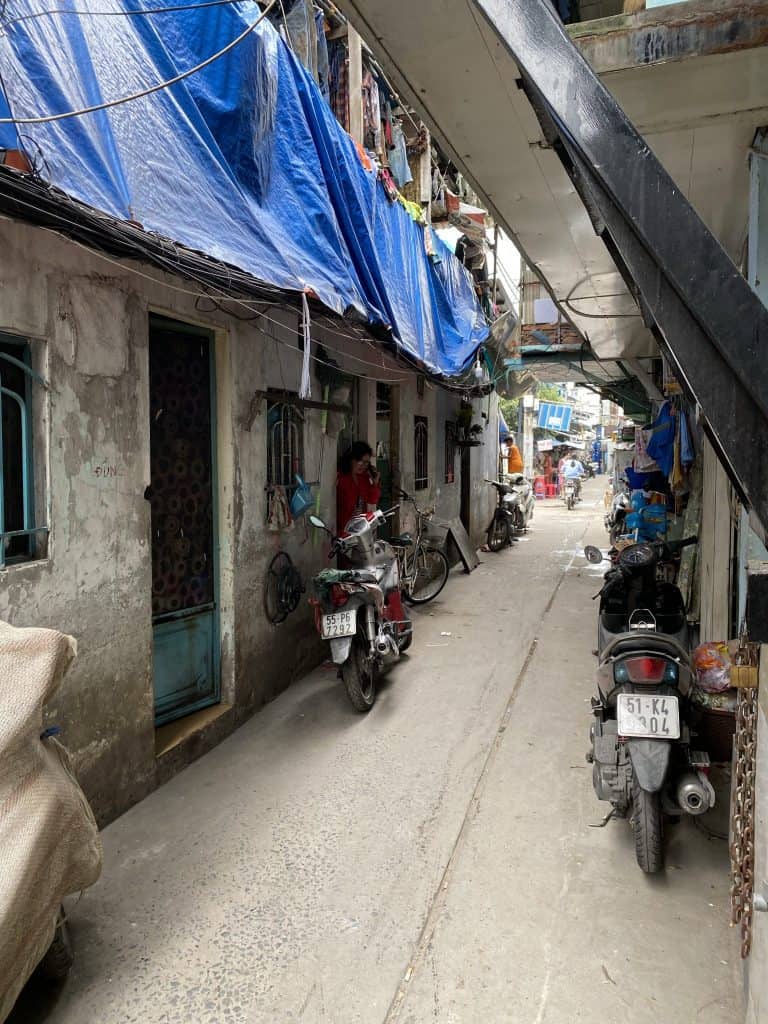 Oh and past this very happy looking chap advertising food.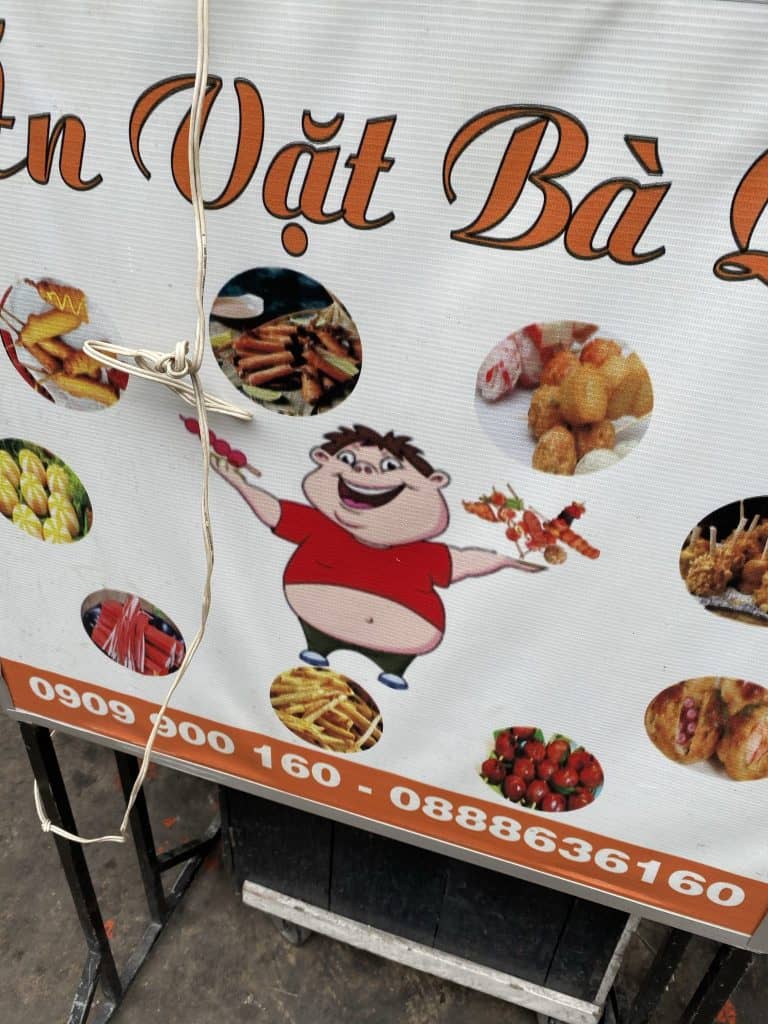 Eventually I arrived at Ho Thi Ky Flower Market. It's at it's busiest apparently at 2am in the morning, so I'd arrived much too late to catch most of the action, but I strolled through the street, gazing at the numerous stalls with their brightly coloured bouquets.
Many of the flowers were unlike anything I'd ever seen before.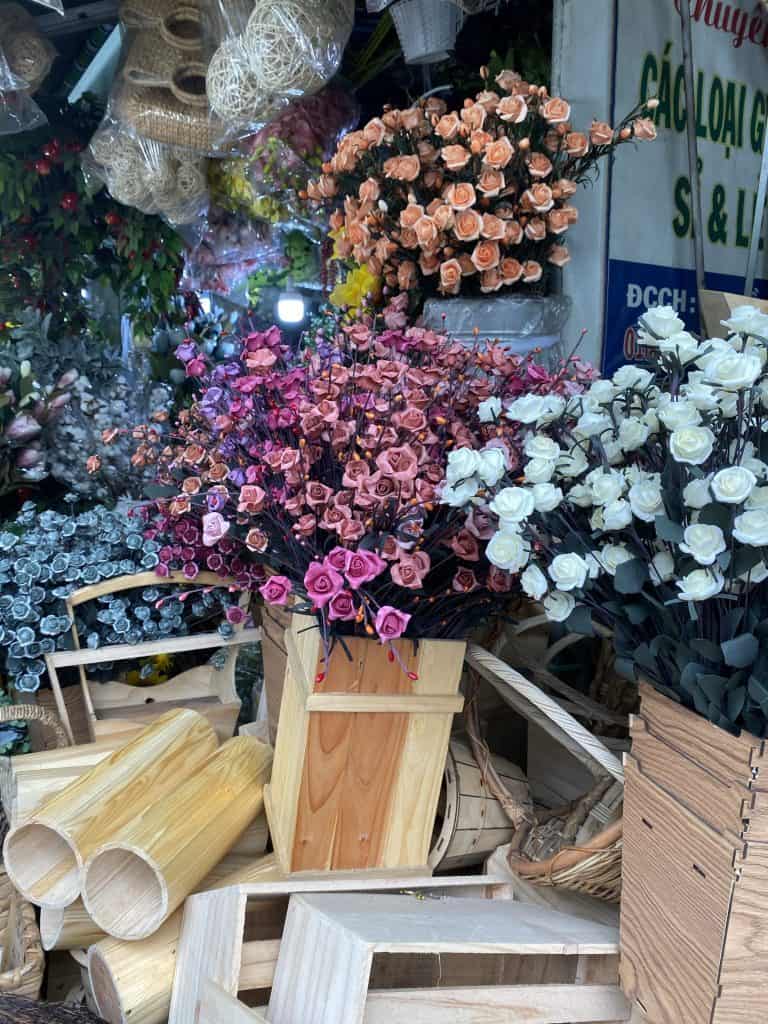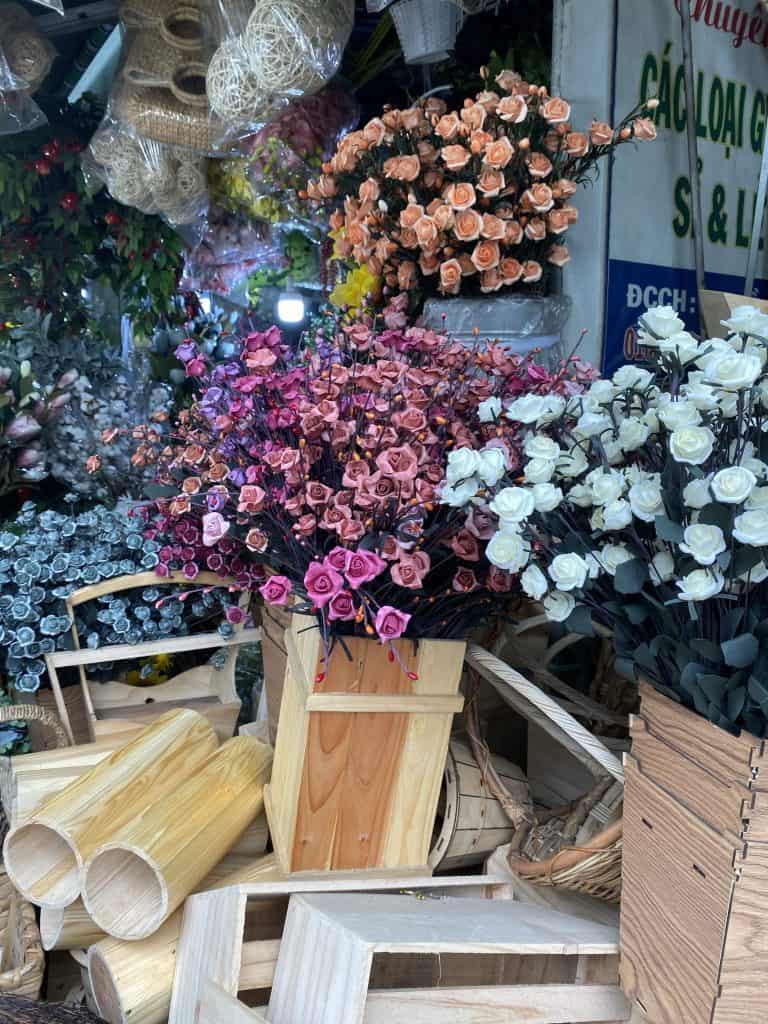 Not those ones before you say anything! I recognised roses and chrysanthemums and that was about it I think.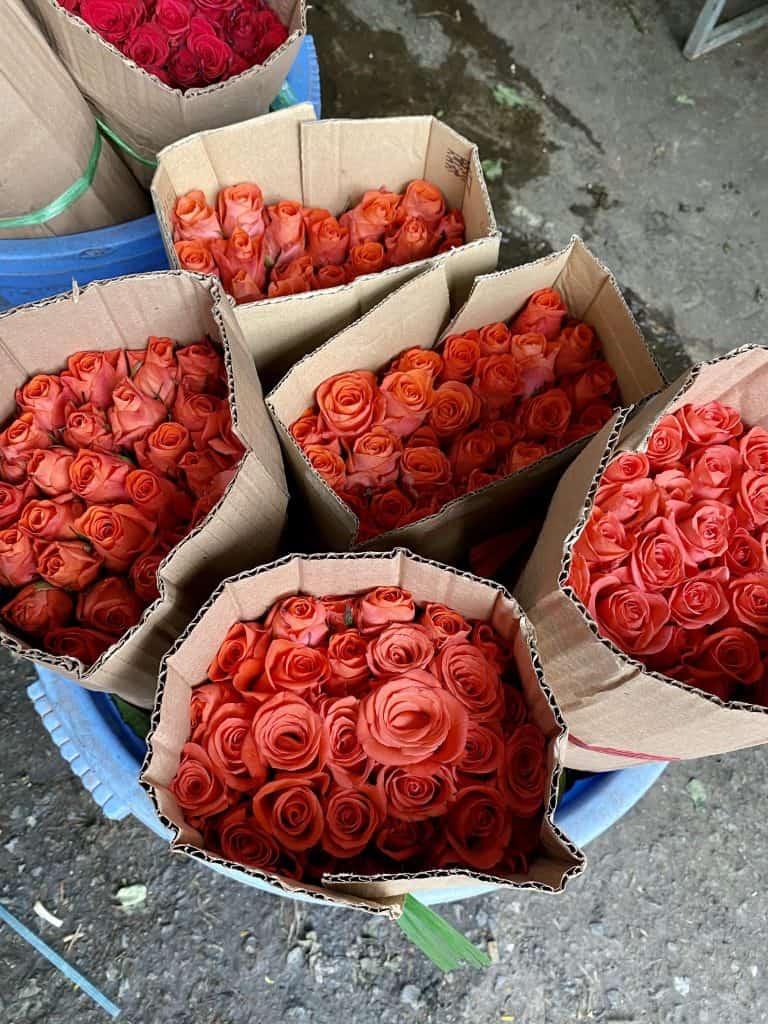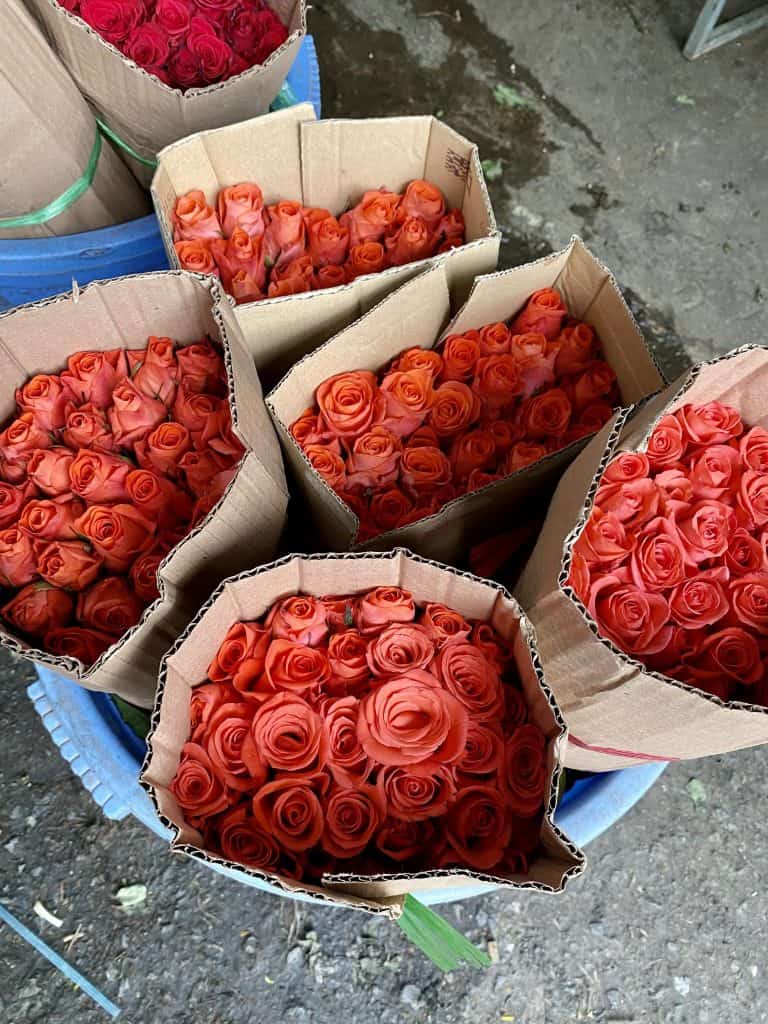 It didn't take long to get around the market, and some of the stall owners didn't look particularly friendly, so after a wee while I was ordering another Grab to take me to the next spot on my itinerary.
A 1960s architectural marvel
After paying my Grab driver through the app, I decided to go for a quick cold coffee to cool me down, and right next to the attraction I was due to visit was a branch of Highlands Coffee. There are loads of them all over Ho Chi Minh, but despite the name they're not Scottish! Set up in 1998 by an American Vietnamese man, they're now jointly owned by a Filipino company.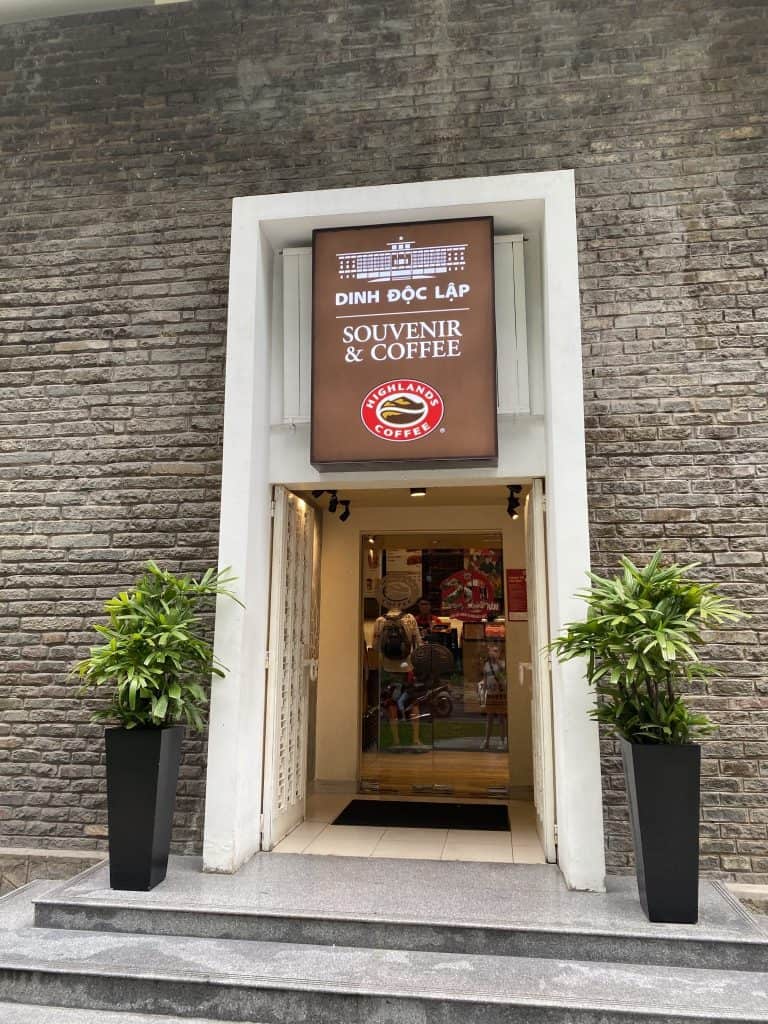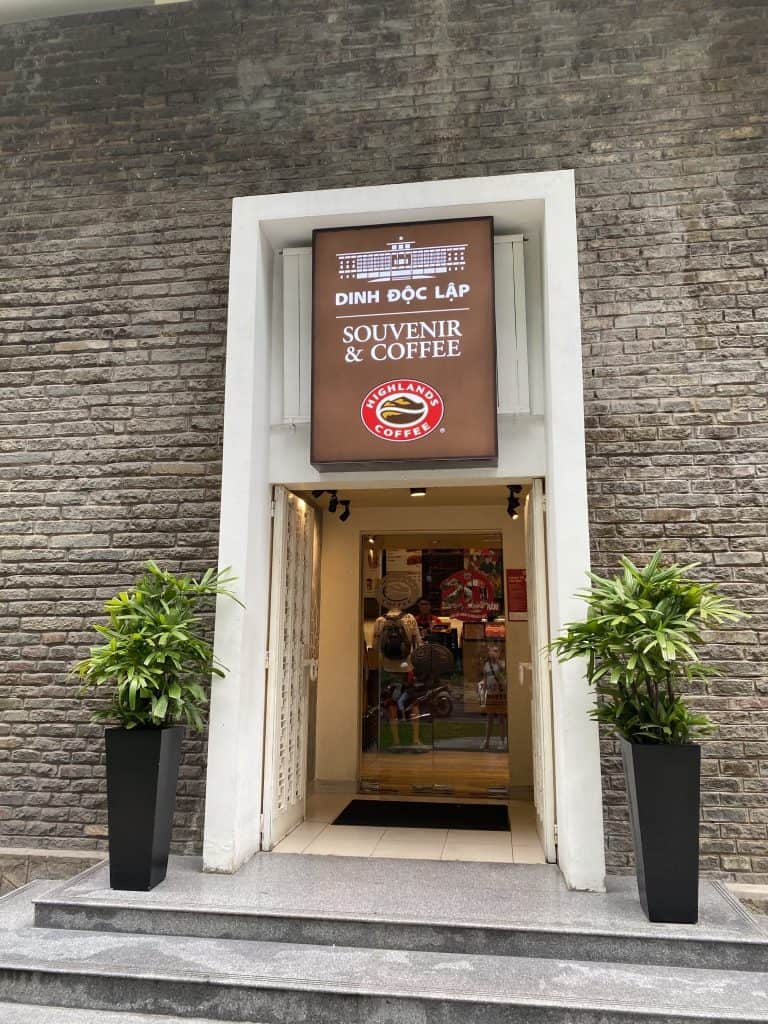 Inside was nice and cool, and I ordered a small 'caramel phin freeze' to cool me down. I was given one of those buzzer things, and I swear it was a full ten minutes before it buzzed. Only one other person came in while I waited, so I'm not sure what took so long!
When I collected it, I was impressed by the fact that it seemed to have perfectly rectangular shapes in it.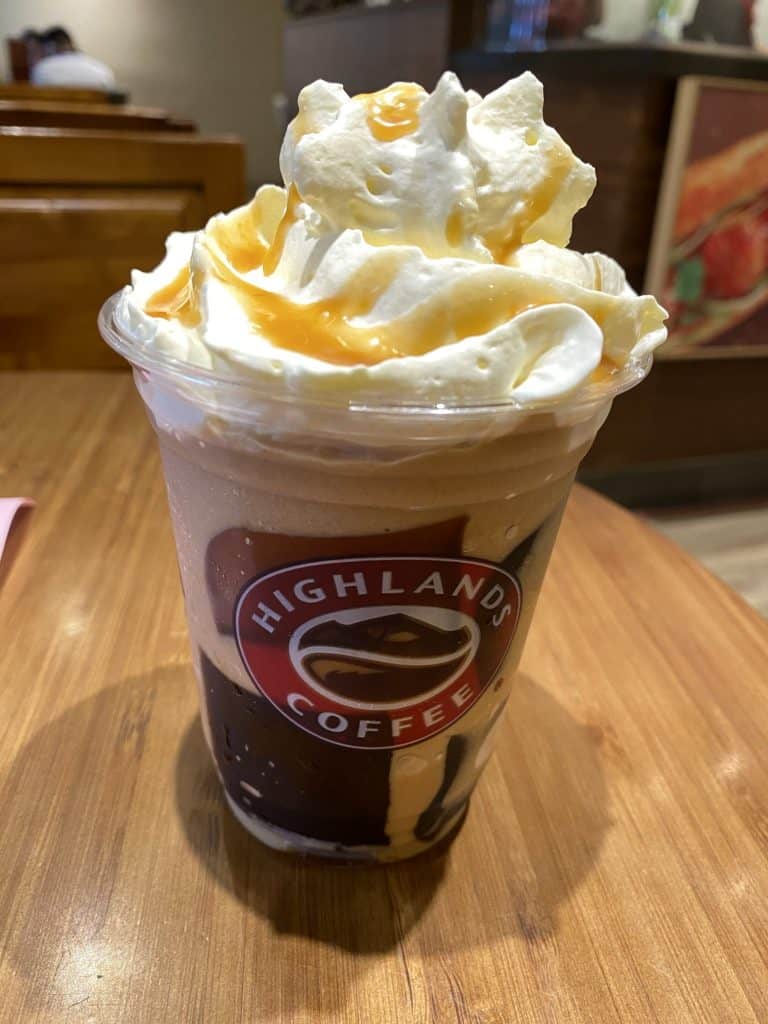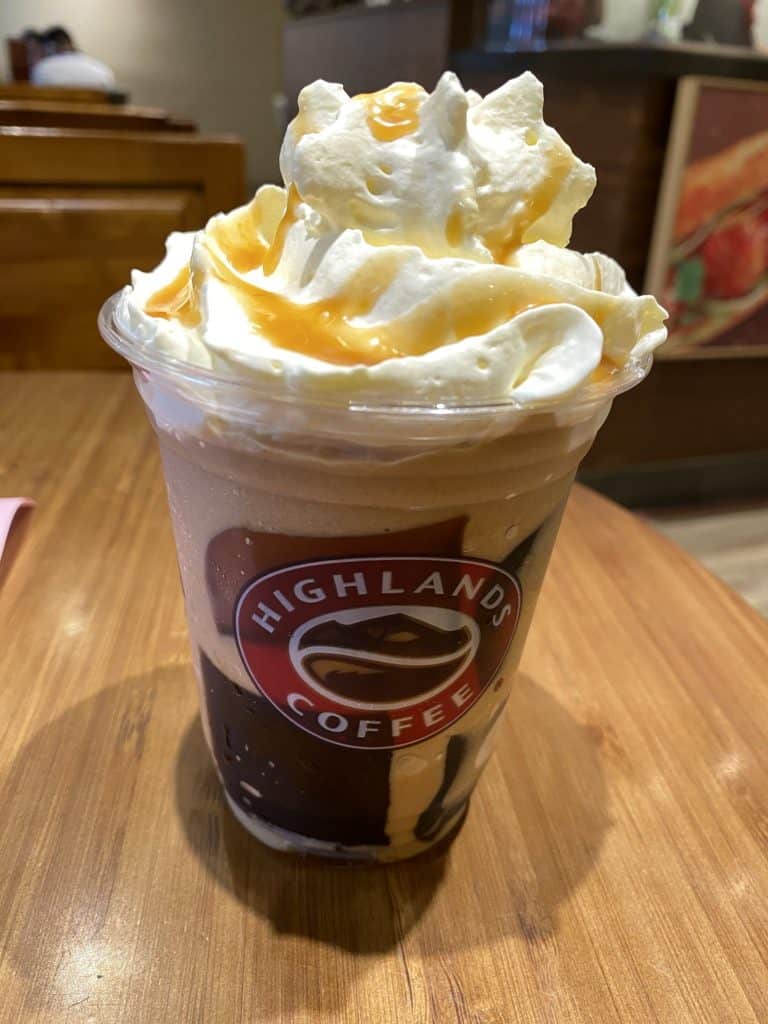 'How did they do that' I wondered? It turned out it wasn't through some iced coffee making magic, but literally because there were rectangular pieces of caramel jelly in the drink. You could still get them through a straw though! The drink was just what I needed to cool down and wake up a bit too.
Next I headed to the attraction next door – Vietnam's Reunification or Independence Palace.
I paid 60,000 dong for a combined entry ticket to the palace and an exhibition, and walked around and up the impressive driveway towards the building, passing a Vietnamese tank on the way.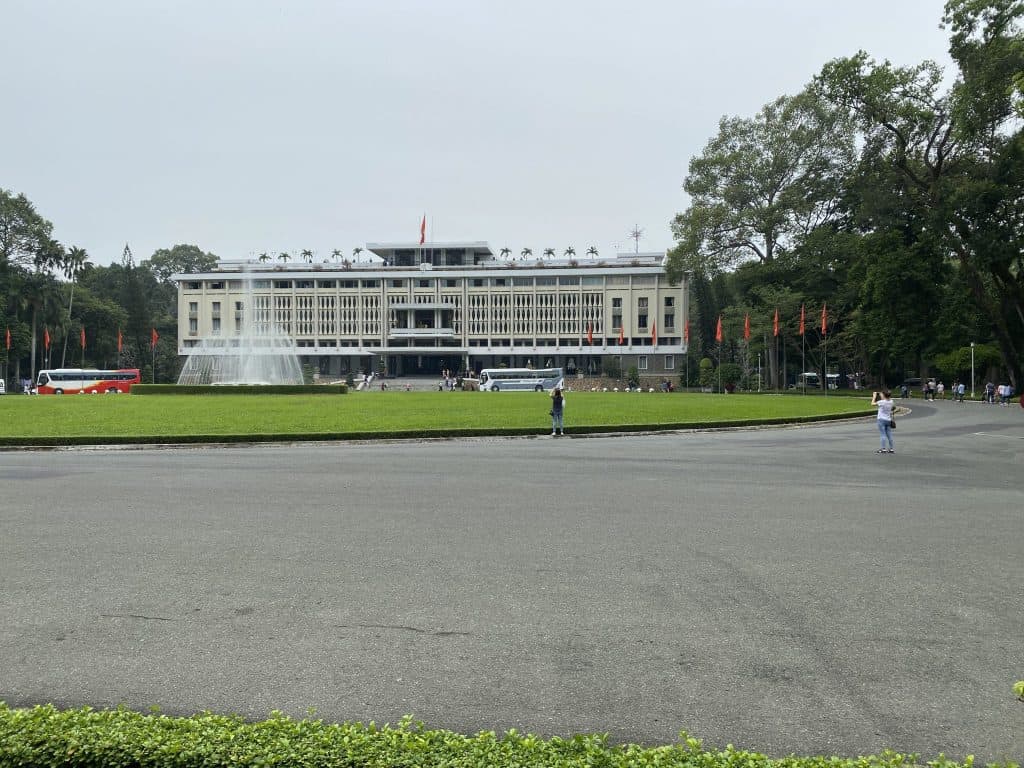 Reunification Palace has a pretty impressive history. Originally a residence was built in 1868 for the French governor-general of Cochin-China. Later the palace became home to South Vietnamese President Ngo Dinh Diem. He wasn't a very popular man, and in 1962, his Air Force bombed the palace in an attempt to kill him.
That didn't succeed, and the president ordered a new palace built, this time one designed by Vietnamese architect Ngo Viet Thieu. The president didn't live to see his palace built, being killed in 1963, but on completion the palace became home to the succeeding president. In 1975, hours after the last American helicopter had left Vietnam, a tank of the North Vietnamese Army crashed through the palace gates. A soldier ran through the building and flew a Viet Cong flag from the balcony. Vietnam was now a communist country.
Quite dramatic eh?
I climbed the same steps the soldier had run up and stepped inside.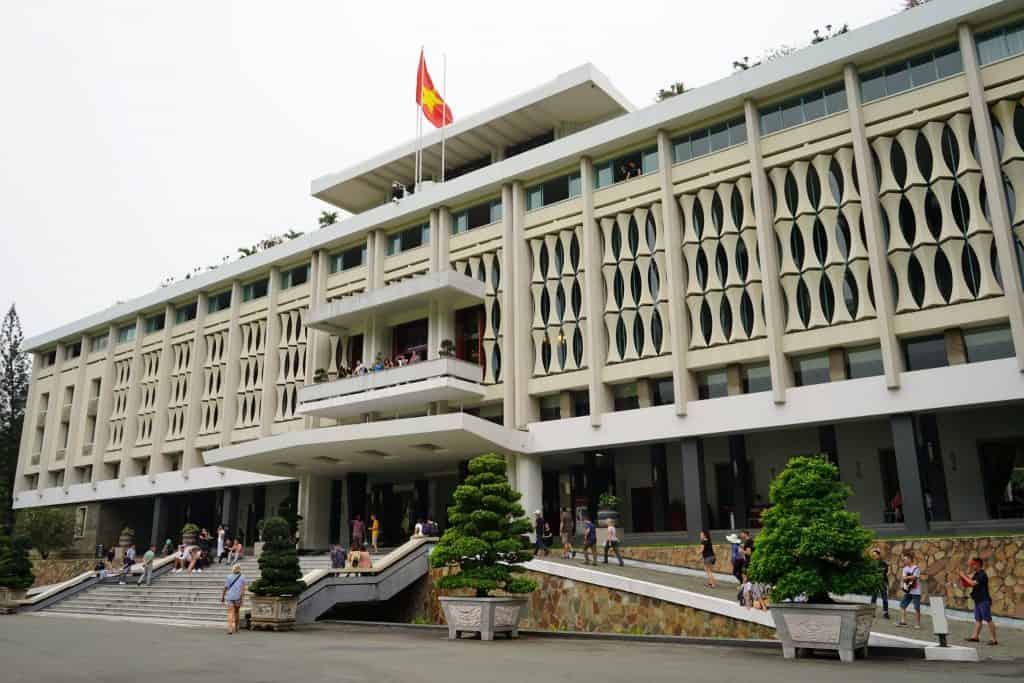 There were a couple of different levels, so I started by wandering around the ground floor.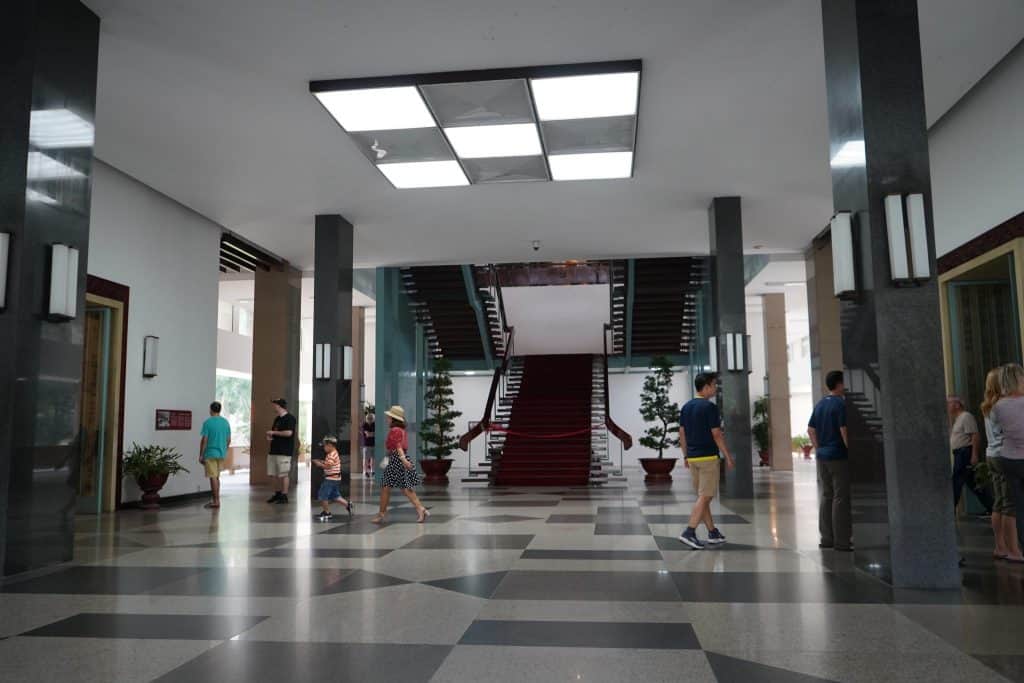 Enormous rooms which seemed to have been left untouched since the late sixties were roped off, but you could view them through large windows which opened out on to long hallways. I loved the architecture. It was just really cool in a Wallpaper*, dated kind of way.
Next I came across an enormous kitchen, which had been used to cater for banquets. Look at the size of this pan!
After a quick look in a souvenir shop (not sure that was originally part of the building), I descended some stairs into the basement – which I'd read was a key part of the palace to visit. I arrived in a bunker that the palace's commissioning president had requested be built.
It was pretty bare bones! Here was his bedroom…
Cool old bits of radio equipment and telex machines still sat in place…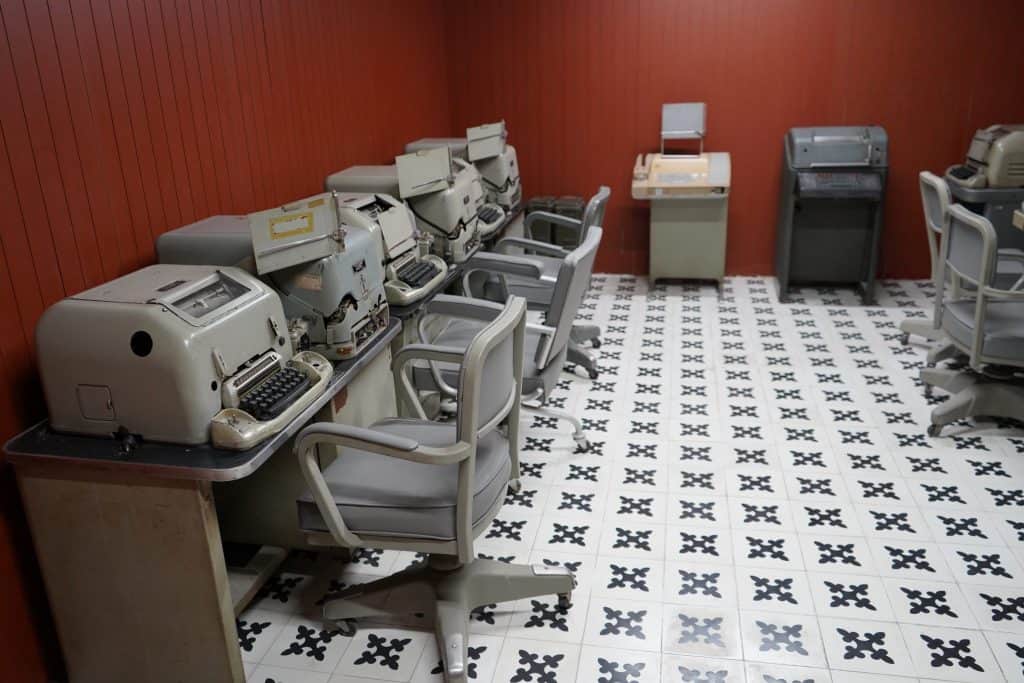 The shelter had a blast wall capable of resisting explosions of up to 2,000 Kg.
Back upstairs I took a while to take in the architecture of the ground floor…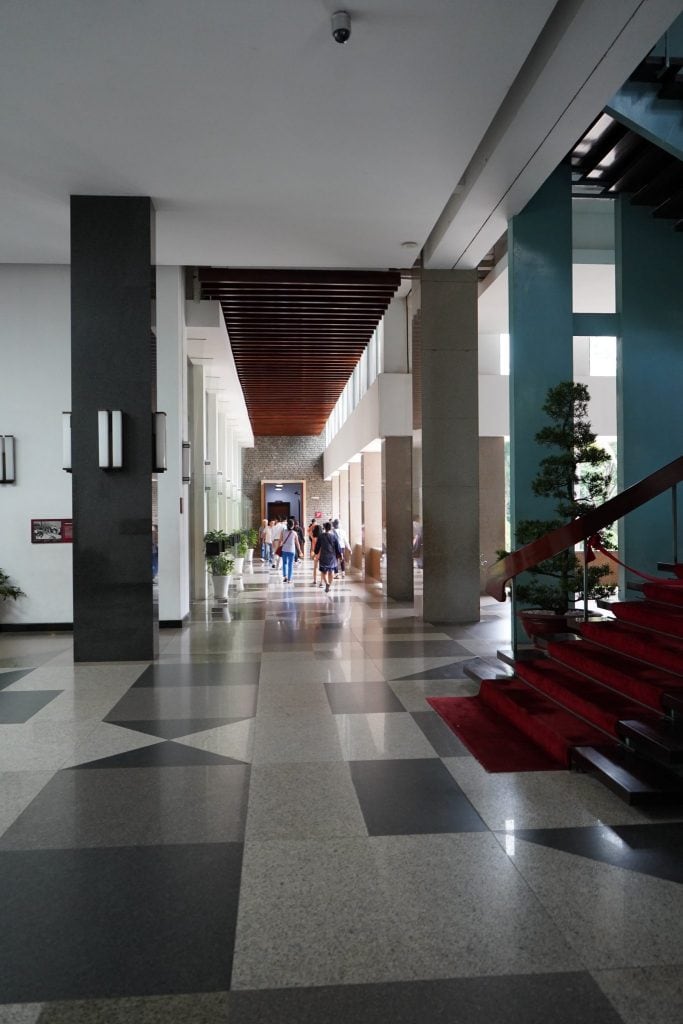 Before moving upstairs and wandering around.
I just loved the design of the place – it was simple, but every element had obviously been carefully thought through.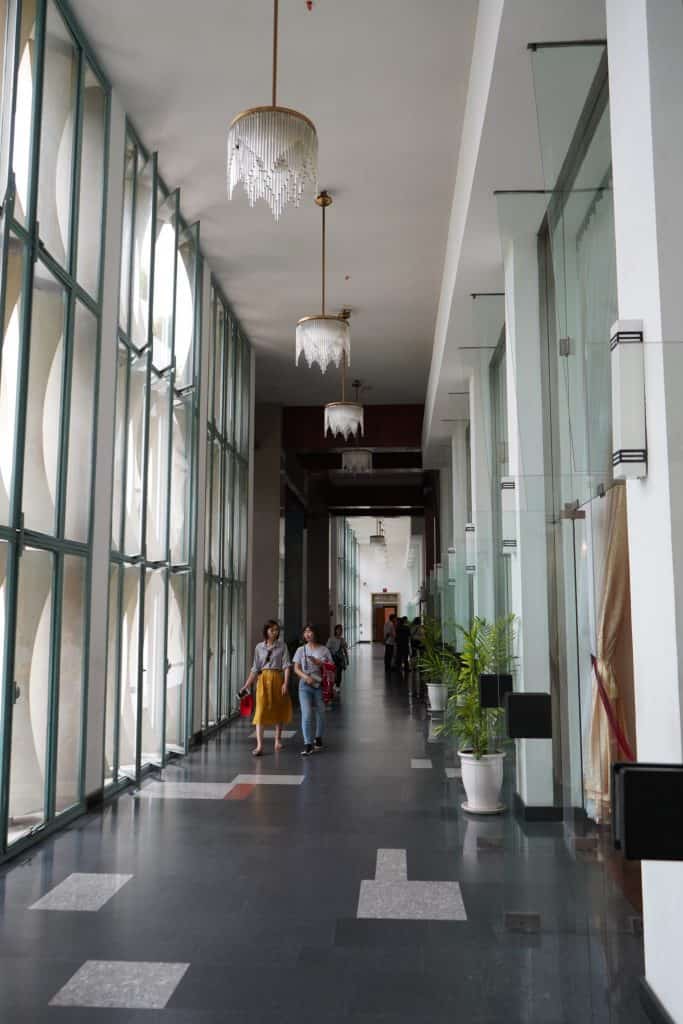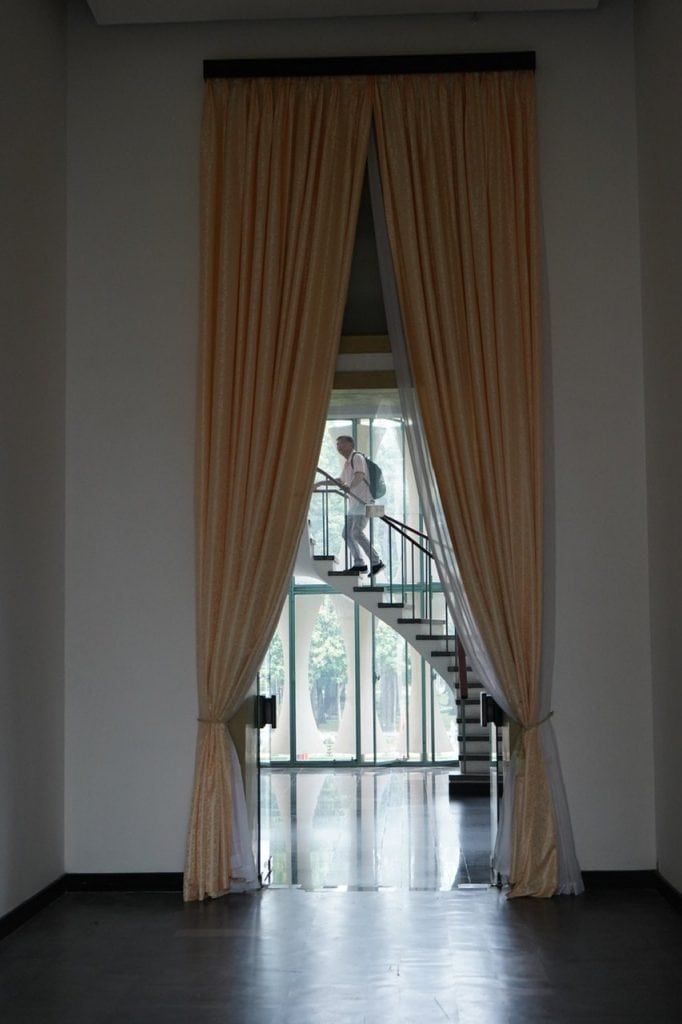 I came across a library…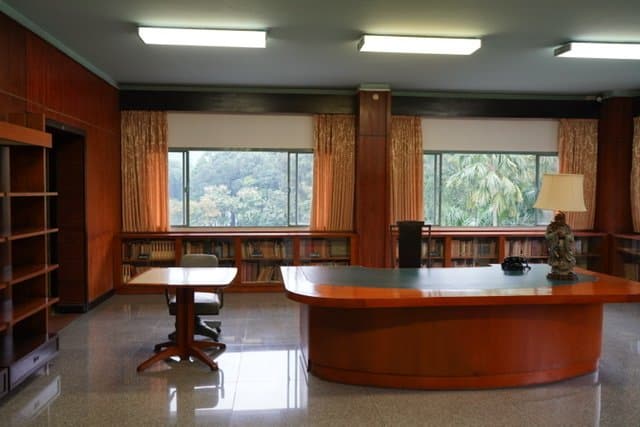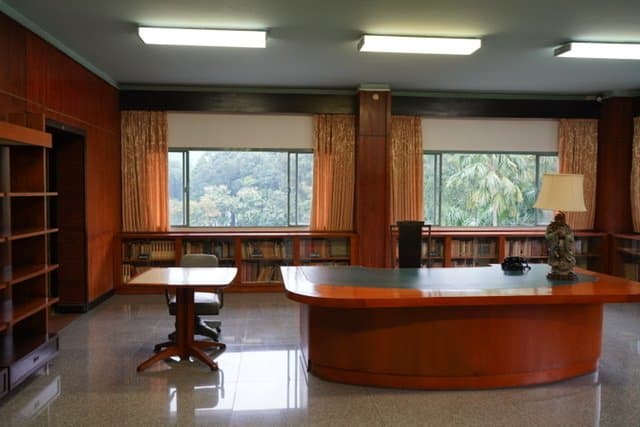 … and cinema room – well more like a mini cinema…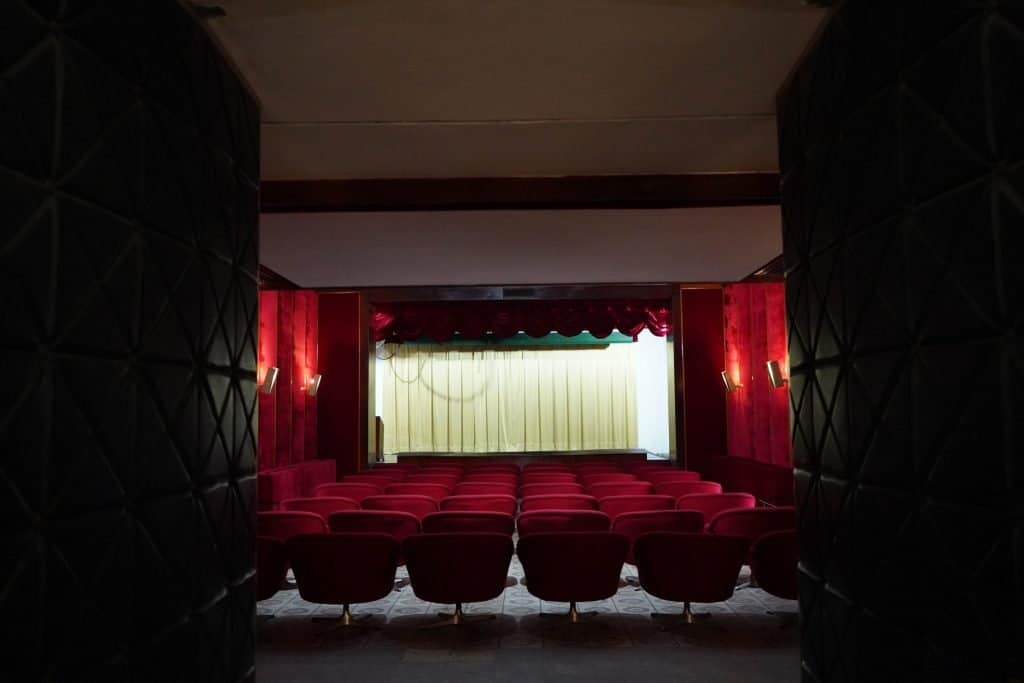 …before reaching the top floor. It had originally been designed by the architect as a place for the president to take time out and relax, but became the site by all accounts for glamorous and probably wild parties.
From a window overlooking a part of the palace you could see a parked helicopter, and two circles marking where bombs had landed in April 1975.
I then stumbled across a stairway that took you down to the bunker – which made sense as when I explored it, I seemed to be constantly fighting against people coming the opposite way. So there's a tip – take the stairs from the top floor, not the ground floor!
There isn't that much to see in Reunification Palace, but if you're interested in design or like cool buildings, I'd definitely recommend a visit.
After I finished walking around and taking photos, I asked for directions to the exhibition which I'd also purchased a ticket for. A short walk through the palace grounds brought me to another building with an adjoining outdoor cafe. Sadly they had no Diet Coke – even though I was in dire need of one!
I stepped inside the small building housing the exhibit and wandered around. It mostly covered the building of the modern palace, although it also explored the city of Saigon at the time – including what appeared to be some kind of recreation of a cafe at the time perhaps?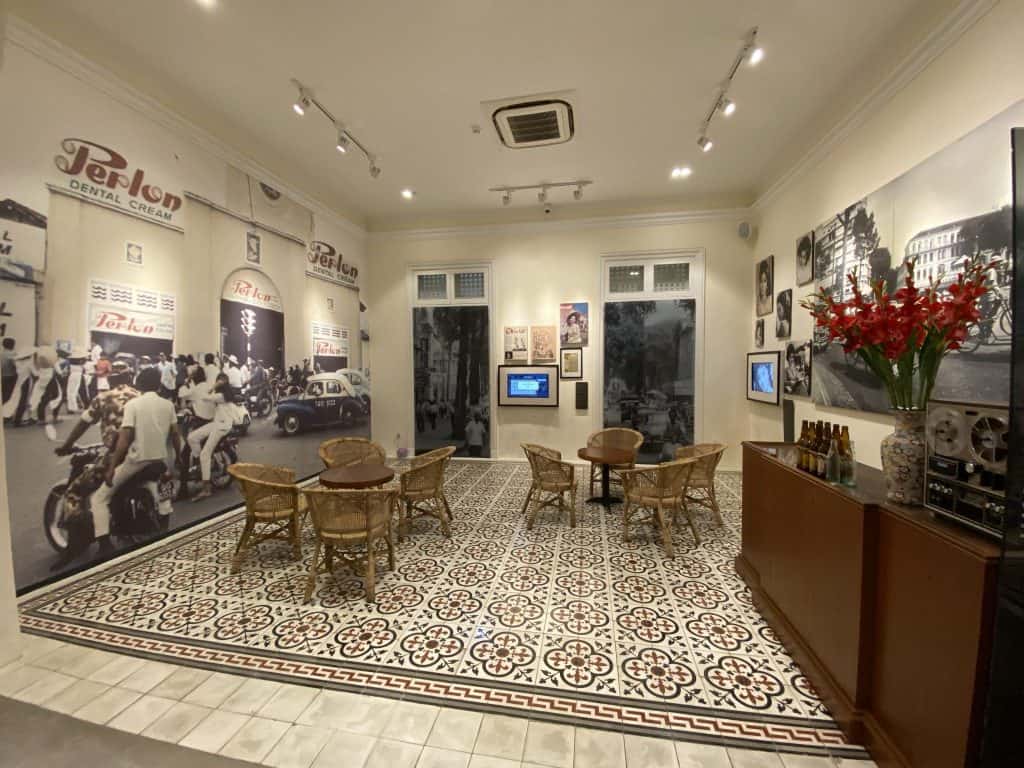 It didn't take me too long to walk around the exhibit, as it was only spread over two floors of the building, so after leaving the grounds I whipped out my phone and ordered another Grab. Only this time I made a bit of a user error and ordered it to the front of the palace gates, where I'd been dropped earlier, and not where I actually was. The driver arrived by the time I realised my error, so I quickly ran around the block, and luckily he was still there waiting for me and my sincere apology!
A Buddhist temple visit
We were headed towards the Jade Emperor Pagoda – or Ngọc Hoàng Điện to give it its Vietnamese name. It was built at the turn of the 20th Century by a Cantonese community and is one of Ho Chi Minh's five most important shrines. It's also known as Tortoise Pagoda.
I was dropped off nearly right outside, but after Google Maps took me down a lane to a dead end, I eventually figured out the temple was on the other side of the wall, and walked back on to the street and through a fairly normal looking gateway.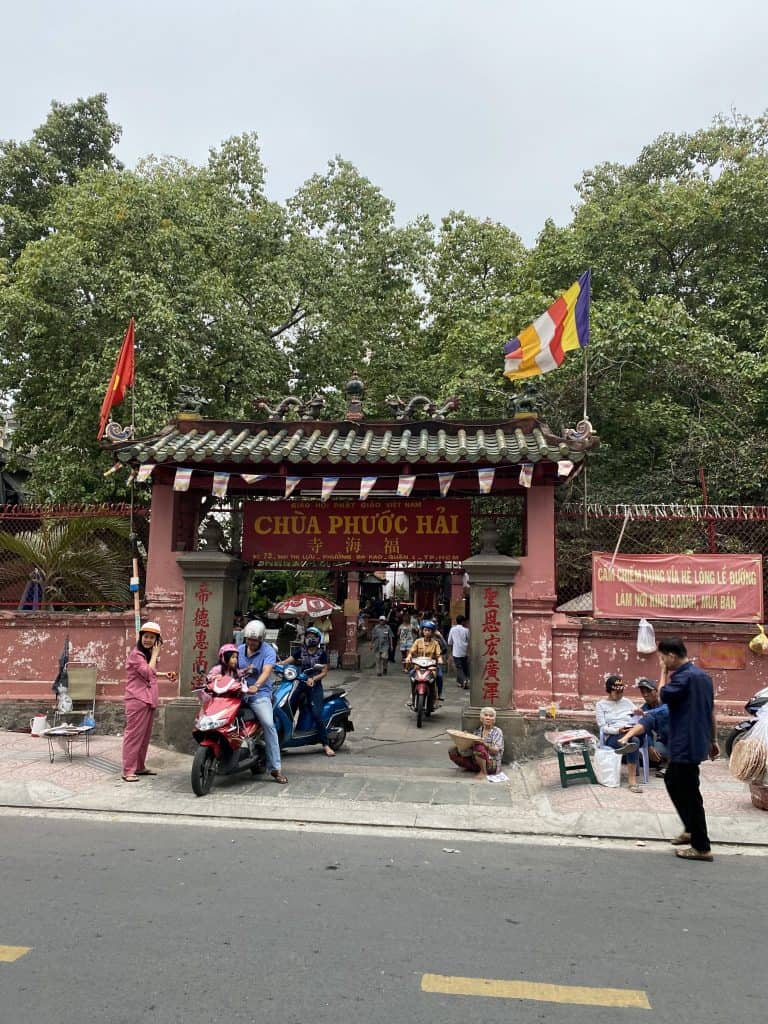 Once inside however, things were very different. It was ornate in a kind of simple way. The smell of burning incense filled the air, and all around me Vietnamese people were standing hands clasped, eyes closed, praying.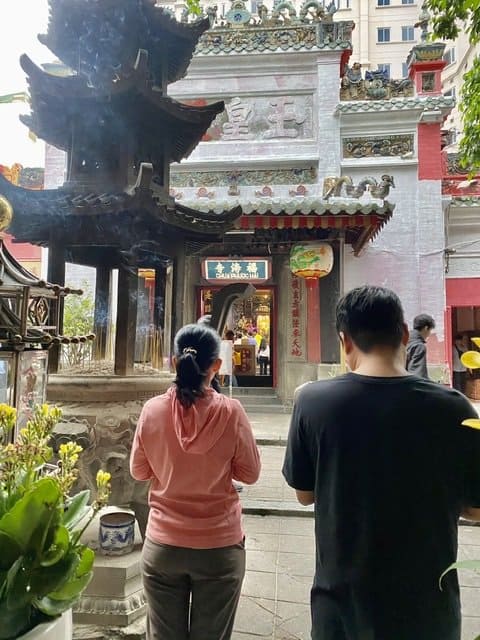 Rows of lit candles sat outside the entrance to the temple.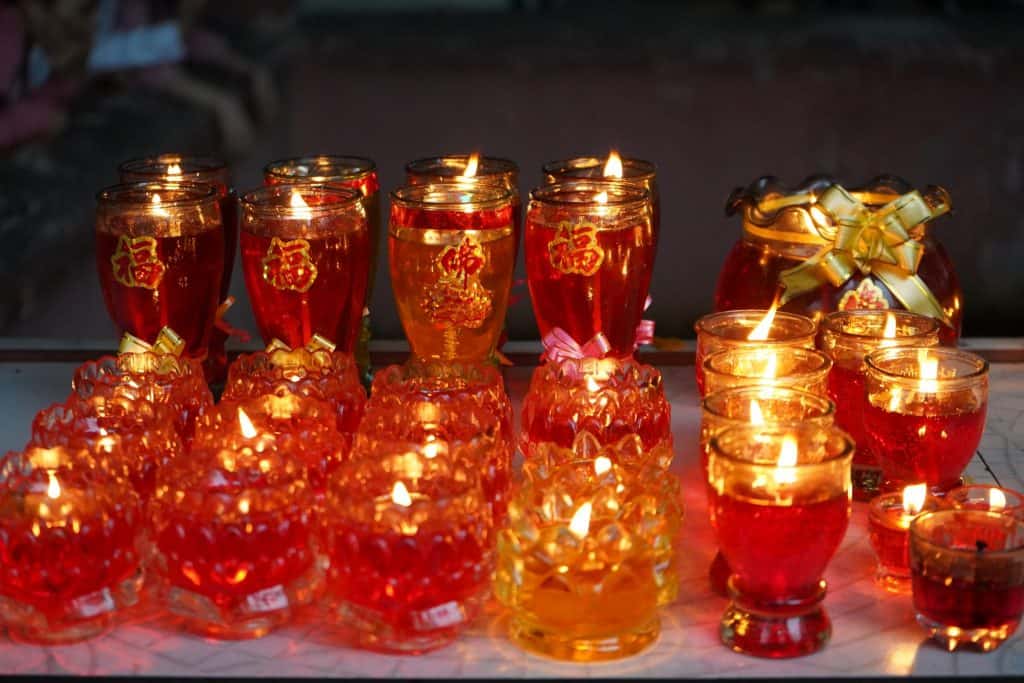 After looking around the edge of the shrine… and seeing the tortoises that gave it one of its names…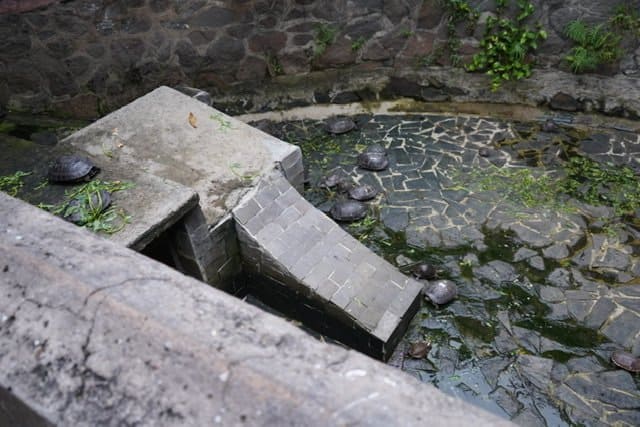 I stepped inside.
It was very ornate – there looked to be some kind of ceremony taking place so I tried to be very subtle when taking photographs – hence they're not great!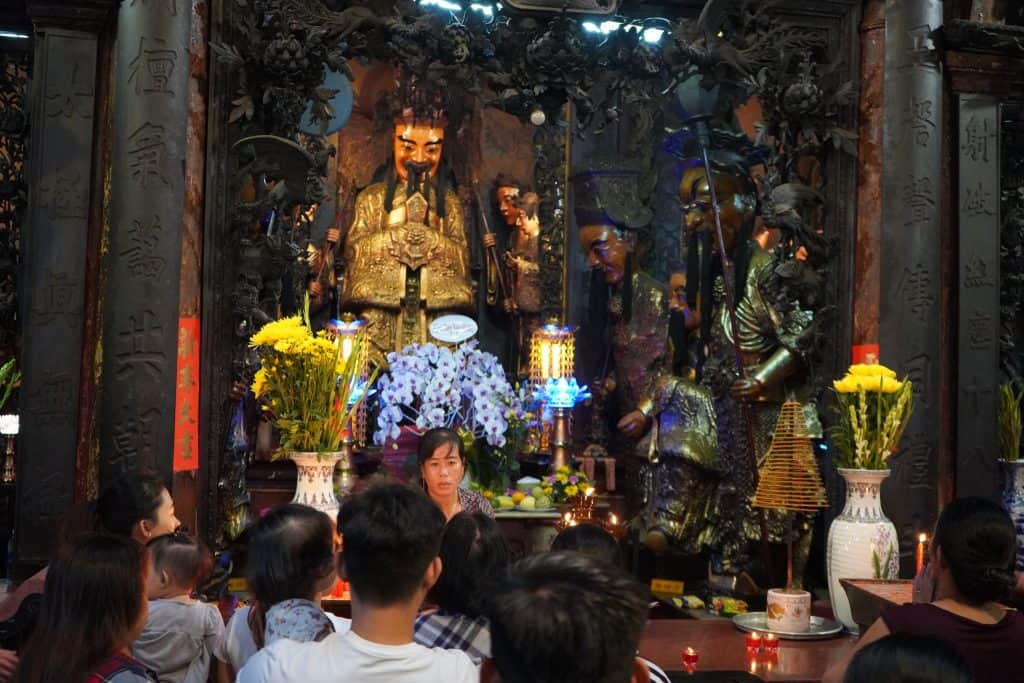 Walking down corridors off the main small room took me to shrines in other rooms. Again some of these were very ornate.
Upstairs, I walked out on to the roof…
Before coming back inside, taking my shoes off and quickly stepping into another room. Most rooms I looked into downstairs were crowded with people – and only a few of them tourists.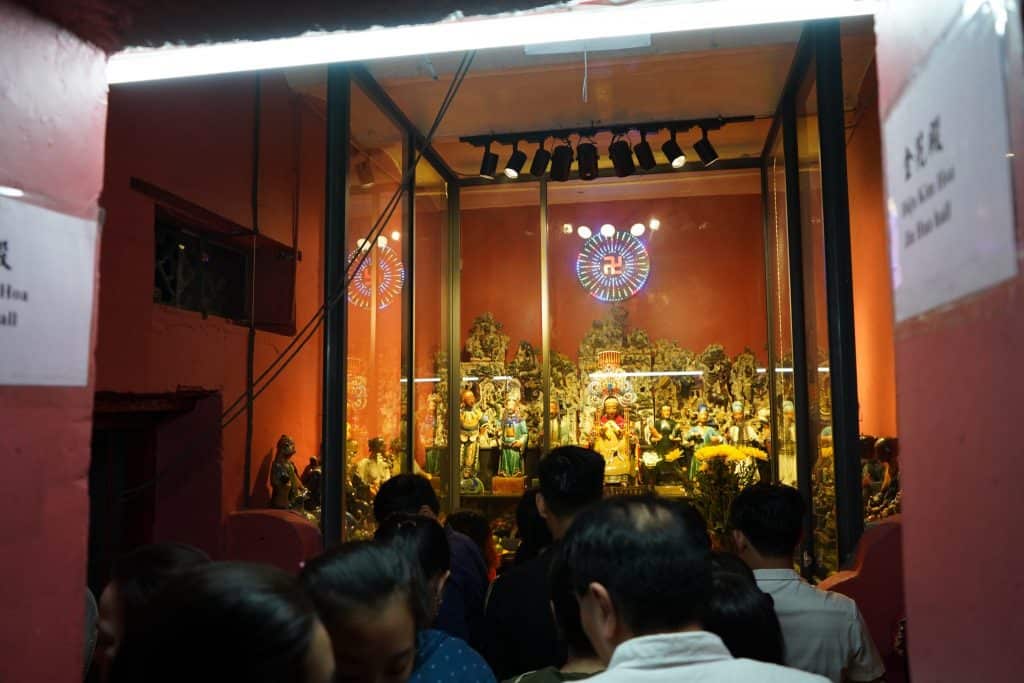 It was an interesting place to visit, but I think it's perhaps someplace (if it's possible) experienced with a guide, as I felt I didn't really appreciate it as much as I should, due to a lack of understanding of the Buddhist culture.
By now I was really thirsty, and wanted to be guaranteed a Diet Coke, so noticing there was a McDonald's just a three minute walk away, decided to go in there for a drink. I'd been in the country a day and a half and still hadn't been!
This seemed to be not only a fairly swanky McDonald's, but also the site of McDonald's Vietnam's offices – just beside the restaurant in the picture below.
Inside was really modern – just like a McD's at home, and I ordered a Diet Coke via a kiosk (no food!) before being presented with a can at the counter.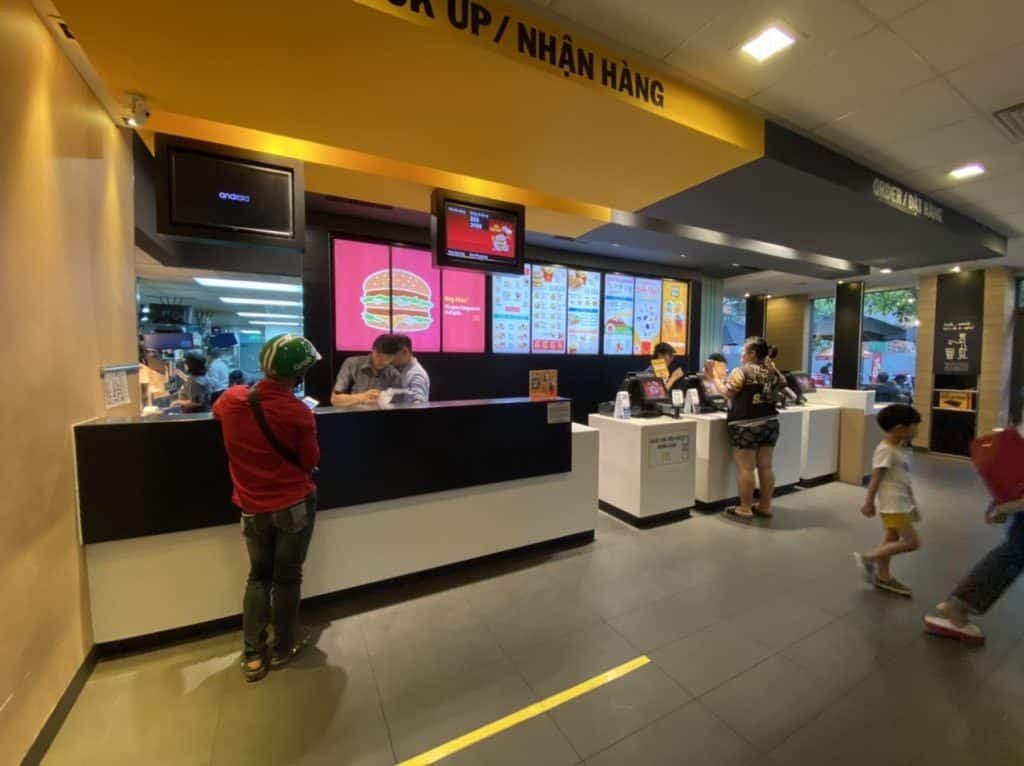 I stood outside to drink it and admired the chaos of traffic going round a roundabout. Basically the rule seems to be just go – no-one seemed to stop before entering the roundabout!
By now it was just after 5pm, and I decided to order another Grab and make my way to another spot. Hopefully in time for sunset – which was just about 35 minutes.
A view of the city
My sister takes the Mickey out of me for always wanting to climb towers while I'm on holiday, but I can't help it! I'm drawn to high places with a view, and that was where I was headed.
Saigon Skydeck is located on the 49th floor of the Bitexco Financial Tower, in the city centre. The Skydeck is 178 metres or 584 feet off the ground, and I'd read it was recommended to visit for sunset.
I'd be pushing it though, as darkness was slowly beginning to fall as my Grab made my way through the traffic back downtown.
I arrived just before half past, and was dropped off outside the entrance to the Bitexco tower. Then after going up an escalator to the start of what looked like a shopping mall I eventually gave up looking for signs and asked where the entrance was – only to be told it was back outside and around the corner!
Obviously when I got there, there was a very slow moving queue.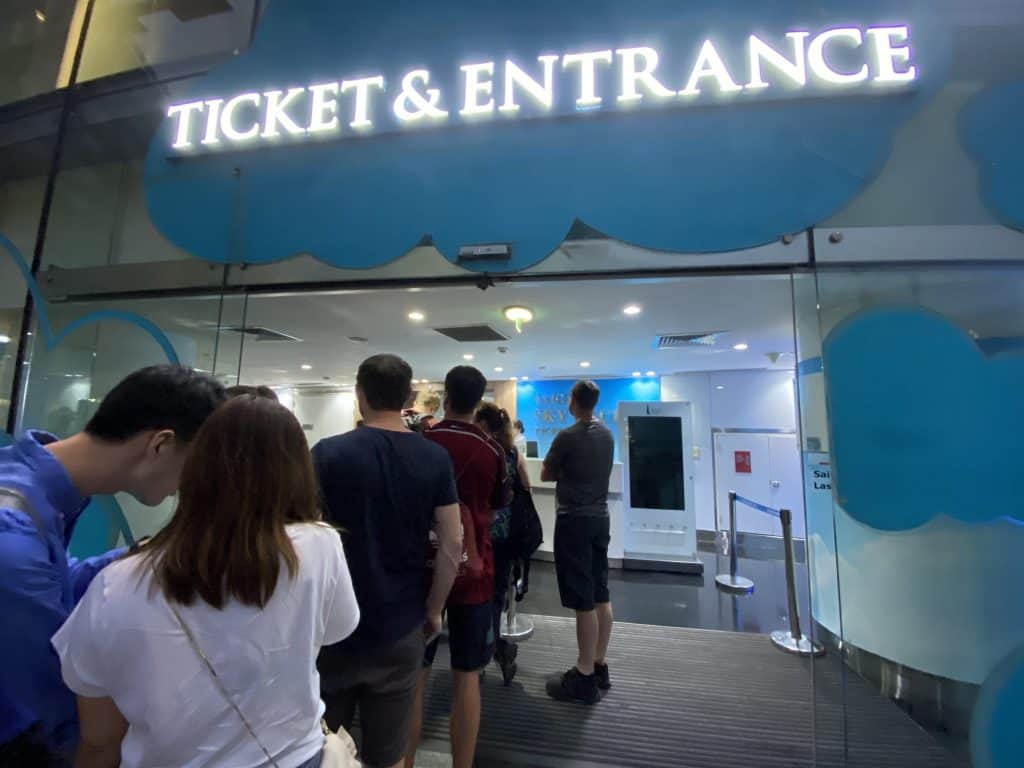 There was just a bit of light still in the sky, so I reckoned by the time I got to the Skydeck, it would be dark, but figured it would still be worth it.
After what seemed like an eternity (there was only one person on the ticket desk) a man pointed me in the direction of the Heineken Experience counter and told me I could also buy a ticket there. Apparently Vietnam is the second biggest consumer of Heineken after the Netherlands – it's everywhere!
I paid my 200,000 dong entrance fee (about £6.70, which seemed expensive for Vietnam!) and was soon in the lift. 35 seconds later, I stepped out on to 49th floor – to be greeted by a panoramic view of Ho Chi Minh's skyline that wrapped around the entire building.
Thankfully although it was kind of dark, it wasn't completely dark, so I managed still to get some decent shots before night completely fell – a couple of minutes later!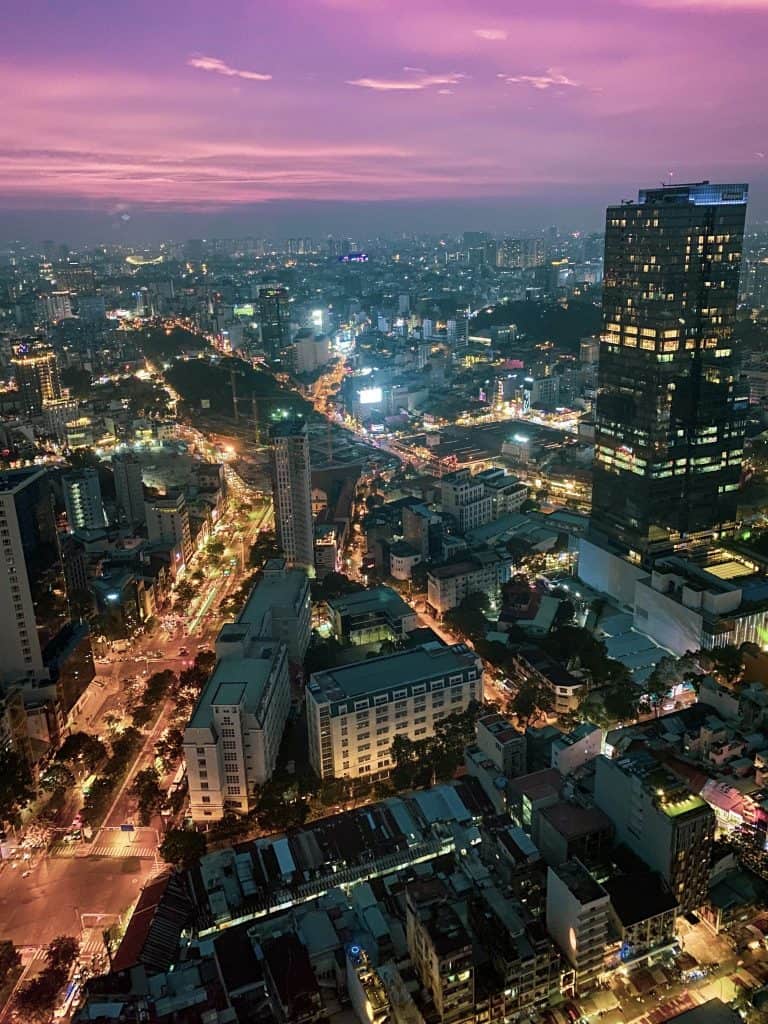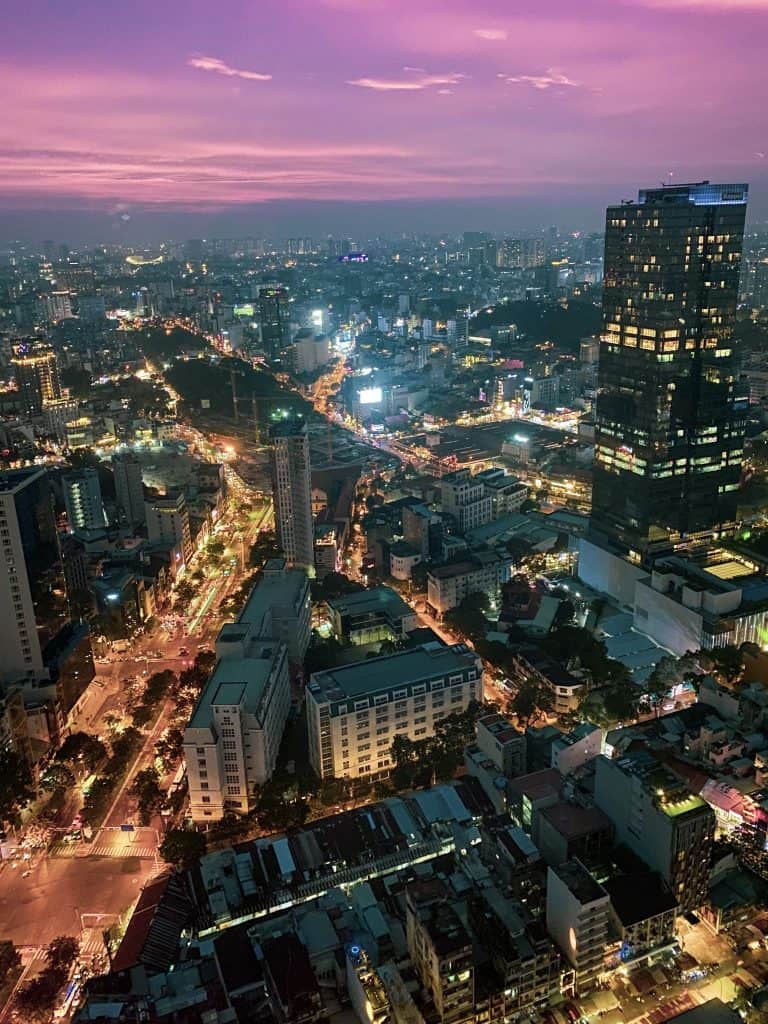 I stood for a while just gazing at the view. The city seemed to stretch out in front of me for as far as the eye could see – I'd really underestimated its size.
Also amazing, and again which I had only kind of noticed, was the sheer number of really tall buildings which were scattered across the skyline. There were loads of them, which you don't always notice from ground level. According to a Guardian article, more than a third of Ho Chi Minh's historic buildings have been destroyed in the last twenty years. It would be a real shame to see more of the city's history wiped out – the mix of old and new still means the place definitely has its charms, but I think a lot of that would go if the older buildings did too.
I wandered around and took some more photos, staring at the view, and twenty minutes later I was back down on ground level. That was an expensive twenty minutes! But there really isn't much more to see at the top apart from the view.
I nipped into to take a quick look at an Adidas shop next door…
…before peeking through the entrance to one of Ho Chi Minh's Hindu temples – Sri Dandayudhapani.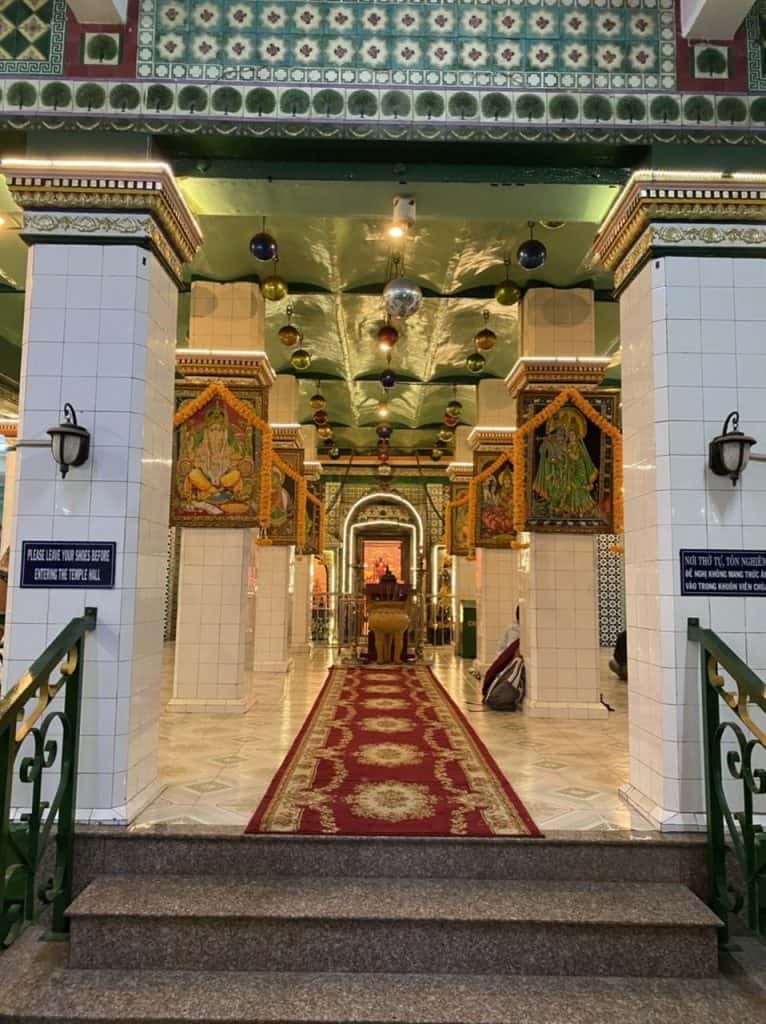 I was tempted to go inside but decided against it, as a small group of people were sitting around chatting inside, and I didn't want to interrupt.
Then I walked back to my hotel to dump some stuff before heading out again.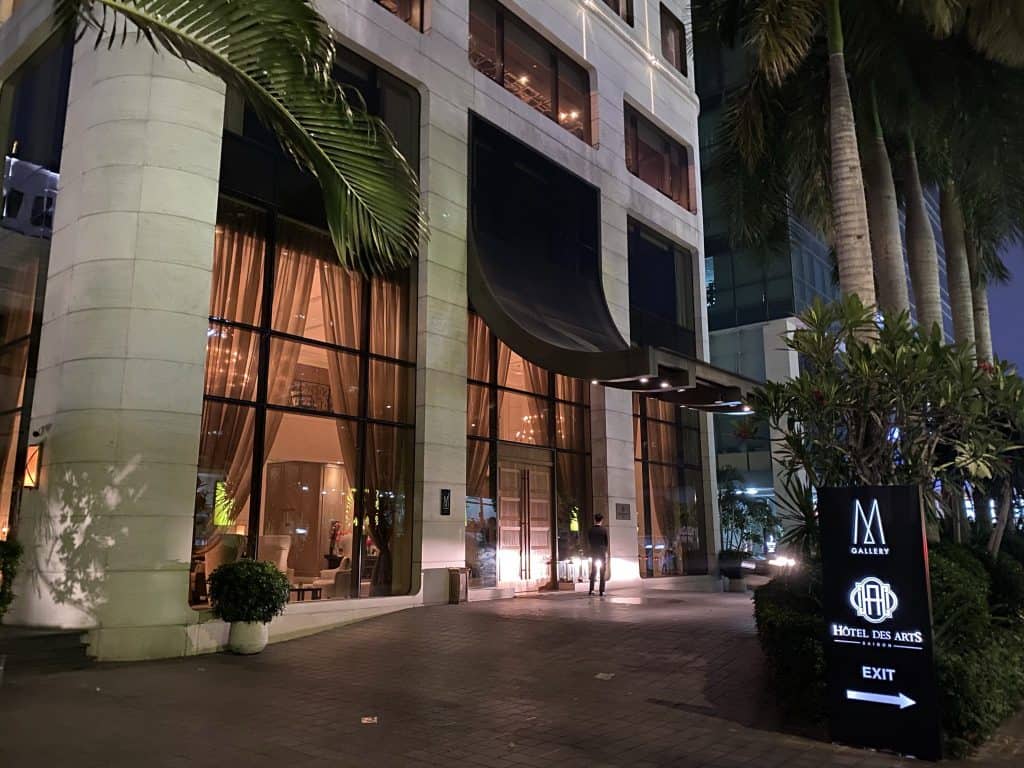 A trip to a Ho Chi Minh mall
I'd already had a half-hearted look around one shopping centre in Ho Chi Minh on my first day, but I decided to go and check out another one at night. We'd walked past it on the walking tour the other day, and Orlando had said it was pretty good. I also thought it may be a quick and easy spot for dinner.
A ten minute walk in a balmy evening heat took me to Viacom Centre. From the outside it all looked very jazzy!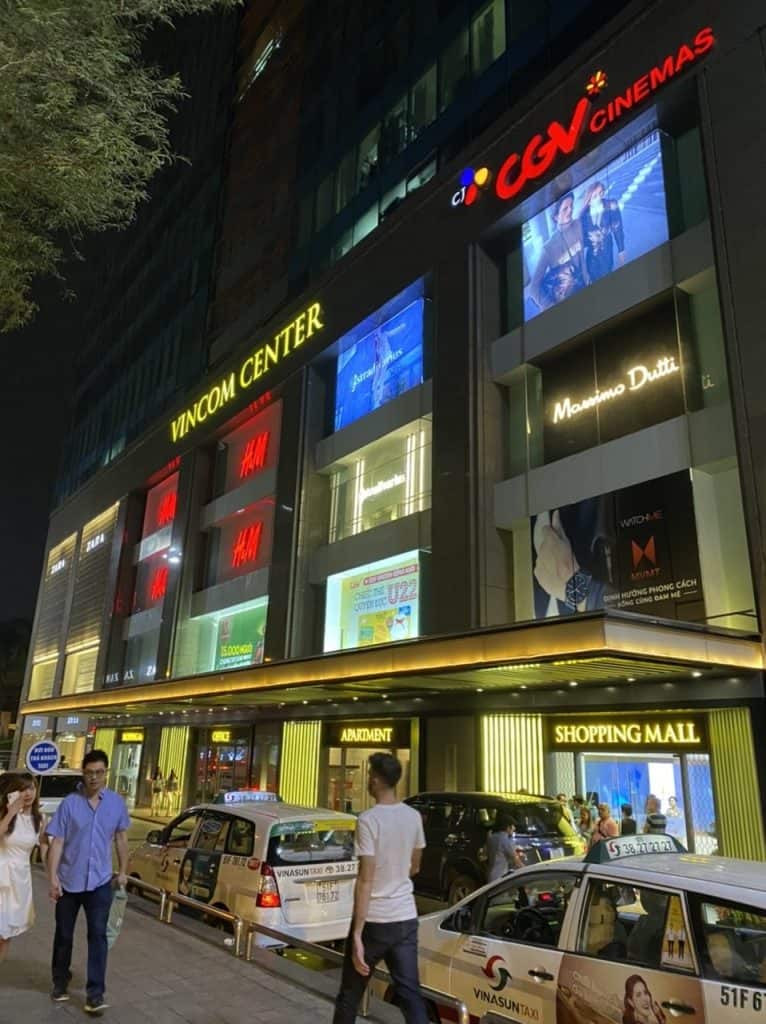 Inside was full of well to do looking and young Vietnamese. I took a look around and…. well it all looked a bit disappointing! Stores seemed to practically take up a whole floor – and those I could see read like a roll call of any European high street – H&M, Pull & Bear, Massimo Dutti and Zara!
I decided I'd go and look for the food court, and headed up to the top floor, but that just had a two or three restaurants, and most of it appeared to be taken up by a cinema.
I saw signs for a food court in the basement so went back down at least four sets of escalators. All of a sudden the mall opened out, and there were loads more interesting shops. An electronics store! A home shop! And another Adidas shop.
I wandered around the food court which was enormous – there were at least twenty restaurants and it was like a maze. I was tempted by Fanny….
…but in the end all the other restaurants looked exactly the same so I just decided to stop at the next half decent one and go in. ngo Saigon Street Café it was!
I fancied some fresh rice paper rolls, as a healthyish starter, but obviously they'd run out, so deep fried spring rolls it was 😩. The main course options didn't really look too exciting so I decided to go with broken rice again – this time with grilled pork chop and pork pie.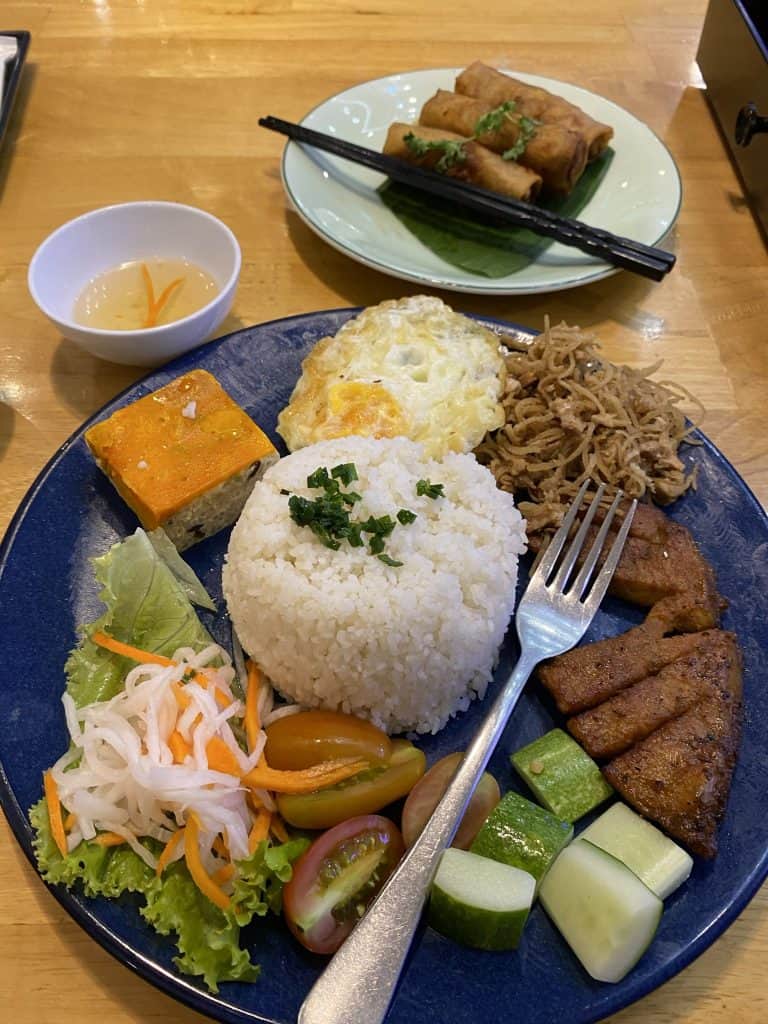 I presume that thing in the top left was the pork pie? The egg was so tough you could have bounced it of the floor – in all it was a very average meal. But it filled me up!
I decided to grab a decaf coffee – and the only place I could find that did it was Starbucks, so I sat there and caught up on emails and wrote some more before heading into the Adidas store where I bought a pair of trainers.
It was 9.30pm by then (most shops seem to stay open until 10pm even on a Sunday).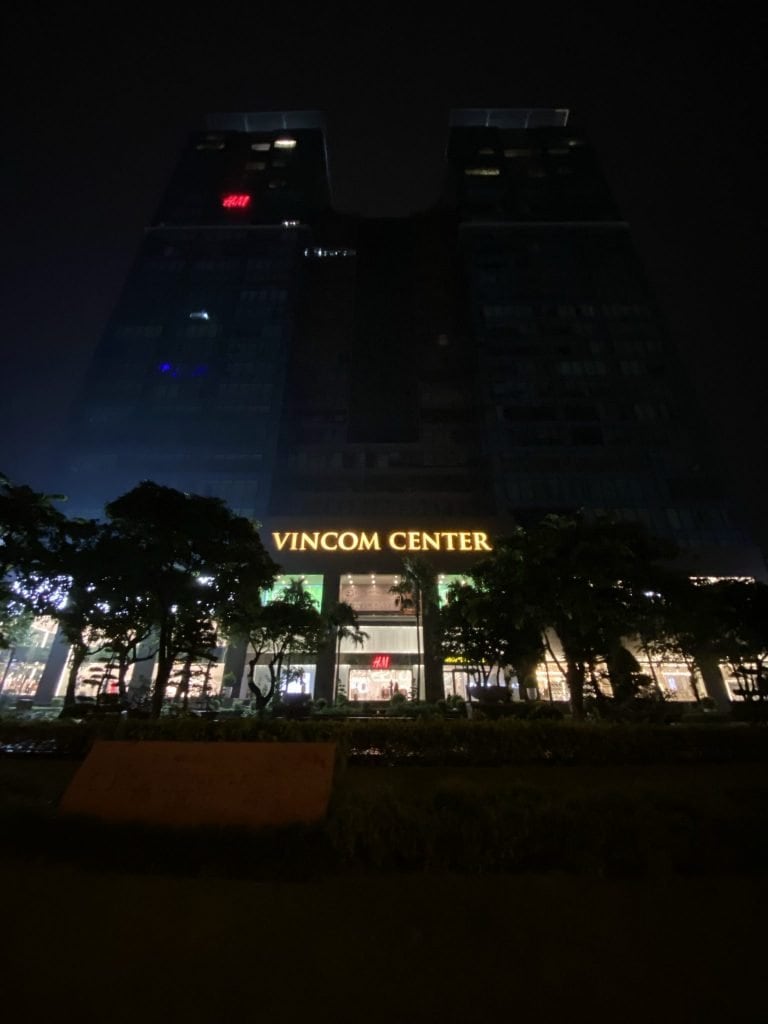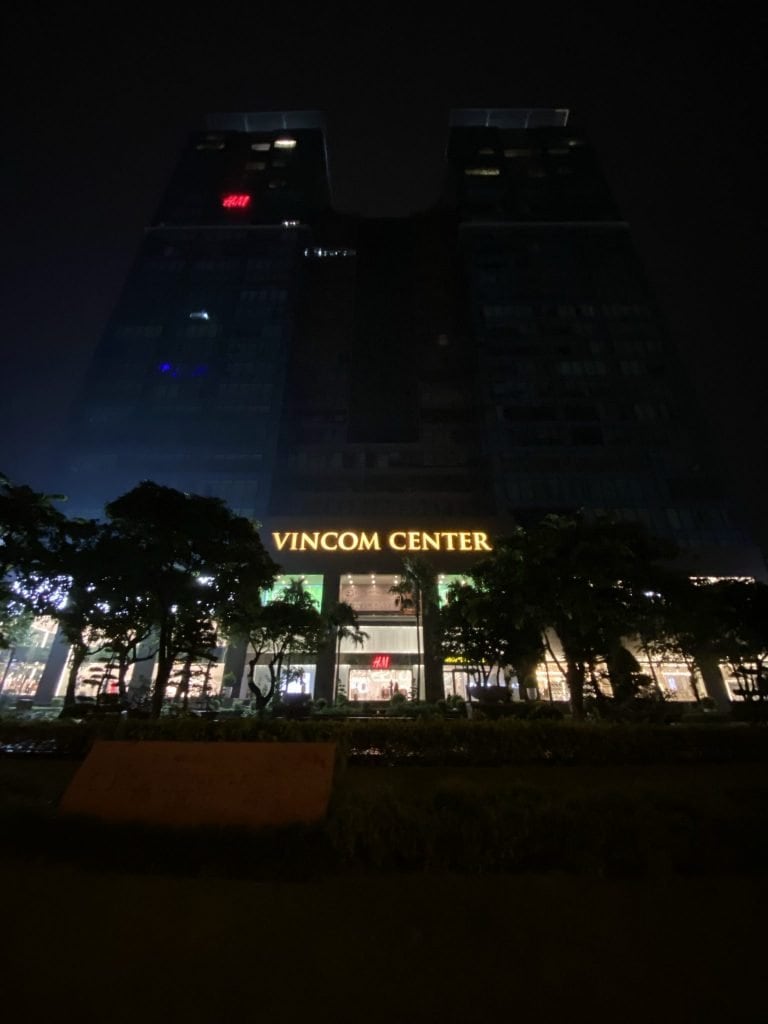 I walked back to my hotel and went to bed. I slept soundly – perhaps not surprisingly. I'd walked 11 miles despite getting Grabs everywhere!
I had to be up very early the next morning too – for a trip which would take me into the Vietnamese countryside.