I hadn't even been to Madrid before I began thinking about booking another trip. As my flight to the Spanish capital had been free, I got it in to my head that it didn't technically count as a holiday, so I could squeeze another one in before the end of the year.
When I found out I'd won a free flight earlier in the year, one of the cities I'd selected as a possible destination was Oslo. And when I learned I'd be going to Madrid instead, I started thinking about visiting the Norwegian capital anyway.
I've been to Copenhagen, Helsinki and Stockholm of late – and a while ago Reykjavík. Oslo was the one Scandinavian capital I hadn't set foot in. In a rather rash, "life's too short" moment, I booked a trip in – for just after I'd finished my latest series at work.
A quick trip to Dublin
Flying from Belfast would have involved a change of flight in London, so I decided to fly direct from Dublin, though I'd need to change in Copenhagen on the way back.
Originally my plan was to get the bus down on the day of my flight (it wasn't until lunchtime) but in the end I decided to drive down the night before. And stay in what has become my regular Dublin Airport haunt after being stranded there for four nights earlier in the year, and having been back twice since.
Maybe the staff at the Clayton Dublin Airport hotel recognised me on checking in – I scored an upgrade to an executive room in a new, refurbished part of the hotel. The room was so much nicer than the ones I'd stayed in before. Not because of the size or any additional facilities, but just because the decor was much more up to date. There were seven plug sockets (most with USB ports too) in the room!
After having a bit of a duff meal in The Playhouse bar in the hotel (where I now recognise at least two members of staff every time I go) I turned in for the night.
On Thursday morning, I was up early enough to get breakfast, and caught the shuttle bus to Dublin Airport's Terminal 1.
An SAS Plus flight
My flight to Oslo and back was with SAS – unfortunately part of Star Alliance, not Oneworld who I have status with. I hadn't flown with them before, so was interested to see what it would be like.
I'd booked an "SAS Plus" fare as I'd worked out it would be cheaper than buying a normal ticket, then adding on a bag, seat selection and so on. That gave me priority check in which was great, but sadly no fast track at security in Dublin. Thankfully the queues weren't too bad.
SAS recently revoked lounge access in many European airports as well – so even if you buy an SAS Plus fare you can only really access lounges in their Scandinavian hub airports.
I got into the Terminal 1 lounge anyway due to my credit card, and had a coffee while I worked on finishing off my Madrid blog posts (bit late that!)
Soon it was time to board, and I made my way to the gate. Unfortunately I got slightly confused and stood waiting at the gate next to my gate, where an SAS flight was about to depart for Stockholm. I heard the boarding call for the Oslo flight, but obviously no-one at my gate moved so I stood still. By the time I turned around, saw the Oslo gate behind me, and realised my mistake there was a lengthy queue down the stairs of people waiting to get on the plane. I was just about last on!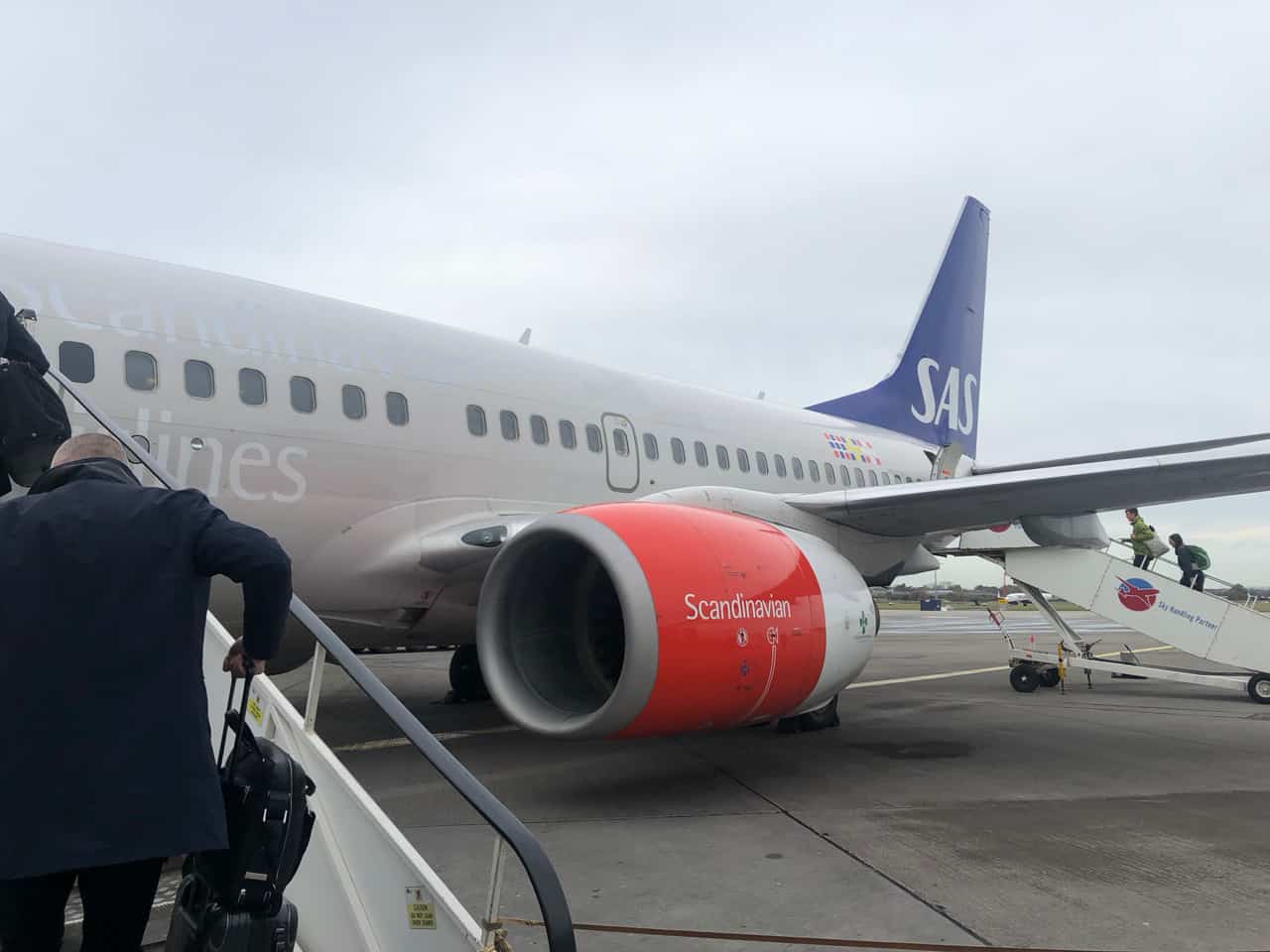 SAS Plus is kind of like Premium Economy once you're on board – but not quite as good as British Airways' Club Europe in terms of seating. Both airlines have the same seats throughout the plane on short haul flights, but BA keeps the middle seat free in Club. SAS doesn't, but that wasn't a big deal! In the end, I had the whole of my side of row 1 to myself anyway.
We took off bang on time, and the crew were polite and really friendly. Soon it was time for a spot of lunch. When it arrived in a cardboard box, my heart sank just a little bit – surely nothing good could come in that?!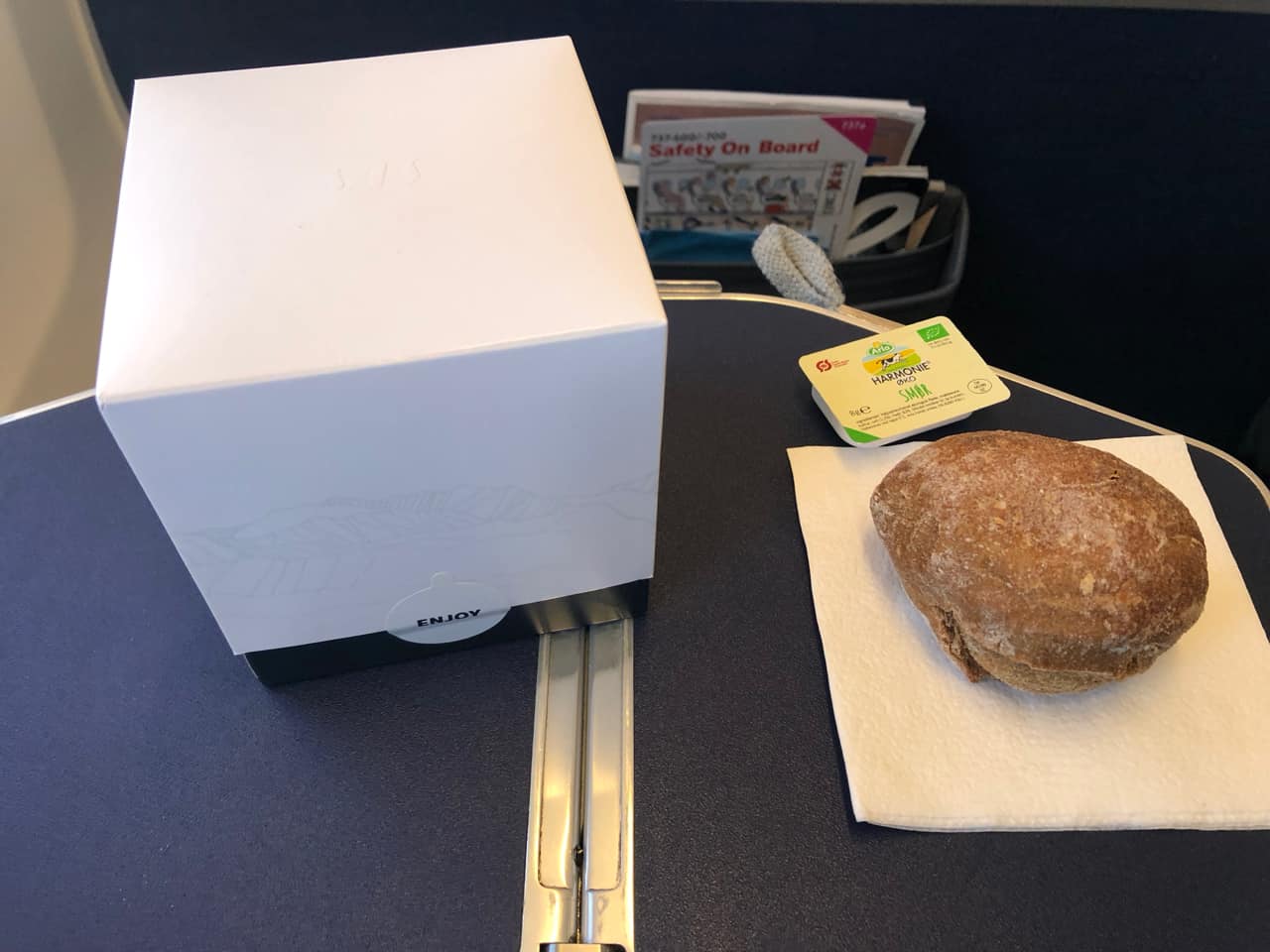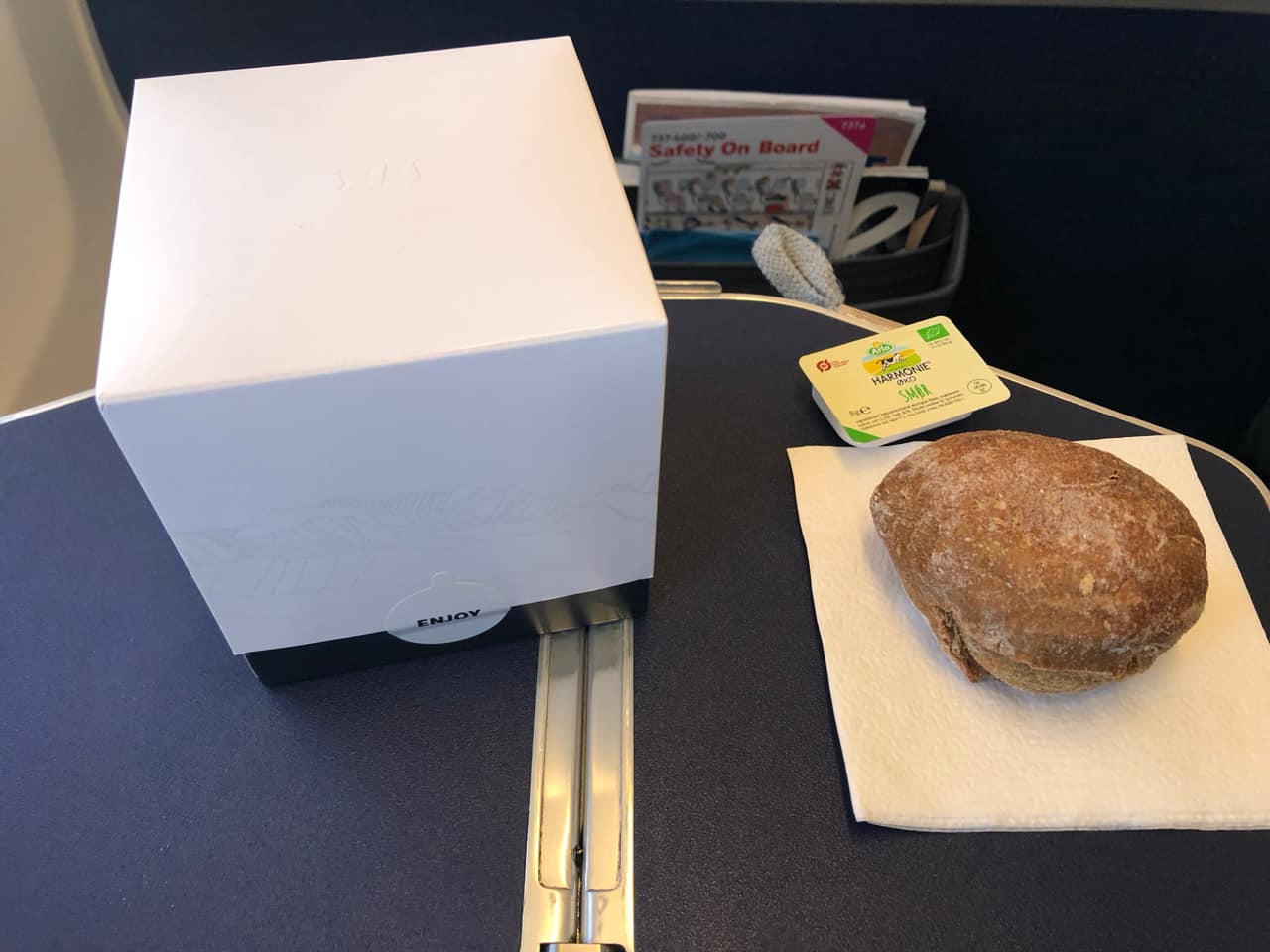 How wrong I was! Lifting off the lid revealed a cleverly packaged salad, described as smoked chicken from a place called Bjäre, with beetroot flavoured crushed wheat, lentils and black beans from Öland, pickled yellow beets and beetroot cream.
With that came a little packet of browned goat cheese sprinkles and honey from bees kept on Stockholm's rooftops! Call it a marvel of marketing speak, but I fell for it. It sounded tasty anyway, but adding in the ingredients' provenance made it sound even better.
Bread was served separately, as was the white wine I decided to have. I had a black coffee as well and after polishing off the delicious salad, we were also served three Scandinavian chocolates – including one filled with gooseberry.
I've got to say – I was pretty impressed with the catering. It was perfect for a light lunch.
Looking out the window as we neared Oslo, clouds began to blanket the sky.
Before I knew it, and having only watched one episode of a show on my iPad, we were coming in for our approach to Oslo's main airport at Gardermoen.
Having landed about twenty minutes early, there was a slight delay as we waited for a plane to depart our gate, but soon the doors were opened, and we were disembarking.
The skies were grey and overcast, but at least it wasn't raining!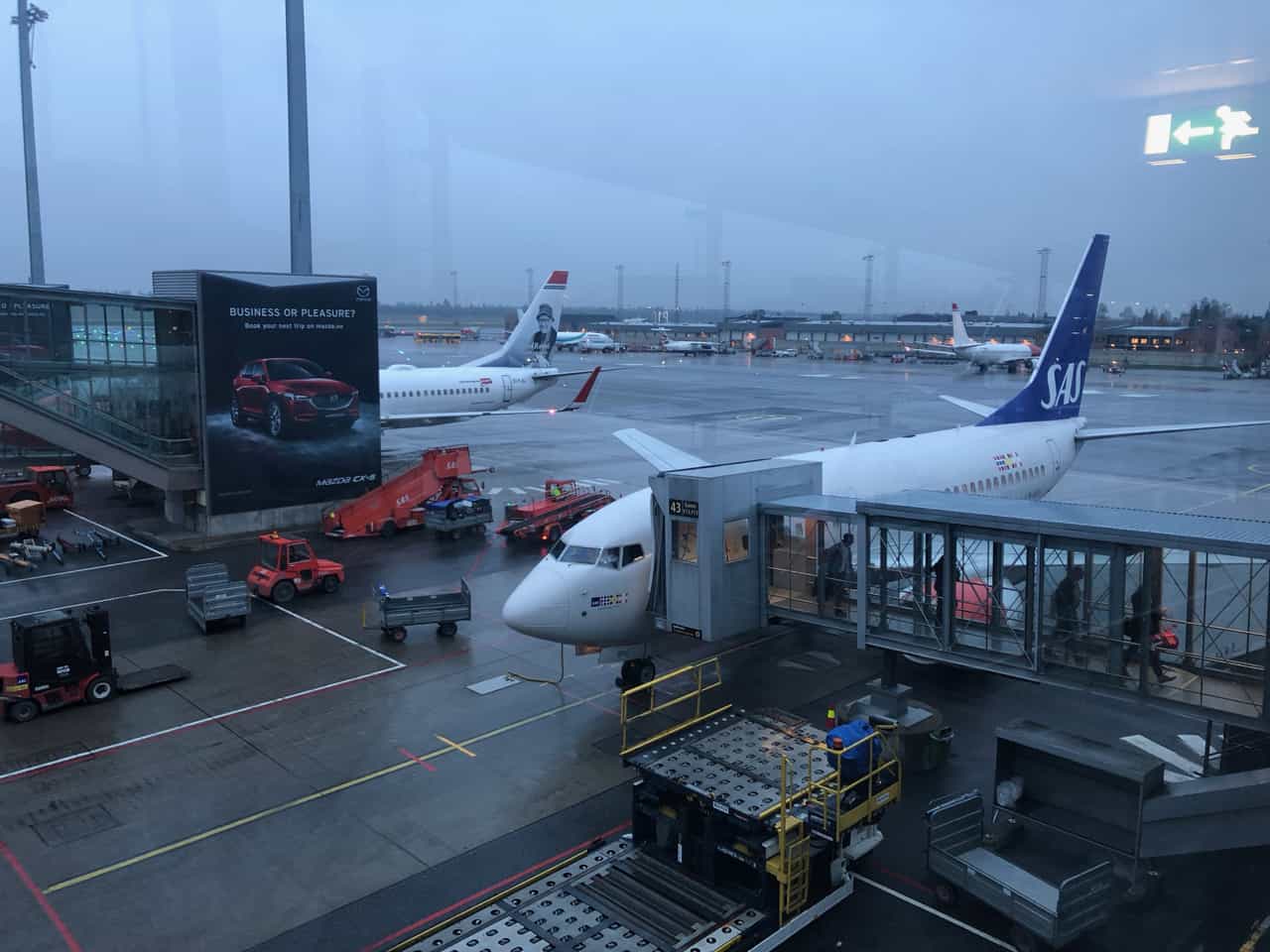 Getting into Oslo and to my hotel
I began to walk what seemed like the whole length of the terminal. The exact same thing had happened when I landed in Madrid, in that we seemed to pull in to the gate right at the end of the airport.
There was no queue at immigration, but when I said "Ah I don't speak Norwegian" when the officer examining my passport asked me something, he said "That's not my fault, you should learn Norwegian!" I don't think he was being serious, as it was accompanied with half a smile!
Navigating past the duty free shop, where I spotted my first reindeer…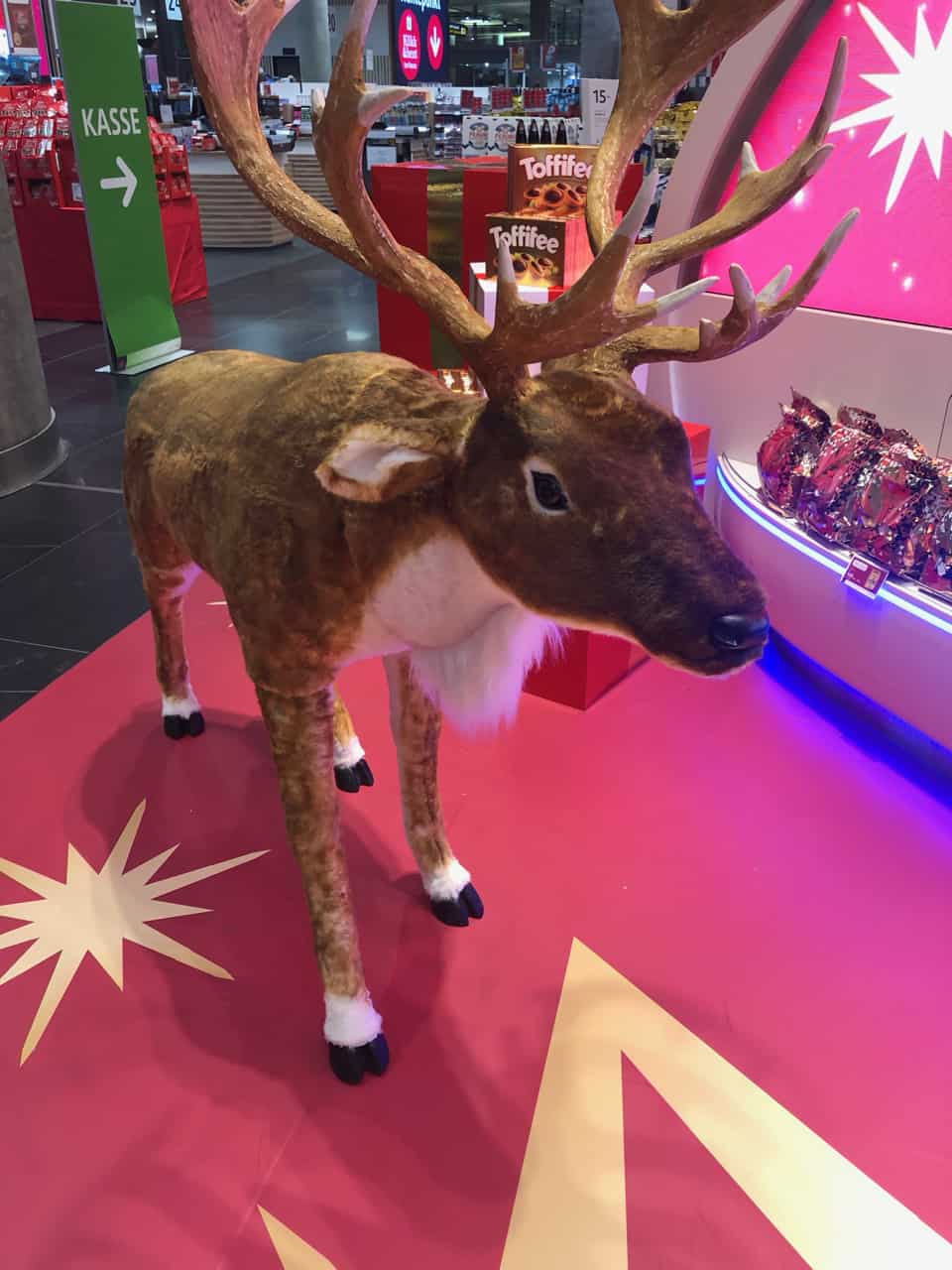 …I only had to wait for about five minutes for my bag to arrive. Then it was time to get in to town.
There are two trains that run from the airport. The snazzily branded Flytoget service takes about 19 minutes and costs 190 Norwegian Krone – about £17.40 at the time of writing. Or, you can do as I did after checking with tourist information, and take a local NSB train. That takes 23 minutes or so but only costs 101 Krone – so about £9.24. A no brainer really!
There are separate ticket machines and platforms for the two services, but after getting my ticket from the machine, I was soon on the platform, with just four minutes to spare before my train arrived.
It was pretty busy on board, but I managed to score a seat. And check this! They had vending machines on the train.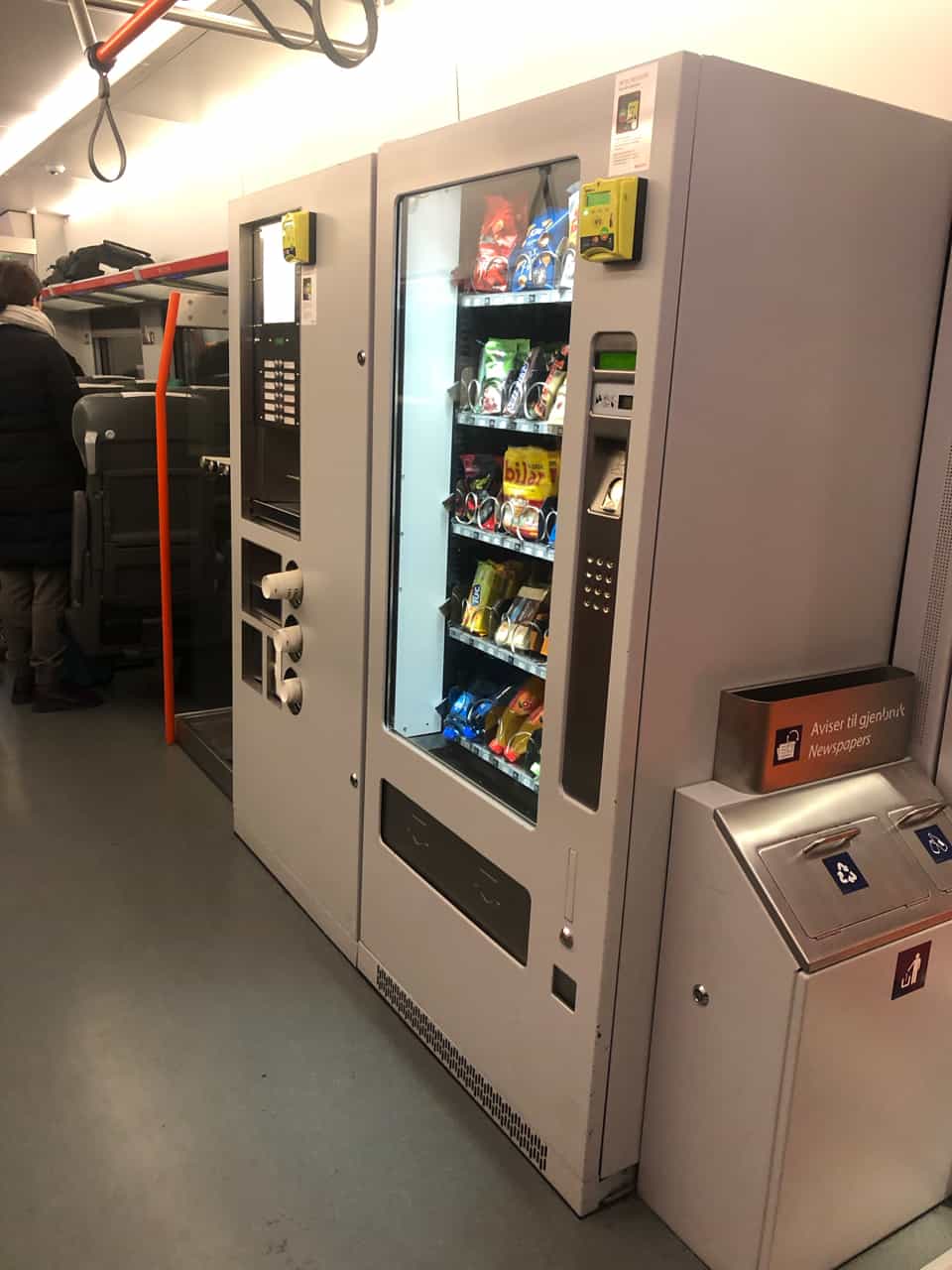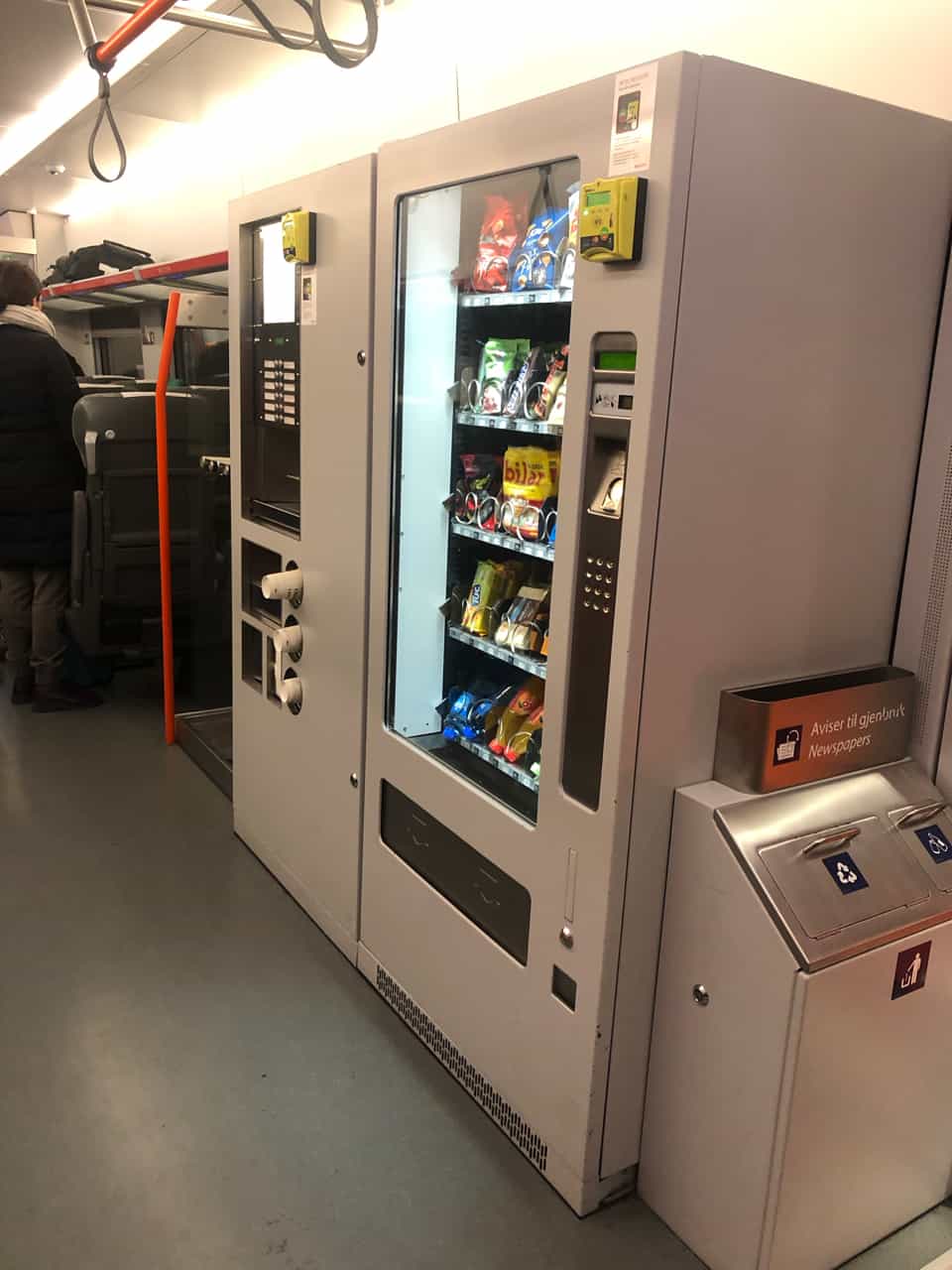 Why don't we have that? They also had wifi, although it was very, very slooooowwwwwww.
The train passed through Oslo Central station, and then I disembarked at the station closest to my hotel – Nationaltheatret. Which is not pronounced anything like how you'd think it would be.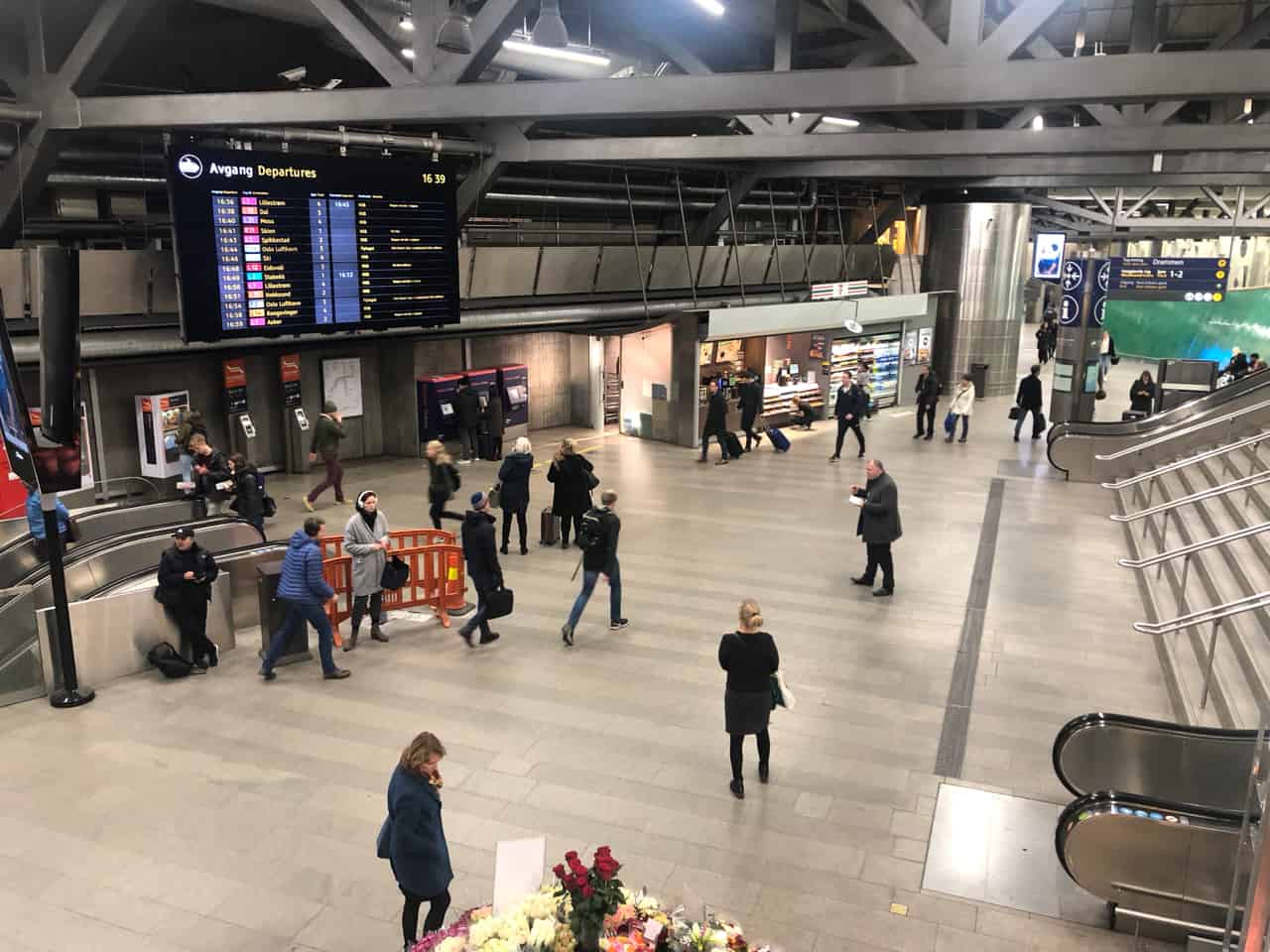 By now I was in need of a trip to a water closet, so I followed the signs in the station, until I found the gentlemens' facility. Which I was quite stunned to discover cost 10 krone – i.e. 92p – to enter! And they even took contactless payments in order to open the door.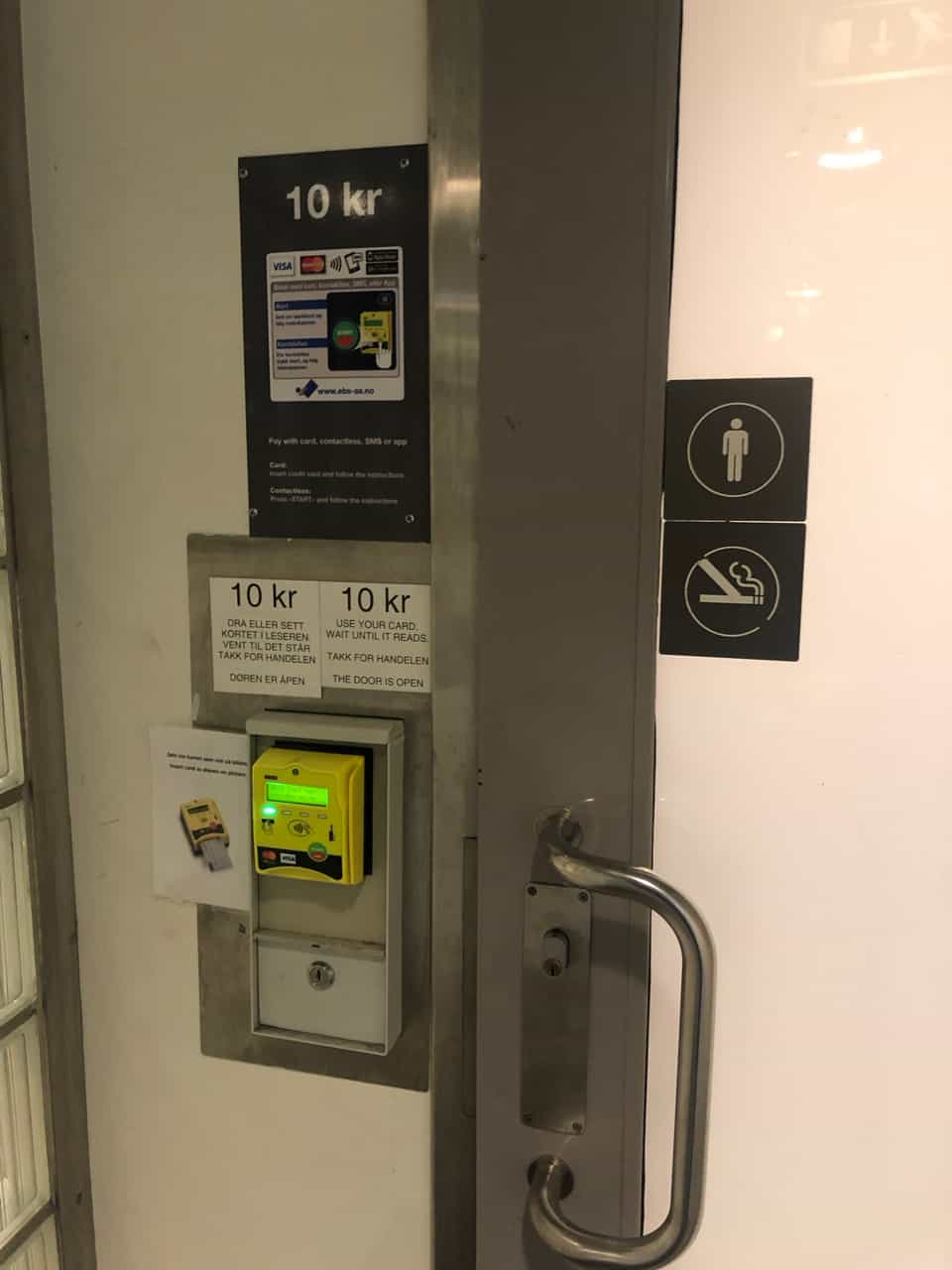 That, I'll warn you now, is the first example of me writing about how expensive Norway is. Be prepared!
Trundling my suitcase behind me as I went, I stepped out of the station, and took my first look at Oslo. It was dark. Very dark. Still it looked kinda pretty. Norway's actually the first foreign country I ever set foot in, having had a trip to Stavanger when I was about five. It felt nice to be back.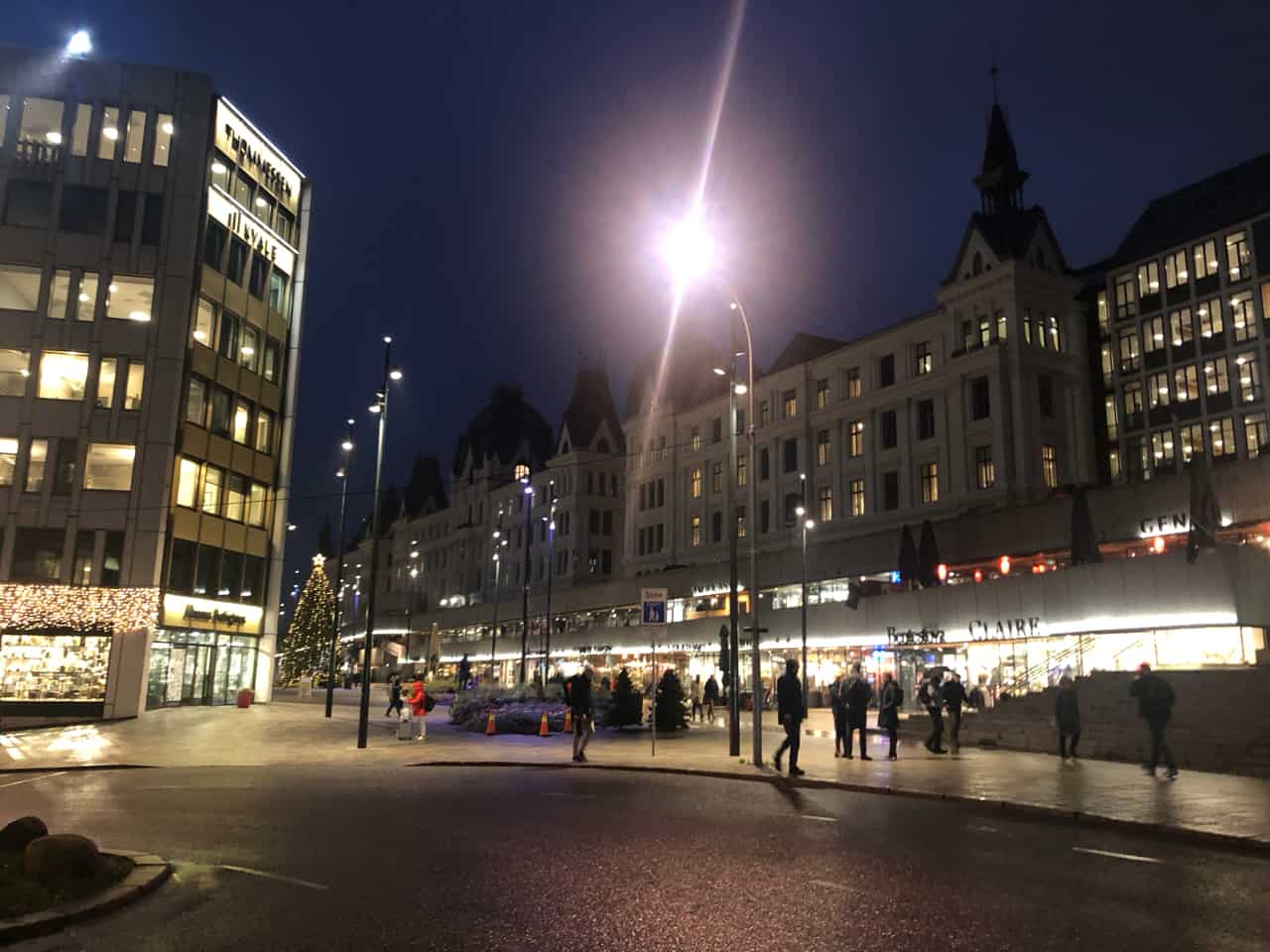 As rain started to fall, I raised my umbrella and set out on the fifteen minute walk to my hotel. I didn't spot anything too exciting on the way, but I did see a whole load of what looked like shipping containers stacked together which seemed to contain lockers for people. I found it a bit creepy!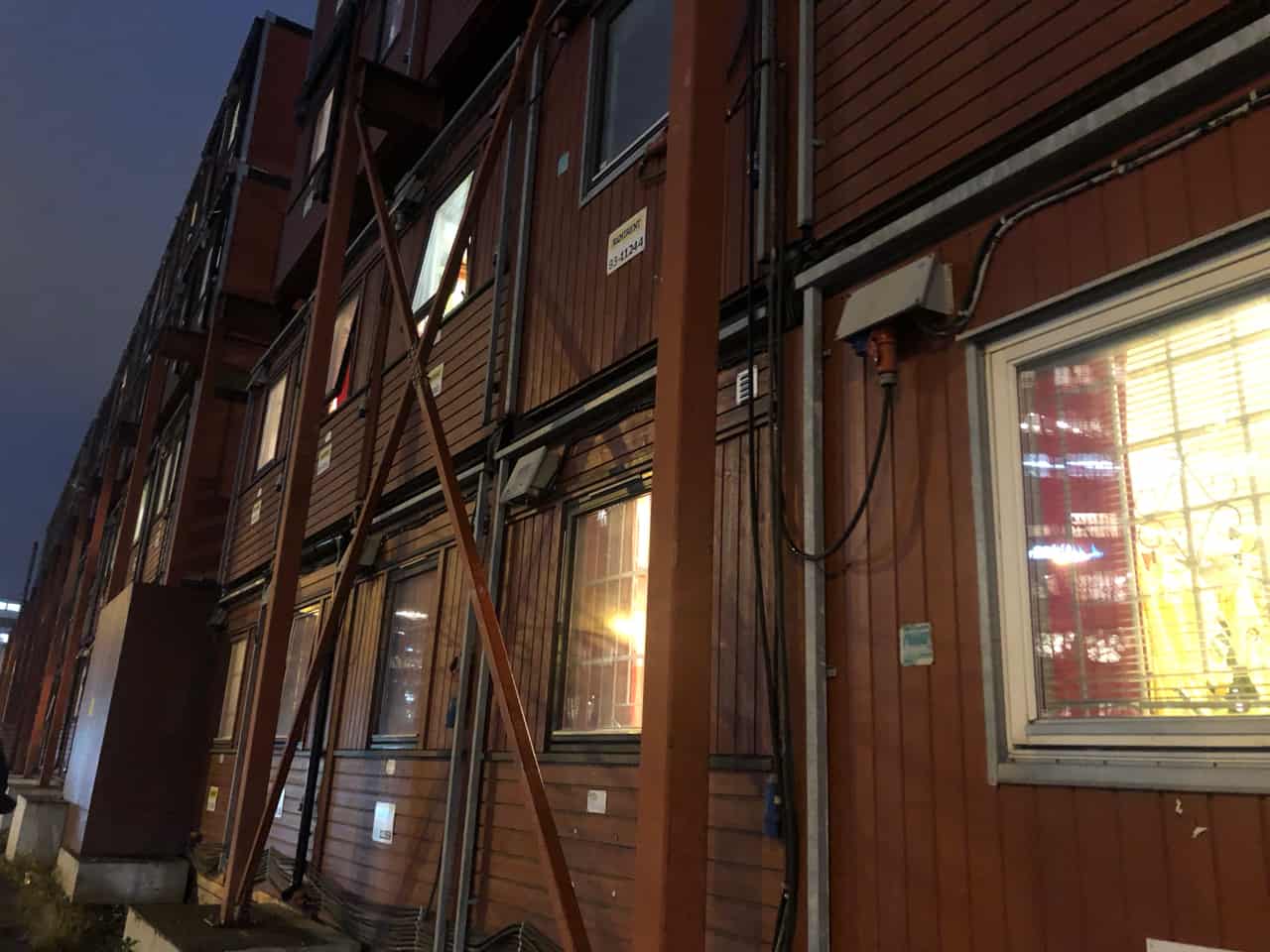 After losing my way in the Aker Brygge area thanks to my phone not being able to pinpoint my location properly, I walked through the modern, restaurant lined streets which reminded me a bit of Canary Wharf in London.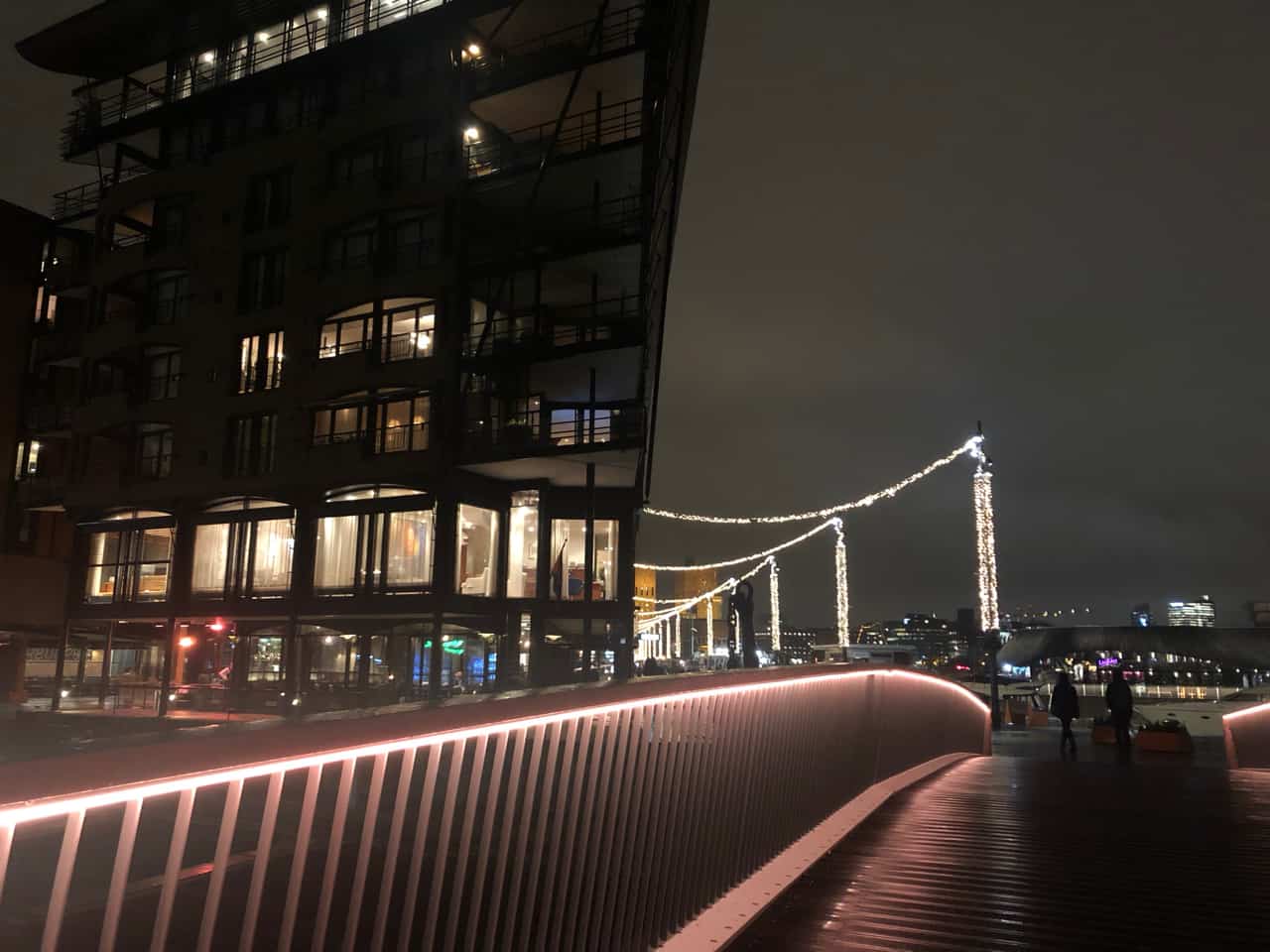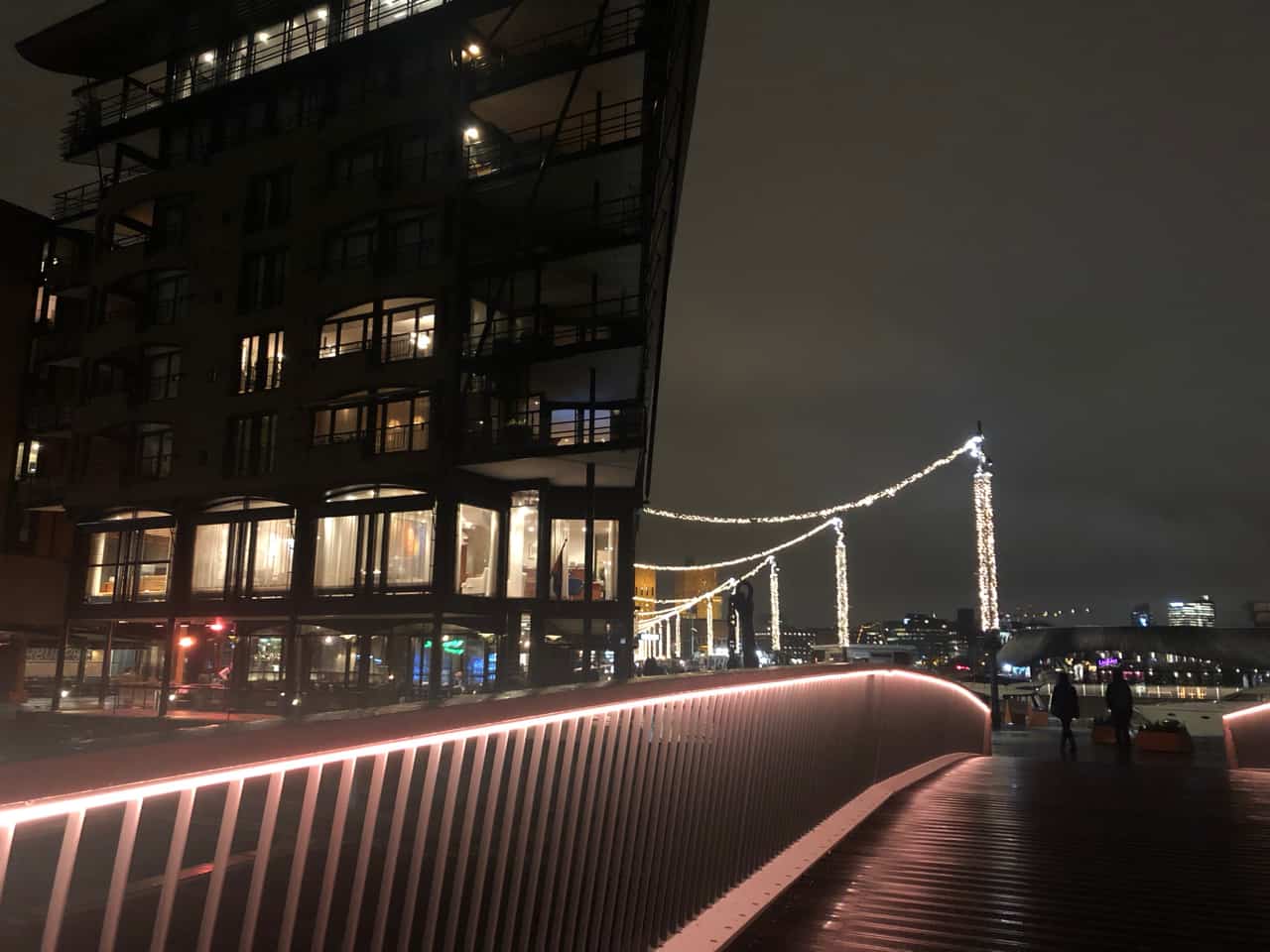 My hotel
Eventually, I arrived at my hotel. Which I was very much looking forward to. I'm not sure how it came to appear on my radar, but I'd spotted The Thief a while ago, and resolved that if I was ever to visit Oslo, that's where I was going to stay.
I definitely had to splurge a bit on it. It isn't cheap – even in November, which I guess has got to be off season for Oslo. Still a healthy 14% cashback on my booking through Quidco lessened the pain slightly!
Check in was ever so slightly brusque to be honest. I wasn't given too much information and was sent on my way to my room. Because I always tend to book my hotels through the same online travel agent, I've built up 'VIP' status with Expedia. That means basically at some hotels you get an upgrade when available – or a 'gift'.
The Thief was a hotel that recognises Expedia VIPs, but there was no mention at reception of an upgrade or a gift. When I got to my room, I decided just to dump my stuff and go downstairs and ask about it.
The receptionist told me that yes, as a VIP I was entitled to access to the hotel's spa for the duration of my stay. That doesn't sound like much, but residents of the hotel usually pay 195 krone (£17.80) on weekdays for access and an eye-watering 395 krone (£36.10) at weekends. As I was there for five days, I was technically saving around £125. So although I'd have rather have had an upgraded room, I was happy enough. I thought it wasn't great that I had to ask for it though.
With that sorted out, I explored my room. I'd just booked a standard room (my wallet couldn't stretch to anything bigger) and to be honest it was a decent size for me. The bathroom was big, with a bath and a separate shower and toilet, and there was plenty of space to store clothes.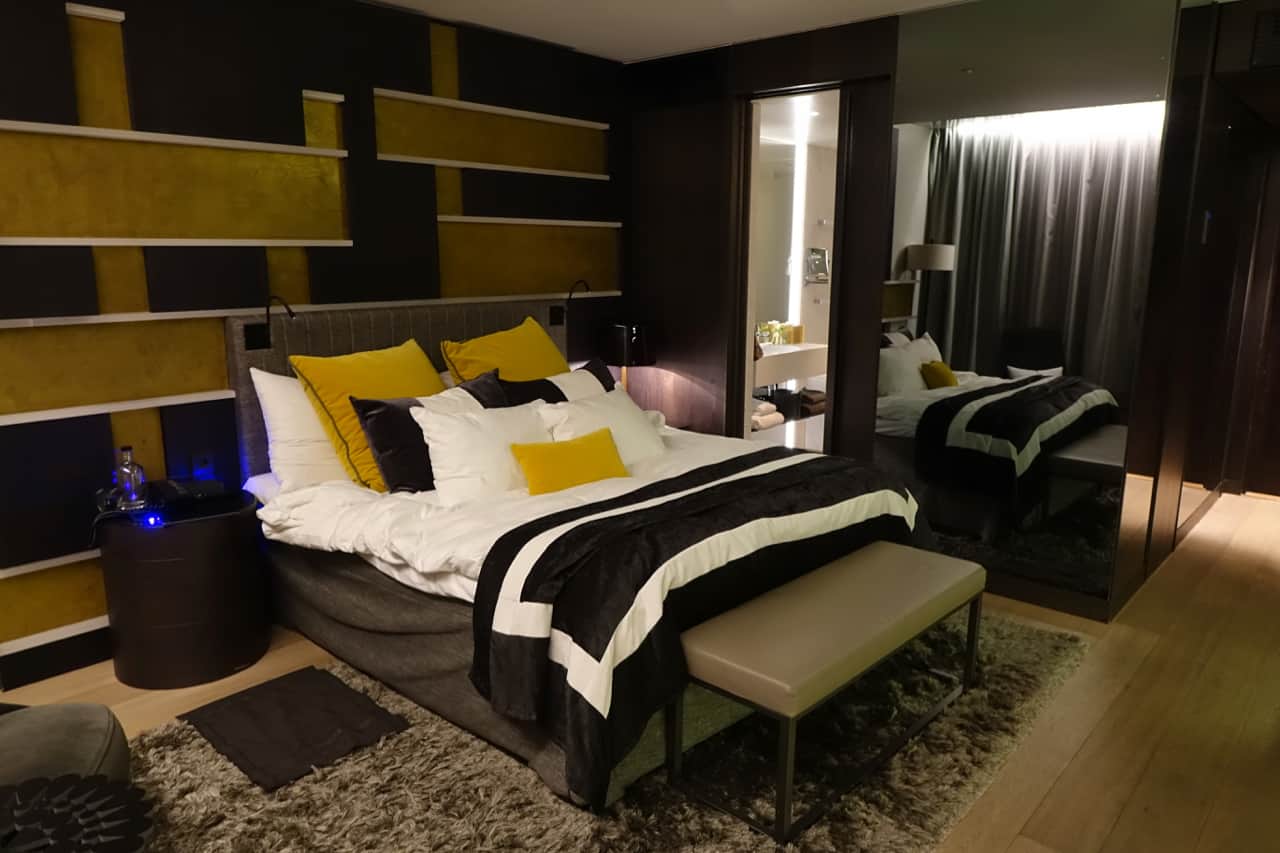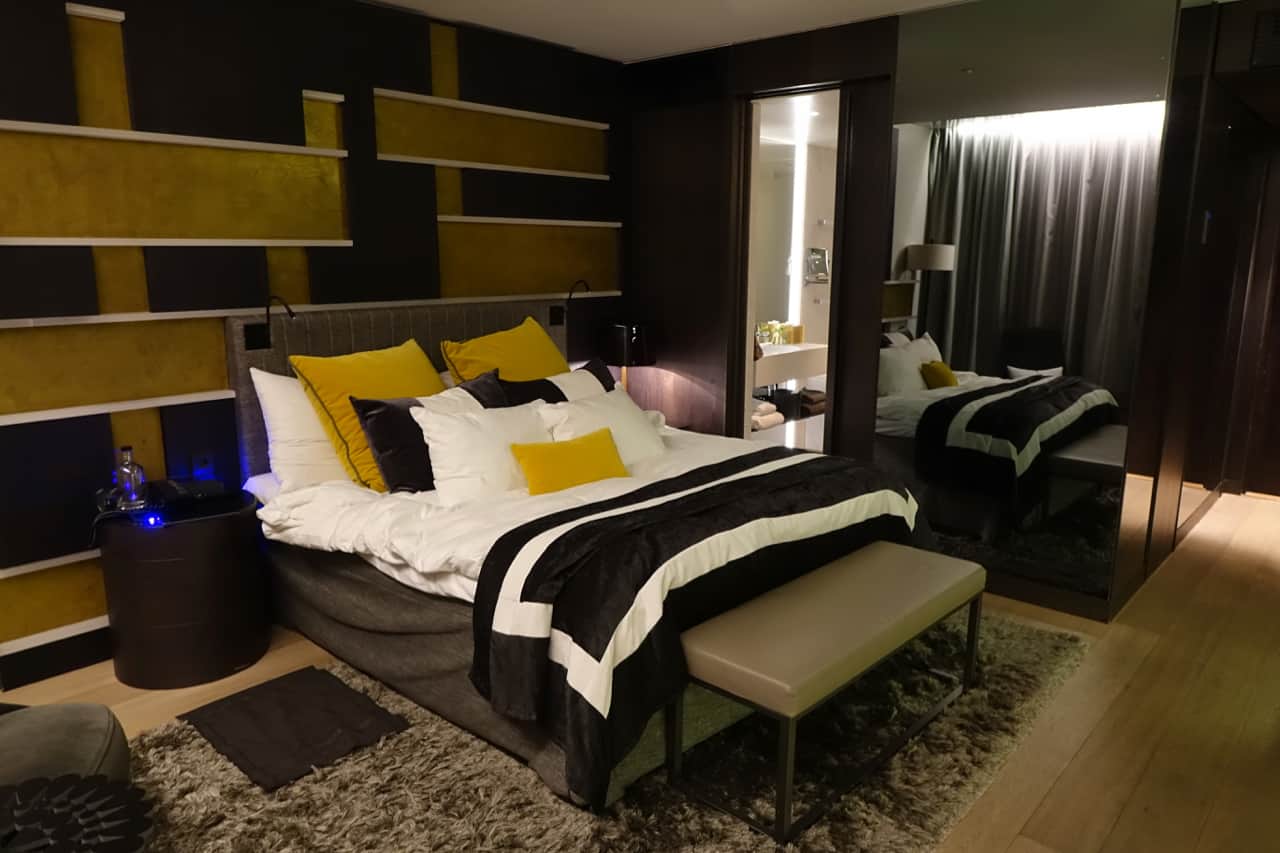 Other useful features included motion activated lighting, a TV you could stream to from your device, and a Nespresso machine.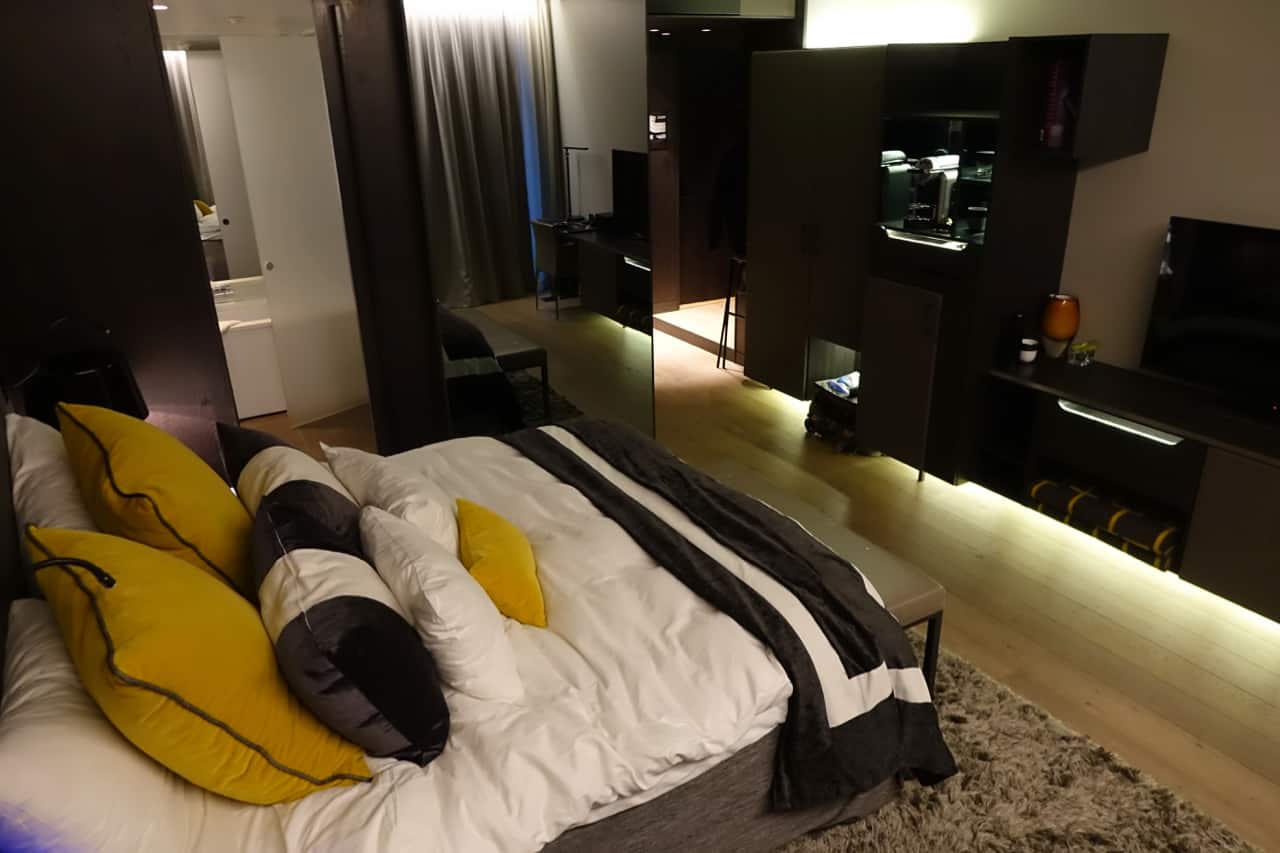 I took a quick shower, and decided to head out and explore the Aker Brygge area, which is connected by a footbridge to Tjuvholmen, home to The Thief.
A working coffee in Aker Brygge
Aker Brygge seems to be a mix of office space and restaurants, cafes and shops. Eateries ranged from places like Jamie's Italian to restaurants where a main course would set you back £50.
After wandering around for a bit and looking at menus (a lot of which were in English), I decided to go for a coffee and try and finish off my Madrid blog. I just hadn't had time to finish it since I'd got home, and obviously as I was already on my next trip I needed to get it done!
I looked at two cafes, none of which looked great, before settling – somewhat frustratingly – on Starbucks. I would have liked to have tried somewhere local, but it just looked like the best option.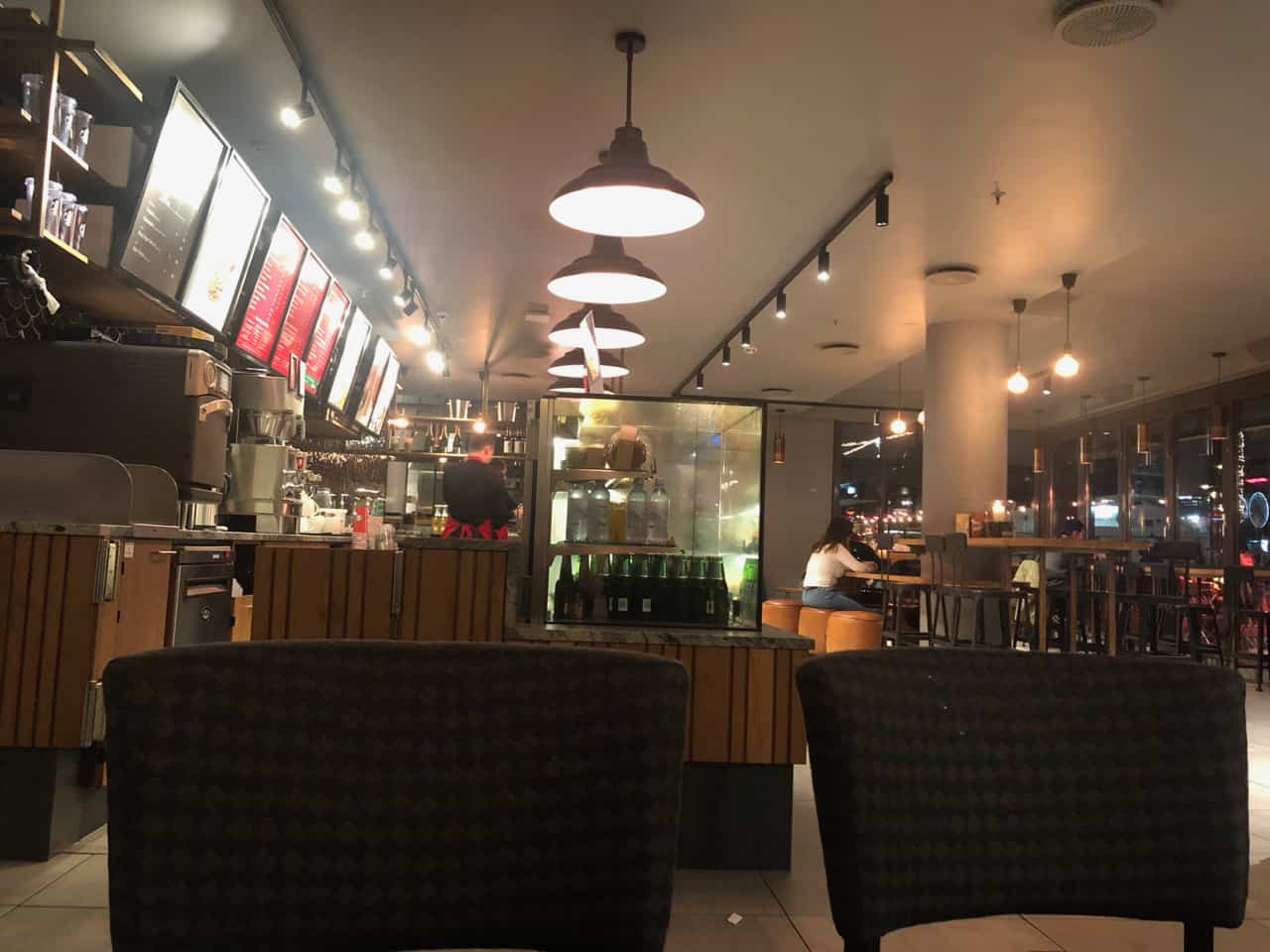 Inside the menu was in English (which I thought was a bit weird, no?) and I ordered a grande skinny mocha. In English. I felt terrible doing it, but everyone here speaks such good English that you just don't have to try Norwegian (although if "hei" or "takk" counts I have used them!)
At home a grande mocha I think costs about £3? Here it was £5.30 😩. Ouch!
I sat and got a decent amount of my blog done before deciding to call it a night. I'd spotted a decent sized supermarket nearby, and got a sandwich, crisps and a chocolate milk and some toothpaste. £11.30. Anyhoo!
I got back to the hotel, and went to flick through TV channels, only to find out that none of the channels worked, bringing up only a "Video not available" message. Grrrrr! I was going to watch Beck via my iPad anyway, but still… After a call to reception someone turned up quickly, and apologised, but after trying a couple of things, she told me it would have to wait for an engineer in the morning.
I was offered the option of moving room, but I just couldn't be bothered – I'd unpacked, and by now it was 9 o'clock. After polishing off dinner and reading for a bit, I reached over to my bedside lighting console 😉, selected the sleep option and after tossing and turning for a bit, I fell fast asleep….
My first full day in Oslo
I'd set my alarm for 7am on Friday morning. I was keen to make the most of the day and experience the hotel breakfast. It was meant to be good, and was thankfully included in the price. Apparently that's pretty commonplace in Norway.
So… I hit snooze, then set the alarm for 8.20am, then hit snooze, then switched the alarm off, and fell asleep. The TV may have been wonky, the check in experience less than perfect but God was the bed was comfy!
I eventually clambered out of bed at 10 o'clock 😩. So that was breakfast missed! After showering, I decided to head back to Starbucks for a large dose of coffee and a ham and cheese croissant while I finally finished my Madrid blog. Which I managed! I am going to try and never fall that far behind with my blog again. We'll see how that goes!
After dumping my laptop back at the hotel, I decided to set off for the centre of town (or Sentrum in Norwegian). By now it was just after noon.
Exploring Sentrum
The skies were overcast as I walked along beside the water that flows into the sea. But it was dry! And it wasn't too cold either, given that it was November, and I was pretty far North.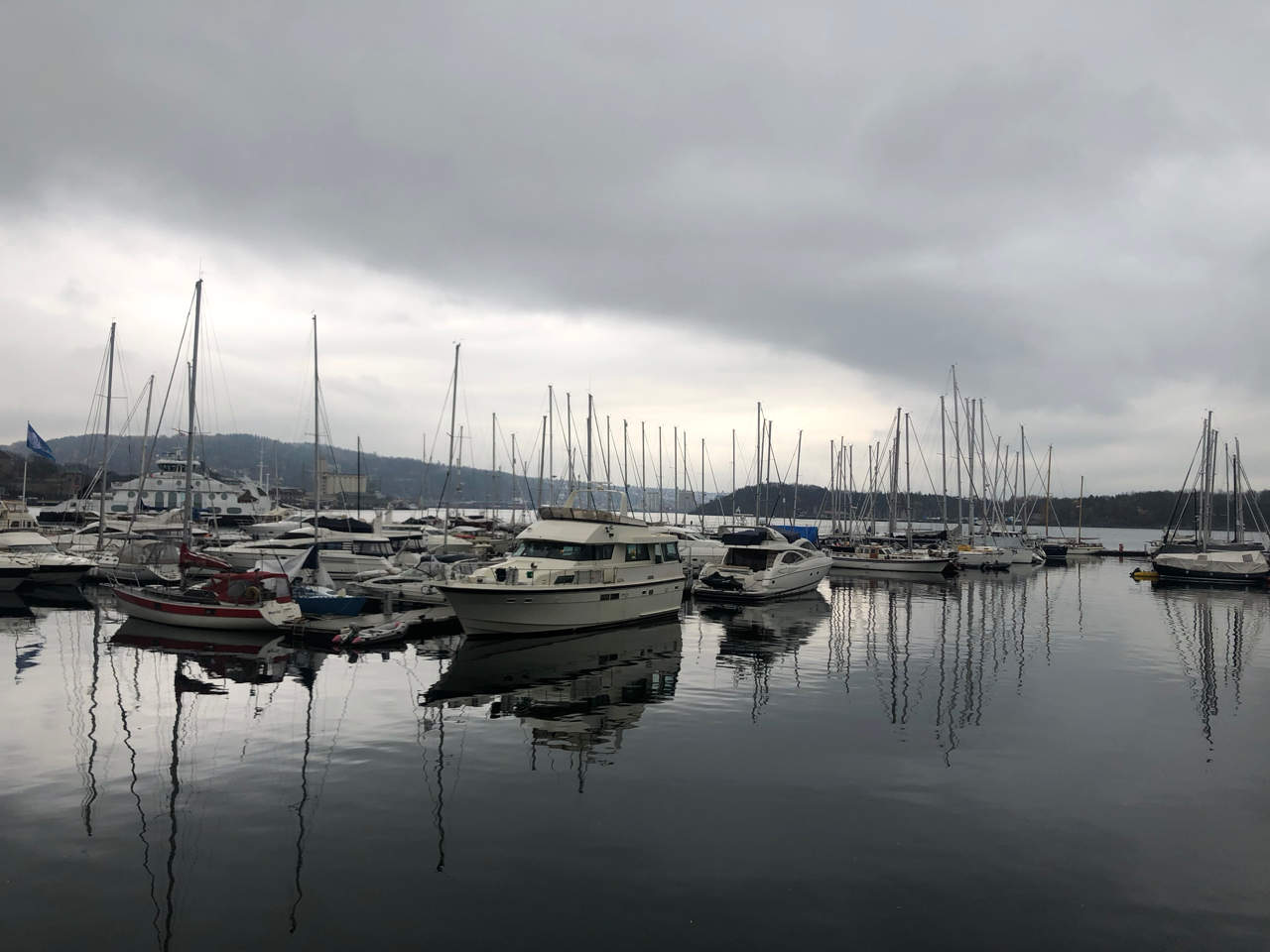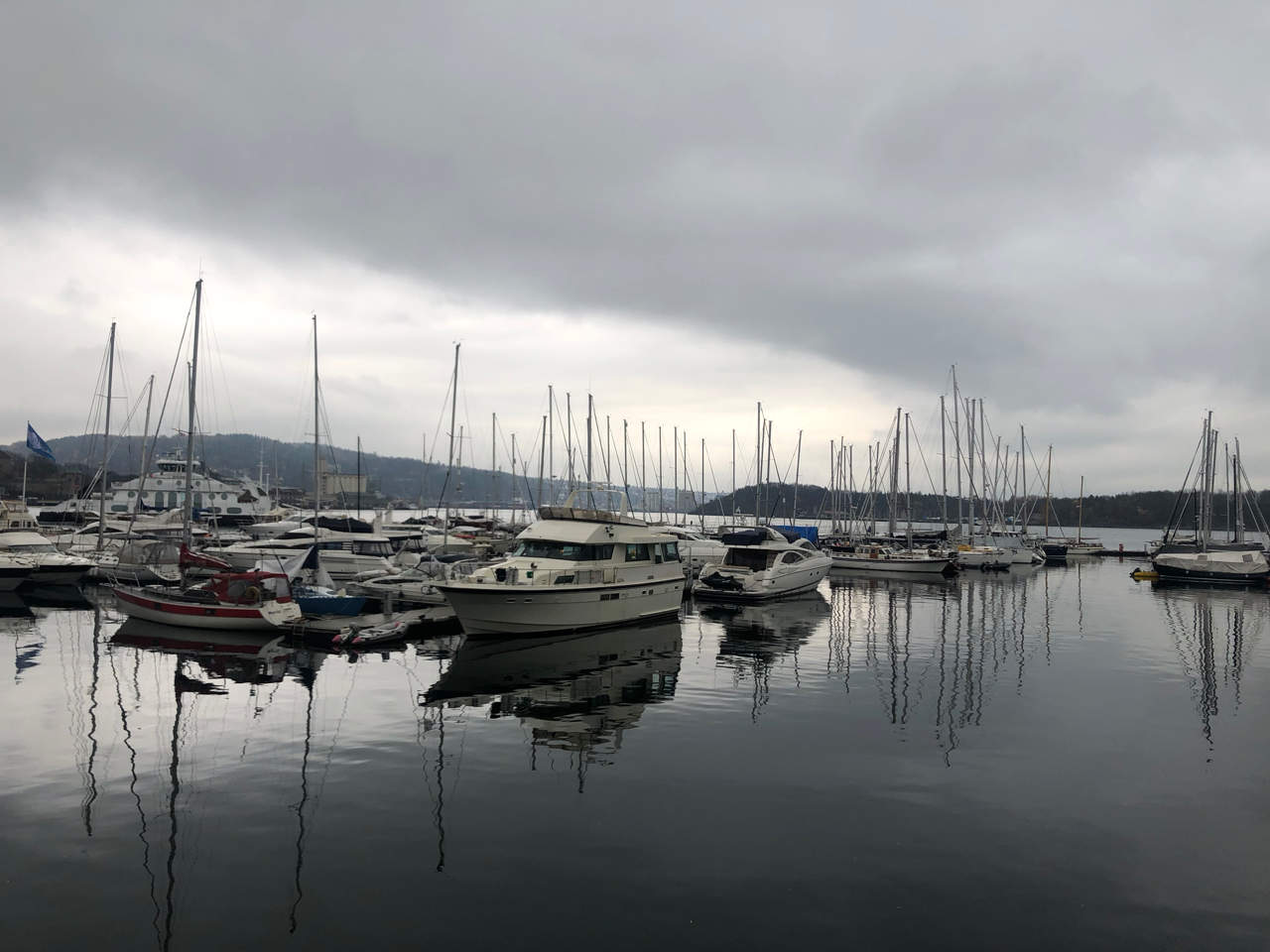 Passing the Nobel Peace Center museum, the modern buildings gave way to an older style. There was something distinctly Eastern European about the architecture of the town's Rådhus or City Hall – and the space in front of it.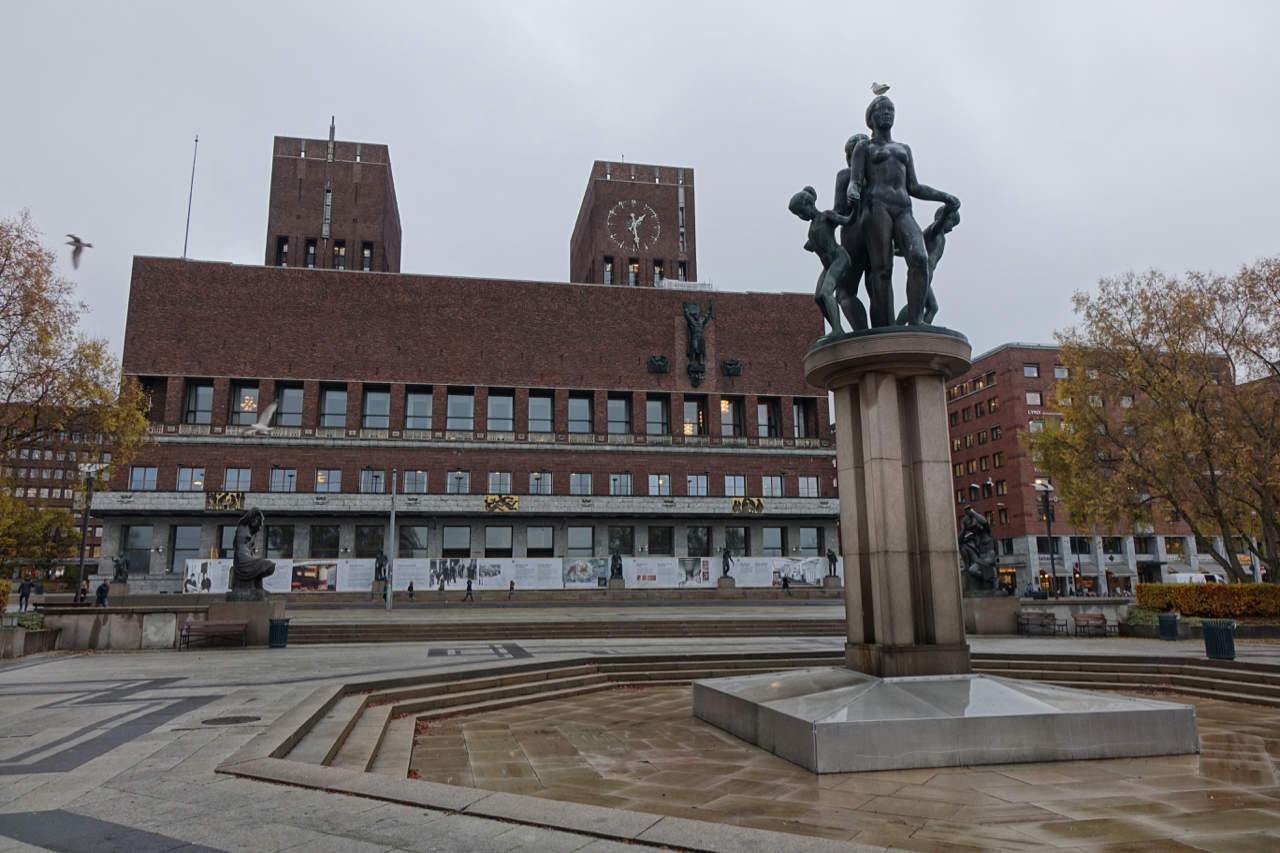 It was almost brutalist, but I quite liked it! It just felt… different I guess, and unlike buildings you'd see in the UK. Hoardings outside the building explained the interiors were being refurbished.
Turning up a side street, I noticed old style, almost 70s looking shops which I thought were really cool. They seemed to fit right in, feeling Scandinavian.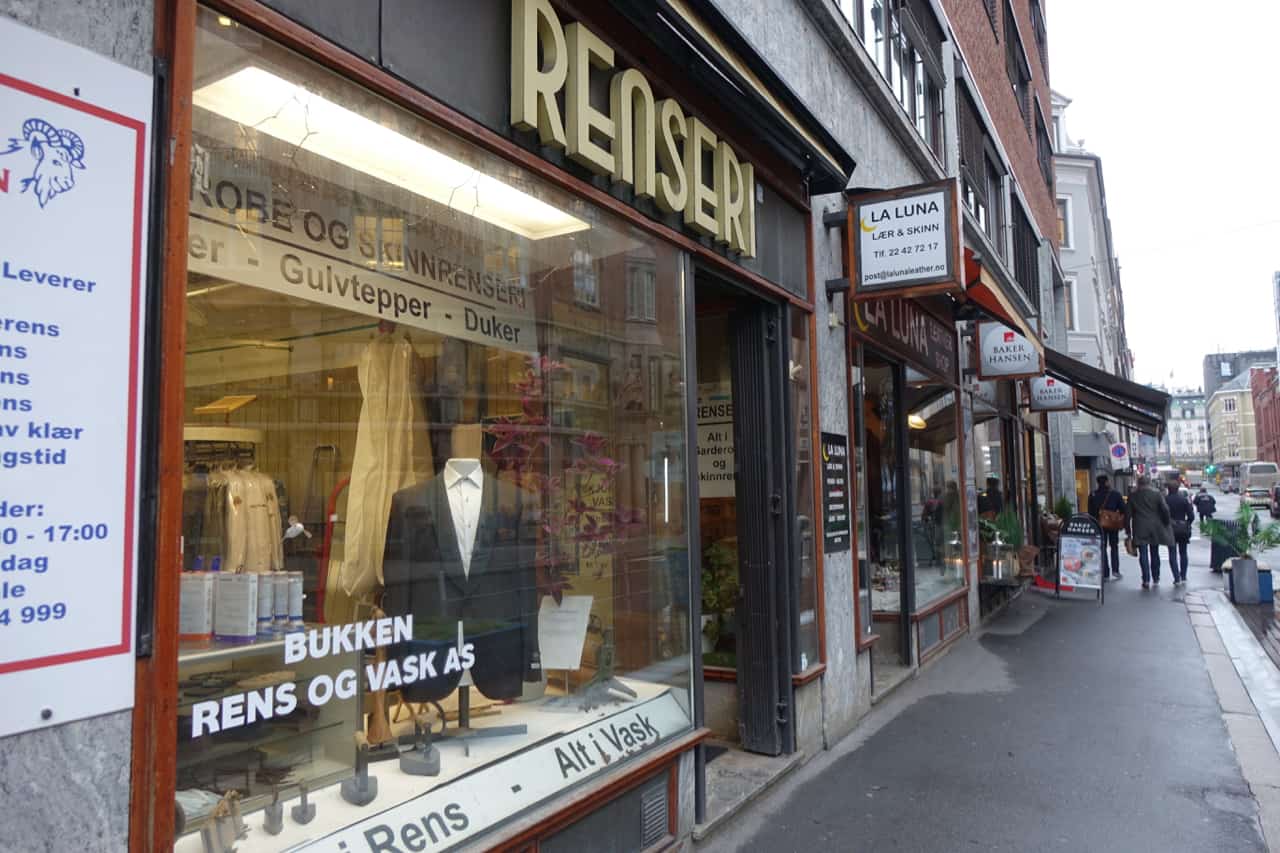 Everything was neat and tidy, and if you looked up, buildings had ornate touches.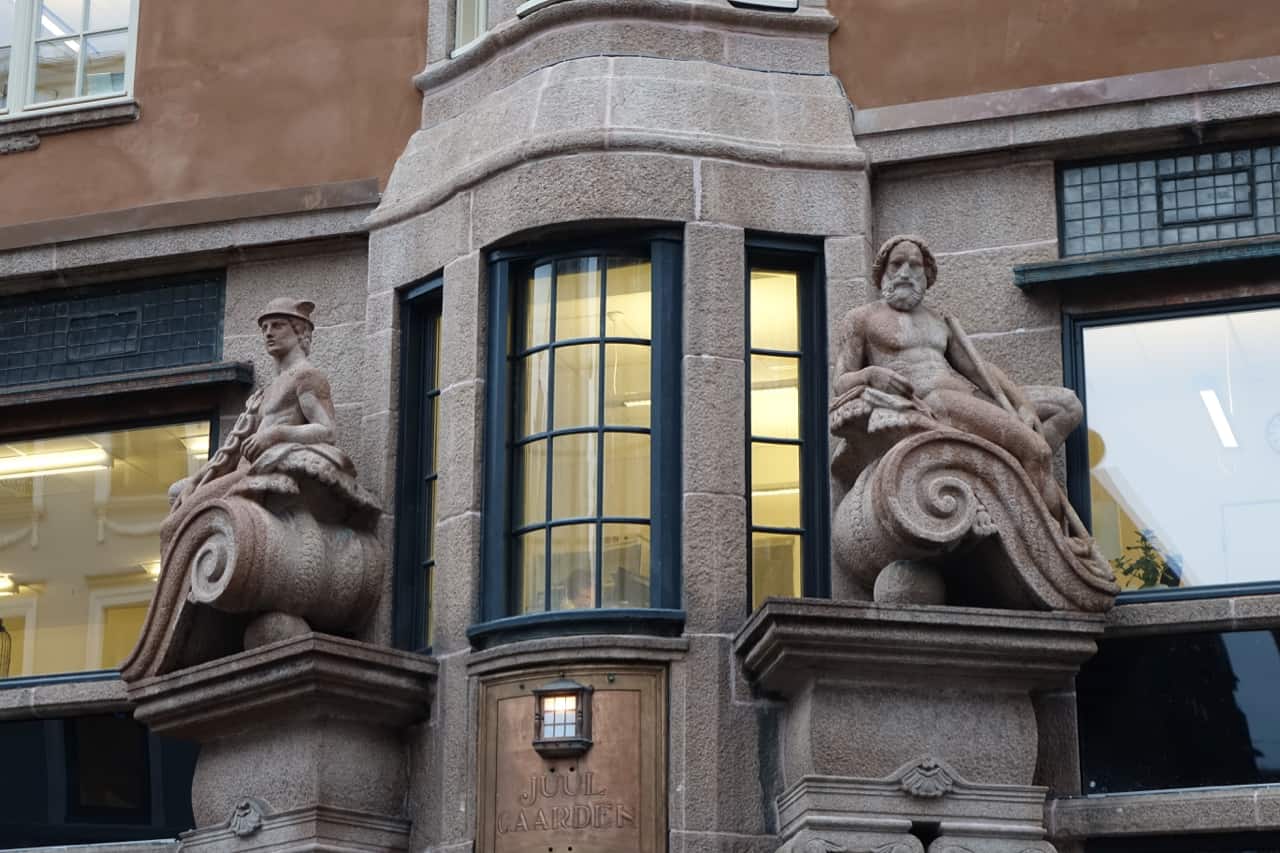 A very short stroll later, and I was right in the centre of town. To my right was Norwegian's parliament – or Storting.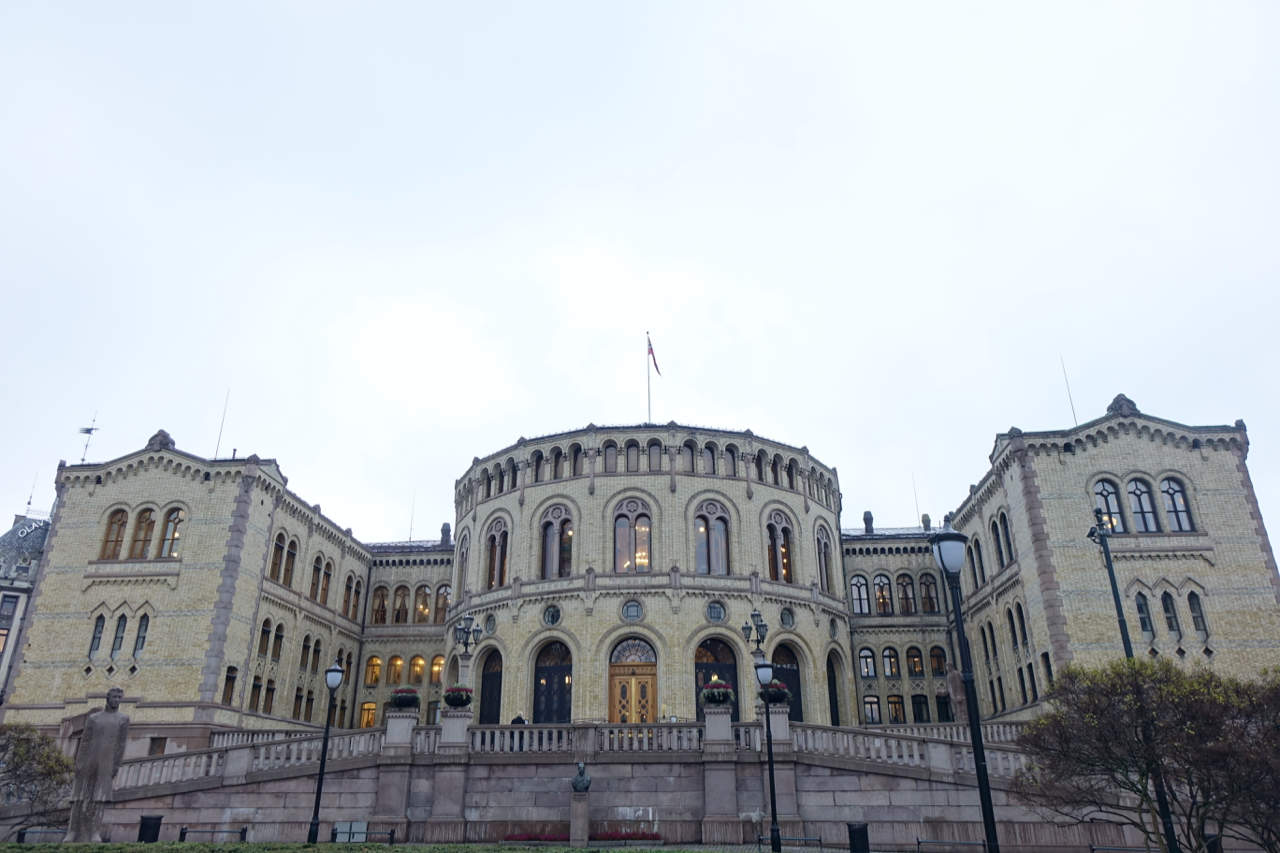 Taking a right brought me on to Oslo's main shopping street – Karl Johans Gate.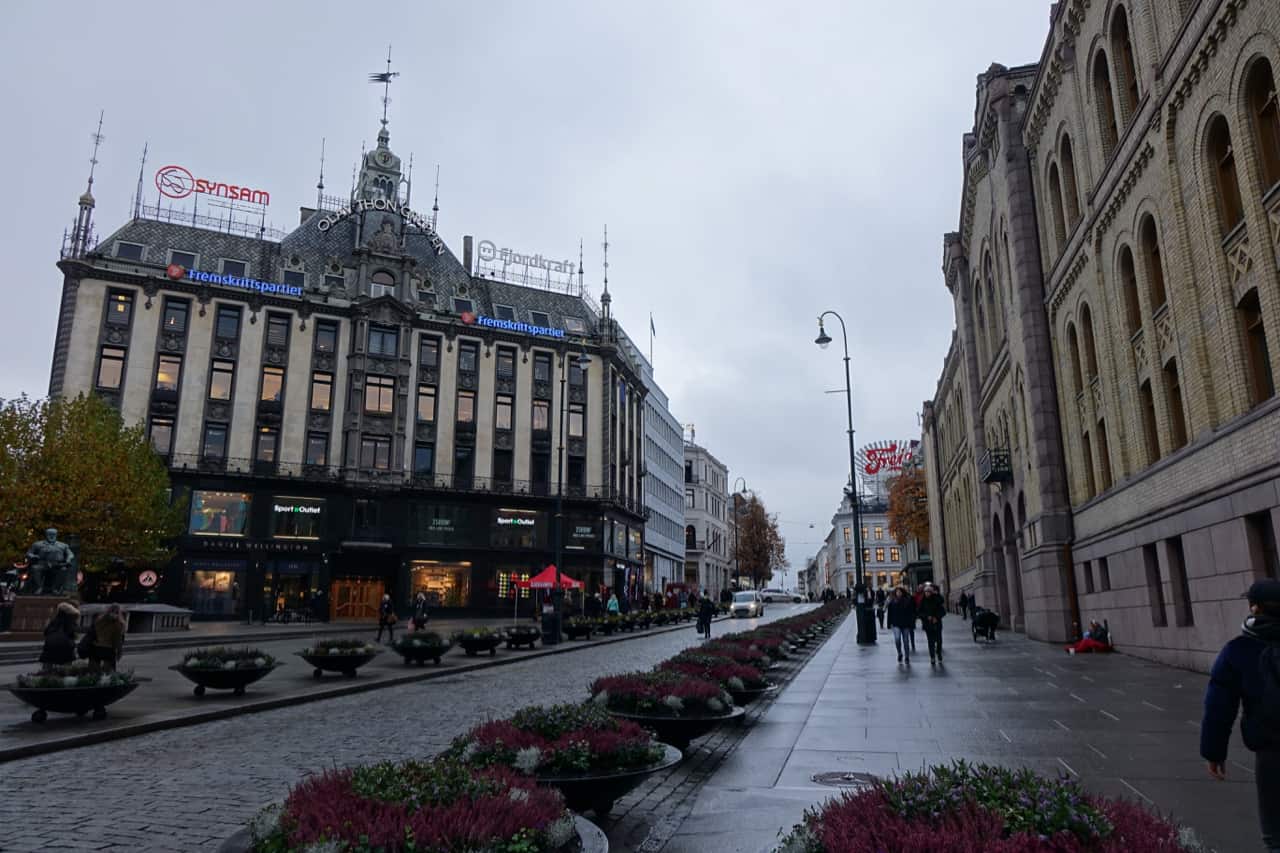 I walked the length of the shopping street, down towards Oslo's Central rail station, managing to avoid any shops. I thought I'd leave shopping for later.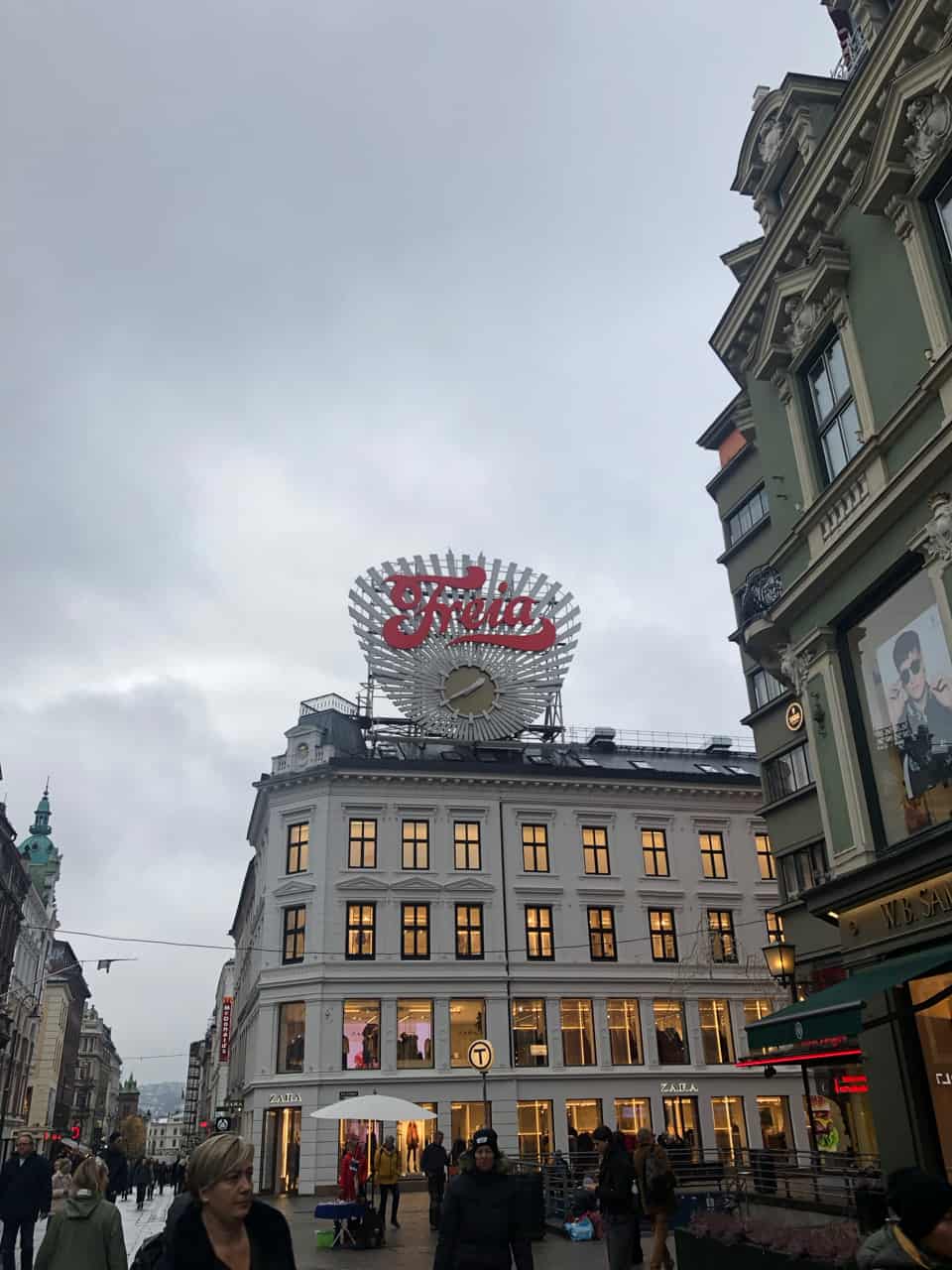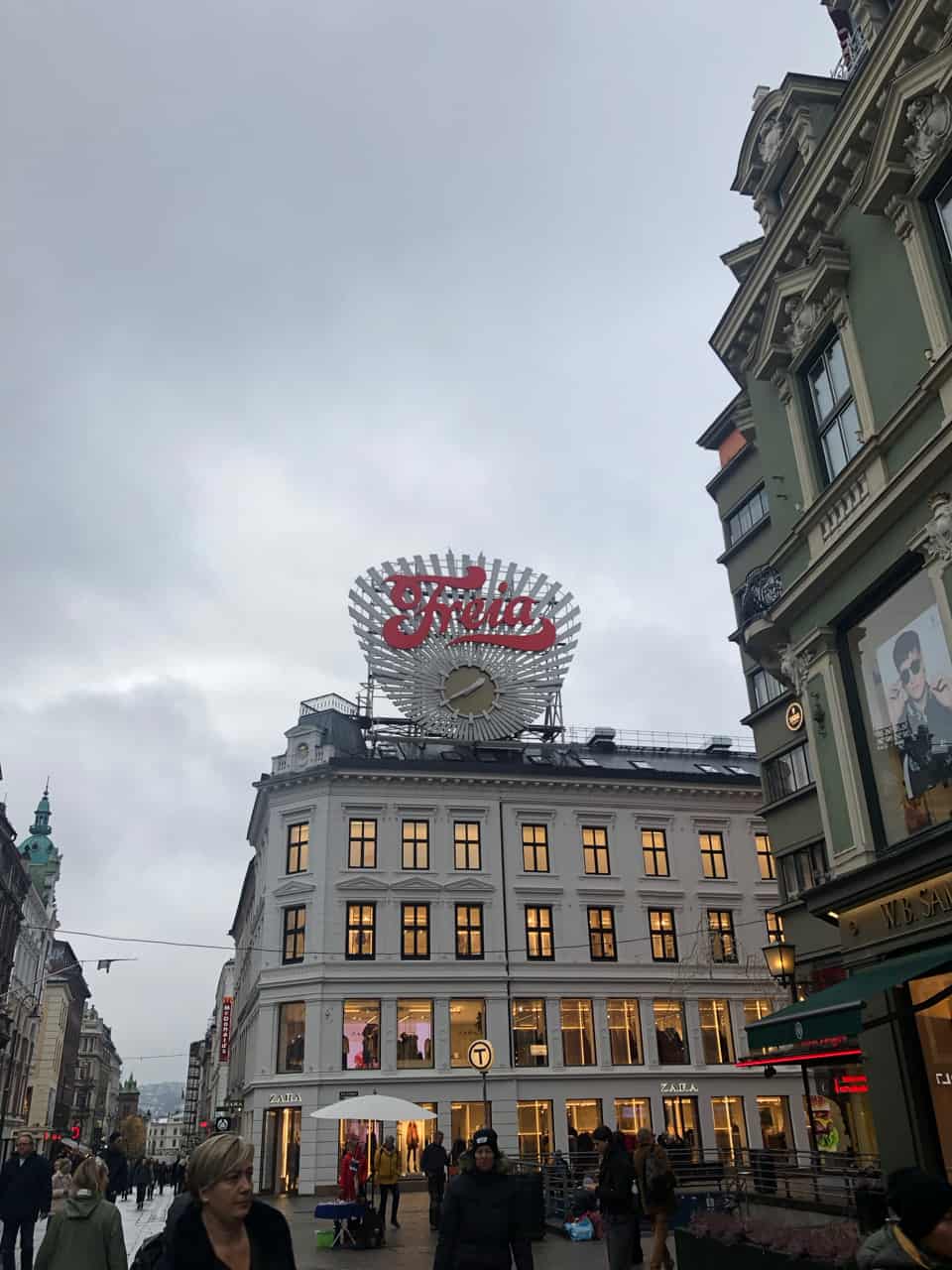 Autumn had well and truly arrived in Norway – most of the trees were bare already, and any leaves on trees were a deep shade of yellow.
After reaching the train station, Apple Maps started sending me off down a side street. Noting a distinct lack of anything around (I was looking for a particular place) I opened up Google Maps instead, which started sending me back towards the train station. It was thanks to Apple Maps I saw this intriguing window display though.
Eventually, I worked out the Tourist Information Office is in the building beside the railway station – Østbanehallen. It didn't look great from outside….
But inside it was lovely.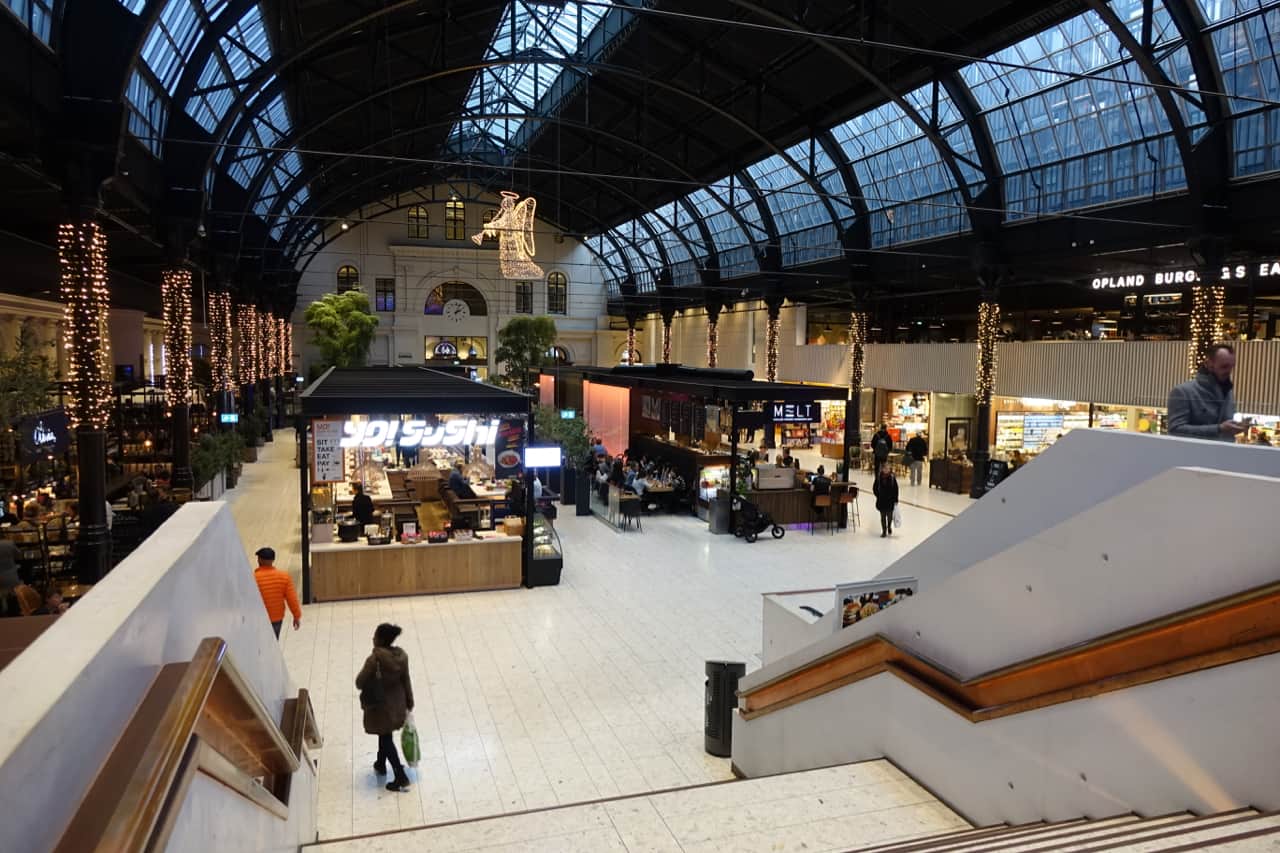 It was full of food places. There was a Yo Sushi, but other places too that were less chain like. Like Melt – a place specialising in grilled cheese sandwiches (which I think I read was started by a Michelin starred chef but don't quote me on that).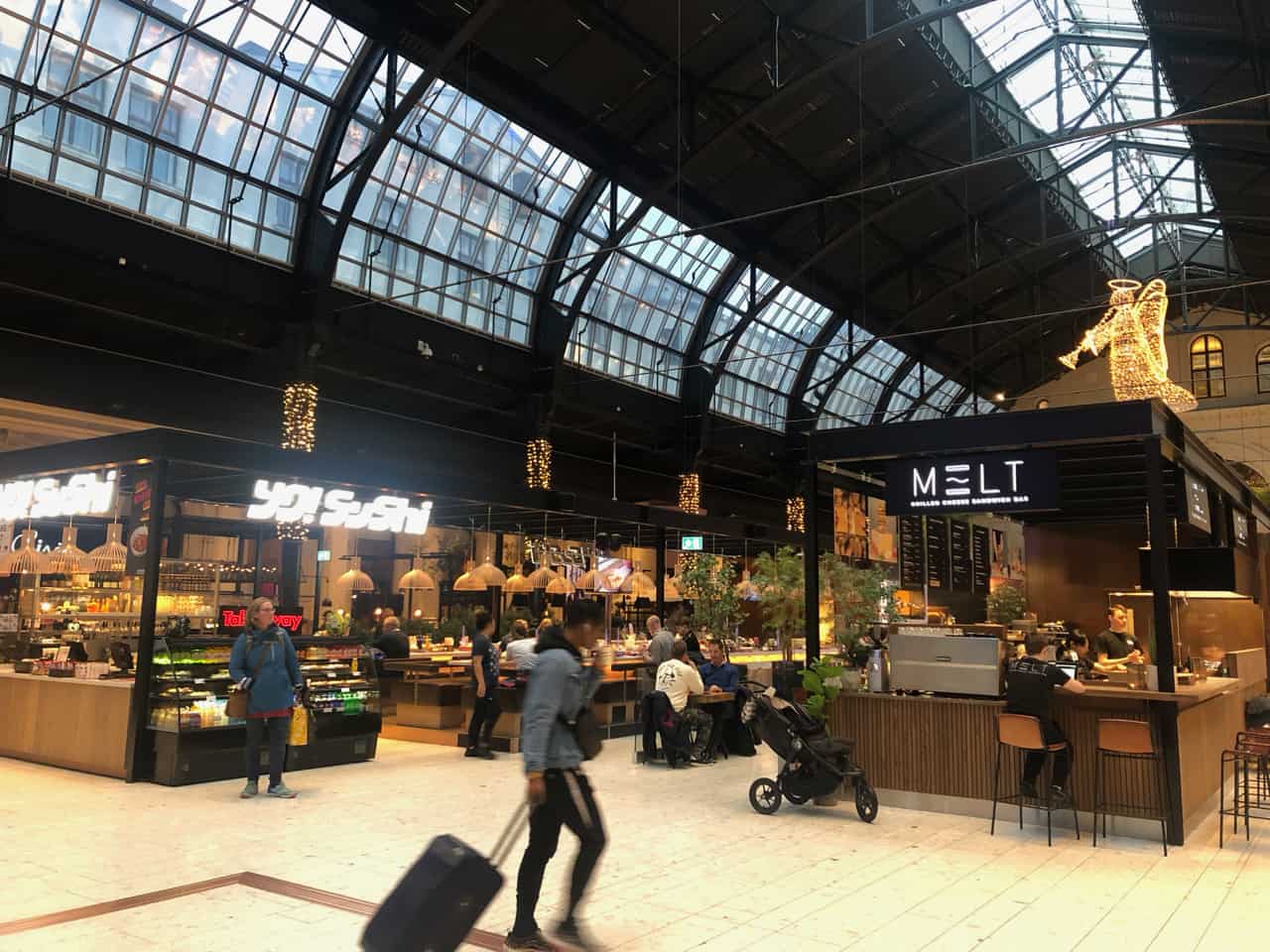 There were also some deli style food shops as well.
I walked up steps at the back of the building to get a good view of the place, but ended up getting sucked into the shopping centre in the train station. I was just curious I guess!
I wandered around looking at the shops, and was very surprised to see a familiar name from the British high street (and one which I spent a good six or seven years working for!)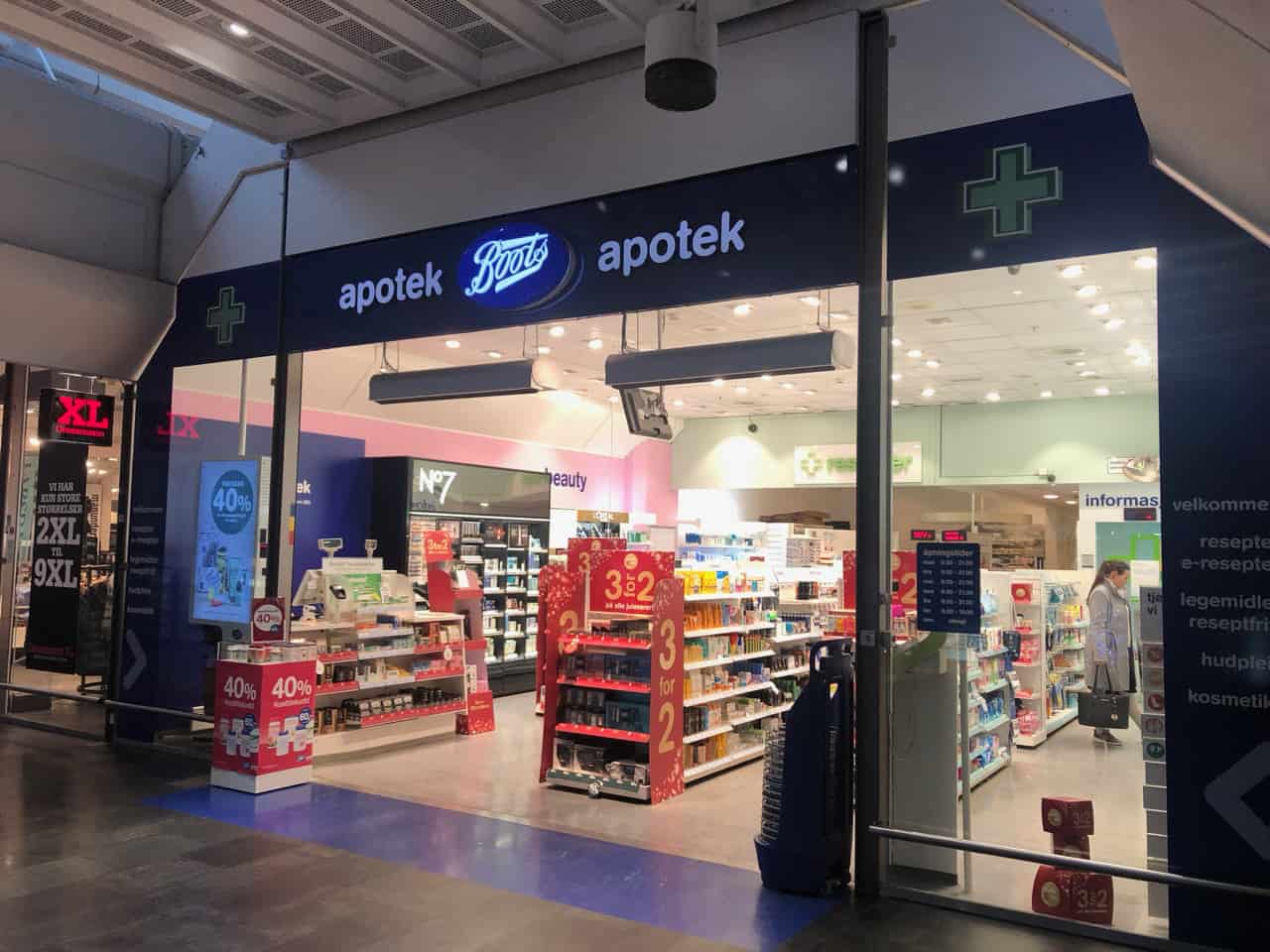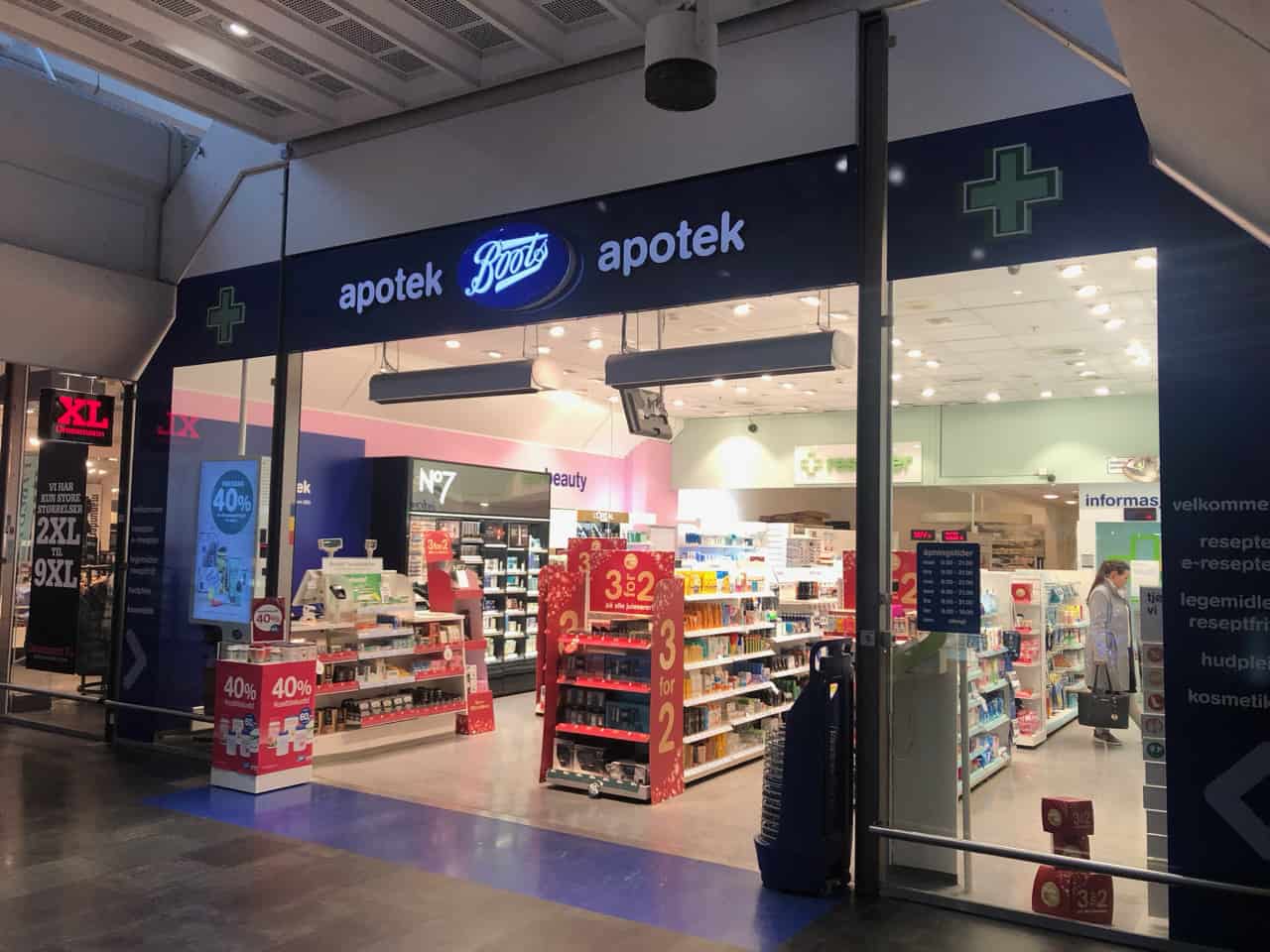 Spotting a cash machine, I tried to take some money out, but the minimum you could remove was 500 Krone – so about £45! I didn't bother.
Heading back towards Østbanehallen, I saw a little commotion and filming signs. I couldn't work out quite what it was all about, but there was a live link up on a screen between people standing right there playing a game of chess and people in Times Square in New York! A bit random, but everyone seemed to be getting very excited by it.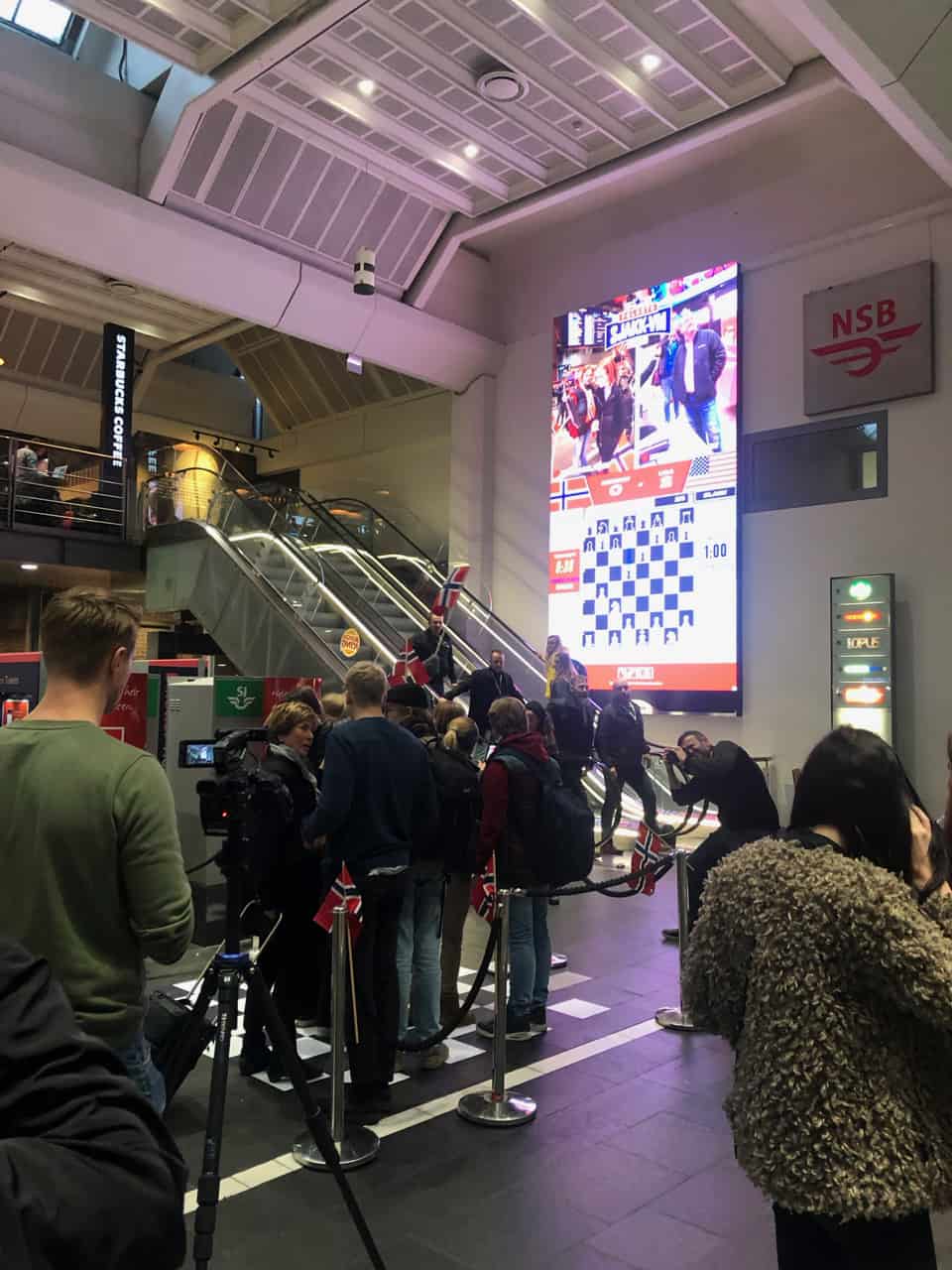 Distractions over, I walked into the Oslo Visitor Centre, which was really quiet. Straight away someone came up to chat, so I just explained I was in town for a couple of days and that there were some things I'd thought about seeing.
The girl drew everything out on a big map and also highlighted a couple of other things I might be interested in. I took the opportunity to ask about the situation with cash – after all I hadn't really seen that many cash machines around.
She explained that Norwegians, as was the case when I was in Sweden, much prefer paying by card than by cash – even if it's just for a coffee or a soft drink. So that could have explained the lack of cash machines! She explain where to find them, but I just decided to stick to using my card all the time.
Speaking of which – after thanking her and picking up a couple of leaflets, I headed across the road to get a drink from a convenience store.
Now this wasn't any fancy glitzy convenience shop. It was part of a chain – Narvesen, which is just like 7-Eleven (which also operates in Norway). How much do you think a 500ml bottle of Diet Coke was?
£1.60?
£2.20?
Try £2.83! Yes, £2.83! My eyes literally popped out my head. I think that's a really good indication of just how expensive Norway is. Basically everything is double what it would be at home.
Now to be fair that £2.80 included a 2 Krone – or 18p 'pant' – which you get back when you return the bottle. But still, jeezy peeps! 😳
After popping into a shop called Nille that caught my eye, I decided it was time for lunch – by now it was about twenty to two. And I knew exactly what I was in the mood for – a burger! And a fast food one at that. One which I can't sample at home.
"Max"-ing out lunch
I decided to check out the competition first, following the signs for a McDonald's, but – just my luck – it was closed for refurbishment. You could see through the upstairs windows, and it looked like it'll be pretty cool once it opens, but unfortunately that's two days after I leave!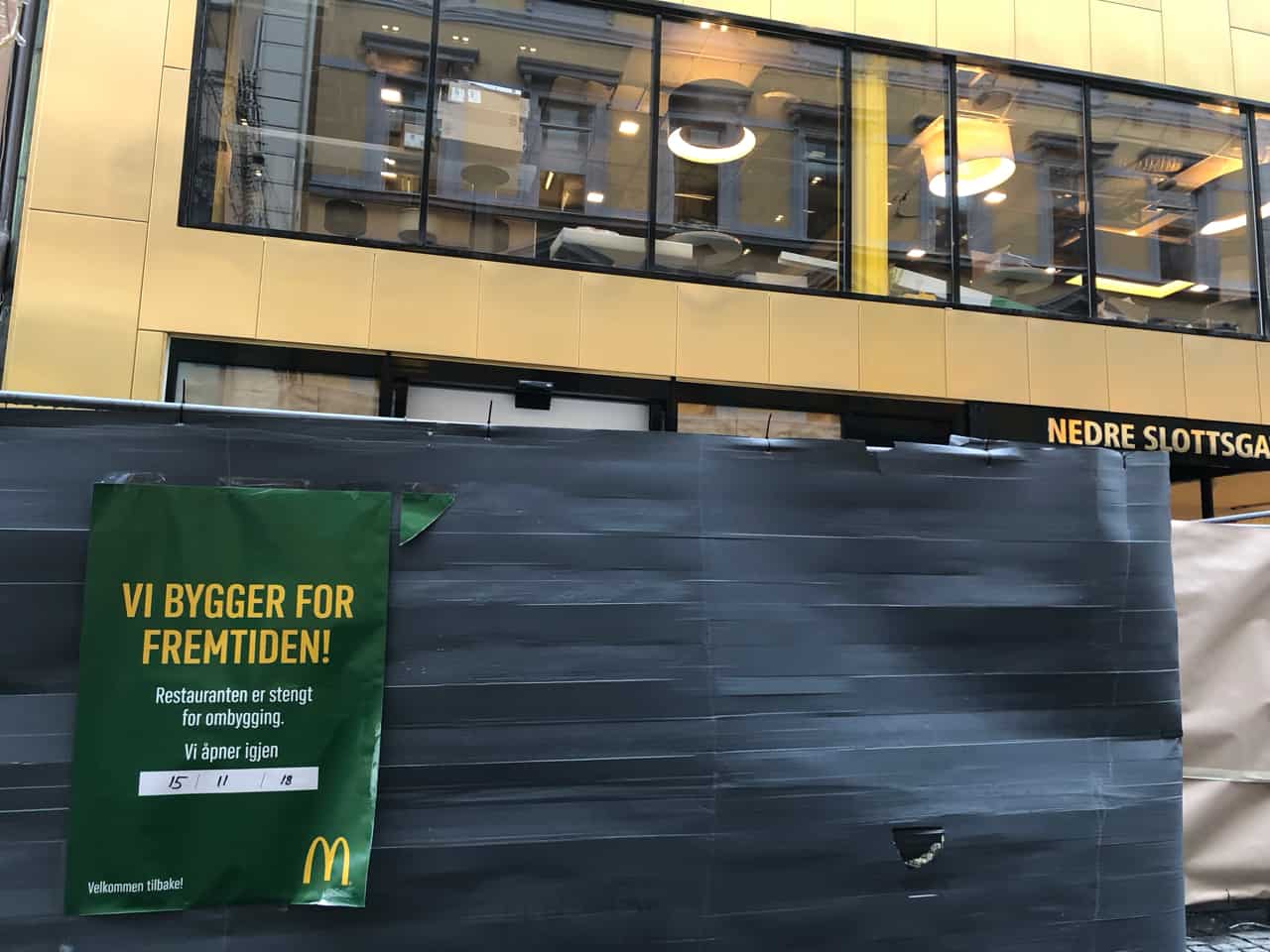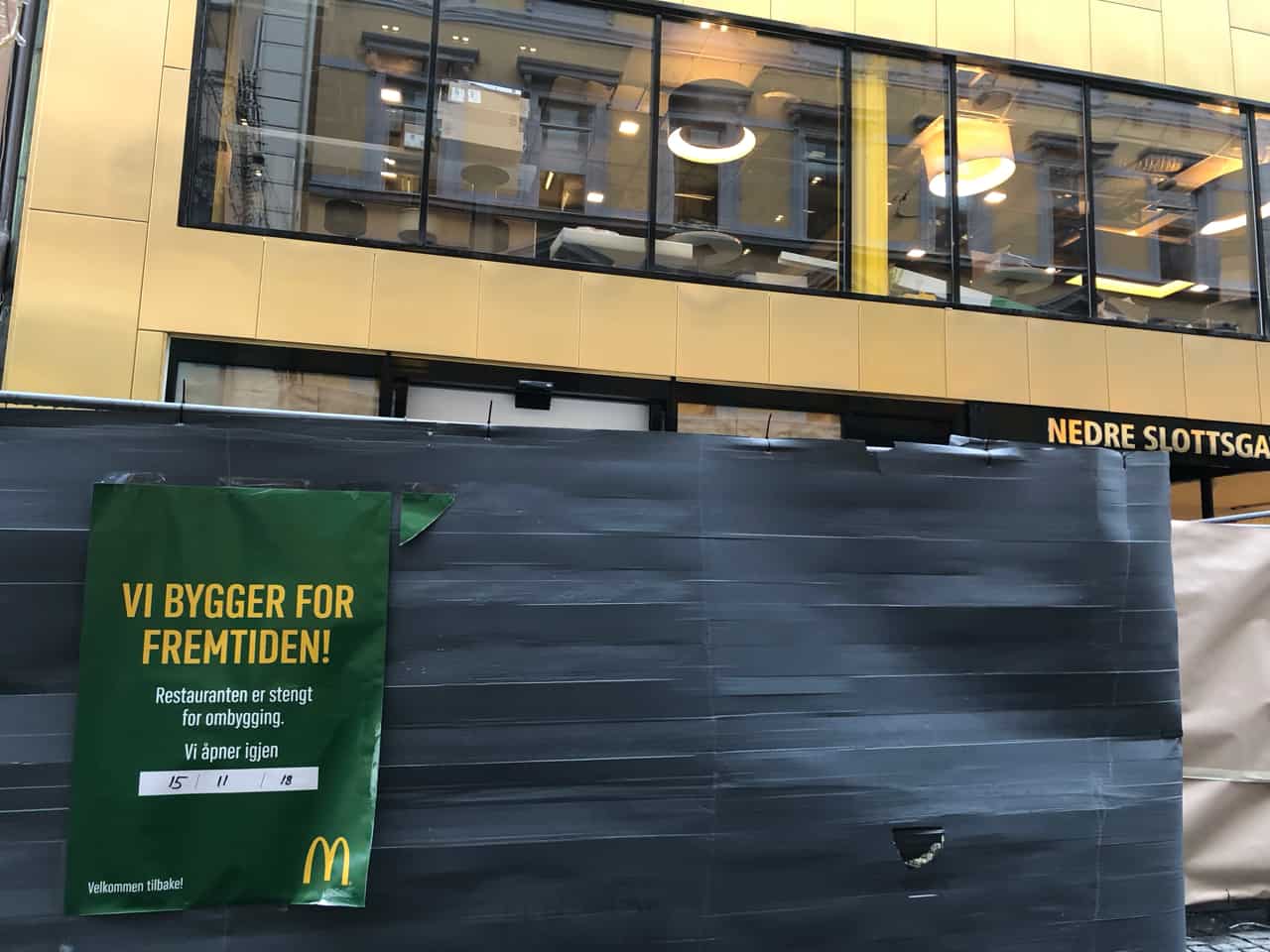 Instead I headed to Max. The chain started in Sweden in 1968 and has since spread to a couple of countries, Norway included. As the company is celebrating its 50th anniversary this year, I felt it was only right to go and sample its wares – once again!
Max had ordering kiosks before McDonald's introduced them – so after selecting English as my language, I flicked through the options. The only slight issue I had was that when you click on a burger to see what's on it, the description is in Norwegian – not English.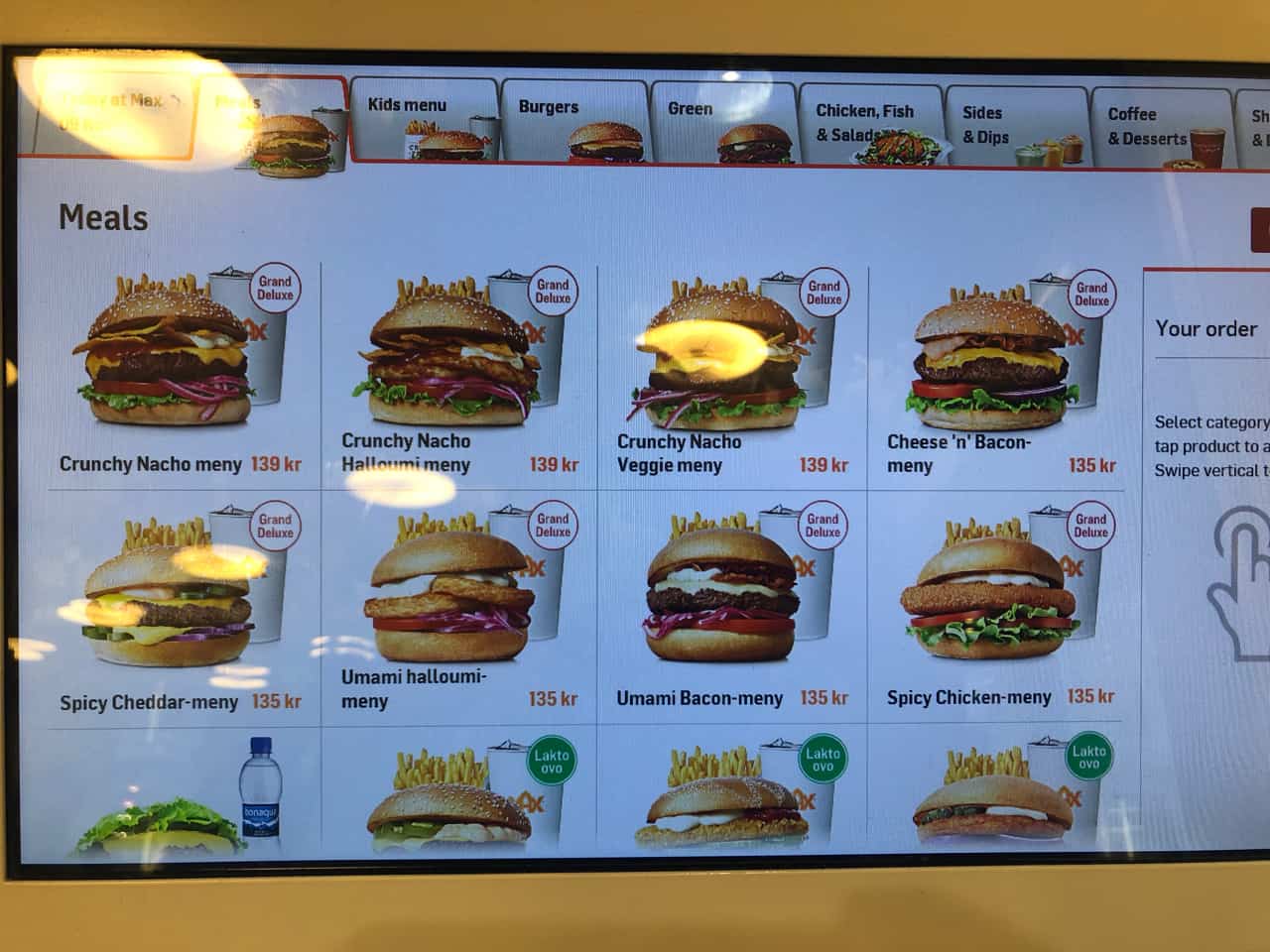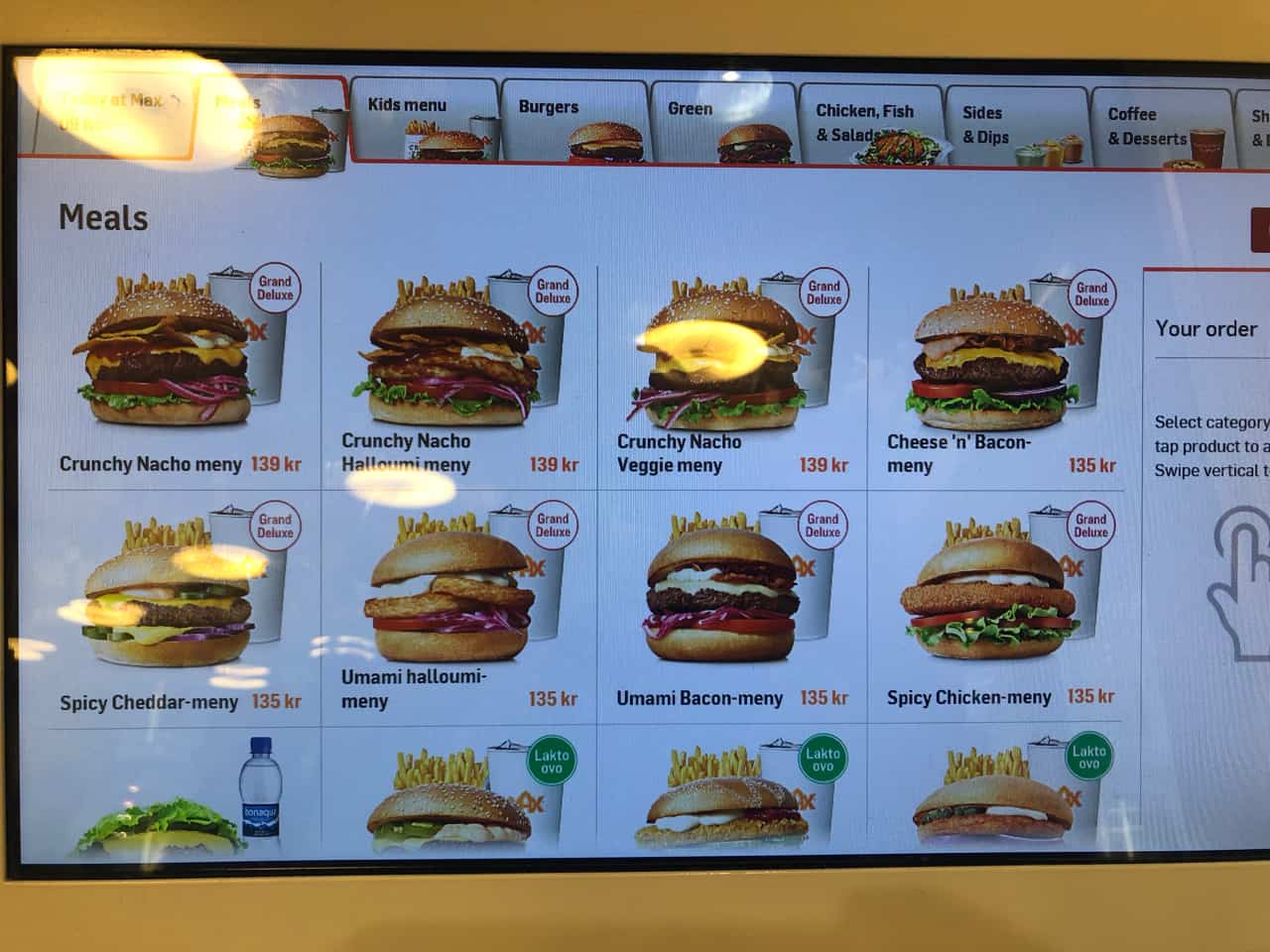 I decided to go for the Umami Bacon Burger. I made it a large meal, and added on a Max sauce dip. After using my card to pay, I waited at the counter for number 6389 to show up on the screen.
One of my sisters had once brought me back a bottle of Max sauce from Sweden, so while I waited I asked if you could buy them here. The guy said he knew that was the case in Sweden, but wasn't sure about Norway. He told me the best place to try was a supermarket, so I'd be keeping an eye out for a little burger related souvenir!
Eventually, my order arrived and I took a seat downstairs. I was pretty hungry by now.
The fries were great – skin on and crispy and tasty. And hot. When I opened the burger's box, I've got to say my first thought was one of disappointment. It didn't look great at all. A bit sad looking is how I'd describe it. And the burger didn't seem that hot either.
Well, looks can be deceiving I guess! When I bit into it, I immediately got a hit of a creamy, garlic sauce which was literally loaded with umami flavour. The burger was definitely lacking in vegetables – I think there was maybe one tomato slice on it, but it was tasty. After polishing off my meal, I felt satisfied, and ready to do some more exploring.
That meal – in total – came to 152 Krone – £13.90! 😩😩😩
Anyway, let's not dwell on that!
An amazing building
Back outside I opened up the not so trusty Apple Maps again and put in my next destination. Walking down the street, I saw loads of examples of old style Scandinavian architecture again…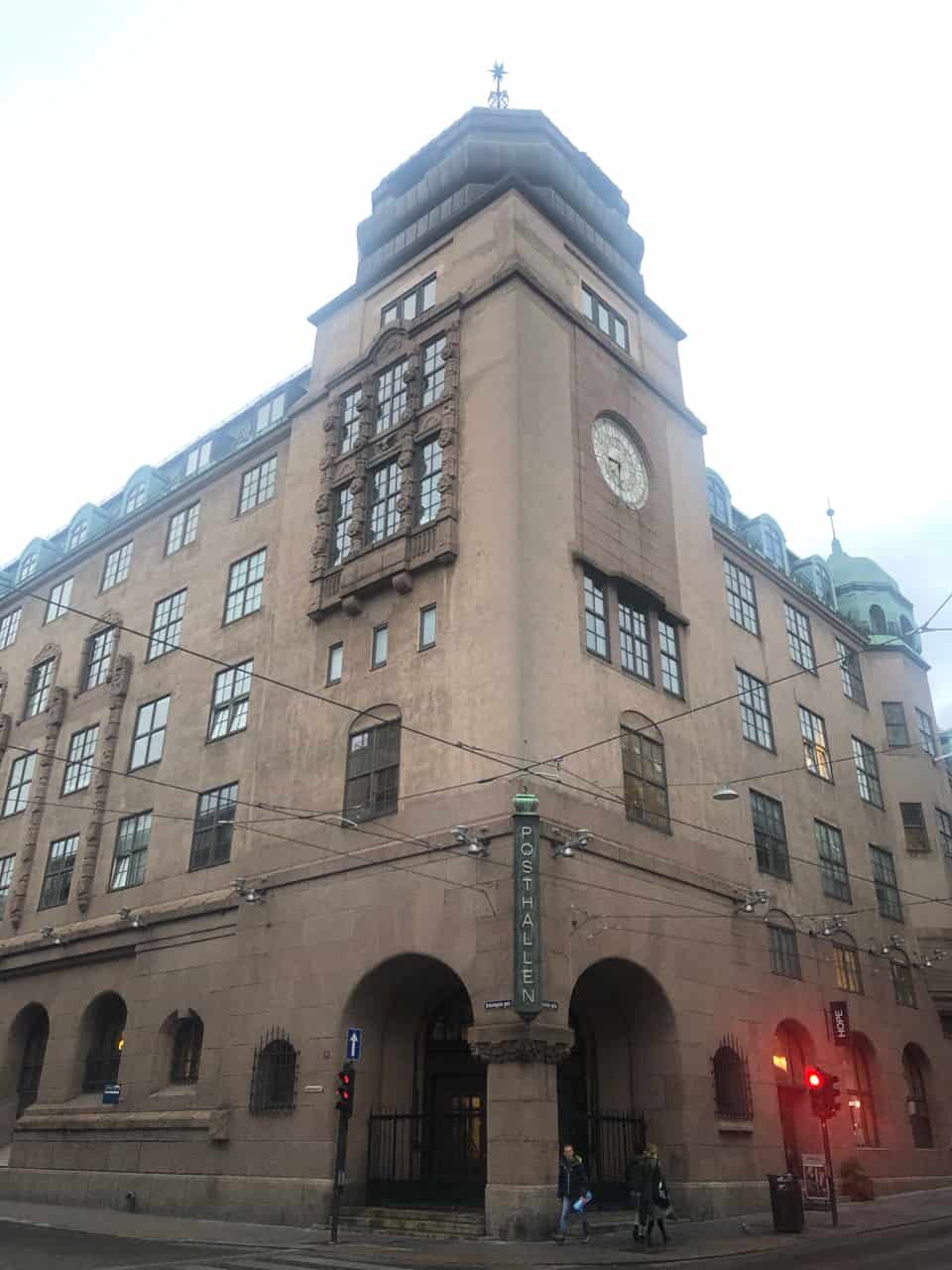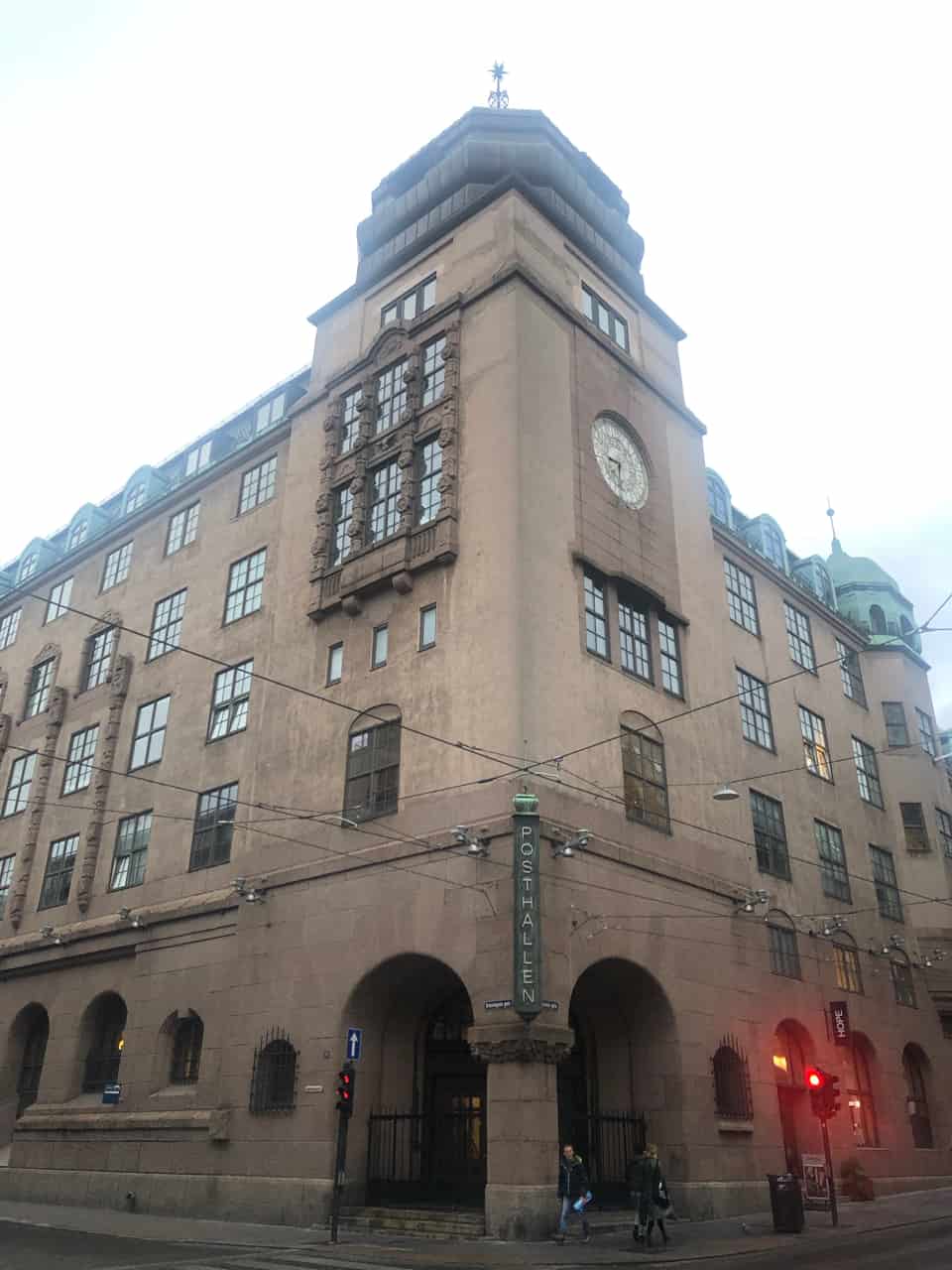 …but I was off to see a building with a much more modern look.
After getting down to the waterfront, I navigated some roadworks and caught my first glimpse of Oslo's Opera House. It's pretty cool looking, and its setting makes it look even more dramatic. Opened in 2008, it was designed by Norwegian architecture firm Snøhetta.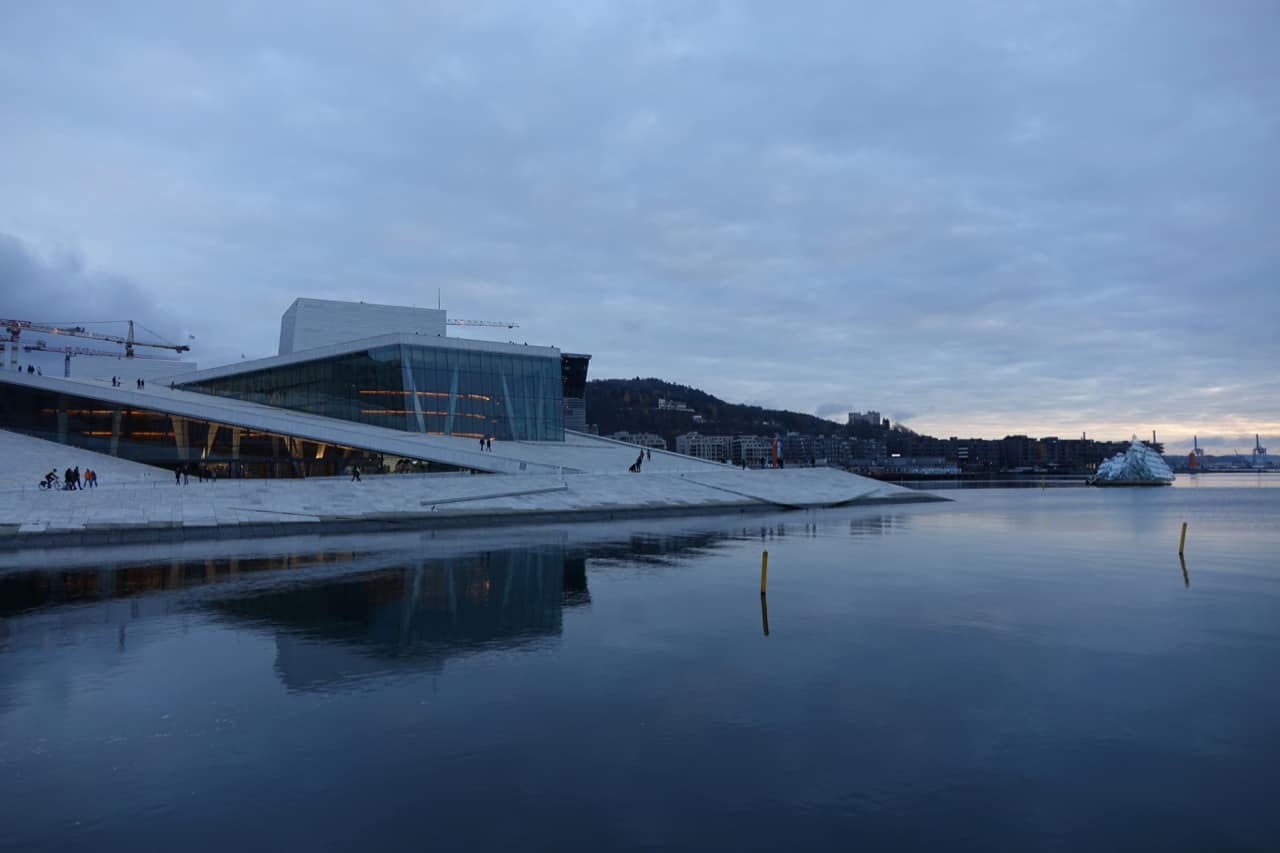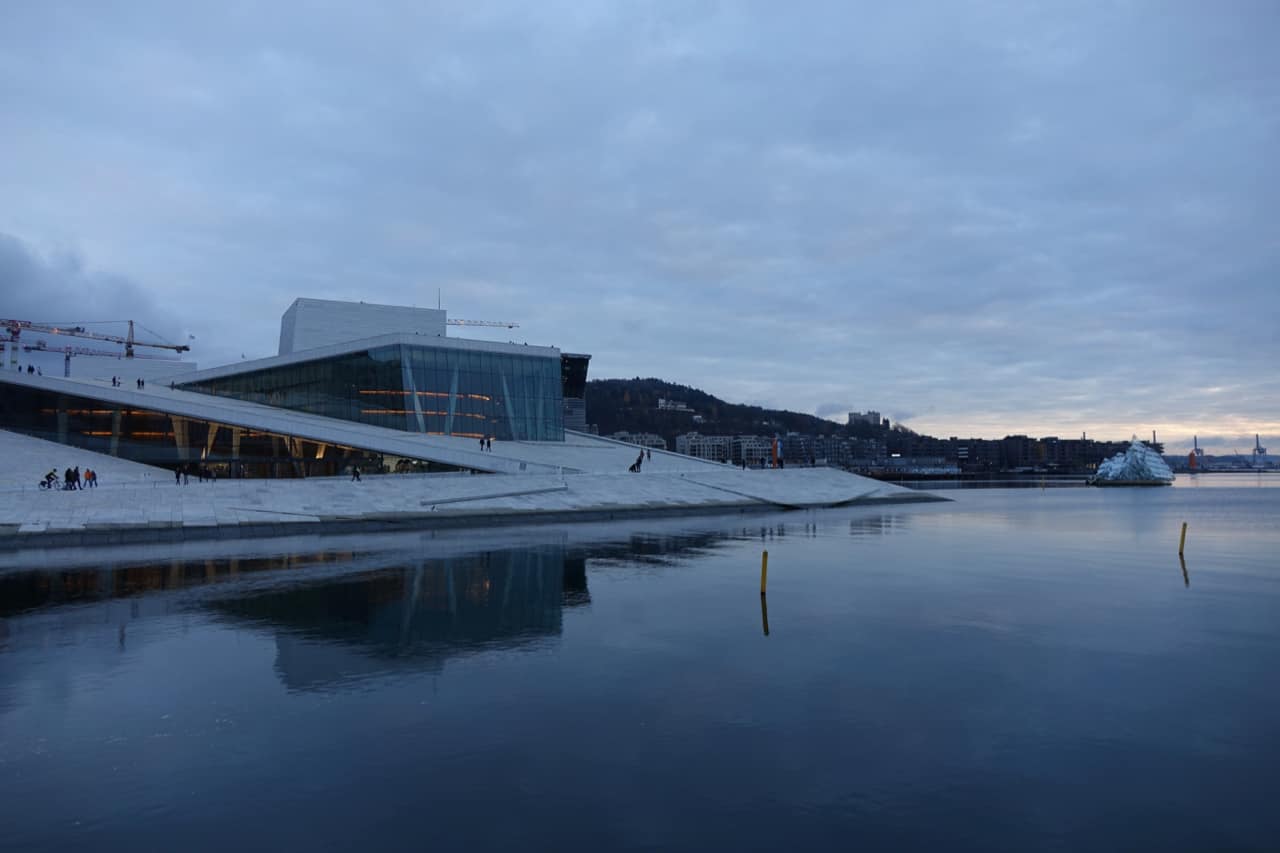 What makes the building different though – apart from its looks – is that you can walk up onto its roof. I know that doesn't sound like that big a deal, but when you think about it, there's not many buildings where you can do that!
I wandered around the exterior of the building at ground level, then started the climb up one side of the building. Once on top, there were three different areas, which are covered in Italian marble. There were great views of the fjord…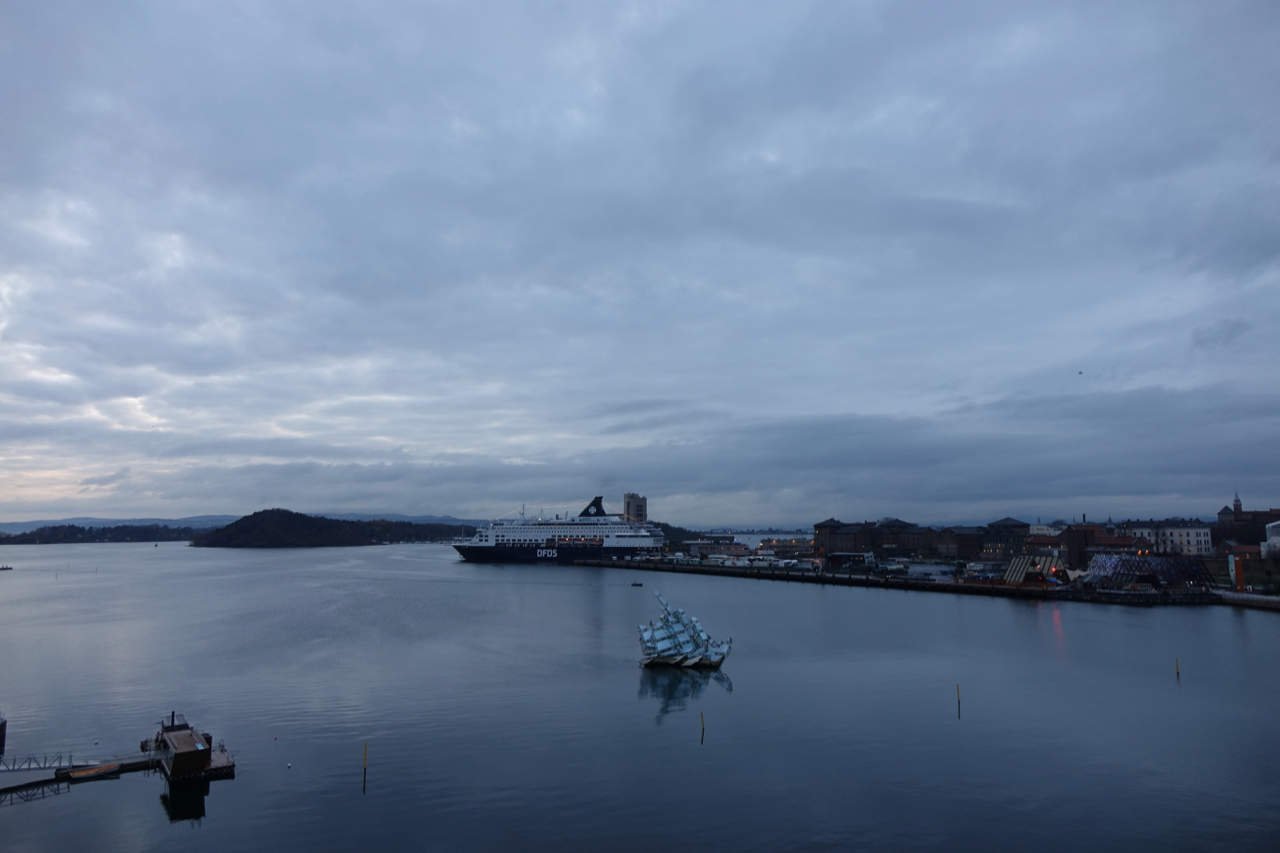 …and the city – which is actually quite hard to get a good view of, as most of its buildings are low level. It was only when you saw the size of people below that you realised how high up you really were.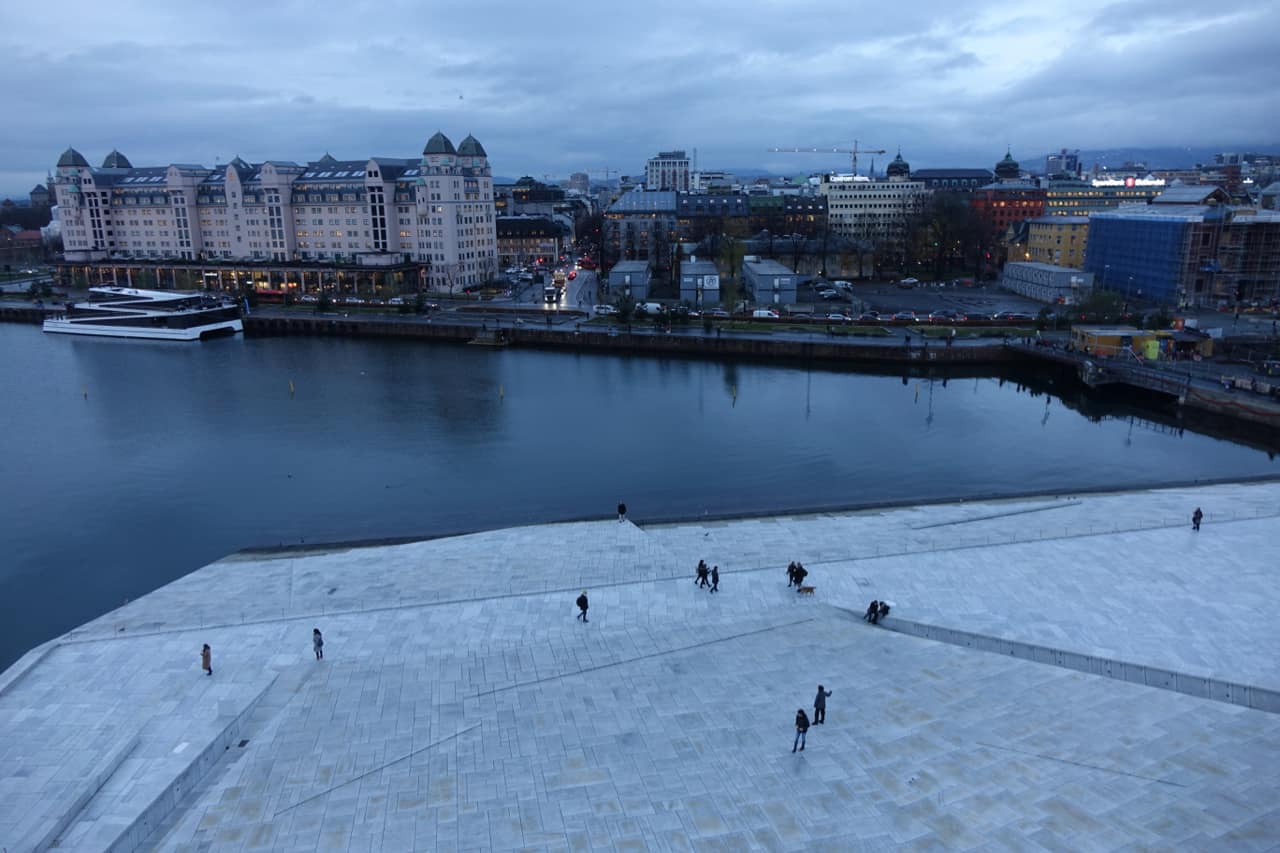 The roof seemed to be popular with birds as well as humans!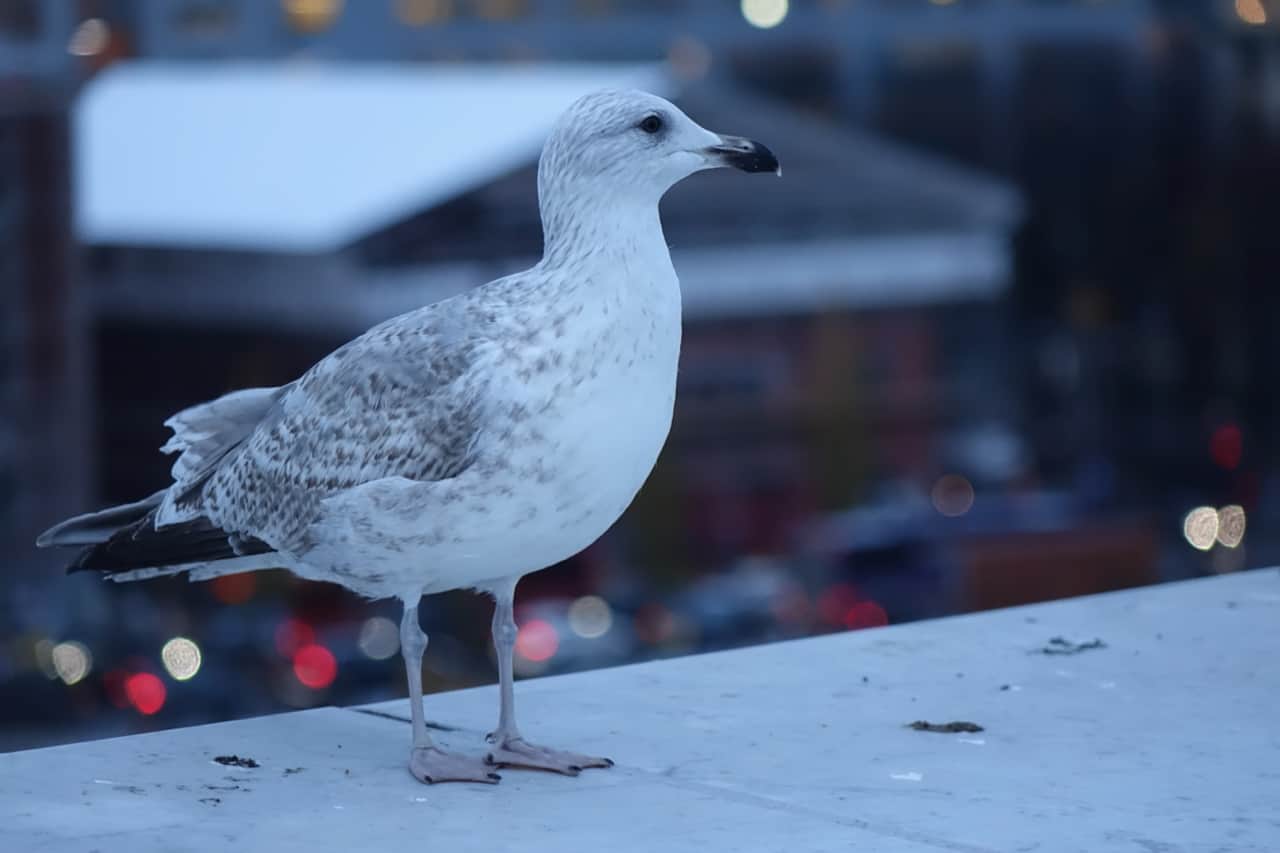 I spent a good while just wandering around taking everything in. Then walked down the side of the building and headed inside. Though you can take tours of the building, I unfortunately hadn't planned that well, so just had to make do with walking around the cavernous entrance hall. A massive curved wall of stippled wood incorporating walkways – and presumably the entrance to the auditorium – swept around one side of that.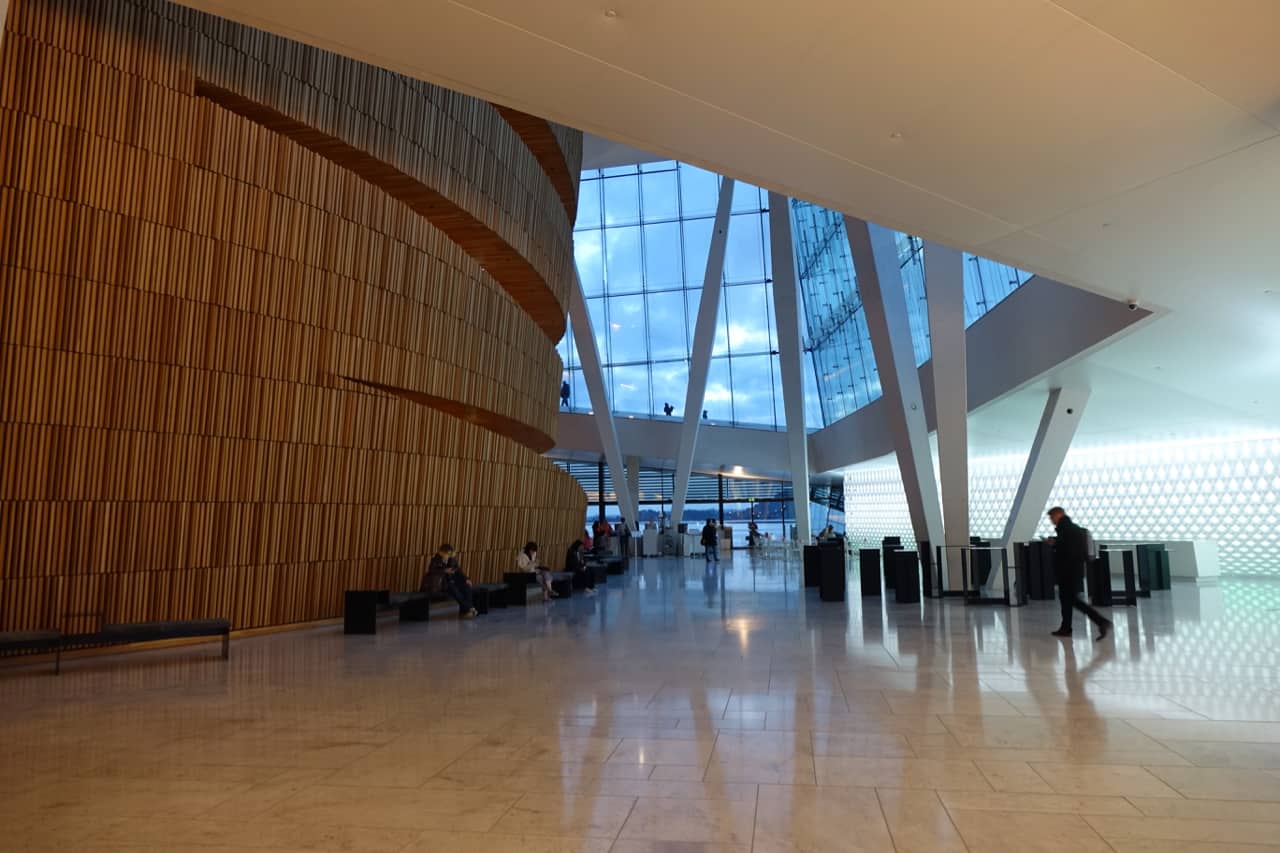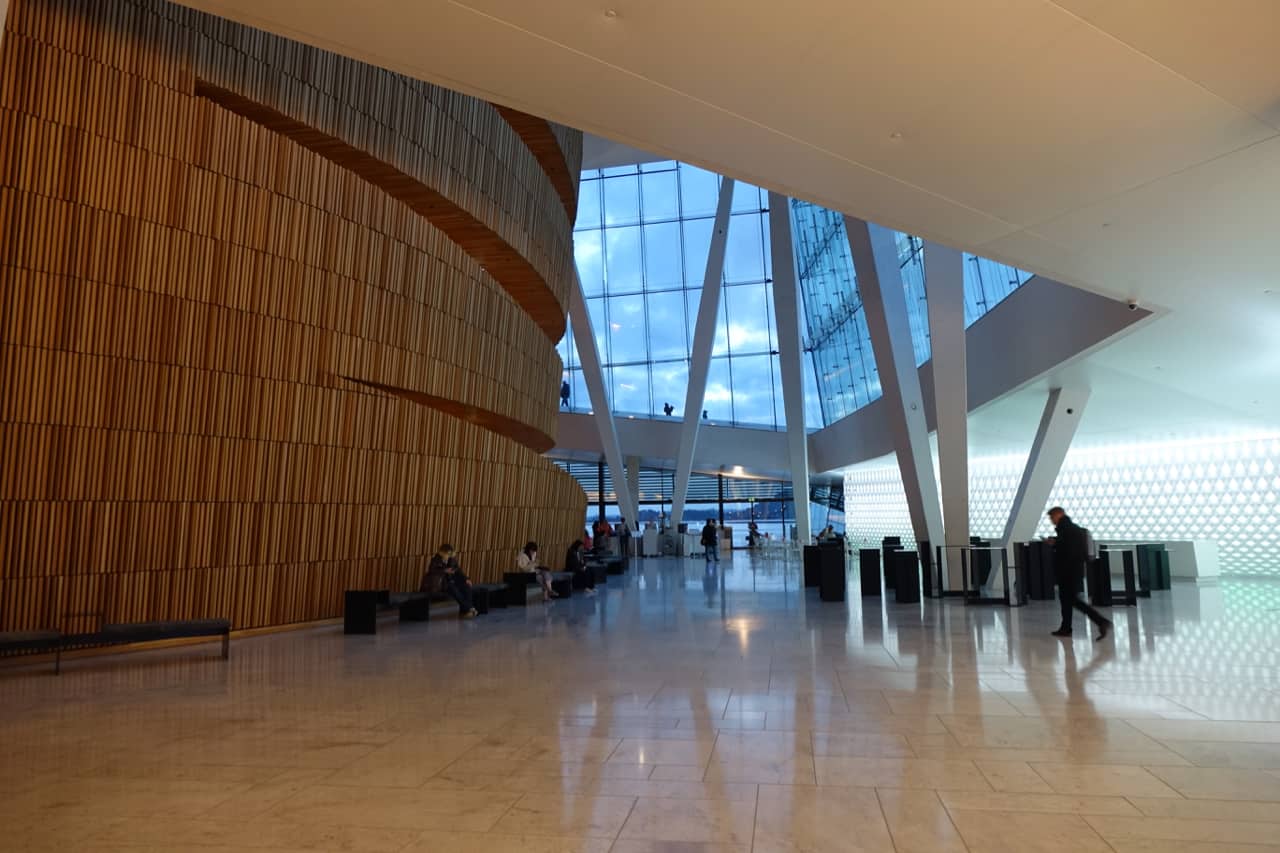 Others were made up of windows – some of which were up to 15m high, while corridors were lined with perforated wall panels created by an artist.
Even the toilets were stunning (yes I did get a photo lol).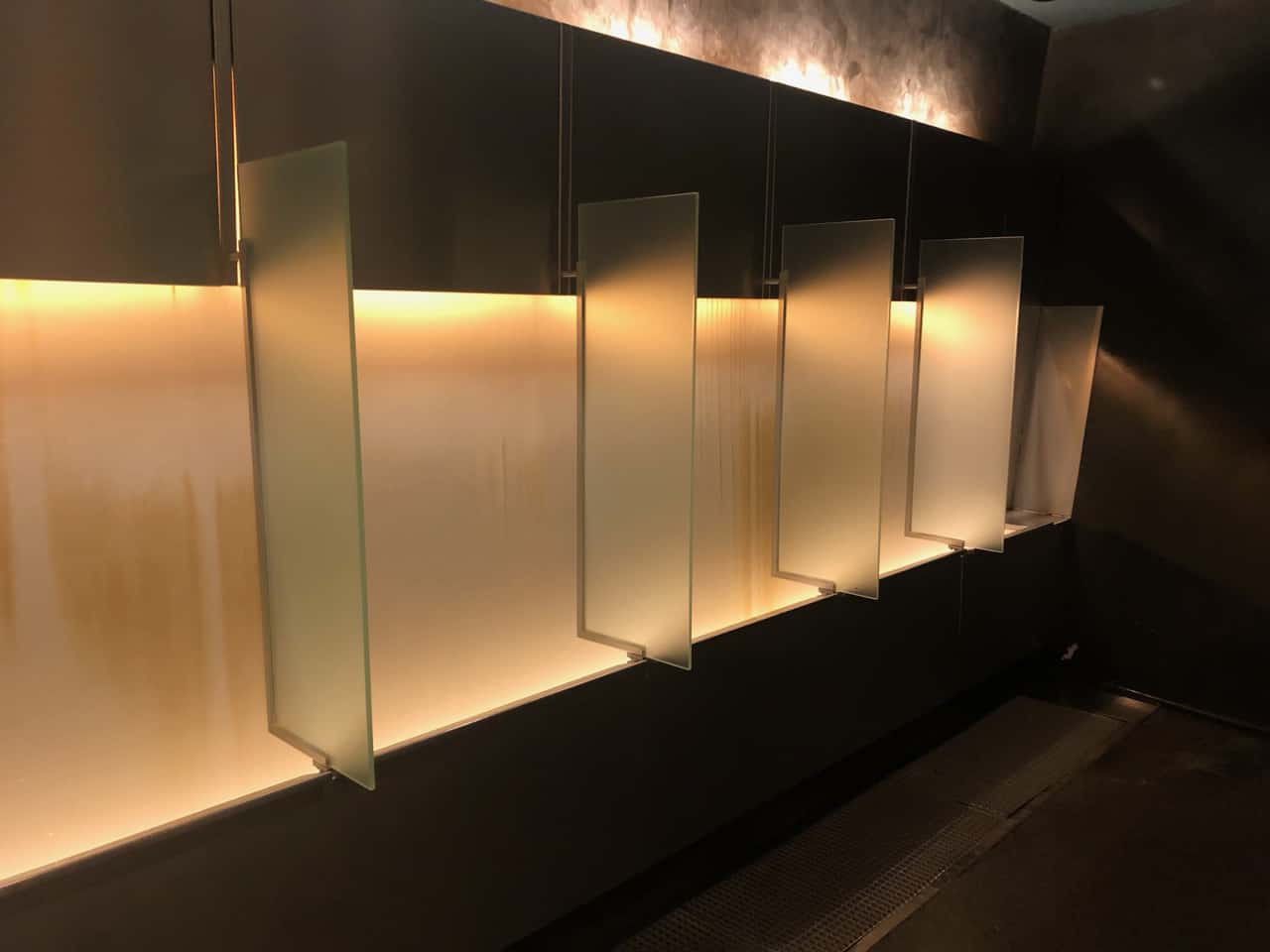 Just of the urinals unfortunately as someone else came in!
Anyway, I've got to say it's one of the most beautiful buildings I've ever seen. It's actually a building you enjoy being in – or on the roof of – and it's definitely worth a visit if you're in the city. I'll sign up for a tour next time!
As I walked back towards the centre of town, breaks in the clouds appeared, giving the place even more of a dramatic look.
The sky was almost purple.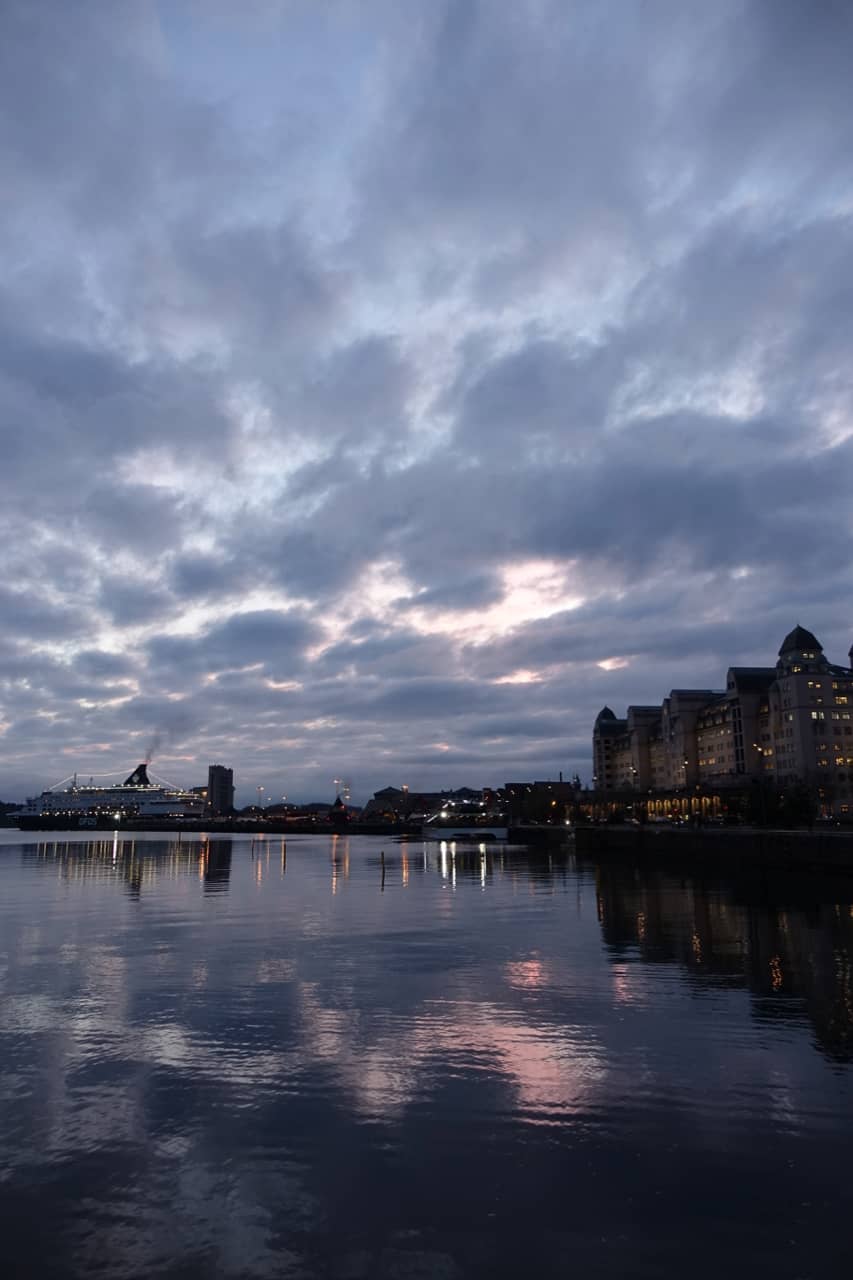 A quick trip to the shops
It took only five minutes or so before I was back at Central Station, but by then it was so dark, I felt like it was time to go to bed! Even though it was only 4.30pm.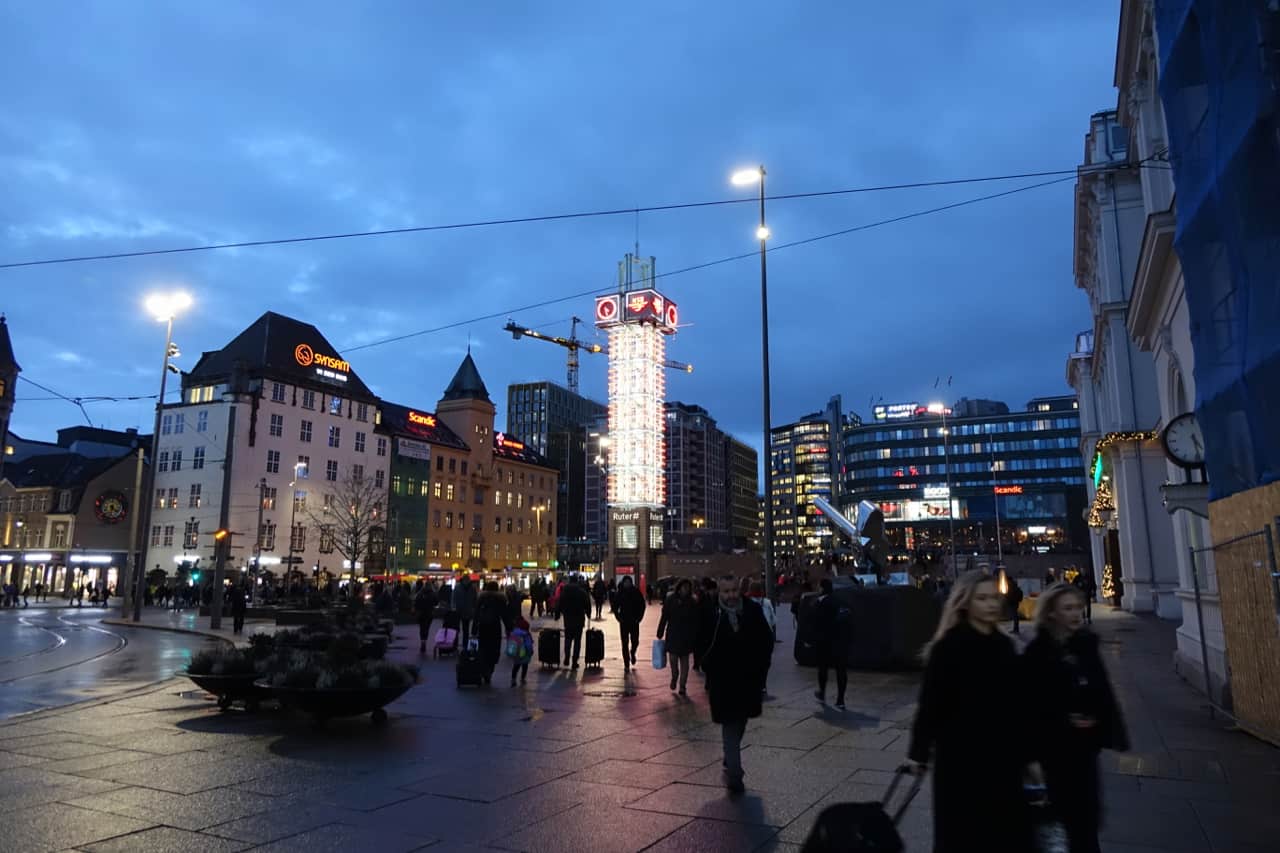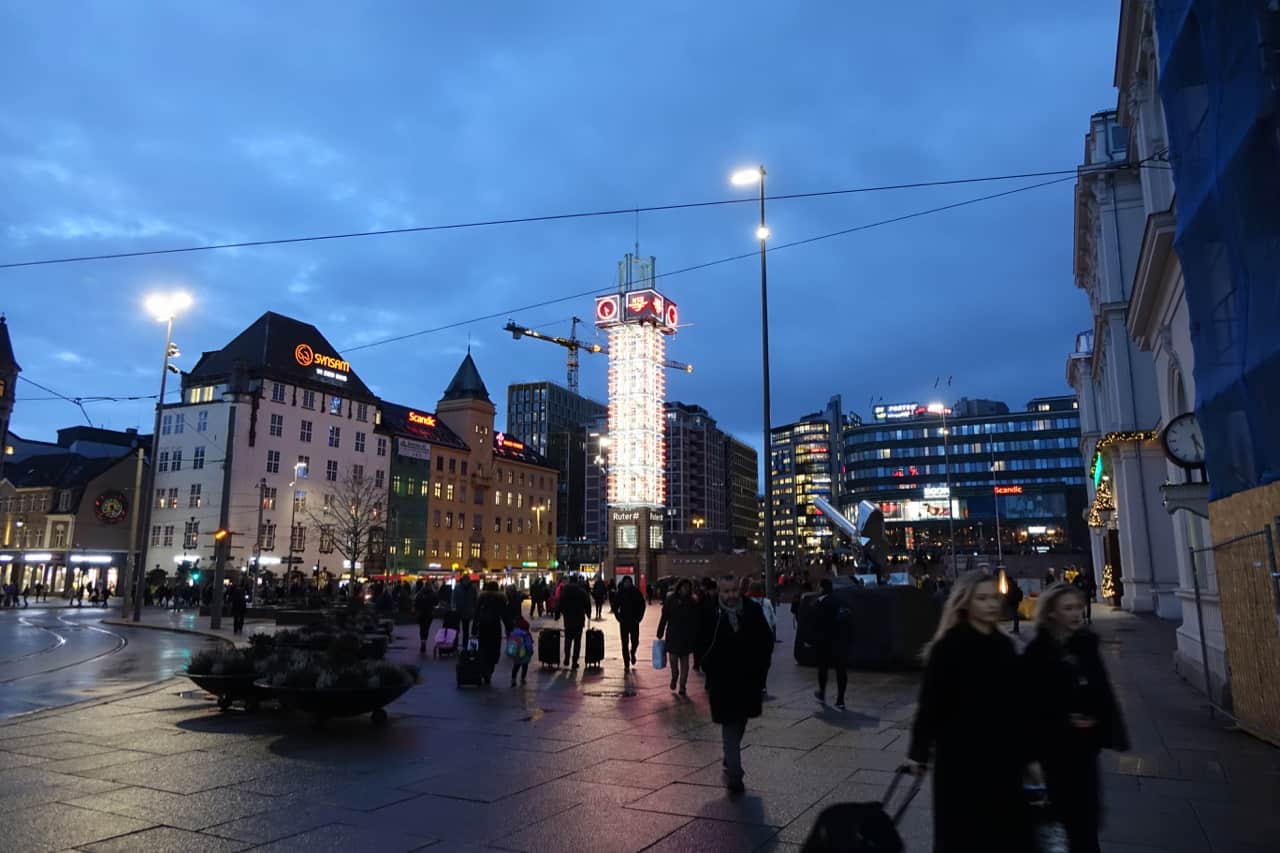 I decided to walk around the city centre a bit more to get my bearings.
After a quick look in an electronics store, I came across a Domino's – not that unusual you might think, but this one – like others I saw in the city – had a massive sit-in area. Maybe Norwegians just like to sit in to eat their pizza!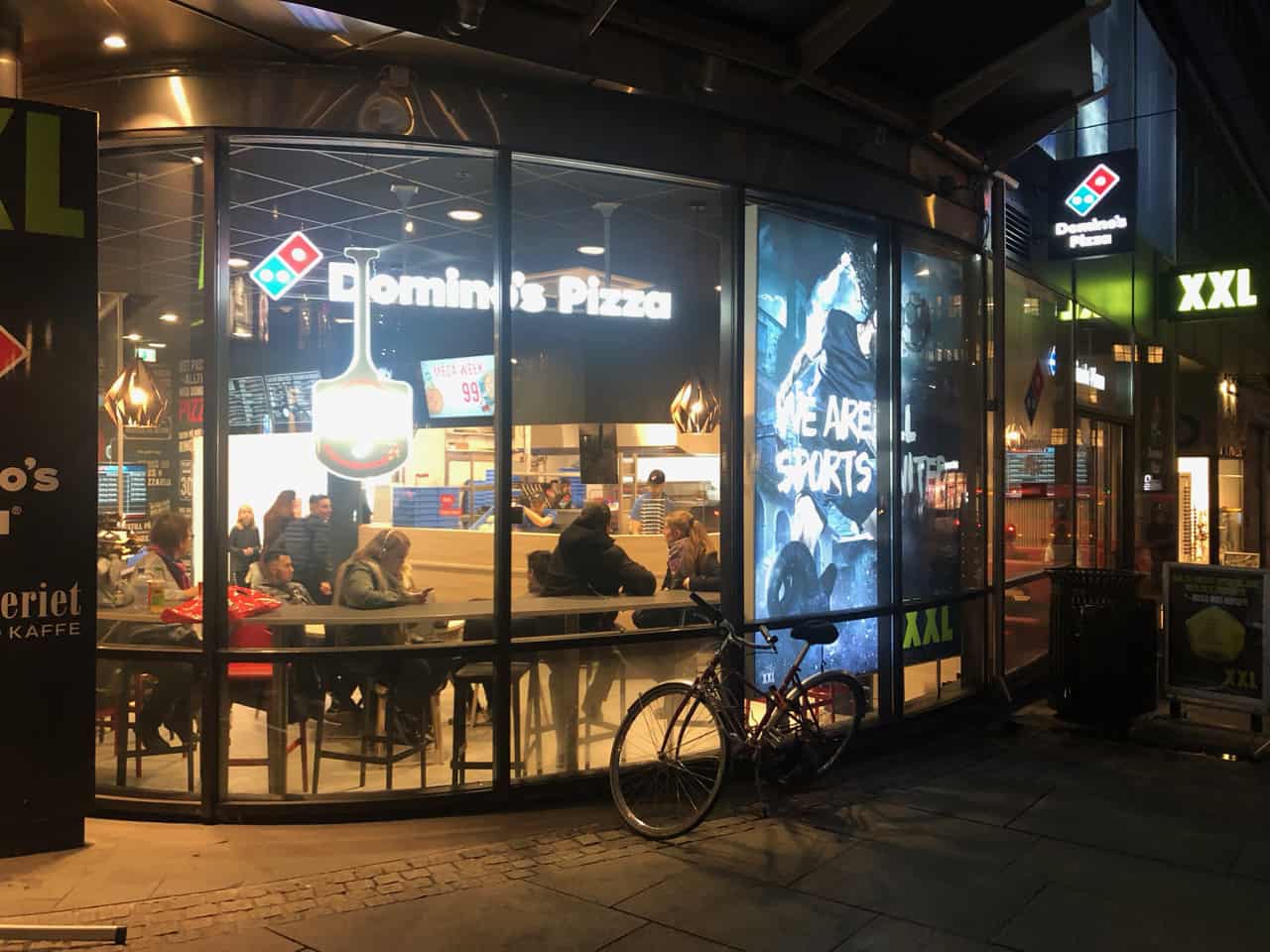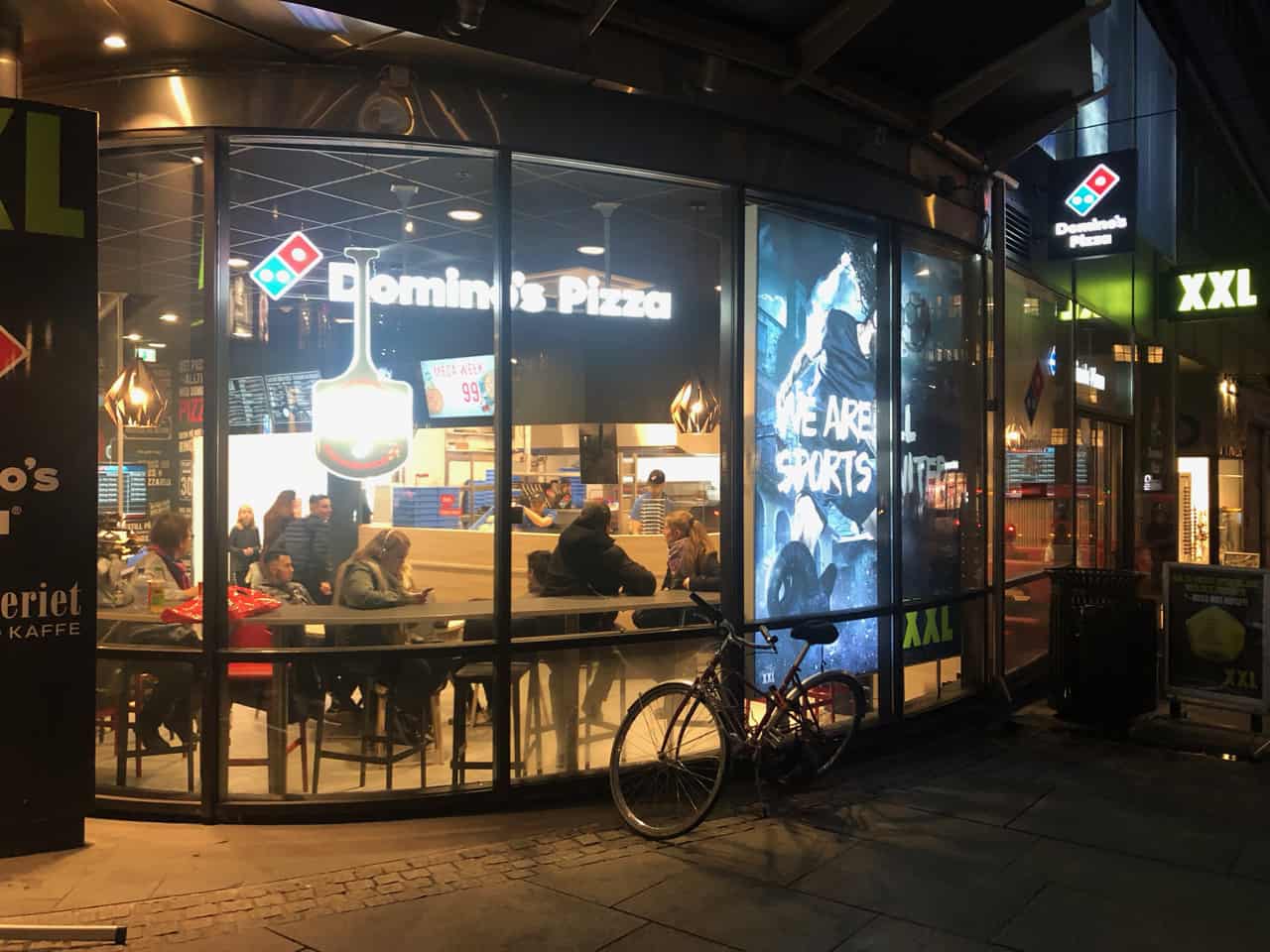 Next I had a look in Glasmagasinet – a shopping centre which dates back to 1899. All the shops inside run into each other, giving it a very open feel. I had a wander around Illums Bolighus – a great shop I'd first come across in Copenhagen that sells everything from plates and cutlery to clothing, and then looked at some clothes.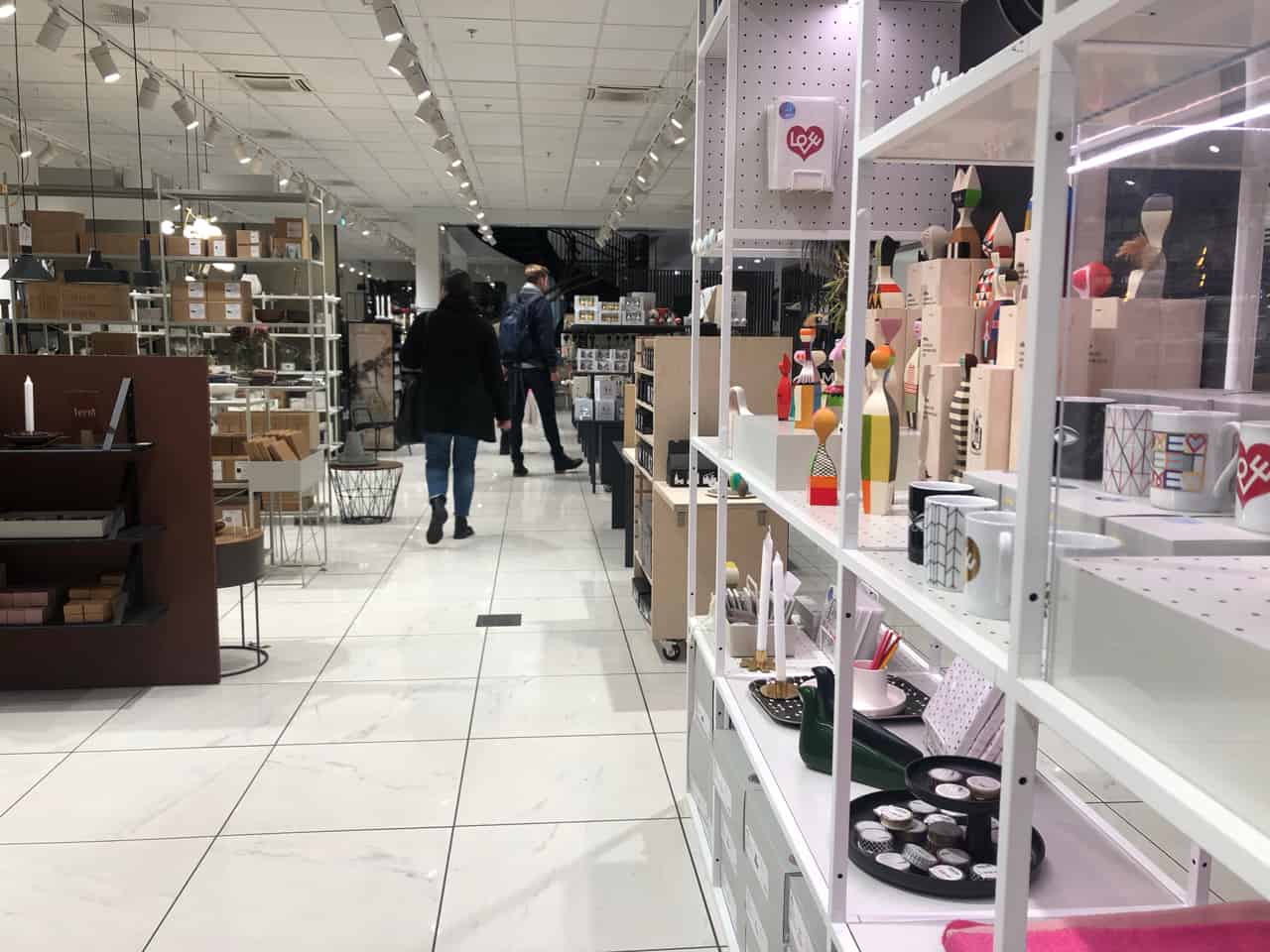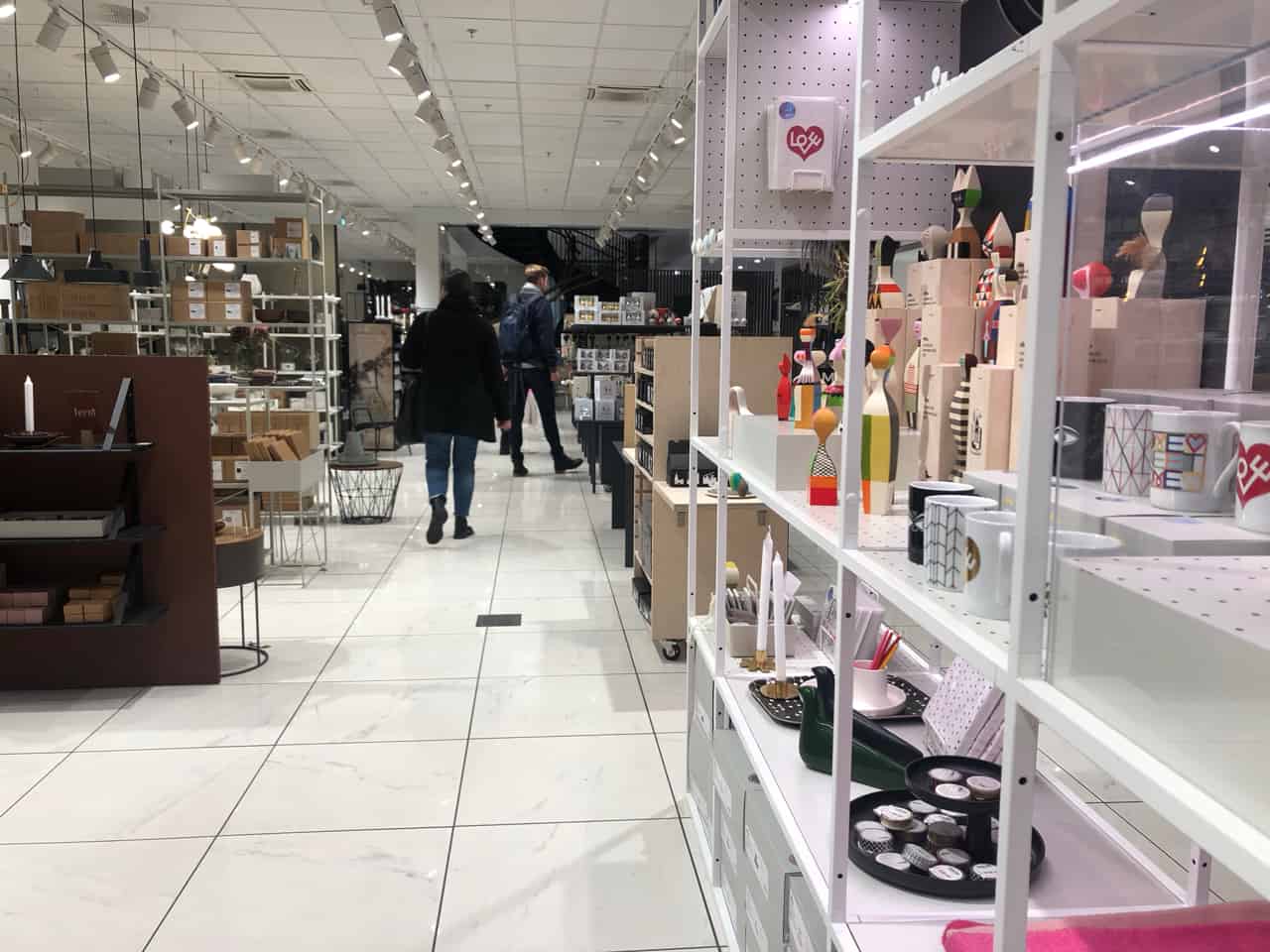 Next I headed to Oslo's main department store – Steen & Strøm.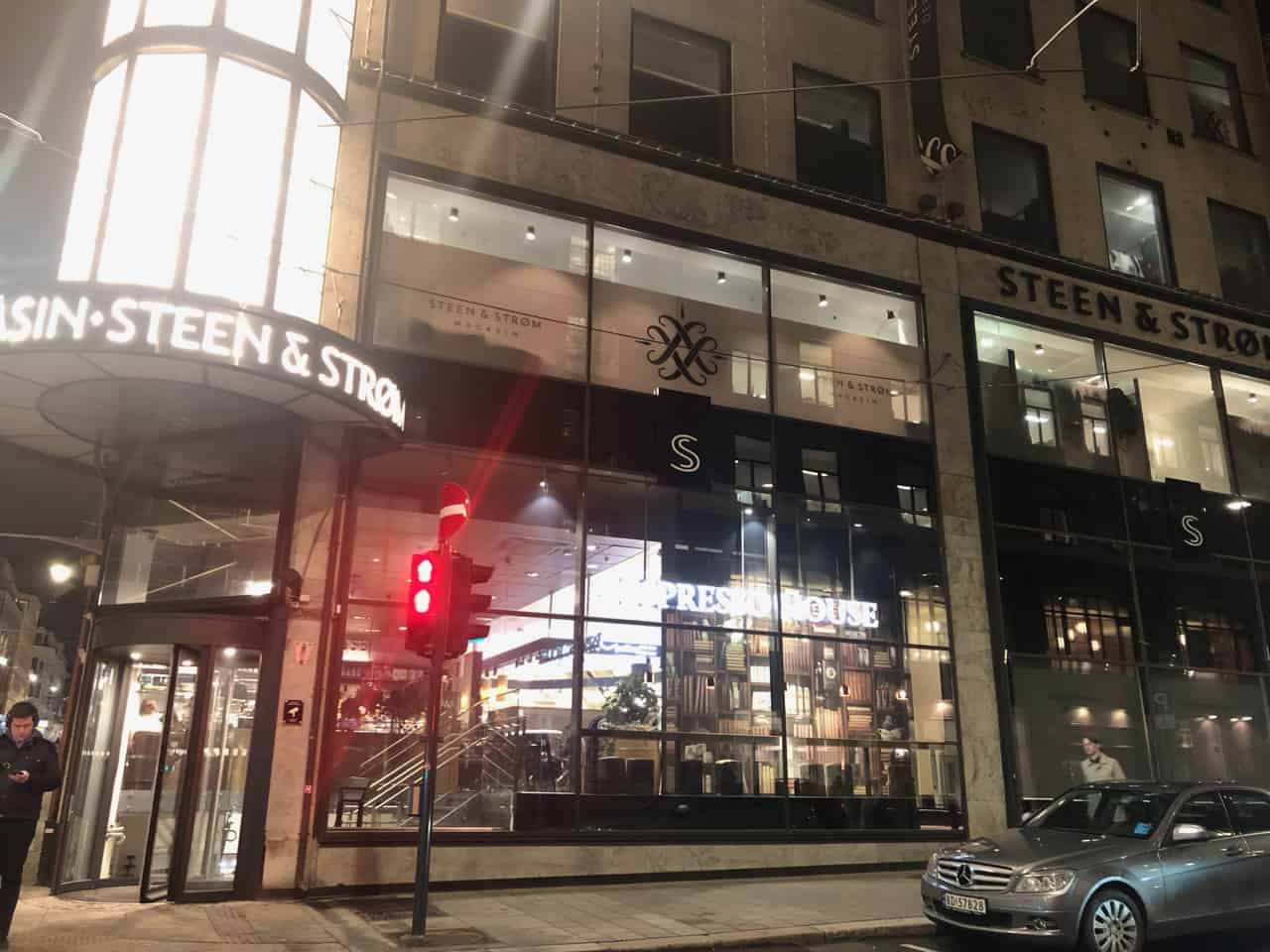 If you're after a quick bite to eat, I'd recommend their basement food court which is full of funky little operators. I got a little free taster of salmon and salad from one.
Also in Steen & Strom's basement is a branch of Vinmonopolet. It's a government operated chain which is the only place you can get wine and spirits.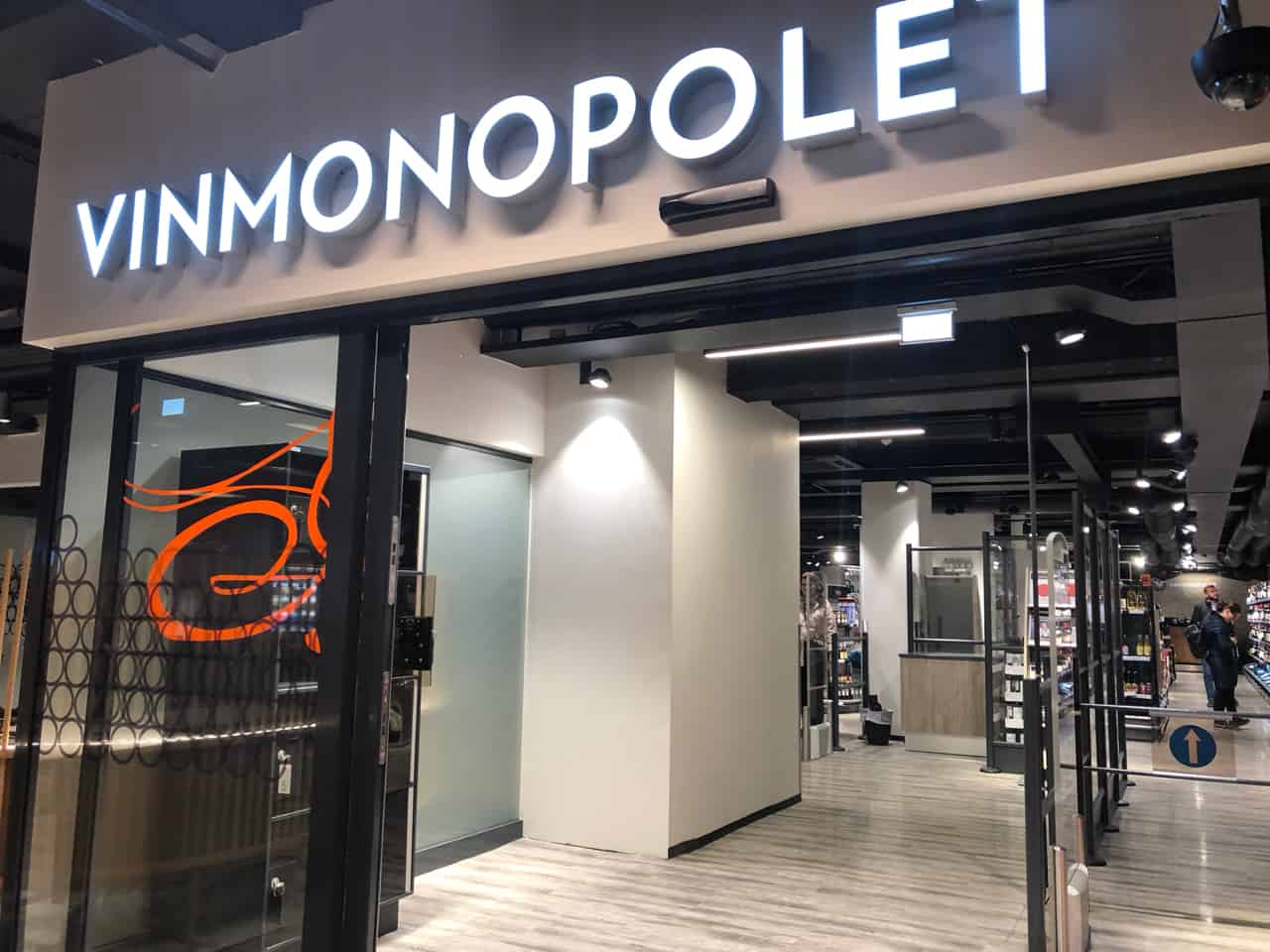 Supermarkets are allowed to sell beer, but for anything else your only choice is Vinmonopolet. I'd come across a similar thing in Finland. Be warned if you're looking for a carry out on a Saturday night in Norway – Vinmonopolet branches close at 3pm on Saturdays!
I had a quick look in a souvenir shop with an slightly tacky animated troll display….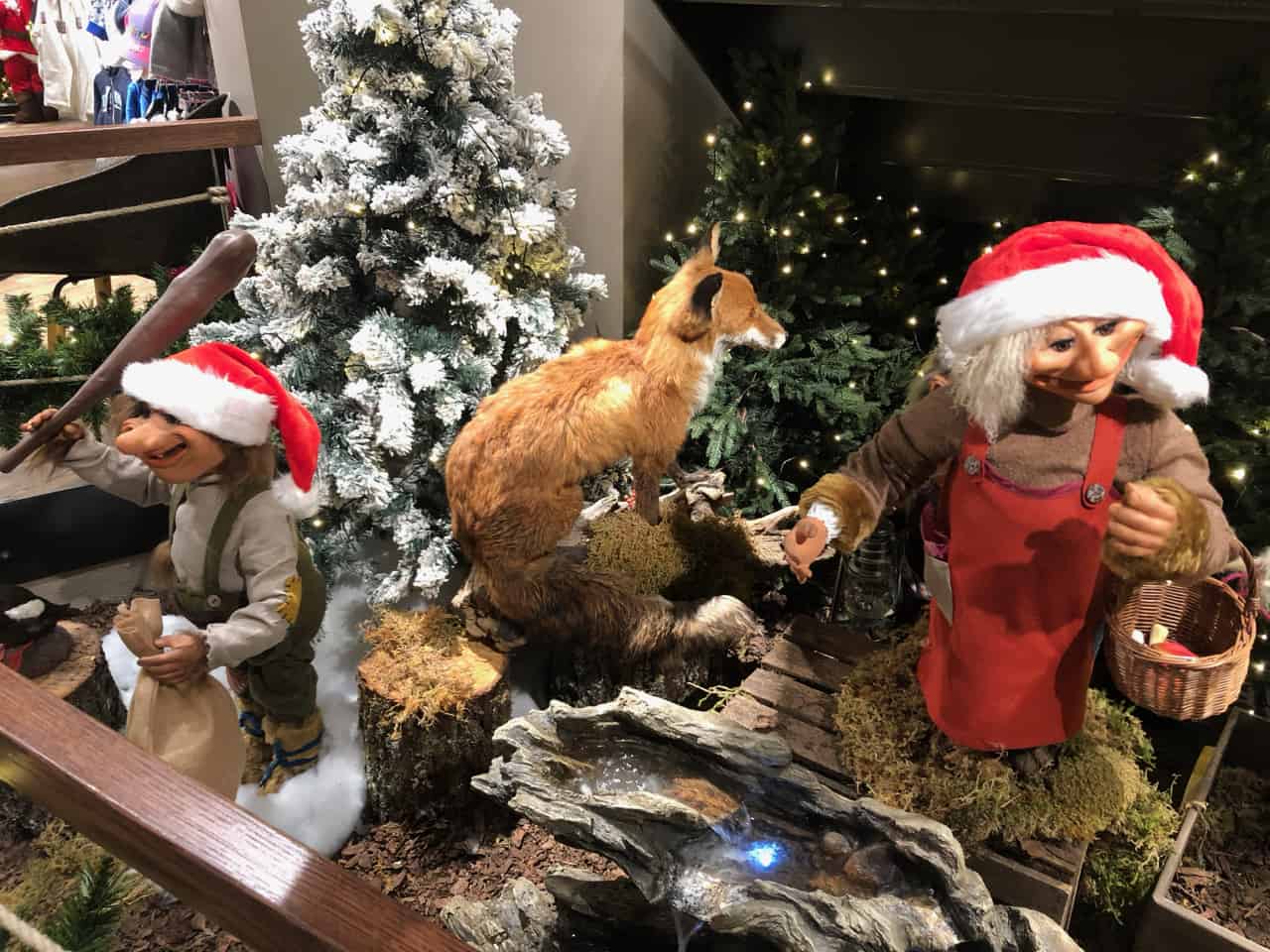 then popped into a swanky small shopping centre called Paleet.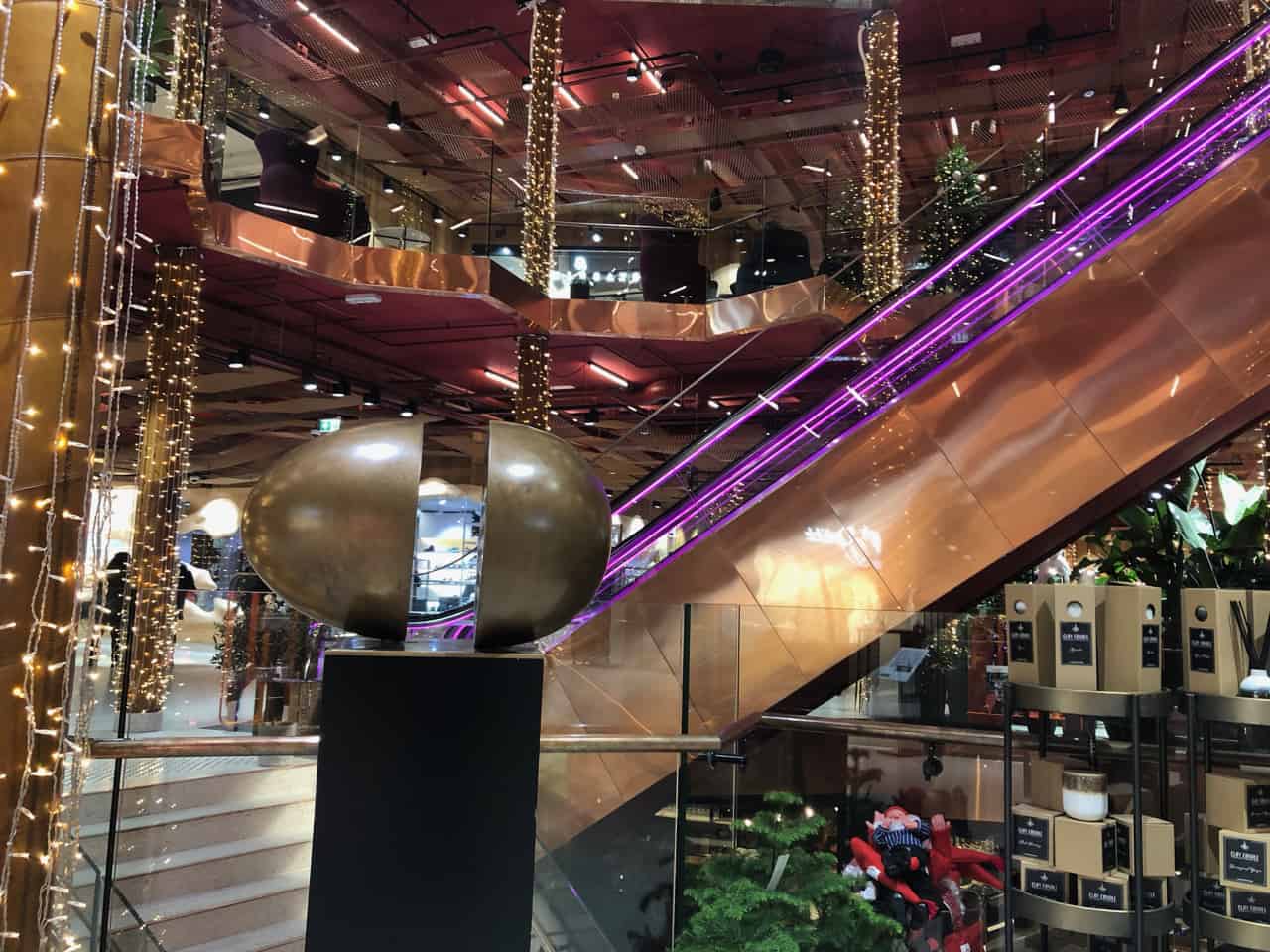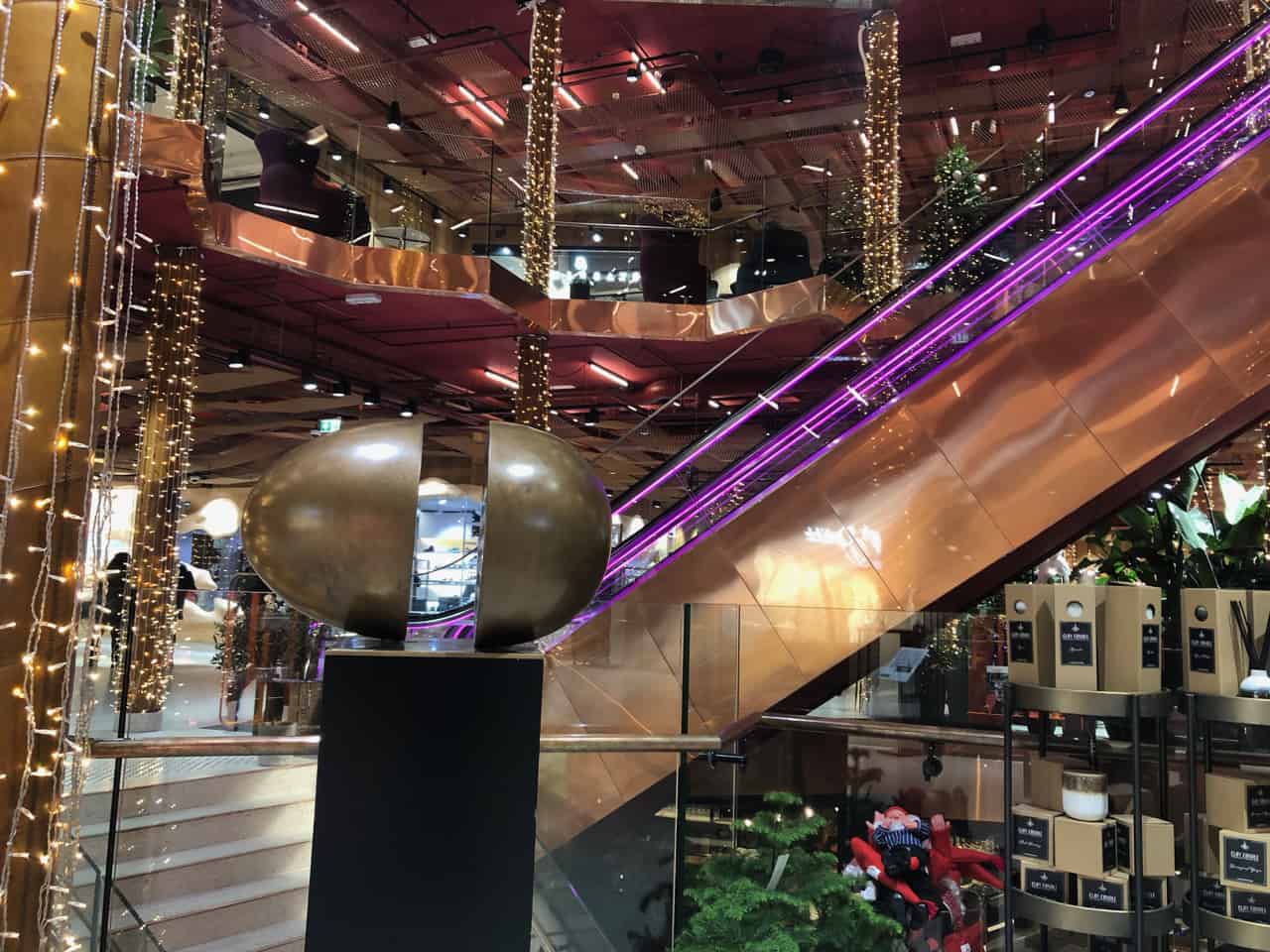 Then, feeling tired all of a sudden, I headed back to the hotel passing through a festively decorated part of Akker Brygge.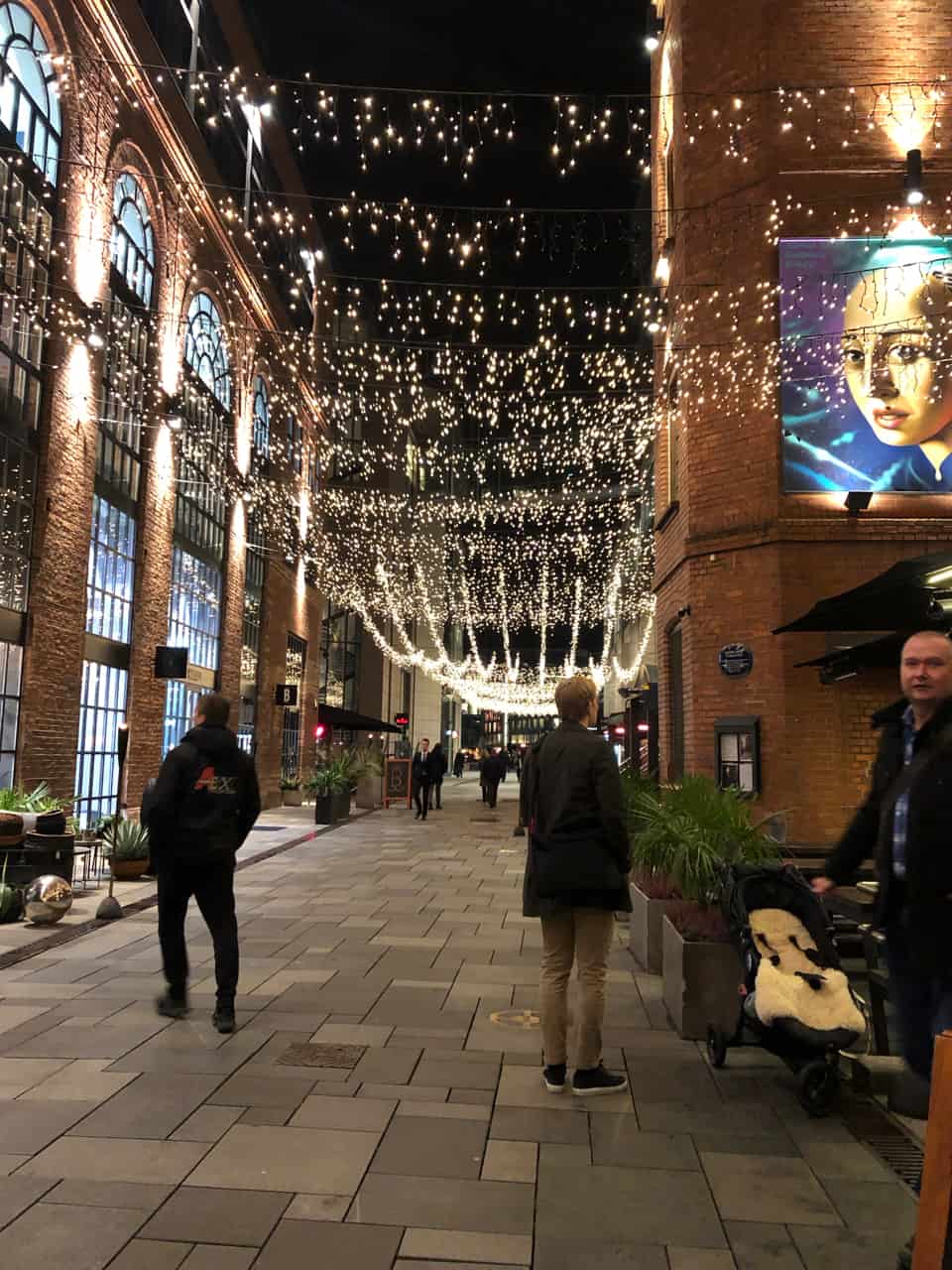 It was time to take advantage of my free spa entry.
The Thief Spa
Entrance to the hotel spa was handily via a lift just at the end of my corridor. Using your room key for access, that lift brought you to a corridor illuminated in a relaxing green.
A receptionist showed me where everything was and handed me a towel and gown, then I headed down to the changing rooms.
This was where the first of two fails hit. After getting changed into my swim trunks, I headed to the showers. Can you see how to turn the shower on?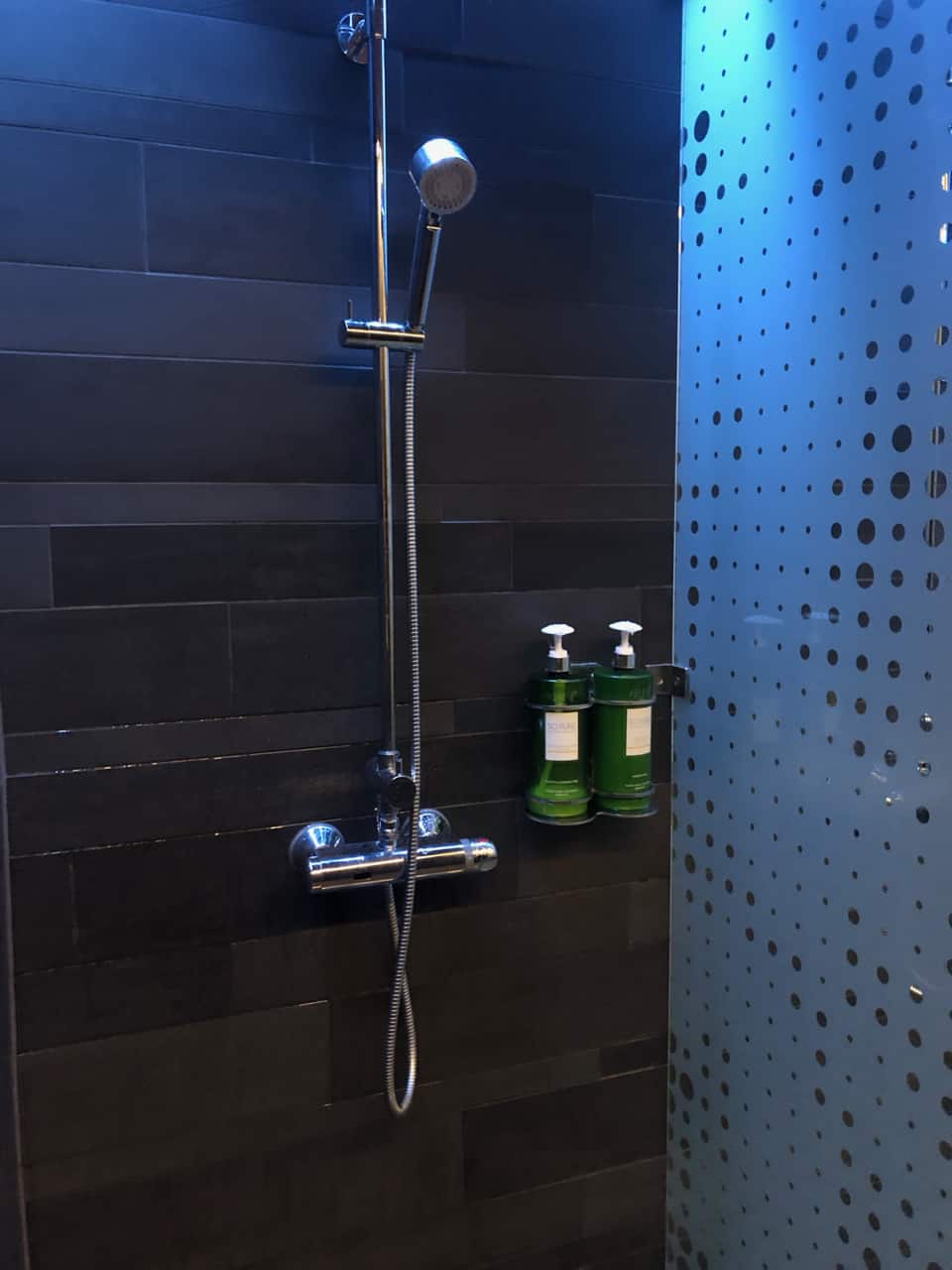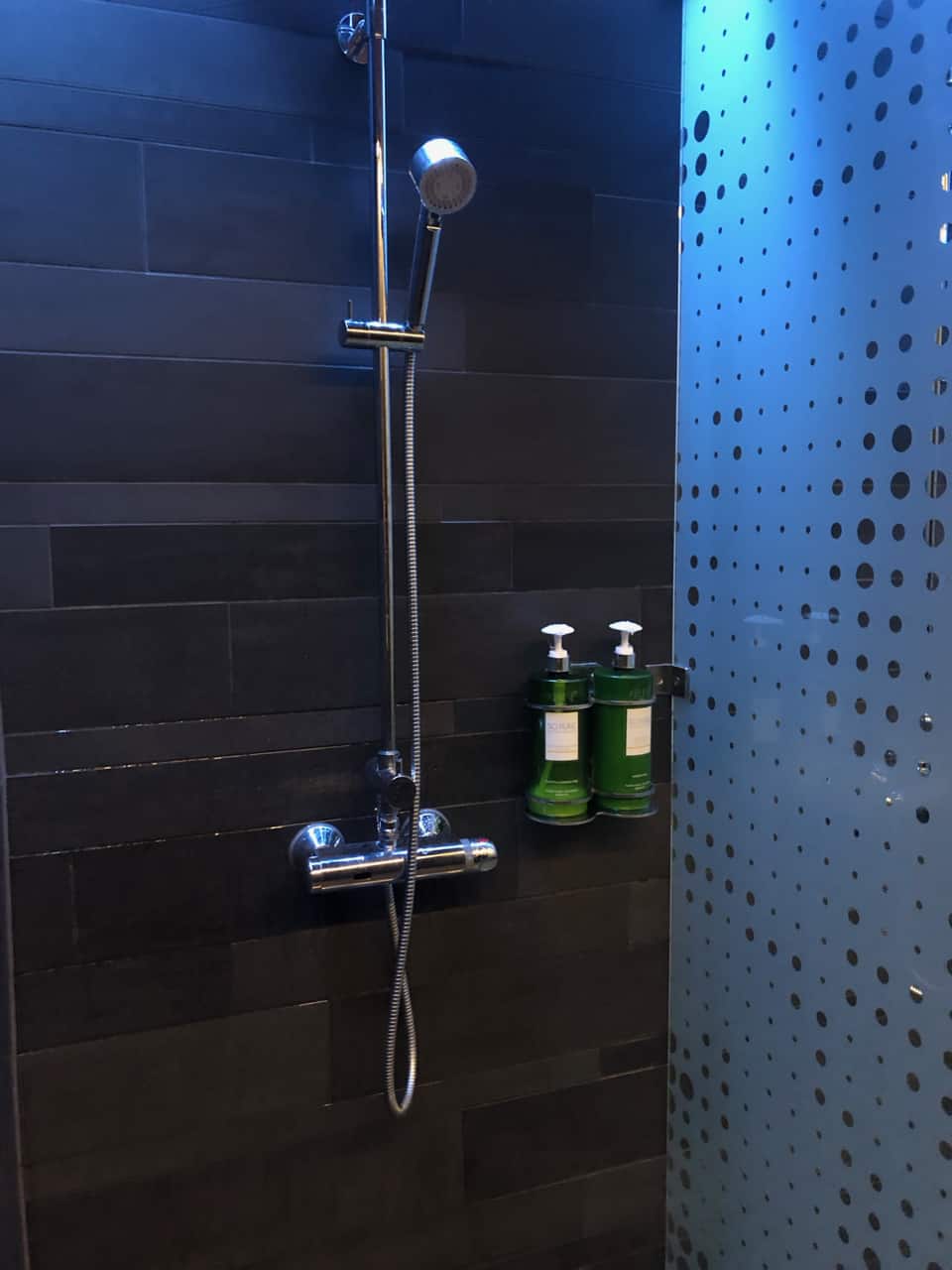 The right hand knob adjusts the temperature, the knob higher up in the middle is to choose between the overhead and telephone type shower (telephone type is that right? Or did I just make that up?)
The left hand knob is not actually a knob in that it doesn't turn or push in.
I stood there feeling really thick for a good minute and a half before starting to beat a puzzled retreat. Then the shower came on! It slowly dawned on me – these are motion controlled showers. I have never seen them before in my life! So I had a shower, and then headed upstairs.
Facilities wise, the spa has a small (12m) pool, a Hammam (which I knew all about thanks to my experience in Madrid), a steam room, sauna and various treatment rooms. There are also – apart from normal showers – some cool ones which put on a coloured water / mist show to help you relax.
After working out the layout, I got in the pool. I haven't been swimming since March, and I really want to get back in to it. Having recently upgraded my Apple Watch to a model that tracks swimming, this was my chance to try it out.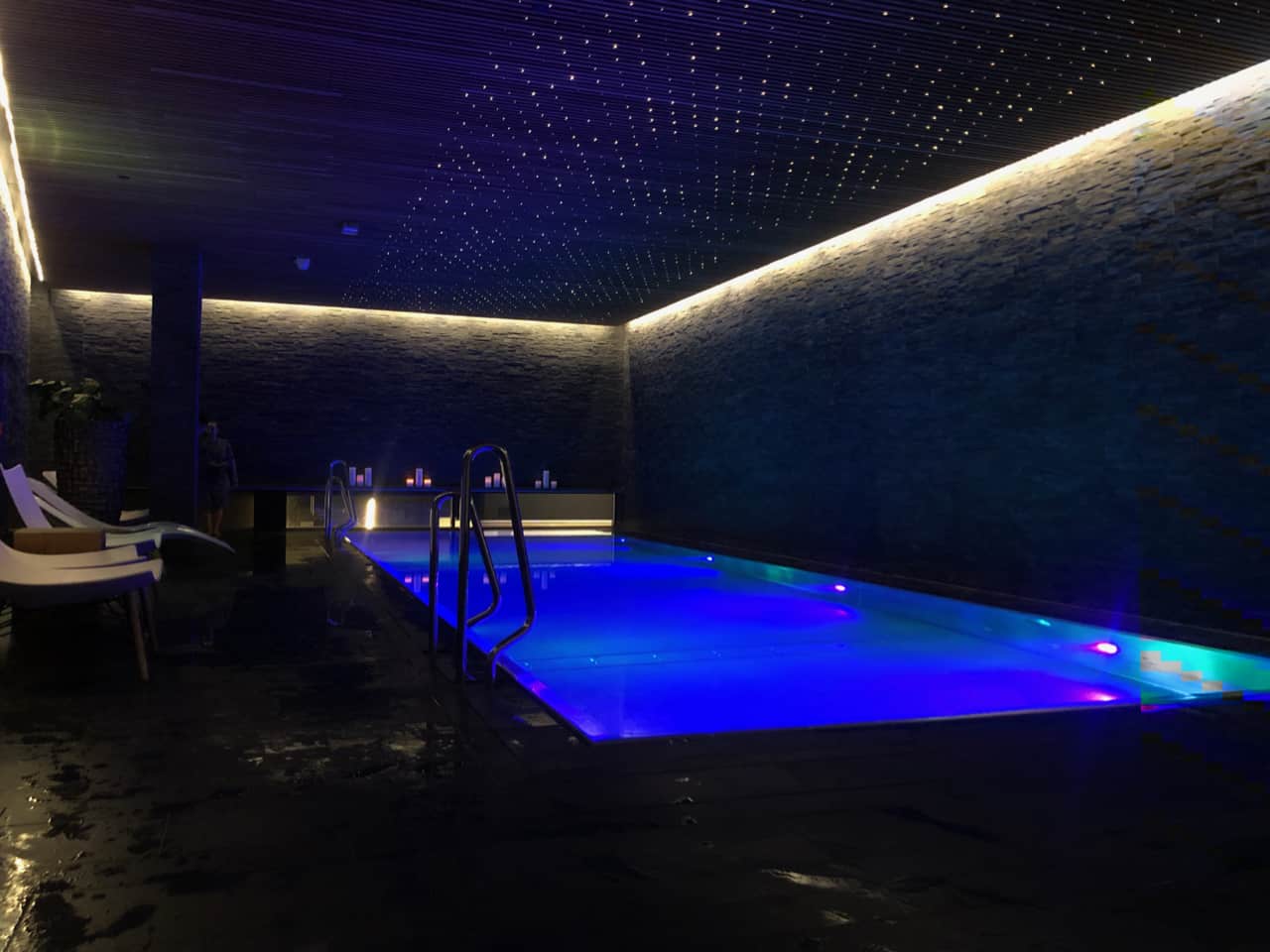 The watch worked perfectly, tracking my lengths, calories and heart rate – the only problem was when the underwater lights in the pool changed colour to red it was a bit hard to see where I was going!
Once my swim was finished, it was time for my second spa fail. In the sauna. Not as bad as what you might be imagining!
I'd been given rubber sandals to wear throughout the spa, but thought I'd leave them outside the sauna. So, barefoot I stepped inside. I was half way to the wooden benches when it slowly dawned on me that the tiled floor was actually burning hot. My feet felt like they were on fire.
I was the same number of steps to getting to the sandals as I was to getting to the bench. Did I turn back? Or keep going? In a split second (in which I also may have muttered the name of the Lord's son in vain), my brain processed the fact that turning back to get my sandals would take more time than just keeping going. So I kept going and got my feet off the burning floor as soon as I could.
Looking at my undersoles they were bright red 😩. The good news was that I now knew what walking on hot coals must be like, the bad was that I'd have to go through it all over again to get out 😩
After I'd sweated it out for a while, I shuffled with my feet on my towel until I was back outside. Make mental note: always be wary of unfamiliar sauna floor surfaces.
Trying out the steam room for a bit was followed by a shower, and after getting changed I decided to end the day with a glass of wine in The Thief's Bar.

It has an impressive – and slightly crazy selection of cocktails, but I'd save that for another night. Right now it was a glass of Californian Chardonnay (a snip at only £17) while I did a bit more work on my blog. I think the bar is a bit of an Oslo hot spot, but at just after half past eight on a Friday night, I was able to get a seat at a table. The guy running the bar was really welcoming and friendly.
Not too long after, I was in bed. As I was still stuffed from my burger lunch, I just finished off the packet of paprika crisps from the night before for dinner. I was also wary of not eating too much just before bedtime when I was determined to make the luxurious breakfast buffet the next morning. Would I make that though – or sleep in yet again?!