My phone's alarm woke me early on Sunday morning. After hitting snooze at least once, I managed to get up and get out of the hotel by just after 8am. As most shops in Vienna seemed to be closed on a Sunday, I'd assumed the city's attractions would be pretty busy, so had decided to head out of the capital – and in fact out of Austria all together.
In my continuing quest to visit countries I'd never been to before, I was going to take advantage of Austria's proximity to Slovakia and spend a day in the country's capital, Bratislava.
Getting there
I'm going to confess – I messed up here a bit! I'd set my sights on catching the 9.16am train from Vienna's Central station, which would get me into Bratislava at a shade after twenty past ten. After using Google Translate to check 'mitte' meant 'central' I headed to the Wien Mitte train station. I'd be a bit early but wanted to make sure I had plenty of time for a cheeky McDonald's breakfast 😉
After getting to Mitte, I came up from the U-Bahn platform and made my way to the station's ticket office.
ÖBB, Austria's state railway company, offers a Bratislava ticket. €16 gets you a return train ticket between Vienna and Bratislava plus free public urban transport in Bratislava for the day. The Bratislava Ticket also includes a free guided city tour, but as it's only in German, that wouldn't be much use to me!
I handed over my credit card to the friendly counter staff and received my ticket – I was all set, and was already thinking of what Austrian McD's treat I'd soon be enjoying. It was then the man behind the counter asked if I knew my train to Bratislava wouldn't be leaving from Mitte station.
It turned out Mitte station is really the central station for suburban trains. My inter-city train would be leaving from Vienna's Hauptbahnhof Station, which also seems to translate as "central station". Thankfully that was only a six minute train ride away on a suburban train, so I headed down to the platform, and was soon on my way to the correct station.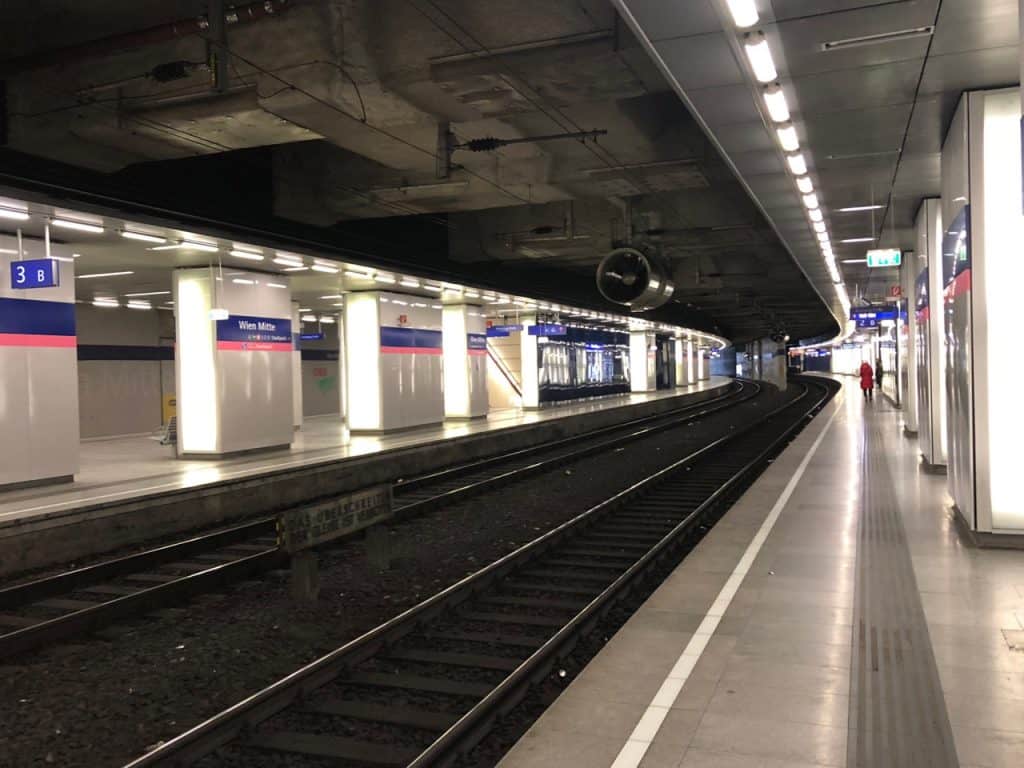 Would I have time for my McDonald's breakfast though?! After getting off my train I quickly spotted a tiny McDonald's, but after looking at the menu they seemed to weirdly be already serving the daytime menu. My 'phone showed me there was another McD's just a two minute walk away, and coming out of the station, I soon spotted it – on the right in the picture below.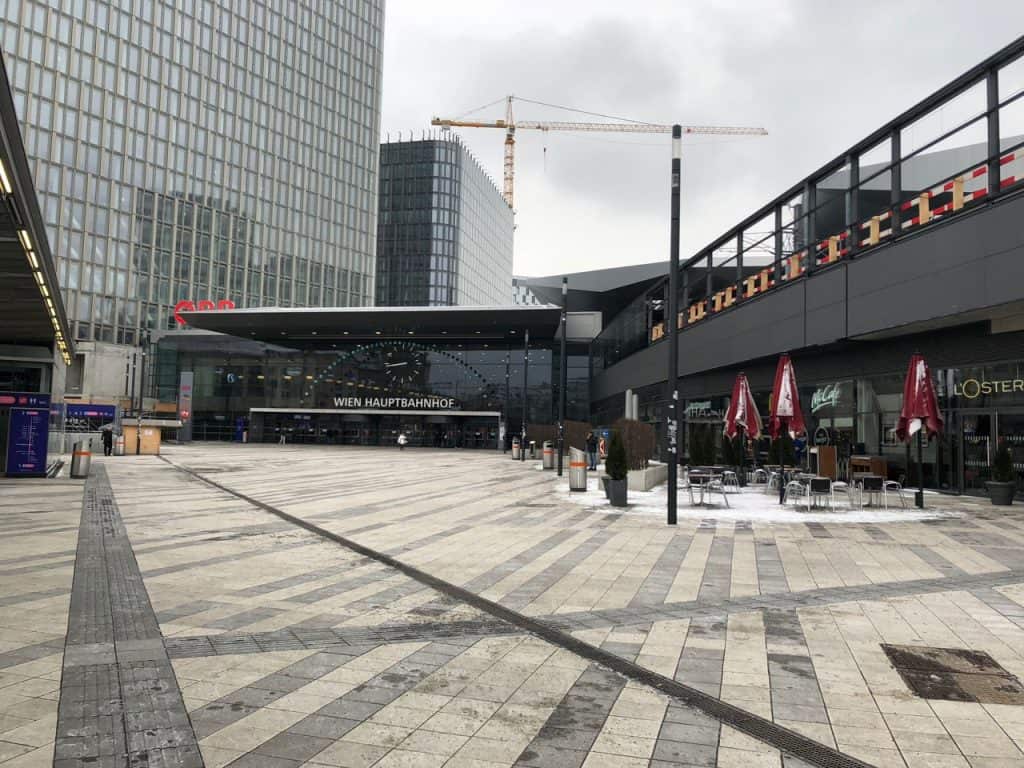 It was serving breakfast! It turns out not every store in the country offers a morning menu.
McDonald's in Austria have several unusual breakfast options we don't get at home. I actually wanted to try the McMorning Bacon which comes with a sausage patty, bacon and a hash brown on a country-style bun. Looks good right? But I couldn't remember the name of it, and I couldn't see it depicted on the kiosk screen either, so being in a hurry, I ended up choosing its rather poor cousin, the McMuffin Country.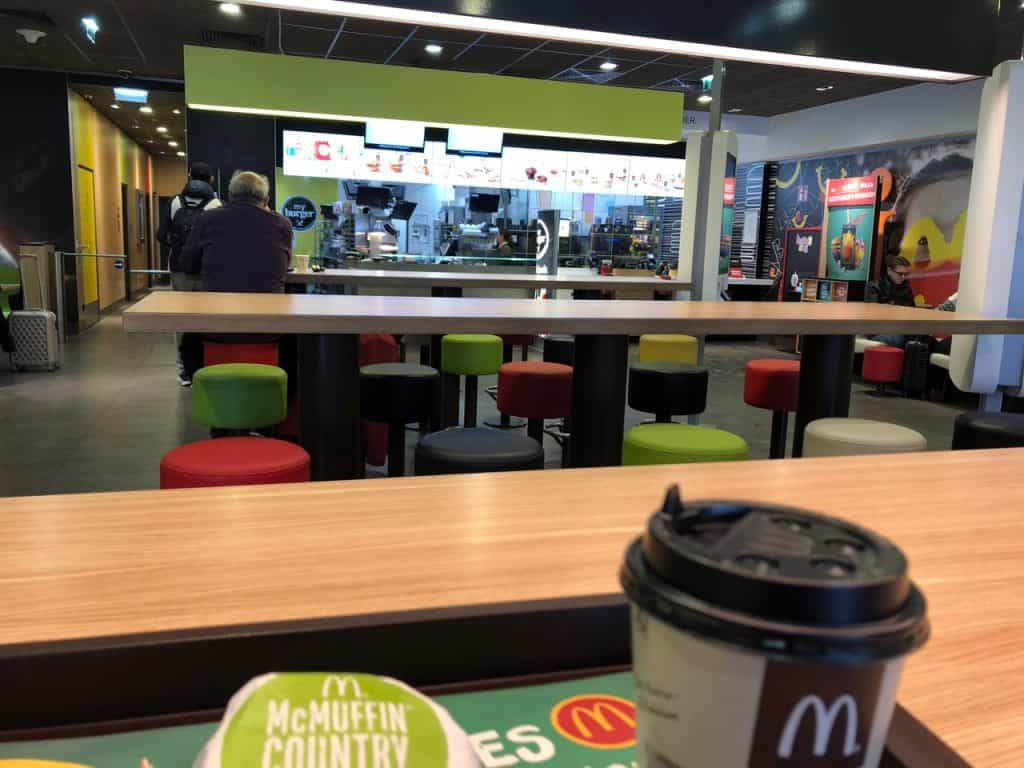 Weirdly while the McMorning Bacon seems to have a hash brown on it, you couldn't order a hash brown separately. So I just had the wee muffin with sausage and what seemed like mayonnaise on it.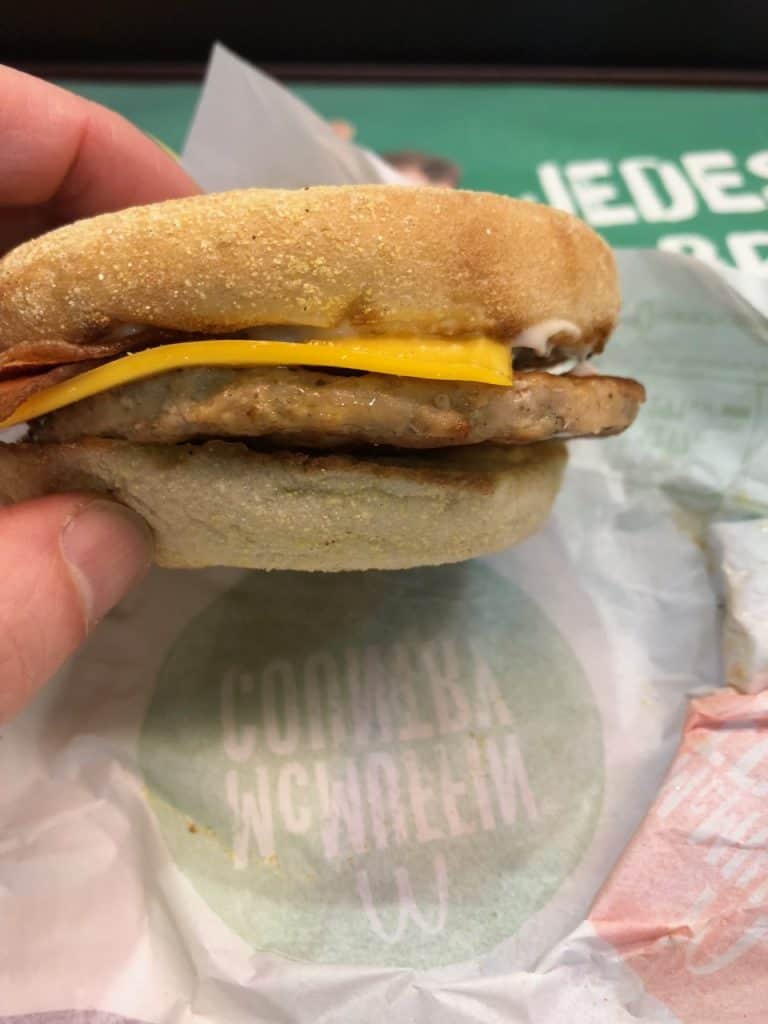 It wasn't amazing, but as a snack to set me up for the day it did the job!
I grabbed my coffee and headed down to the platform for my train to Bratislava. It was already there, so I jumped on board and after moving seat a couple of times to distance myself from some foreigners having a VERY LOUD CONVERSATION, I was soon on my way.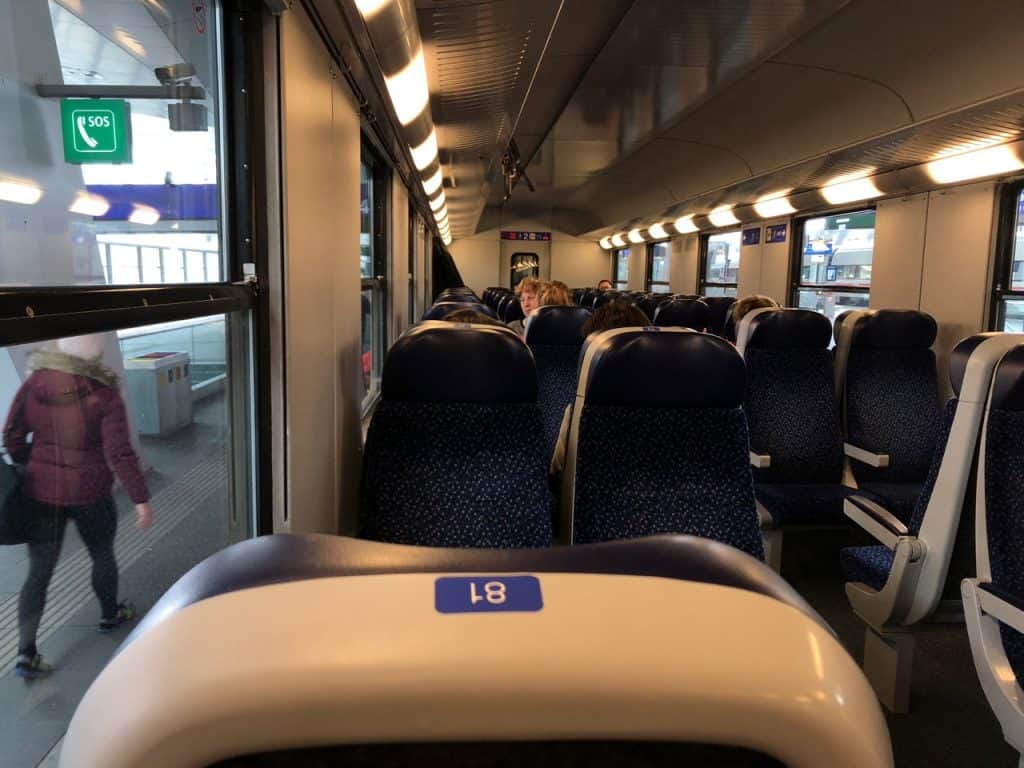 The train was perfectly comfortable, with airline style seats with flip down tables. I got my iPad out and started writing up some of my blog. There wasn't any WiFi on the train, so I thought I'd have to work offline, as I don't have a data plan for my iPad. (While my mobile 'phone plan includes free data in lots of countries abroad, I knew it didn't let you connect your iPad to your 'phone outside of the UK). I thought I'd try it just in case, and lo and behold, it did actually work! Result! It may be because of the recent EU regulations on data roaming – I'm not sure. I was just grateful to see it working!
As the train sped by, I cast an occasional glance out the window, and soon noticed the countryside changing dramatically. What had been dotted with small, tidy looking houses and villages soon started to look more barren and bare.
Arriving in Bratislava
I got my first glimpse of suburban Slovakia as we pulled into a small station.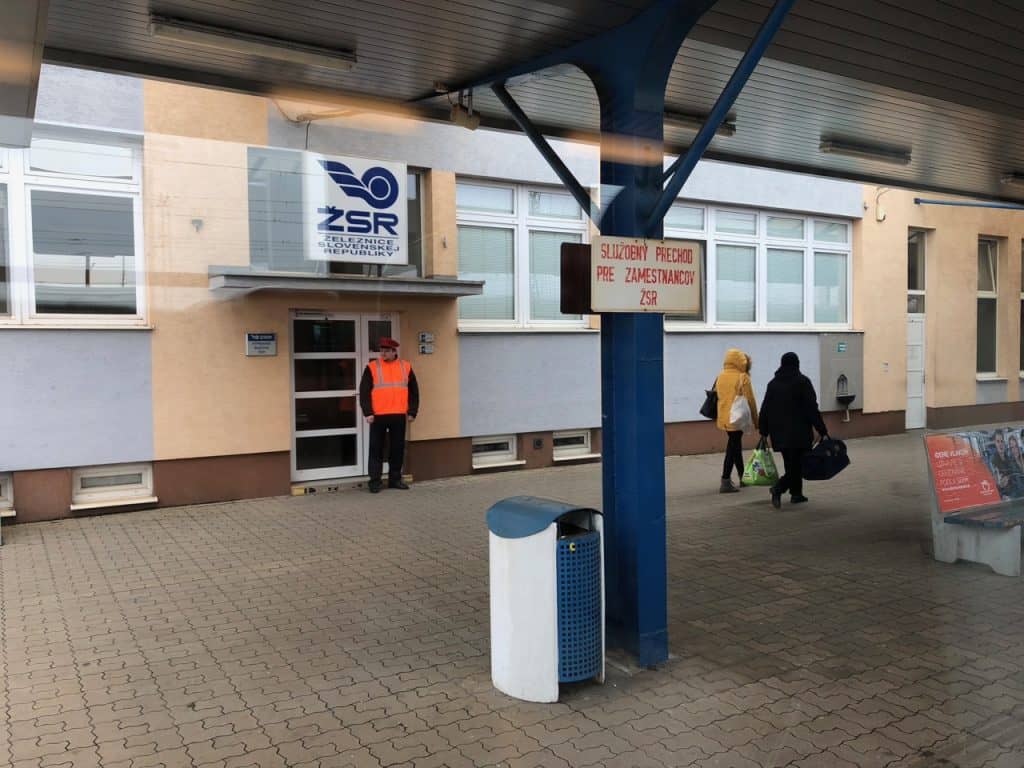 It looked like something from another era to be honest – the Soviet era. Our journey continued, and a short while later we were disembarking at Bratislava's main railway station.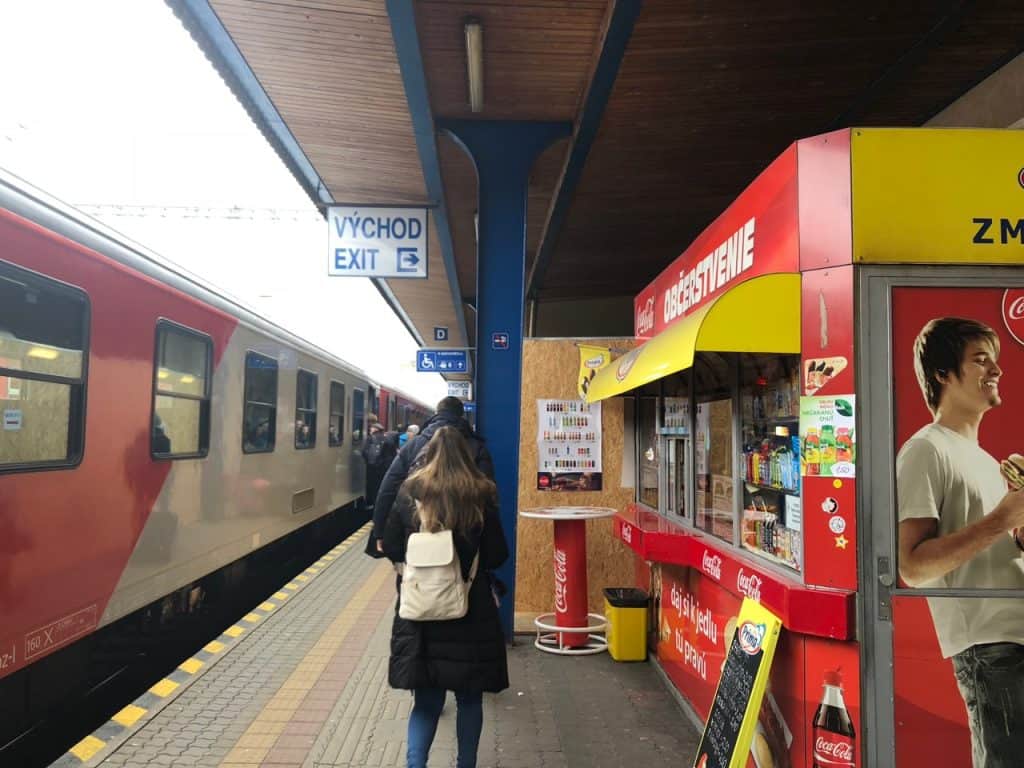 And let's just say that didn't look promising either!
The pictures really don't do it justice. The station was grim with a capital G! Though it was early in the morning, there were plenty of drunks already roaming around, and the station looked as if it had been built in the 60s or 70s and then left well alone.
Heading outside, the exterior didn't looking much better.
I was beginning to question whether I'd made the right decision to spend a day in the city! There was a chilly wind blowing as I joined a modest queue at the tram stop for the short journey into the centre of town.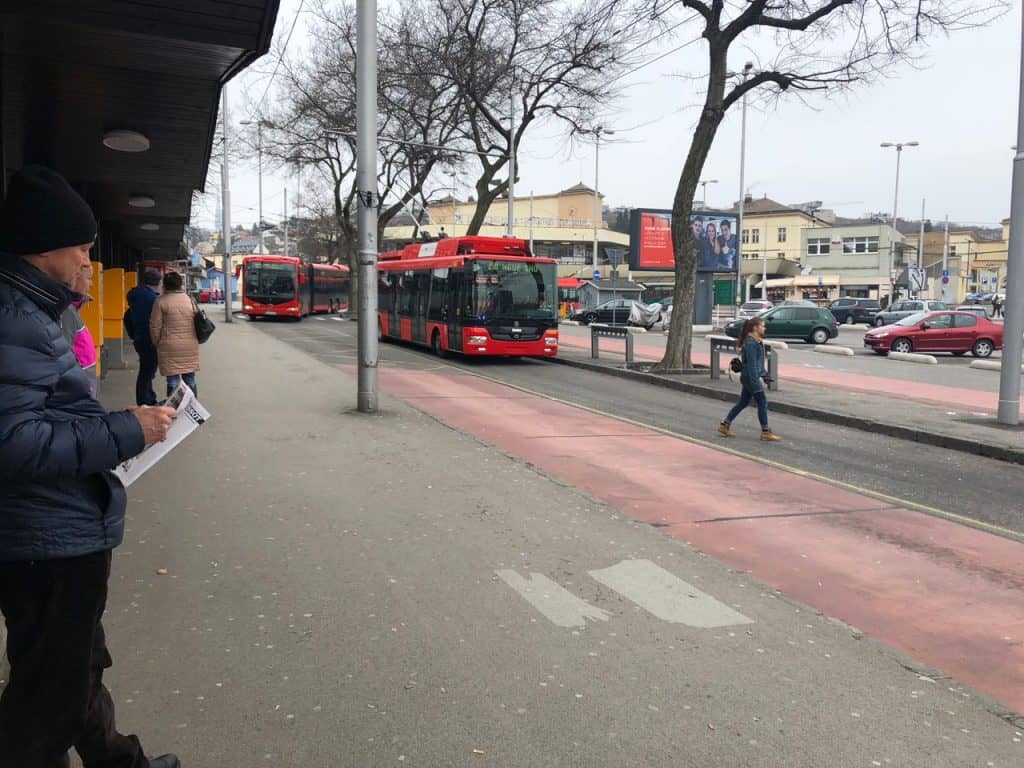 After using Google Maps to check I was getting off at the right stop (I always seem to panic on a bus in a strange city in case I go way past my stop!) I was soon strolling in the direction of the Tourist Information Office. Bratislava still wasn't really looking that picturesque – it reminded me of a French industrial city.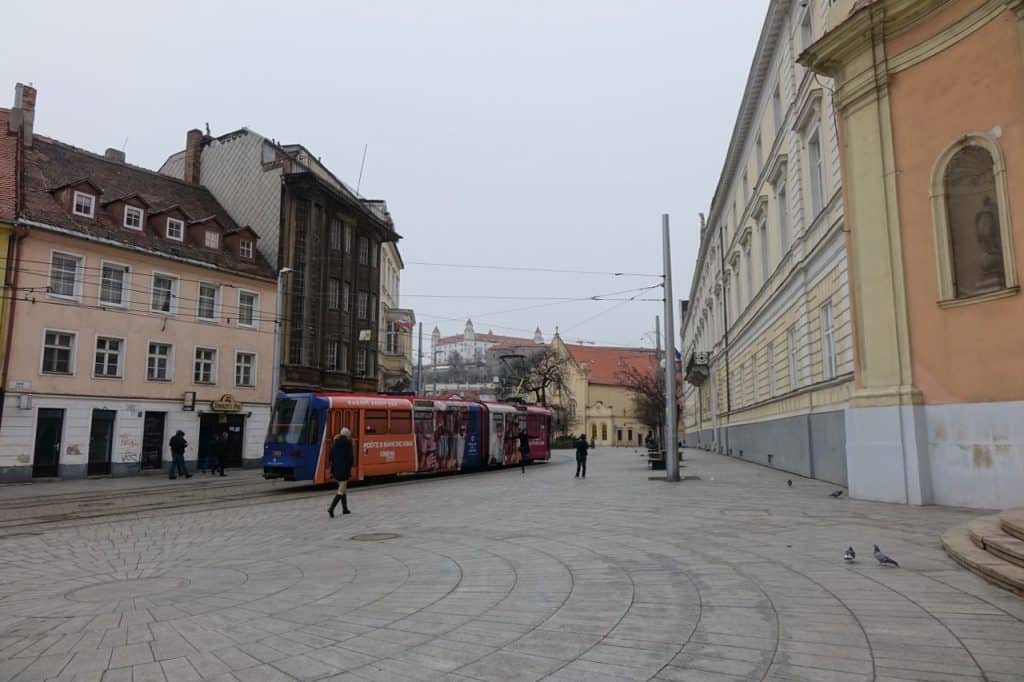 But every now and then I'd look down a side street and see a glimpse of a pretty little building or scene.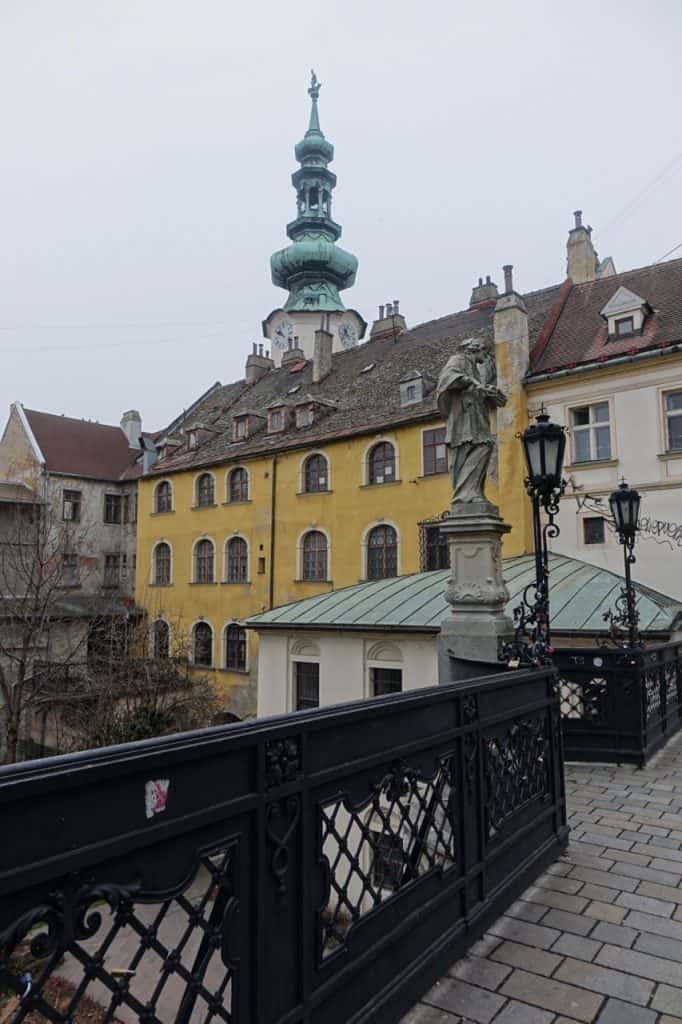 I turned down a non-descript side street – basically an alleyway – and thought I must be going in the wrong direction. Surely the tourist information centre would be in a nice part of town? 
Suddenly I'd arrived – and found myself in a beautiful, quiet square with what looked like a palace on one side.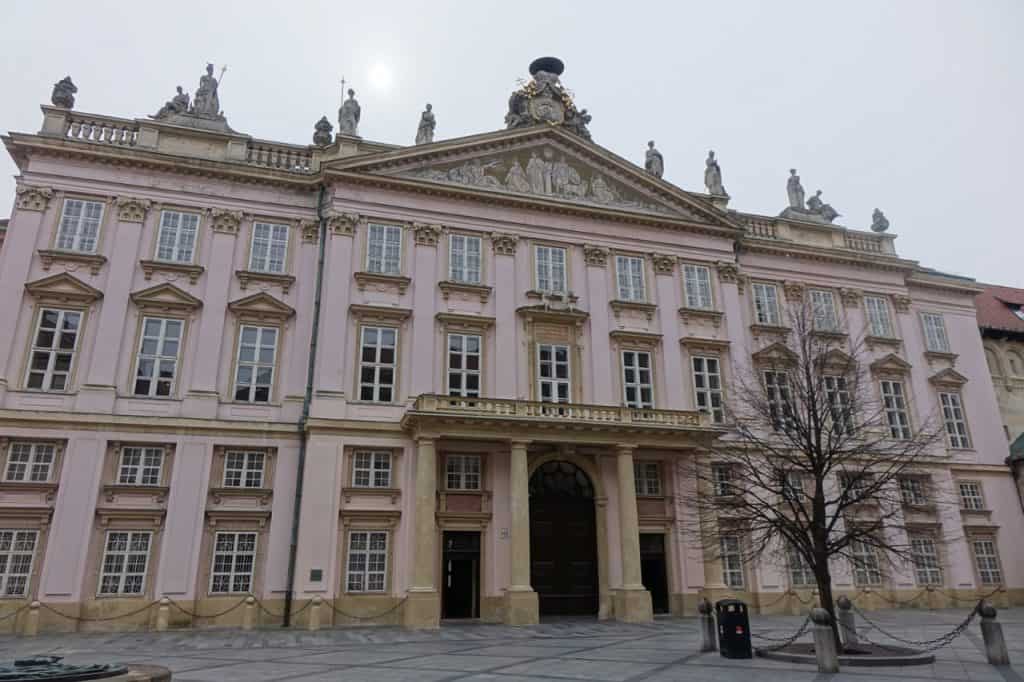 I pushed open the door to the tourist information centre, and walked in – I was the only person there apart from the staff. The lady behind the counter handed me a map of the city, helped me work out where the attractions I wanted to see were in relation to each other, and also gave me a coupon for a place I wanted to visit.
Most of the places I wanted to see were in Bratislava's old town, but my first destination was away from that area, in a residential street only a ten minute walk away. Setting off, I noticed a lot of street art decorating buildings.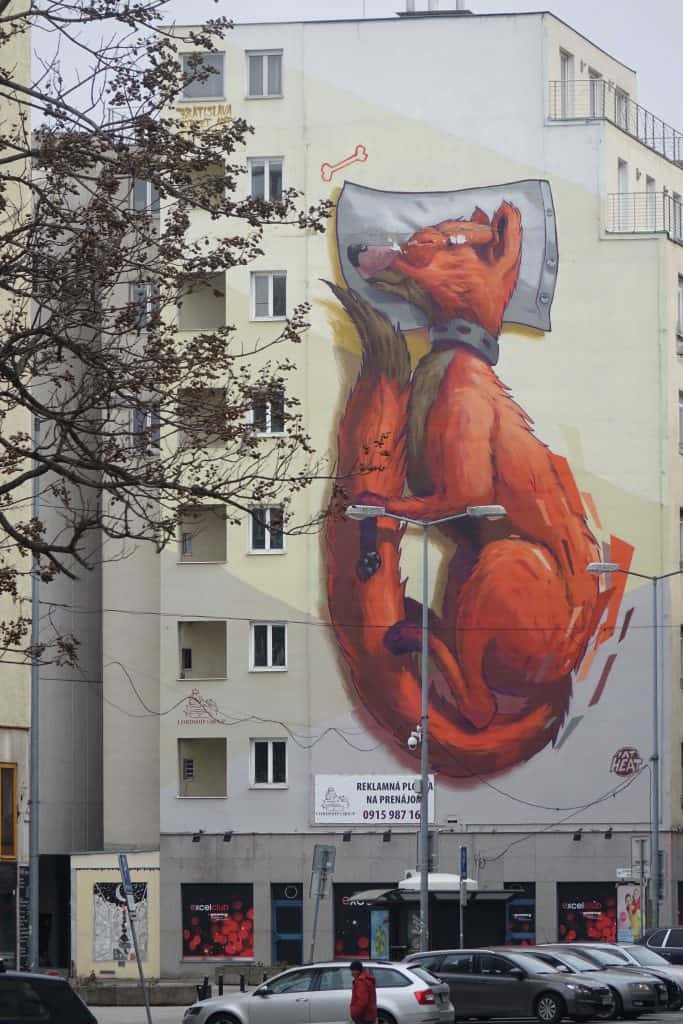 After turning into a street with apartments on either side, I noticed small groups of people with their phones out taking pictures.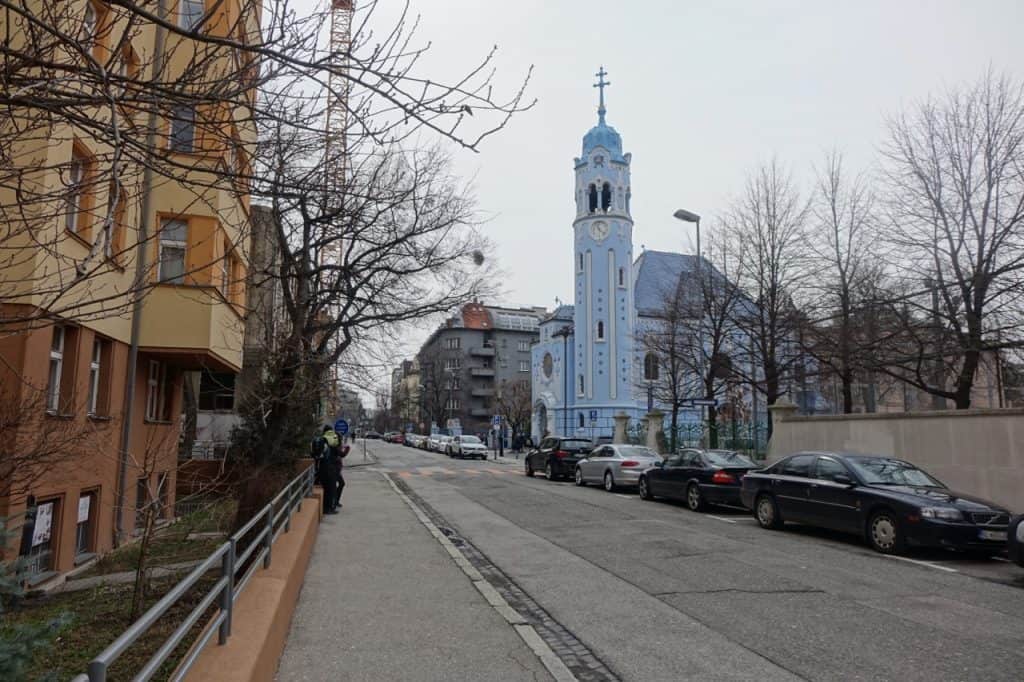 On getting closer, I saw I'd arrived at Bratislava's Church of St. Elisabeth – or….
The Blue Church
The Blue Church. I don't know why I always end up paying more attention to churches while I'm travelling – I could count on one hand the number of churches I've stepped inside in Belfast! This one though, had to be the prettiest I'd ever seen.
I wandered around the outside, just gazing at all the little details. There was a service taking place inside, which was being broadcast on a small tannoy outside the church. An elderly man and young family were deep in thought as they listened. Seeing some people come out of the church, I decided to step inside. The interior was just as impressive as the outside.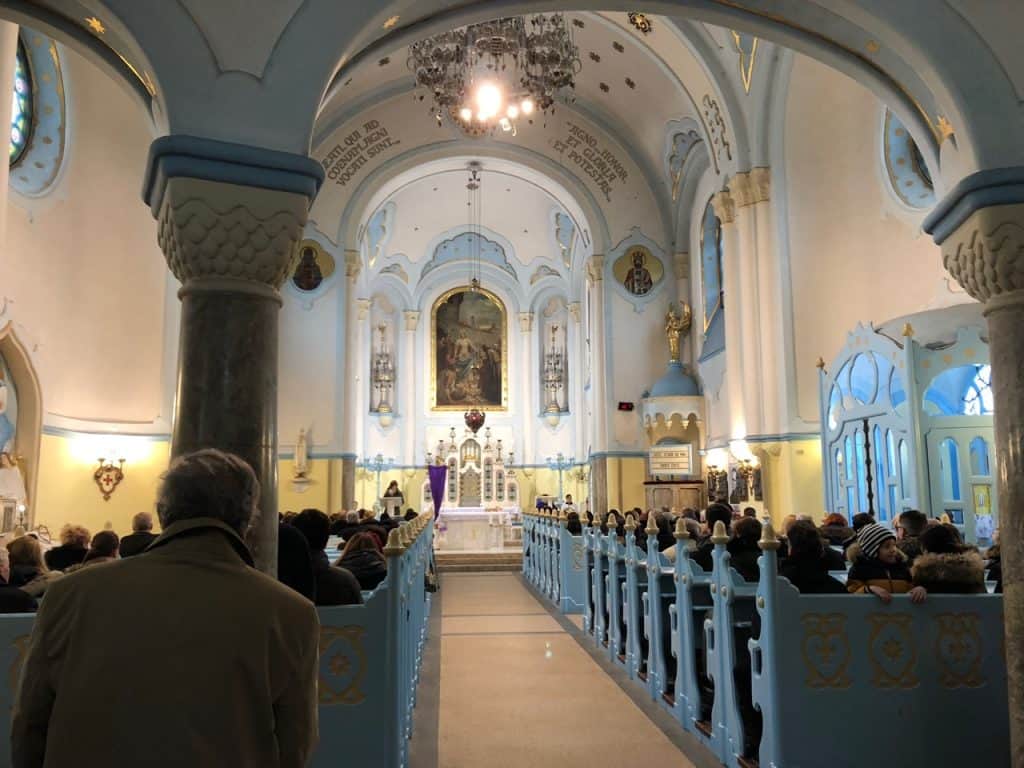 There wasn't a seat to be had. An angelic voice ringing out seemed to have everyone spellbound. I grabbed a quick video….
I'm not religious in the slightest, but I've got to say something moved me in the church – there was no muttering or coughing. Everyone was paying complete attention to – and was wrapped up in – the service. It was an experience I won't forget. Making the trip to Bratislava, and doing it on a Sunday had been a good idea!
The Old Town
After stepping back outside and getting photos of the church from every conceivable angle, I made a quick detour to check out a small square before heading back the way I'd come to start exploring Bratislava's Old Town.
Strolling up deserted cobbled streets I stumbled upon a nun sweeping the pavement…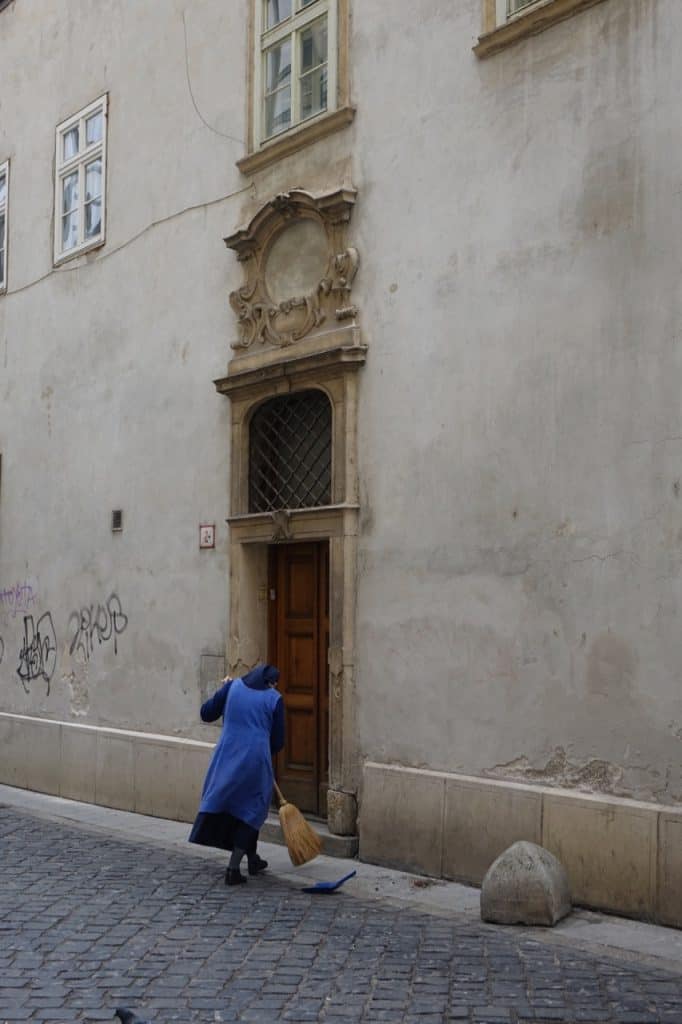 …and turning a corner, heard church bells fill the air as families spilled out of churches that looked like they'd been there for hundreds of years.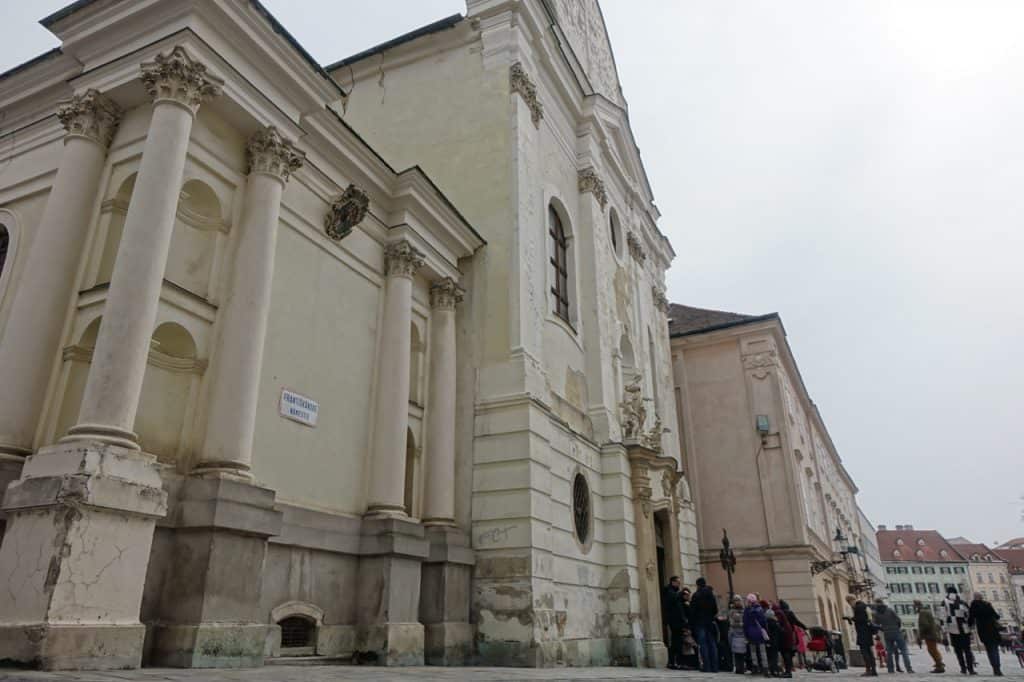 I was now in what's probably the touristy part of the city, but with all the locals about, it just didn't feel touristy. The streets were far from crowded, and most of the voices I heard seemed local. Each narrow street I turned into seemed more scenic than the last.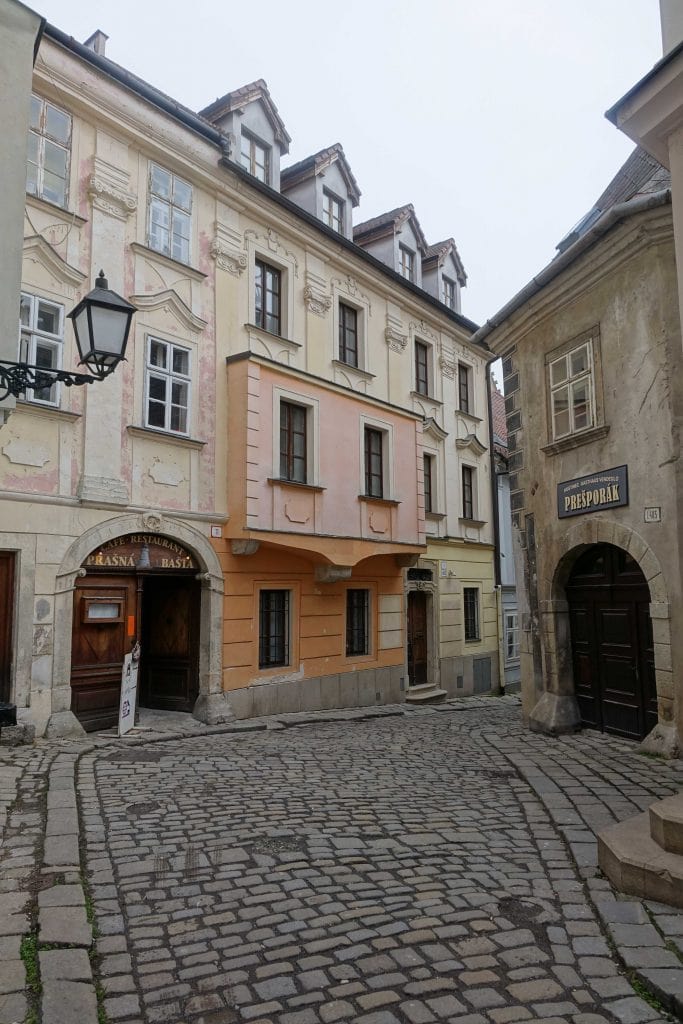 After admiring St Michael's Gate…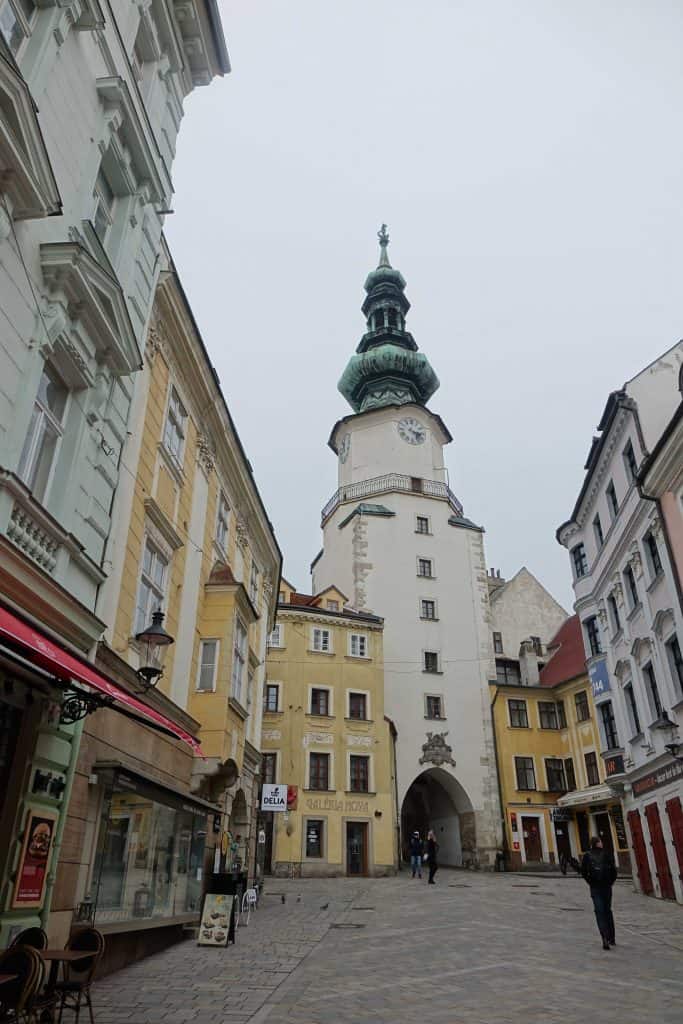 …I decided I could do with a coffee to warm me up. There were plenty of touristy looking places dotted about Ventúrska, the street I was wandering down, but looking up 'coffee' in Foursquare, the highest rated nearby cafe was also on that street – just a couple of hundred yards away. So I headed there.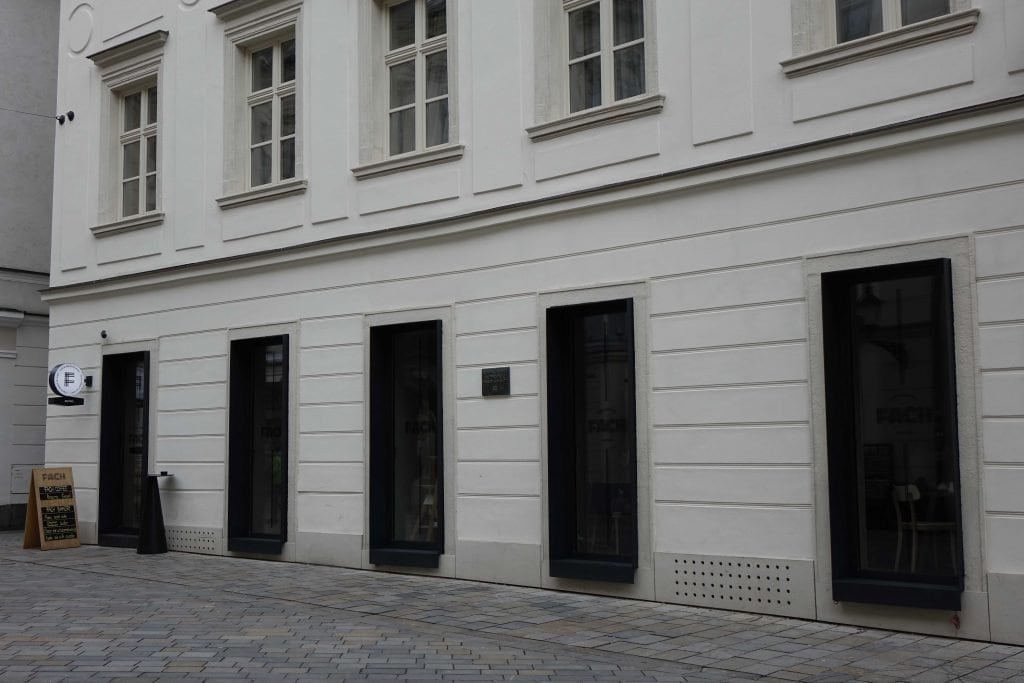 As soon as I stepped inside Fach, I knew it was my kind of place! It's probably totally aimed at tourists too, but I didn't care – I liked it!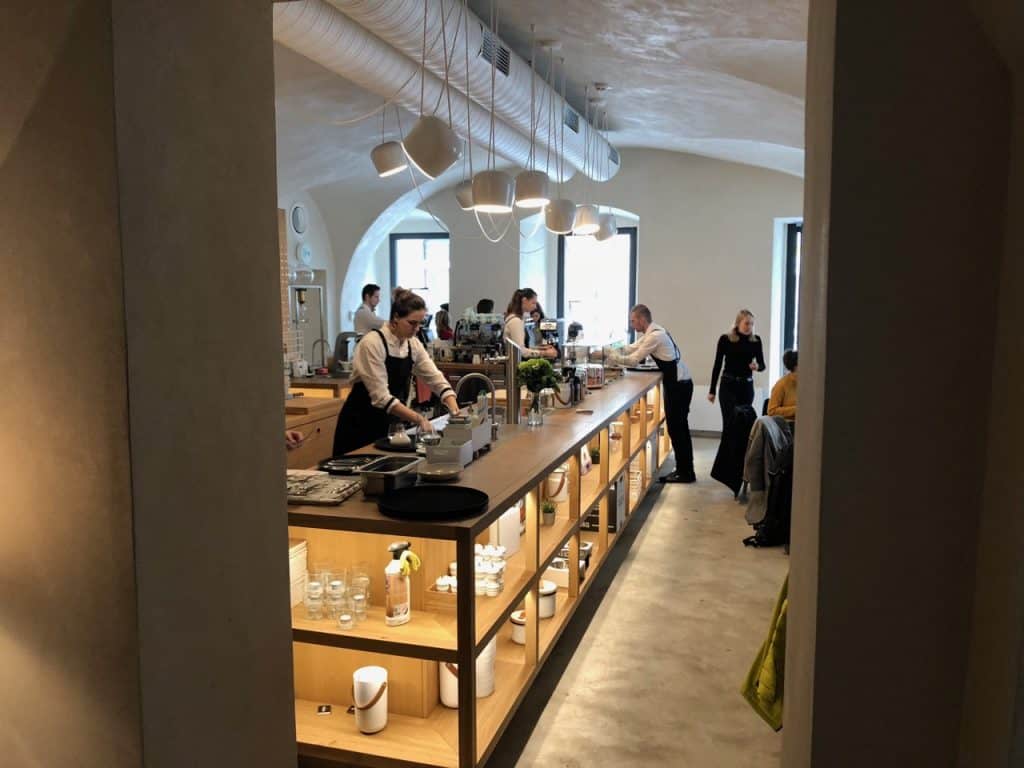 The place was modern – decked out with concrete and wood, and the menu looked good as well. The café's design meant it was just the kind of place I like. I sat by the window and sipped on an americano as I checked the list of places I wanted to see in Bratislava and worked out how far away they were.
After paying for my coffee, I headed back outside, and started walking towards the River Danube. When I reached the rather grey looking stretch of water, I turned right and crossed the road. Looking behind me I could see a bridge with a strange looking structure at one end. I'd be getting a much closer look at that later on!
The streets narrowed and steepened – and soon I was walking up a cobbled path towards the next attraction I wanted to check out.
Bratislava Castle
Walking for about 15 minutes had brought me to Bratislava Castle – probably the city's best known landmark. Sitting on top of a hill, and overlooking the city, the castle was featured in the first written reference to Bratislava, way back in 907.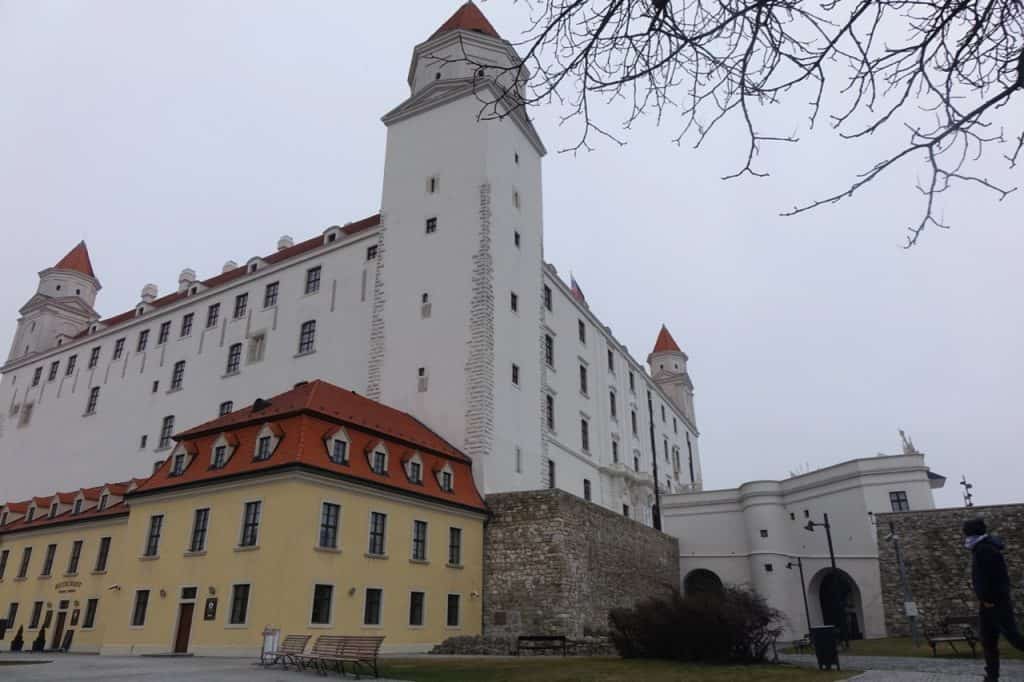 After a quick look at the view from the ramparts outside the entrance, I headed through a massive doorway, then a courtyard, and opened a door to enter the castle, not quite sure what I'd find inside. 
What I found was a man asking for my ticket. He redirected me back outside – and to a small building by the big door I'd entered earlier. Inside were two elderly ladies who seemed completely oblivious to my Scottish charm and chat. After parting with €8, I had a ticket – to the Slovak National Museum's Museum of History.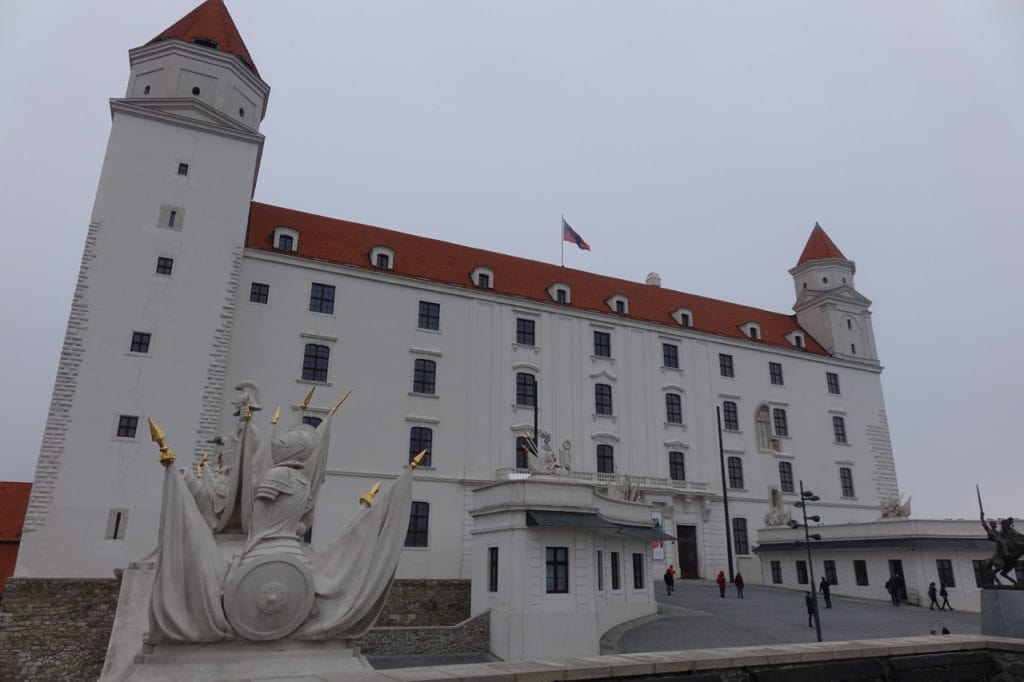 Back through the courtyard, the man smiled as I showed my ticket, and I made my way into the castle. It was extremely modern inside – and not what I'd expected at all! On the ground floor a number of banners spread around a room told the story of the castle's reconstruction. I followed the banners around the room working right to left but everything seemed to be out of order, so I just kinda skimmed everything. I'm sure it was in some logical order – I just didn't get it!
Basically what I discovered was that the castle had been reduced to ruins by the mid 20th Century. Every website I looked up said that a massive reconstruction of the castle was due to start in 2008, with the work "expected to last five years". I never really worked out if the reconstruction had finished, or was still going on behind the scenes!
After leaving that room I was suddenly in an ornate hall with huge gold framed mirrors, ornate golden elements on the walls, and a deep red carpet running up stairs. It was pretty impressive! I felt like I was in a palace.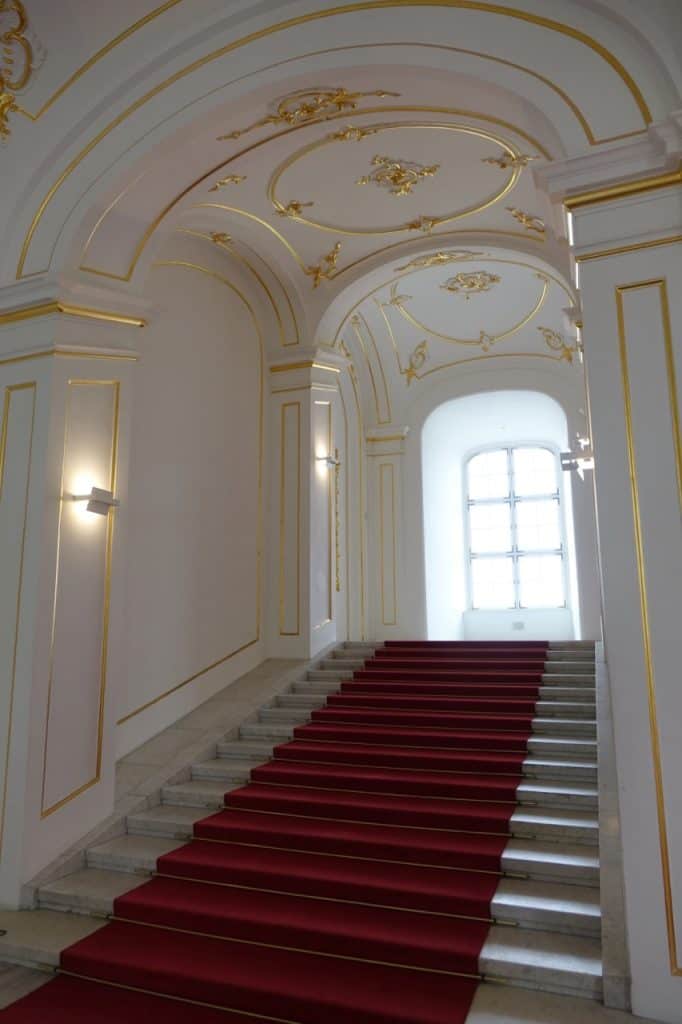 Taking the stairs up to the next level, there was a music hall with an enormous organ, and an exhibition of artworks featuring the castle.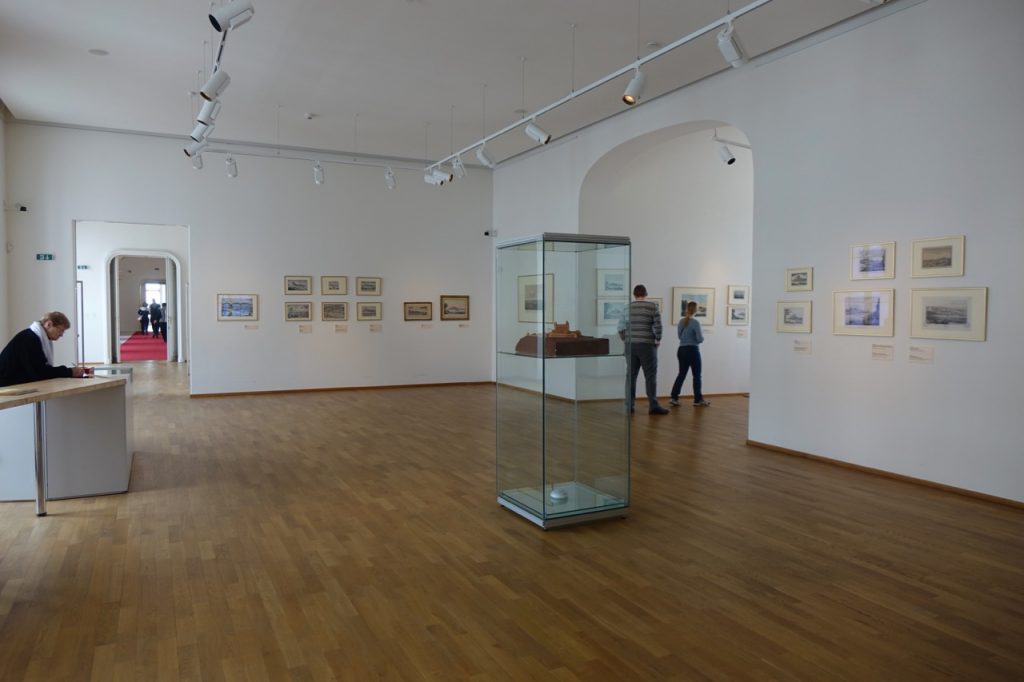 Going upstairs again, I saw a narrow entryway with a couple of stairs. Taking them I was soon climbing up – and up. After following a twisting stairway, I reached a modern staircase – but boy was it steep!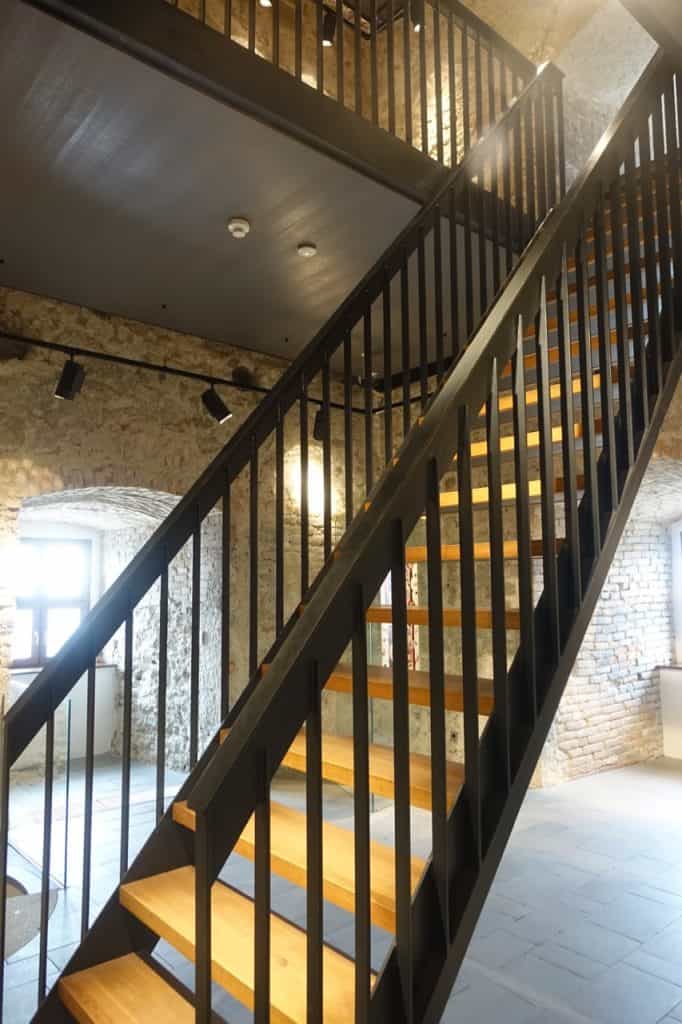 The climb was worth it though – I'd reached the top of the Crown Tower – and there was a great view of what seemed like the whole of Bratislava.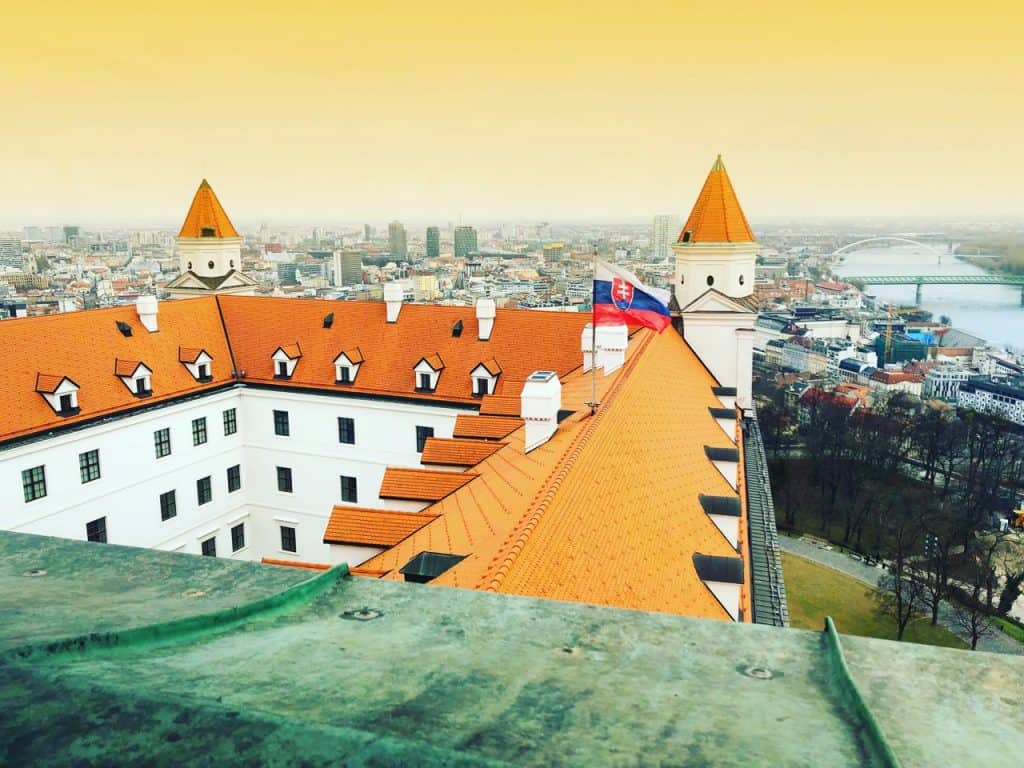 Not bad looking at all! But as I'd see in the afternoon, there was another side to the city too.  
Making my way back down from the top of the tower, I checked out the last couple of areas that I hadn't yet explored. As well as more paintings in an ornate hall, there was a rather text heavy exhibition on the history of Slovakia…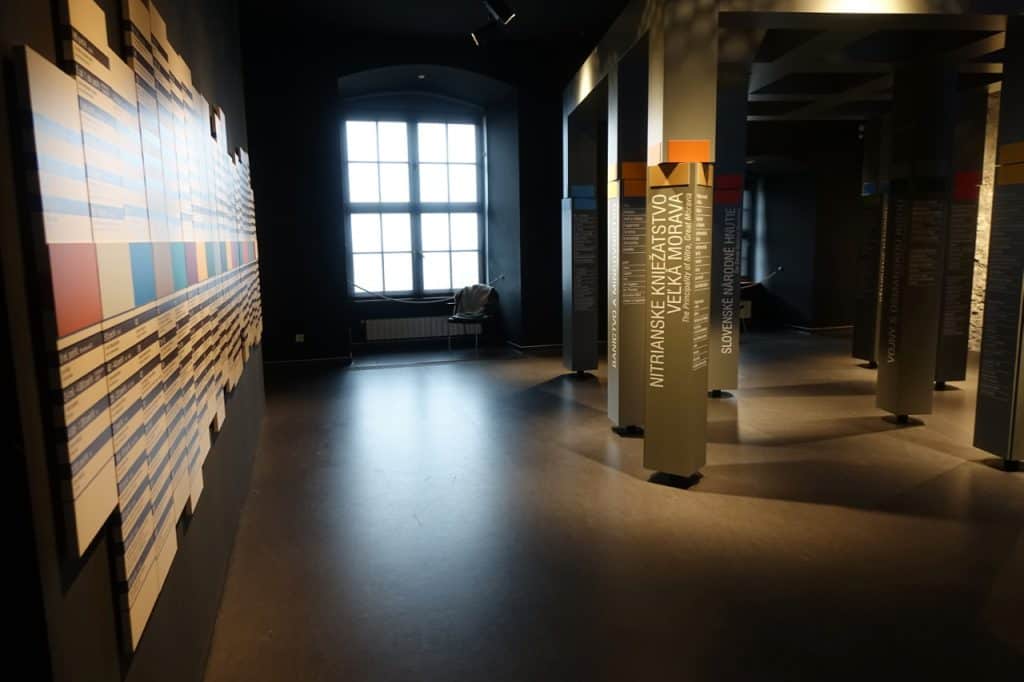 And one which covered advertising and trade from 1918 – 1948 which included some classic advertising artwork.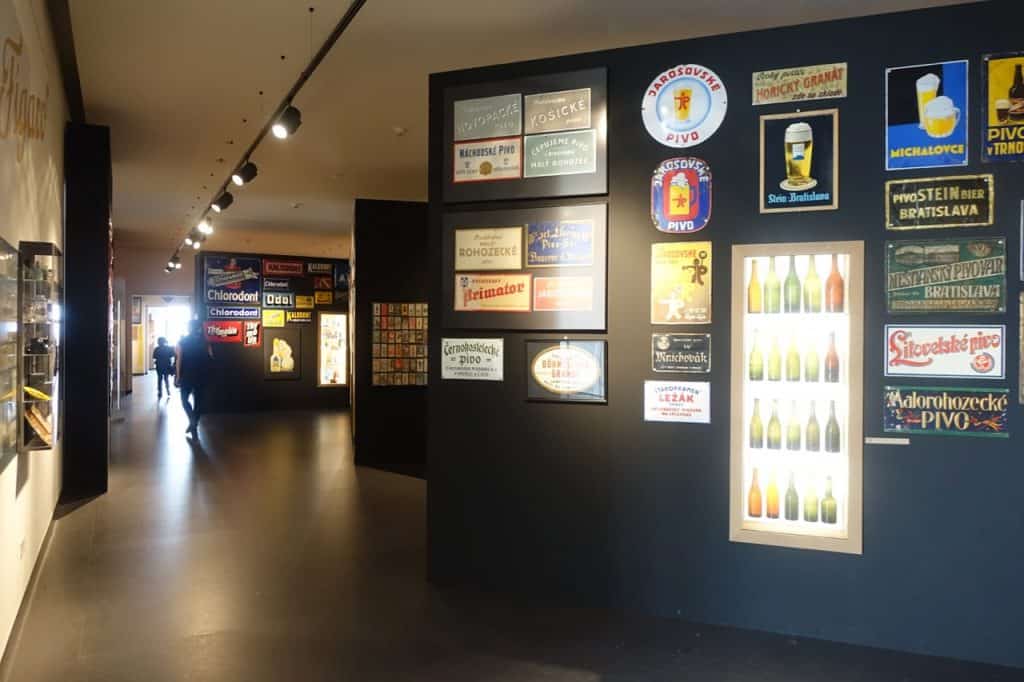 My overall view on the castle is that it's worth a visit even just to go to the top of the Crown Tower. I'd failed to realise before going in that it was more of a history museum with various exhibitions rather than a museum about the castle itself. Or maybe I just missed that section!
Stepping back outside, I wandered the grounds, and got another great view of the city from the walls surrounding the castle.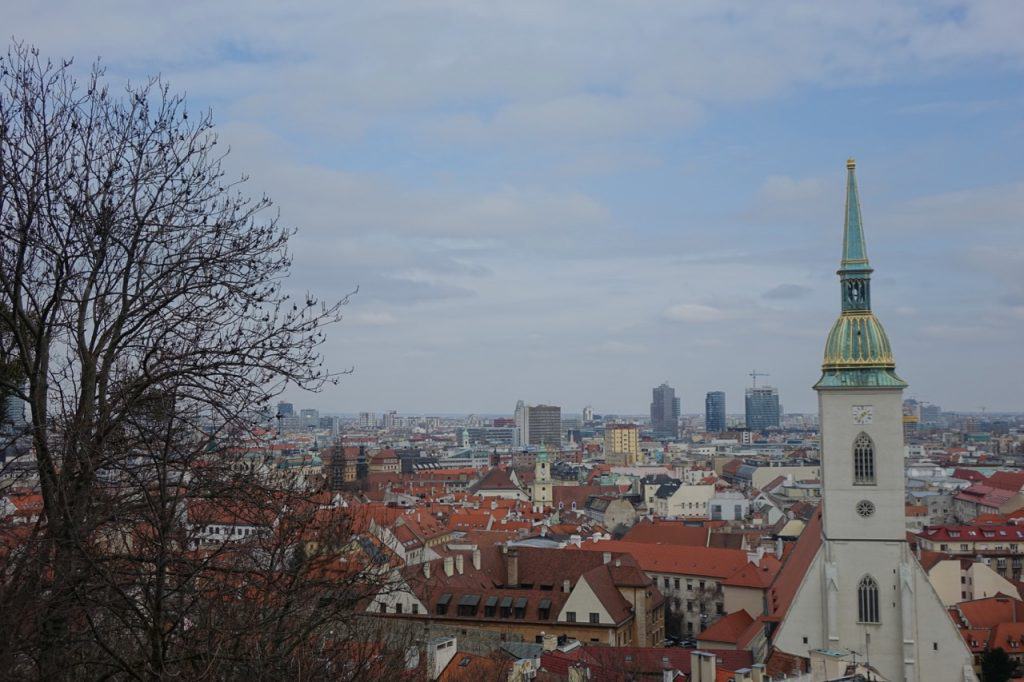 By now I was pretty hungry. To be honest I couldn't be bothered doing more googling trying to find someplace for lunch – and I thought I'd found the perfect spot earlier in the day. I headed back towards the old town, and arrived back at Fach, where I'd had my coffee earlier.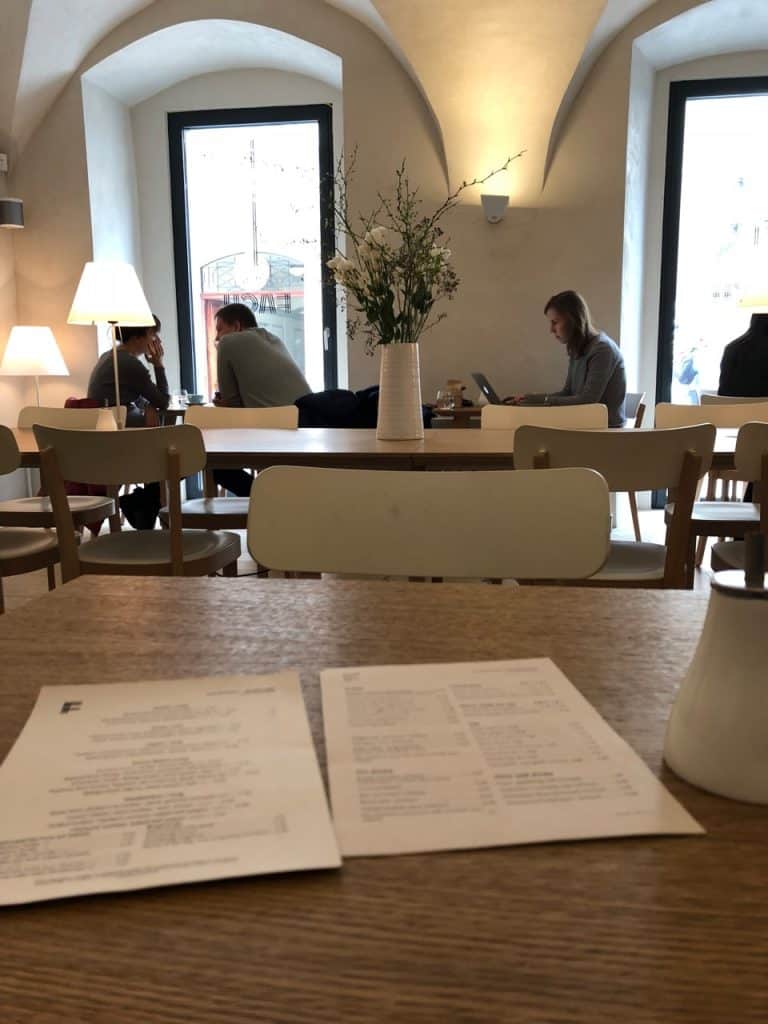 After taking a seat and putting my phone on charge, I ordered a rose lemonade and a grilled turkey, hummus and roast pepper sandwich, which would come on bread baked by the café. I didn't have to wait long for it to arrive!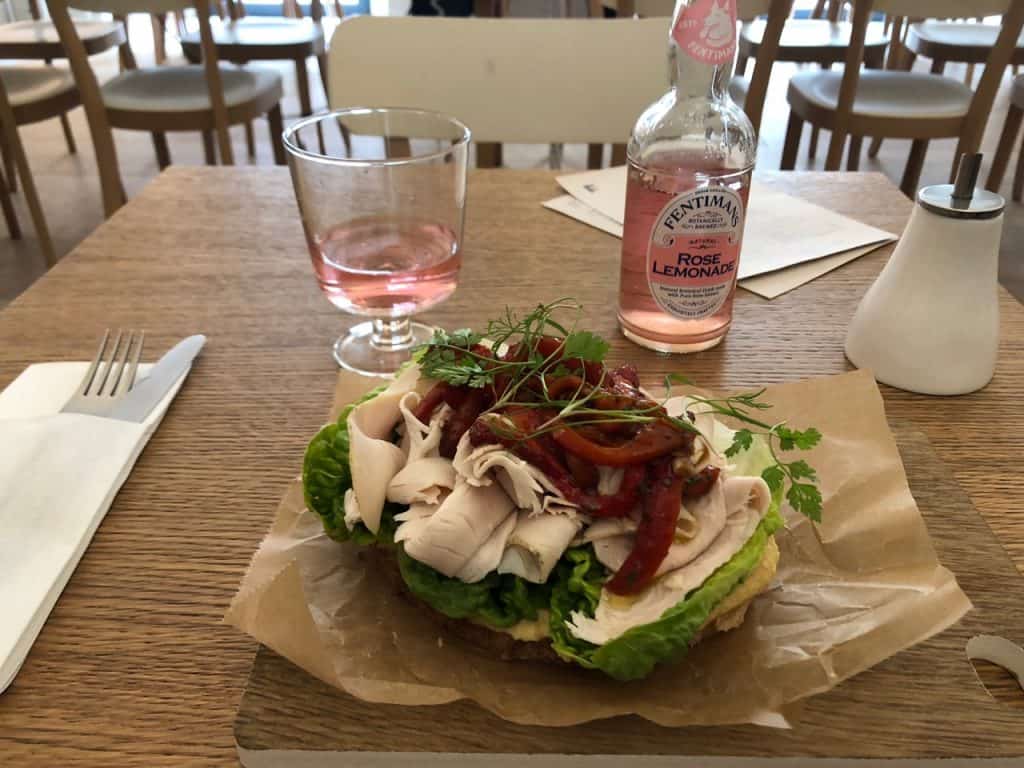 Man it was perfect – absolutely delicious. If we had a Fach in Belfast I'd be in there all the time! It's just a chilled out place with tasty food, great coffee and nice interiors. Even the toilets were cool (and yes I did get a pic of them – here you go!)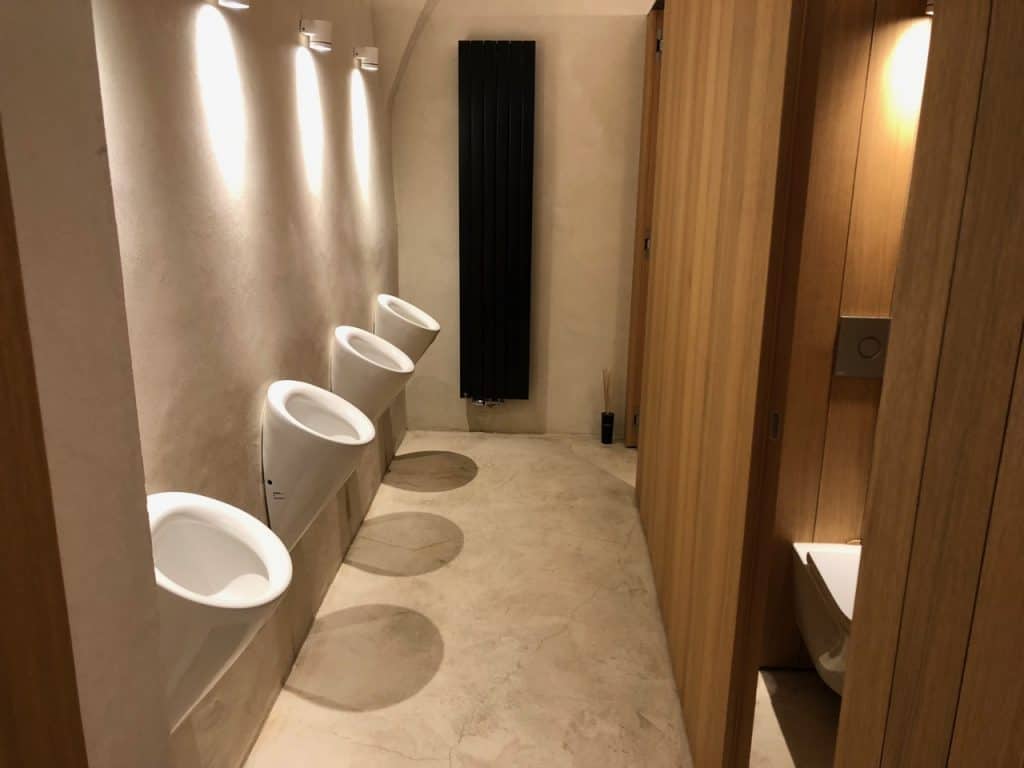 Lunch came to just under €10. On the pricey side perhaps, but I didn't mind paying for food that tasted so good – and ever so slightly healthy too.
Next it was time to get another view of Bratislava, from the strange structure I'd spotted across the river Danube earlier in the day. The UFO Tower or "UFO watch.taste.groove" to give it its full name, towers above one end of the Most SNP bridge – short for the Bridge of the Slovak National Uprising in English.
The UFO Tower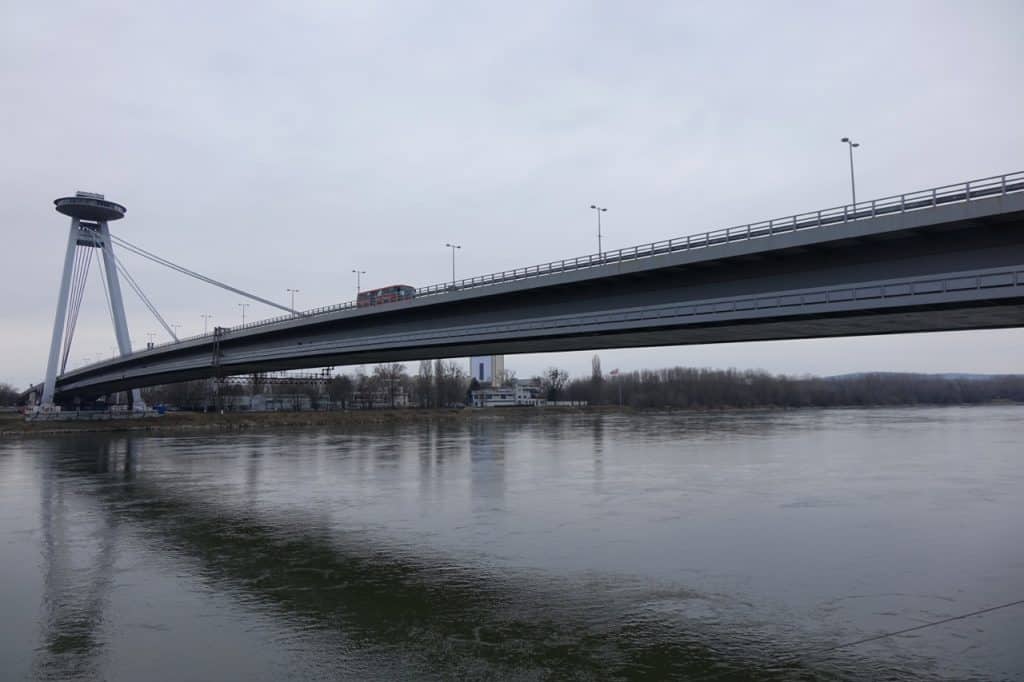 After seeing cars but no pedestrians crossing the bridge I was unsure how I'd actually get to the UFO tower, but on getting closer I could see the bridge had pathways at a lower level if you were crossing on foot. It didn't take too long to walk the 400 or so metres length of the bridge.
After descending stairs at the other side, I spotted the entrance to the tower. What looked like a small portacabin with windows.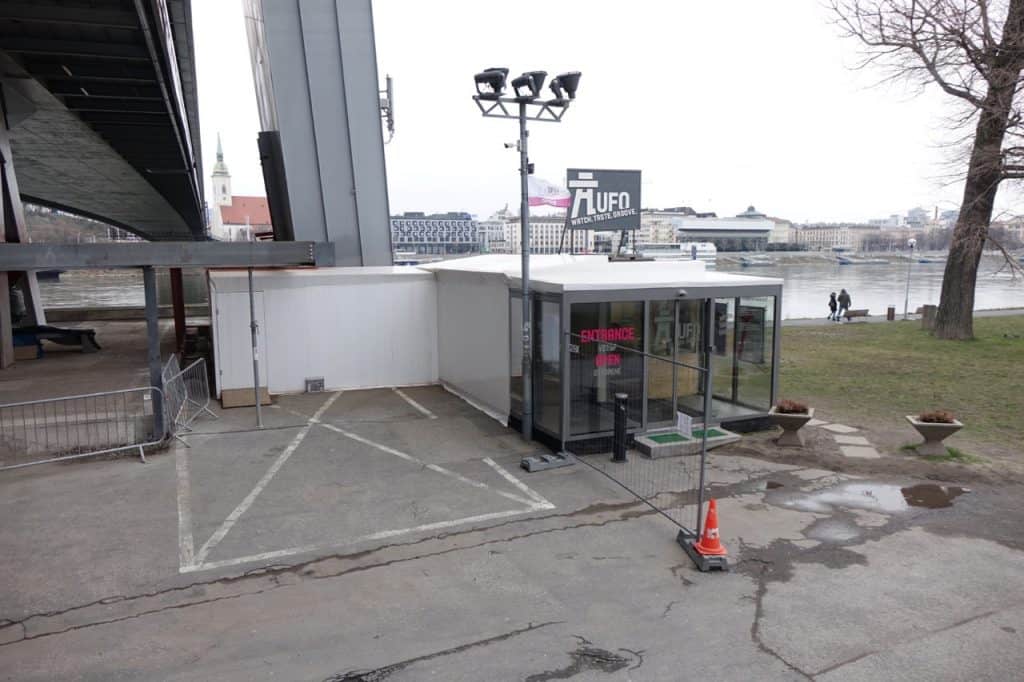 I handed over the discount ticket I'd been given in the Tourist Information Centre earlier, and paid €5.90 instead of the usual €7.40 to take a trip to the top.
The bridge was finished in 1972, but to be honest it looked like it had been built a couple of decades earlier. Not feeling super confident about the safety of the structure, I pulled open a flimsy door in the portacabin and was greeted by this: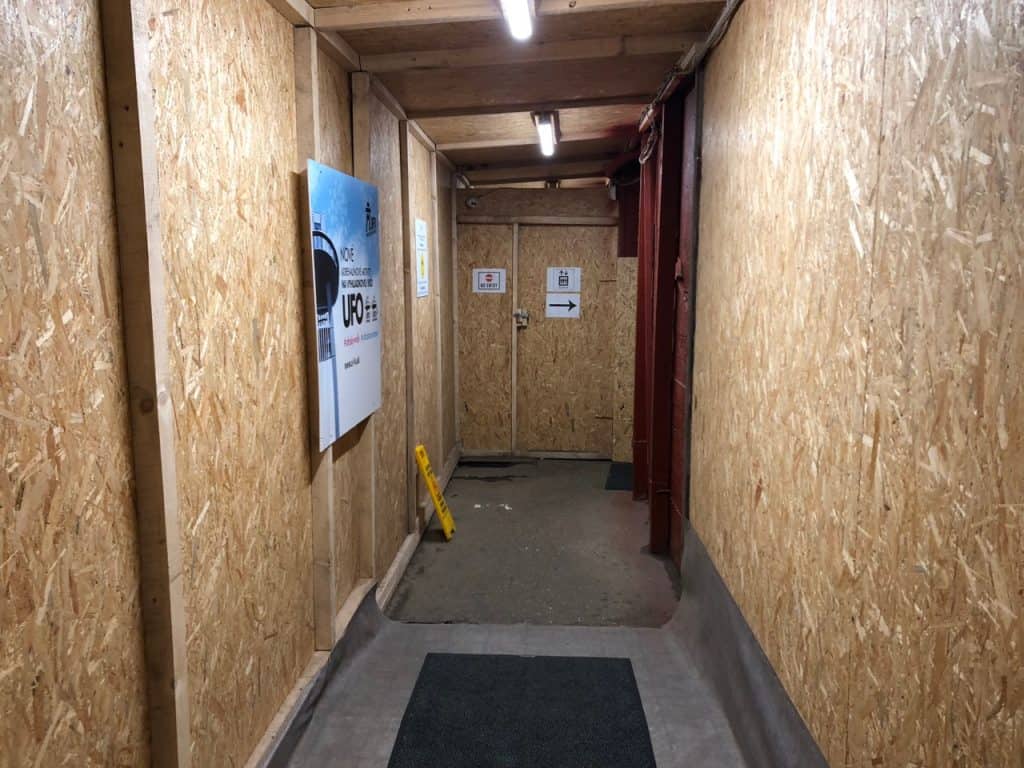 Hmmm…. There were signs saying the area was being renovated to be fair, but after following an Indian couple around the woodchip lined corridor, my heart sank a bit when I saw the lift.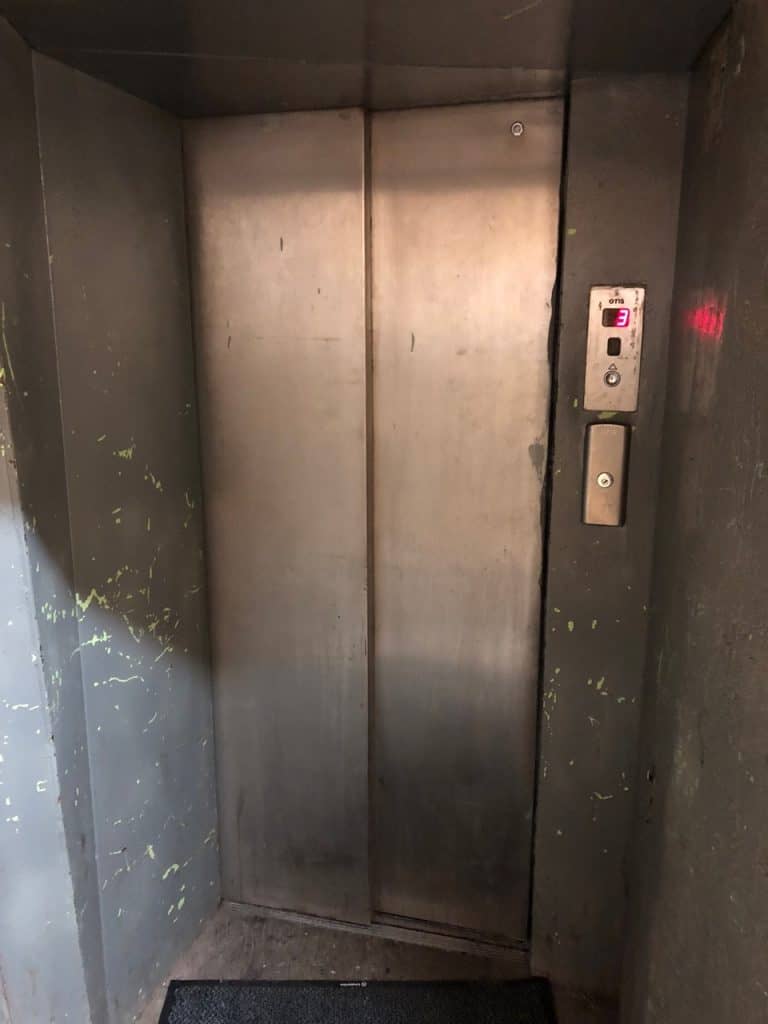 That definitely looked like it had been there since the 70s! It was too late to turn back though! The three of us got in, and we were soon ascending the tower. I was expecting my ears to pop and to hear a rush of wind as we hurtled towards the top, but neither happened.
After exiting the lift on a level which featured a no doubt expensive bar and restaurant, I climbed a couple of stairs, and was soon outside – with a biting wind whipping in my face. Though there were wires in place, the viewing platform was really completely open. The couple and I walked around, taking in the view and dodging the yellow cone covering a hole in the floor.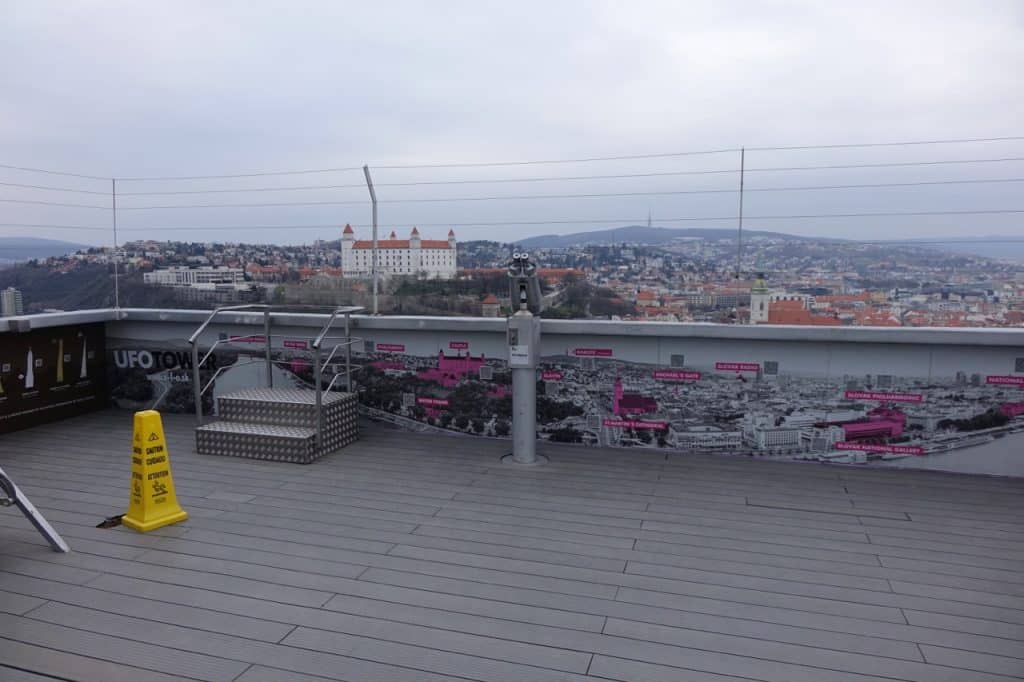 The best view was undoubtedly of the old town and castle. 
But turning your back on both of those, and looking in the other direction…. well the view wasn't as pretty. All that was visible was a rather dilapidated looking concrete shopping centre, and rows and rows of what looked like Czech era, Soviet style tower blocks.
It was as if the city was split in two by the Danube – with a wealthy and not-so-wealthy part of town. Part of me thought that area may have been just as interesting to explore as the scenic old town.
After a cheeky peek in the panorama bar downstairs, I was soon back in the dodgy lift and at the base of the tower. I'd really seen the main things I wanted to see in Bratislava, so decided to take a quick trip to the shops. I'd read about a big shopping centre called Eurovea which was only a 20 minute walk along the banks of the Danube, so started out on a quick stroll.
Pretty quickly I was wandering through a pothole ridden car park. And I wasn't sure whether I'd actually be able to reach the bridge which would take me to the shopping centre, or whether I'd have double back and then come a different way all over again.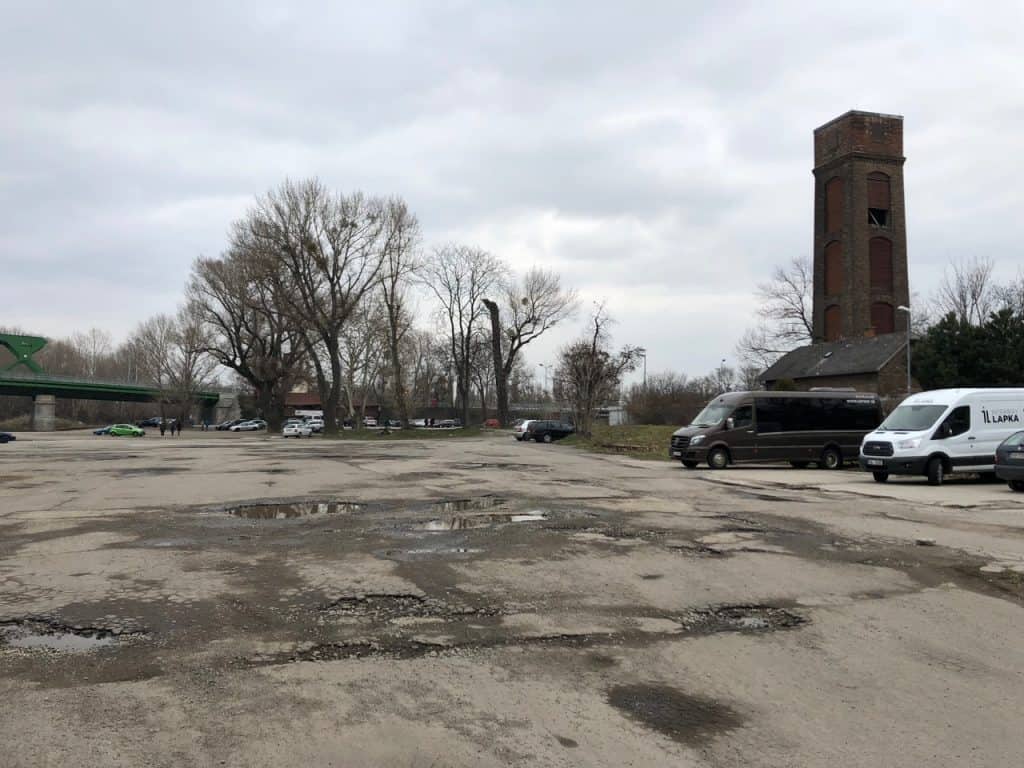 Thankfully, I managed to find a way out, and was soon crossing the "Old bridge" – which gave a good view of the castle, the UFO Tower – and the rather grey looking river.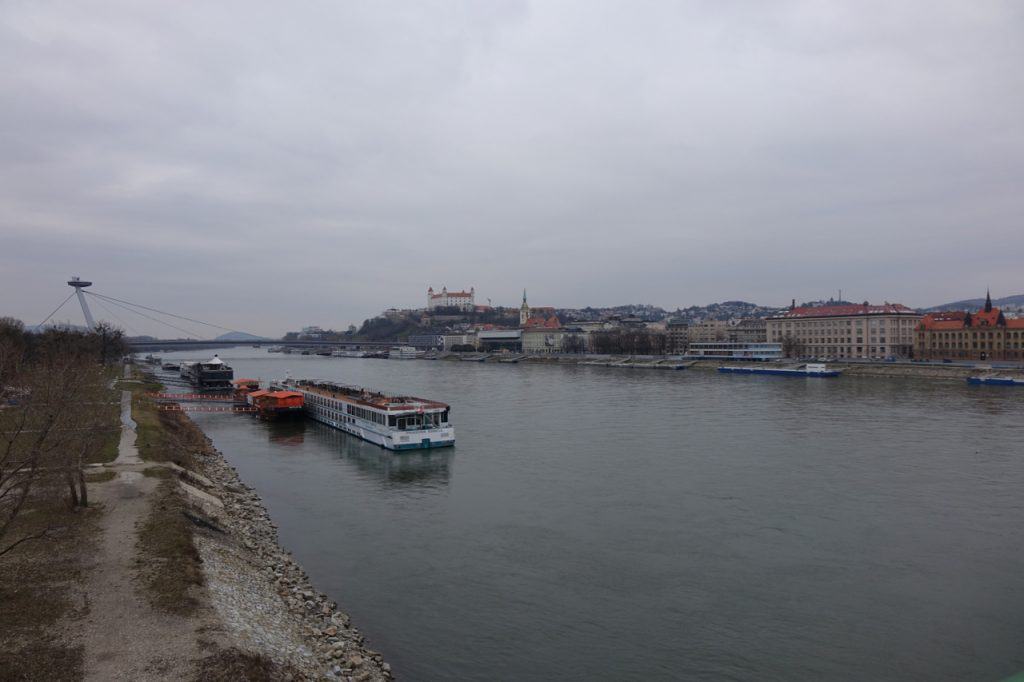 Eurovea was just around the corner, and soon I was inside and enjoying the warmth.
Window shopping and coffee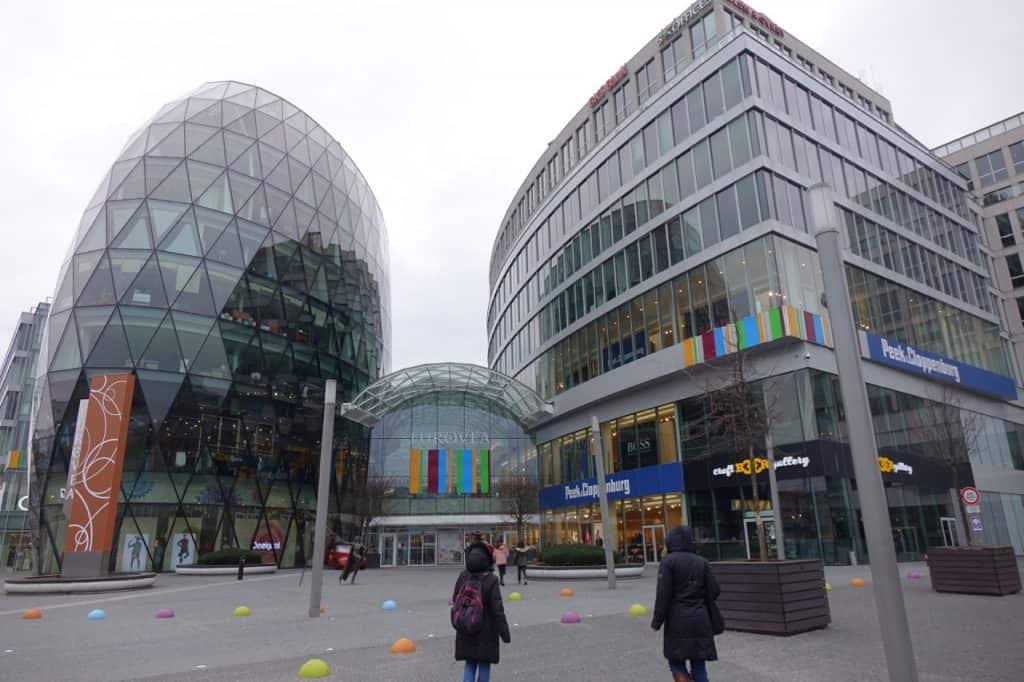 The centre seemed to be split into two main buildings, and although there were a smattering of shops I recognised, like Next and Guess, the majority were new to me – Calzedonia or Luis Spagnoli anyone?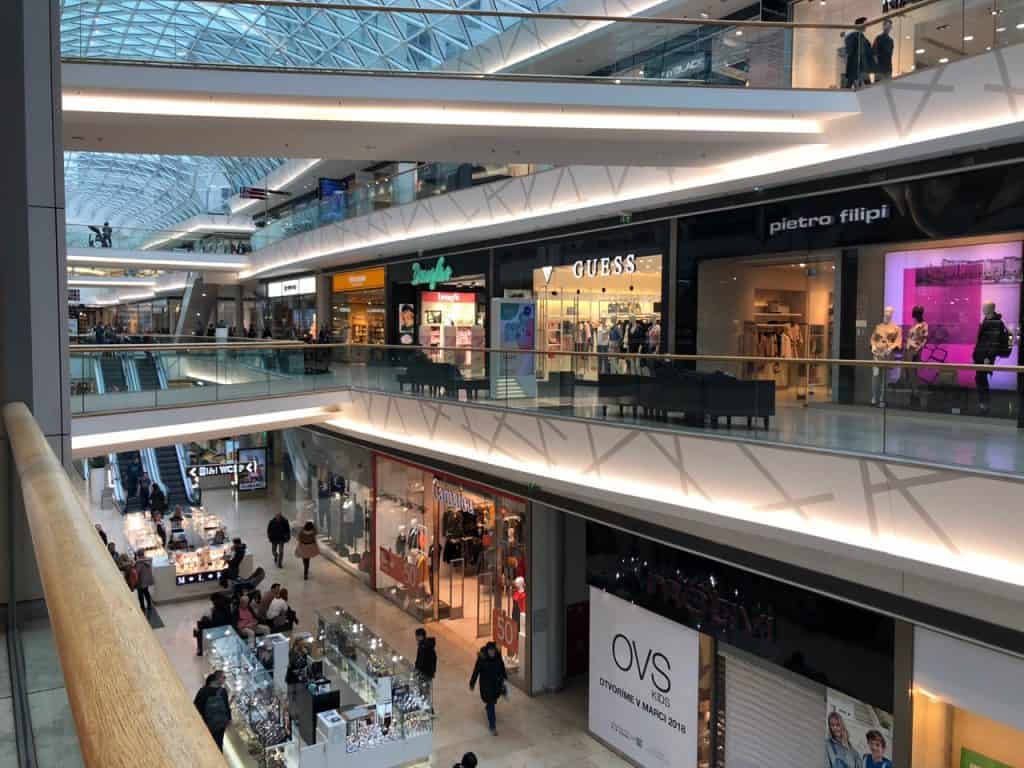 I walked the length of one building – then went outside to enter the other one. In between the two was a statue to Milan Rastislav Štefánik – who I later learned was one of the leading members of the Czechoslovak National Council or resistance government, who helped the cause of Czech sovereignty.
I took a photo for a couple of tourists, had a quick look in the other part of the mall, then walked back on the lower level. I had a look in a couple of shops – but yet again my wallet stayed firmly in my pocket! I had a bit of time before catching my train back to Vienna, but rather than rushing off to see something else, I decided to go and get a coffee and brownie from Starbucks and just chill out a bit.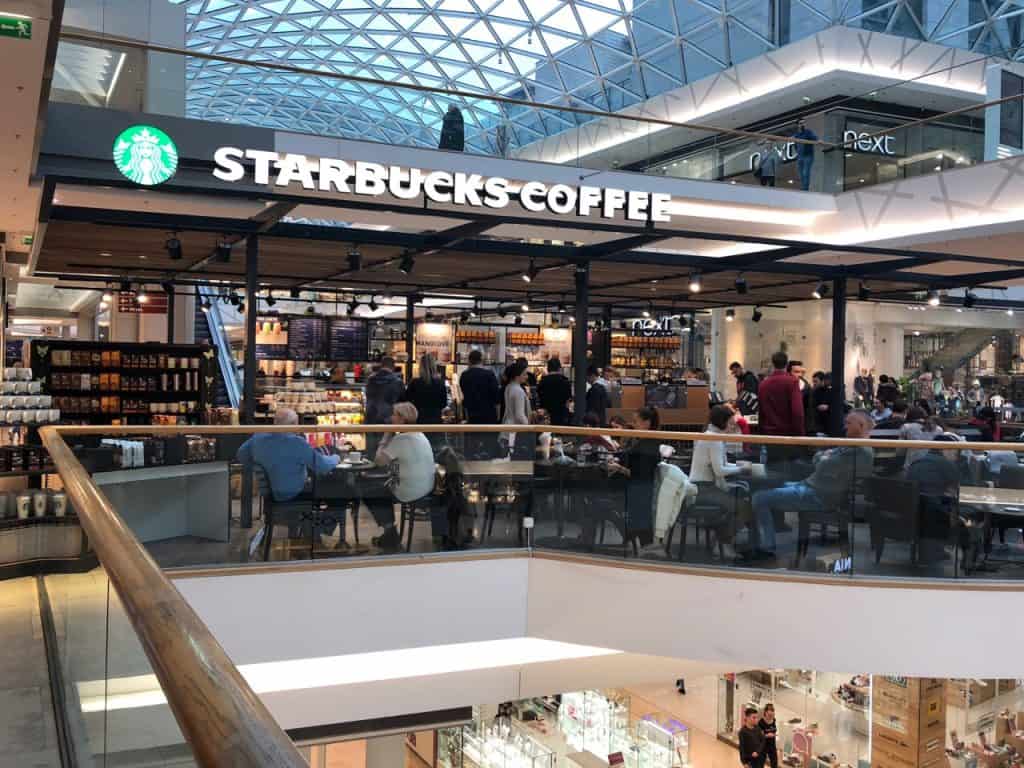 It might be a common occurrence for other people, but I think it was the first time the baristas have ever got my name wrong!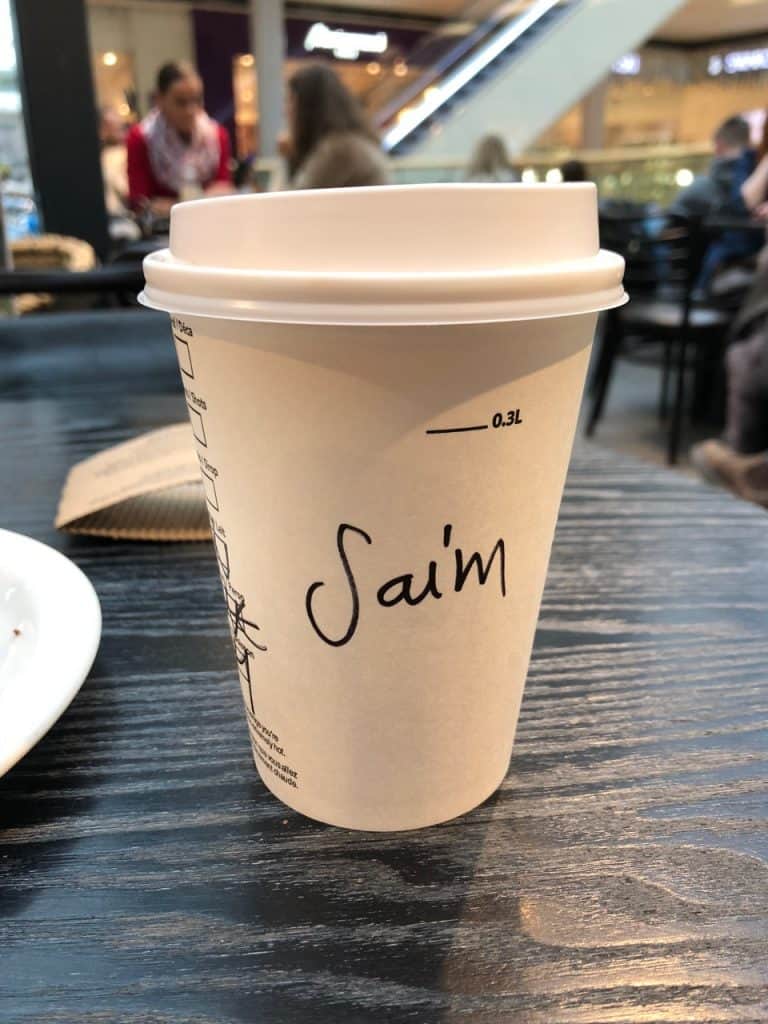 🤔 I wanted to catch the 17:38 train back to Vienna, and by now it was around 5pm, so I caught a bus from a stop just outside the shopping centre, and took a last look at Bratislava as we made our way towards the train station.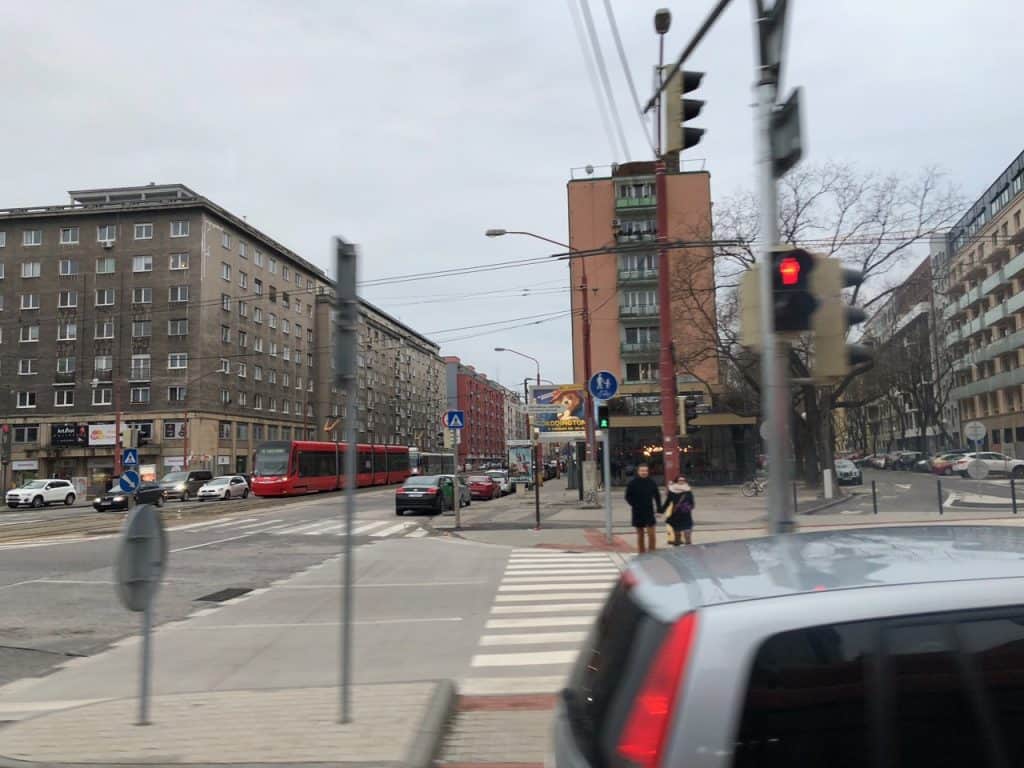 The station looked even less appealing than when I arrived. It was pretty busy. As I had a short wait I took a look upstairs at the restaurant and waiting area, but I wasn't tempted to hang around!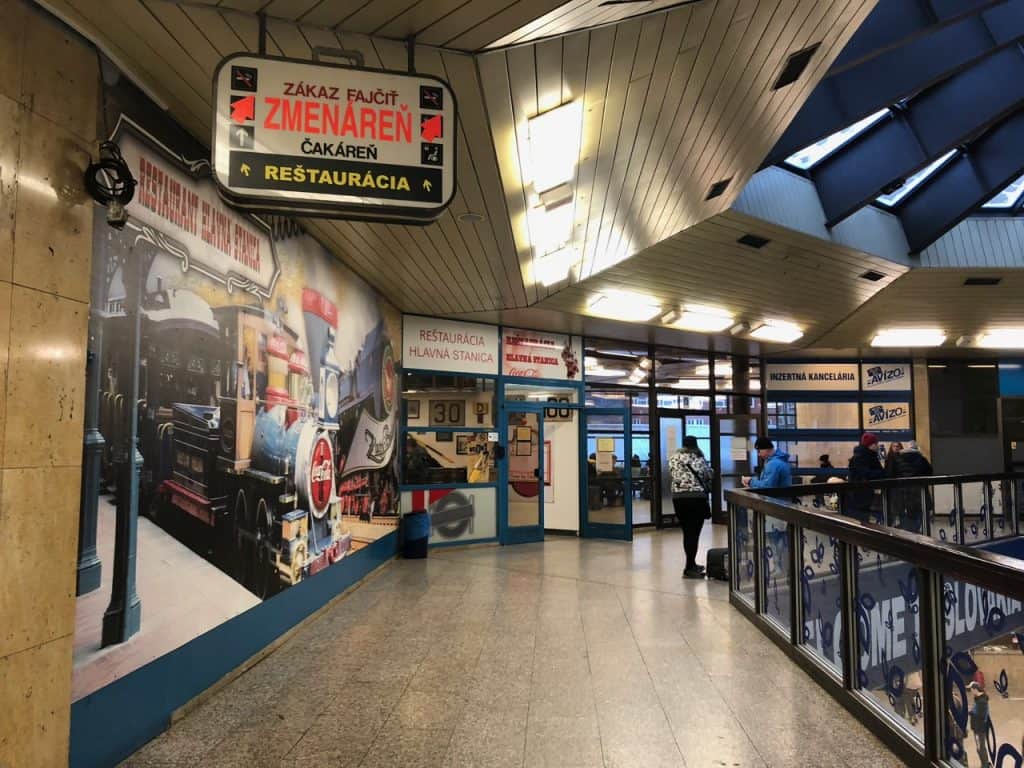 Before I knew it my train had pulled into the station, and I was heading back to Vienna.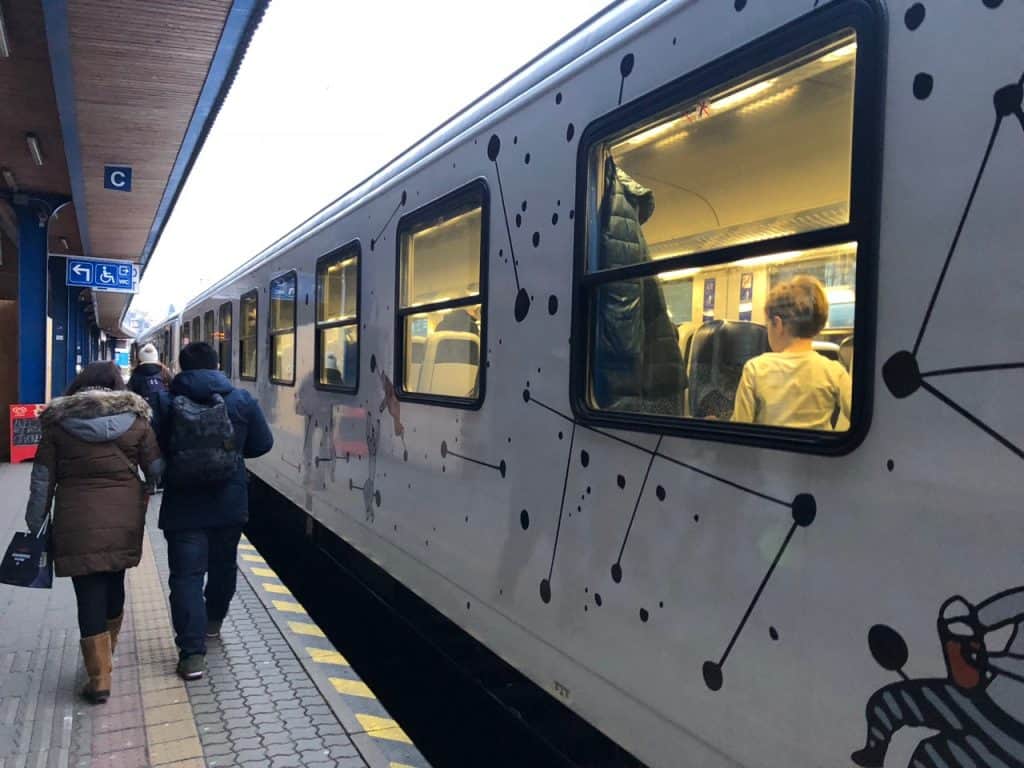 I felt I'd only really scratched the surface of Bratislava – I had after all spent most of my time in the old town, but on the other hand, I thought I'd given it a decent go on a quick day trip. I would recommend it as a day trip from Vienna too.
After working on my blog again on the train, I caught an underground train from Hauptbahnhof, and was back at the hotel for just after 7pm. I was pretty tired out after a day walking around in the cold, but decided to see if I could find someplace decent nearby to have dinner. Somewhere casual, with warming food.
Dinner time
Firing up Foursquare again (it is handy when travelling!) I found there was a well-rated Vietnamese (yeah… not Viennese) restaurant just up the road from my hotel, called Nguyen's Pho House. Though I've read lots about pho, I haven't actually had it before so, I thought,  the time could just be right to try it.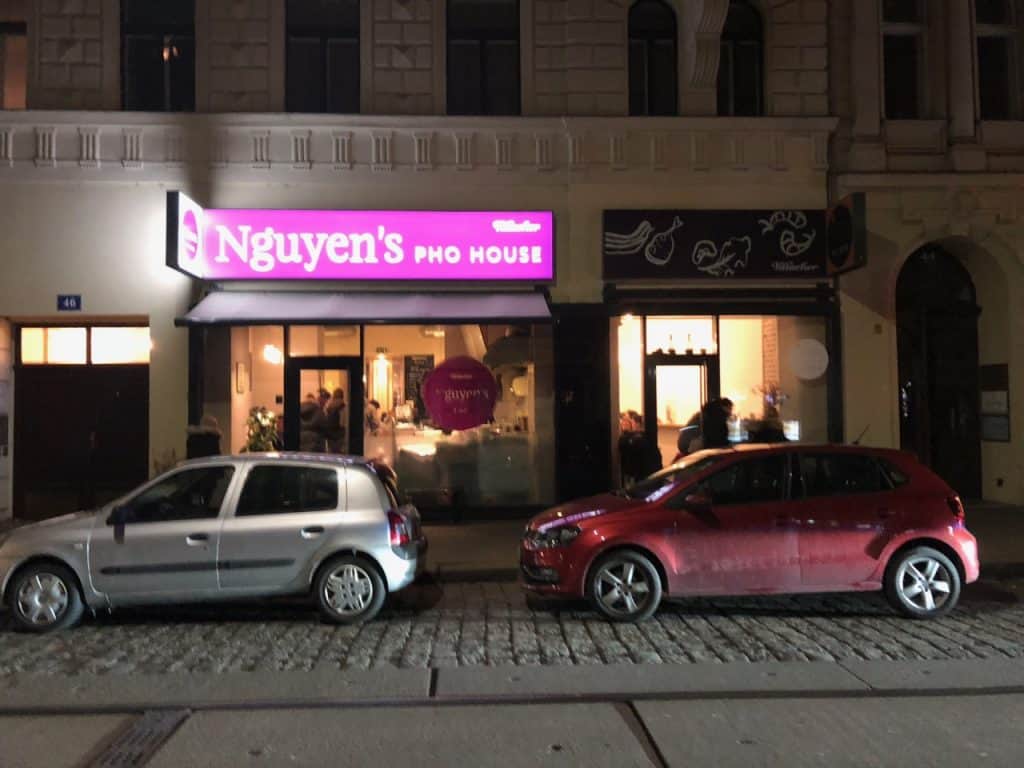 There was a small queue outside when I arrived, but being a solo diner (it does have its benefits sometimes), I squeezed past and asked if there was a table free. The man nodded and beckoned for me to follow, but when I reached the kitchen I thought I must have misinterpreted his gesture, so headed back towards the door. After a couple of minutes, he came back and got me, and yes, took me through the kitchen to a small room separate from the main restaurant. He pointed towards a stool at a bar facing the wall. Not ideal, but hey at least I was getting a seat and being served pretty quickly – the place was full.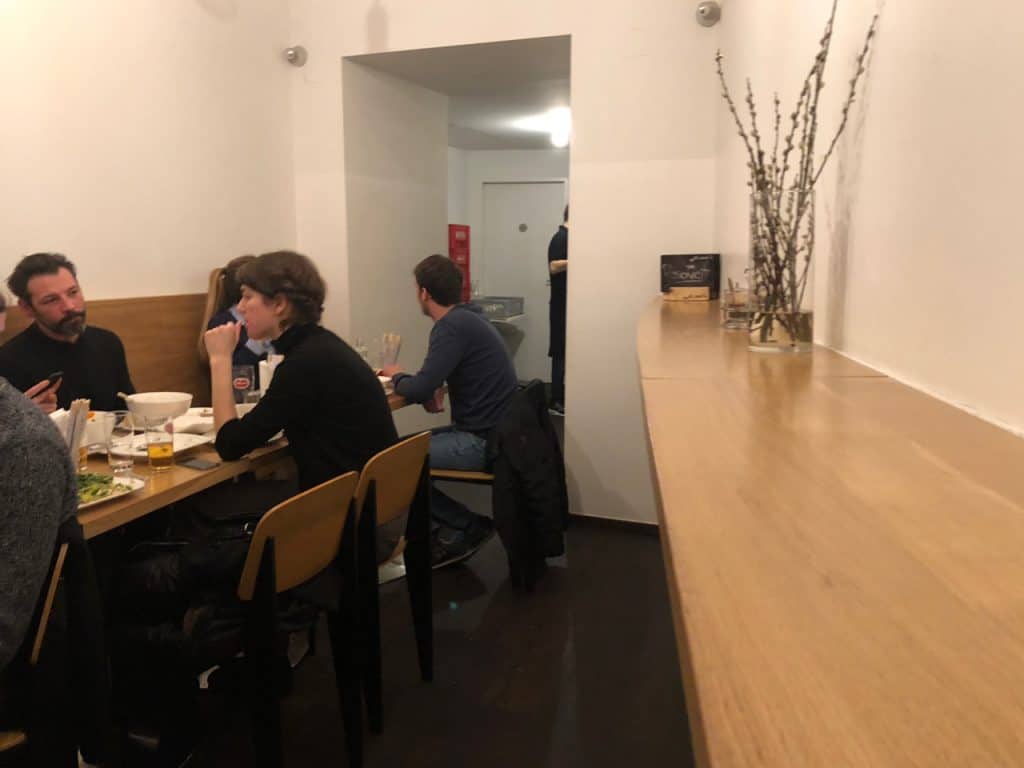 I'll 'fess up here and admit I didn't have the pho. I had a fresh-tasting, light summer roll to start with… and then I just went for the curry. An easy option, but it was just what I was in the mood for! I'll leave pho for another time.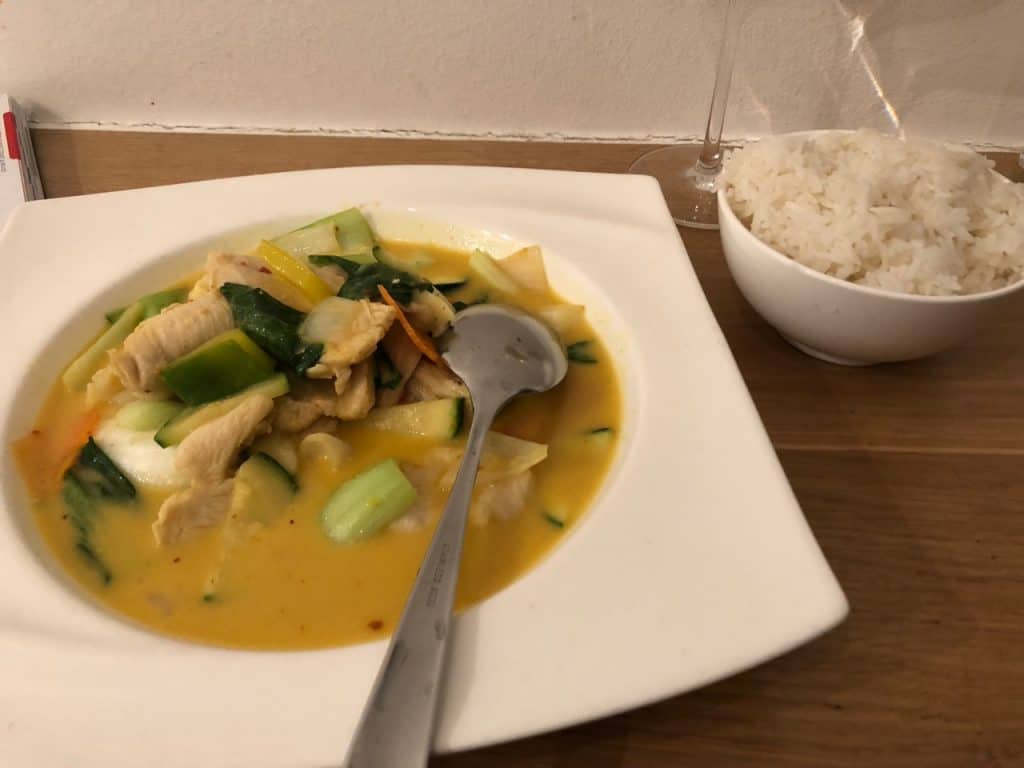 The two courses plus a glass of wine came to €14.80, and I left a small tip. The food wasn't anything amazing to be honest, but it was quick, and tasty enough.
Back at the hotel, I spent another hour or so with a glass of wine writing up my blog, before turning in for the night. I had two days left in Vienna, and the next one was going to be dedicated to what's probably the city's biggest tourist attraction – and a bit of rest and relaxation.
SaveSaveSaveSave
SaveSave