It was 7am was when my alarm went off on Friday morning, waking me from a deep, and thankfully warm and cosy sleep. I nearly leapt out of bed, but then remembered just in time my bed was actually on the floor, so that wouldn't have been a good idea. After a quick shower, I left the hotel. Today was my main day for getting around the sights I wanted to see in Berlin, and I had my first visit of the day booked in for 9.15. I had to be at the venue for 9am.
I hopped on a train for the nine minute journey to Friedrichstraße Station, and started walking. But then thought I could do with a coffee and something to eat so headed back into the station. There was a McDonald's – I thought it would be quick and easy, so I grabbed a coffee and a sausage and egg muffin.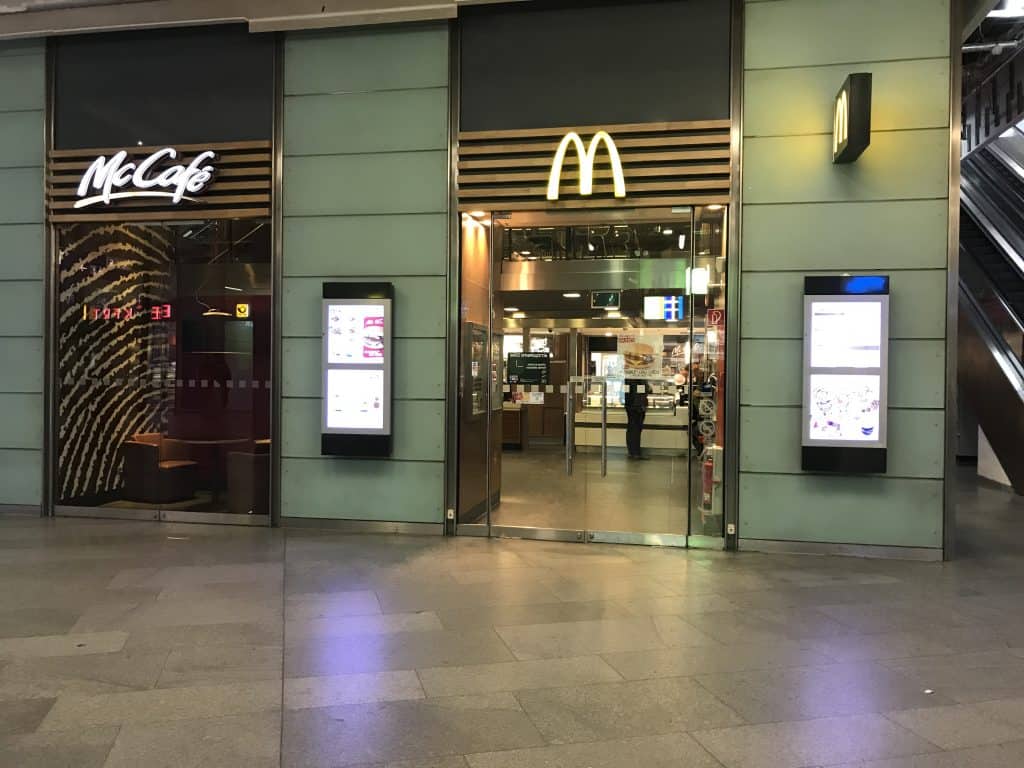 They had some strange breakfast options – including a sausage McMuffin with lettuce, tomato and some kind of sauce on it, and chicken and bacon McMuffins! But weirdly no hash browns 🙁
Heading back outside, I walked along an icy pavement. Yet again, it was absolutely freezing, and I was definitely feeling the cold!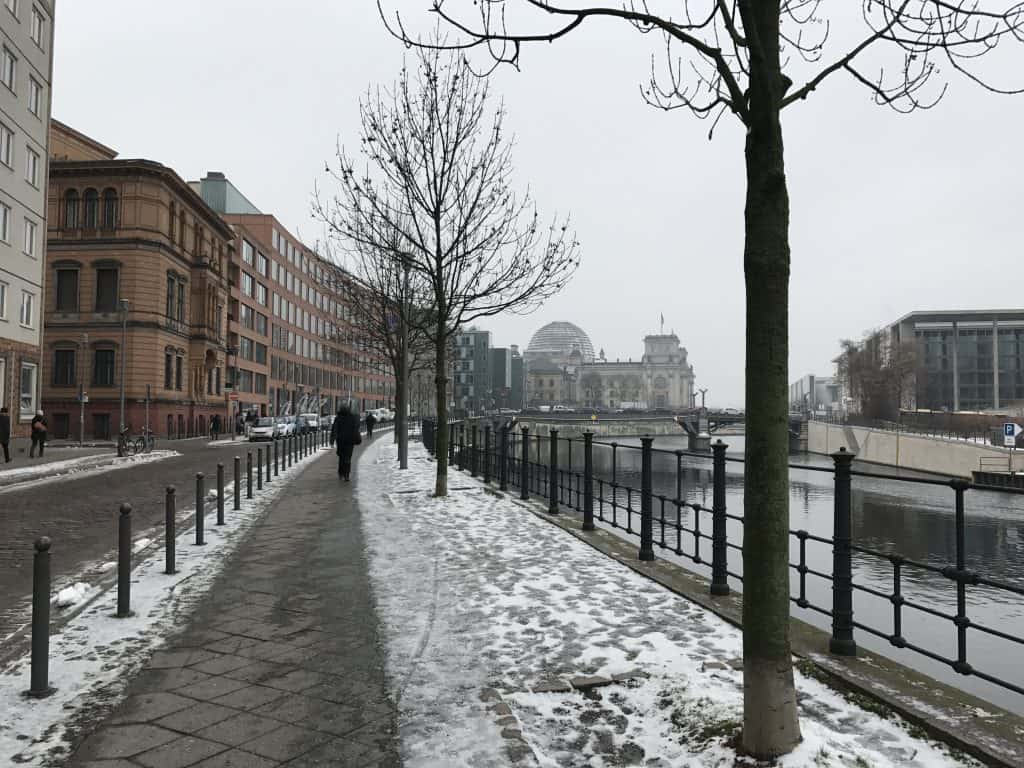 I was heading to the building in the background – the Reichstag building – seat of Germany's Parliament or Bundestag. I'm not into politics at all, so wasn't really going to get an insight into the workings of Germany's political scene – I'd read about a really cool and interesting feature of the building you can visit. For free!
Arriving in front of the building, it's hard not to be impressed. It looks really imposing…
While it's free to visit the Reichstag, you do have to register in advance – supplying the day and time you want to visit, your name and date of birth – presumably so a security check can be done. You then get a letter confirming your time slot and visit, which you can just show on your phone with ID.
Arriving at a portacabin outside the Reichstag, I did just that, and after a security check and bag scan, a guide soon led a group of us towards the building.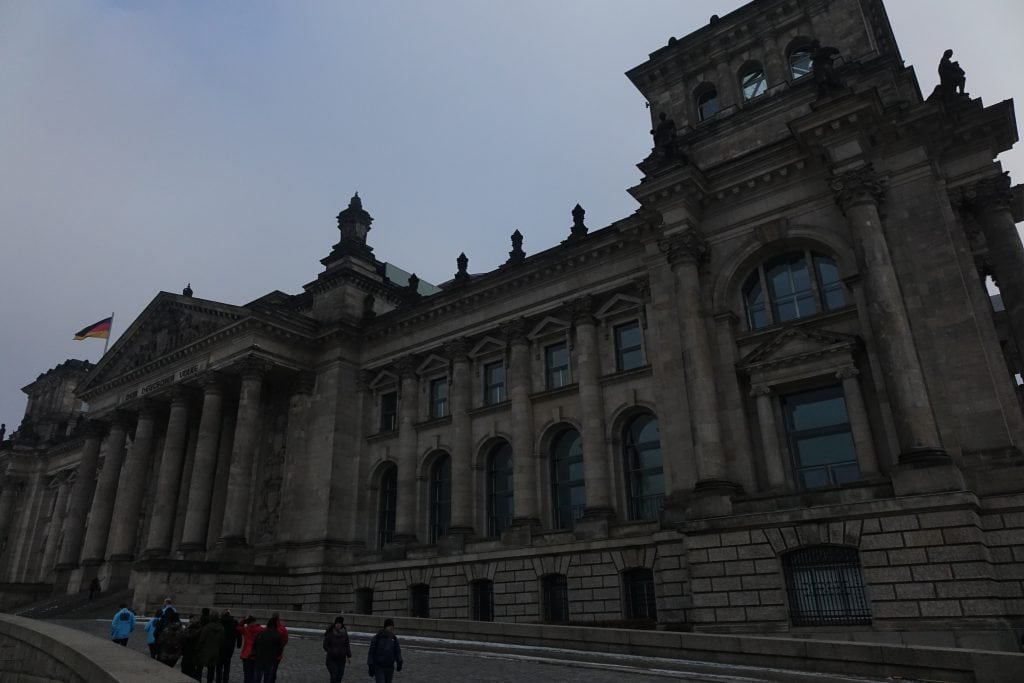 Once inside the small foyer a security person waited until we were all inside, then sealed a door behind us, before the one in front of us opened and we were herded towards a lift. The building looked really cool inside – and modern. While the building dates back to the 1890s, the interiors were redesigned by Sir Norman Foster in the 1990s – think glass, wood and steel. Very cool!
Coming out the lift, we picked up an audio guide, and then walked into what I'd really come to see – the dome on the top of the building.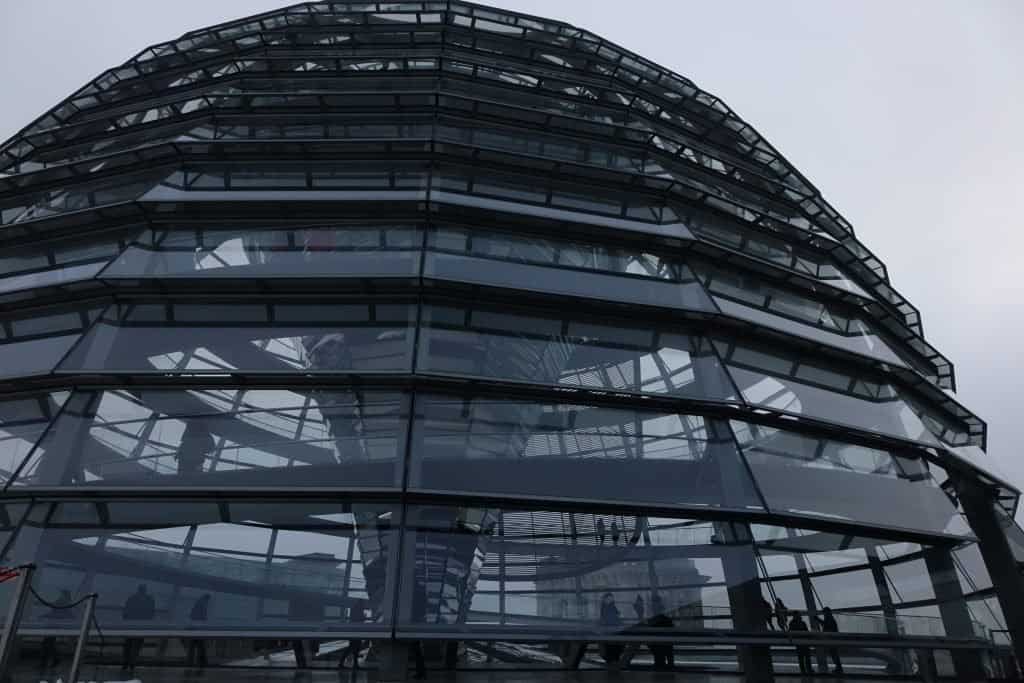 Apparently Sir Norman insisted that the dome would be open to the public, which I think was a great idea. There's a window in the bottom of it so you can see into the debating chamber and see people working, but the main feature is a big curving ramp that you walk up, getting a great view of Berlin in the process.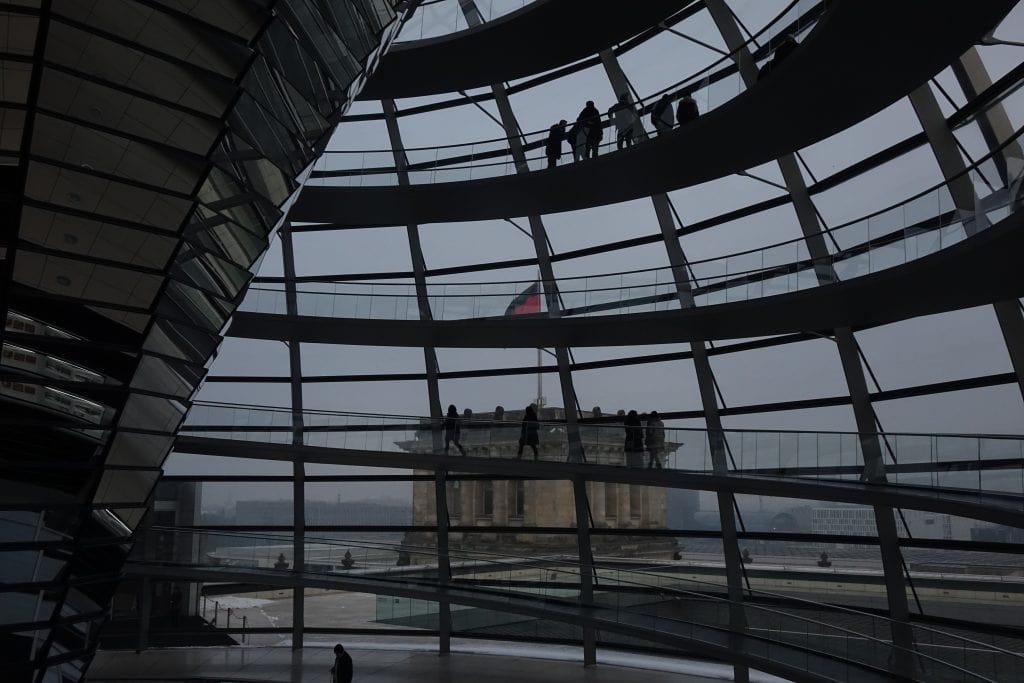 Listening to the audio guide, I started my ascent – but again, just like my trip up the TV tower the day before, the fog and mist which had descended over the city made it hard to see too much. Though I did spy the Brandenburg Gate.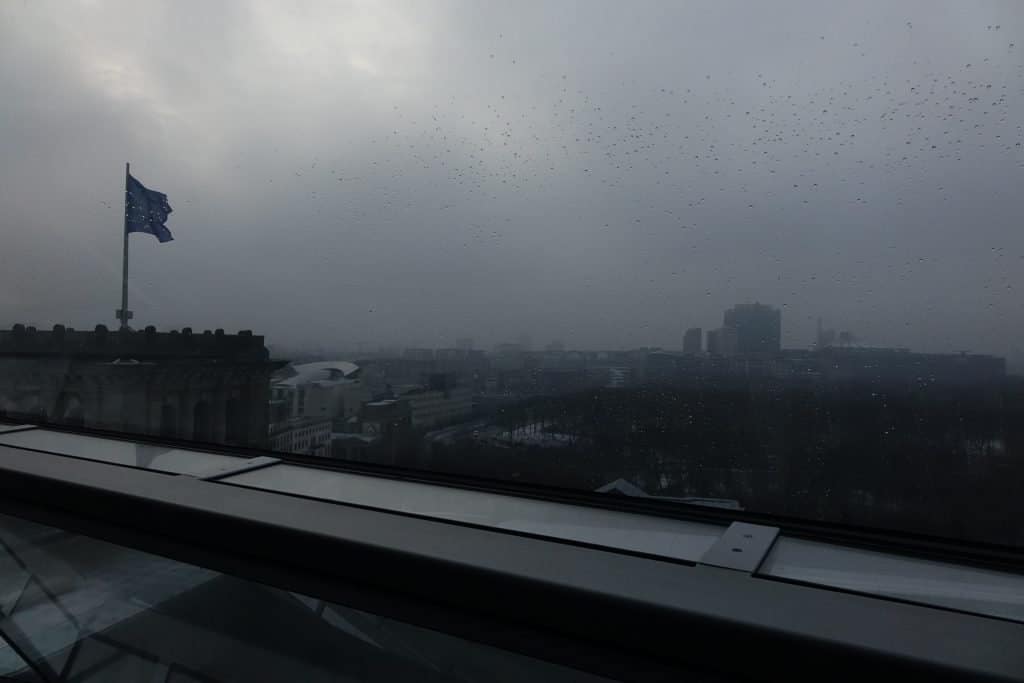 It is actually in that photo above!
It's hard not be impressed by the dome – and it's a great photo opportunity too.
I was glad to be out of the cold, but as I got closer and closer to the top of the dome I began to feel a by now familiar chill hit my face and hands. And I soon realised why… the top of the dome is actually open – there's proving to be no escape from the February Berlin weather!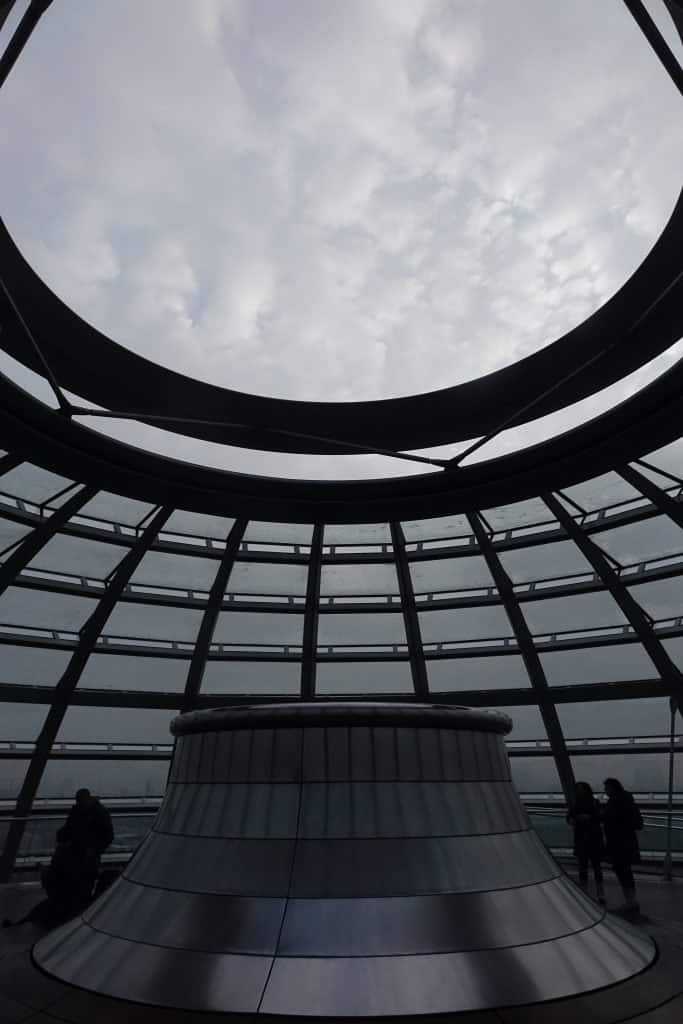 According to the audio guide, it's to let stale air escape and fresh air circulate within the dome, but to be honest I could have done without it! I made my way back down to the bottom of the dome, and read about the history of the building on a display around the centre of the window overlooking the chamber. I hadn't actually realised that for a long time the German government had sat in Bonn – you really do learn something every day!
I'd definitely recommend a trip to the Reichstag dome – it's free, you get a good view (particularly on a clear day), and it's a very cool building.
After taking the lift back down to the entrance, I'm not gonna lie, I kind of hung around pretending I was looking at leaflets just to warm up a bit again before I headed outside.
There's a small self-service cafe across the street from the Reichstag, so I went in and grabbed a quick hot chocolate to warm me up.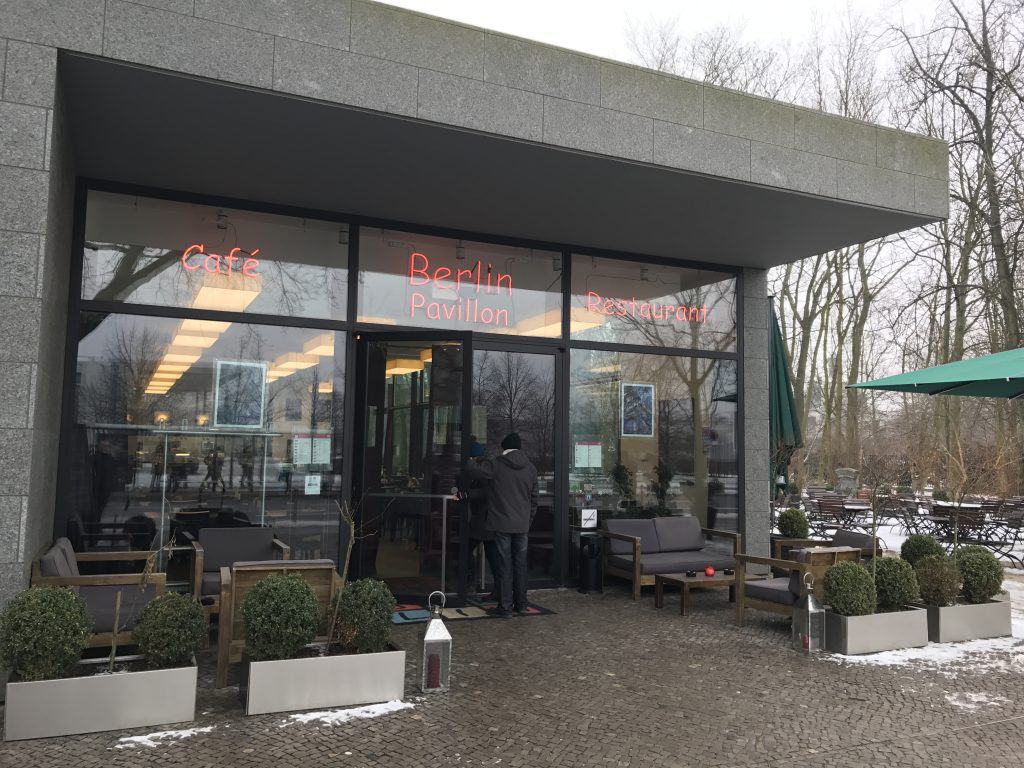 While it offered some typically German fare, I would say it would not be one of the top places to eat in Berlin – but my machine poured hot chocolate did the trick. I sat and enjoyed it while watching a bird fly around inside the restaurant. Always makes me feel sad that, birds being inside 🙁
Just a five minute walk away from the Reichstag…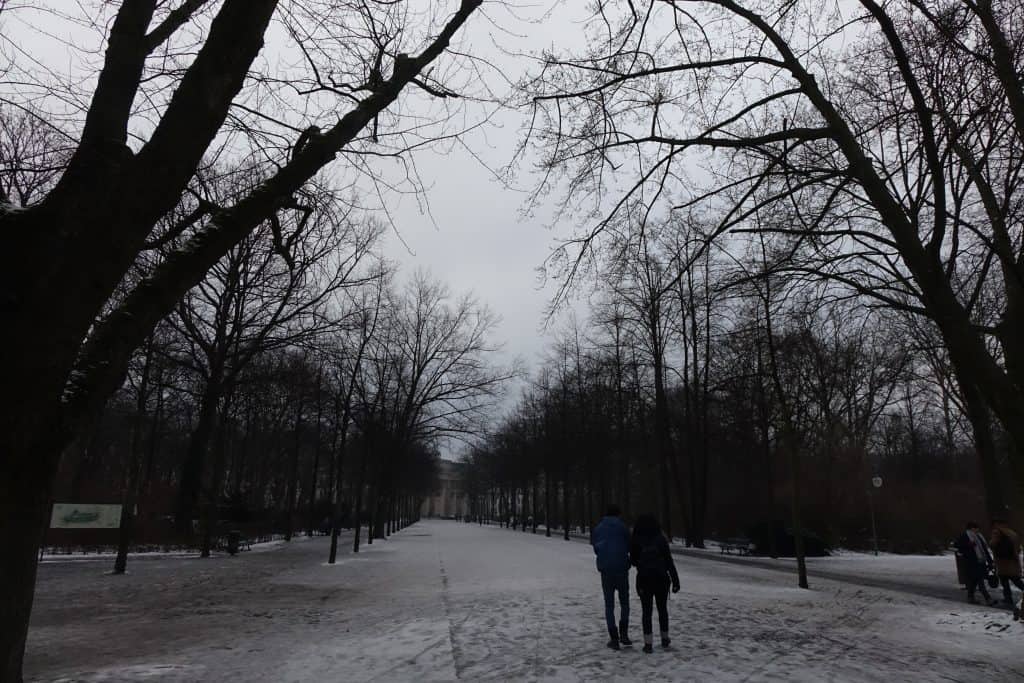 …is what's got to be Berin's most recognisable structure – the Brandenburg Gate.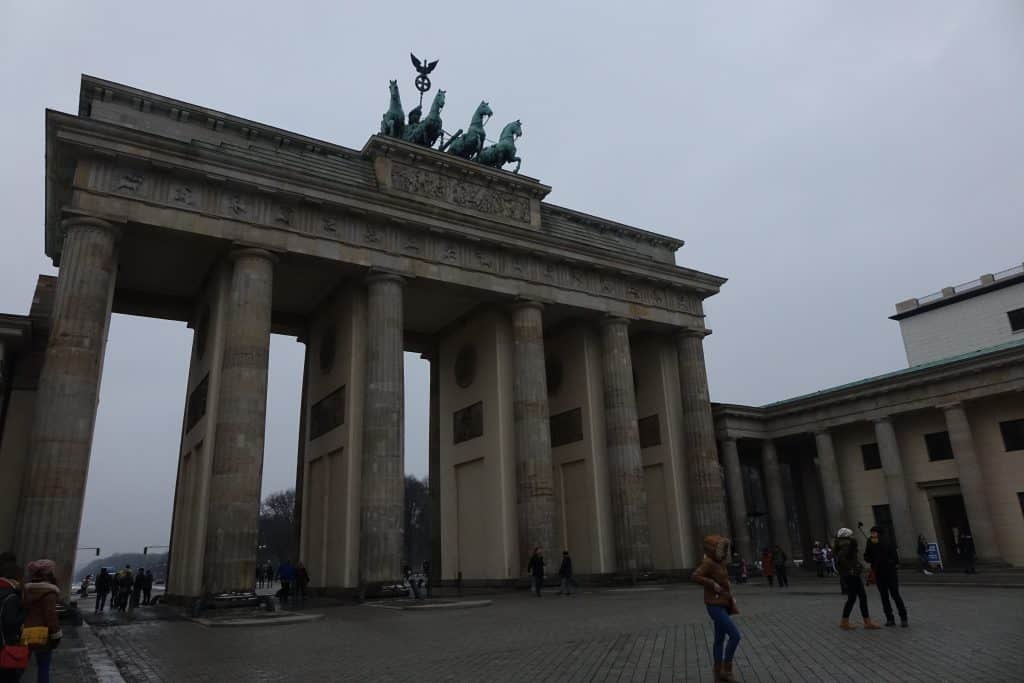 It was still quite early in the morning, but there were all ready small crowds dotted around, including a Chinese lady wildly slapping at the glass on a history sign with her walking stick for the benefit of her students. I walked through the central arch – once reserved for royalty – and just stood and stared at it for a couple of minutes, then took a selfie. Far too cold to hang around, I nipped into the nearby Hotel Adlon for two seconds. I'd seen Rick Stein pop in for a special cocktail on one of his recent long weekends, and just wanted to see the place for myself (but I skipped the cocktail). It looks like a very luxurious place to stay – if you can afford it!
A five minute stroll around the corner took me past the British Embassy, and to a site which will be forever associated with darker times in Germany's history. Nowadays, there's really not much to see….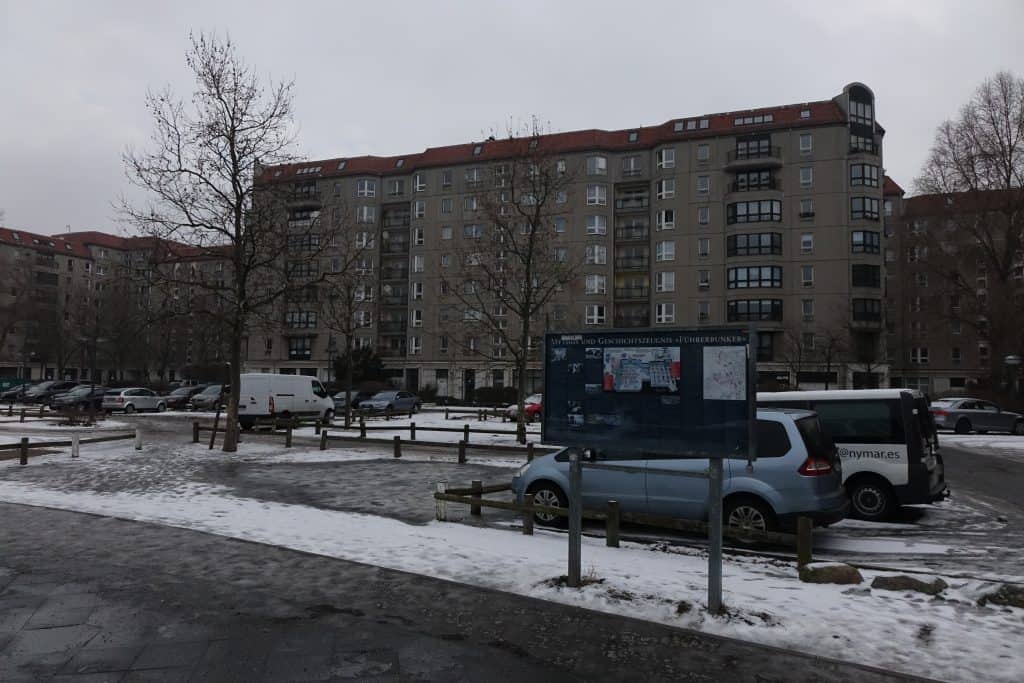 But under this car park lay the bunker where Hitler saw out his last days on earth. The place was destroyed in December 1947, with the deliberate blast apparently sending the ceiling 40cm in the air. It was weirdly eerie standing not far from the bustling city and imagining what went on there.
Continuing on the war theme, I turned around from the car park, and headed towards the Memorial to the Murdered Jews of Europe. Underneath the 4.7 acre site covered in 2,711 concrete slabs is an information centre. I waited (in the cold again!) until I was allowed to descend the steps and head inside.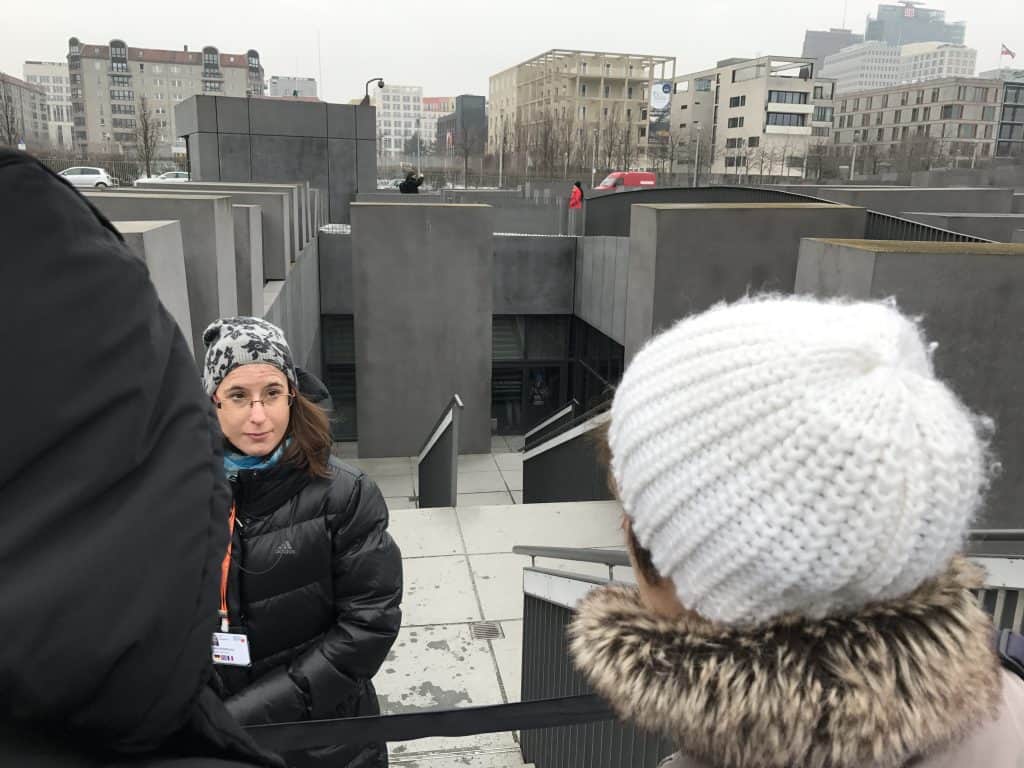 My Berlin Welcome Card gave me a bit of a discount again and I picked up an audio guide and headed into the exhibit.
What follows, well it's just hard to describe. It's sad, maddening, and at points just impossible to comprehend how such terrible events could have taken place. You start with a timeline of the beginning of persecution against Jewish people – photographs showing men being forced to scrub graffiti off walls with inappropriate tools, demonstrations outside Jewish businesses, and photographs of people being humiliated.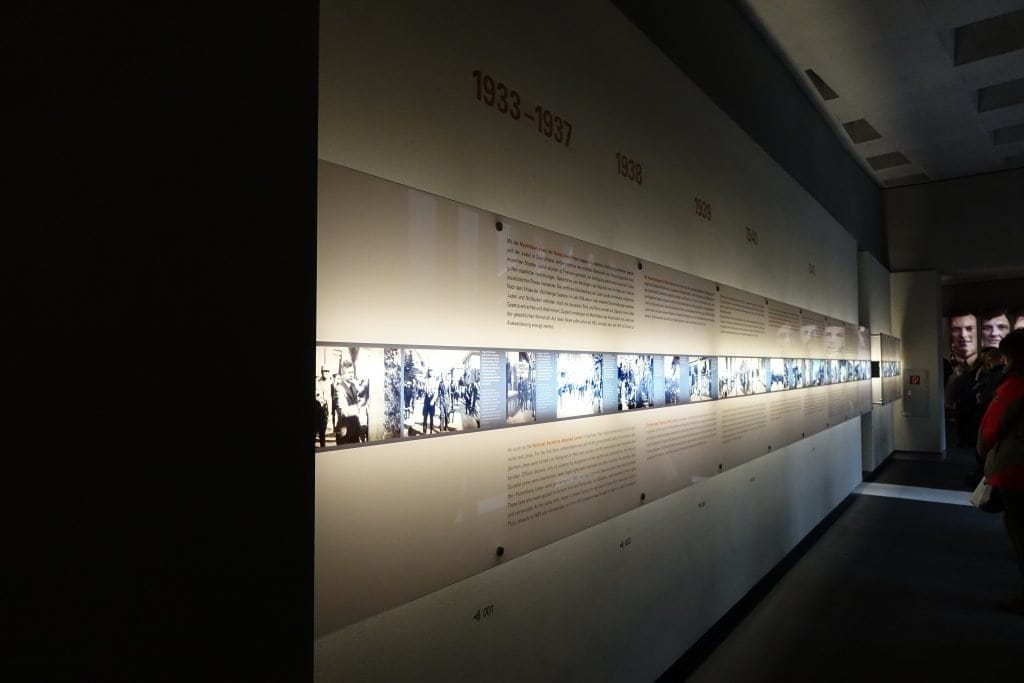 Then it gets worse – as the timeline progresses, some of the images are really disturbing. Rows of people lying face down about to meet their end, gaunt bodies in concentration camps, and the one that probably got me most – a man driving a bulldozer piling up bodies. I stood and stared at that one for ages, just thinking what kind of person could ever do a job like that. And then I realised – the person driving the bulldozer was probably a prisoner himself, and would have had little say in the matter.
Moving on from the timeline, there were three other rooms. The first contained letters and diaries from Jewish people in camps, or about to be sent to one. Letters from children were especially chilling. In the next room, displays told the stories of fifteen Jewish families caught up in the events of World War II – from where they lived and what they did through to how the holocaust affected them – and who (if any) survived.
It put a really personal face on the events, and I was surprised at just how far the Nazi's tentacles reached – people were sent to camps from Greece and the Netherlands, which I wasn't aware of, and it seems Poland's Jewish population bore the brunt of what happened.
In the final room, the names of every known Jewish victim from a memorial in Israel is read out loud, before a small display of other holocaust memorial sites around the world.
I ended up spending a good hour and a half or so in the centre.
After handing back my audio guide, I exited the centre and walked up into the memorial on ground level.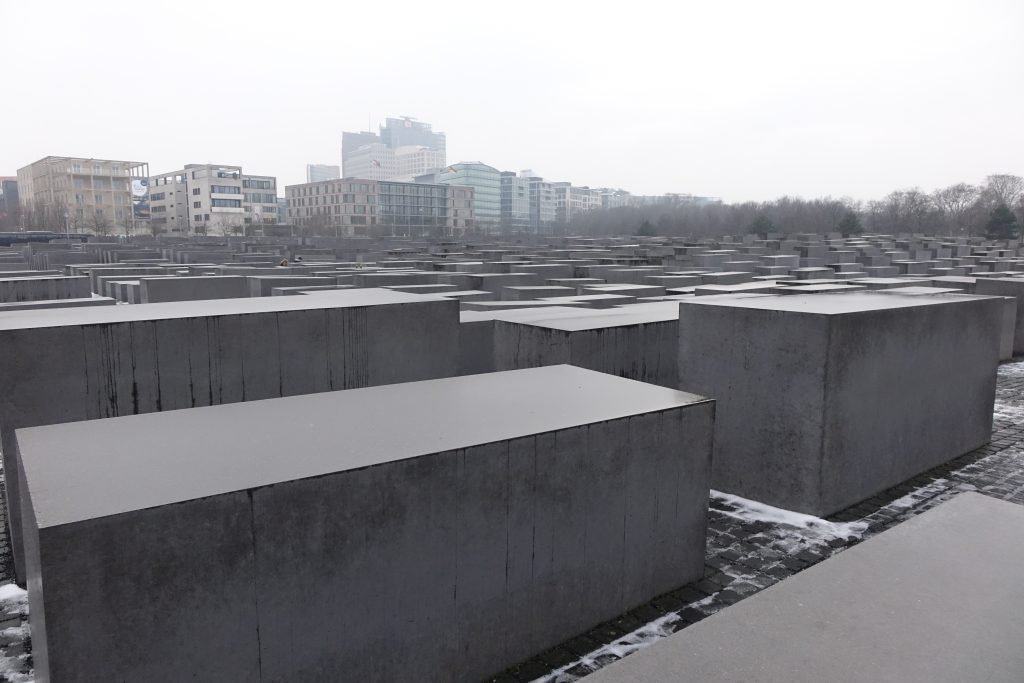 I started to wander in between the stelae but the ground was still frozen in parts – making it pretty treacherous. I took some photos and reflected on what I'd seen downstairs.
Next up was lunch – I'd not done very well with restaurants or cafes so far – stopping off for hot dogs or McDonald's, so I decided to spend 20 minutes walking through town to get to a little place I'd read about.
From the outside, it doesn't look like much….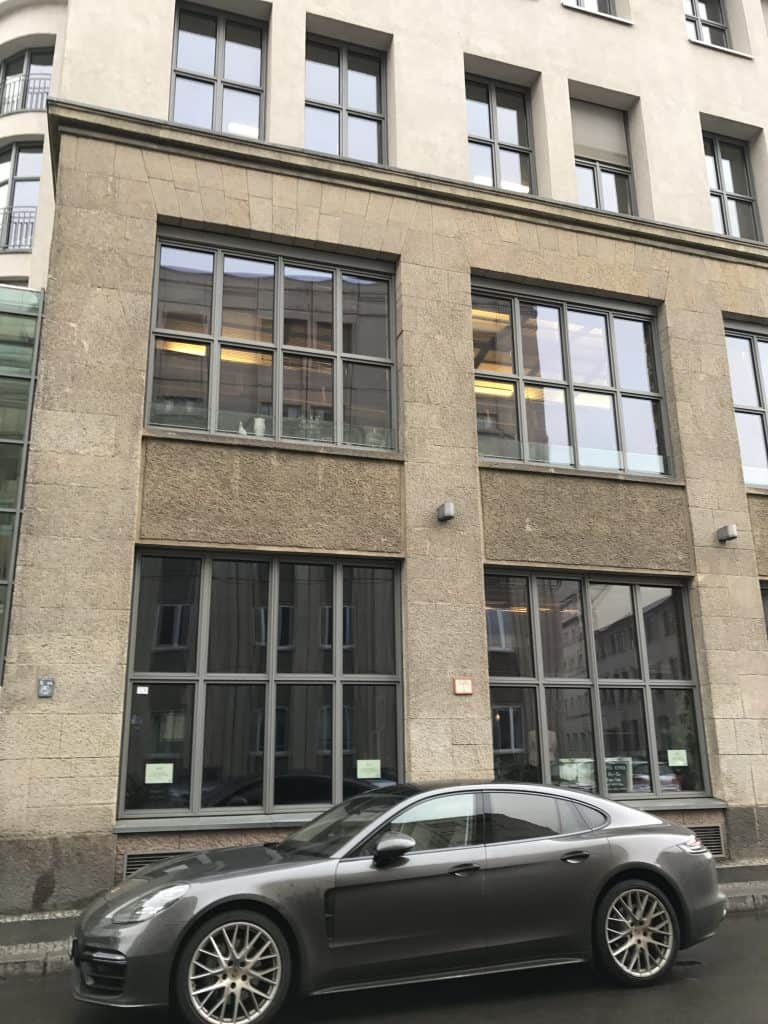 But step inside, and the House of Small Wonder soon reveals its charm.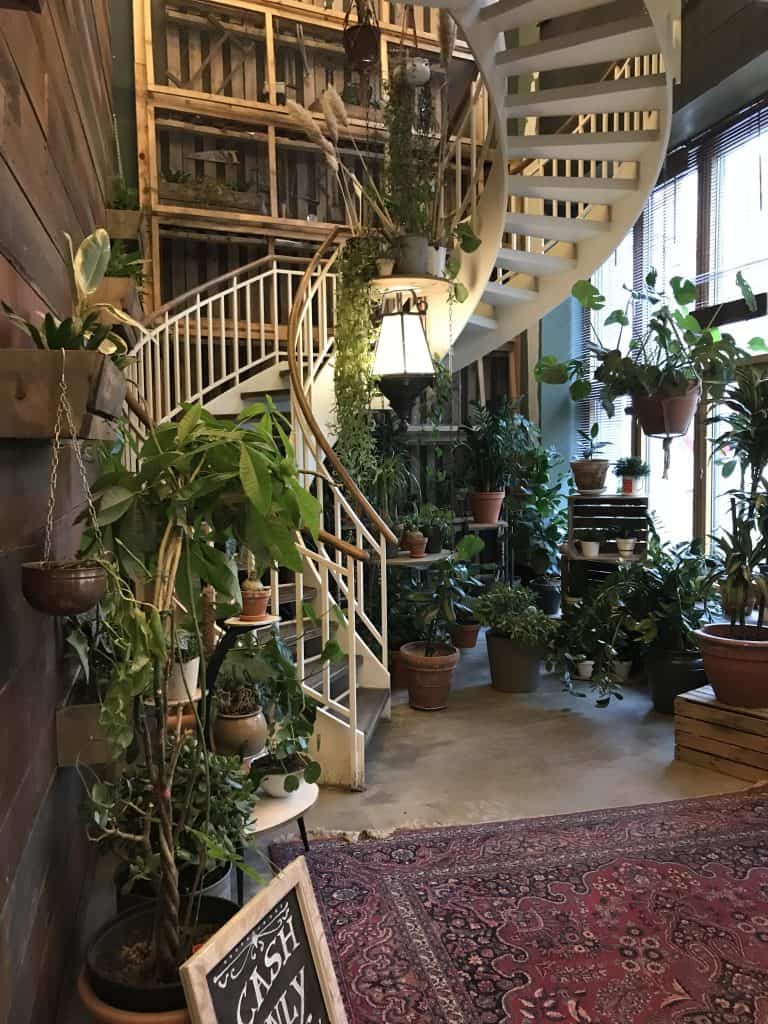 Up the curving staircase lies a cafe / restaurant which had its beginnings in New York – after a husband and wife from there opened a cafe, it was followed by a Berlin version.
I think I was lucky not to wait for a table, being seated straight away. After browsing the menu, I ordered a Coca Light, miso soup, and a kanuki sandwich – apple-fed pork belly on a wheat roll, with lettuce tomato, sweet soy sauce and mustard mayonnaise.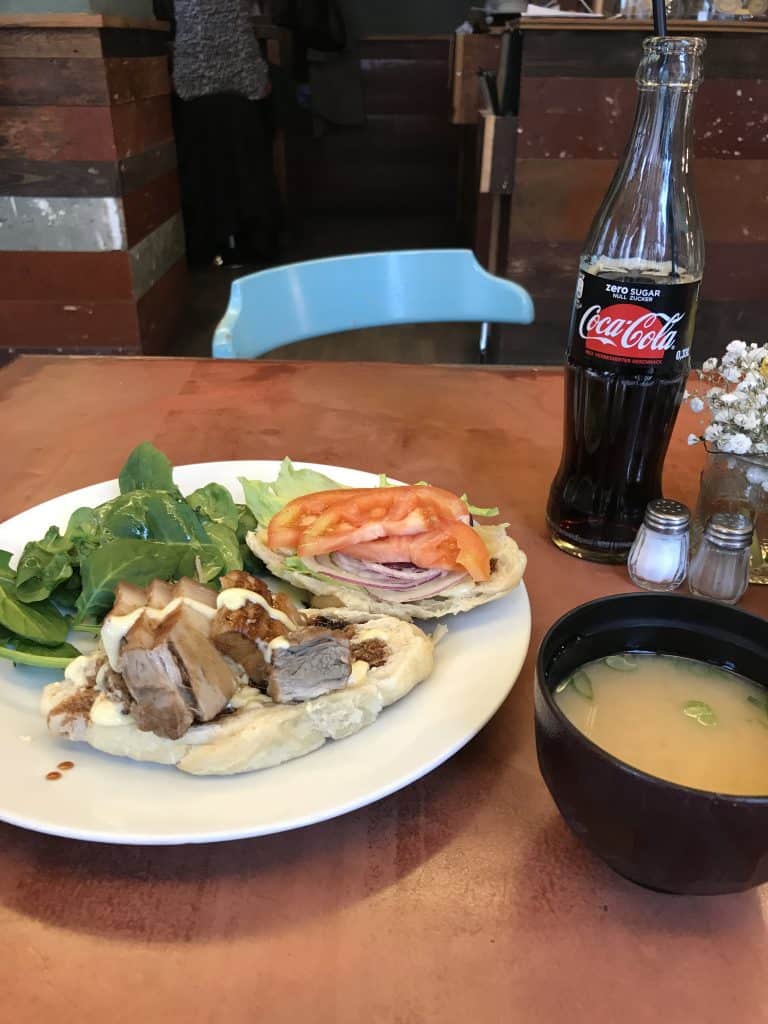 The soup was warming, and the sandwich was great – really fresh tasting. It was enough to fuel me for more walking, without making me feel stuffed. I'd definitely recommend checking the place out if you happen to be wandering around Mitte. There's also a more expensive, high-end restaurant serving Japanese cuisine downstairs, but it didn't seem to be open when I was there. Lunch and a drink came to about 15 euros which I thought was perfectly reasonable.
After having had a heavy morning of sightseeing, I decided to take time-out and wander around the streets of the Mitte area I found myself in. Heading in the direction of a clothes shop I wanted to visit (APC), I passed The Barn coffee shop – which is well-renowned in Berlin for serving premium roasts, and which I'd had on my list (but had no idea where it was).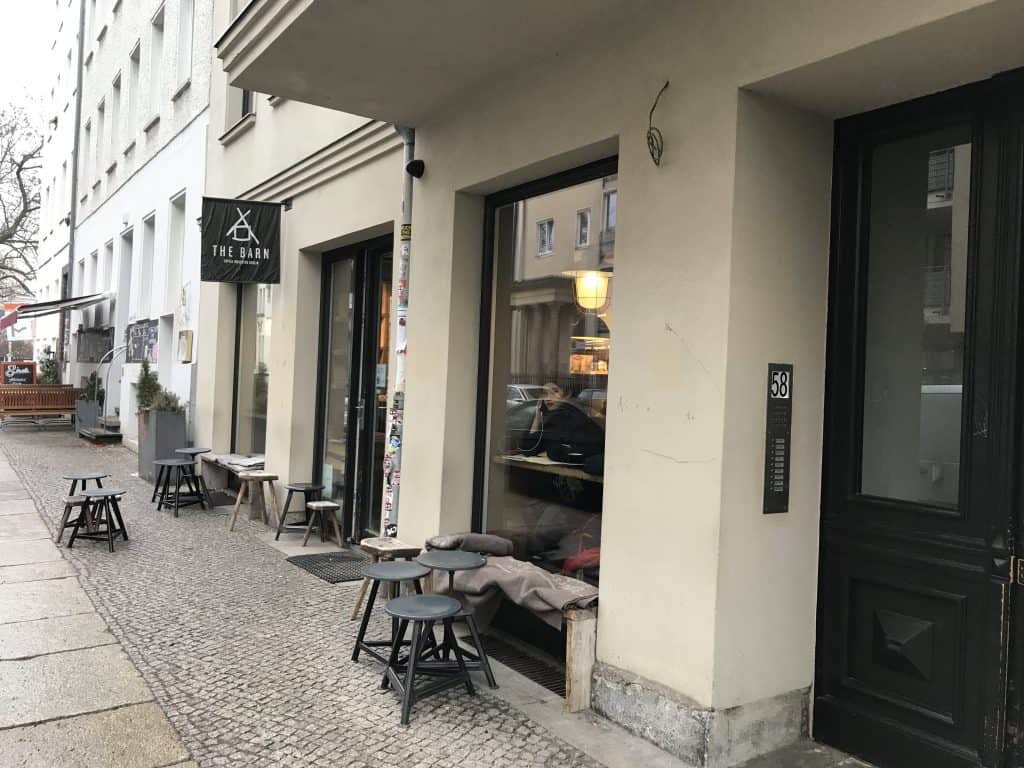 I popped in and got an americano and then kept walking – passing a restaurant with my name on it! Which was closed.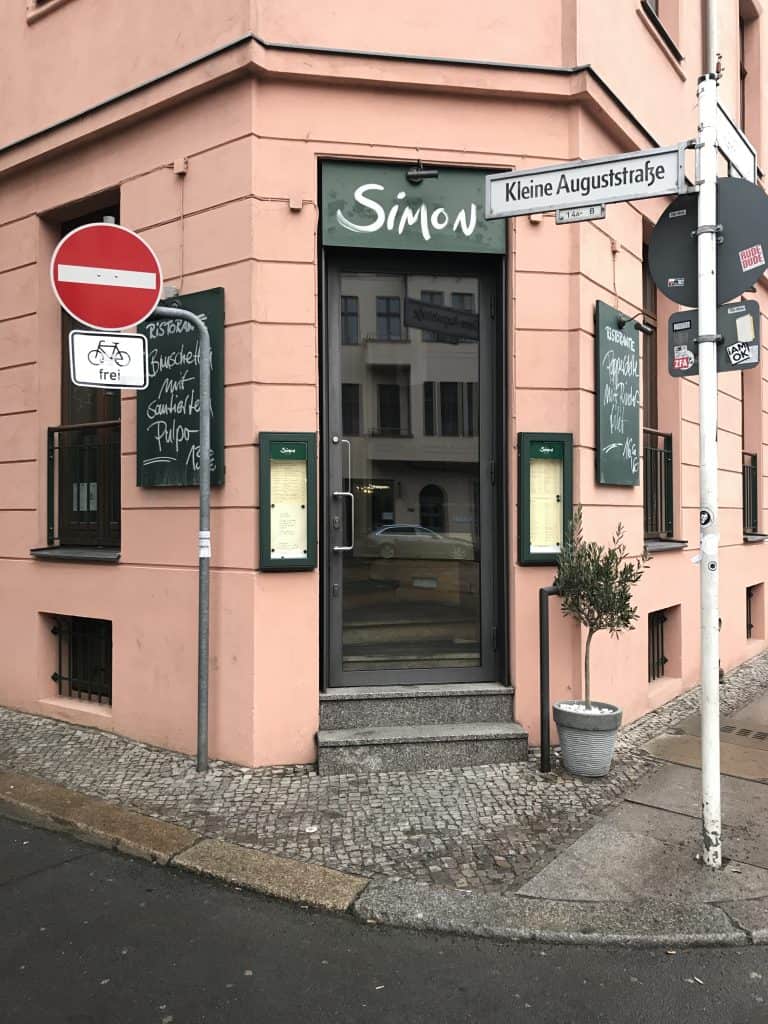 I nipped into a very fancy looking stationery shop called RSVP and picked up a small present for my youngest sis and had a quick look in APC, just further down the street. I love their clothes (but they are on the pricy side) and saw a couple of things I was tempted to buy, but unfortunately there weren't any prices on display, so I decided to avoid the embarrassment of finding out their cost was eye-watering.
Rounding a corner, I saw a flagship shop for Uniqlo, and still feeling very chilly decided to nip in and see if they might have anything to keep me warm. I ended up buying a new jacket which would have cost me about £10 less at home, but literally I was sweating straight away when I tried it on, so I thought it would be perfect to keep me cosy for the rest of my trip. Good investment I think!
By now, night was fast approaching, and I had one more place I wanted to visit. To be honest, I'm not a massive fan of museums, and although Berlin has a whole island dedicated to them, I decided not to bother with visiting them. I had read however, about one museum which got rave reviews, and sounded right up my street – the DDR Museum. Right beside it, I got a great view of the Berliner Dom – or Berlin Cathedral, which is actually on museum island. It's pretty spectacular.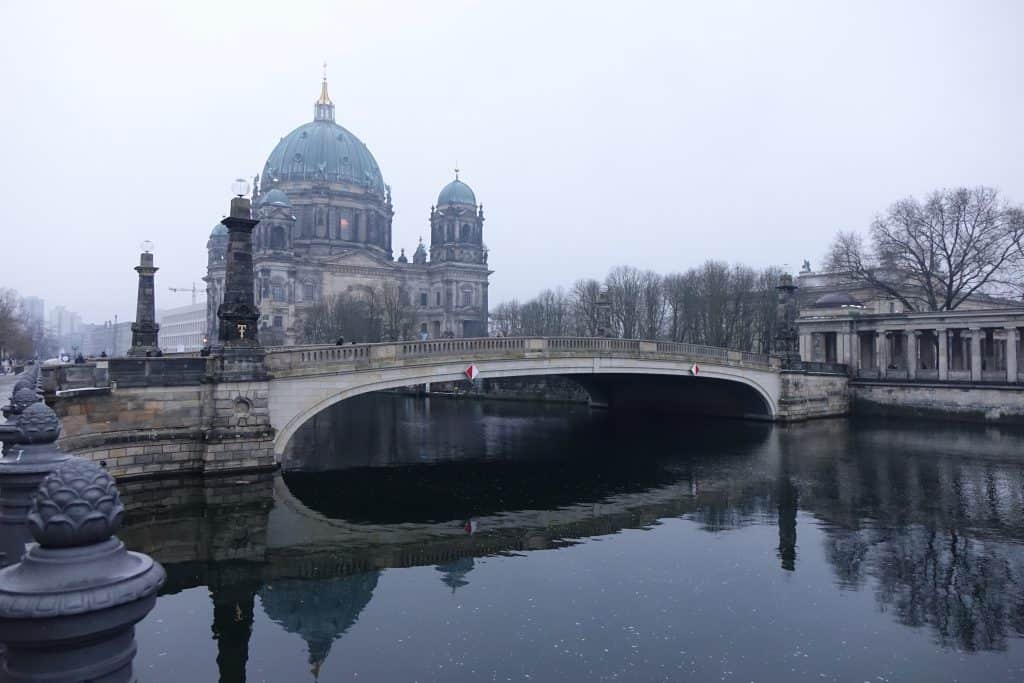 I paid my entrance fee from the museum to an unfriendly gum-chewing girl behind the counter (saving again with my welcome card), shoved my stuff into a locker, and headed off to explore the exhibits.
I spent two hours in the place – it's amazing and brilliant. It's really not that big, but there's so much to see and listen to, watch and read about, it's worth laying aside quite a bit of time if you're going to visit.
The museum basically describes everything about life in communist-era East Germany – with loads of items on display, from a Trabant you can have a go at driving (well with a simulator) to sports uniforms, old magazines and much, much more. You can listen to Eastern German music "hits" at listening stations, see examples of old kitsch Saturday night entertainment shows, and learn about all aspects of what life was like in the country – from education, work, military service through to entertainment and shopping.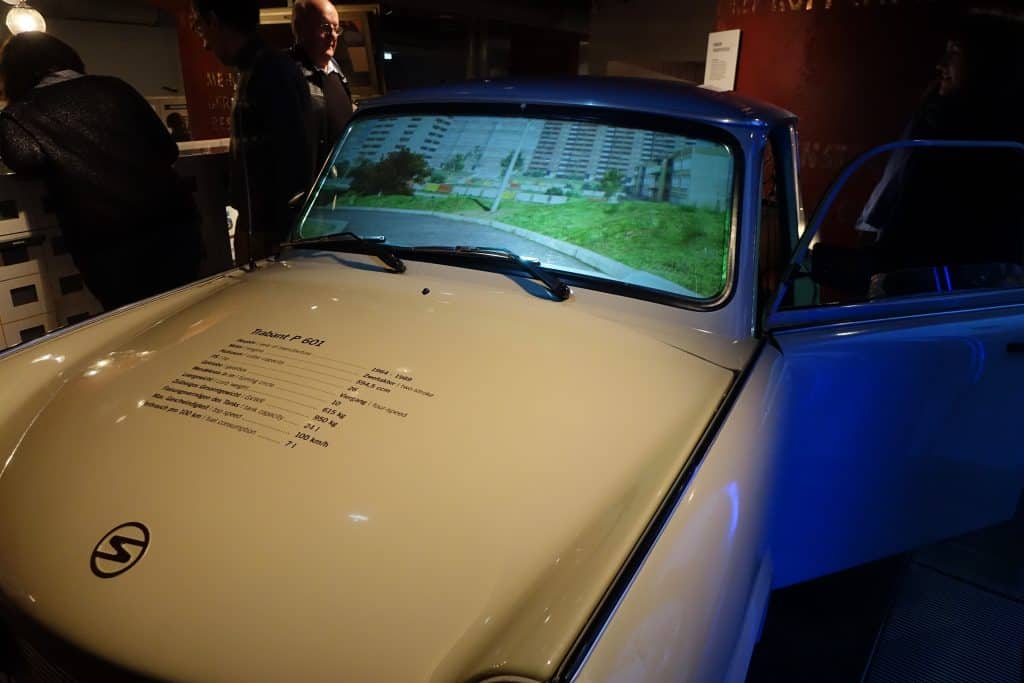 I particularly enjoyed this magazine cover.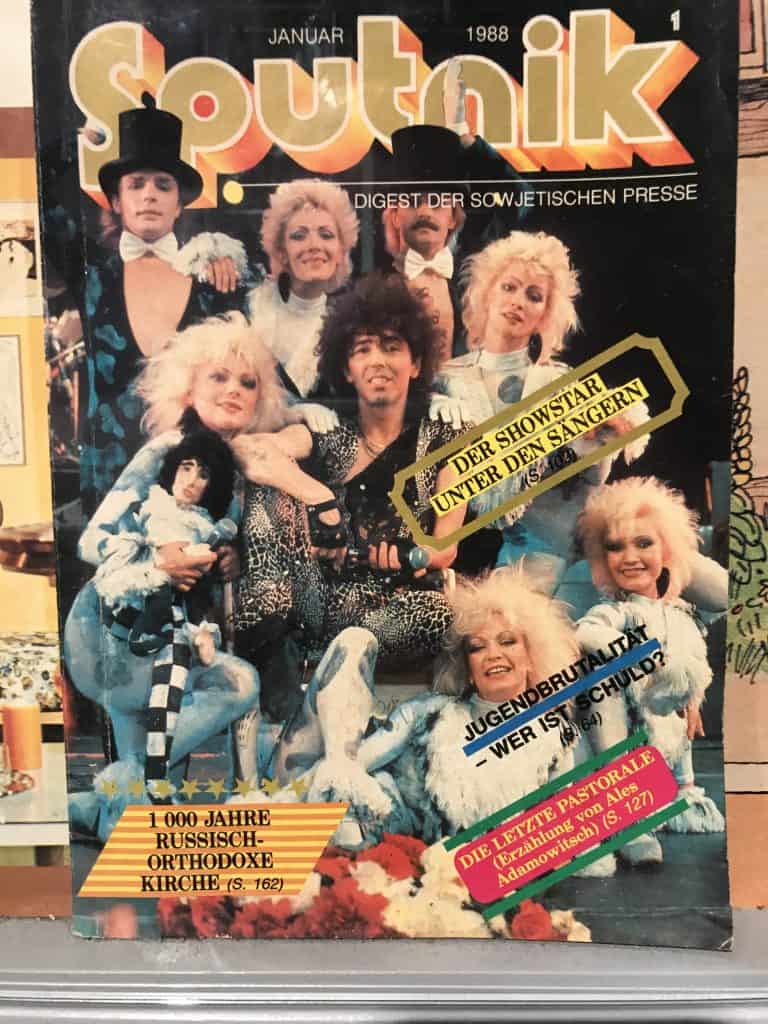 I can't recommend the DDR Museum highly enough – I do have a kind of fascination for what for me seems like mystical former communist countries where everything was controlled, but I think anyone really would be impressed with the displays.
There's information wherever you turn – by opening display cabinets and drawers, and by the time you've wandered around the main part of the museum, you have a really good impression of what it must have been like to live behind the iron curtain. You also understand just how restricted people were there in what they could do, and how much their lives were manipulated – even through something as simple as sports clubs, which everyone seemed to be encouraged to join.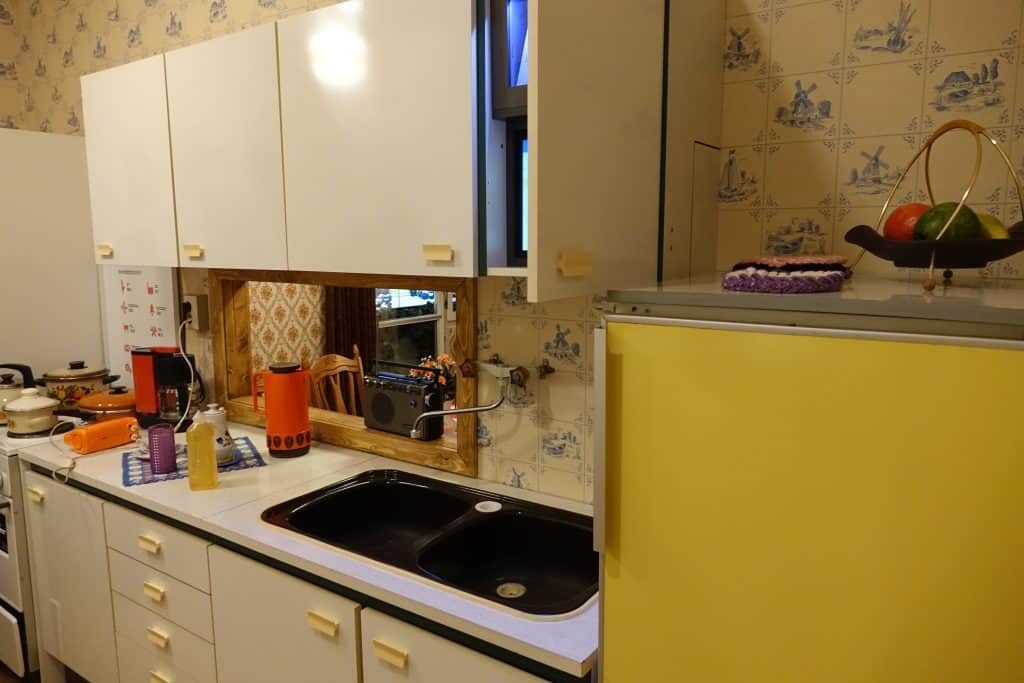 My favourite part of the exhibit was a full reconstruction of a typical East German apartment – it was fully stocked with authentic items – toys and comics in the kids' bedroom, toiletries in the bathroom, and a kitchen with cupboards filled with tins of seventies food. The living room was great as well – the decorating style was absolutely horrific but I loved it at the same time!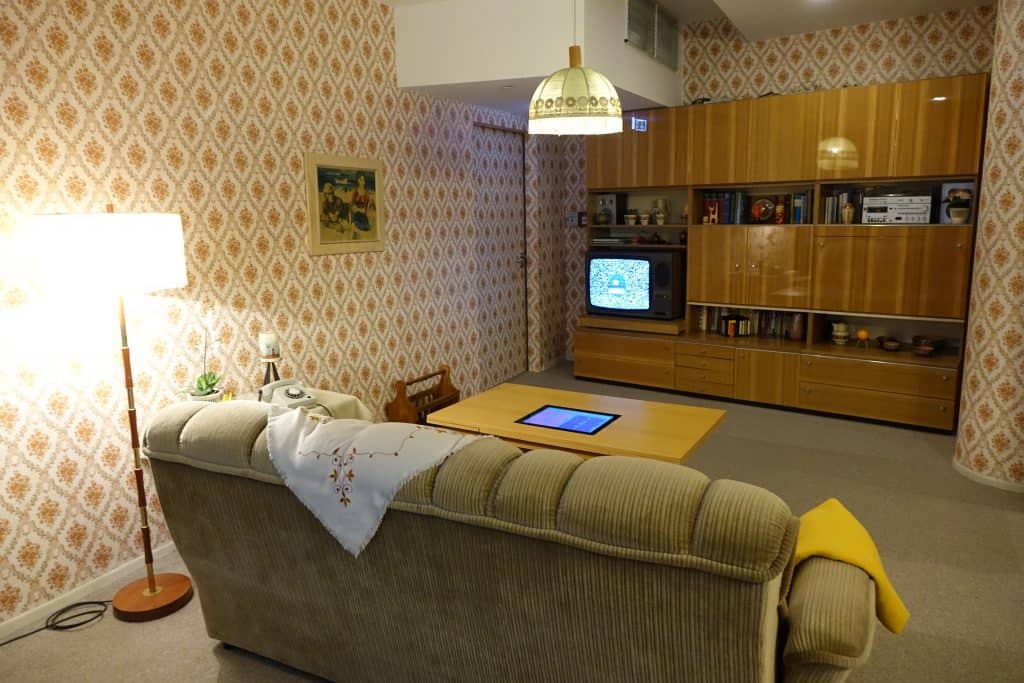 To get in cost me just around €7.00 with my welcome card – if you don't have one it's €9.50 – put this place at the top of your list if you're heading to Berlin!
Walking back outside, I bumped into someone that had been on the street art tour the day before – we had a quick chat, and then headed off in separate directions. The Berliner Dom was looking just as impressive as darkness fell.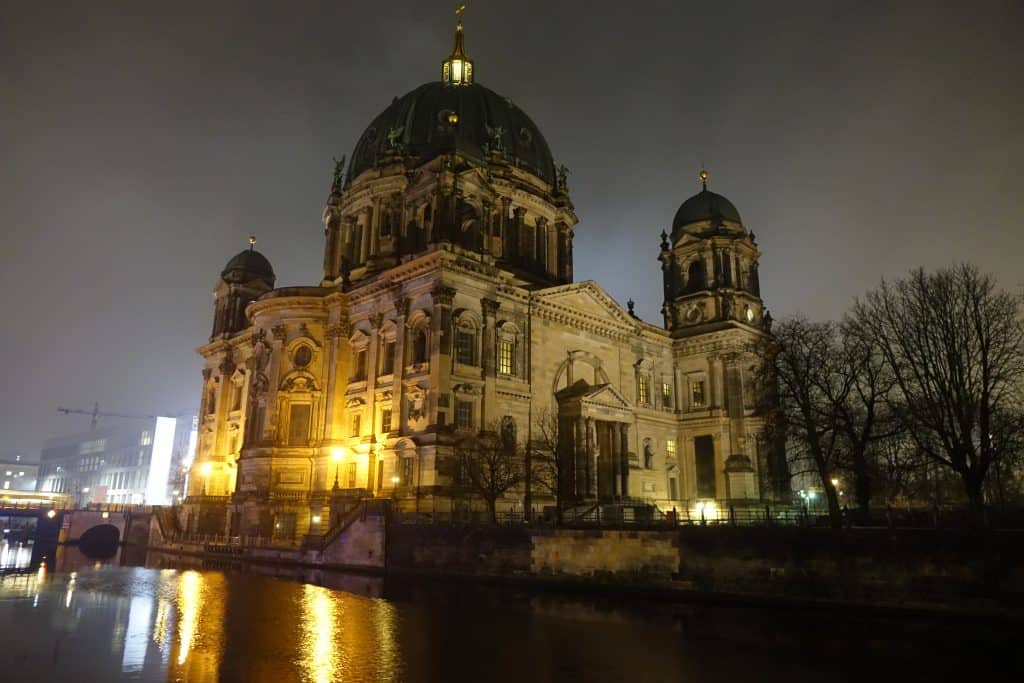 I caught a train back to Charlottenburg, and nipped into a supermarket to pick up a sandwich (two actually), crisps and some chocolate milk for dinner. There's a great shopping complex right next to my hotel called Bikini Berlin, which I'm hoping to explore before I return home. The Kaiser supermarket there is open late every night, so is really handy.
After flicking through the TV channels, the only one I could find in English was BBC World (showing sport) or Sky News so reluctantly(!) I watched the latter, and decided to have an early night – I'd had a really long day the day before, and a packed one today. It was time to call it a night.