On my last full day in Oslo, I made it up early to make the most of the day. After a last lovely breakfast in the hotel, I went back to my room, finished packing and checked out. I had a very early flight the next morning (five past six!) so had decided to spend that night in a hotel just beside the airport. Hopefully, that would help make the early morning start a bit less brutal!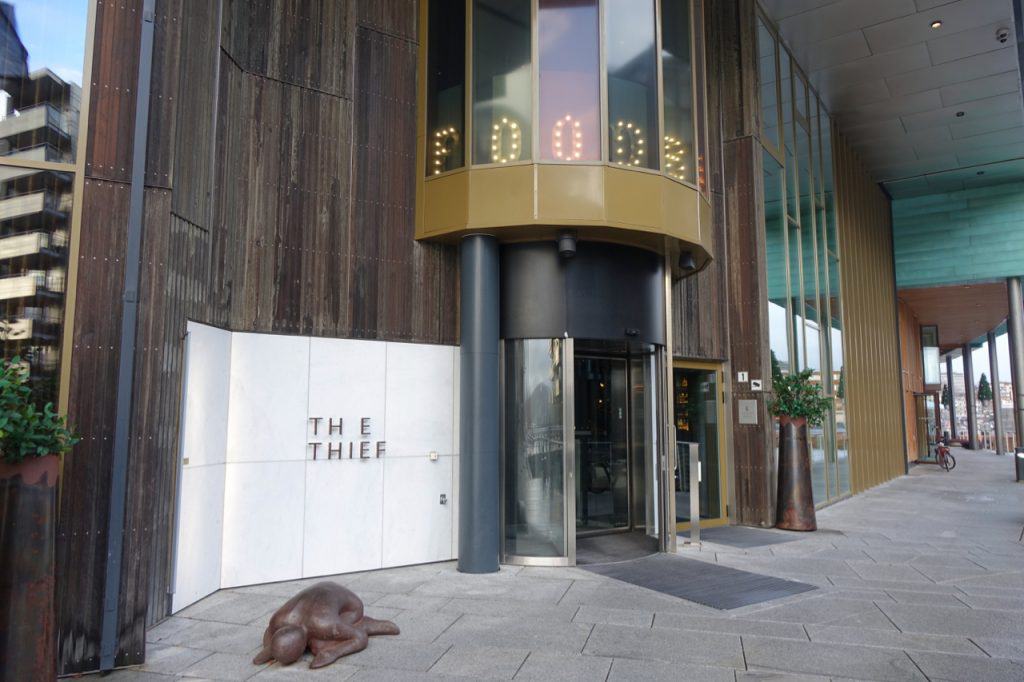 I'd really enjoyed my stay at The Thief – and it's a hotel I hope I'll stay at again. Sometimes the service was a bit skew-whiff, but the room, breakfast, bar and spa were all great. Maybe next time I'll get to visit in the summer when their rooftop bar's open.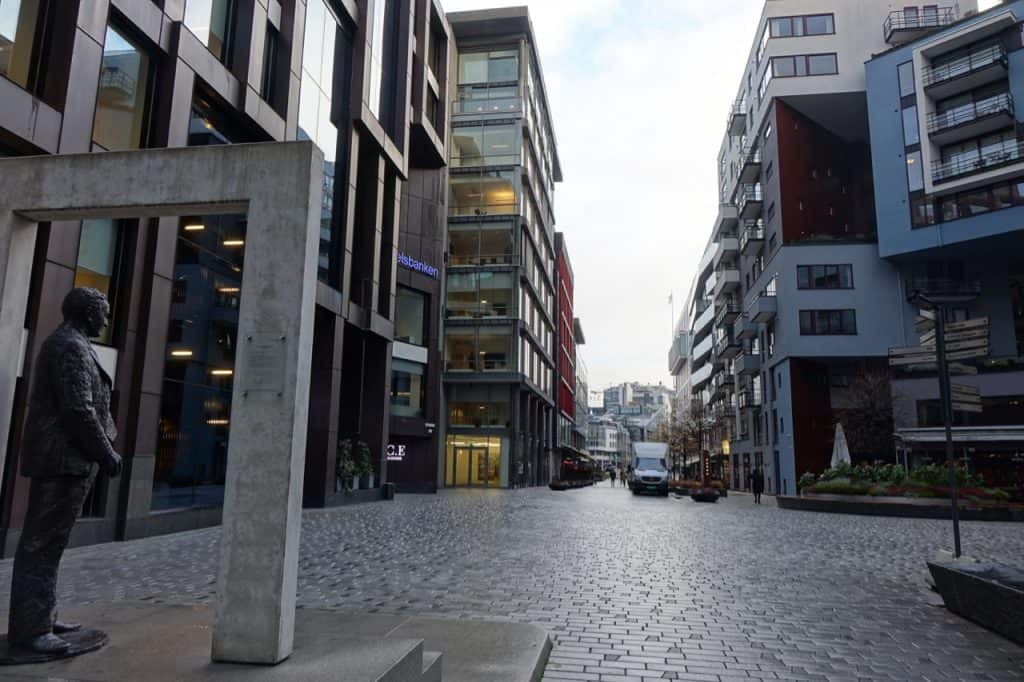 After one last walk through Tjuvholmen, I dragged my bag to where Google Maps told me I could catch a bus to Central Station. I'd decided to leave my bag in a locker there rather than have to make a trip back to the hotel later in the day.
The U-shaped street I'd arrived at seemed to be a terminus for buses, which caused me a little confusion! After standing looking at a driver through the bus door and getting completely ignored, I eventually worked out I had to walk to the other side of the street and join the queue waiting for the same bus to arrive there.
That sorted, less than ten minutes later I was at Central Station. Yet again it was a grey day, but at last the rain had stopped!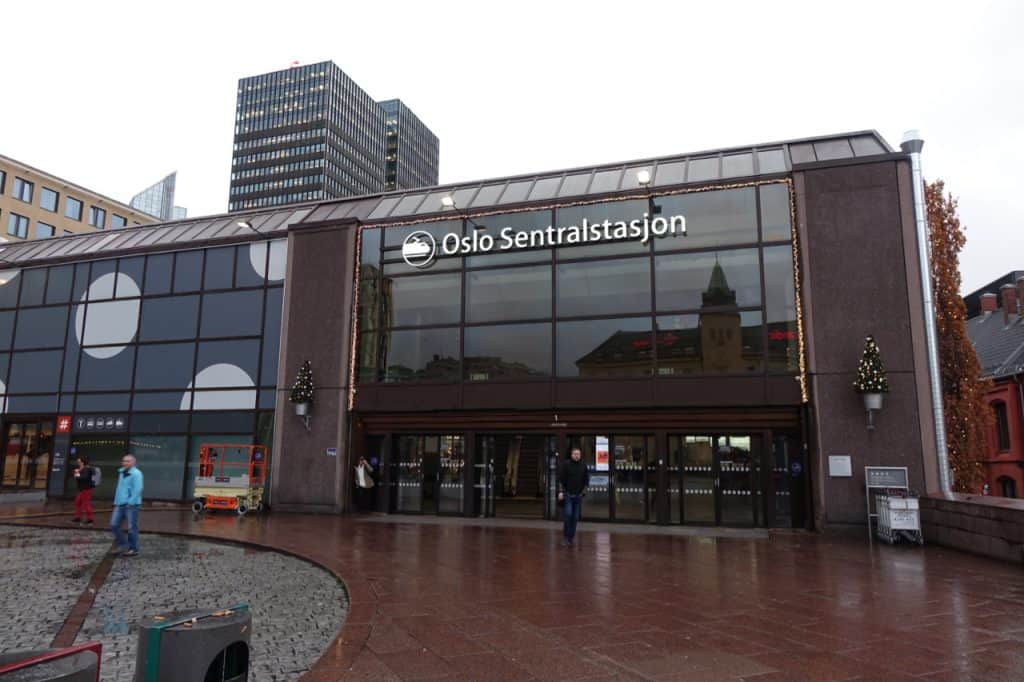 I eventually found the left luggage area, stowed my bag, then helped a lady use the touchscreen to store hers.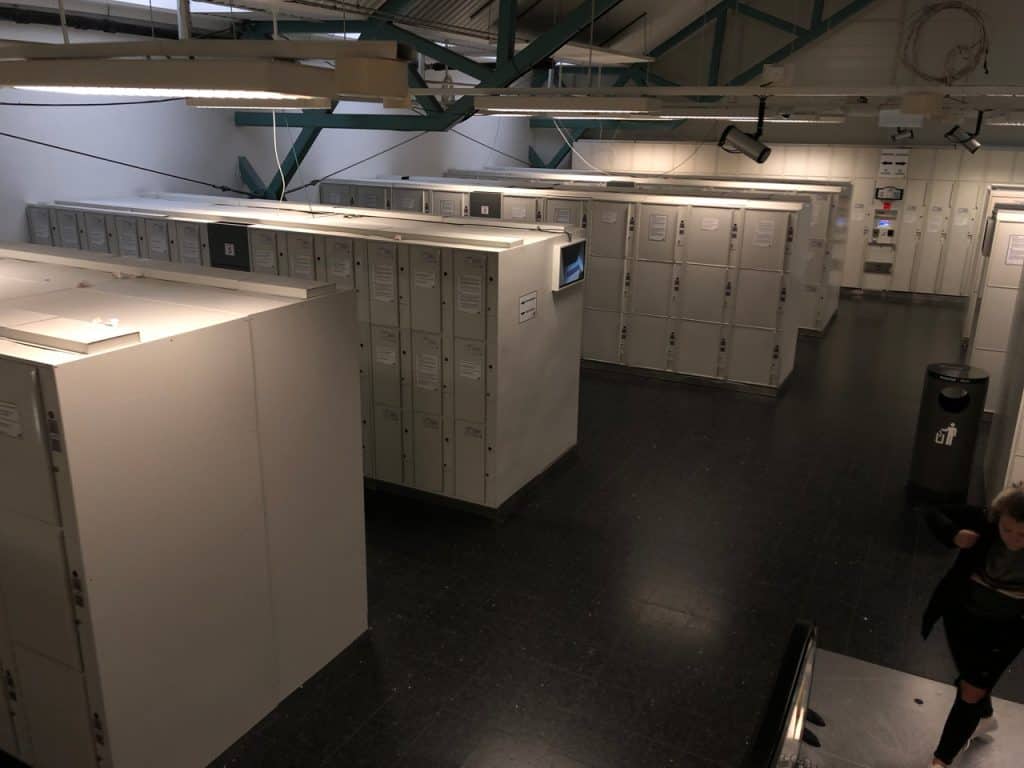 Jumpin' Jumpin'
Next, I headed underground – to use Oslo's T-bane or metro system for the first time. To be honest I'd had to double check the night before whether Oslo actually had a metro system. I hadn't noticed it at all walking around town – maybe I just hadn't passed that many stations, but they all seemed very discreet and not that obvious.
Navigating through Central Station, I arrived at the Jernbanetorget metro station and waited for a train to take me to Holmenkollen – just five stops from the end of the number 1 line. I was heading there to get what may just be one of the best views of Oslo.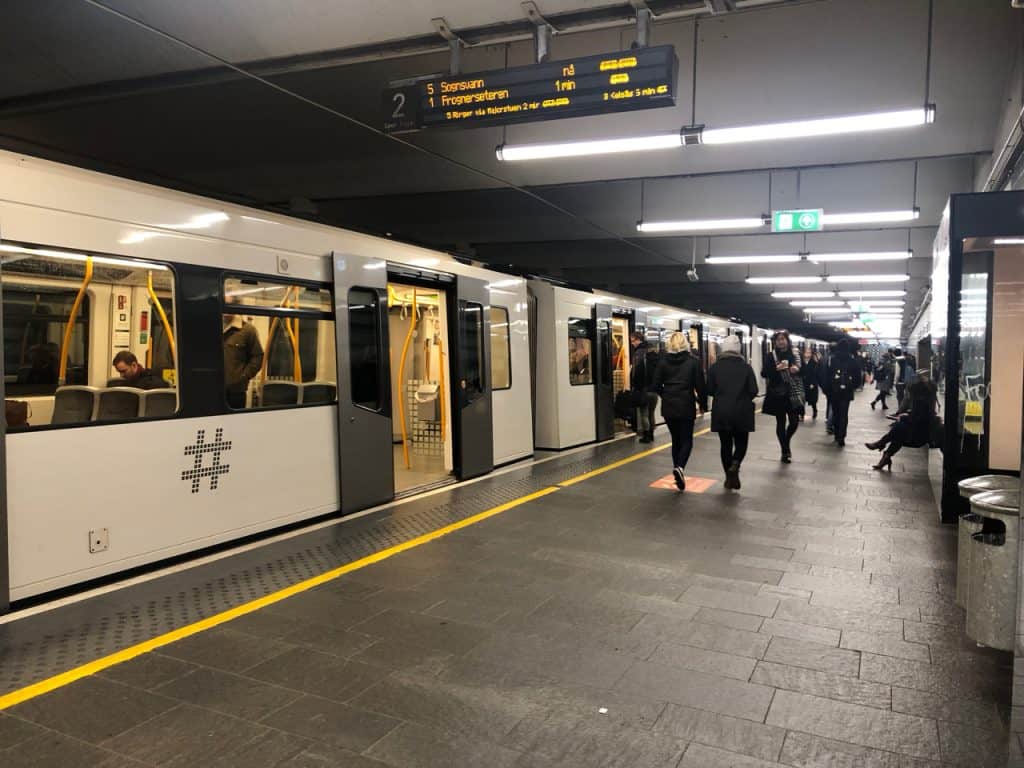 The station and train were clean and the journey uneventful as the train climbed out of the city. Twenty five minutes later, I was disembarking with what looked like a load of other tourists.
Then began the climb…. I'd read it was a bit of a trek to get to where I was going, but I wasn't quite prepared for the gradient on the way! It was uphill all the way – and that hill was steep!
After a while, I arrived slightly out of breath at a building which I assumed was my destination.
Only to find out it actually wasn't – and to see a signpost pointing up another hill. Rounding the corner from that brought me to an even steeper hill 😩.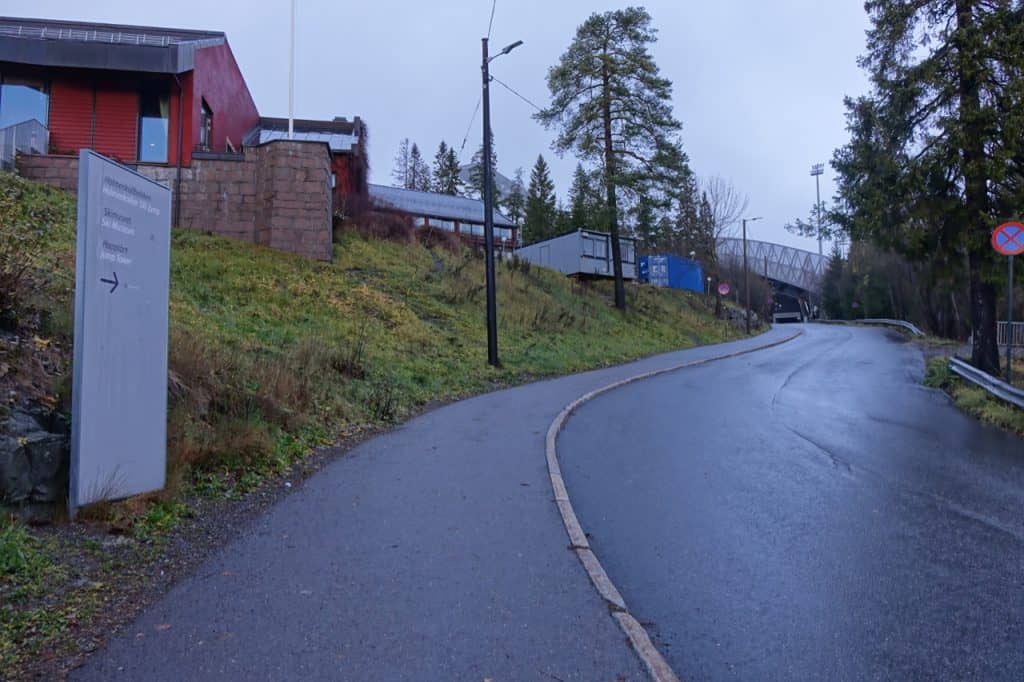 It's fair to say I was sweating a bit by the time I finally arrived at the right place!
Holmenkollen has played a major part in Norwegian skiing for over 100 years and a ski jump in the area has been hosting competitions since 1892. The jump that's currently there opened in 2010 though and is apparently the only one in the world that's made out of steel. Its start point is 64 metres above ground, while the jump itself is situated 425 metres above sea level. And I was going right to the top!
I'd never been to a ski jump before – let alone seen one, so was looking forward to getting up there and hopefully getting a good view of the city.
There's a plaza which is about halfway down the jump – and that's where I'd arrived. I wandered over to get my first glimpse of the jump and the stadium which surrounds its bottom section.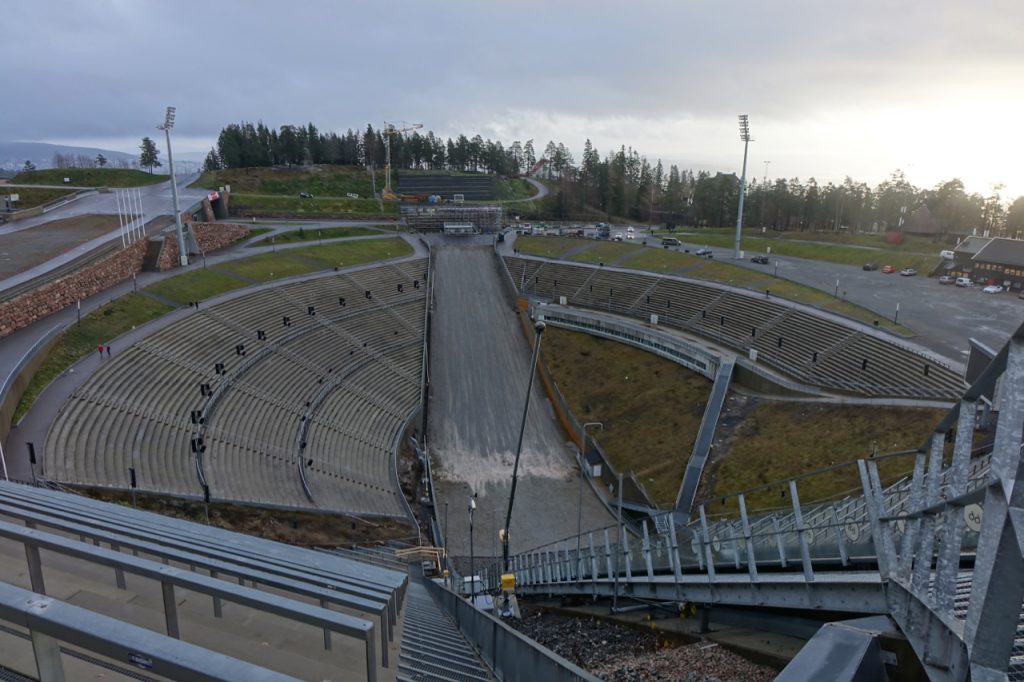 Elsewhere on the plaza was a ski simulator which I didn't bother with, and a souvenir shop which was closed for winter. A flight of stairs brought you to the Holmenkollen Ski Museum – nestled right underneath the jump.
Walking into the warmth, I paid my 140 Krone entrance fee (around £12.90) which gave me access to not only the top of the jump tower but the museum too. (You can't just buy access to the platform at the top of the jump.)
The museum was ok… but it did just feel like a precursor to the bit everyone really wants to see. There were exhibitions on the history of skiing showing old skis and so on and explaining how the sport developed.
There was a model of the ski jump and a fairly big section on weather and climate change. That included a Norwegian weather forecast playing on a loop, but I couldn't work out whether it was a genuine old one or a comedy sketch. 🤔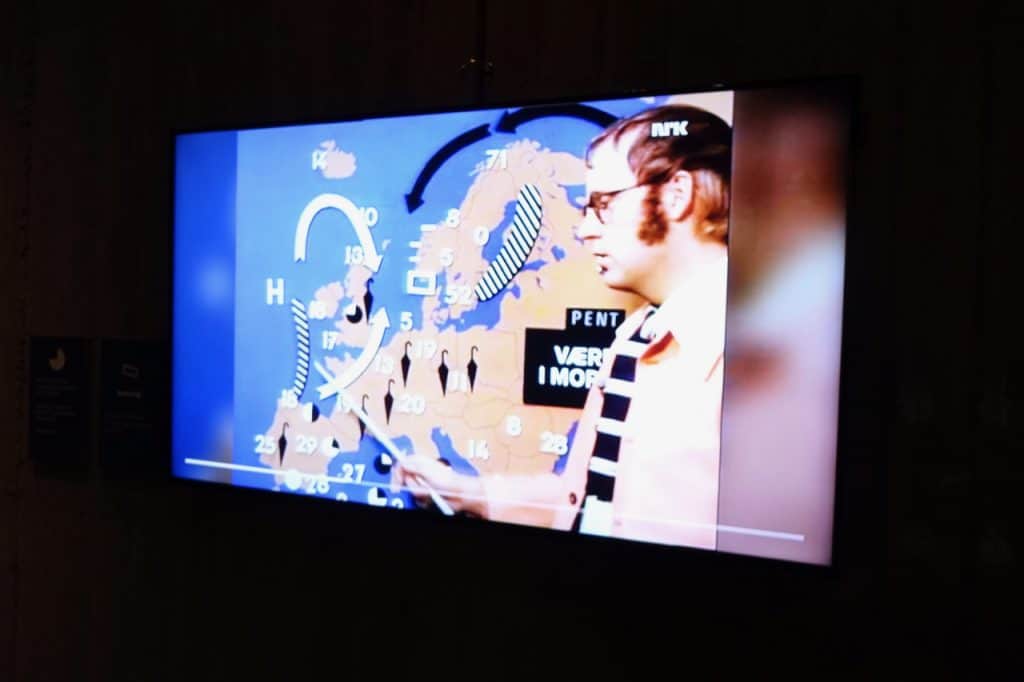 There was something weird about it! Next to that was an original wooden cube that displayed weather maps and was once used in Norwegian tv forecasts.
I made my way around the museum pretty quickly – having only had one fairly disastrous attempt at skiing and a slightly better go at snowboarding in my life, I wasn't too interested. I'm sure it would be neat if you were a skiing fan though.
After a quick trip to the loo, I joined the very short queue for the lifts up to the top of the jump…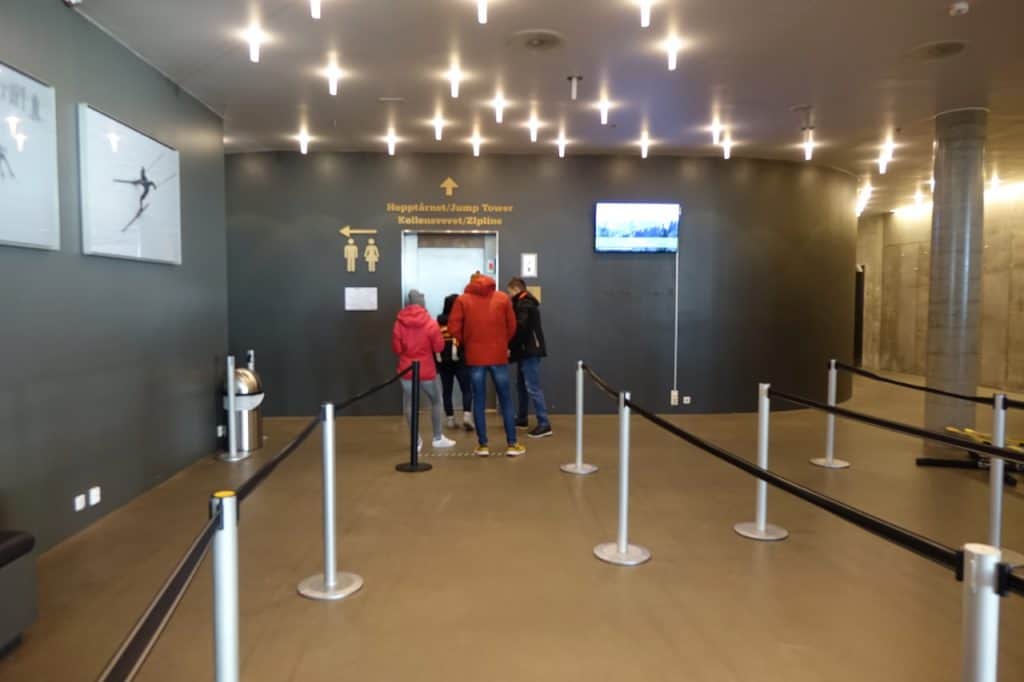 ..and soon we were on our way. The lift had a window in it which made you appreciate just how high off the ground you were.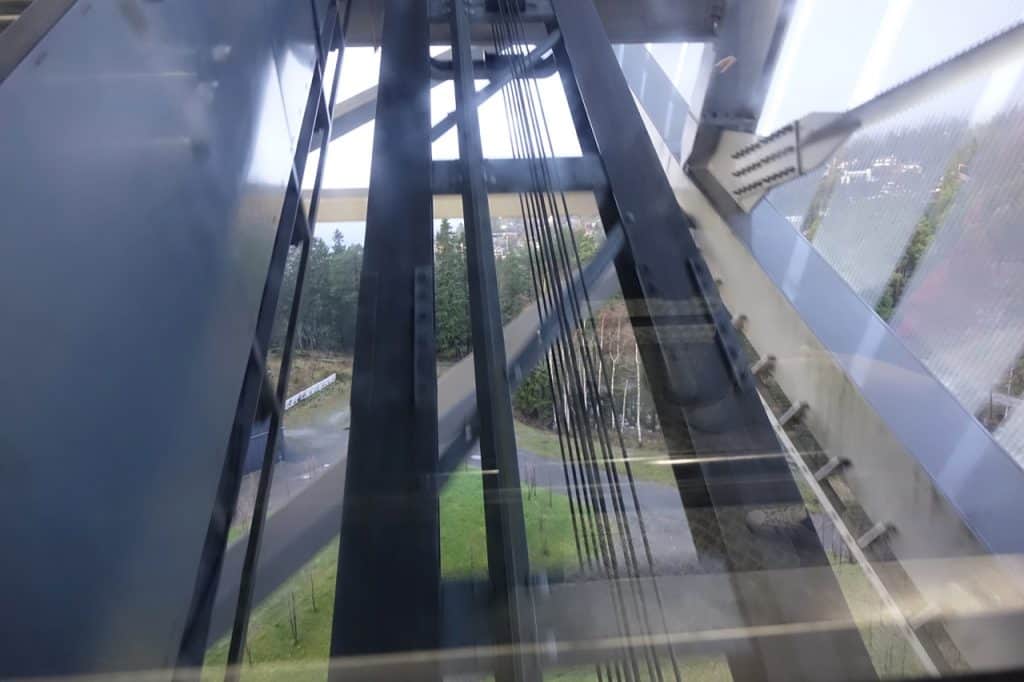 Emerging out of the lift, there was a small section with angled windows which gave you a view over a hillside dotted with houses.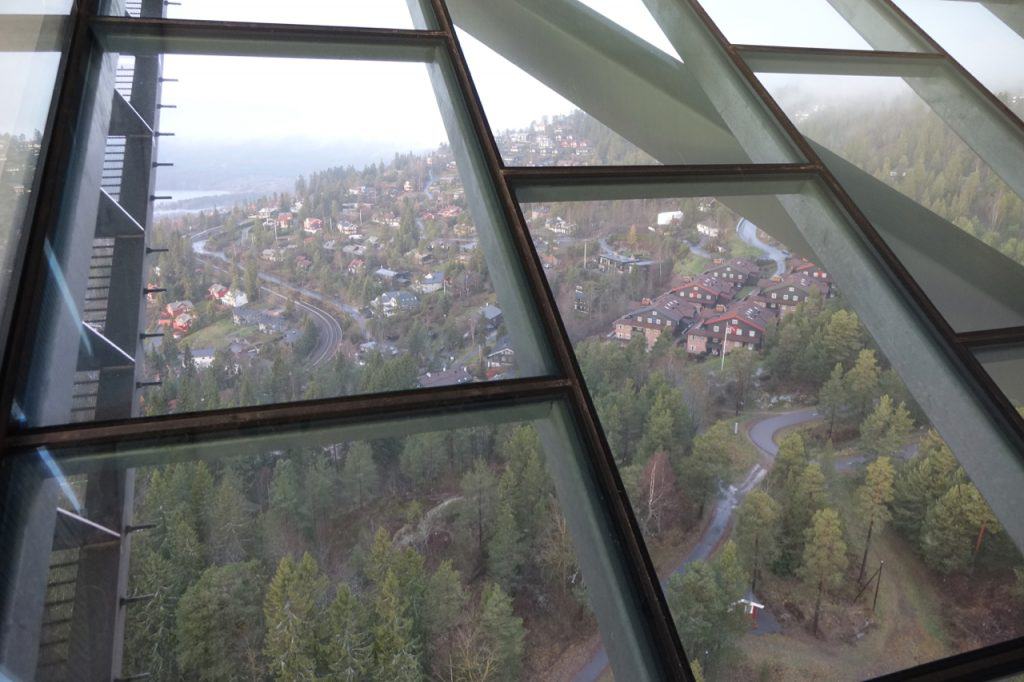 Through a locked glass door, you could also see a man working away. I think you'd need to have a good head for heights to do that! He wasn't even wearing a harness! Not that I could see anyway.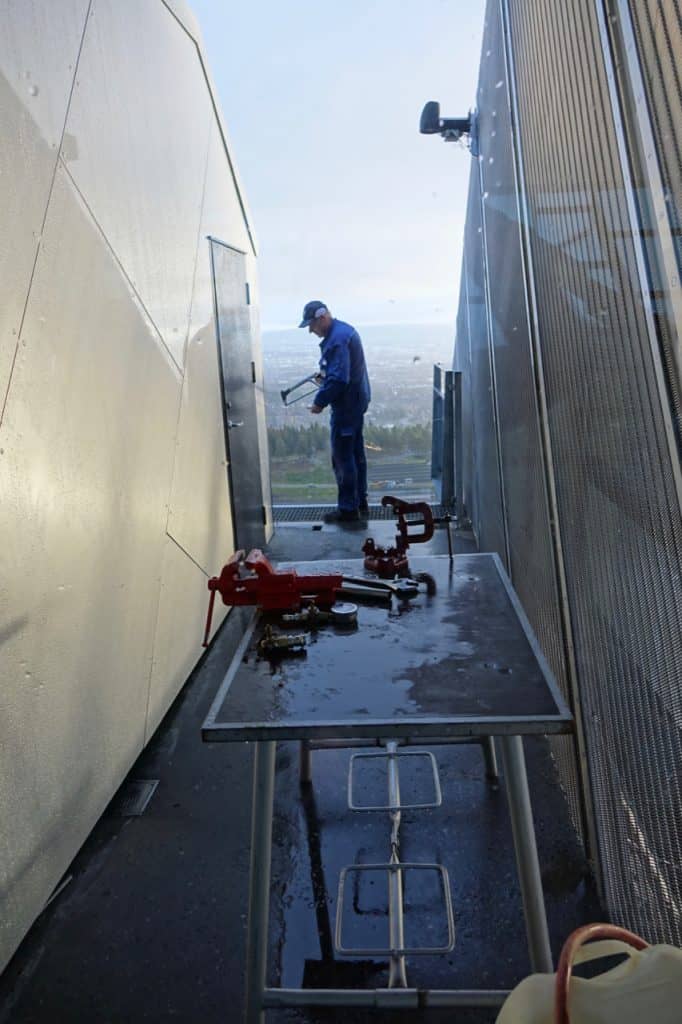 What I suspect he may have been working on is an activity that's open from April – October. You can take a 361-metre long zip-line trip down from the top of the jump. I think I would have actually done it if I'd been there the previous month, but I was slightly relieved it was closed. Not because of the fear factor, but because of the price – one trip down costs 600 Krone – that's £55! I'm not sure it would be worth that. Well maybe. Actually, I probably would have paid that just to be able to say I'd done it!
Around the other side from where the man was working, a door led outside to a small balcony overlooking the jump. I stood for a while just trying to imagine what it would be like pushing off and hurtling down it. I couldn't really!
Turning around, I took a short flight of stairs up to the platform at the very top. It was bare apart from a Norwegian flag on a pole and a metal podium numbered 1,2,3 – presumably just there to allow tourists to pose for pictures?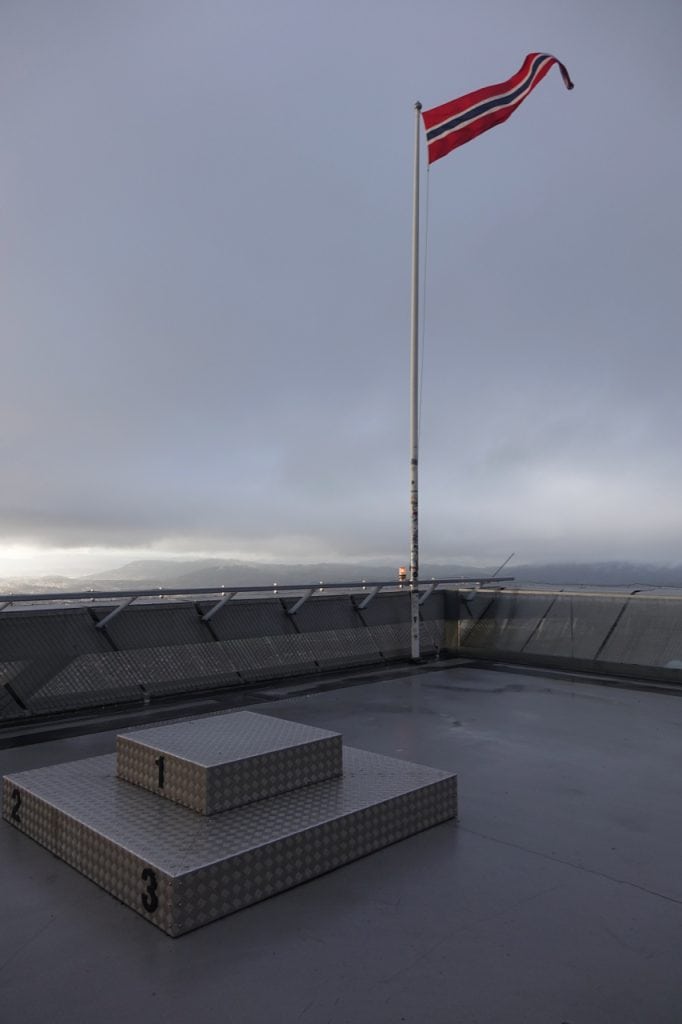 Walking around, I took a look over the edge, but it was actually pretty hard to get a good look at the city. The weather was kind of hazy, and as Oslo's made up of mostly low-level buildings, it all just looked a bit flat and grey.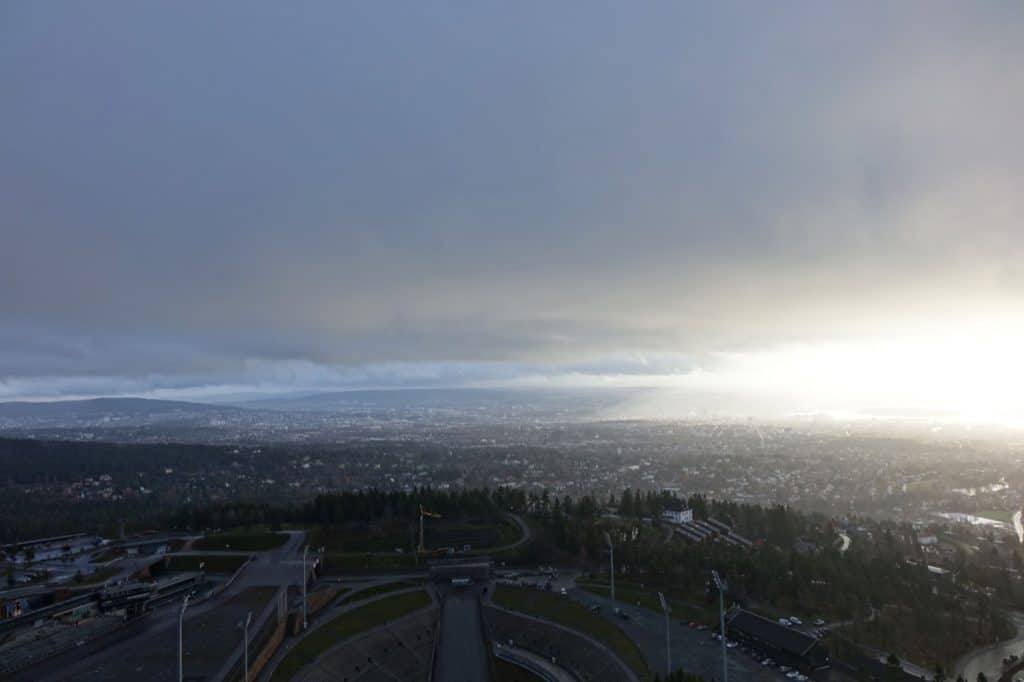 There were no signs or anything either to tell you what you were looking at. You did get a good view of the fjords dotted around the city though.
After having a good look around all sides of the platform, I headed back downstairs to the small walkway and grabbed a couple more photos of the jump with Oslo in the background.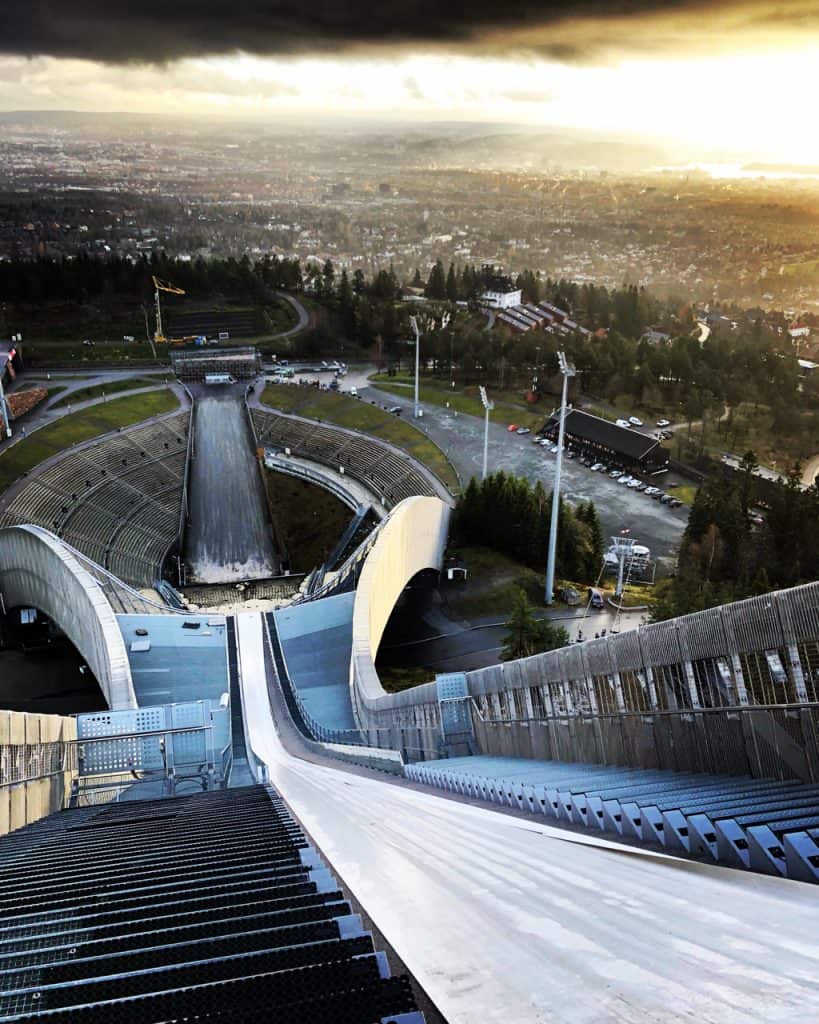 I took the lift back down to the museum, and after buying a couple of postcards in the large museum shop, got some final photos from ground level. It's a pretty striking structure.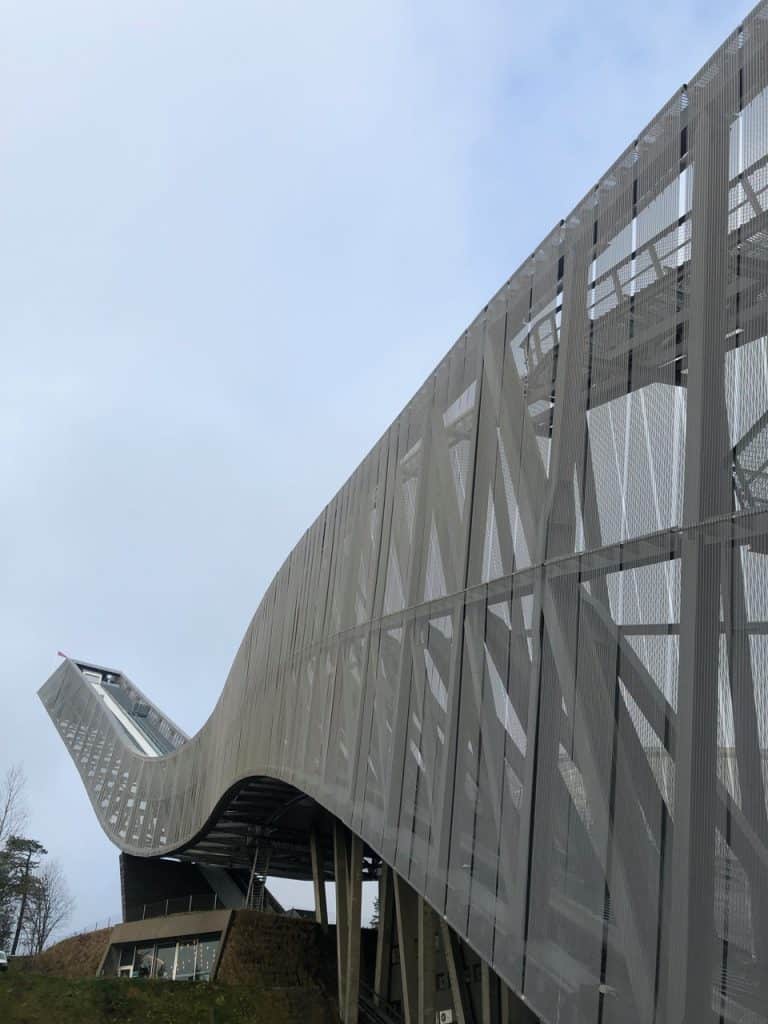 I was glad I'd made the trip out to Holmenkollen, as it's definitely worth a visit, but I suspect I was there at the wrong time of year. During the summer I'd probably have got a better view, while if I'd visited in the depths of winter everything would have been blanketed with snow. Still, now I can check a trip to a ski jump off a list of things I've done!
I was very relieved my trip back to the metro station was all downhill.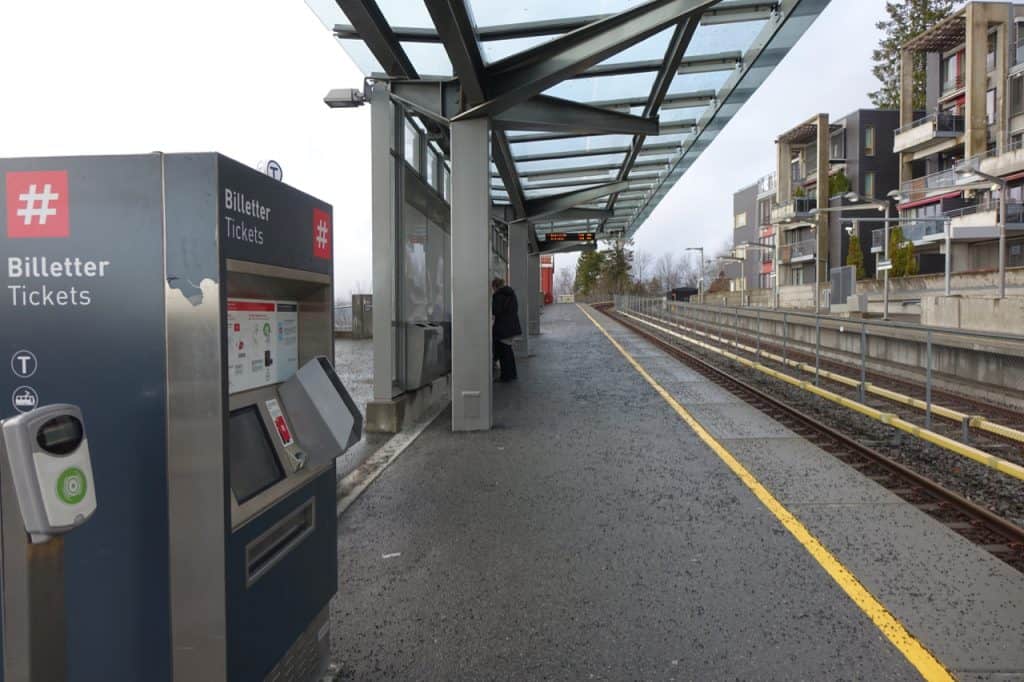 After a quick call back home, I didn't have long to wait before the train turned up and I was heading back into the centre of the city.
A quick shopping detour
My plan for the rest of the day was based around a brilliant little map/guide I'd picked up in the tourist information office on my second day in the city. Called Use-It, it had a number of different walks mapped out, with interesting and quirky things to look at on the way.
I got off the metro at the Nationaltheatret stop.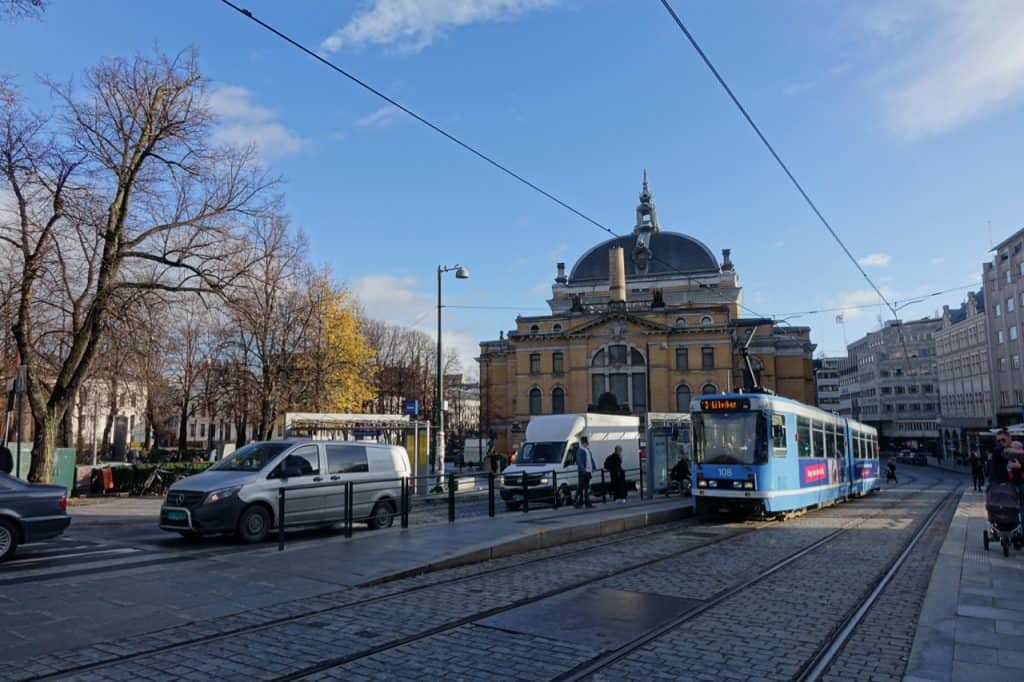 Catching a glimpse of the Illums Bolighus branch I'd seen when I'd arrived at the same station on my first day, I decided to take a quick look inside.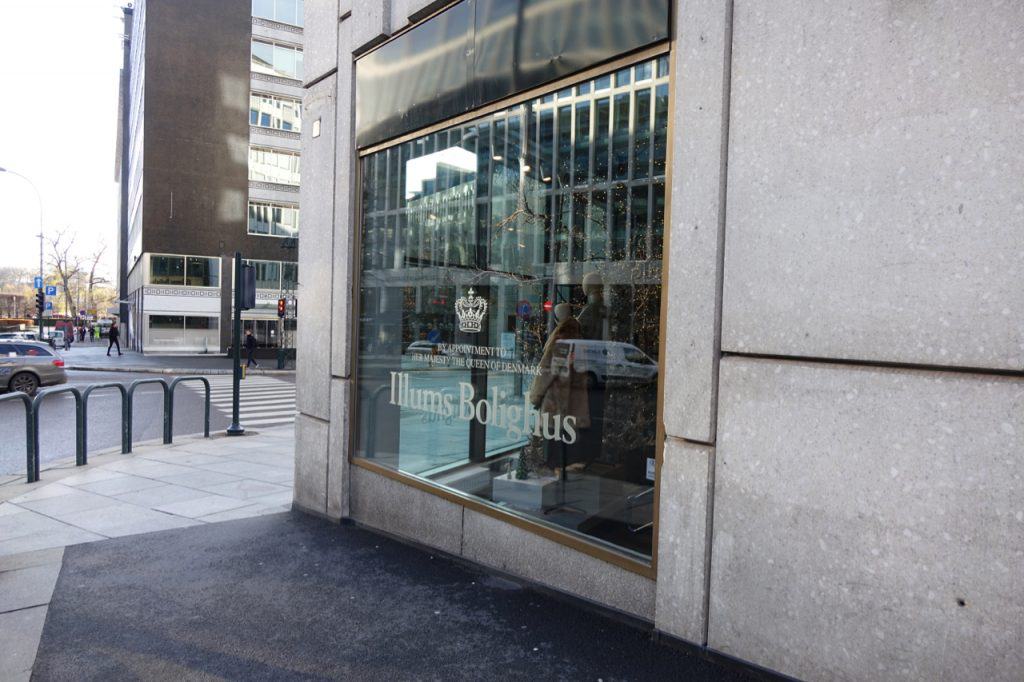 I wish we had a branch in the UK – it's full of really nice homeware, and cool clothes and accessories too. Everything is just very Scandinavian and stylish.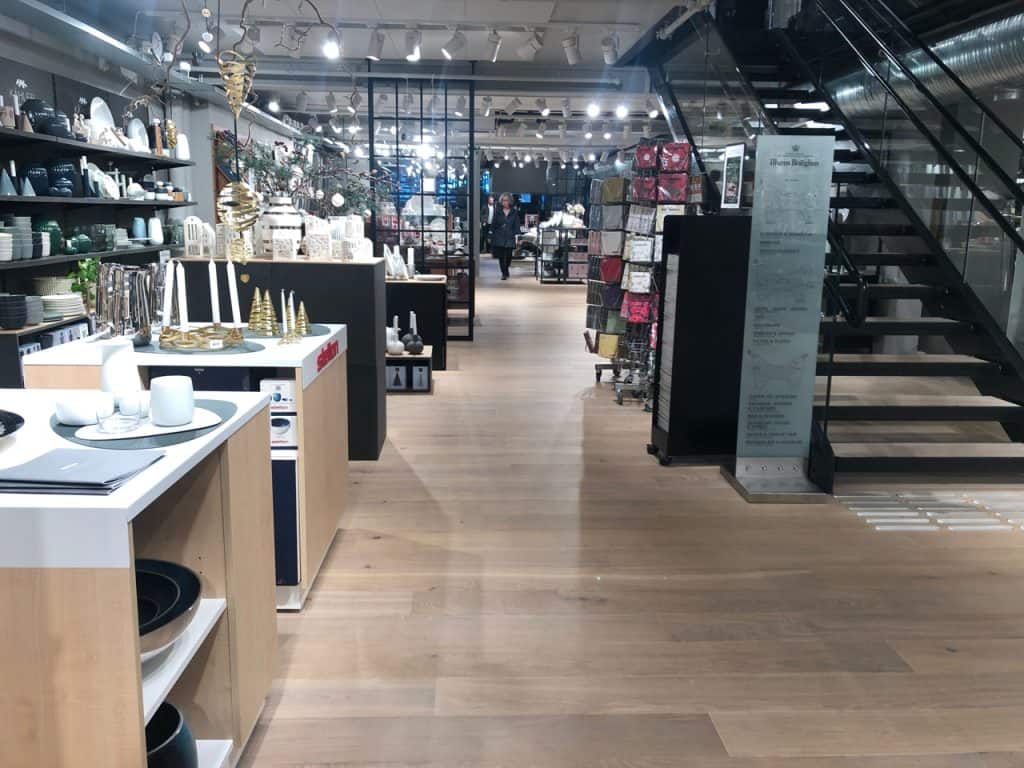 After trying a couple of different versions on, I ended up buying a Rains raincoat, which I thought should come in handy in Belfast – the only place I know where the sky can be blue but it's lashing with rain at the same time.
With my purchase stored in my bag, I unfolded my Use-It guide and set off on the map's West Walk – into the posh part of town apparently!
A walk around Oslo's West side
My walk began with a stroll up to Oslo's Royal Palace – the residence of King Harald V and Queen Sonja. Unfortunately, tours only run in the summer, so I had to make do with just gazing at the building's impressive exterior.
That – like the fortress I'd visited the day before – was surrounded by young, slightly bored looking guards. My guide explained they were teenagers doing their compulsory military service, which still exists in Norway.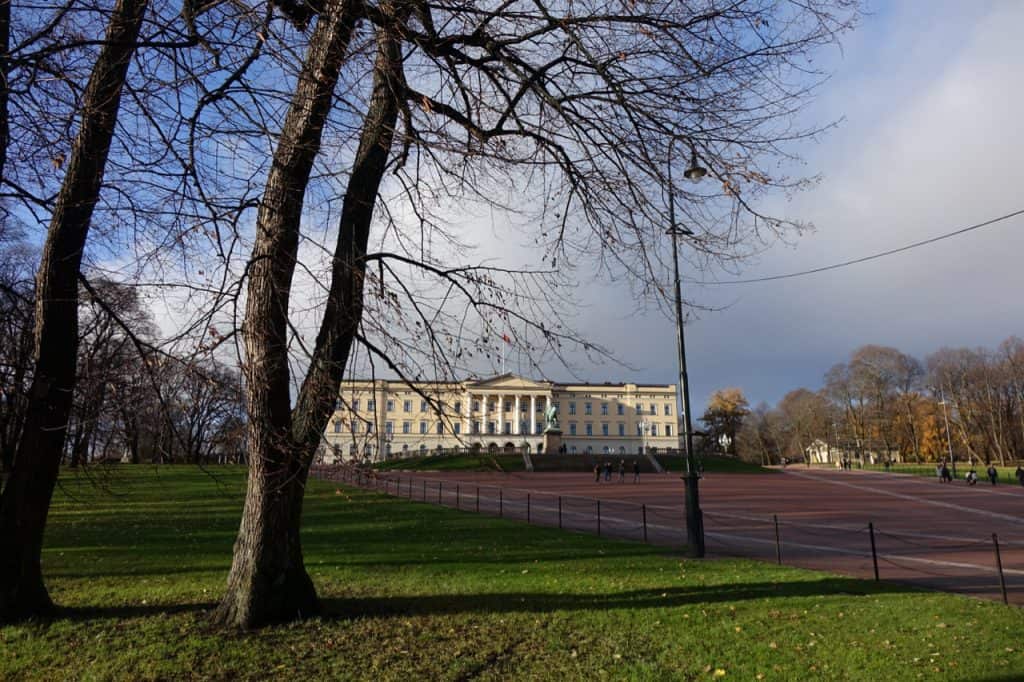 Turning around, I was able to see down Karl Johans Gate – the main thoroughfare in the city – which I think shows just how compact the centre of Oslo is.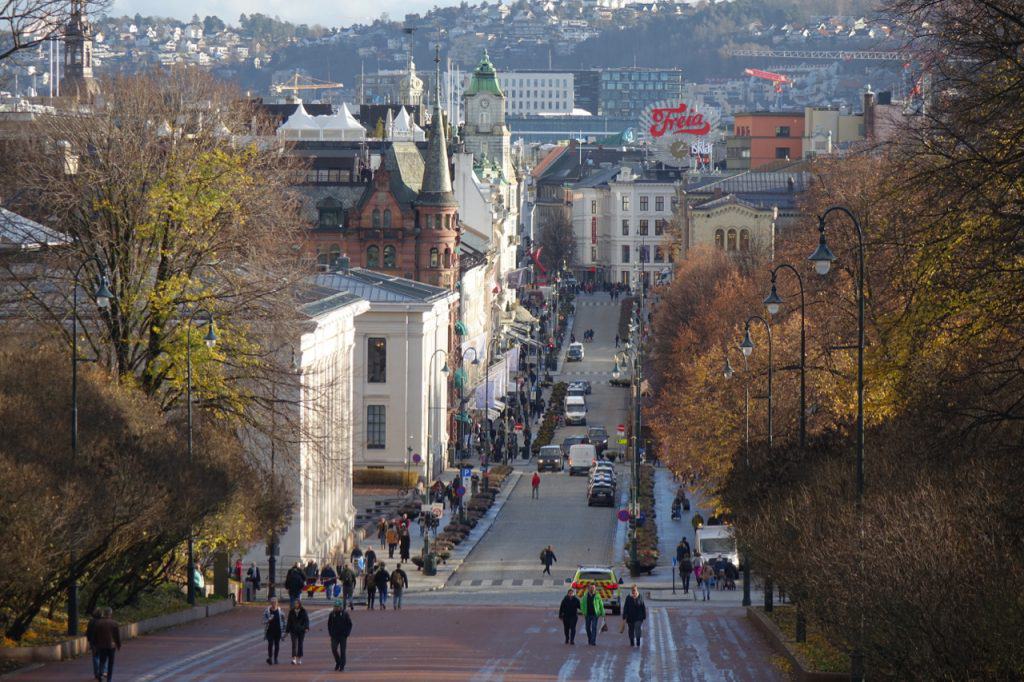 My map directed me behind the palace to walk through its park, but for the life of me I couldn't see how to get behind the palace building. So I ended up leaving the park and walking along the street. One of the first buildings I saw was this very sinister looking one.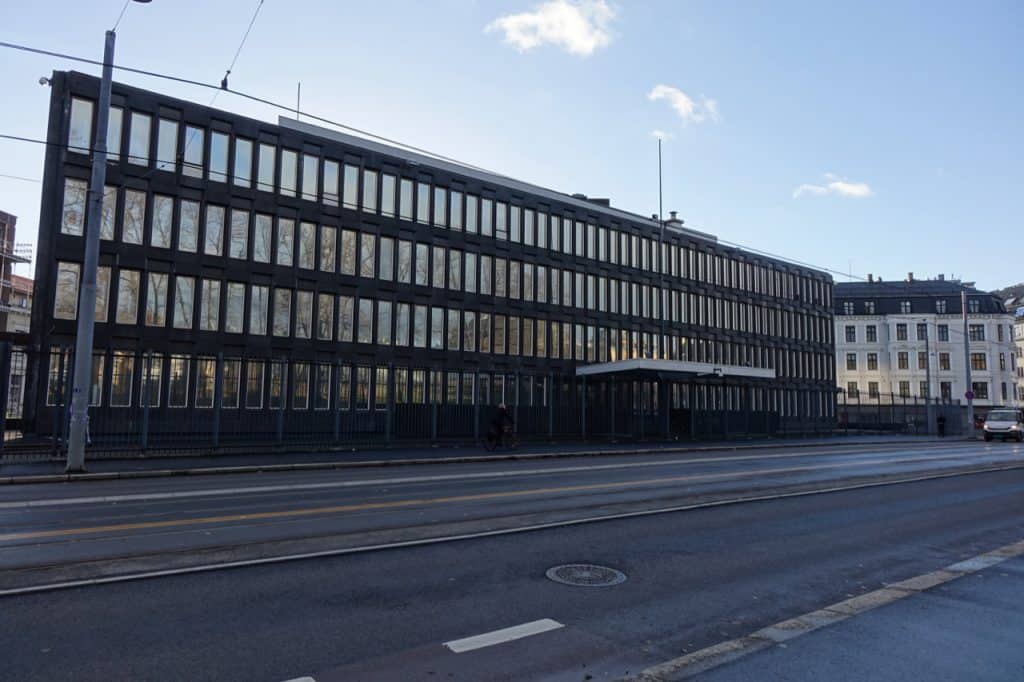 My imagination working overtime, I imagined it to be the headquarters of the Norwegian Secret Service – there was nothing I could see to say what the building actually was. But the mystery is over! I just googled it, and it appears the building was the United States Embassy up until the end of last year. It has now moved elsewhere in the city.

Across the road from that lay the Nobel Institute's headquarters.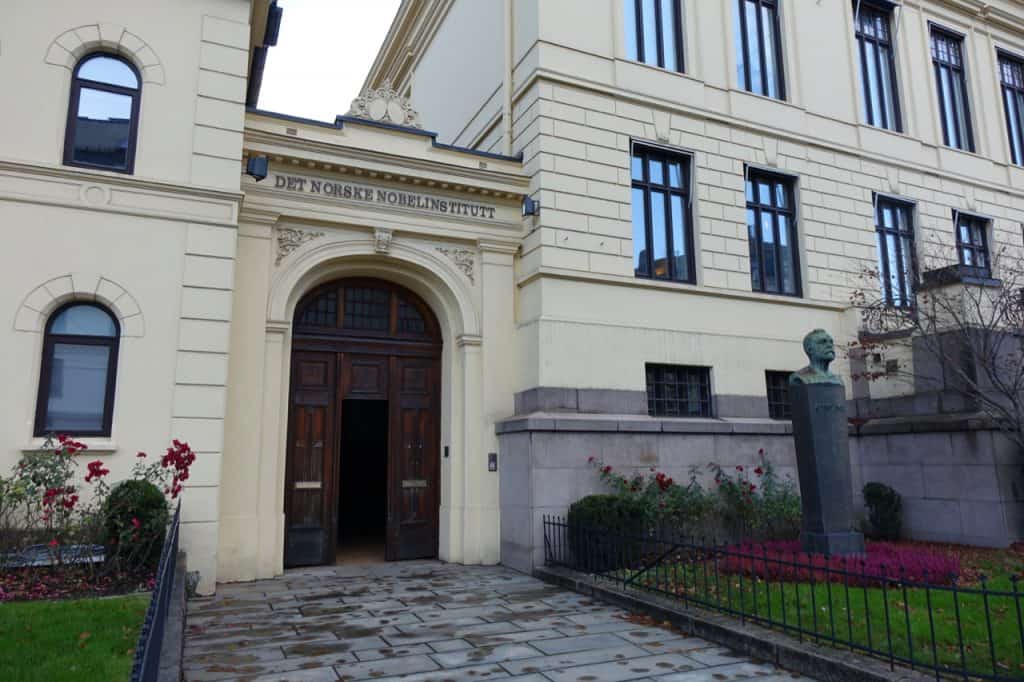 A short stroll around the corner brought me to number 18 in a street called Inkognitogata. Which happens to be the official residence of Erna Solberg – the Norwegian Prime Minister. I was surprised at how low key the building was. It was big, yes, but there was no-one around at all that I could see. No policemen or soldiers, nada. Maybe Erna wasn't at home that day.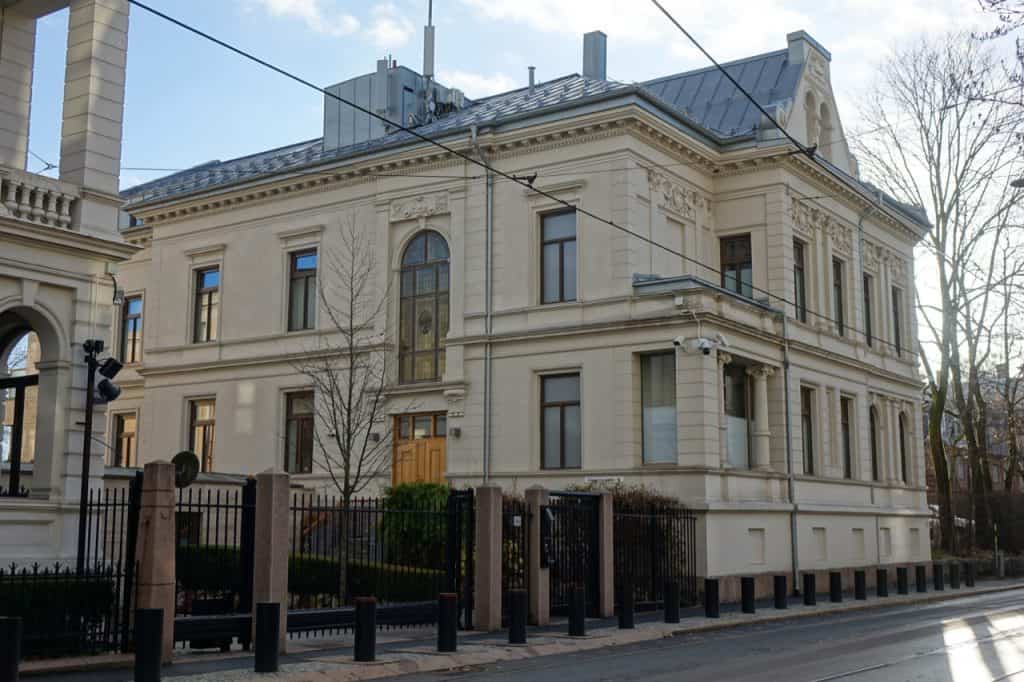 I was aware of cameras tracking my move as I walked past though. I didn't wave or anything in case people came out to quiz me.
I wasn't hungry enough for lunch yet but decided to take a break – stepping inside a place called Åpent Bakeri for a coffee.
It lay just around the corner from Inkognitogata. I sat and finished writing my postcards while sipping on an americano in the homely spot.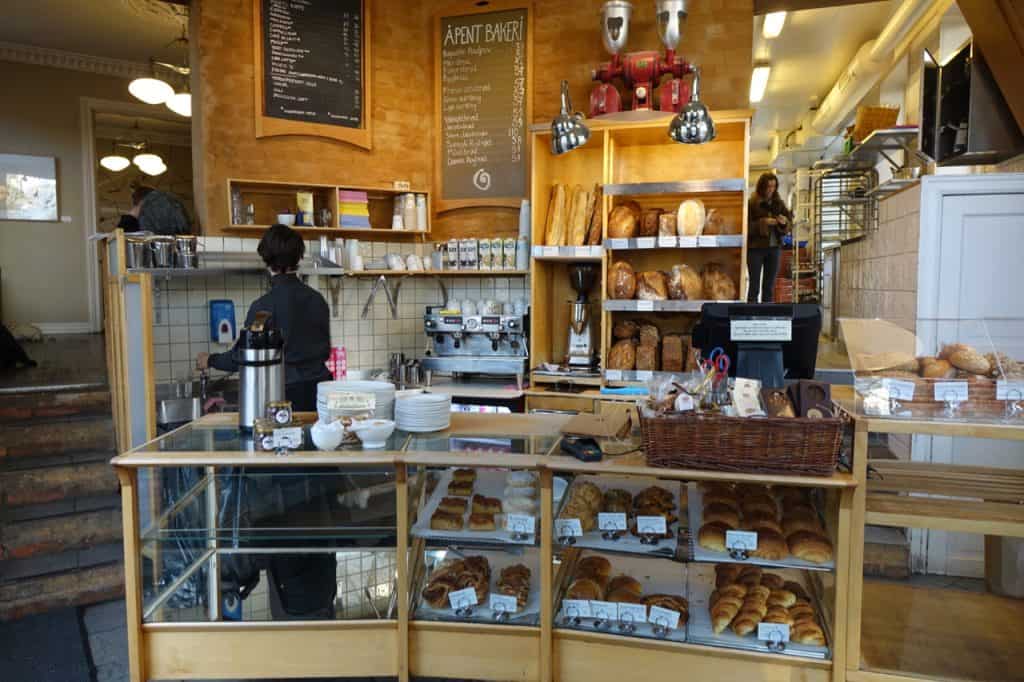 Back outside, I soon found myself walking through a residential area with cars and houses lining the streets. It was nice and relaxing just wandering and looking at stuff – not feeling under any pressure to be anywhere.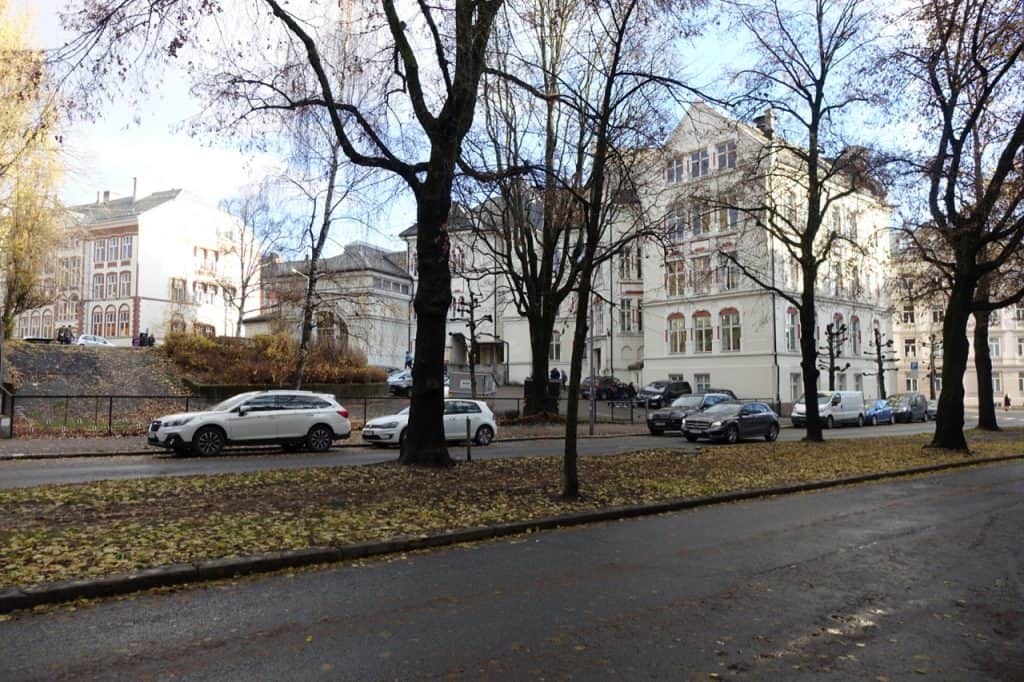 Carrying on up one street, I saw a little figure crouched on the pavement. As I got closer I saw it was a little girl, with what looked like a walking stick lying by her side. I was a bit worried she'd had a fall or something as she didn't really seem to be moving and her head was bowed towards the pavement. So I stopped as I passed and asked: "you ok?". She just lifted her head up and said "Yes!" so I carried on. My good deed was done for the day – she must have just been spellbound by a caterpillar or some other slow-moving creature on the ground!
It was only about twenty past two by now, but already the sun seemed to be sinking in the sky – casting a lovely warm glow on the buildings as I continued walking down the wide streets.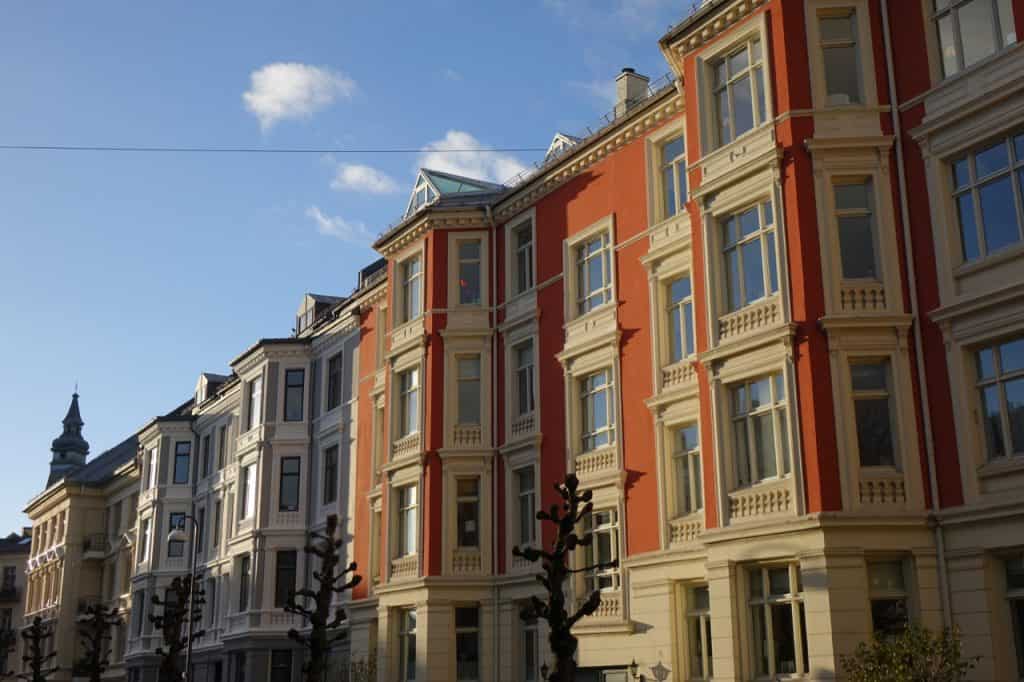 The map suggested I took a quick detour down one road which brought me to a rather unusual memorial – one for a tree. Apparently it had grown around and through a metal fence before being cut down, but part of its trunk is still there today – along with a little plaque that reads "Her sto en gang eat tre" or "Here once stood a tree".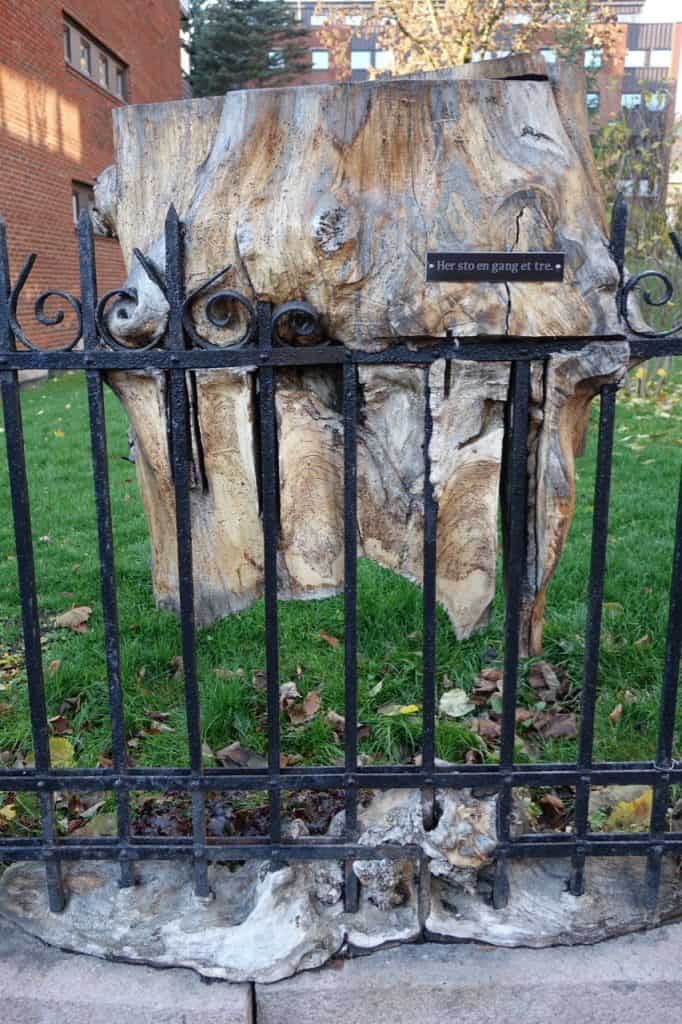 Heading back up the street and admiring more tidy looking, beautiful buildings….
I rounded the corner and arrived at Frogner Park. It's the biggest park in Oslo's city centre, and it was looking gorgeous, despite the cold.
It's home to a couple of different attractions – like an outdoor swimming pool complex (which I would have tried if it was open in the winter. And if it was heated.) But the park's main pull for tourists is Vigeland Sculpture Park. It's the world's largest sculpture park dedicated to a single artist – in this case, Gustav Vigeland.
Gustav didn't live to see the park completed in 1949, but today 212 of his works are situated there.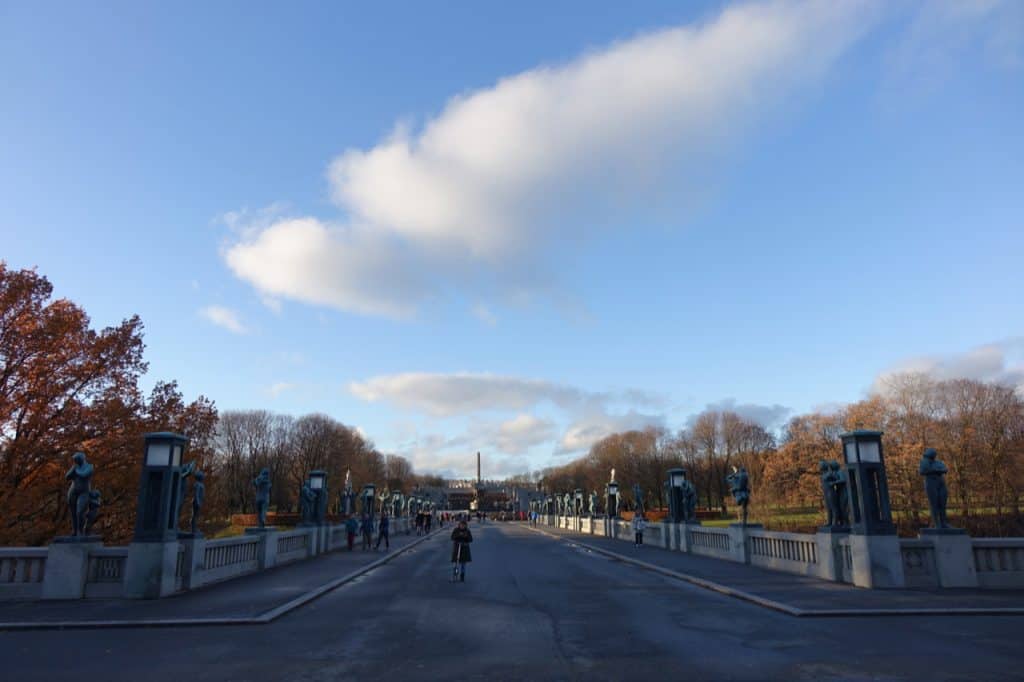 I walked across the park's bridge, admiring the statues all depicting men, women and children in various poses.
I also managed eventually to squeeze past the other tourists to get an up-close look at arguably the most famous statue in the park – the angry baby! He's depicted on the front of a lot of Oslo postcards.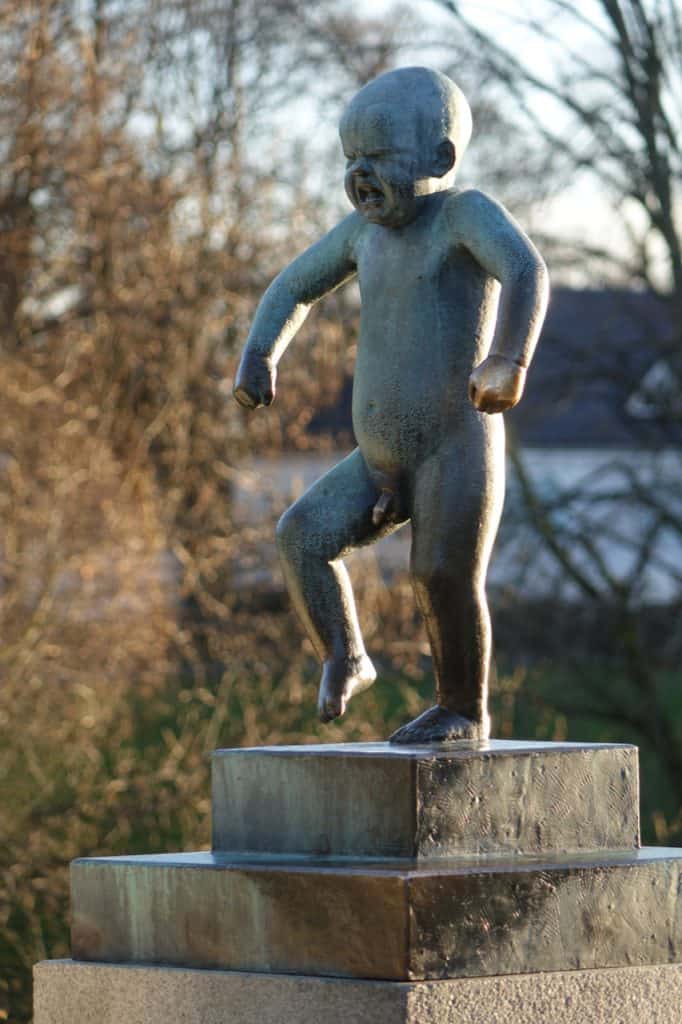 While there was much more to see in the park, at this point I decided I just didn't have time to see anything else there. Or continue on the walk around this part of town. I was keen to get back to Grünerløkka – the hip part of the city – before it got dark and the shops started to close, as had been the case when I'd been to it a couple of days earlier. A look at my guide and map confirmed there wasn't anything else nearby I was fussed about seeing.
Google Maps helpfully directed me towards a tram stop, situated just along from Frogner Park's ornate art-deco looking entrance.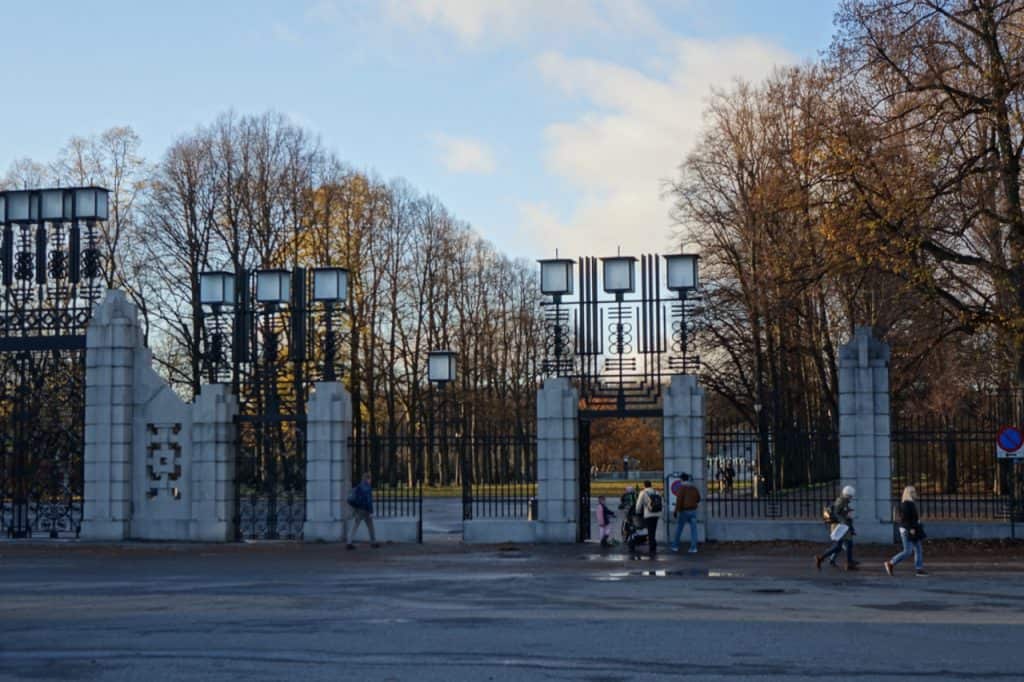 After a short wait, I was soon on the tram, heading towards a spot of lunch.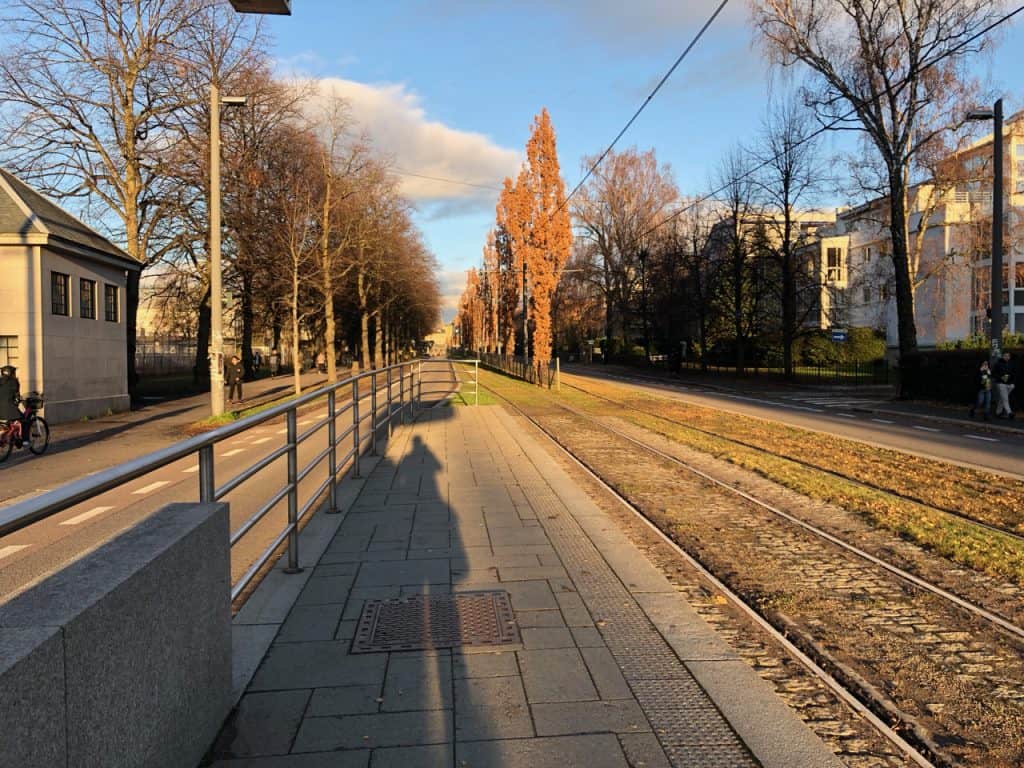 I'd spotted a great looking place when I'd been in that part of the city earlier, and it just the kind of food I was in the mood for.
Lunch with a Japanese flavour
Less than ten minutes after getting off the tram, I walked into Koie Ramen. After walking around most of the day – and enduring that steep uphill climb in the morning, I could think of nothing better than a steaming hot bowl of noodles and broth. And pork. And egg.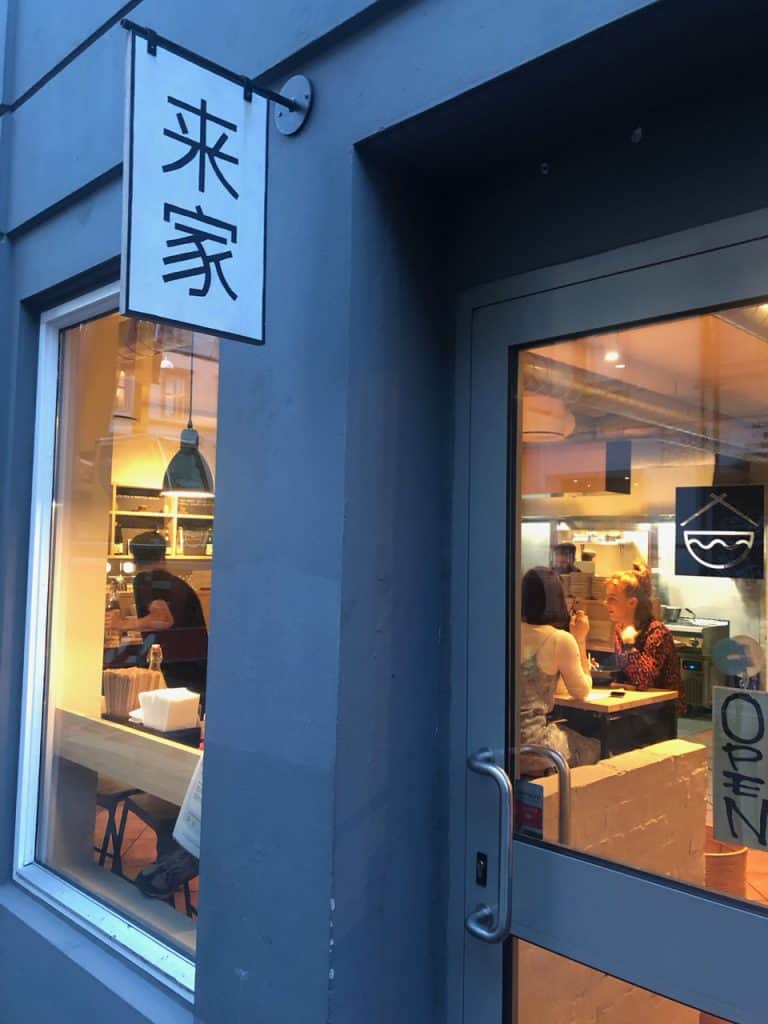 Koie's apparently regarded as one of the best ramen joints in Oslo, but perhaps because it was mid-afternoon when I arrived, it was pretty quiet. The extremely enthusiastic and friendly waiter seated me immediately at the window, and although I fancied sitting at one of the long tables, I decided just to stay put.
I ordered the Tonkotsu Ramen – pork broth with pork belly, egg, spring onion, corn and menma (fermented bamboo shoots).
It wasn't too long before it turned up!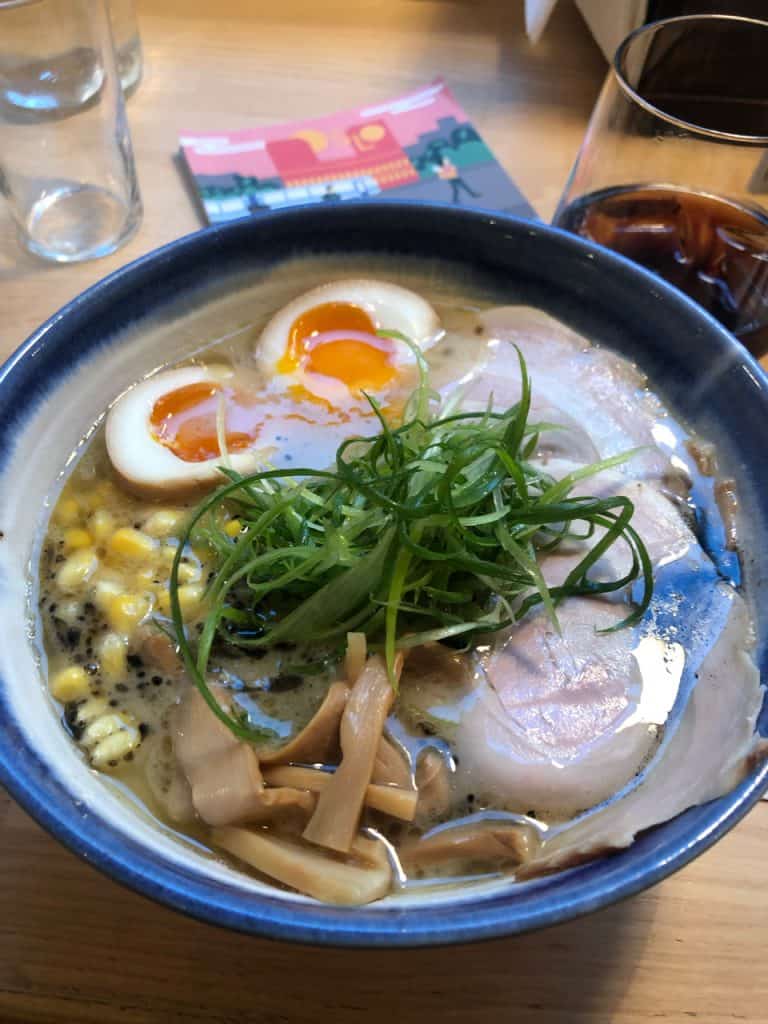 It was pretty as a picture – and delicious too. I grabbed my chopsticks and tucked in, flicking through my guidebook as I slurped my way through the dish.
My ramen – along with a bottle of Diet Coke – came to 205 Krone – which on the day was £18.85. Considering it was a very casual place, that does seem expensive. But for Norway – I've got to say that is pretty cheap and reasonable!
Strolling and Panting in Grünerløkka
Loosely following another route suggested by my trusty map, I headed into Grünerløkka. Taking a quick detour down to the river, I tried and failed to find a certain (in)famous (maybe NSFW) swan created by some art students, before arriving at Markveien, a long street crammed full of cool little boutiques and cafes.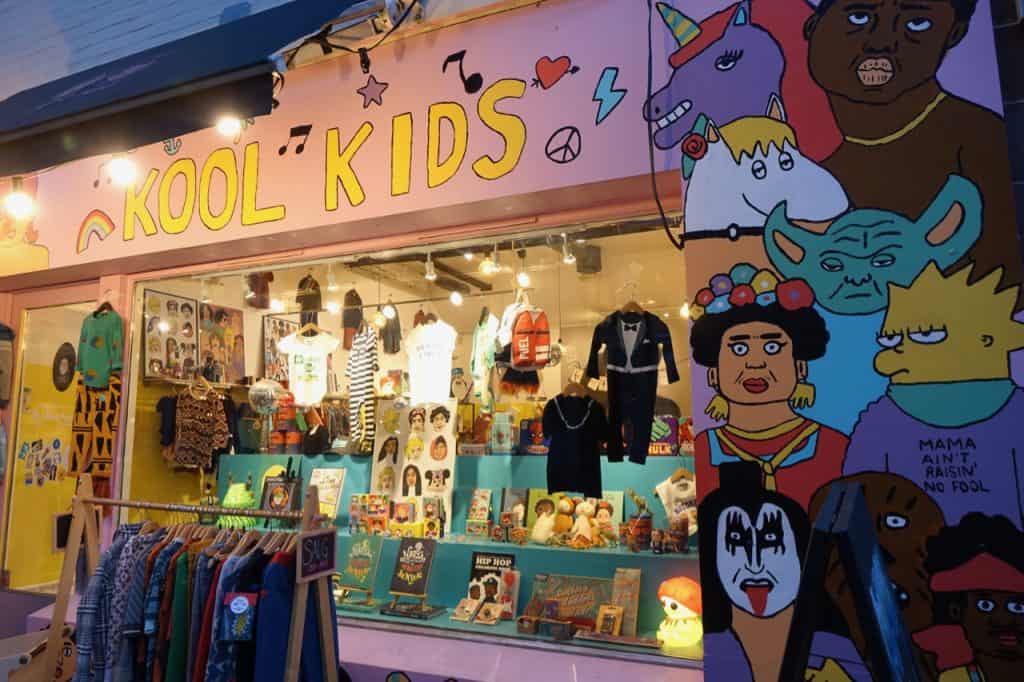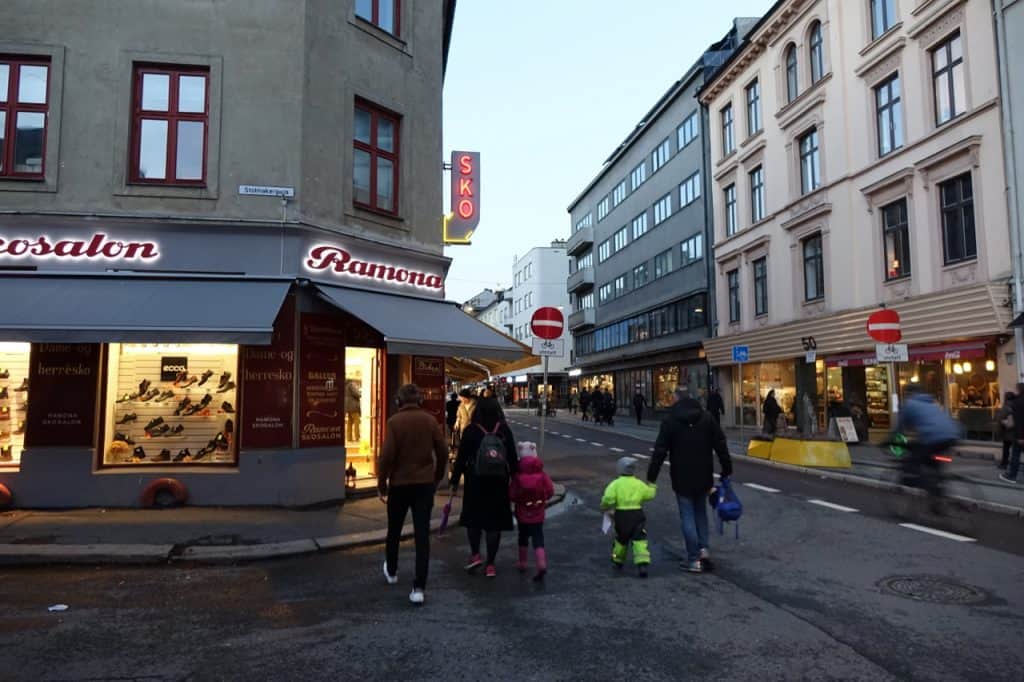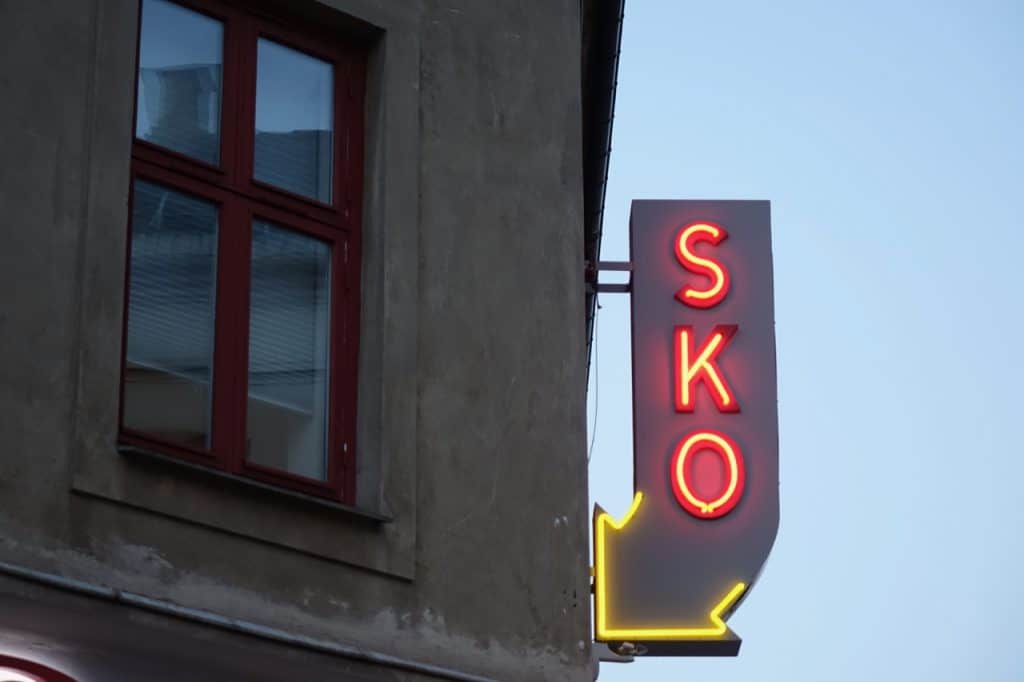 I quickly came across a post office located just above a supermarket, so headed in and joined the long queue (not just a feature of post offices in the UK then!) to get stamps for my postcards.
After dropping them in a post box, I had a quick look in Cos and Weekday but didn't buy anything.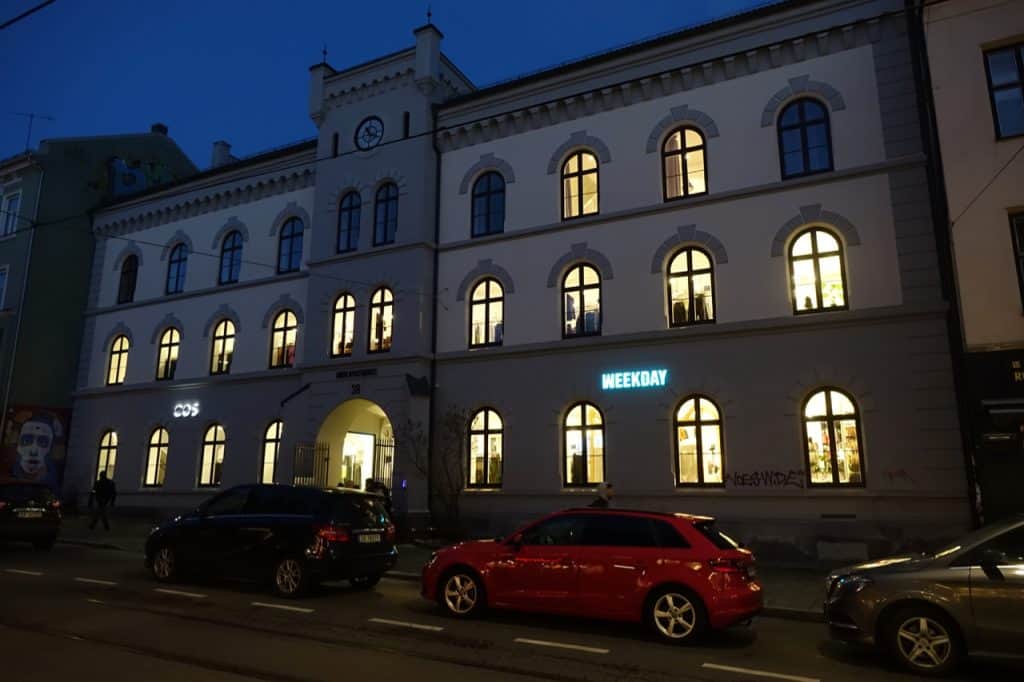 I then came across what looked to be a pretty large supermarket, so decided to have one last look for that elusive bottle of Max burger sauce. They didn't have that, but it wasn't a complete waste of time taking the escalator down to the subterranean store. Because I got to have a go at 'pant'ing! Which I'd been keen to do since arriving in Norway.
How to 'pant' in Norway
For those of you not aware of the term, to 'pant' means to return a drinks bottle or can to a machine for recycling. Commonly found in supermarkets, the machines will then give you your deposit back in the form of a voucher to spend in the store.
Norway has a – get this – 97% rate for recycling bottles. It's high time we had a similar scheme here.
Slightly nervously, I approached the panting machine. Unfortunately, all the instructions were in Norwegian, which I don't speak. I kind of stood gazing at it trying to work it all out when some guy walked in with a big bag full of bottles and cans.
I motioned for him to go first, took a step back and watched carefully. It all seemed pretty straightforward. Once he was finished, I had a go – which yes, I recorded for posterity in the amazing video below!
I pressed the green button to get my voucher after depositing my bottle, but there was one with a red cross on a white background too. That, it turns out, will for NOK 0,50, enter you into a Norwegian recycling lottery which benefits the Red Cross. What a cool idea! What I don't get is that it says the results of the lottery are communicated on the printout. So it's maybe like an instant win kind of thing? It's a great idea anyway.
I unfortunately didn't have enough bottles or cans to get a 'lotteri' ticket – but flushed with success, I decided to look around the supermarket to see what I could spend my 2 krone voucher on.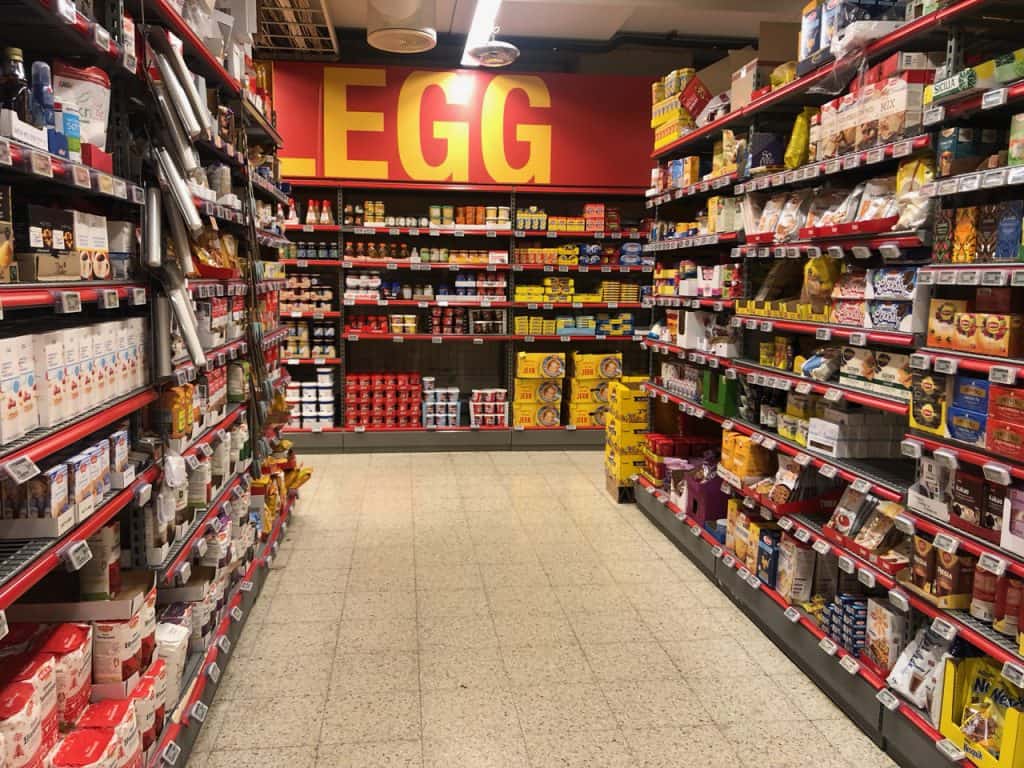 There was no Max burger sauce unfortunately but there were plenty of other intriguing looking goods. What on earth was this I wondered – little pots of something with beaming kids' faces on them?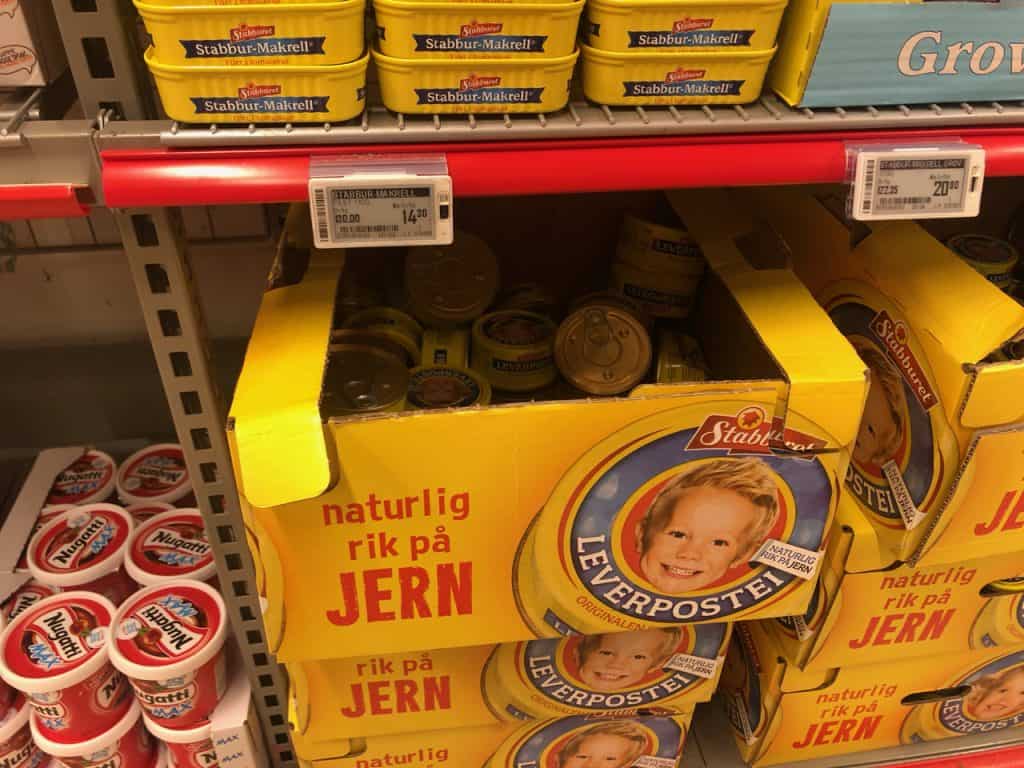 The answer? Liver paté. I'm not aware of that ever making any kids smile! Maybe in Norway…. In the end, I just bought a soft drink and used my voucher to get a bit of money off that.
Back outside, yet again, darkness had fallen. I walked around the streets a bit more, stumbling across cool looking cafes and restaurants.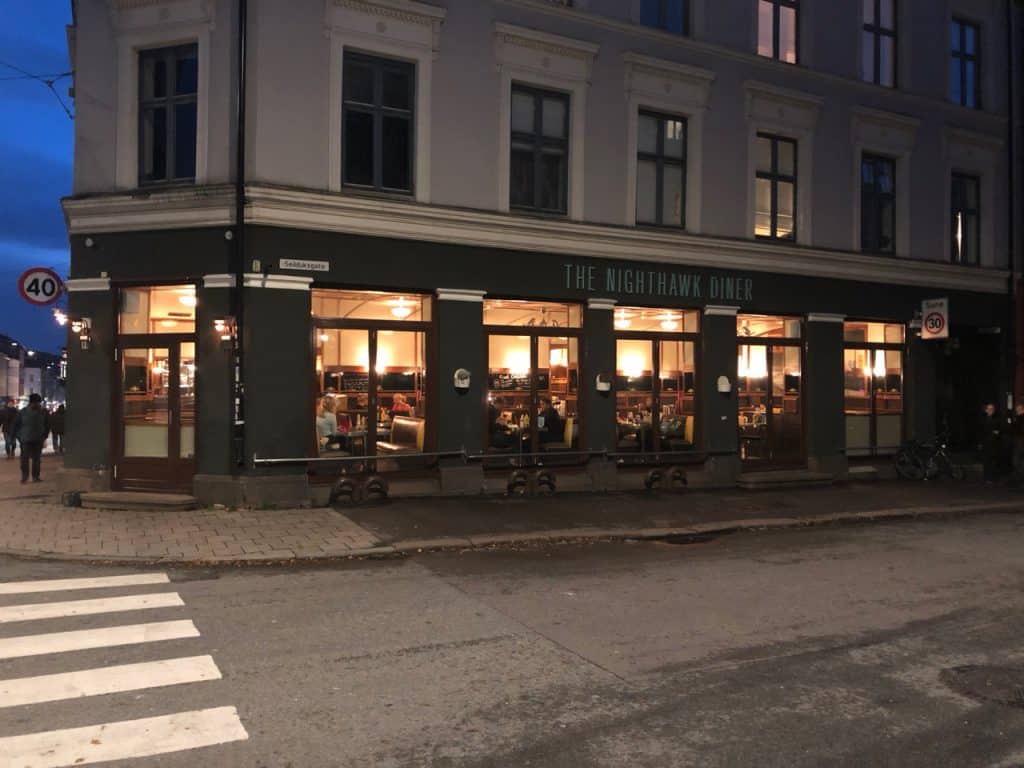 A last look around the city centre
Feeling I'd seen everything there was to see, I started walking back into town. I had a quick look in another funky homeware shop called Granit which I'd popped into before on a visit to Stockholm and came across the street where I'd changed buses on my way back from my trip to Bygdøy. I'd got the hang of where districts were in Oslo, but obviously hadn't picked up a good street-level knowledge!
As I got closer to the centre of town I encountered a bit of a dodgy square where a small crowd of people seemed to be making some kind of transactions – but that's the only time I'd seen anything like that in the city.
Nearby I also saw this logo for a travel agency which I didn't really get.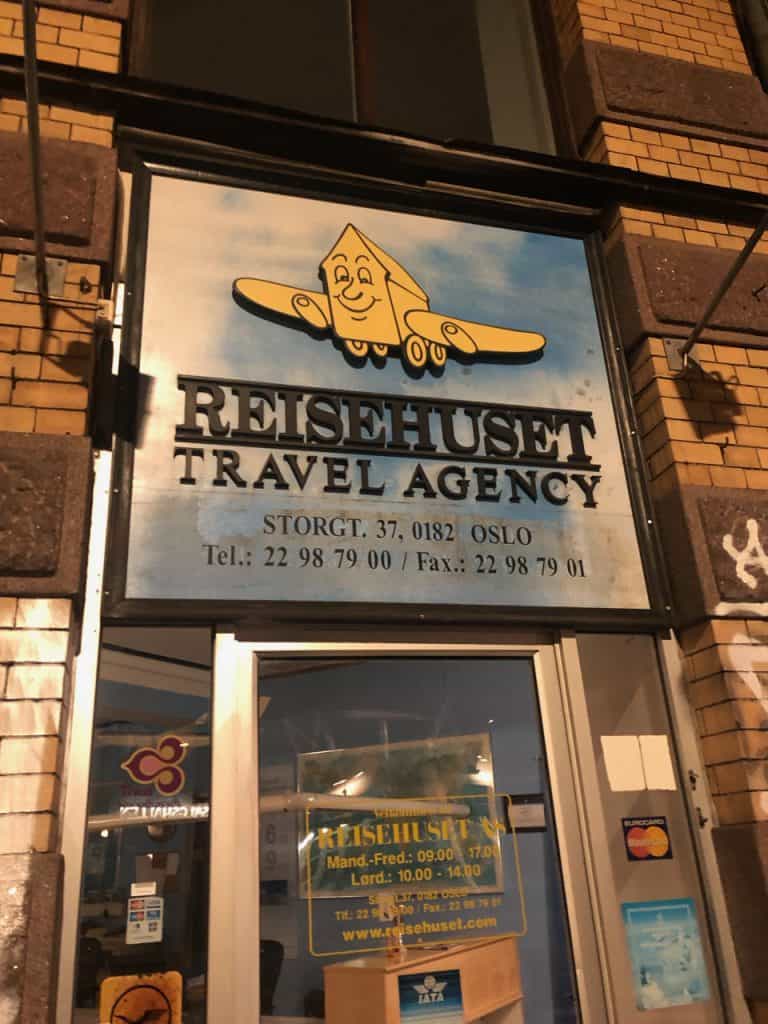 Why would you want to take your house on holiday with you? Unless it was a relocation travel agency maybe? 🤔 Mysteries of the modern world!
I was beginning to flag a bit by now after all my walking about – and was aware I needed to get out to my airport hotel soon if I was to get a decent night's sleep. On the other hand, I wanted my last dinner in town but it hadn't been that long since I'd had lunch. So I decided to kill a bit of time by having one last wander around the city centre.
There's a big shopping centre beside Oslo S – the central railway station – so I wandered in there but ended up just having a quick nosey, as there weren't any shops that appealed to me.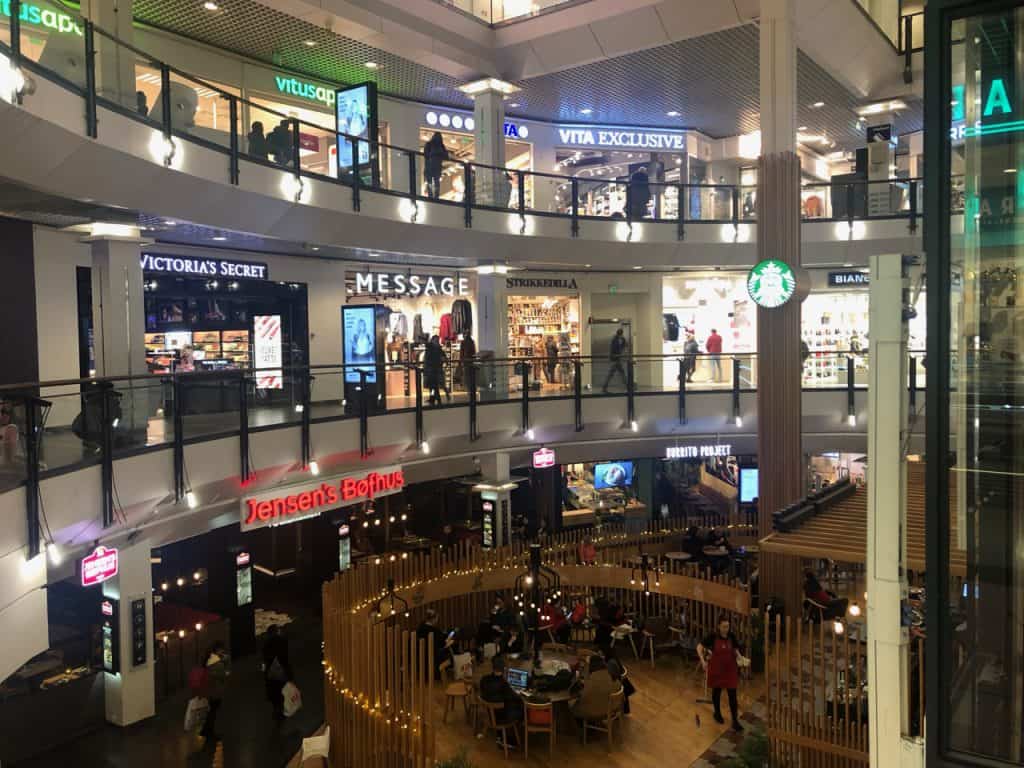 Heading into the centre of town, I decided to explore the side streets off either side of the main shopping street. I had a look in a branch of Samsøe + Samsøe – a clothing shop I'd discovered in Helsinki – before coming across a cool looking theatre.
Just down the street from that was an area which had lots of bollards and car-blocking ramps on the street. I thought it may have been the site of a previous terrorist attack, but googling it, it just seemed to be the location of a number of important government buildings.
Wherever I walked, everything was neat and tidy – and just glimpsing down an alley I'd find a little photogenic street.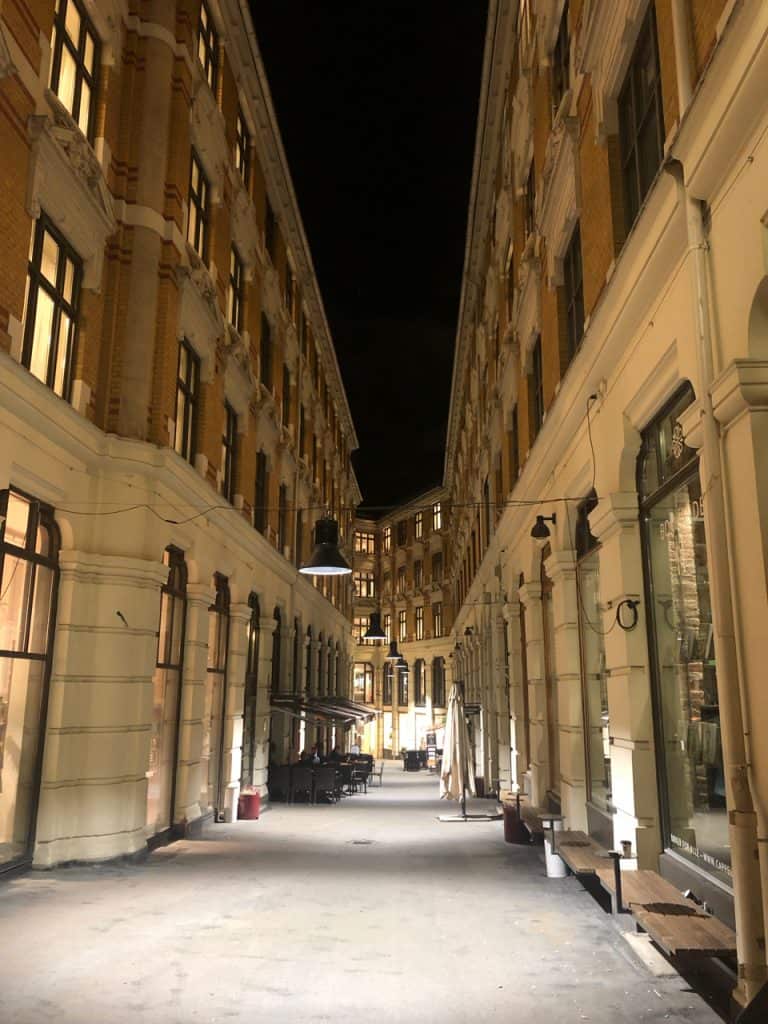 Back on Karl Johans gate, I had a quick look in the Fjällräven store and a wander around the Steen & Strøm department store before deciding to just go for dinner, even though it was only 6.30pm. And there was only one place to go on my last night in Oslo….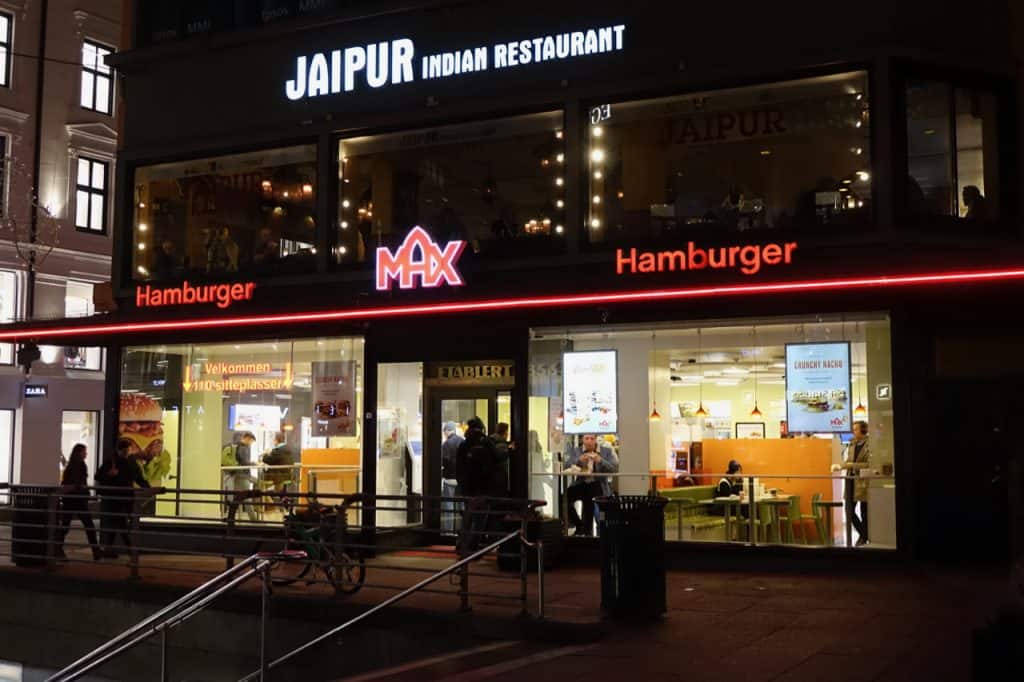 I couldn't resist! I just wanted to experience Max one more time before I left for home. Ordering was quick and easy as usual using one of the kiosks, and soon I was enjoying my burger. I'd been really tempted to go for the Umami Bacon one I'd had the other day, but remembering how stuffed I'd been from it, I decided to go for smaller fare this time around. Again it doesn't look too appetising, I'll admit! But it was delicious.
After that, I had one last walk down Karl Johans Gate on my way back to Central Station.
I always feel a pang of sadness when I'm leaving a city I've spent a couple of days in. I also start thinking of all the things I haven't had time to see. But I'd really enjoyed my time in Oslo – it's a great city if you're looking for someplace different to visit.
A stay at the airport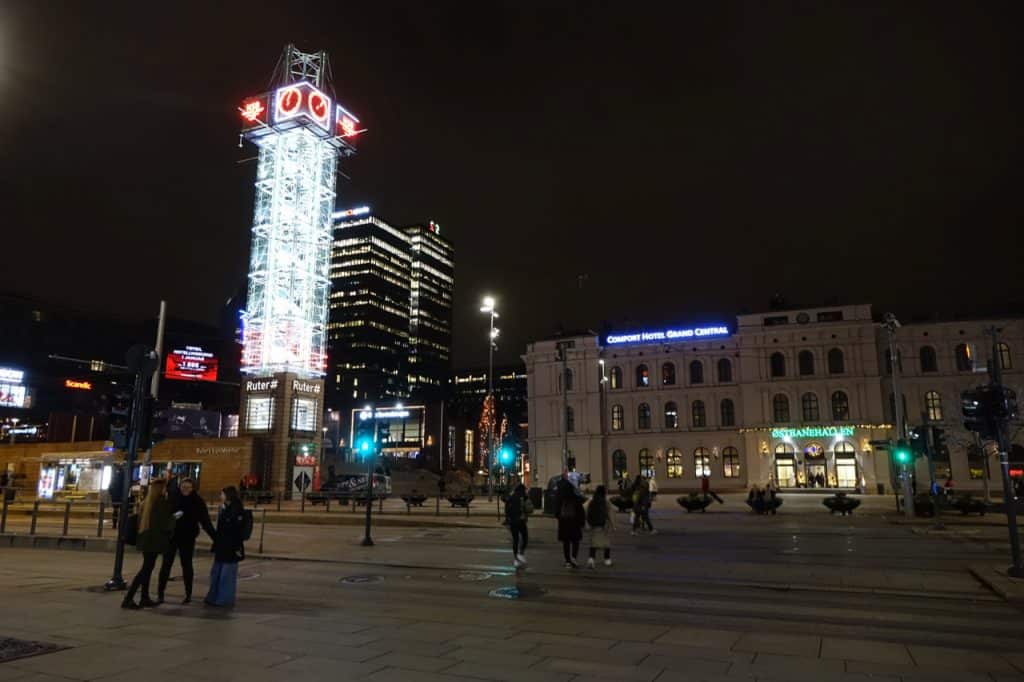 After finding the toilet in the station – which this time was a RIP-OFF NOK 20 – or £1.80 to use (!) I collected my bag and bought a ticket for the local airport train. The next one was leaving in four minutes – which surprisingly I made!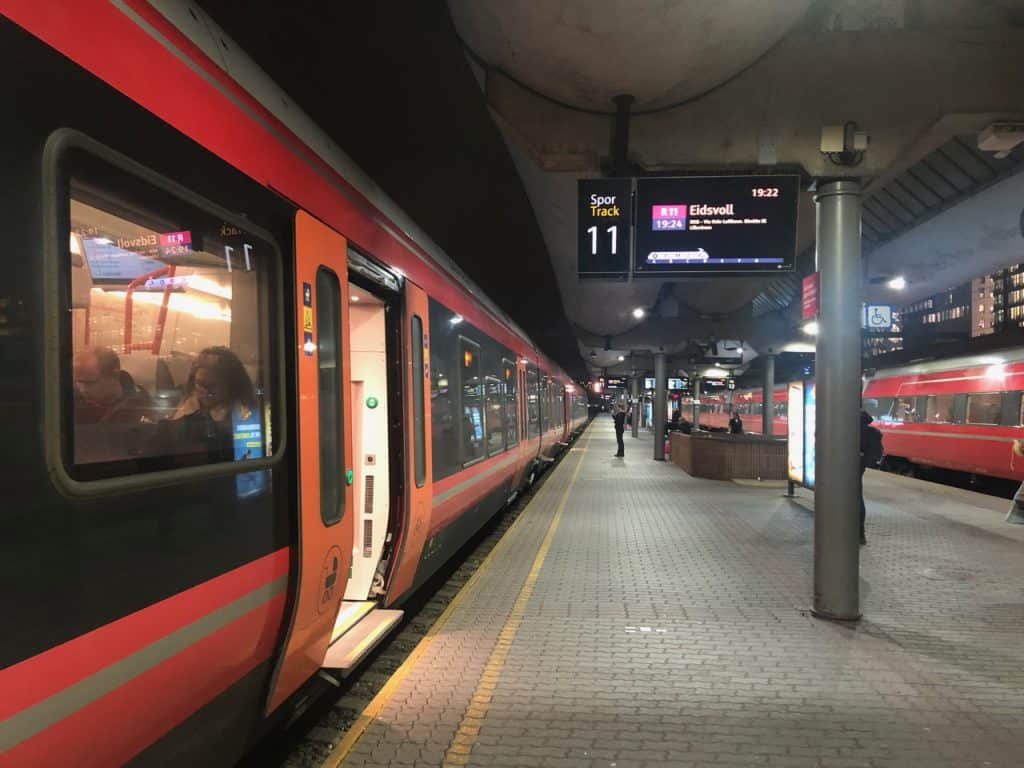 Twenty-five minutes later, I was disembarking at the airport.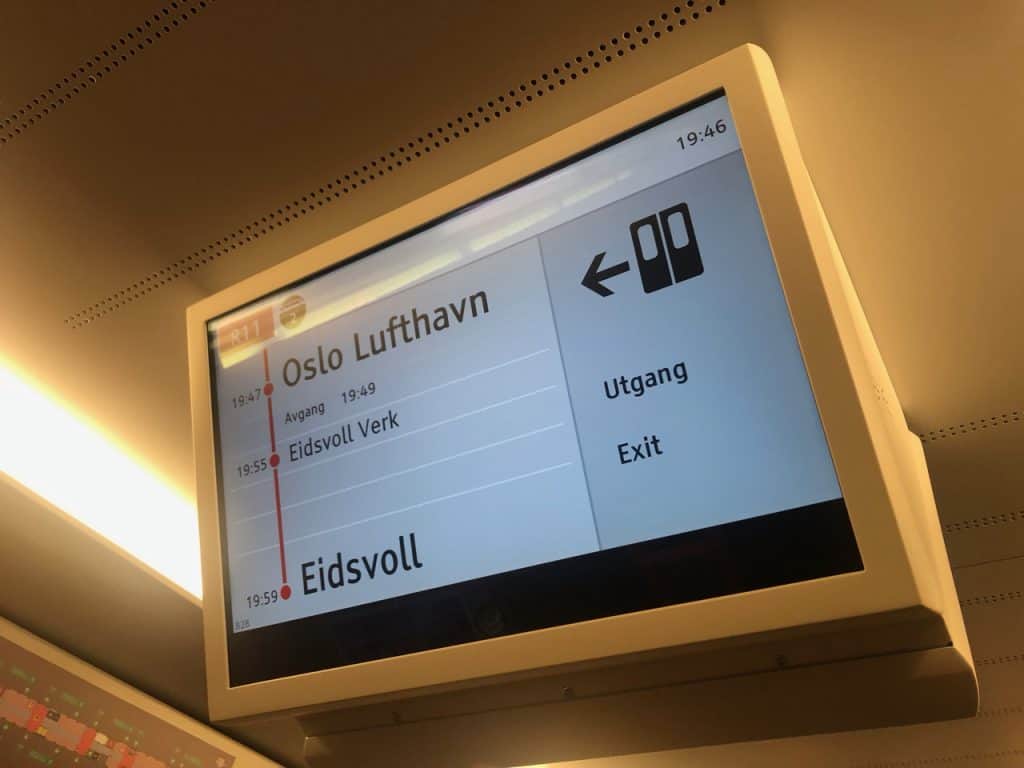 I picked up a drink from a Narvesen convenience store and walked the length of the terminal following signs for my hotel.
I quickly discovered that this hotel while technically a 'walk' from the airport terminal, is quite a long walk from the airport terminal. Thankfully it was undercover, but every time I got to a corner I expected the hotel to be there, only to be greeted with the walkway continuing into the distance and reaching another corner.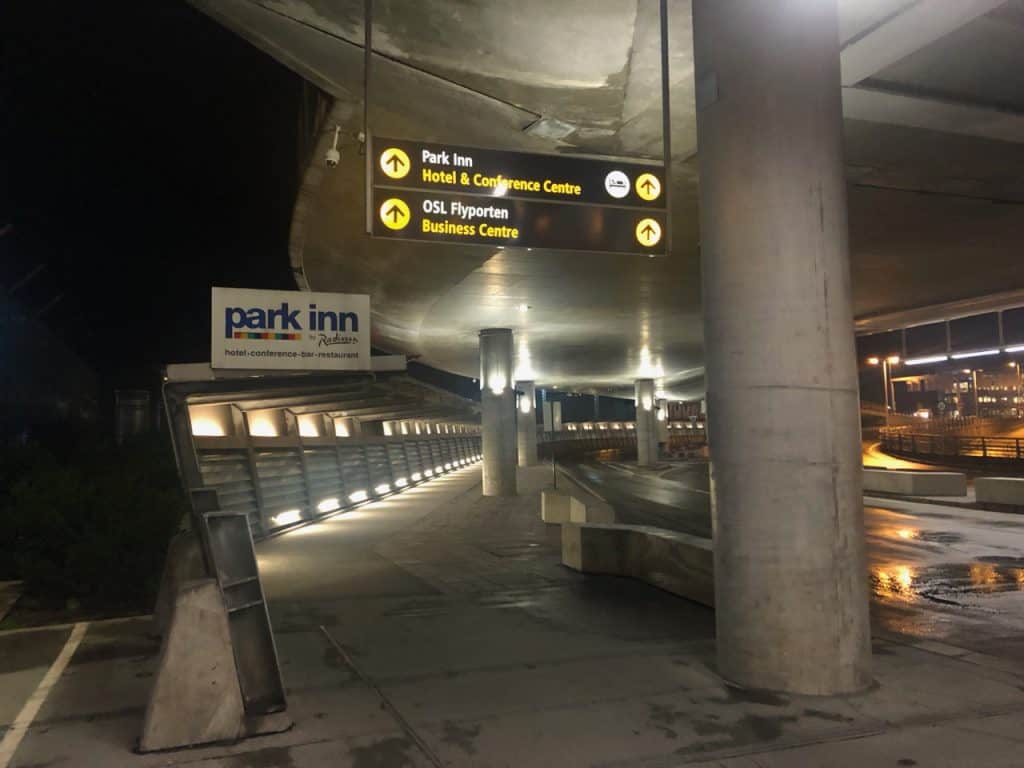 Finally, I reached my hotel – the Park Inn. Though there's one right beside my office in Belfast, and I've frequented the bar there more often than I care to remember, I'd never actually stayed in one, so I was intrigued to see what it was like.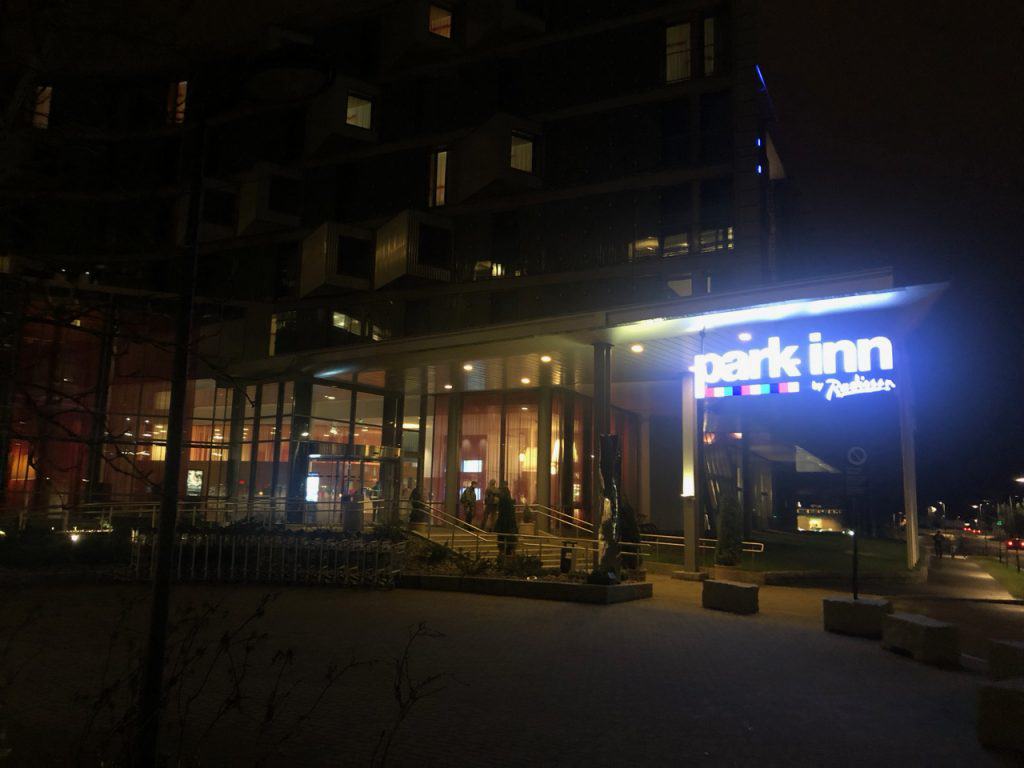 Check in was fast and courteous as well, with the receptionist chatting away with me about my flight the next morning and where I was headed. Thanks to status with Radisson I scored an upgrade, even though the receptionist told me the hotel was nearly full that night.
When I got up to my room, I was pleasantly surprised – despite it being right at the end of the corridor (why are my rooms always there!) It was modern, brightly coloured, and there was loads of space too. I really couldn't complain! The bathroom was pretty basic, but I wasn't too fussed about that.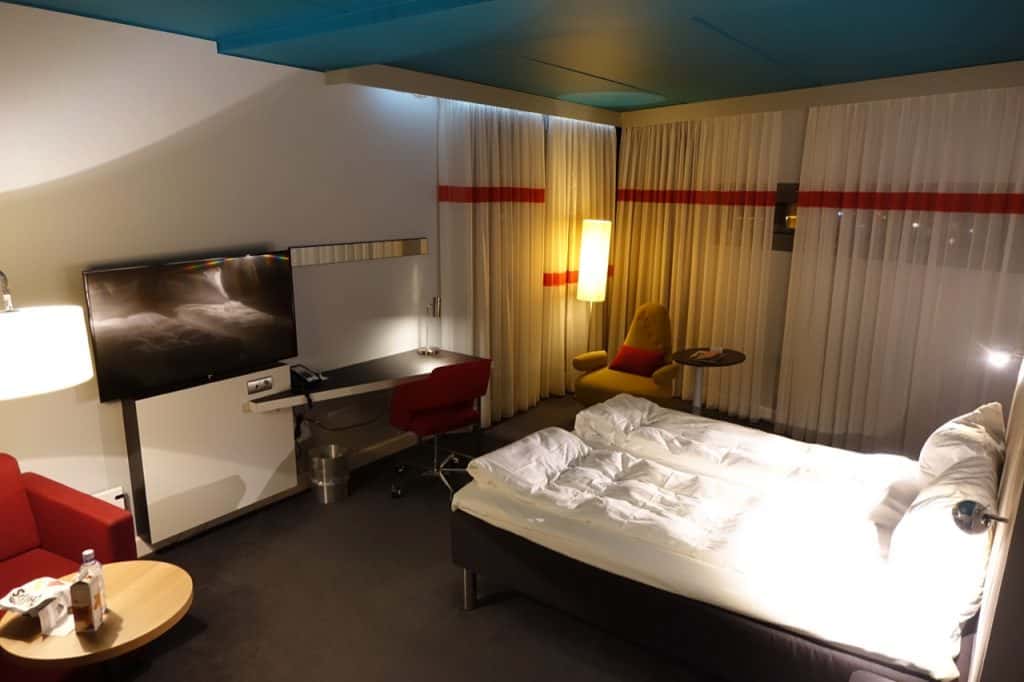 After dumping my stuff and putting devices on charge, I went to explore the rest of the hotel, having a quick look in the fairly busy bar.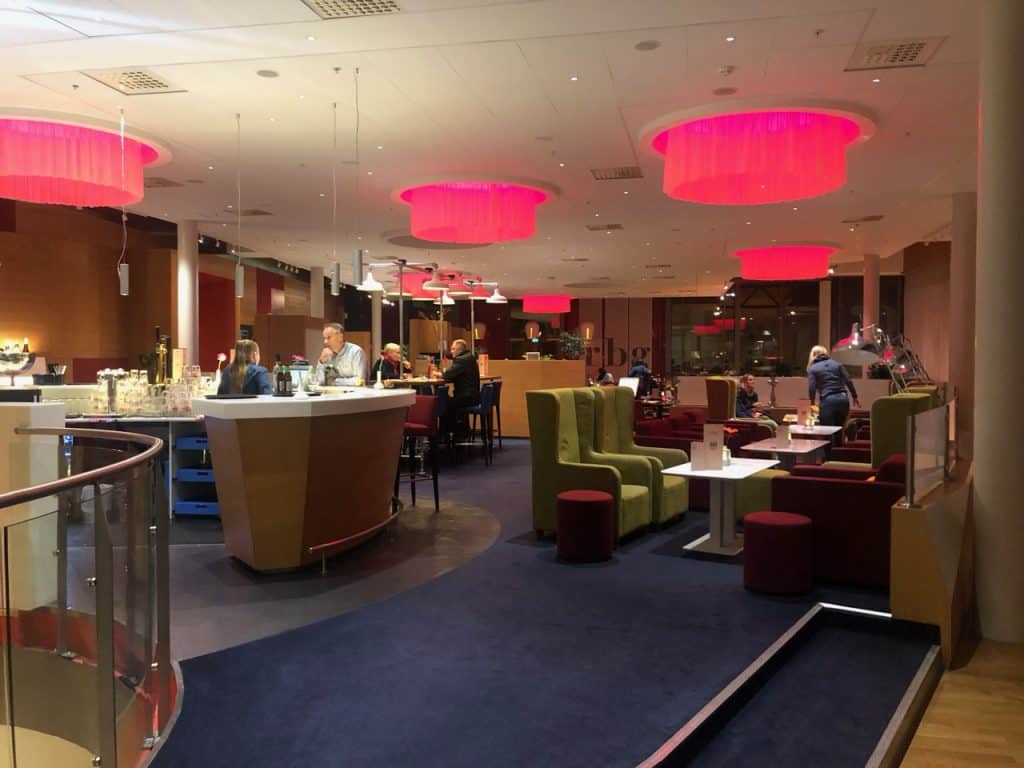 Then it was time for bed. Instead of one double duvet, it had two singles ones, as is common in Scandinavian hotels. What isn't so common there was the lighting panel that ran around the headboard, and which you could change the colour of. An unusual feature!
Flicking through the TV channels, the only show in English seemed to be Body Cam Cops – so I'll admit I watched that for about half an hour before turning off my light at about 10 pm.
The Trip Home
I was up and checked out by 3.45am the next morning. Definitely an early start!
As always, I was keen to get to the airport in plenty of time to have a look around before my flight. But in this case, I was also intrigued by the new SAS lounge which had opened recently in the airport. Various reviews I'd read about the place raved about it – it even has a gym! I definitely wanted time to explore that.
The airport was eerily quiet when I arrived. I saw what must surely be the world's smallest pizza place – which was empty…
While inside, there was literally no-one in sight.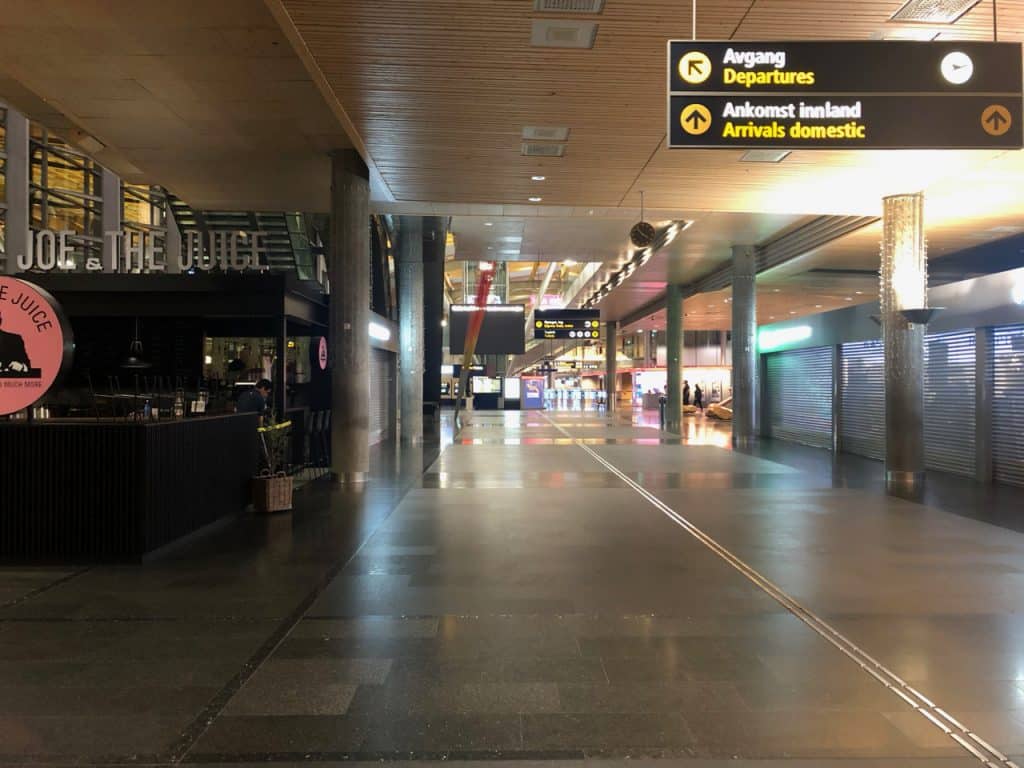 Unfortunately there was no-one in sight at check in either!
A couple of other people and I hung around for about 10 minutes before staff turned up and we were able to make our way through security.
Once through there, everything was still shut!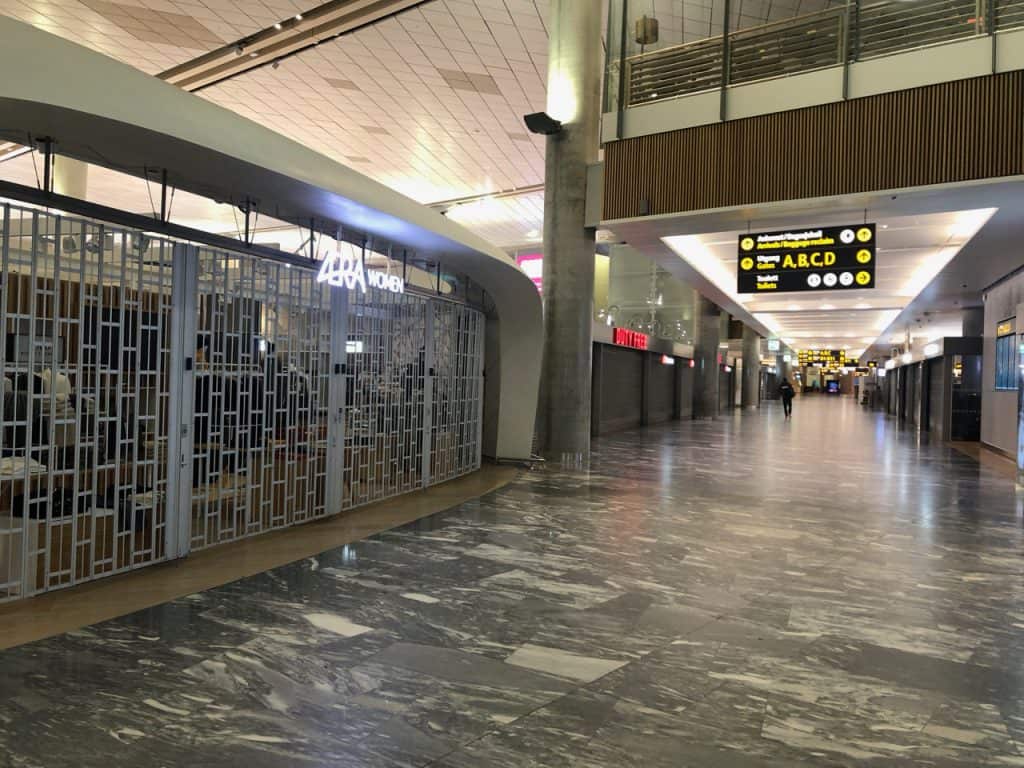 I think for once in my life I had got to the airport too early. I decided to head up to the lounge only to discover that that too was yet to open – and in fact wouldn't open until an hour before my flight.
So with absolutely everything closed, there was nothing to do but just wander around – looking at everything that was closed.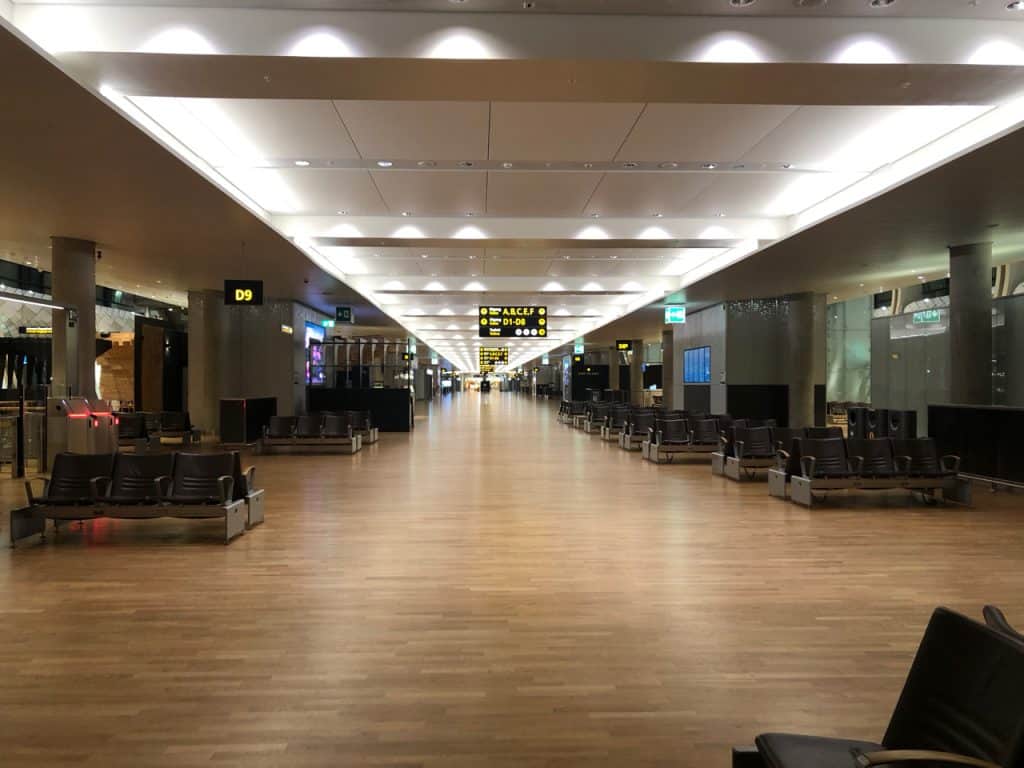 I walked the entire length of the terminal just having a nosey. I did stumble across some more works of art by Munch though!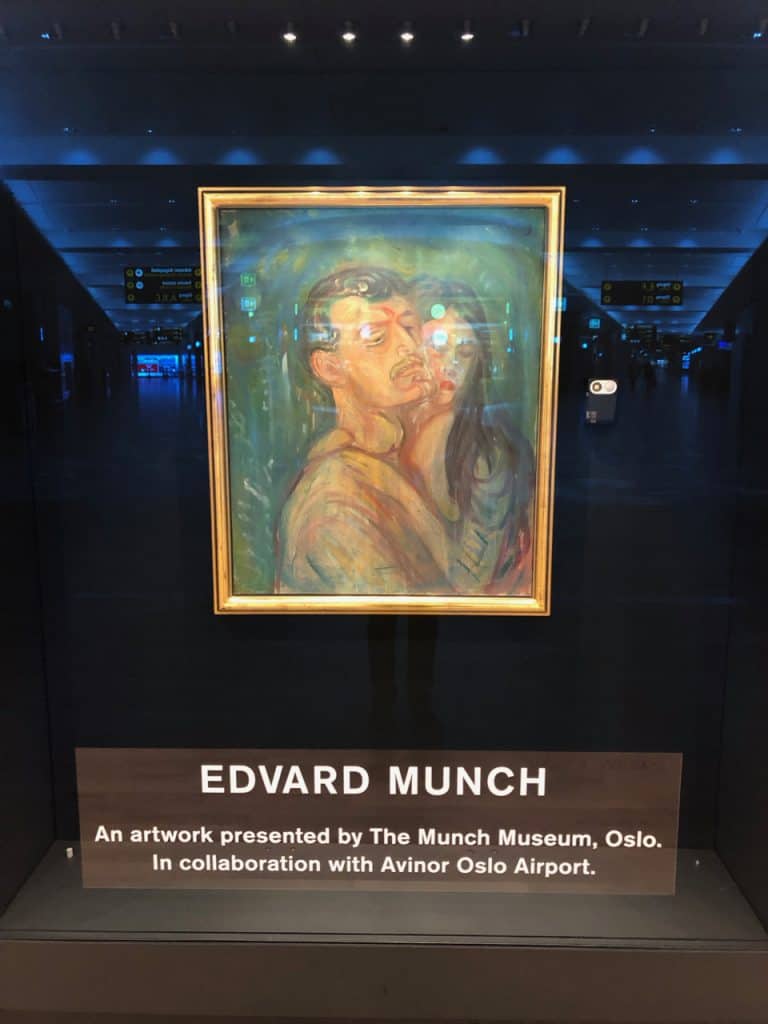 Despite the risk of being accosted by over enthusiastic salespeople, I had even had a look in Duty Free – the only shop that was open.
Eventually the lounge opening time arrived, and after standing in a short queue, the doors opened and we were let in.
It really didn't look like anything special to me.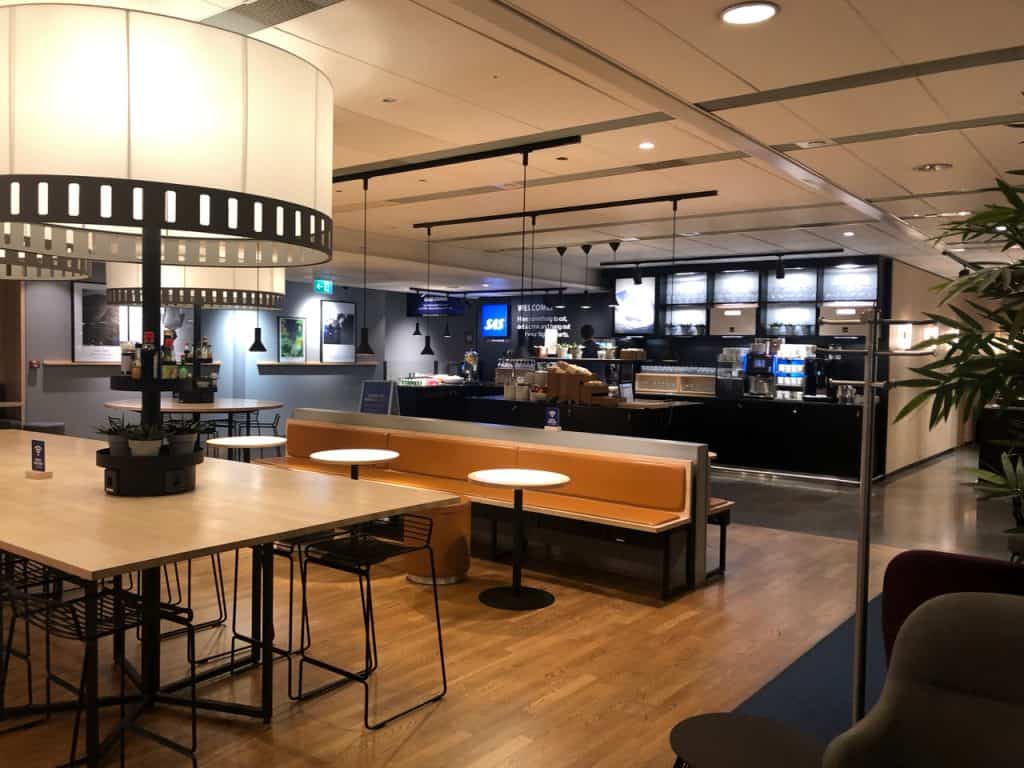 And where was the gym?! After quickly googling it, it turned out that the amazing new lounge that's opened in Oslo is the SAS Domestic lounge. I was in the International one 😩. I'd just assumed they would have done up their international lounge first but I was wrong!
So it was a pretty bog standard space. Though the staff were really friendly, coming over to chat, making sure I had everything I needed and checking I knew where everything was.
There was a decent spread of cold food. The display included this unusual cheese slicing contraption which I had never seen before.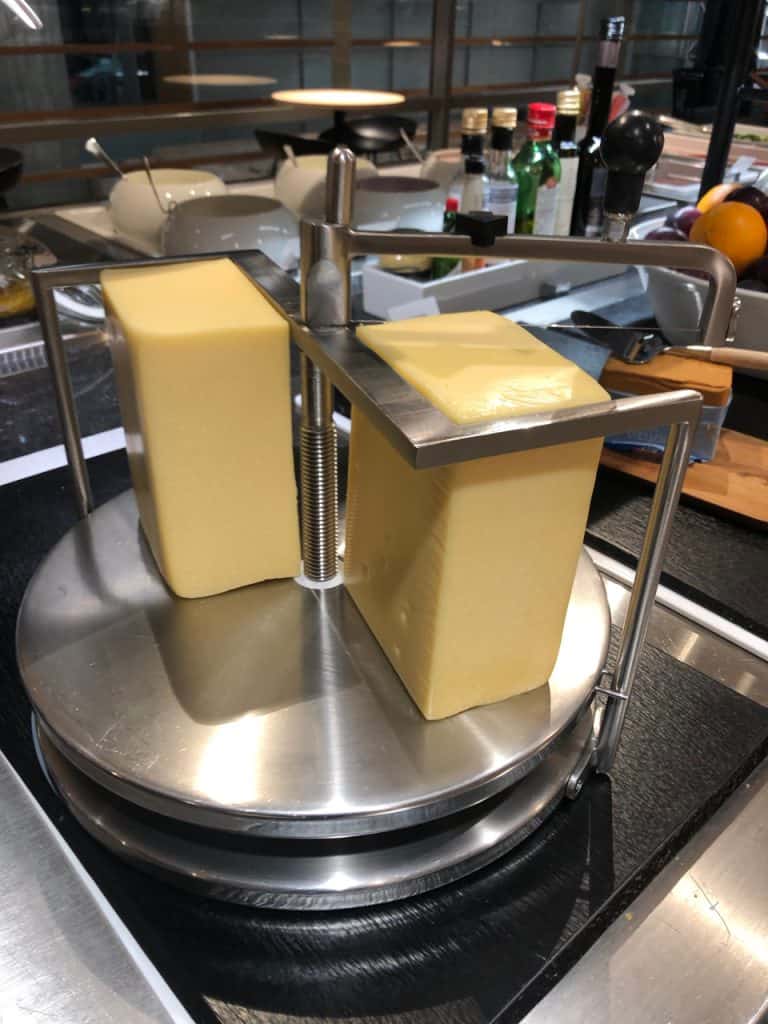 The cheesewire basically swings round, slicing off perfect pieces of cheese. I quite liked that!
After sitting for a while, it was soon time to board my flight to Copenhagen. Making my way down the walkway on to the plane, I could see that our aircraft was painted in an old style SAS livery which was cool.
The short-ish flight to the Danish capital was completely uneventful – I watched a bit of TV on my iPad, and as I was on an SAS Plus fare again, got a little bit of breakfast. That included bread and crackers with ham and yellow pepper, a yogurt and a smoothie.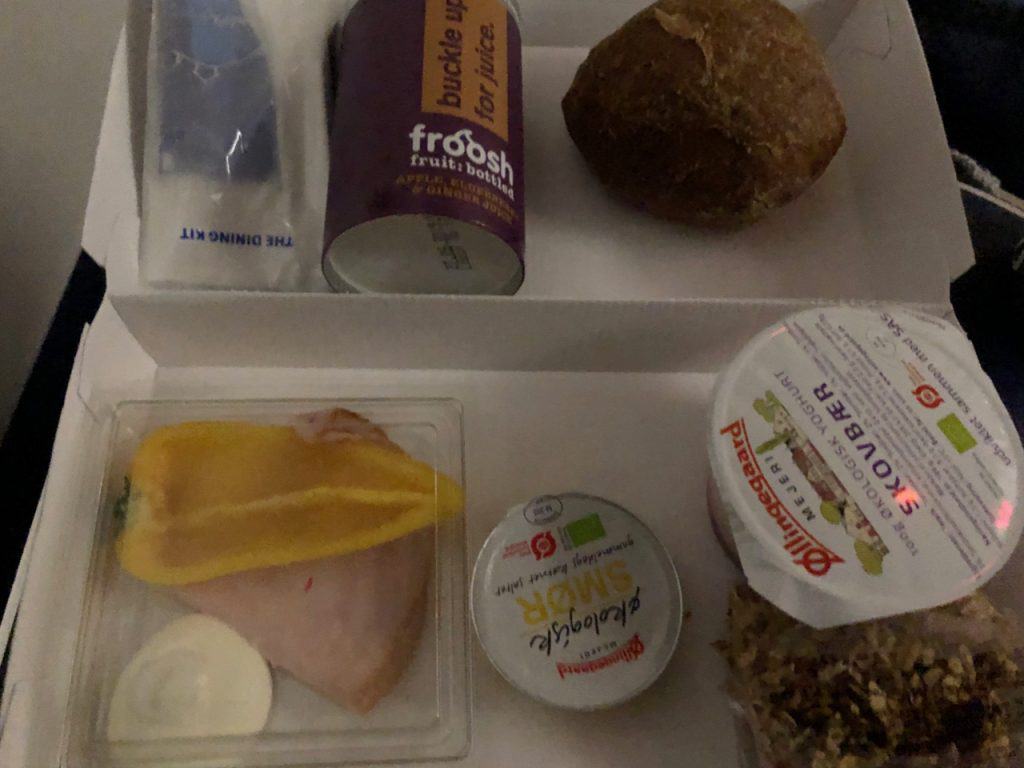 Before I knew it, the sun was beginning to rise above the clouds, and we were making our descent into Copenhagen.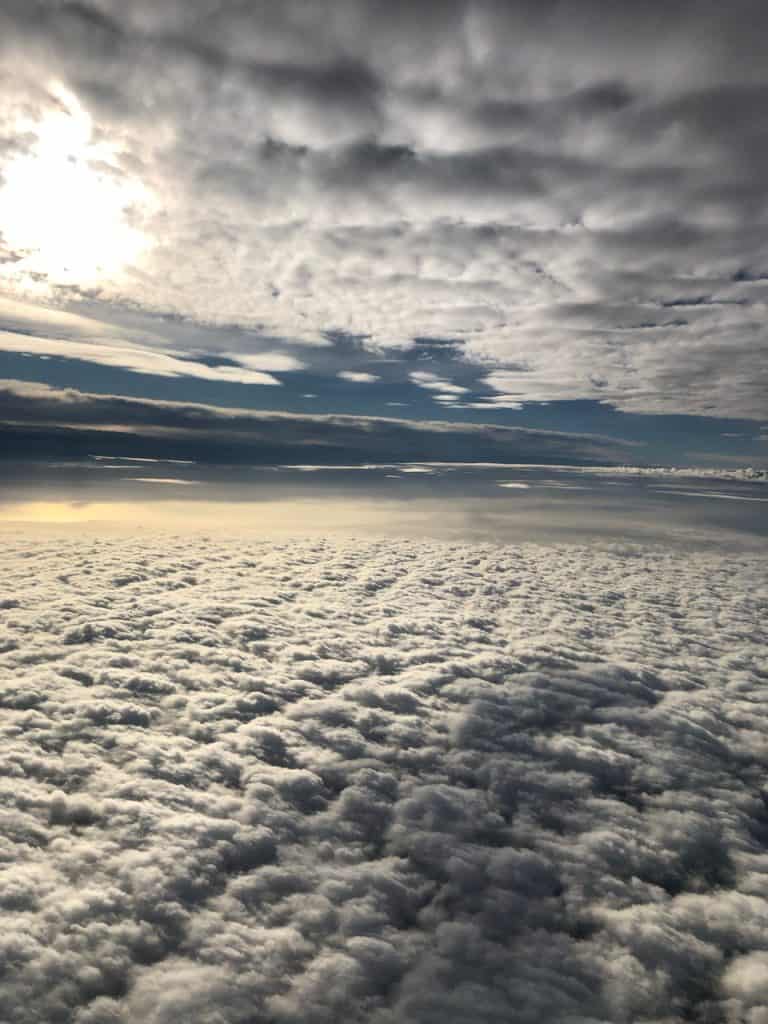 My abiding memory of Copenhagen Airport from my previous visit there is just how massive the place is. Once you're through security it is like one enormous shopping mall which just seems to stretch on forever.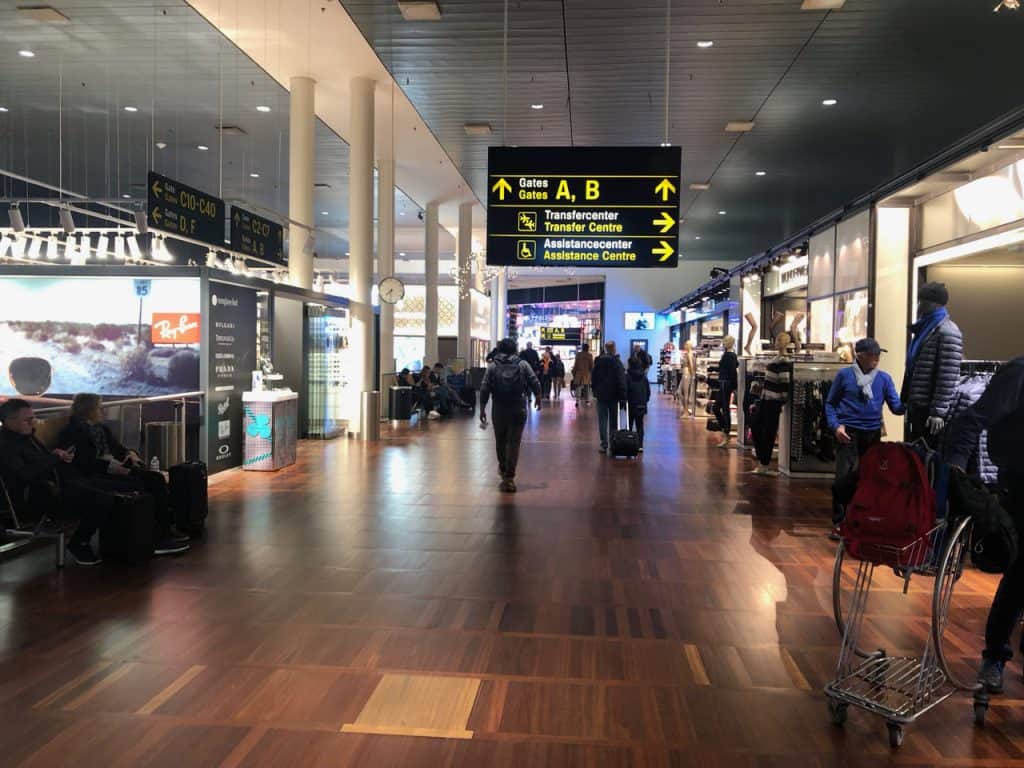 As I arrived straight into the departures area and my bag was checked through all the way to Dublin, I went for a wander around the shops. There was a fairly sizeable branch of Arket which I had a good look in, but the only purchase I made was some Christmas biscuits from Lagkagehuset. A snip at £7.62!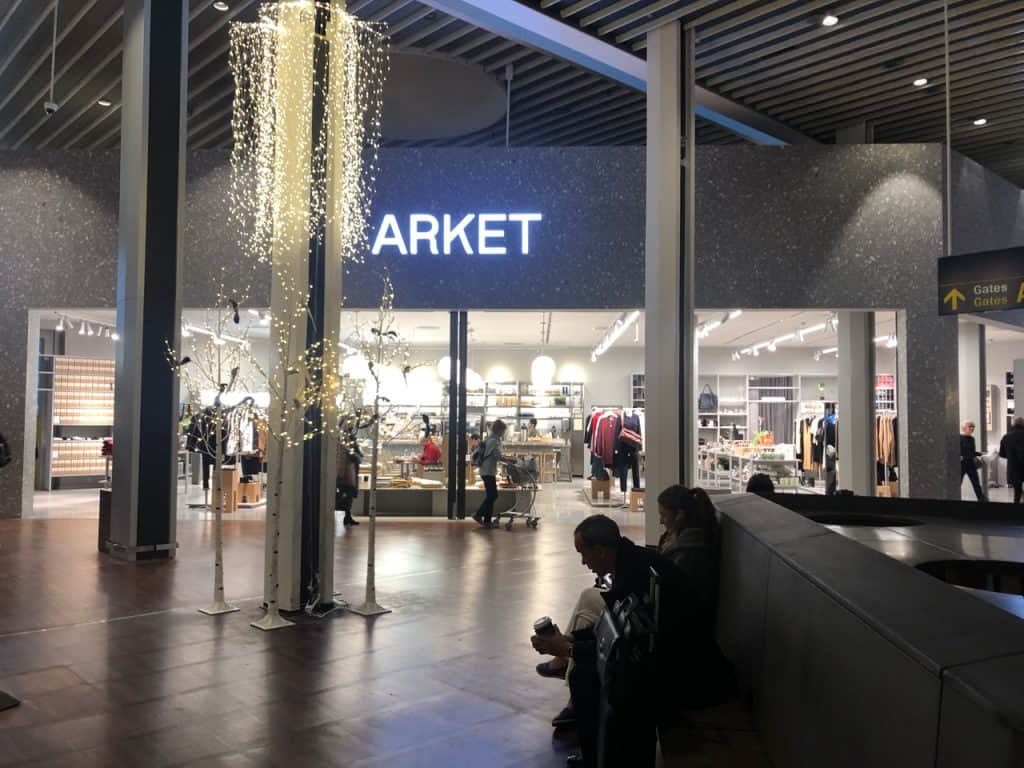 I had a while to wait before my flight, so headed into Copenhagen's SAS lounge. I didn't have access to the swanky upstairs section which was reserved for SAS Gold members. But the downstairs area was decent enough – it was pretty similar to the lounge in Oslo.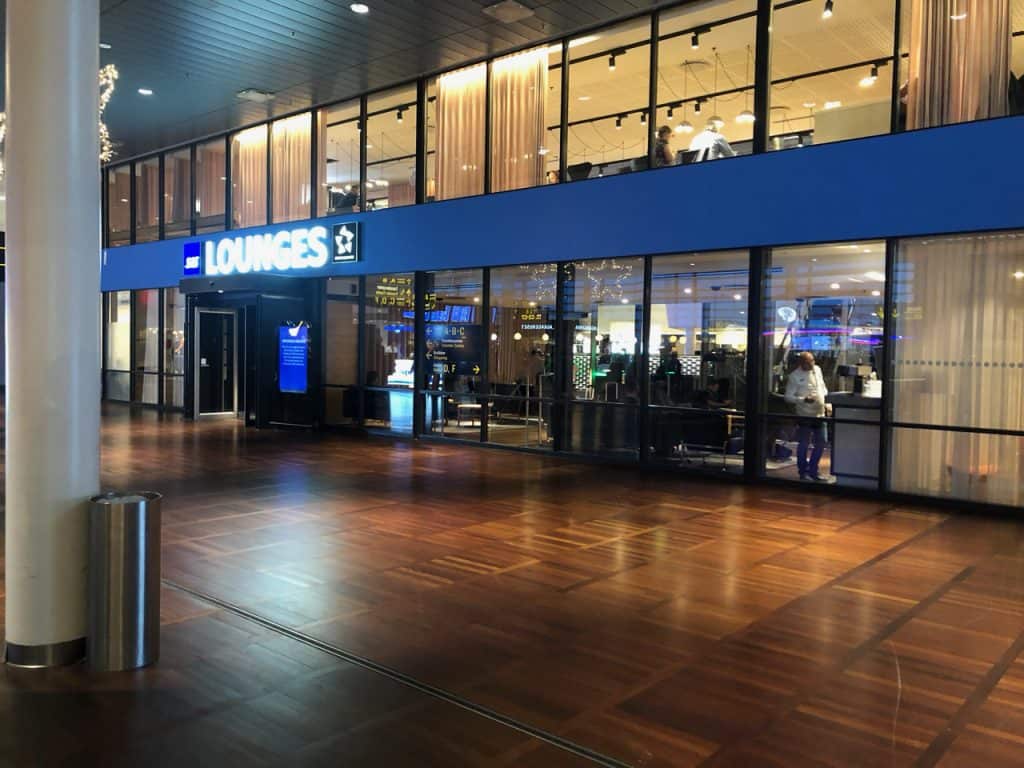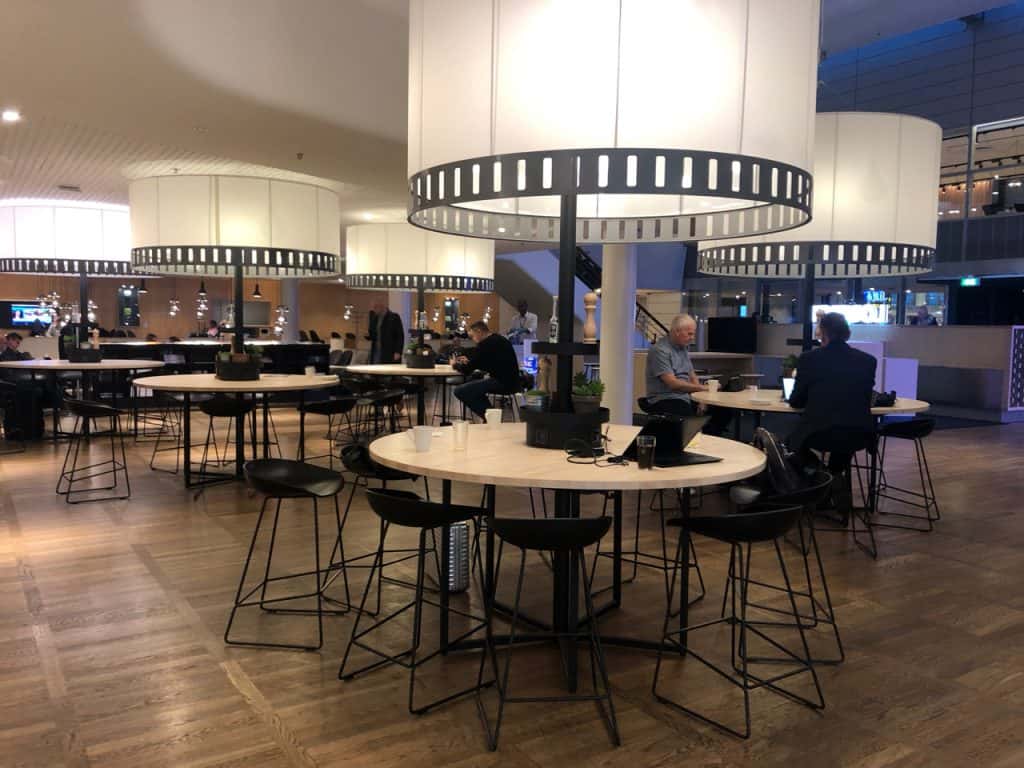 'Though this one had wine on tap!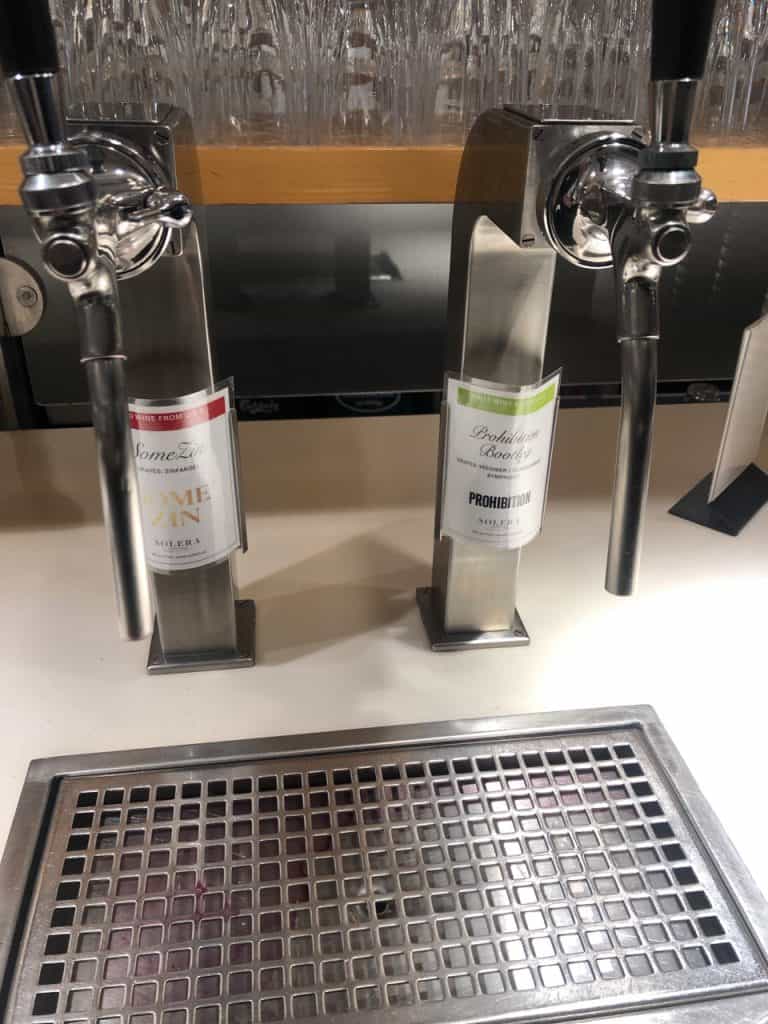 I avoided that seeing as it was only twenty past nine in the morning.
I sat and had a coffee and a snack while I worked away on my blog, and then walked to the end of a very long corridor to catch my flight.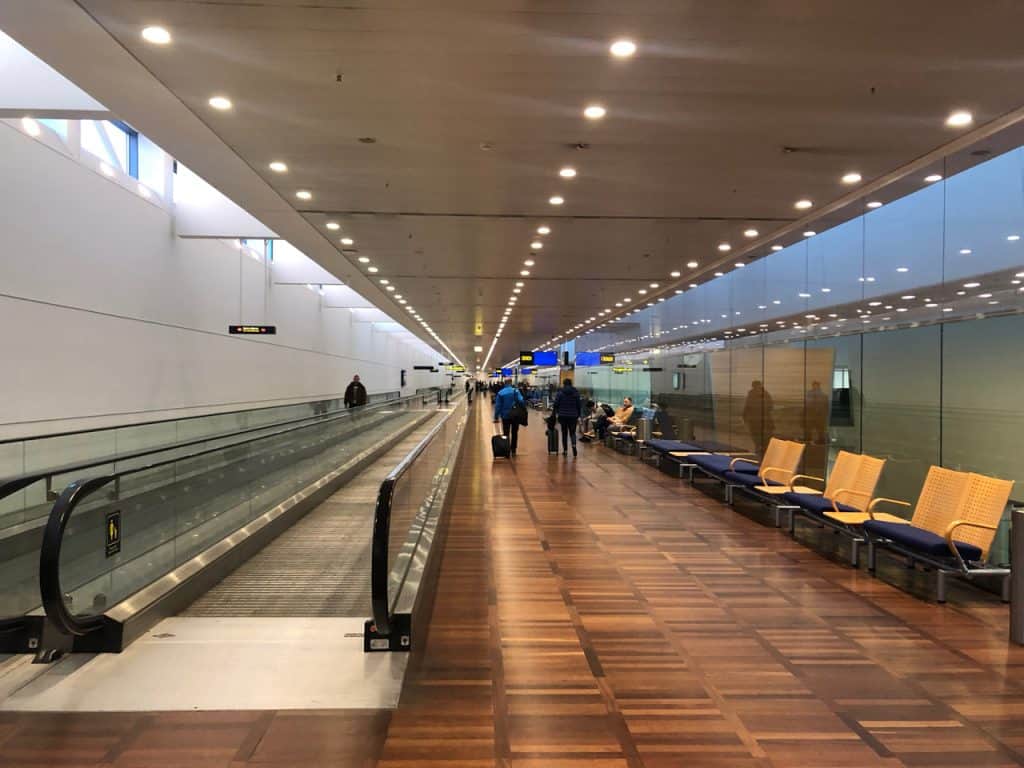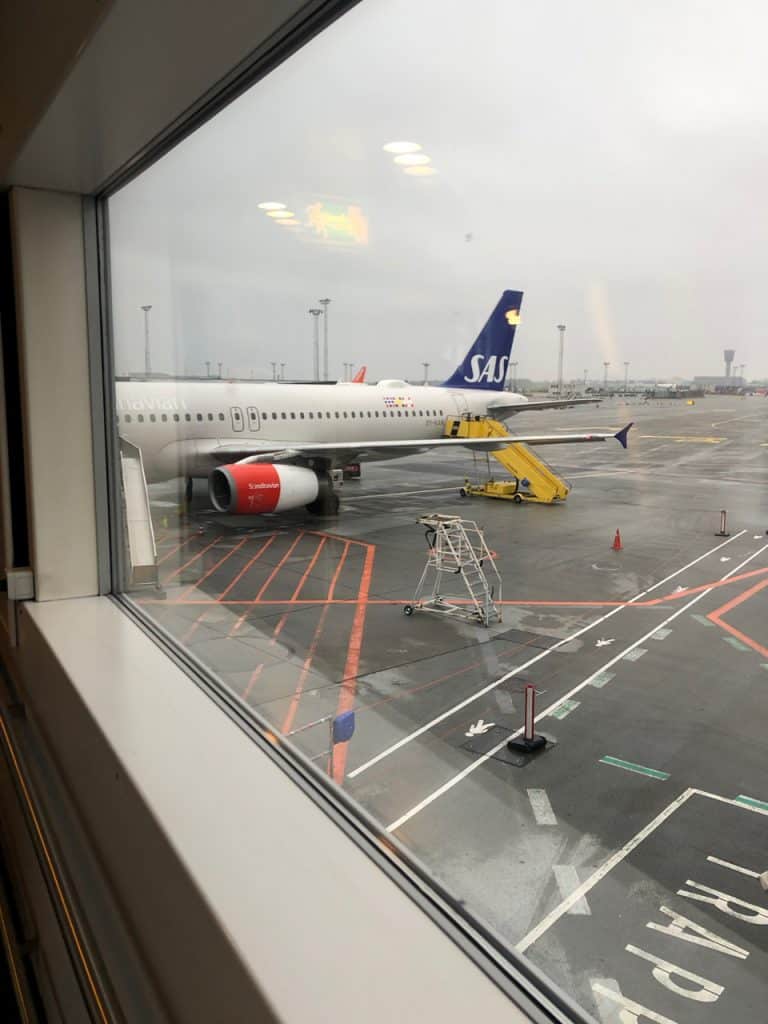 Seated in row 1 I was, I'll admit, a bit excited to see that this plane had wifi! Which still seems like an amazing novelty to me. What was better is that it was free for elite members of SAS's frequent flyer programme and SAS Plus travellers – which included me. Promotional material also said the service's speed was also good enough to stream Netflix.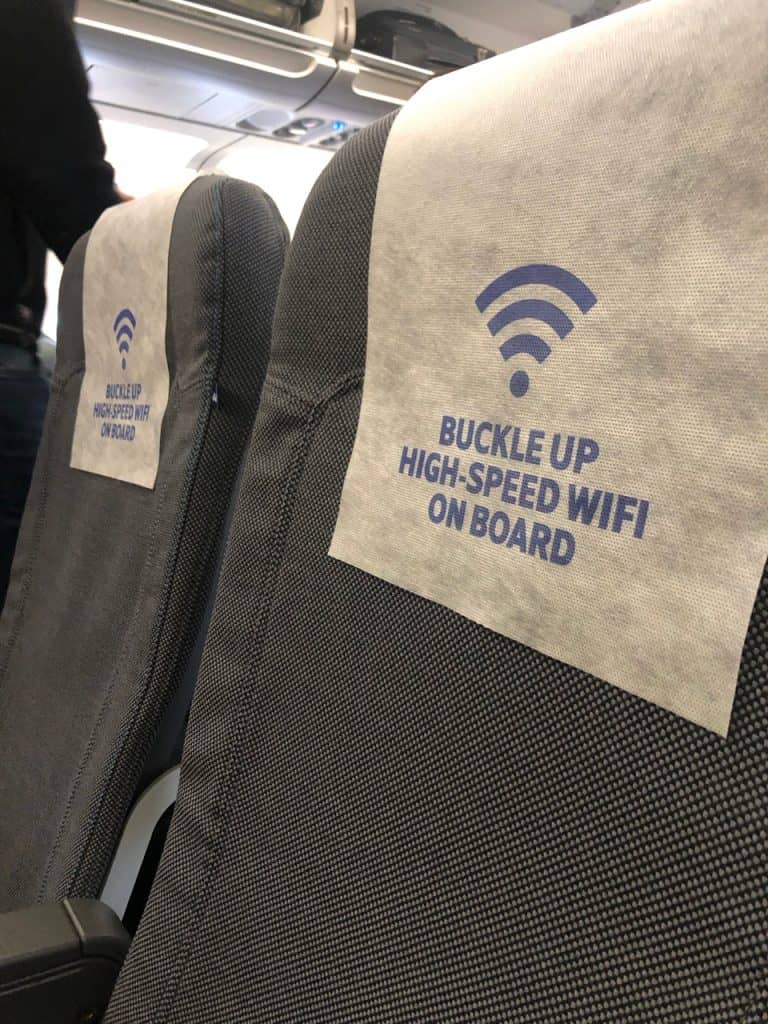 Pretty quickly we were pulling back from the gate and hurtling down the runway. Once in the air, I got my iPad out and tried the wifi, and it worked exactly as advertised. Speeds seemed pretty decent. I still find it weird to be able to text people and get a reply when you're on a plane, but I definitely didn't use FaceTime while airborne (unlike someone I know who shall remain nameless!)
Once above cloud level, I gazed out the window for a good while before lunch was served. I knew from my outbound trip that I didn't have to fear the contents of the box placed down in front of me, and once again the meal was really, really tasty. This time it was thyme roasted mushrooms with a lentil and beet flavoured salad with yellow pea hummus and sliced golden beets.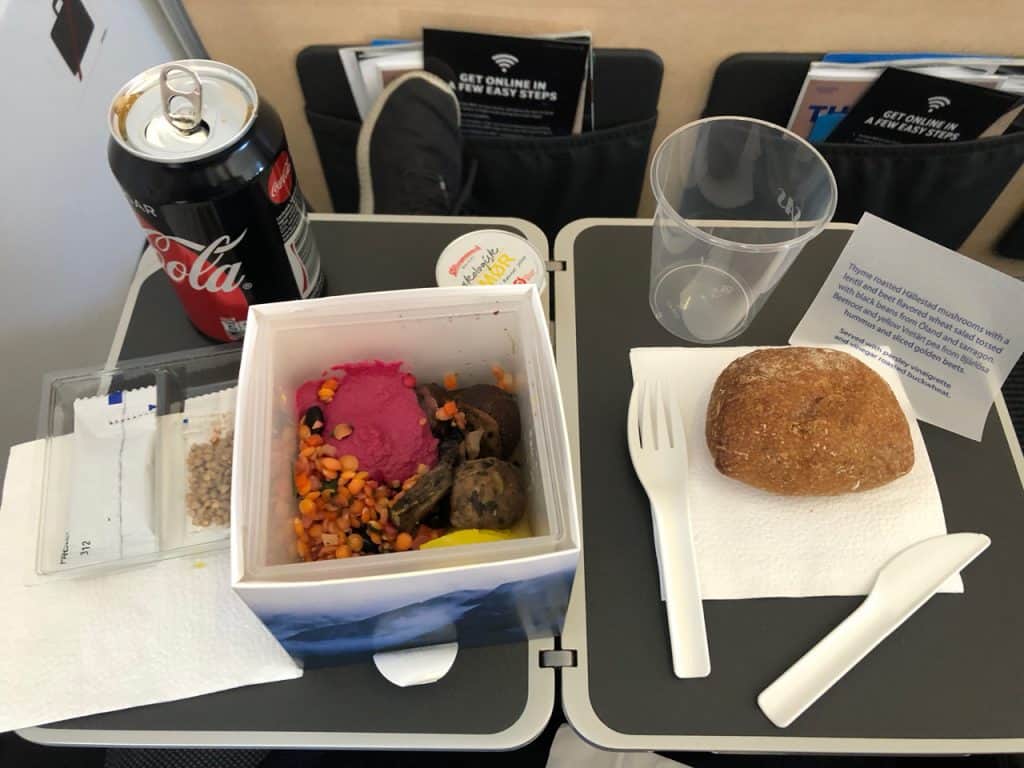 It may not look great, but it was delicious – and filling. Dessert came in the form of three little chocolates.
As Wifi service cut out over the North Sea, I took the opportunity to catch up on TV from home – being able to download an episode of EastEnders in just under two minutes.
The crew were really lovely, and all in all I've got to say it was a great flight. Nice food, friendly staff and the novelty of fast and free wifi. I wouldn't hesitate to fly with SAS again.
Blue skies greeted us when we landed in Dublin. After a short wait for my bag and getting the shuttle bus back to my hotel, I was soon in my car and driving back to Belfast.
I loved my trip to Oslo. I loved the place, I loved my hotel, and even the flight was great (particularly on the way back). What was even better was I felt like I'd been away for a couple of weeks as opposed to just a couple of days. And I think that's the true sign of having a really good break.
I don't currently have any other trips planned, but I'm already thinking about where I'm going to go next. If you'd like to be notified when I've headed off, you can sign up to my mailing list here! (It's only used to let you know when I've published a new post).