Wow – it feels like ages since I've been sitting down to write about being in another country. Since November when I visited Oslo, I've had one trip, but as that was out to Dallas with the family, I didn't bother blogging about it. In fact I'm not sure I even posted anything from there on Instagram either.
I've got a big, three week long haul holiday planned for November this year, and I wasn't planning on going anywhere before that, but after a friend posted pictures of a trip to Stockholm earlier this year my mind began to wander…. I love the place – and Scandinavia. So I priced up a trip for after the end of the spring series of Points of View which I was producing, and lo and behold, it wasn't too expensive.
I really couldn't wait until November for a holiday, could I?! I decided just to book it. I'd visited Stockholm two years ago, but it was a fleeting visit, and there were a couple of things I'd missed out on seeing. So I'm now sitting in a branch of Joe & The Juice on Klarabergsgatan in the city centre typing this.
Getting here
I had an early start on Thursday morning. I'd wrapped up work at about 7.30pm the night before, come home and packed and then was in bed for about 9.30pm. As always when I have to be up early, I tossed and turned, and eventually fell asleep after an hour or two.
I woke at 3.30am – two hours before my alarm was due to rouse me from my slumber. After trying – and failing – to get asleep again – I got up at about 5am and stumbled into the shower.
I made my bed (and got dressed lols) and was soon driving down to Dublin. I'd thought about getting the bus down, but for about €10 extra I could park my car at my usual hotel at Dublin Airport, so I went with the that.
The drive down seemed longer than usual – perhaps because of my tiredness, but I eventually arrived and headed for the underground car park, only to be told by a security guard it was full. "Yeah right!" I thought as he directed me not even to the overground car park but to a compound just outside it.
Well he was right – the place was jam packed with cars – in spaces and in every square bit of space you could see. I was really lucky to get the last actual space I saw.
The courtesy bus to the airport was pulling up just as I locked my car, so I got on that (standing room only ) and was soon on my way to Dublin Airport's Terminal 1.
The weather was grim! Lashing rain. July in Ireland, eh?!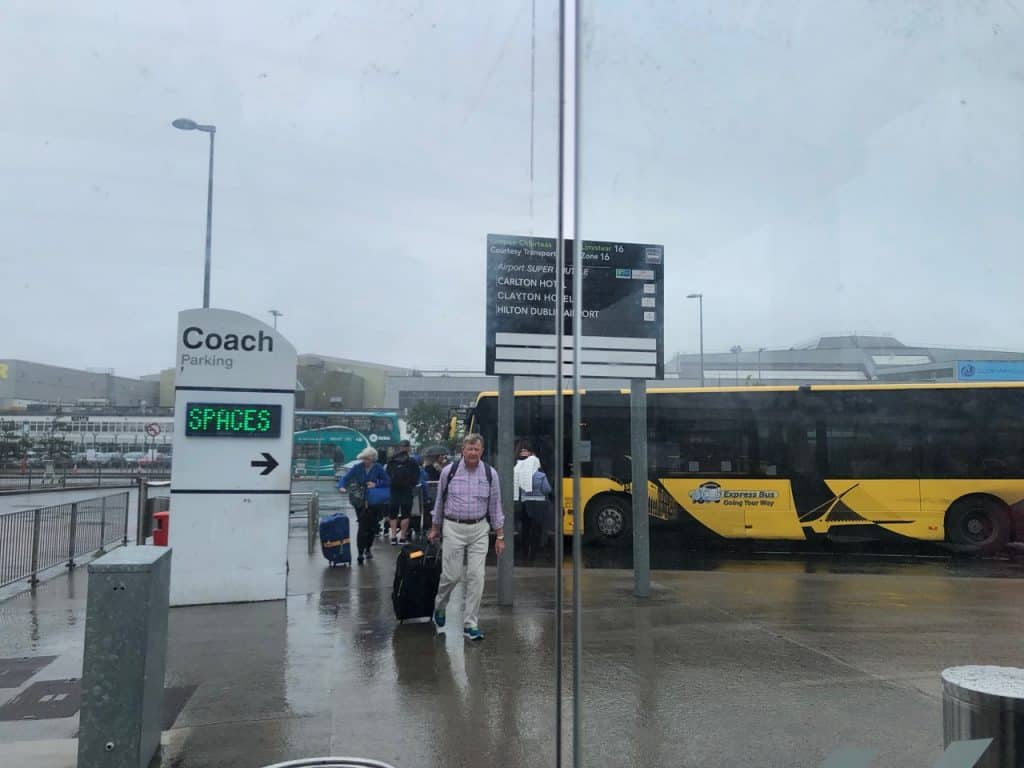 I had a quick stop in McD's in the airport for a bit of breakfast and then checked in. After a good experience with SAS last year flying to Oslo, I'd decided to book with them again. An SAS Plus fare was only marginally more expensive than the standard one, and got me fast track security access, priority boarding, a seat up front (1A for me so extra legroom), two checked bags and a light meal and drinks. Oh and free wifi on board too. So I felt that was worth it!
I had a pit stop in the lounge before walking to the gate. A colleague who sits behind me at work was actually flying to Copenhagen five minutes before my flight was due to take off – and I just had time for a quick hi before her flight started boarding. Small world!
With the weather thankfully having brightened a bit, we boarded pretty promptly.
I was keeping my fingers crossed the seat beside me was going to be kept free, but no joy! The plane was pretty packed and I only spotted one seat free on the whole plane. Ironically in the row across the aisle from me.
After a short delay, we were soon on our way, and service started not too long after the wheels pulled up.
I decided to have a little glass of wine (well it was the start of my holiday!) and got my iPad out so I could carry on watching The Affair (which I love so save up for watching on planes).
Soon lunch was served. As with my last SAS flight, it came in a cleverly packaged little box. Which doesn't look like it'll be much from the outside, but open the lid and it's more generous than it looks, and tasty!
Served with a warm roll, today's meal was veal round roast with dill steamed carrots, pickled young cucumbers and a sweet and sour dill cream. It came with carrot sprinklings and a dill emulsion to put on top.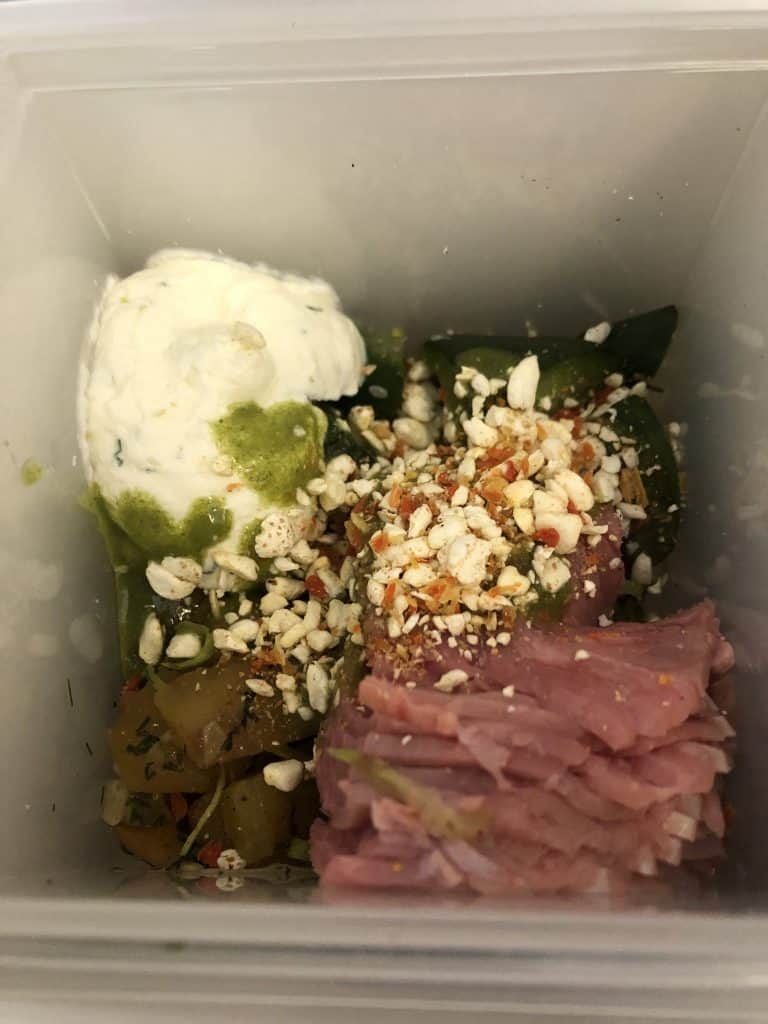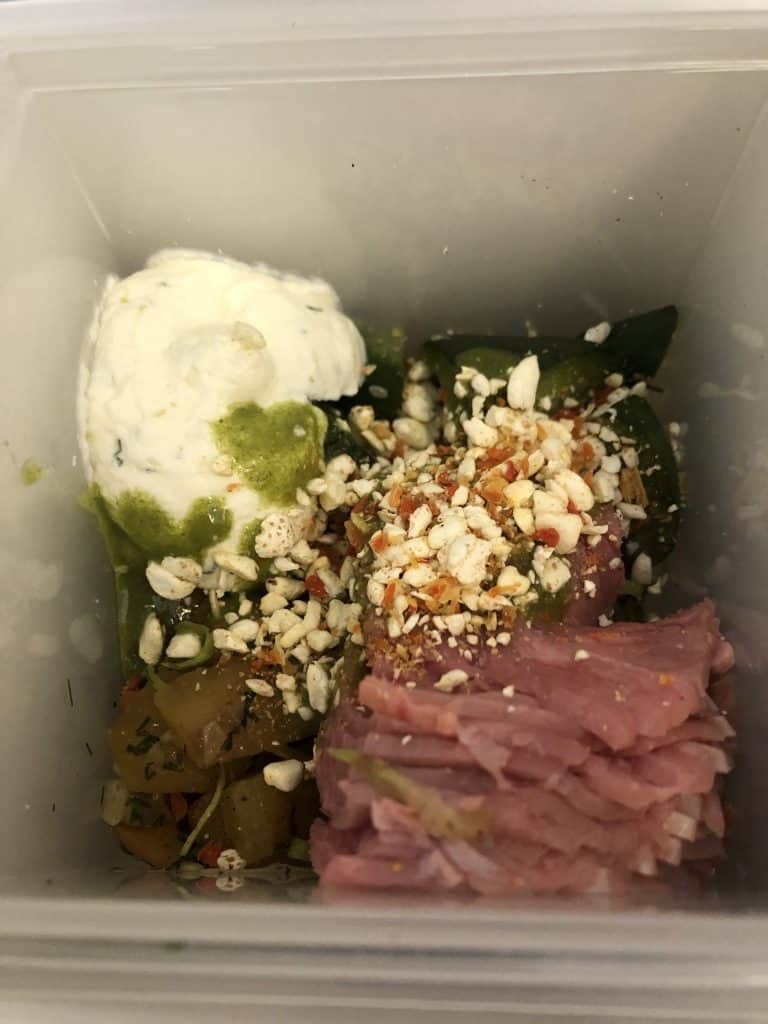 That is not the best photo 藍 but it tasted a lot nicer than it looks!
Then we were served some delicious chocolates.
All in all it was a perfectly portioned lunch really.
Before I knew it, the 2 hour and 20 or so minute flight was coming to an end, and we began our approach to Stockholm's Arlanda airport.
Green islands dotted the sea, and you could just make out little red and white wooden houses.
A quick taxi took us to the terminal and pretty soon we'd disembarked and were heading through the terminal. There was no queue at immigration, then it was a short walk to the baggage carousel. And it was the longest baggage carousel I've seen in my life. Not only that but you couldn't stand beside it where it came out of the wall, so you had to wait for your bags to travel half a mile before you could actually get to them.
That picture doesn't really do it justice, trust me!
Anyway, eventually my bag arrived, and I headed out into the main part of the terminal. I'd already bought my ticket for the Arlanda Express train to take me in to town. It's basically like the Heathrow Express (except nicer) in that it takes about 20 minutes to get to Stockholm Central train station from the airport. For a return ticket, I paid 390 Krona (about £33) – I'd saved a bit by buying my ticket online more than seven days before I travelled.
As soon as I got out the lift onto the airport's platform I remembered the station. I had a 10 minute wait for a train and then sat gazing out the window as we whizzed towards Stockholm.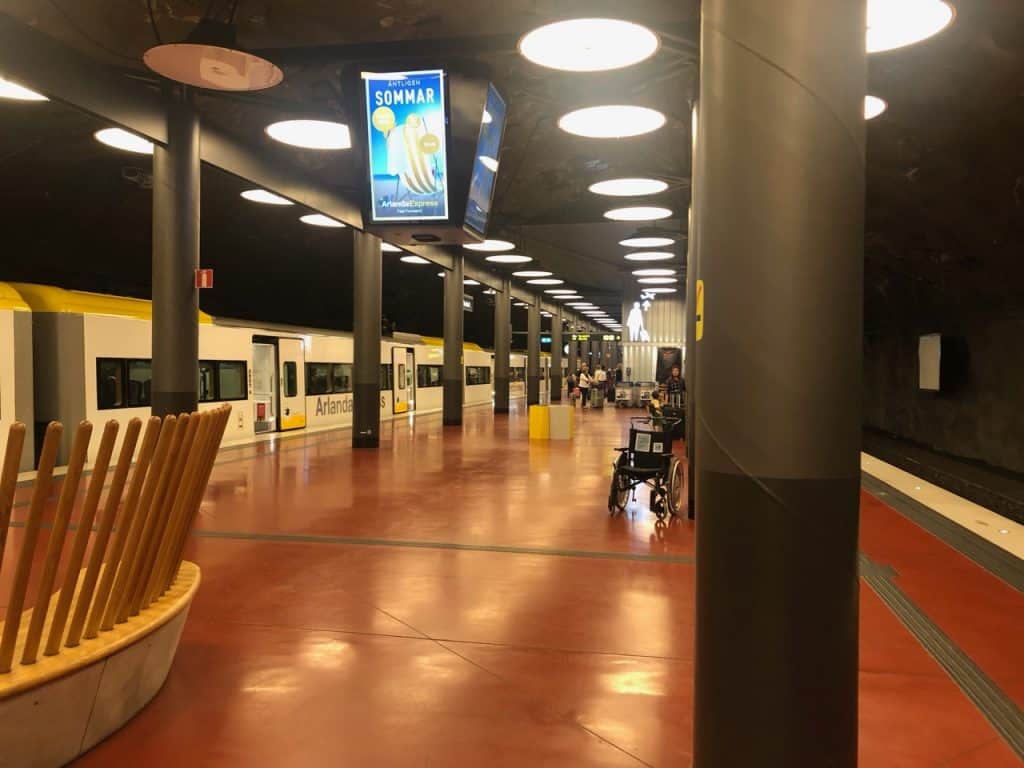 Arriving in the city, the first thing I noticed was that there was a new cool food court in the train station. It actually looked like someplace you'd come and sit and eat so I made a mental note of it just in case I was looking for a quick bite during my stay.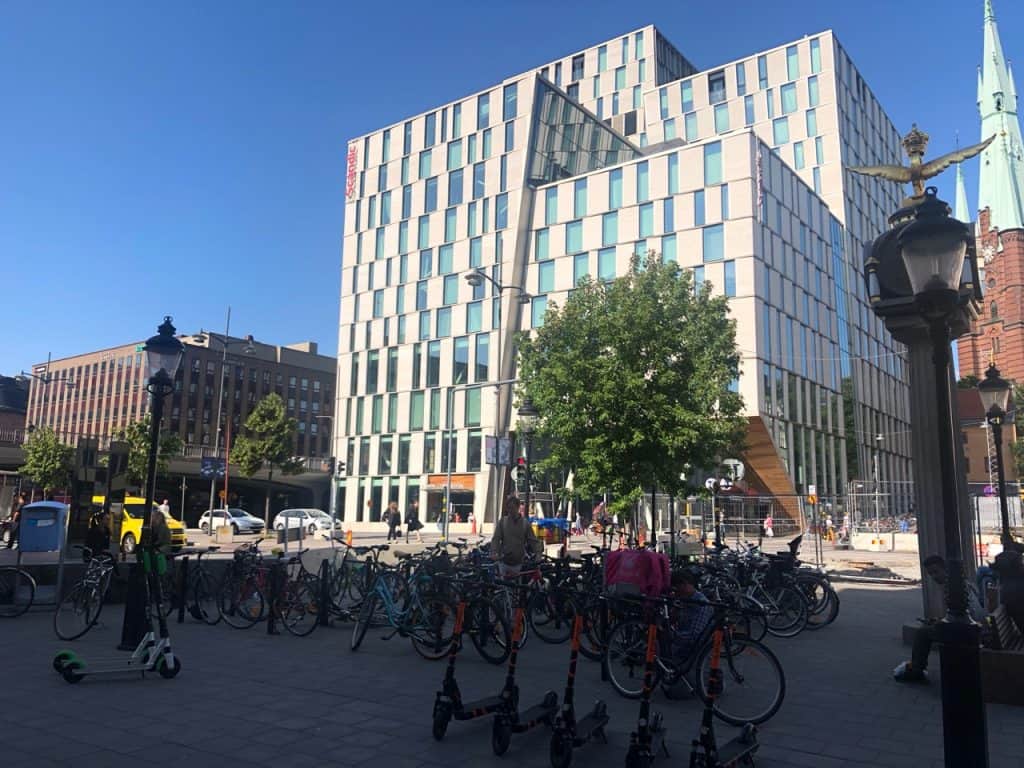 Leaving the station behind, I stepped out onto the street and in to full on Swedish sunshine. And one of the first things I saw were the electric scooters I'd tried in both Madrid and San Diego last year. They are everywhere in Stockholm it turns out, and the bike lanes and pavements are full of teenagers and Swedes speeding about.
Though I'd only spent two days in Stockholm before, I immediately had my bearings (for a change!). I crossed the road and headed up a flight of stairs, and walked past the familiar Åhléns department store. Crossing the road I decided to pop into the Tourist Information Centre. It was about ten to five by now and I wanted to gather up some leaflets to look at over the next couple of days before the centre closed at six.
The last time I'd visited Stockholm, the whole area of Sergels Torg – lined with shops – had been a massive building site. It was difficult to get across the street and the disruption was everywhere. Now though, the works seemed to have finished, and buses and trams moved smoothly alongside pedestrians.
After picking up a map and a couple of leaflets I walked around the corner and arrived at my hotel.
My hotel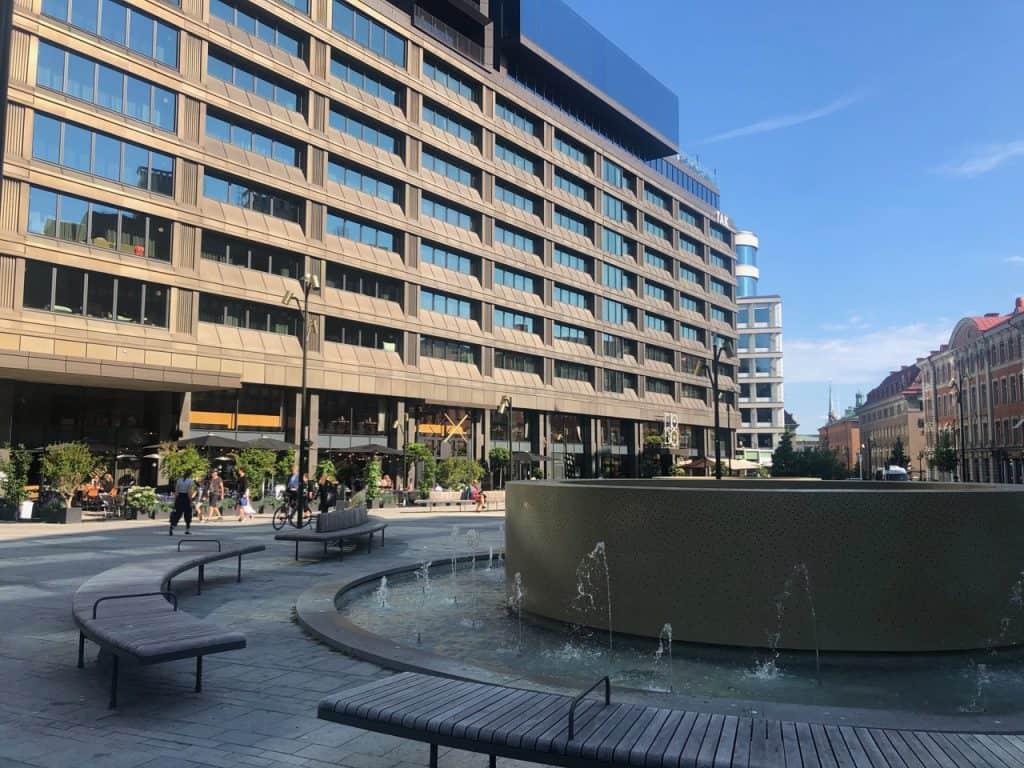 I'd decided to stay at exactly the same hotel I'd stayed at the last time I'd been in Stockholm – At Six. I'd got a good deal again on a junior suite – I'd loved the room and the oh so comfortable bed, so choosing it again was a no-brainer. The hotel's really central too – it's just a ten minute walk from the historical area of Gamla Stan, and a five minute stroll to the main shopping streets.
Check in was warm and friendly, and I got told I'd been upgraded. Which is what I was told the last time too, but when I arrived in my room it was exactly what the room I'd booked online looked like in the hotel's photos. So I'm really not quite sure what is going on there. 路‍♂️
I did get a free drink voucher though and also a pretty good deal on breakfast – if I booked it the night before I would just pay 175 Krona instead of 275 Krona – a saving of about £8.50. I dutifully signed up for breakfast the next morning.
The rooms are quite dark which means getting a good photo is tricky, but this is a view of one end of my room…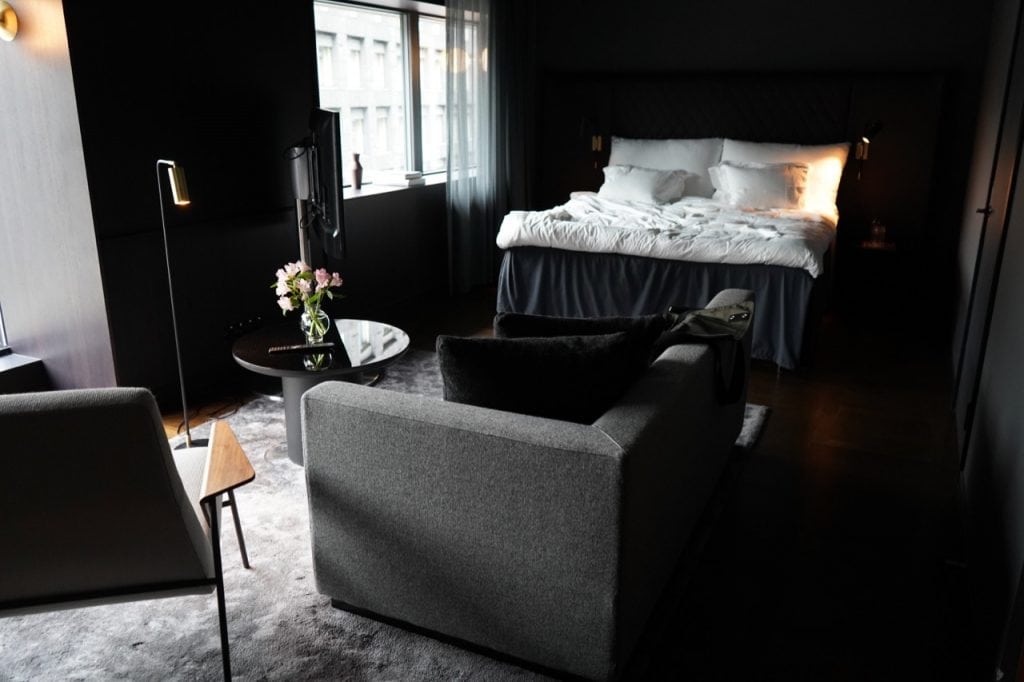 and here's a view from the bed….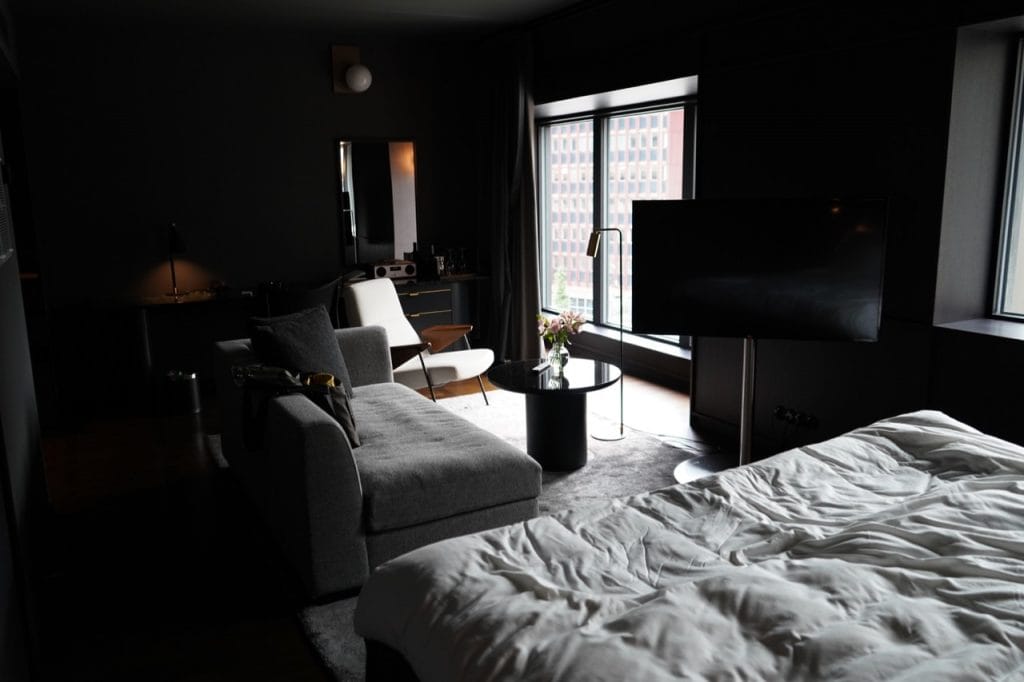 The bathroom was off to the left and contained a great shower – but no bath, which didn't bother me.
A stroll around Norrmalm
It was past six o'clock now, but I didn't want to waste time just sitting in my hotel room, so decided to go for a wander around Norrmalm – the commercial district and city centre.
I didn't walk for more than a minute before I decided to venture inside again – to have a look at a new building opposite my hotel. Downtown Camper is a really funky little hotel which is part of the Scandinavian Scandic chain of hotels.
I have no idea whether this is a tie-in with Camper shoes – could a shoe brand really inspire a hotel chain? But it was really nice inside – with a hip, laidback atmosphere. They had a cool little shop in the lobby selling local goods and also a long list of activities such as walking tours for guests. It reminded me a little bit of the 25Hours hotels I love, but also felt about as far from a chain hotel as you can get which I thought was pretty interesting.
I had a quick look in a great home store called Designtorget, and made a note to come back for some Scandi-styled souvenirs, then carried on strolling. After passing Spotify's offices just behind my hotel I came across Kungsträdgården – a pretty square which I remembered from my previous visit.
Crossing the road I stumbled across the Iittala shop I'd been wanting to check out – I'd recently bought an Iittala dinner set and wanted to see if there were any other pieces I could pick up, but by now the store was closed for the day. Good to know where it was though!
I carried on walking slightly aimlessly, and decided to stop for a coffee and rest my feet. I popped in to a branch of Espresso House and got an iced drink. By now I was beginning to feel absolutely shattered. I couldn't even be bothered reading the leaflets I'd picked up from the Tourist Information Centre either.
I sat and gazed out the open window, then decided to hit the streets again and see if I could find something to eat for an early dinner.
Crossing the road I saw perhaps the smallest Ikea ever – a shop which appeared to just sell kitchens.
Walking up the street around the side of the store, I soon began to remember something that had cause me no end of confusion the last time I'd visited Stockholm. The fact that a lot of streets cross over the top of other streets. So you can be navigating on your 'phone to find someplace, but find that the street you're meant to be on is actually below the one you're on. I took this picture from a bridge over one such spot.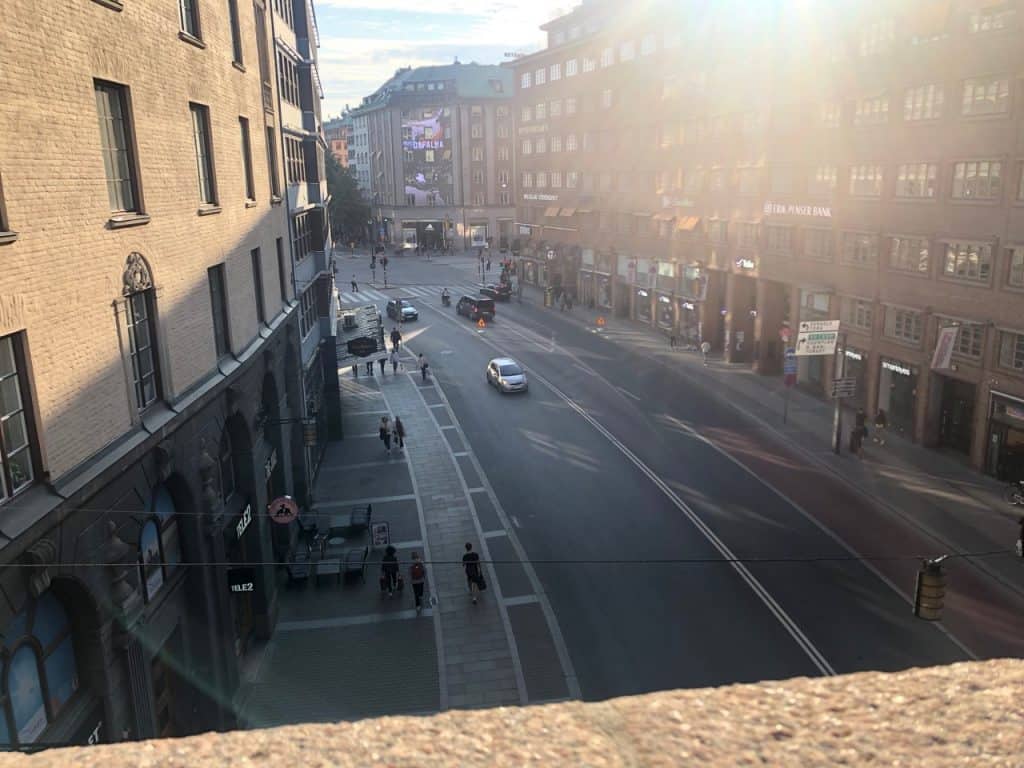 You then have to try and find the nearest stairs down to the street – which take it from me is not easy to do on Google or Apple Maps!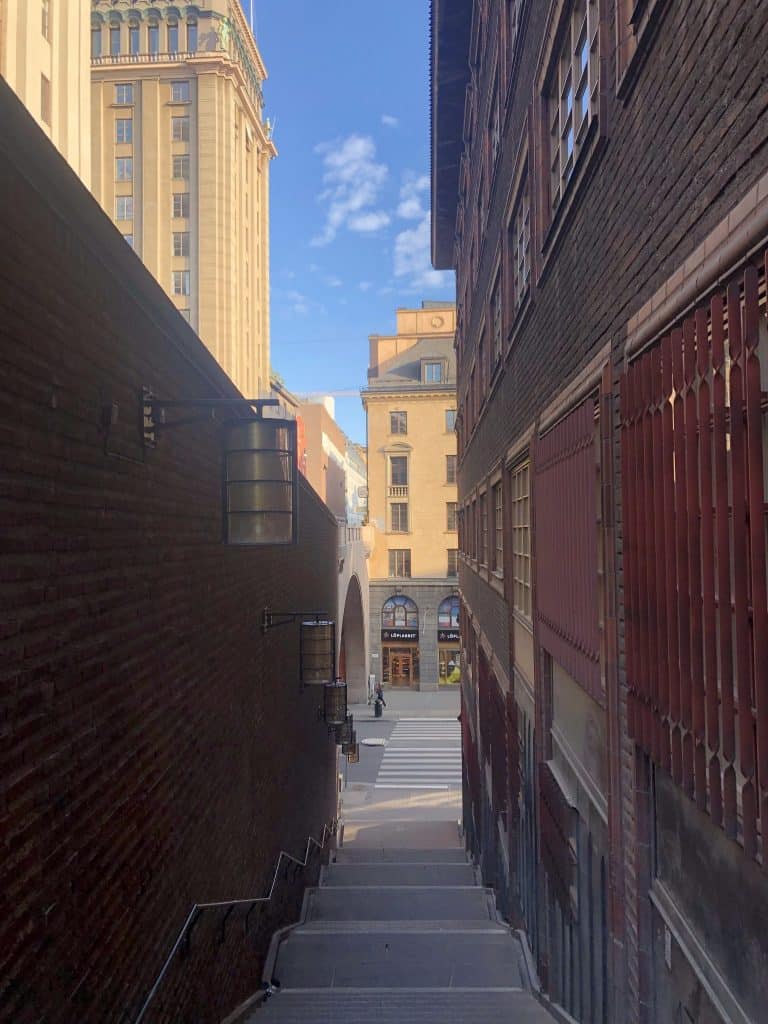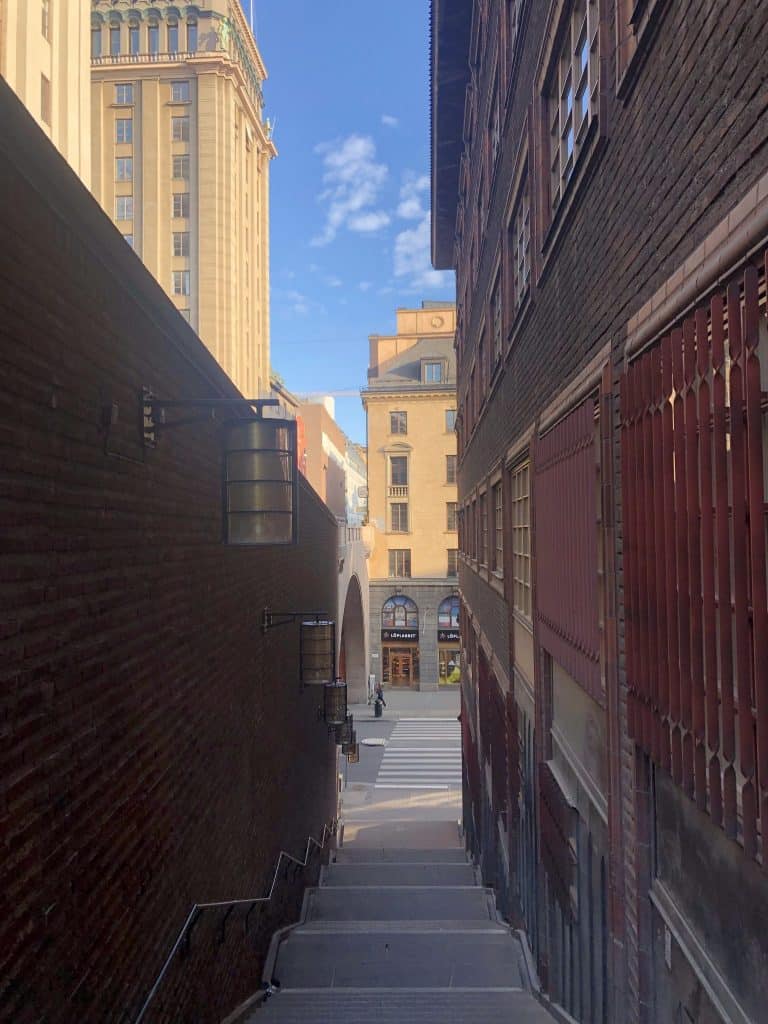 Found them eventually! I went and checked out a pub I could remember from my last visit – purely because it's got the same name as one of my Scottish mates. But it was closed until August for refurbishment.
I could also remember I wasn't far from a good casual food spot I'd visited in 2017, so carried walking down Kungsgatan, looking up at the bridge I'd managed to find my way down from.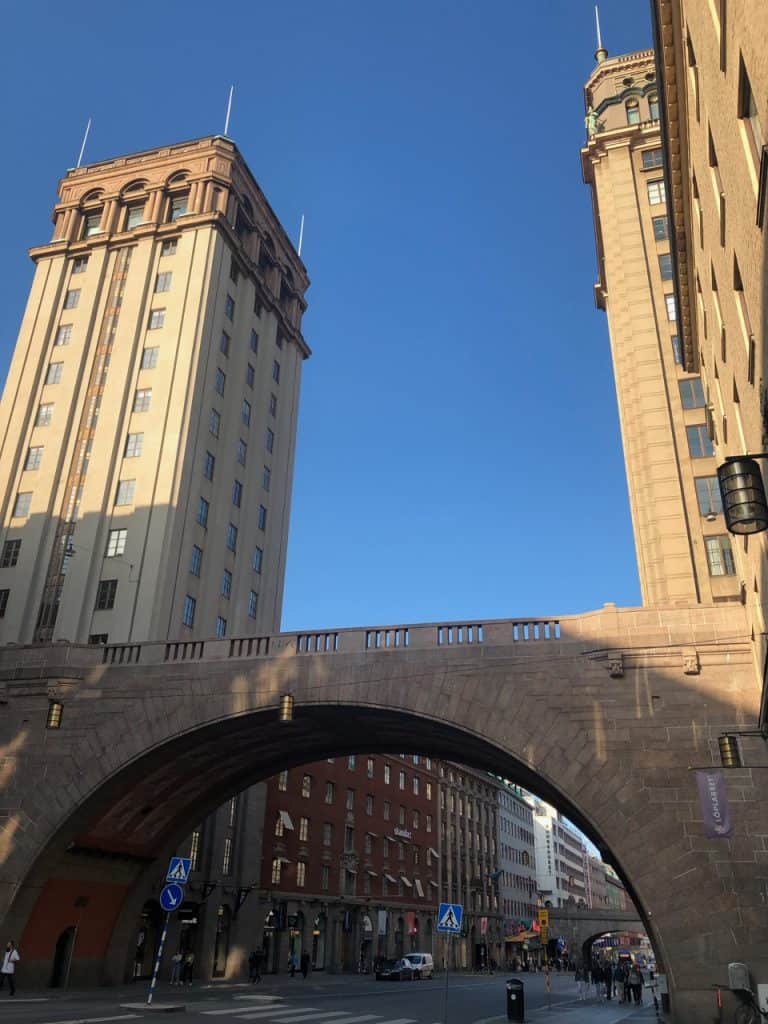 A short while later I walked into a buzzing K25.
It's a funky little space with lots of little independent restaurants – operating like a kind of food court. I had a look around but tiredness was beginning to overwhelm me. And I felt it wasn't that imaginative eating someplace I'd already tried. The taco stall looked appealing, the burger bar smelled amazing, but it was busy – and loud – and I wasn't really in the mood for that. So only slightly reluctantly, I left.
Outside I found not stairs – but escalators back up to the other street level…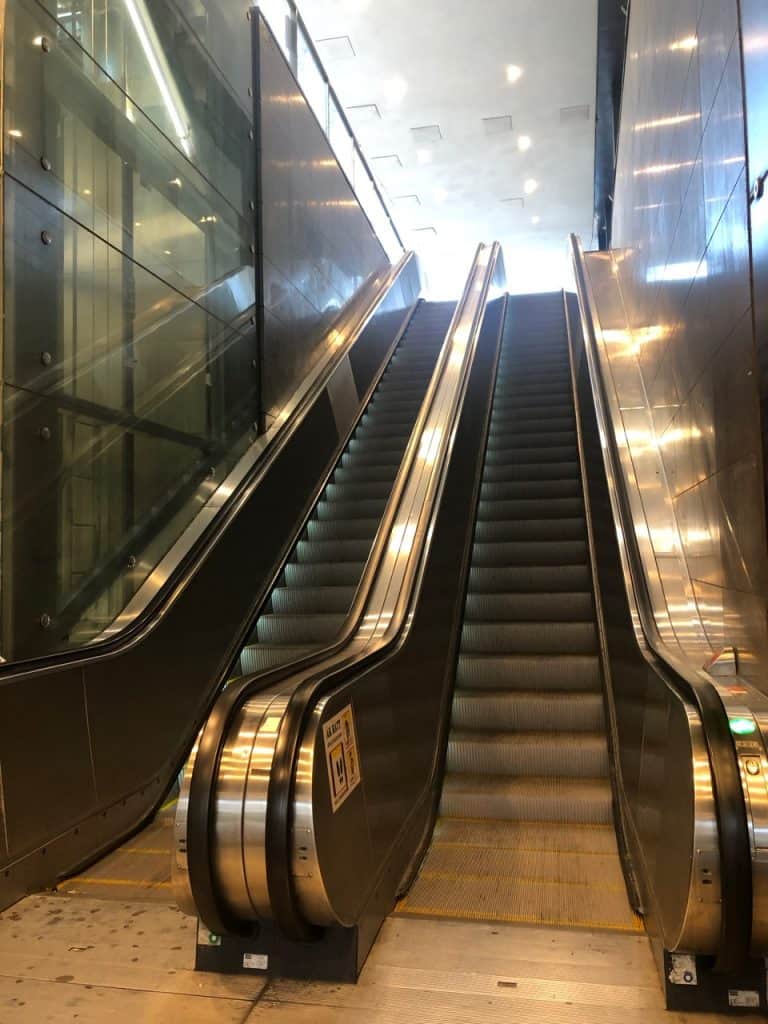 …and decided to head back to the hotel. I was just far, far too tired to do anything more. I was a bit gutted to be honest as I felt I'd wasted an hour or two of my holiday, but – as I kept reminding myself – I had been up since 3am. And that wine on the plane probably hadn't helped!
Taking a short cut through the Gallerian shopping centre, I spied this dude taking photos on a very long lens.
I have no idea what he was taking photos of, as it was just a normal street outside, but he looked decidedly dodgy!
I stopped off at a branch of the Pressbyrån convenience store and picked up a sandwich, a pack of crisps and a bottle of summer themed, coconut flavoured chocolate milk. It wasn't the most exciting of dinners, but it would do!
Back in my room I quickly scoffed that lot down and after watching ten minutes of a French cop show on Netflix, my eyes just wouldn't stay open any longer.
I was out like a light, and fell into a deep slumber. Tomorrow I'd make much more of the day.