It was a fairly early start on Monday – I woke in my countryside cottage at about 7.30am. After showering, I tidied up, put the rubbish out and finished packing, before loading the car.
Then I went to say goodbye to Jukka and Marju. Knocking on the door of their house, I was welcomed in and had a couple of espressos while we chatted. I also got to meet the family cat, but he wasn't very interested in me! Maybe he could tell I'm more of a dog person.
The family had an amazing house, but again – despite kind of wanting to – I didn't get any photos. I handed over the money I was due for extras – it came to €25 for the previous night's meal, and €20 for heating the wood-fired sauna, which I thought seemed totally reasonable.
Then, it was time to say a fond farewell to the Finnish countryside as I got back in my hired car. I was heading back to Helsinki airport, but not before a quick pitstop for a bit of breakfast!
The weather had really turned today – after two days of gorgeous sunshine, the skies were grey, and the rain was pretty constant. I drove into Kirkkonummi and stopped off at McDonald's for my first Finnish McD's breakfast.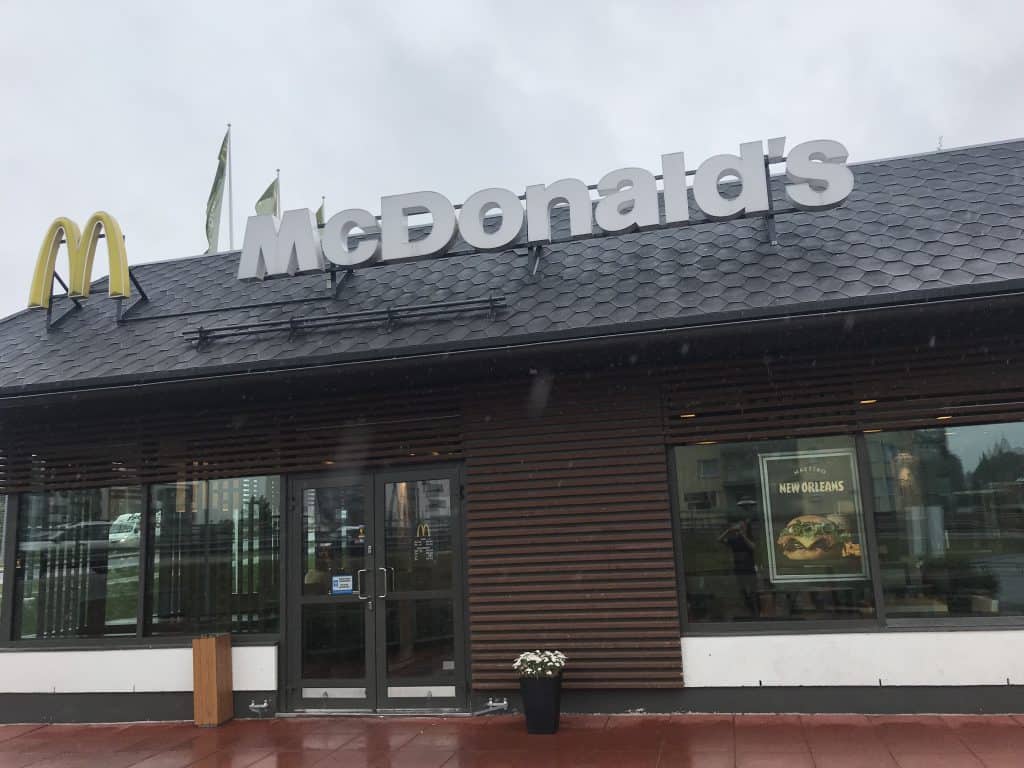 I decided to go for the most unusual option – the Ruis Fresh.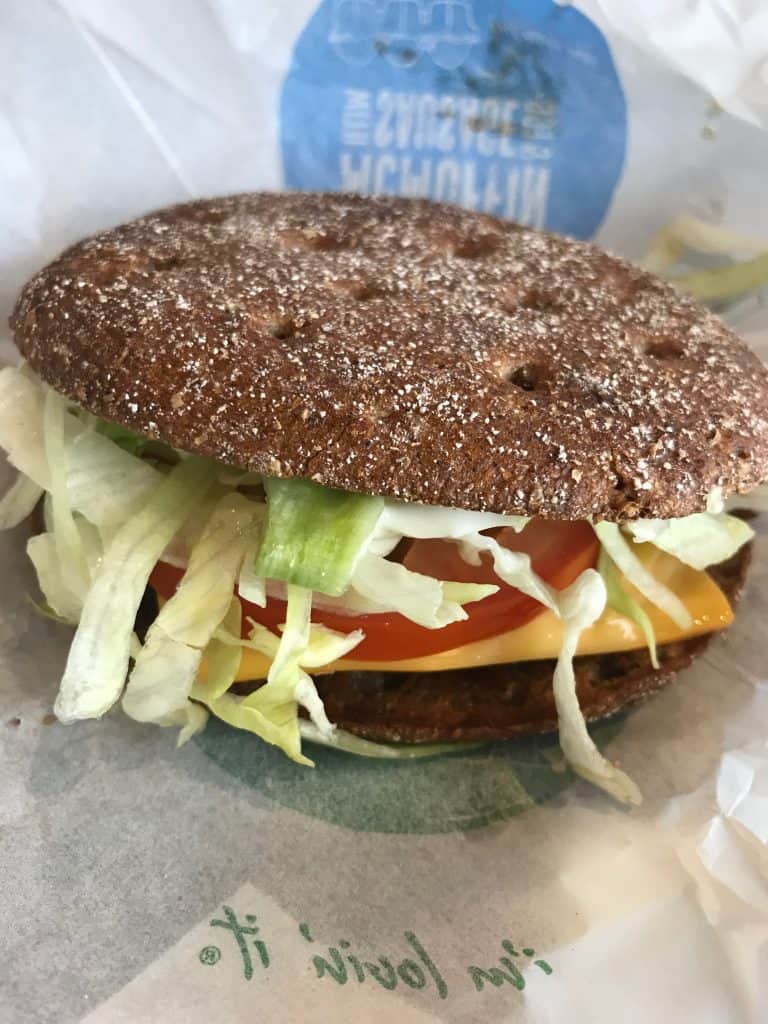 Sandwiched between some rye bread was pork sausage, lettuce, tomato, cheese and what tasted to me like mayonnaise. No egg! It was pretty perfect for a morning snack – not too filling at all, although the crisp rye bread did mean the sausage kept sliding about inside!
I took my coffee to go after eating, and was soon back on the road, with my wipers in near constant use.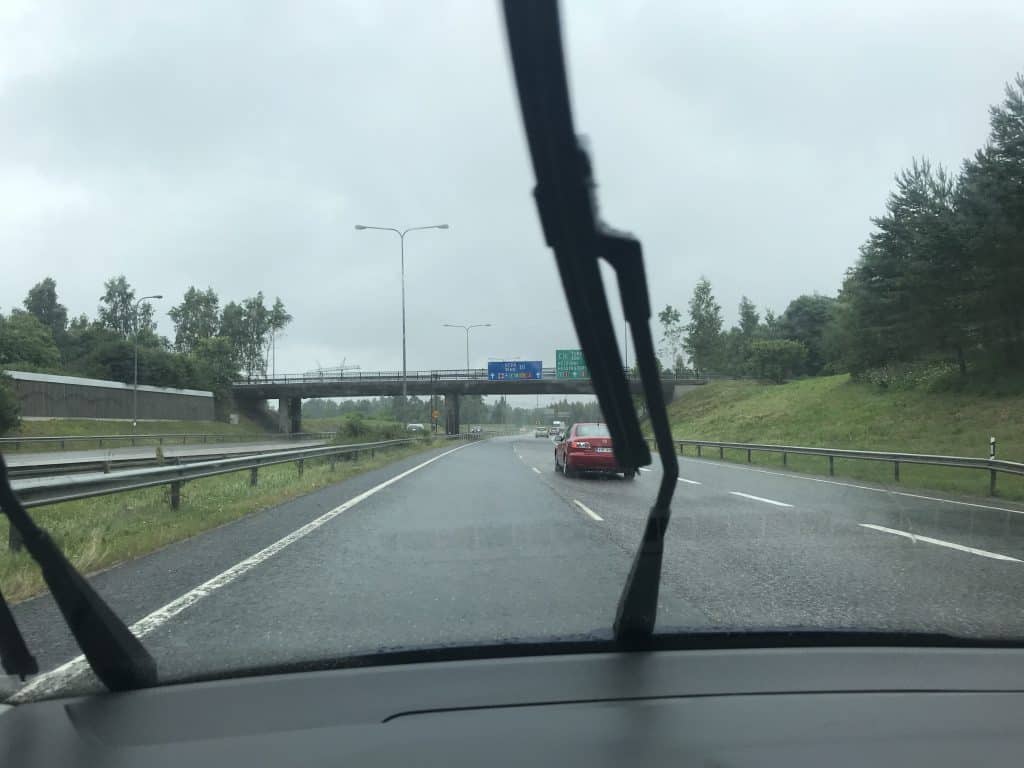 Even on a Monday morning, the roads were pretty clear, and I got to the airport within 35 minutes, and without a hitch.
Pulling up at a petrol station to fill the car up, I wasn't even out the car before a guy was offering to pump the petrol. I thought that was pretty neat until I realised before I could say anything he was filling the tank with premium petrol. Then when I went inside to pay, I was asked if I wanted to give him a euro tip! So he's making a healthy amount of money. Still – I'd driven about two hours in total, and it only cost me around £8 to fill up (including that tip), so I wasn't too fussed.
From the petrol station it was a ten metre drive straight into the car hire return garage, and after handing over the keys, I made my way to Vantaa airport's terminal 2.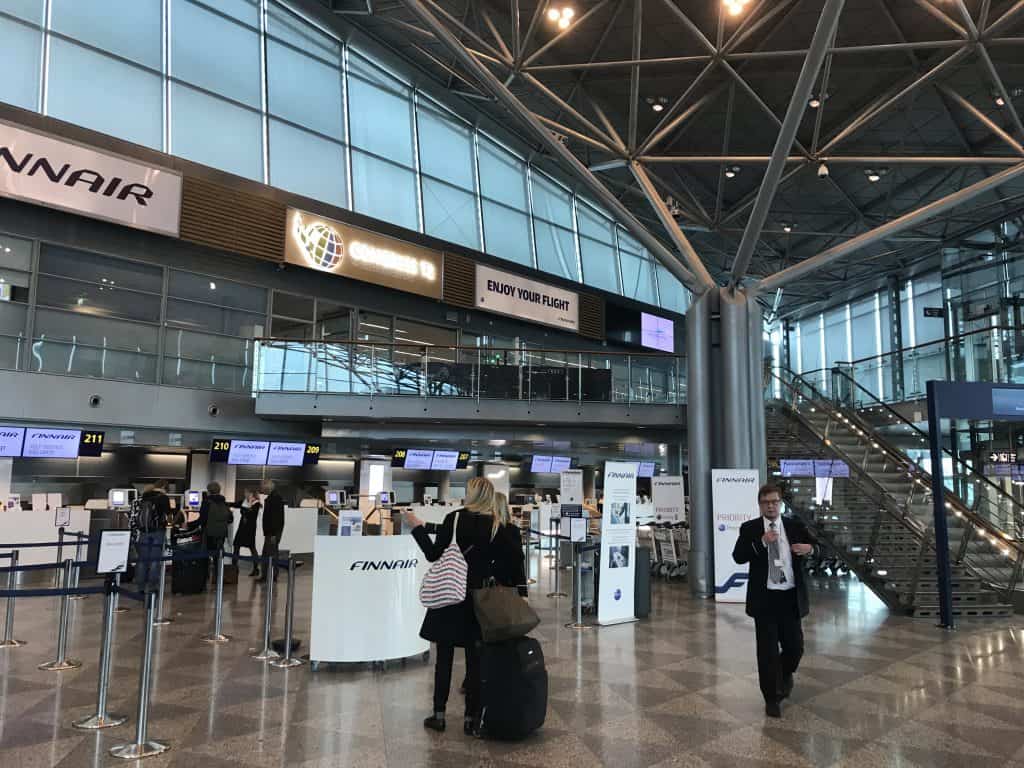 It wasn't too crowded. I checked my two bags in pretty quickly using the premium check in desk, and was also able to use fast track security – where there were only two people in front of me.
After having a quick look around the shops, I decided to check out the Finnair lounge. There's two parts to the airside part of the terminal. If you're flying to a non-Schengen country, you have to go through an automated passport gate, and have access to a bigger, more upmarket lounge.
As Sweden, where I was headed, is a Schengen country, I didn't have to scan my passport, and used the Non-Schengen lounge.
It was absolutely ok – nothing special really, but there were plenty of seats, and some food, which I didn't need as I'd just eaten.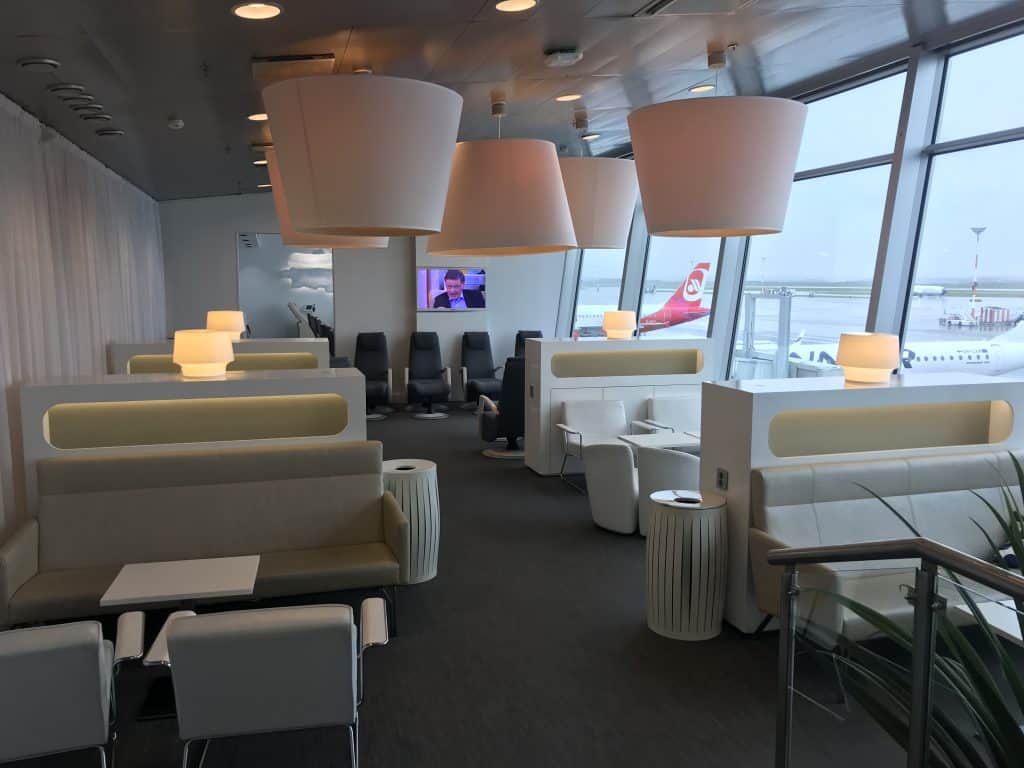 The decor was pretty modern and funky. I had an hour and a bit before my flight, so wrote a bit of my blog before heading to the gate.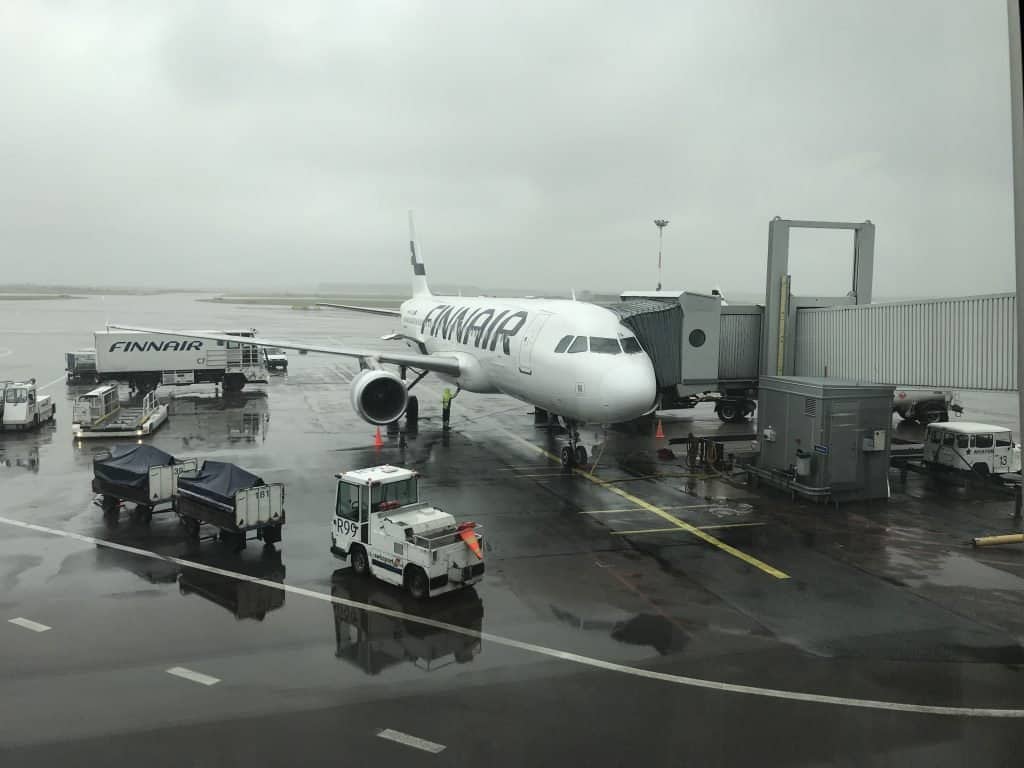 It was a fairly big and modern plane – I think it was an Airbus 319 – and soon we were on board.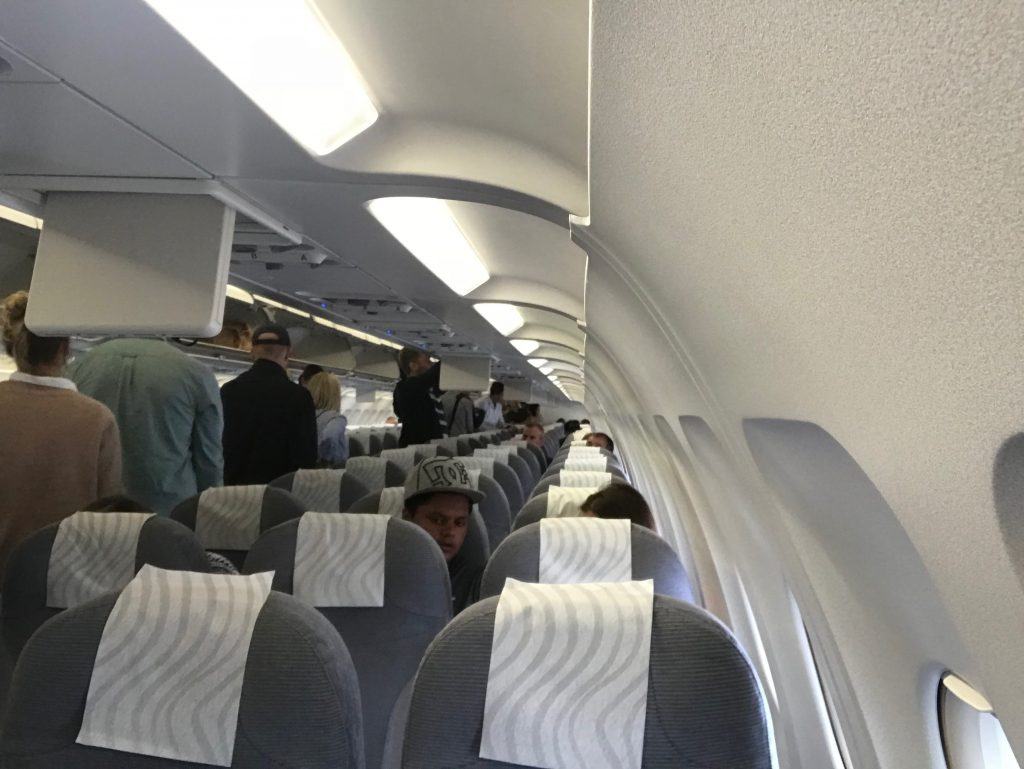 The flight was pretty uneventful, and departed and arrived on time. Unlike British Airways (grrr) you also got a complimentary drink – as long as you wanted tea, coffee, water or blueberry juice. I opted for the juice.
54 minutes after take-off we arrived at Stockholm's Arlanda airport. And the sun was shining again!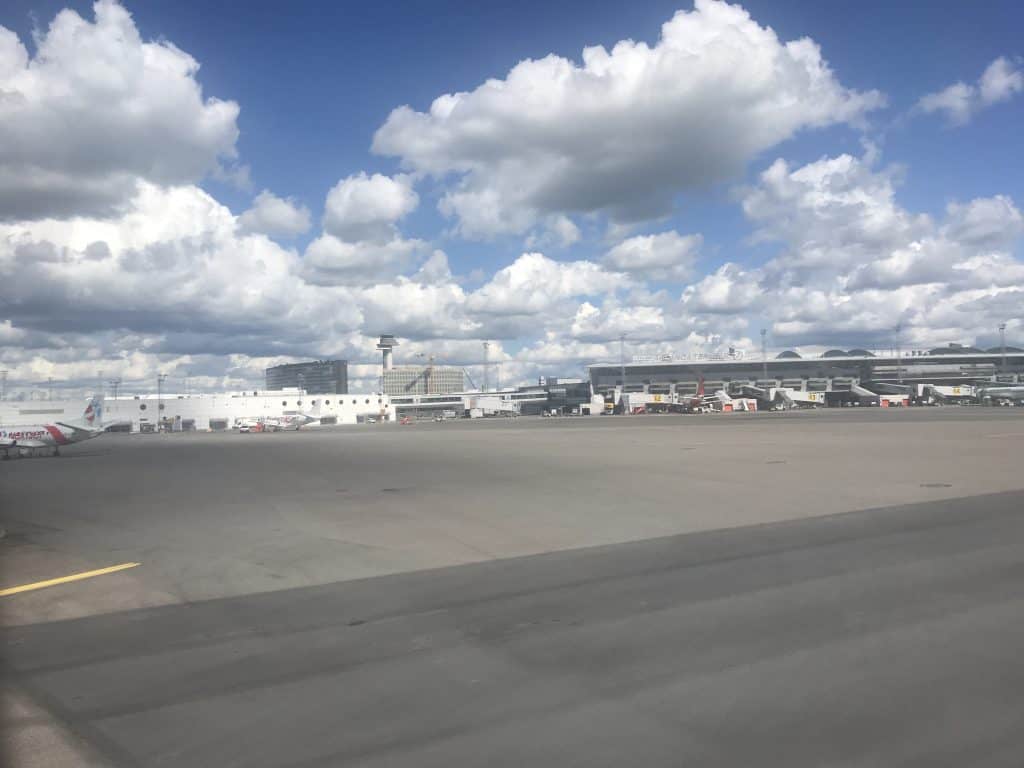 When I got to baggage reclaim, the place was absolutely heaving – it seemed like we'd arrived at a bit of a grim terminal with not enough space for incoming flights. It was a bit of a battle to get anywhere near the luggage belt.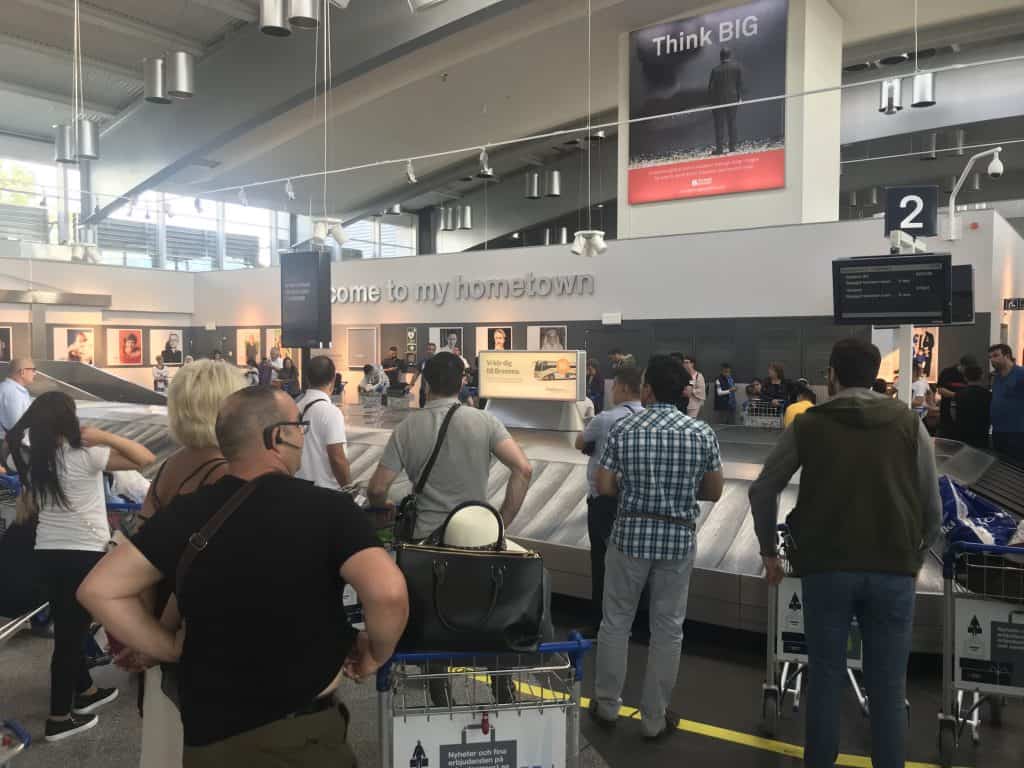 I didn't have to wait too long for my bags in the end, and headed to catch the Arlanda Express train in to town. After going down to the platform in the lift, I thought at first I'd arrived at the wrong part of the station – the place was deserted.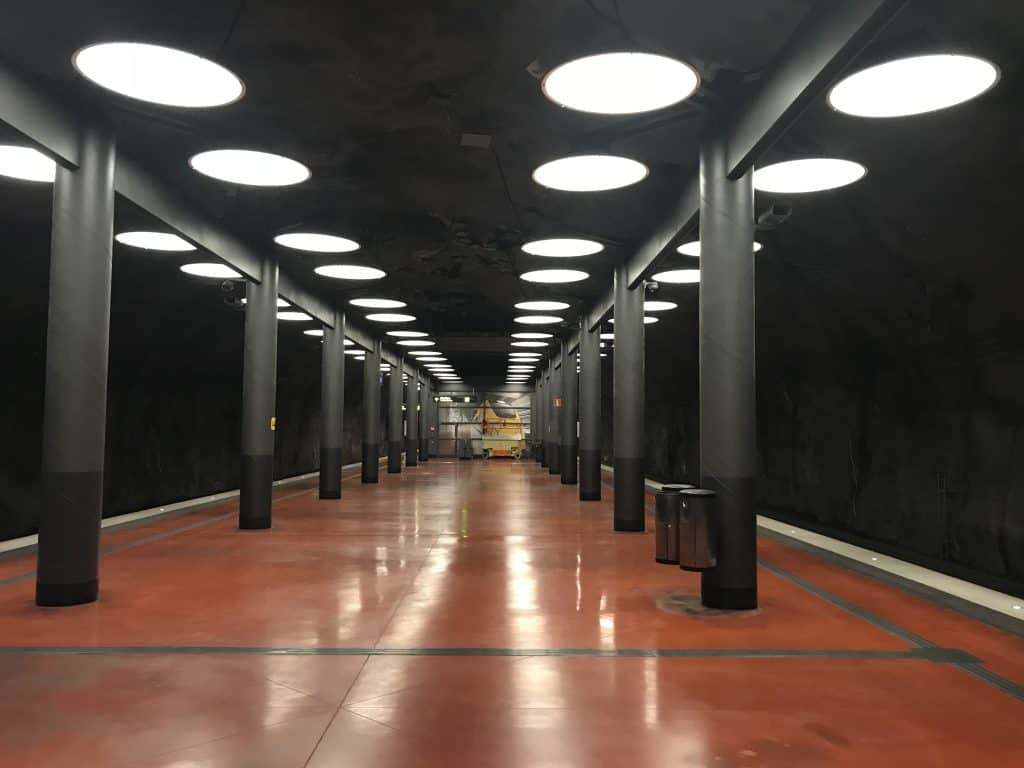 But it turns out the in use part of the platform was just a bit of a walk away from the lift. After buying a packet of crisps from a vending machine (bit peckish by now!) I waited for about ten minutes before the train arrived.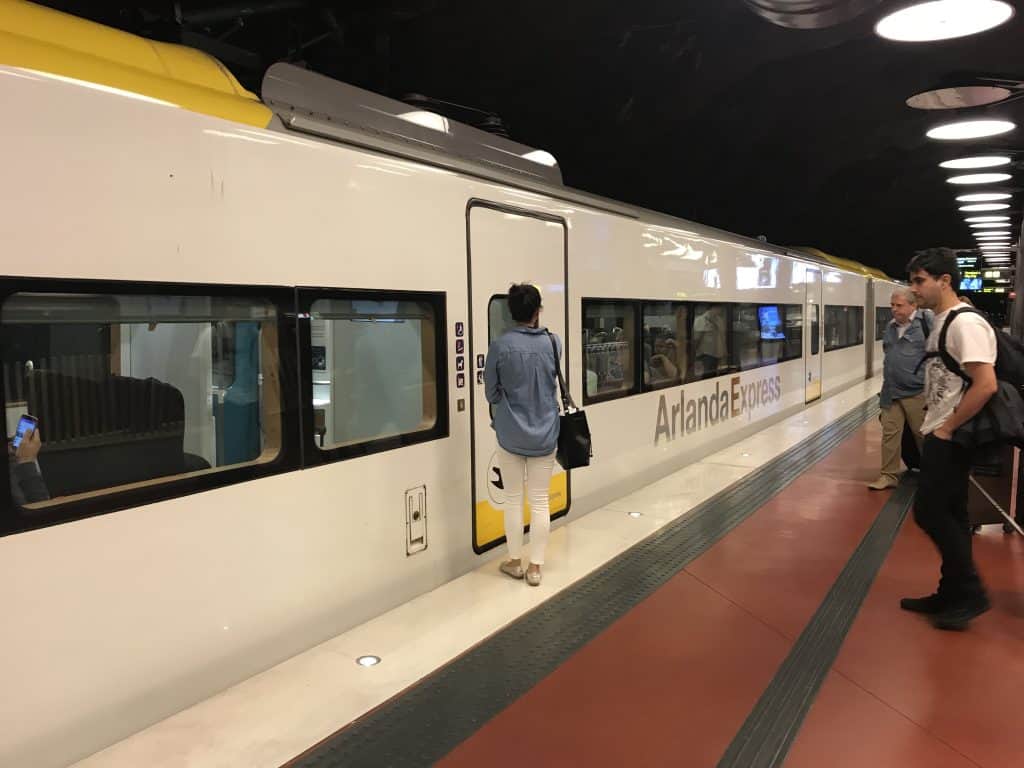 It was very sleek and groovy looking! Inside was comfortable too, and there were power points at every seat, which I used to charge my phone.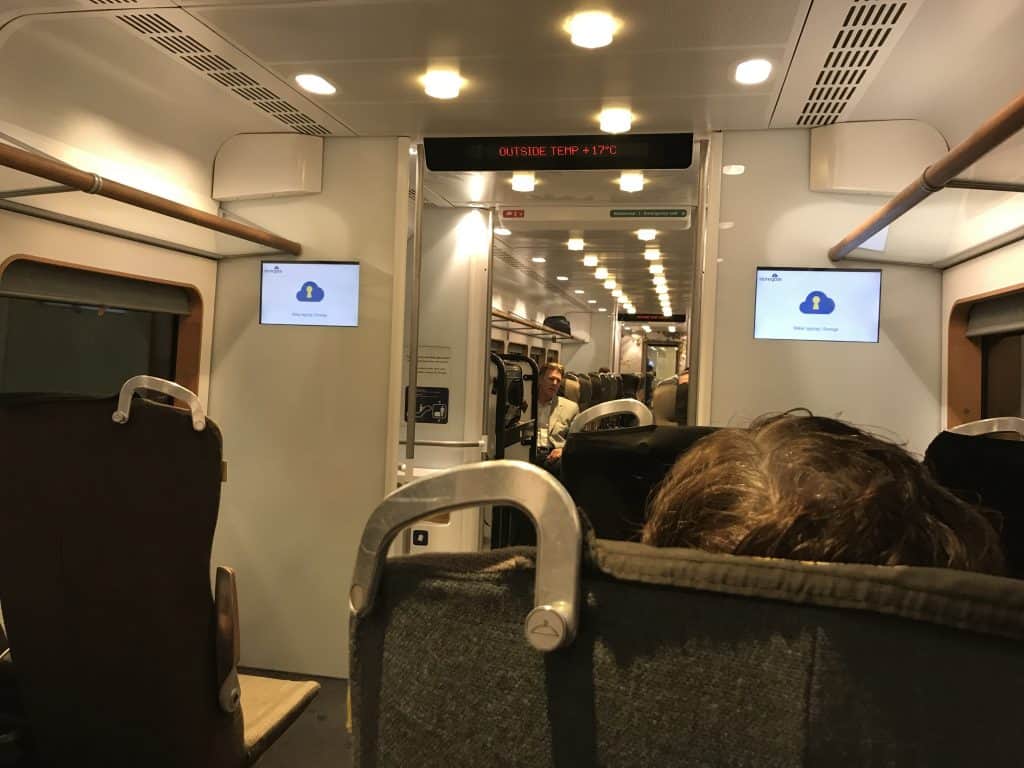 The train ride to Stockholm's Central station from the airport took just 20 minutes, and cost me 392 Swedish Krona for a return trip – that's about £36.60 at today's exchange rate. So comparable to the (bit of a rip off) Heathrow Express. Before I knew it, I'd arrived in the centre of Stockholm.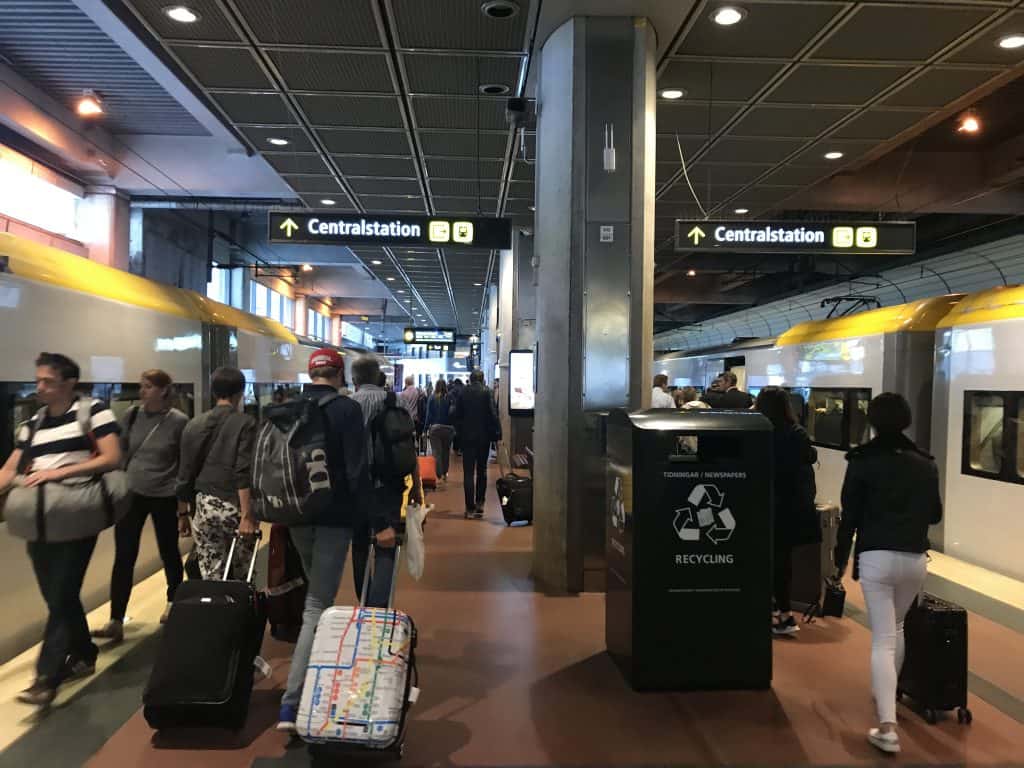 I headed into a Pressbyrån convenience store at the station and picked up a sandwich and a drink for when I got to the hotel as a bit of a late lunch.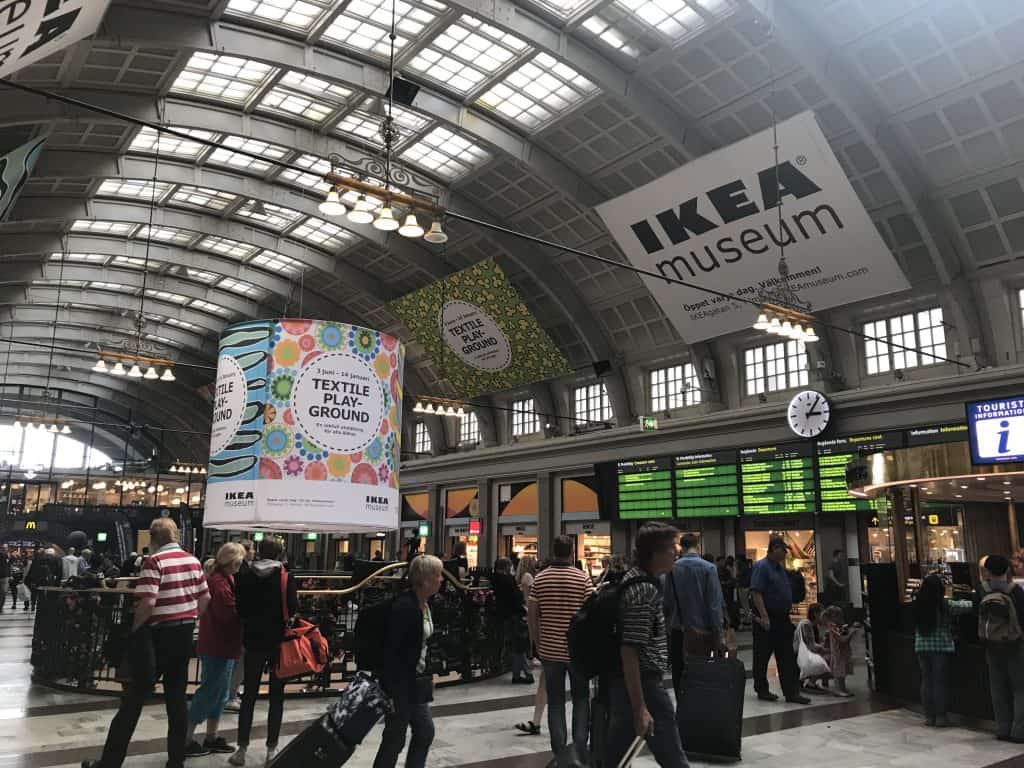 After heading out on to the street, I noticed my seagull pal from Helsinki seemed to have made the trip with me….
I put my hotel into Google Maps and then stood for a good while trying to work out exactly where it was. Looking at my phone, there was a maze of streets with some going over the top of each other. Stockholm seemed to have streets on several different levels, which straight away I found very, very confusing. I couldn't work out which level I was meant to be on, so in the end lugged my bags up a flight of stairs, and it turned out I was on the right track. I walked up a main street – the centre of which was being torn up (there was loads of construction in Stockholm it seemed), then up a steep hill (quelle surprise) and soon I'd arrived at my hotel.
I was actually standing looking around trying to find it for a good couple of minutes, as the only sign was a tiny one by the door.
I'd chosen At Six for my stay in Stockholm, and had decided to splash out a bit on a Junior Suite seeing as it was the last bit of my holiday. I paid about £400 for two nights, but it appears that was a bit of a bargain, as when I checked again just before leaving the UK, it was showing at a rate of £1100 for the two nights. So book early is my tip!
The hotel's fairly new – and very sleek looking. Cool music pumped over the stereo in the lobby, and I decided pretty quickly I liked it!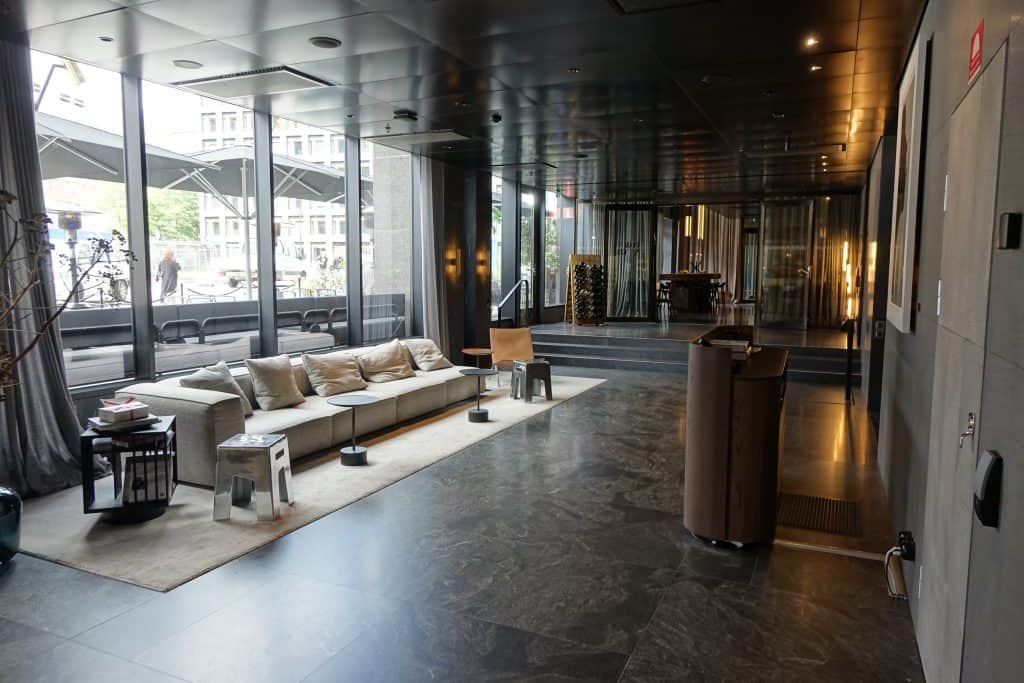 At check in I was welcomed as an "Expedia VIP". I usually book my hotels through Ebookers, which are owned by Expedia. I was upgraded to a suite (result!) and given a late check out of 2pm, which was really handy.
I took the lift up to the 12th floor, and was relieved to be able to dump my bags at last – they seemed to weigh a ton!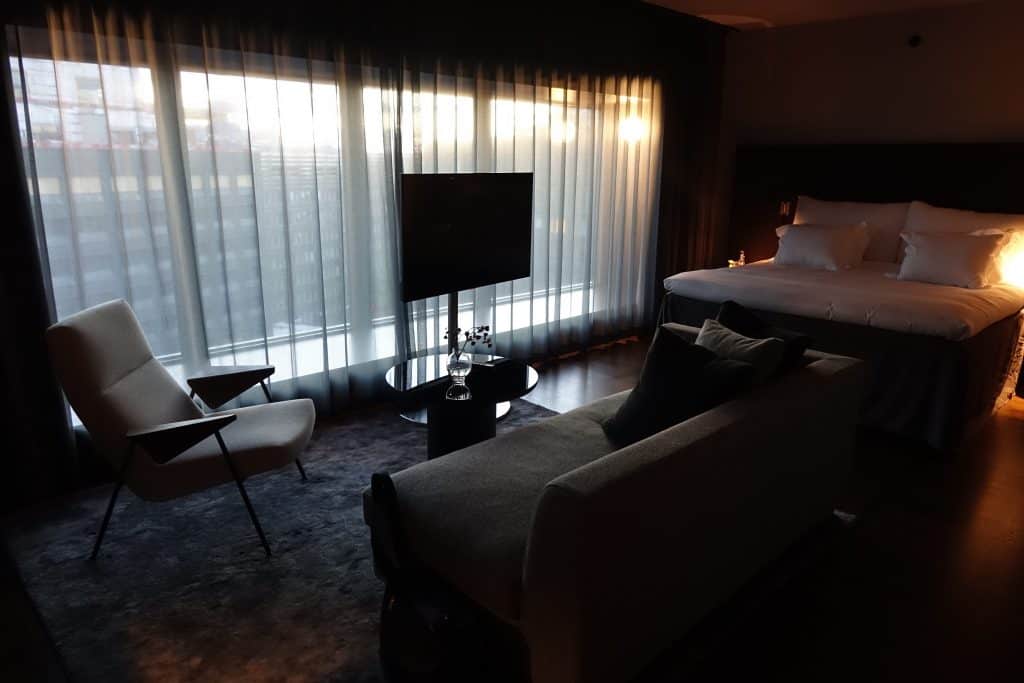 The room was really nice, but the trendy lighting did mean it was a bit dark – there was basically no big light in the room, meaning you relied on the large window for light during the day.
There was a nice Ruark Audio bluetooth speaker on the desk, a large TV, and a little gift waiting for me as well!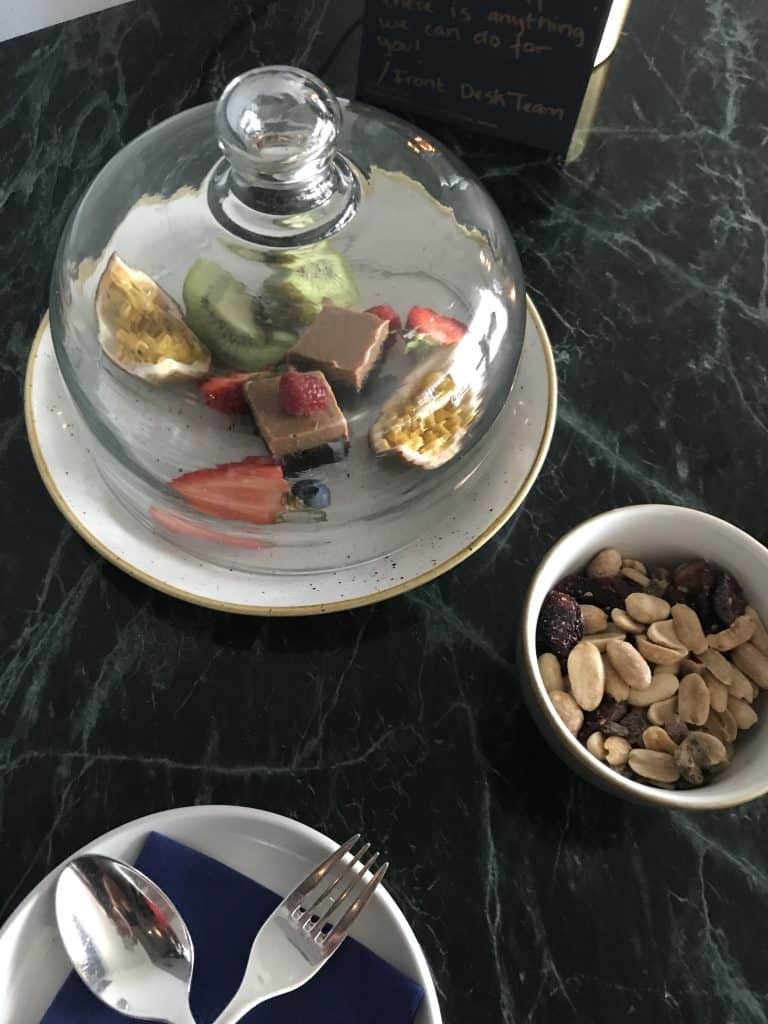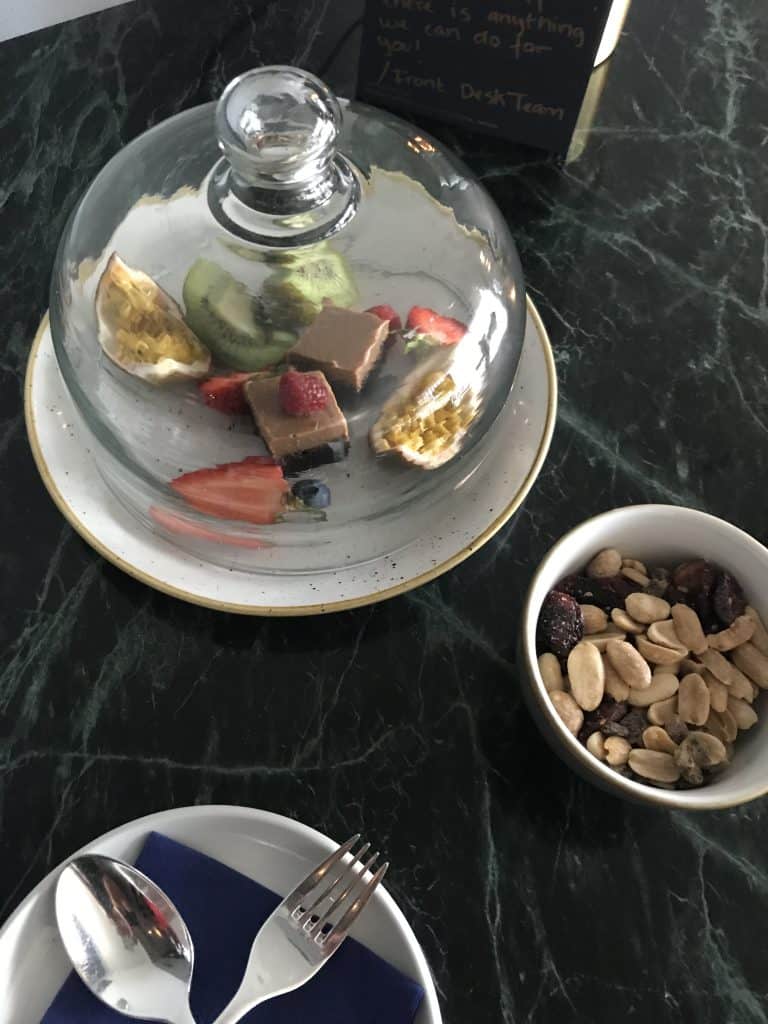 Although I have no idea who Silvio is 🙁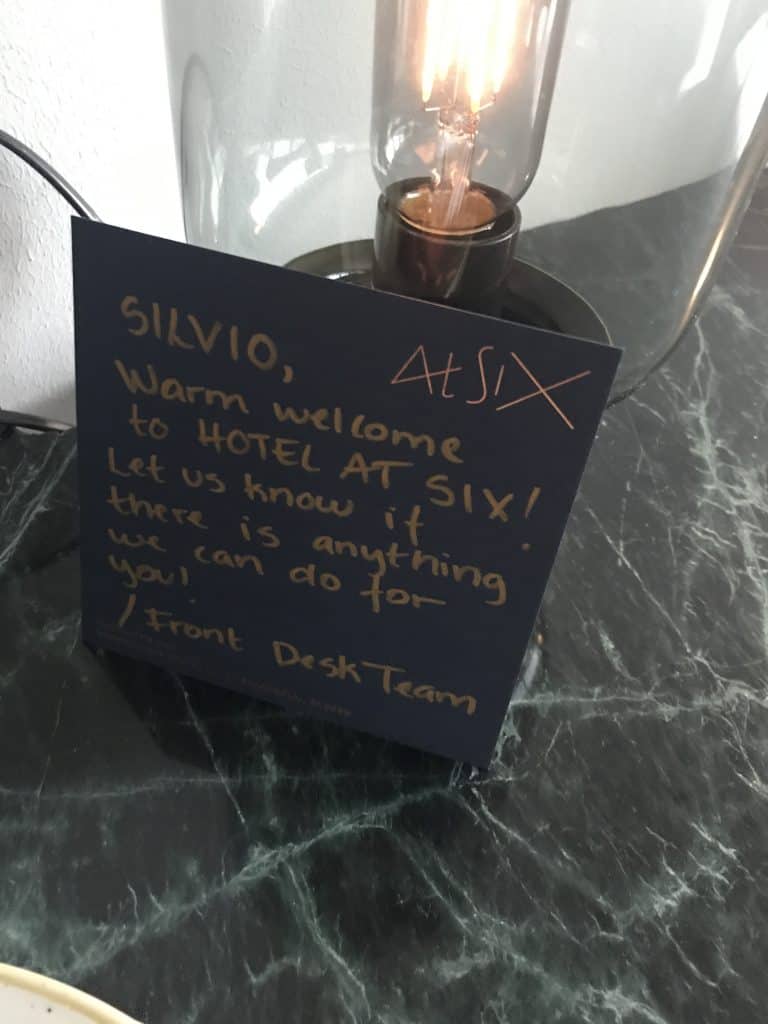 Who knows?! I was pretty exhausted by now, so despite being tempted to head out straight away and explore the city, I instead opted for an hour long snooze. Had to be done! After waking, I grabbed a shower, and then walked the short distance to the tourist information office to plan out how to tackle the city over the next two days.
The lady – Anna – was really helpful, and honest too about the city, explaining what she felt was and wasn't worth seeing, and also marking all the sights I wanted to see on a map.
By now it was about 6pm – too late to see anything really, so I decided to wander about the shops for a bit. I'd asked Anna about Scandinavian design stores, and she pointed me in the direction of Designtorget – which was actually beneath the Tourist Information Office. After eventually managing to work out how to get underneath the tourist office, I had a look around.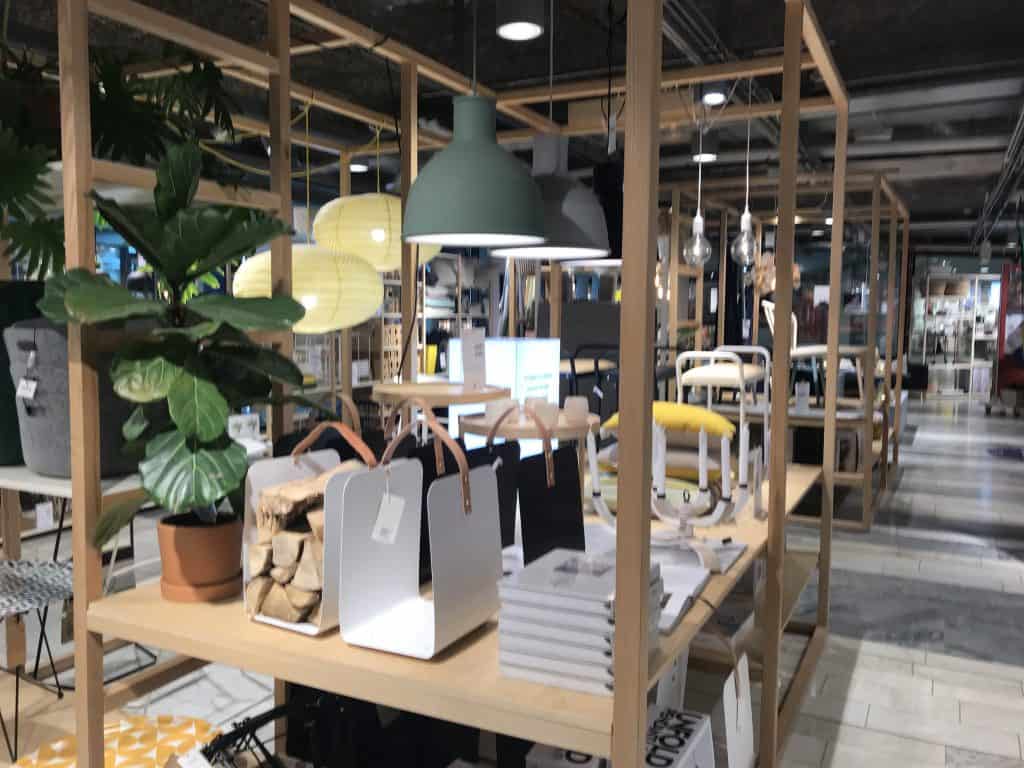 There was lots of cool stuff – but nothing really that I needed. So I headed along the street to NK – apparently Stockholm's most luxurious department store.
It was pretty grand inside.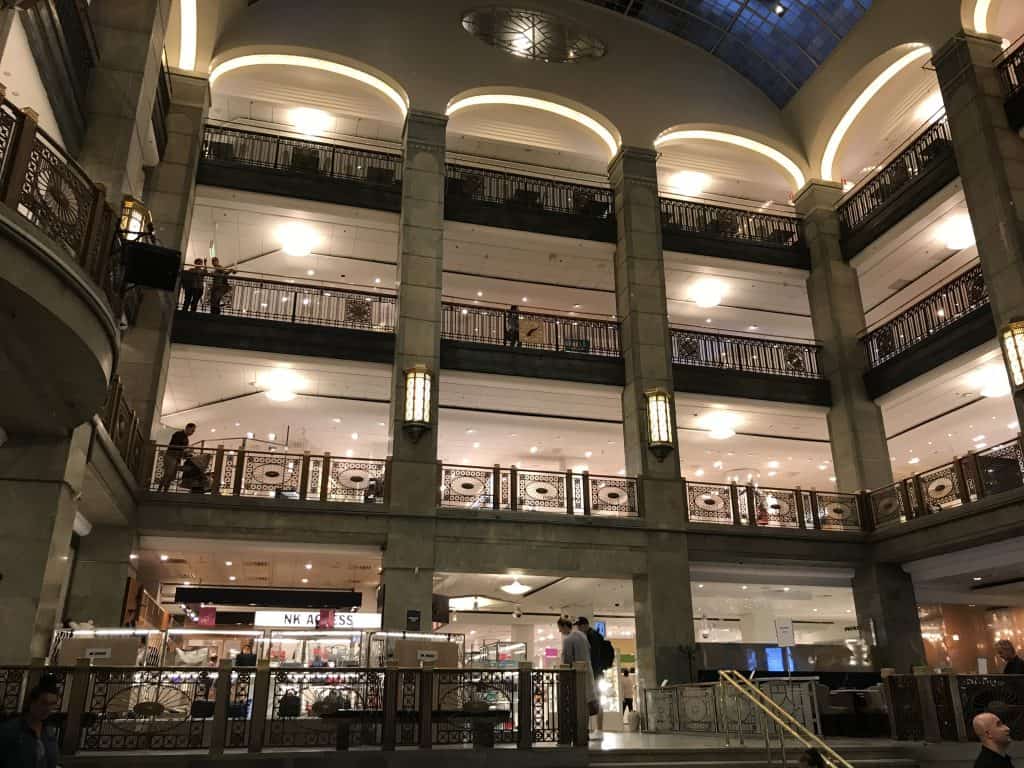 I wandered aimlessly around for a bit, checking out the homeware and food hall areas for any possible gifts, then tried to track down the store's hot dog stall which my sister had said was a must visit. Despite wandering around the whole perimeter of the basement (which is where I thought it was) I couldn't find it. I couldn't be bothered asking about it, so I resolved to try and track it down another day.
I paid a quick visit to another department store, Åhléns, before it closed, and then decided to grab something for dinner.
I was feeling absolutely exhausted by now – I'm not sure whether that was because I hadn't slept, it was something to do with my bites, or it was just all the travelling. Basically that is my excuse for heading to another fast food restaurant. Not McDonald's though! Swedish burger joint MAX. I'm not gonna lie – I did feel a bit guilty having paid a visit to McDonald's fairly recently, and then again for breakfast just that day. However, I was tired – and on holiday – so decided what the hell….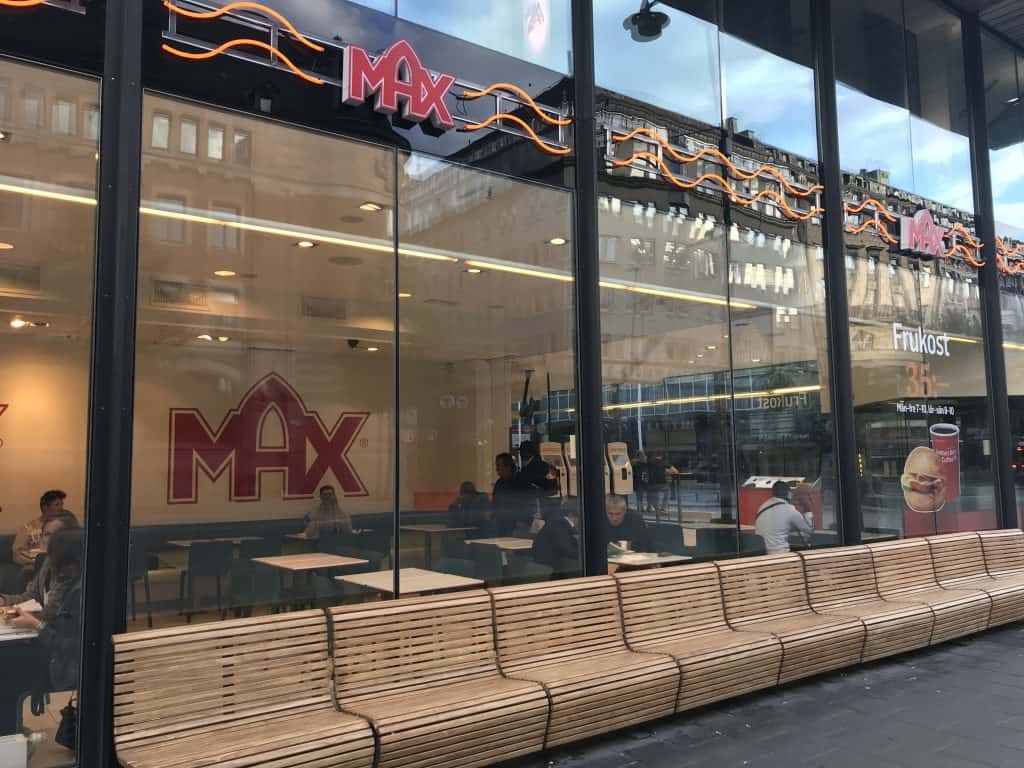 Thankfully they had kiosks which had an option for English, but confusingly, the translation seemed to stop working about half way through – so you couldn't tell what was on the burgers 🙁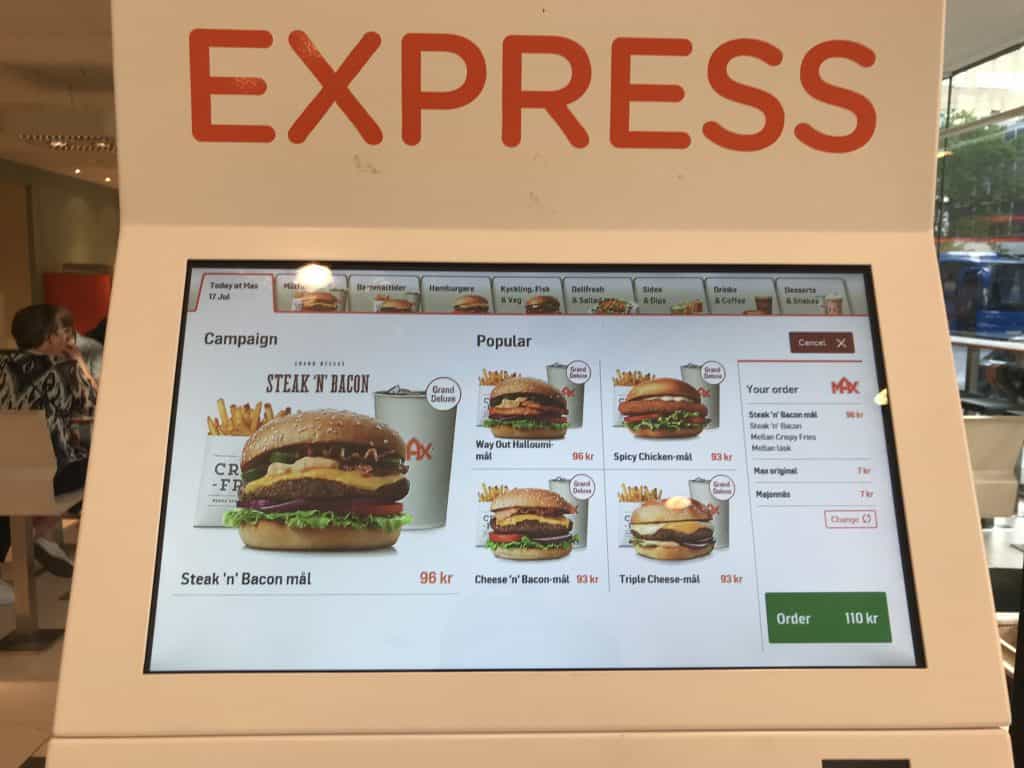 I decided to go for the Steak 'n' Bacon. And that's the first time I noticed that Sweden is EXPENSIVE. A meal like that at home would cost maybe £6.50. This one cost £9.16 at today's exchange rate. Pricey! And I'd notice more over the next couple of days that Sweden is expensive for us tourists. I waited for what seemed like an eternity for my number to be called…
… and then finally sat down to dinner.
I'd be lying if I said it was amazing. The chips were great, but the burger just wasn't brilliant – it really just tasted like a frozen hamburger. I was a bit disappointed 🙁
After that letdown, I headed back to the hotel where I noticed that not only would my TV not switch on, but the safe wouldn't open either – and inside that were my passport and laptop.
A call down to reception saw a lady come up and fix the TV just by swapping the power socket it was plugged into (should have thought of that myself) but then there was no joy with the safe.
The Guest Manager then took over, but again was unable to get the safe open. And we were definitely using the right combination code. She left, promising that she'd get maintenance to look at it in the morning.
Kind of wanting to get a bit more of my blog done, I tried googling the error code the safe was giving, before trying one last time to open it – this time pushing down on the lid as I tried. Result! It opened. I popped down to reception where I was given a high five by the Guest Manager, and then twenty minutes later got a call saying they'd like to bring something to my room to thank me.
I was excited… but unfortunately it was just the same cake and fruit selection which I'd already been given. It was a nice gesture though, and it was nice to be told that it was a delight having "guests like me" staying!
It had felt like a really long day. I read for a while before switching off the lights and going to sleep – tomorrow I had a long list of sights I wanted to see.