I managed to get up at 7.30am on Saturday, as I had places to be and things to see! After one last breakfast in the hotel, I walked through Helsinki's sunny streets to collect my laundry, which was all ready for me.
Then it was back to my hotel to quickly finish packing and check out – where I was handed a piece of paper and asked to circle the number from 1-10 that I'd rank the hotel. Feeling a bit under pressure – and under the receptionist's watchful gaze – I circled 10, but realistically I think I probably would have given it more of a 7.5! It was absolutely fine, just not anything amazing.
Dragging two bags and carrying my rucksack through town (I never should have brought my tripod which has not been out its bag once!), I reached Central Station, which was looking a lot better than it was when I'd arrived.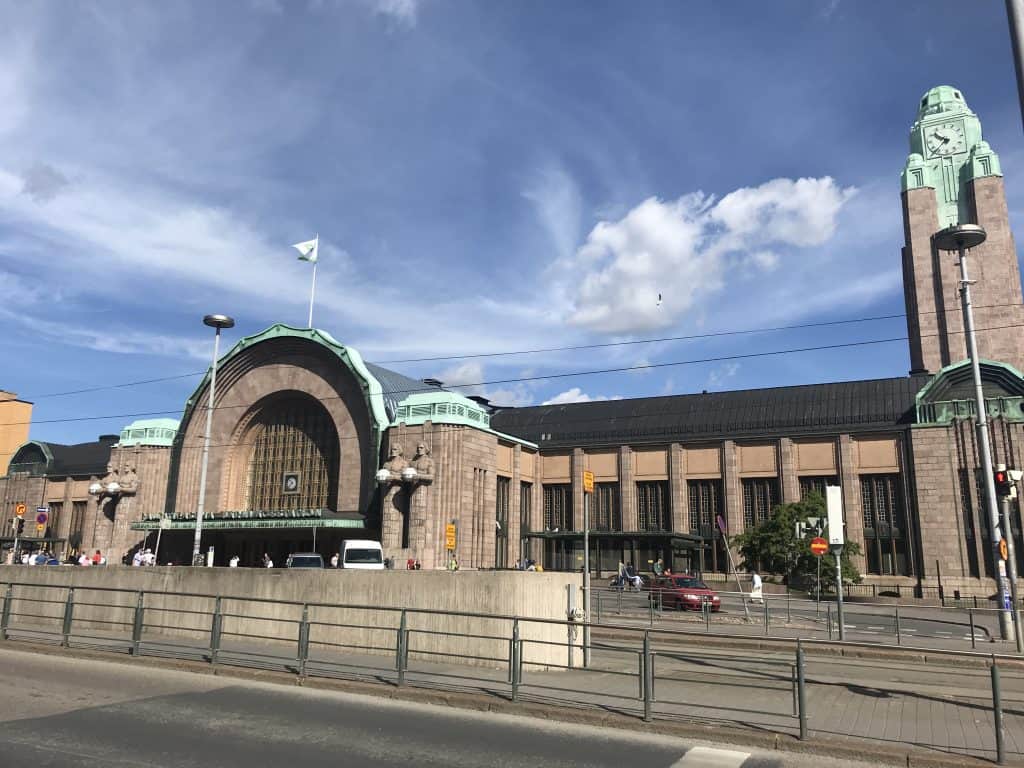 Everything looks better in the sun, right? Inside, I bought my €5 ticket for the I train to Helsinki Airport, and then discovered the platform was right around one side of the building – i.e. the furthest one away.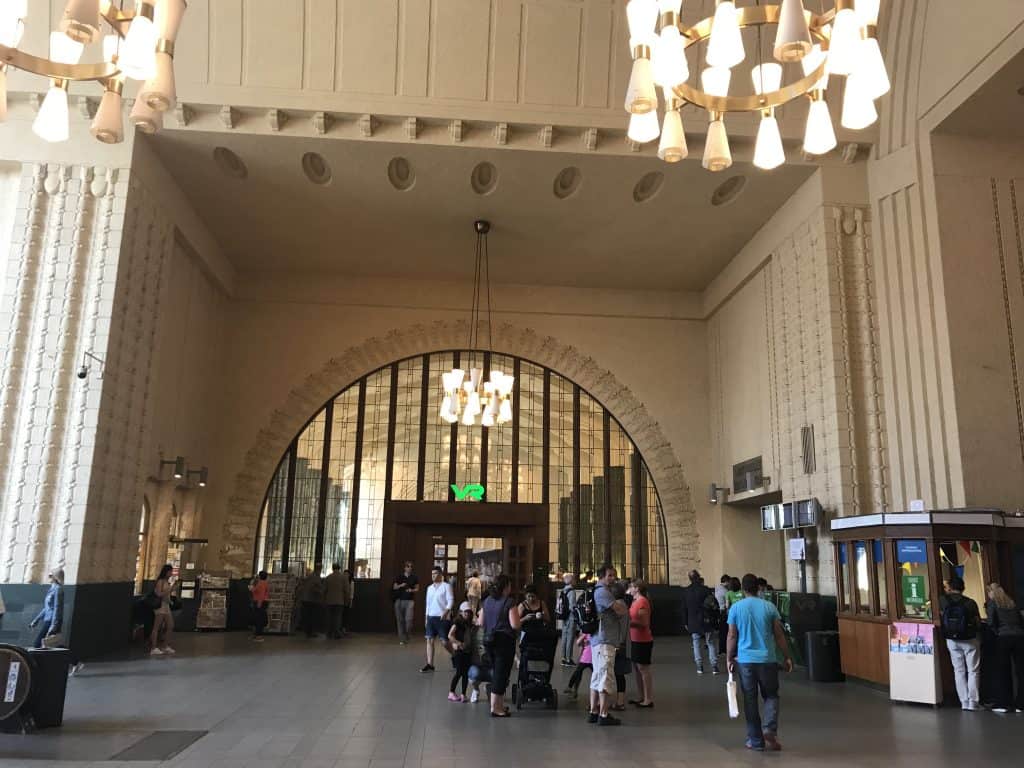 The inside of the station's pretty impressive. Anyway, I made it on to the train just a couple of minutes before it pulled out of the station, and soon we were on our way.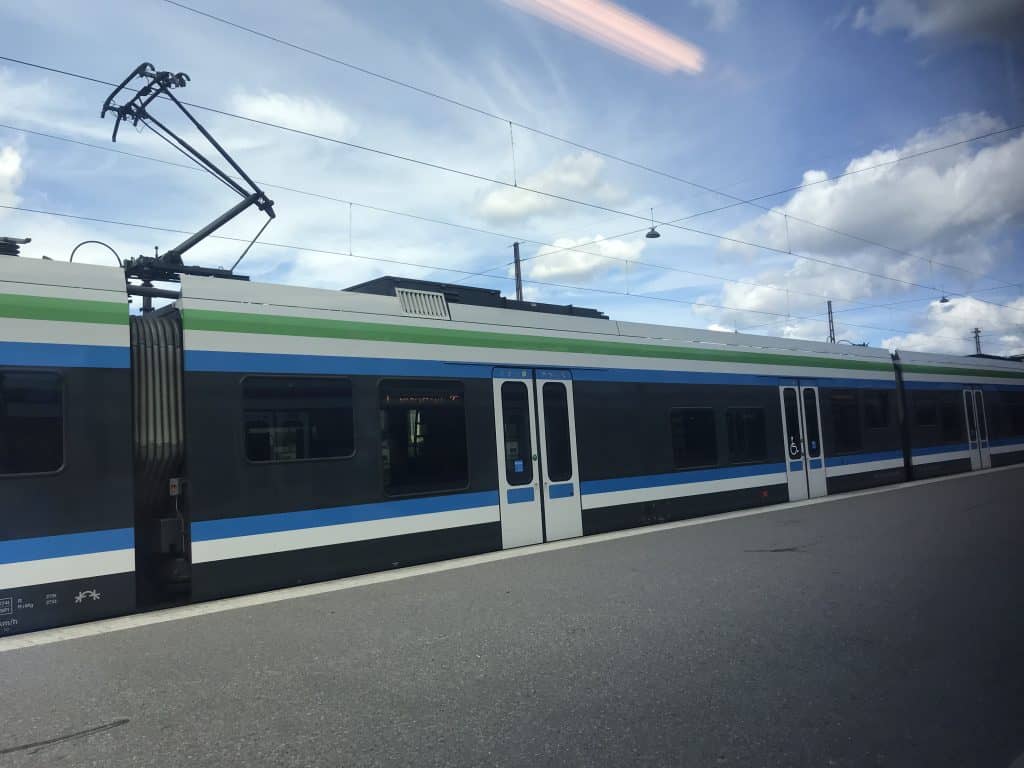 Not the most interesting of photos that sorry!
Twenty five minutes later, I was making my way through the airport – but I wasn't about to catch a flight. I wanted to see a different side to Finland, so had come to collect a hire car.
After going through the usual upsell routine at the AVIS desk, I made my way to the car park, and collected my Skoda Fabia saloon. Not the most glamorous of cars, but if it got me from A to B I was happy!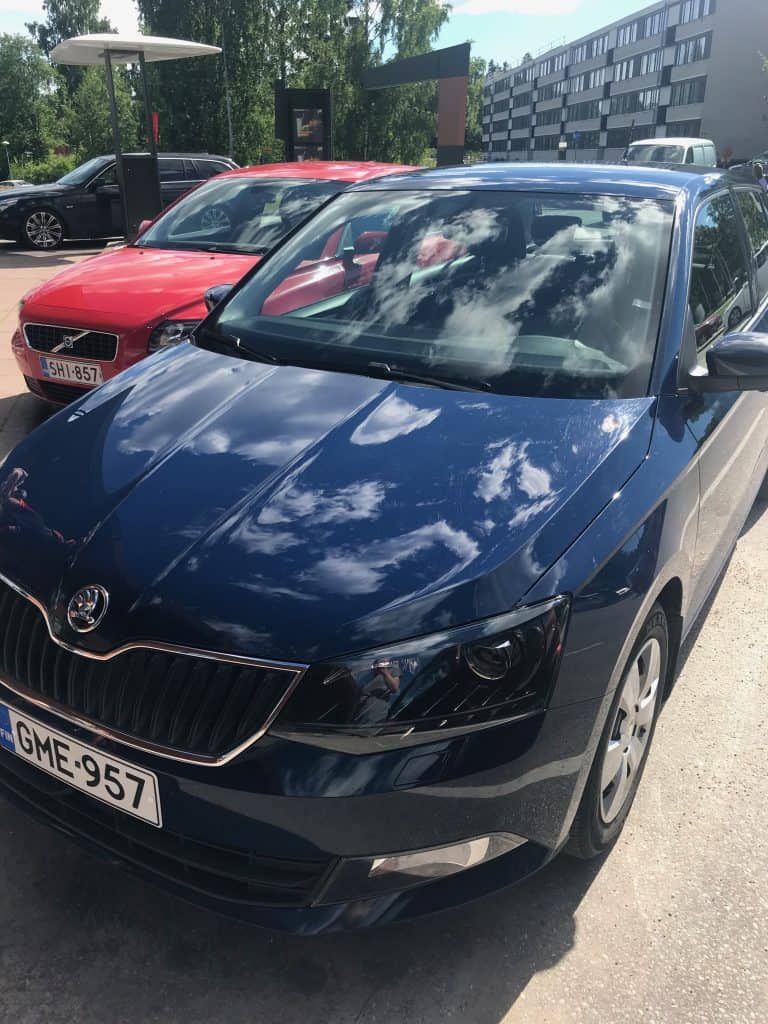 Obviously I tried to get in the right hand side door before realising the steering wheel was on the left. Then I sat for a good five minutes trying to work out which pedal was which. Is the clutch on the other side on a left hand drive car? I couldn't get the car started to work it out either. Eventually I called on help – and for information, the clutch is still on the left in a left hand drive car!
My final destination of the day was only a half hour drive from the airport, but I decided to head in the other direction for a bit and visit a small scenic town I'd read about called Porvoo.
After plugging the destination into Google Maps on my 'phone, I was soon on my way.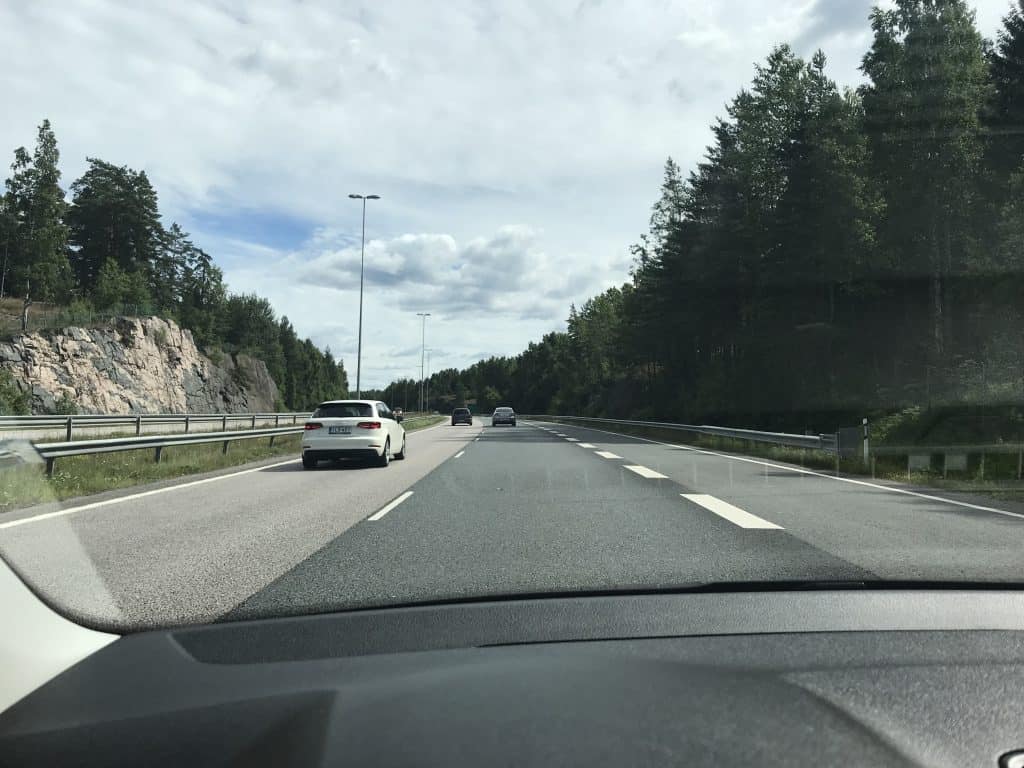 Now I've got to say, driving in Finland is a pleasure. I was a bit stressed out about driving on the other side of the road (particularly going around round-a-bouts), but the roads were clear, and the signage was good too.
The only thing I did have to keep watching out for was the changing speed limit – and there are speed cameras absolutely everywhere! Hopefully I didn't get caught out by a limit change followed shortly by a camera….
After an hour of pain-free driving, I arrived in Porvoo, parked the car, and headed off to find the tourist information centre.
It was in some weird building – next to what seemed like a cultural centre, which had a large H&M built on to the side of it.
Anyway, the lady there was very helpful – and gave me a walking route map of Porvoo's Old Town, which was what I'd come to see. After discovering parking was free outside the information centre, I went and collected the car, re-parked, then set off for the Old Town.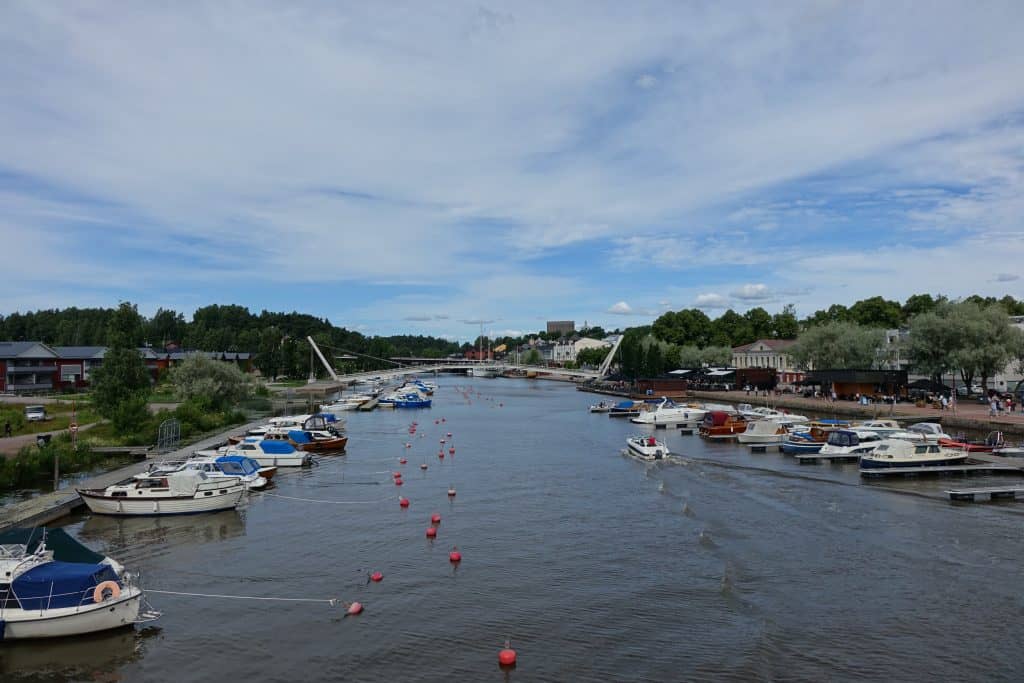 The weather was gorgeous once more – hotter than it looks in that picture, and I enjoyed the stroll along the river banks. Soon some of the wooden houses Porvoo's famous for came into sight.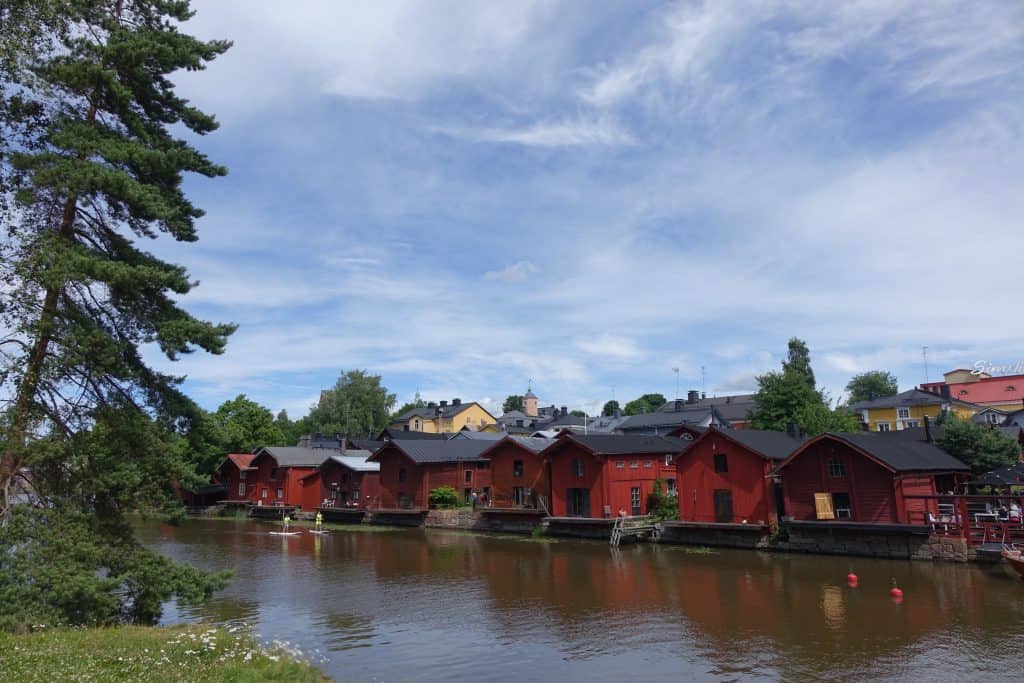 Walking further along the river banks, they changed to that by now familiar range of pastel shades.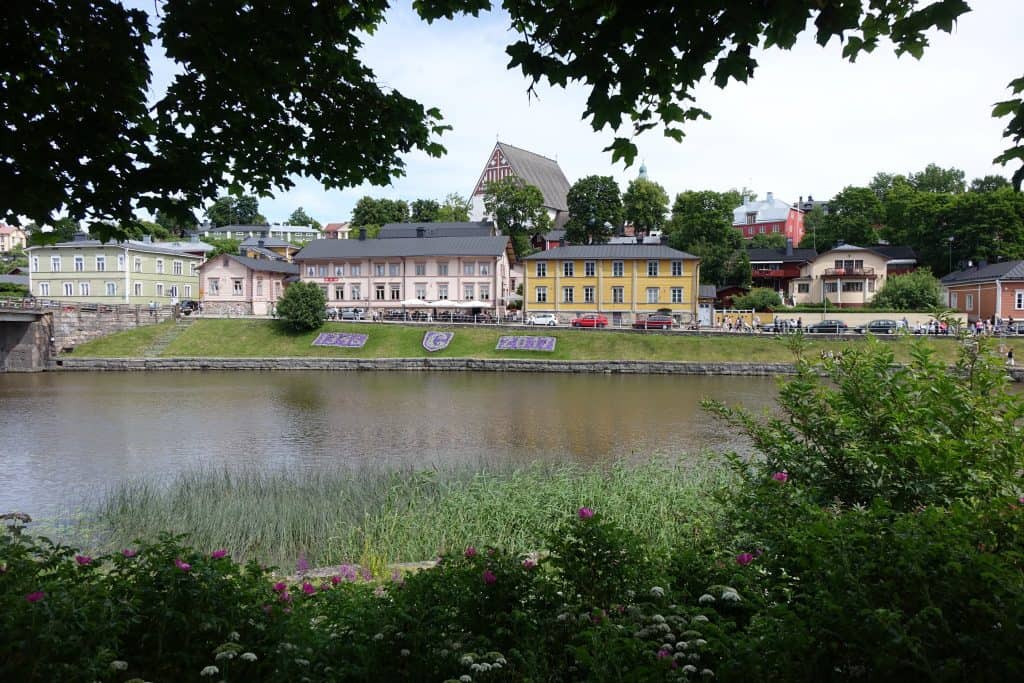 I crossed over the river, and walked the cobbled streets. The first real landmark I reached was Porvoo's Cathedral.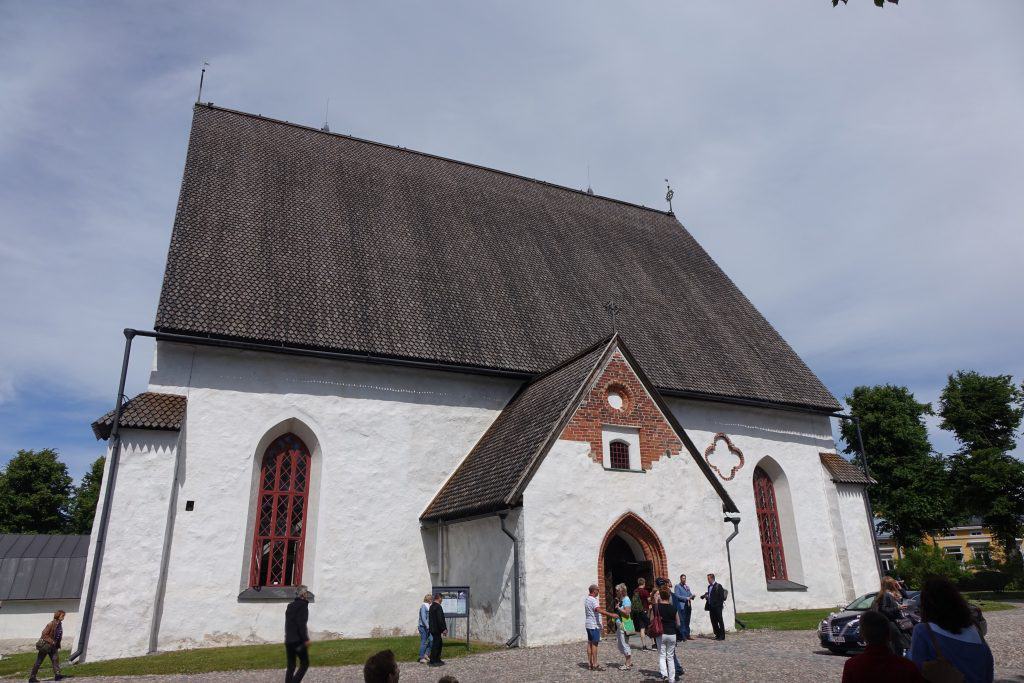 It dates back to the 15th Century, but that roof's gone up in flames several times – the last in 2006 as a result of arson by a black metal musician who ended up getting six years in prison! There was a nervous looking groom and a wedding car waiting outside, so I took a quick peek inside.
Wedding guests were already seated…
…and soon a lady started to usher all us tourists out. Next I climbed a steep street, and ended up in a maze of very picturesque residential streets.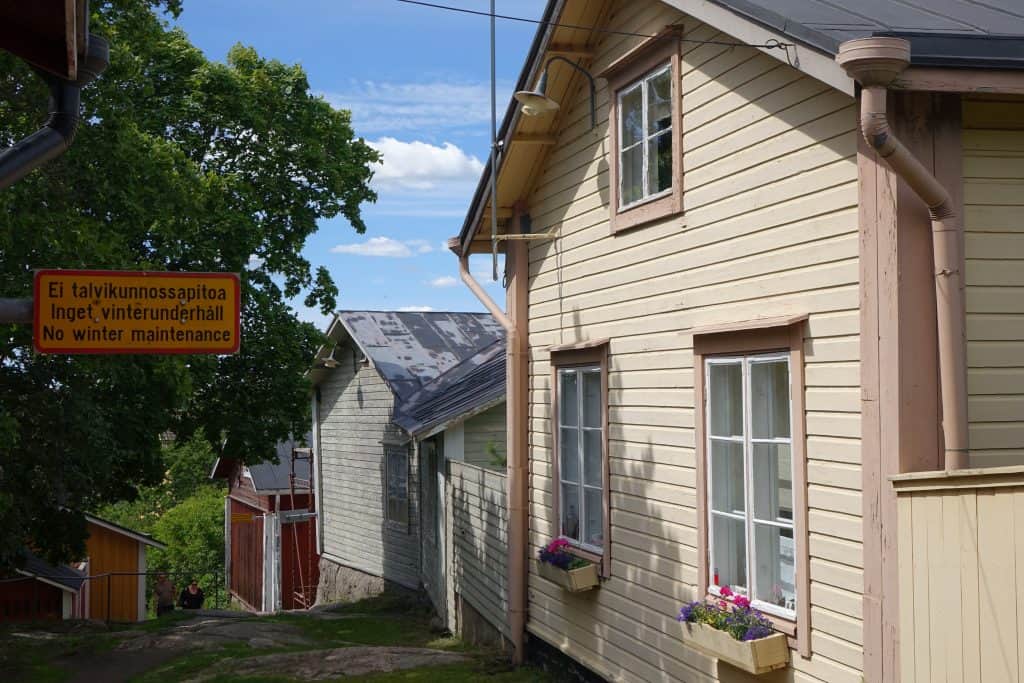 All the houses were so neat and colourful, and there were tiny little hidden parks scattered throughout the streets.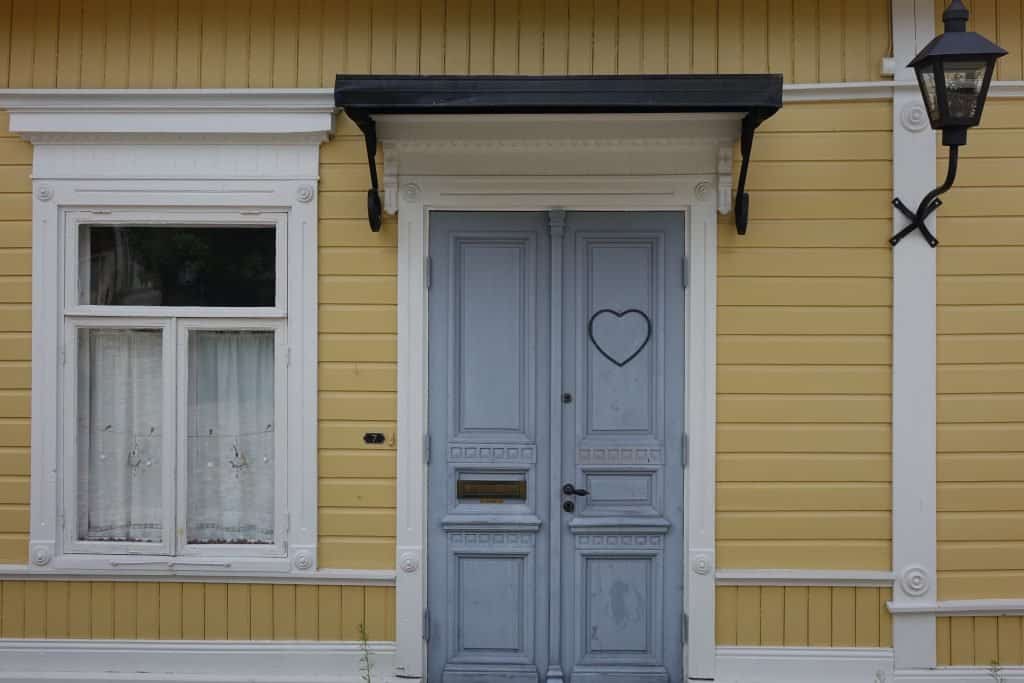 It was really relaxing just strolling around in the sun. A little fact I'd learned on my bike tour on my first day in Helsinki is that all street names are shown twice in Finland – once in Finnish, and then below in Swedish….
After a fair bit of climbing, I was soon on my way back down towards the river.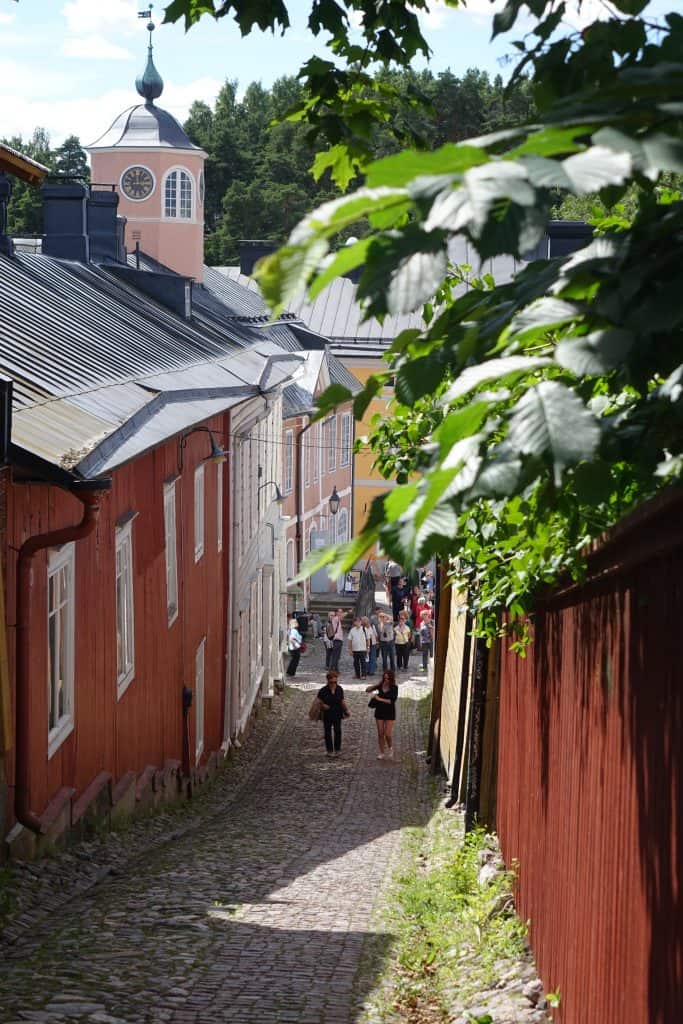 It was just a very scenic spot. There's really not very many sights as such – it's just a pleasant place to walk around. I arrived in the main square of the Old Town, and the place was absolutely heaving – mostly with tourists.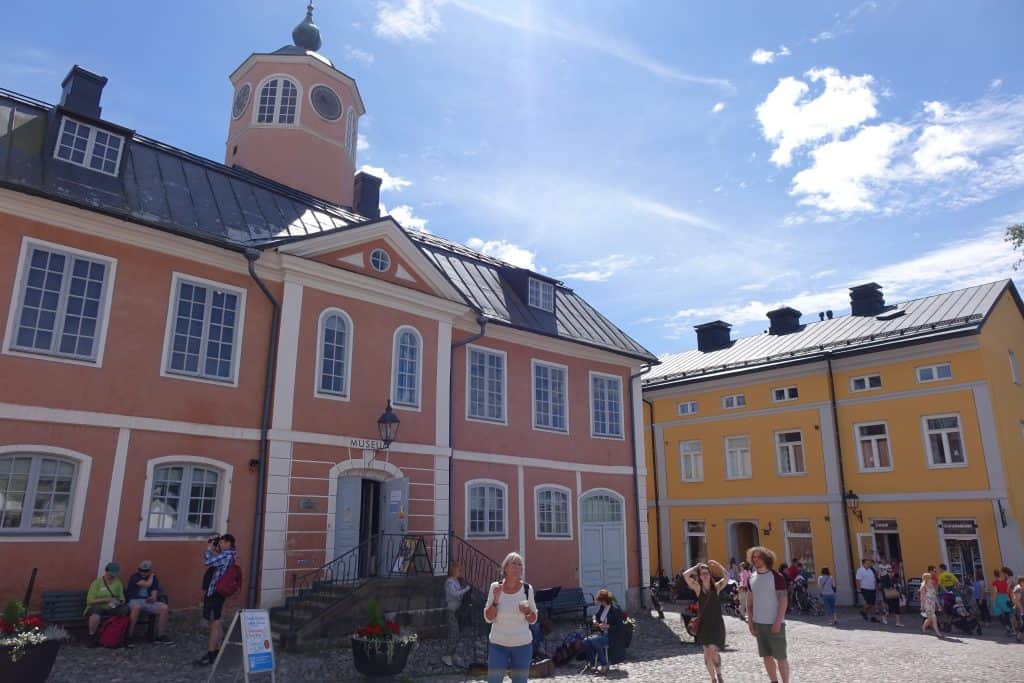 There were loads of little restaurants and souvenir and craft shops scattered along the main streets.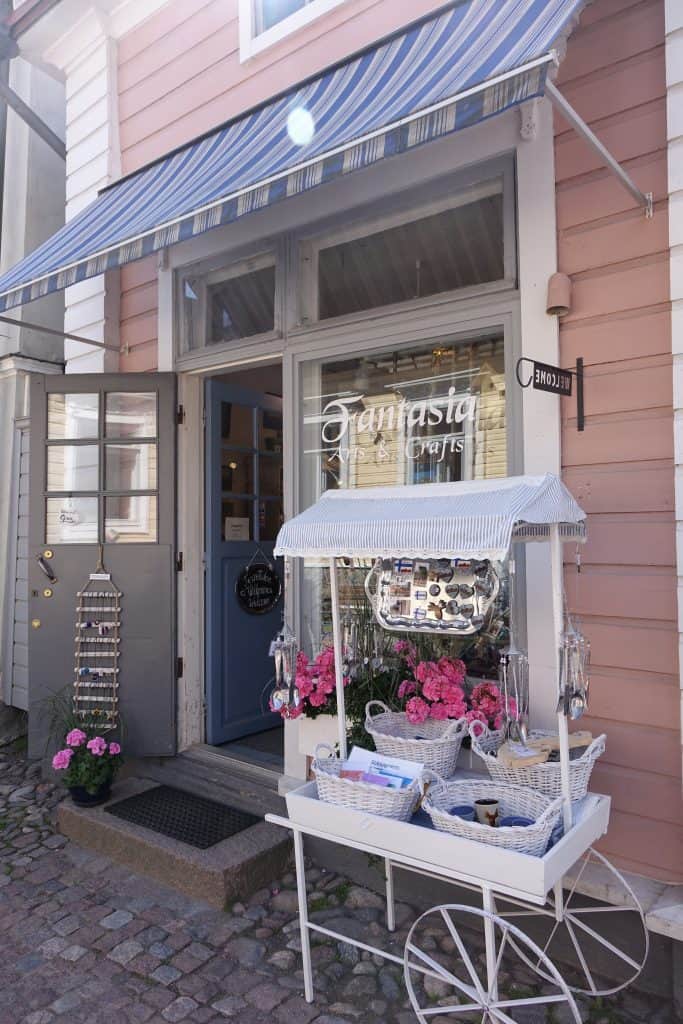 Leaving the old town behind, I strolled along the riverbank, which was full of families having lunch in restaurants, and just soaking up the sun.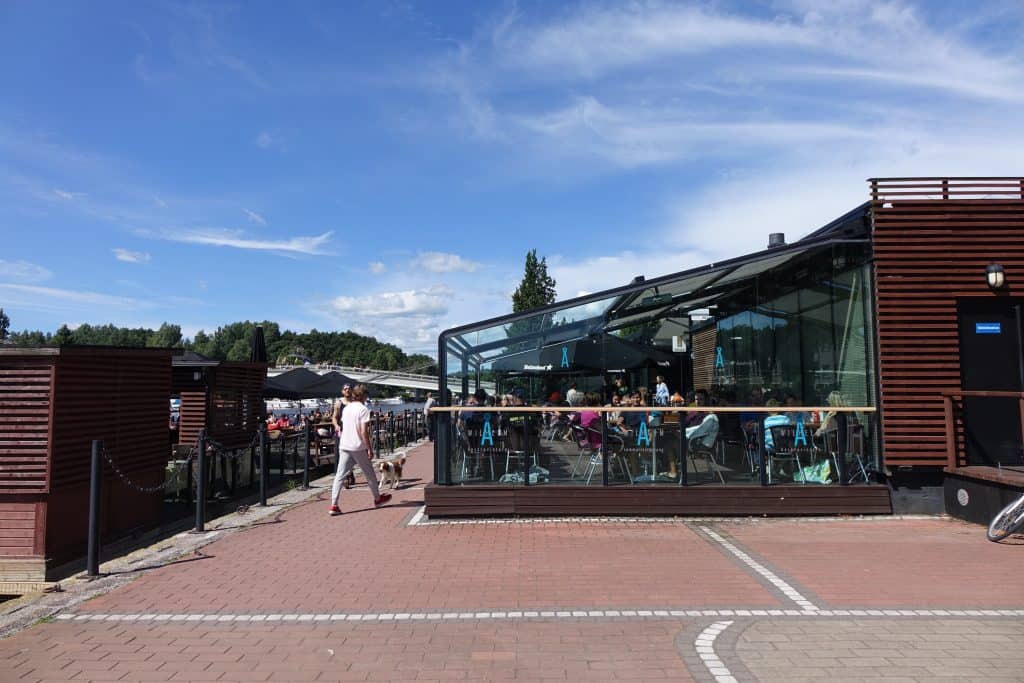 I was tempted by a burger restaurant, but held steady as I'd seen a little place earlier on I fancied. Until then I had a cheeky ice cream to sate my hunger.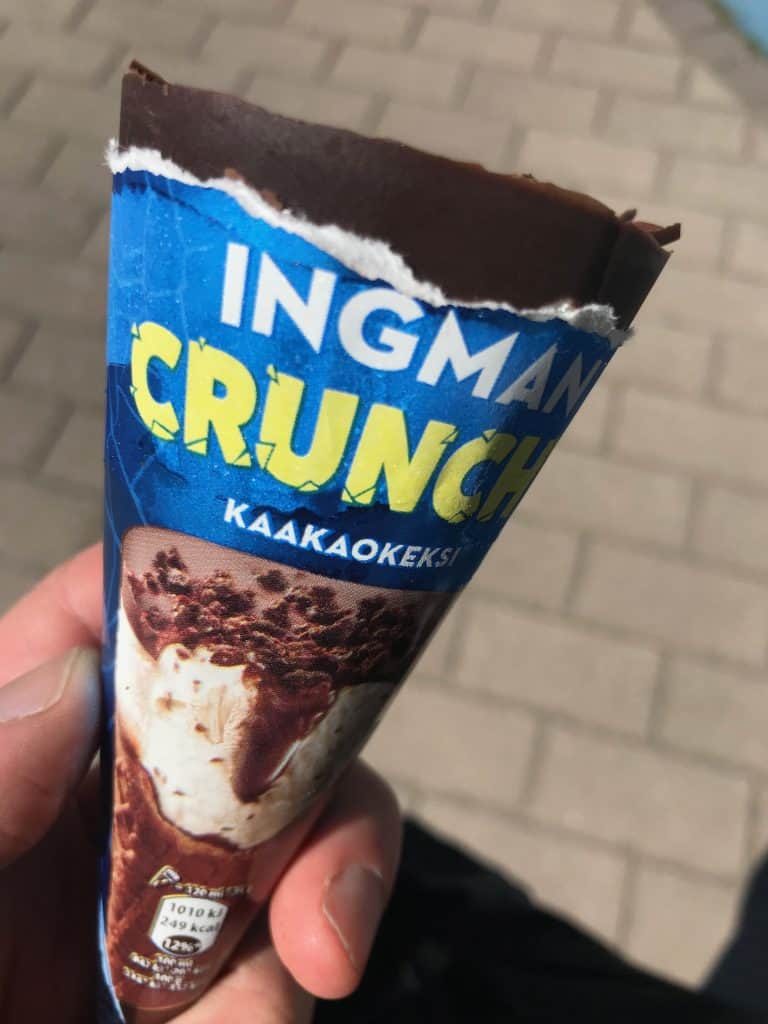 It was like a Cornetto, but had a hard top and bit running down the middle which I quite liked!
As I arrived back at the Tourist Information Centre to collect my car, I noticed a frog walking about, so got my picture taken with him.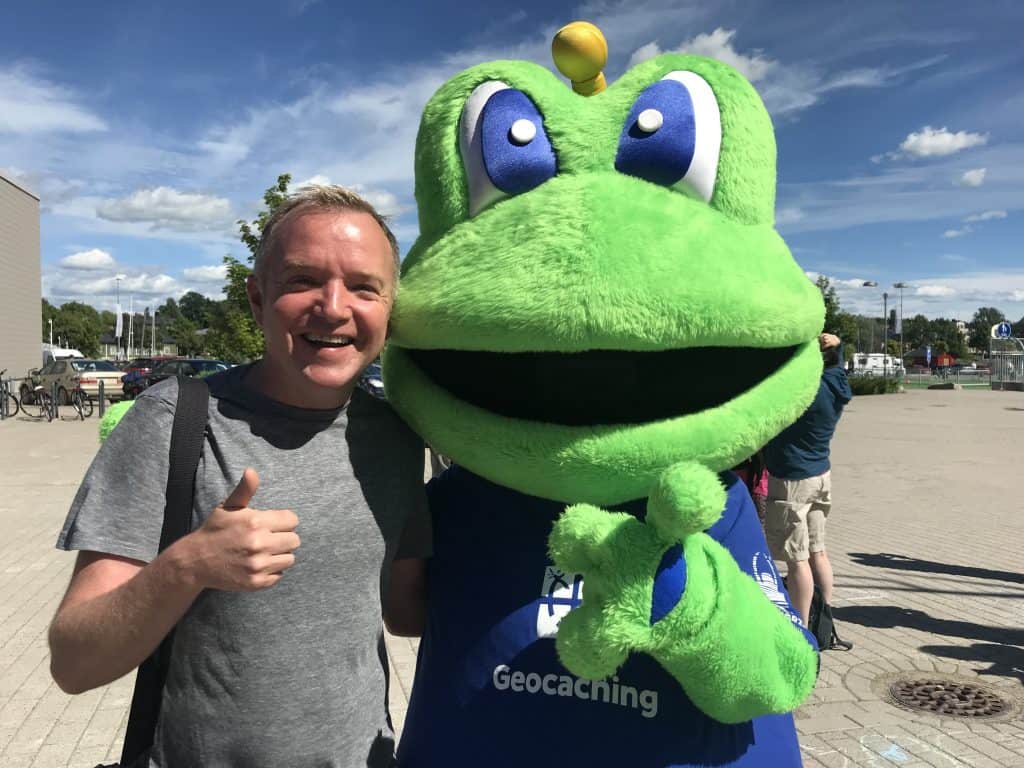 After high-fiving him and nipping to the loo, I was back in the car, and headed off to that spot for lunch that I'd noticed on the way in.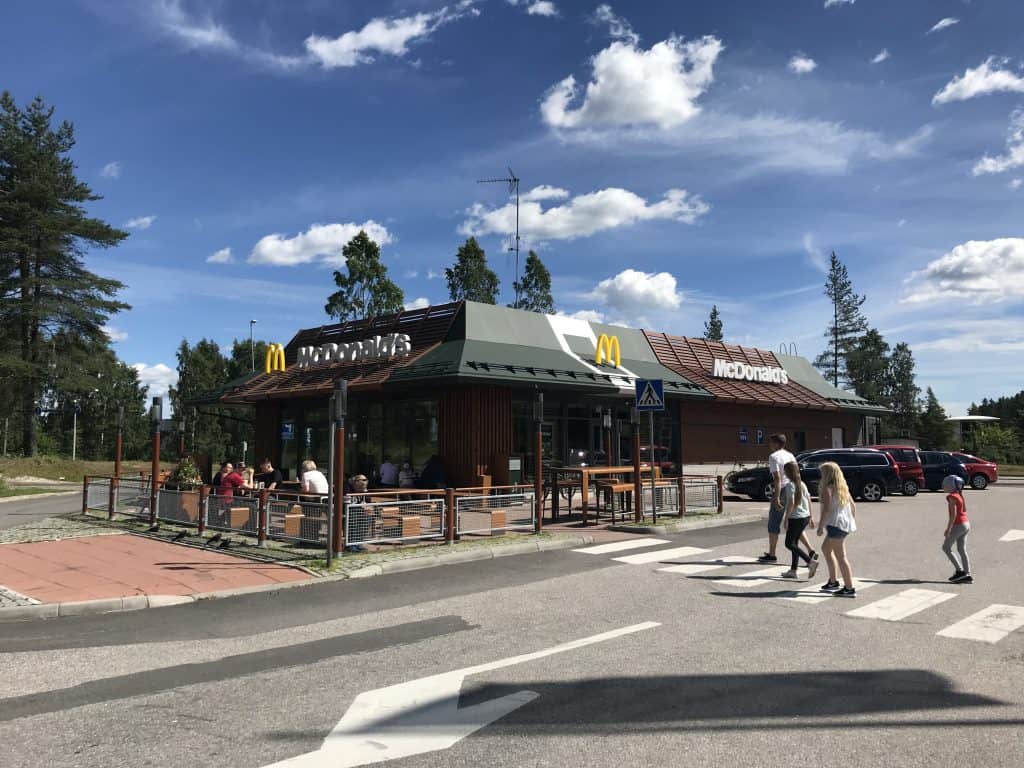 I think I have done quite well not to have visited a McDonald's on this trip yet, but the time had come! I was quite peckish, and thought this would do the job. I decided to go for a unique offering I hadn't seen in the UK – the McMaestro New Orleans. Two burgers, bacon, savoy juice (? according to Google Translate anyway) and cajun spicy BBQ sauce, then lettuce, onion, bla bla.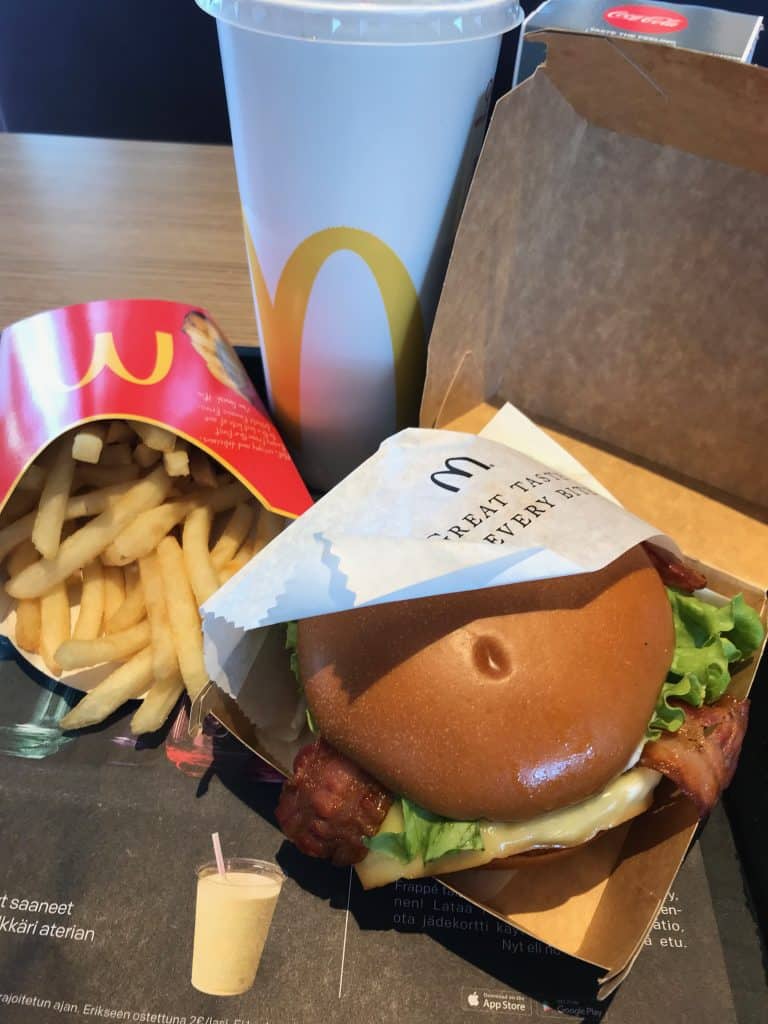 It took a fair while before I received it, and I had to return to the counter as I think the girl had forgotten about me, but it was worth the wait – deeply meaty and saucy and delicious! I really wish McD's in the UK would mix up their offering more and give us something just a little bit different like the McMaestro!
Heading back to the car, I noticed a row of bikes laid up outside.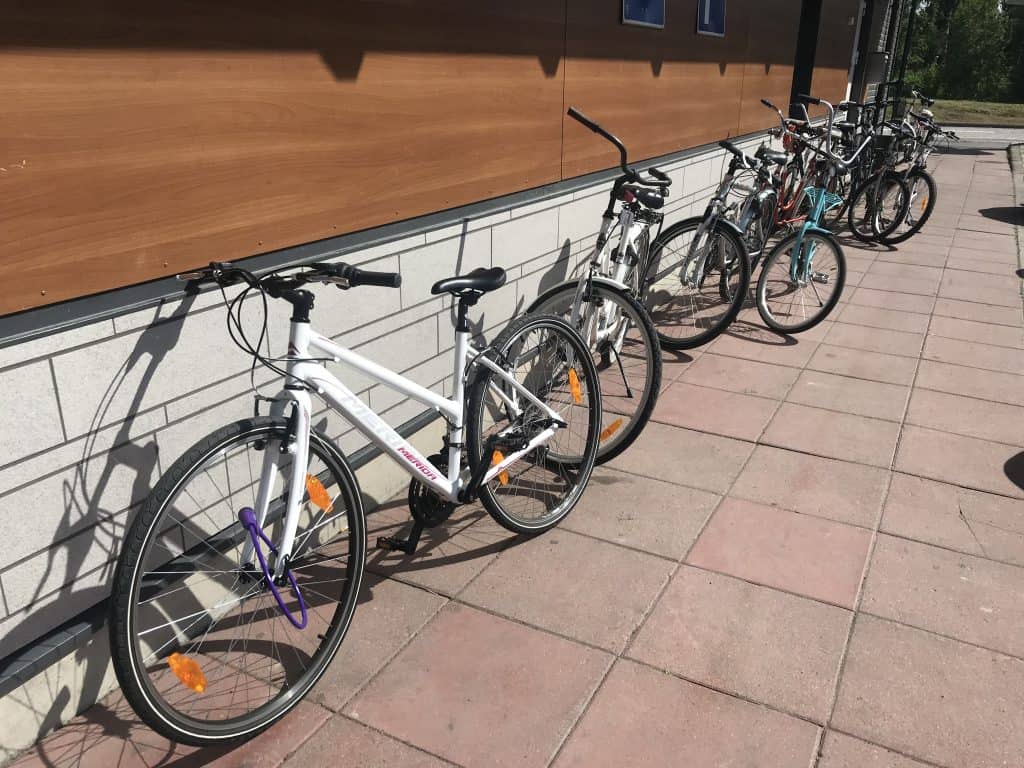 Not one of them was locked. And I think that sums up my general feeling for Finland – it's a very safe country, where people trust each other to do the right thing. I can't help thinking that if bikes had been left like that at home, a good few of them wouldn't still be there when their owners came back to collect them. Which is a real shame – I'd much rather we were like the Finns in that respect!
Next, it was back on the road, to my final destination of the day. I wanted to experience what most Finns do during the summer – time at a lakeside summer house. So I'd booked a cottage (technically by a bay which leads to the sea, not a lake) on Airbnb for two nights. It was an hour from Porvoo, and a ten minute drive from the nearest town – Kirkkonummi.
I knew there weren't any cooking facilities in the cottage, so after getting to Kirkkonummi, I picked one of the three supermarkets at random and went in to get some drinks, a sandwich and so on for dinner.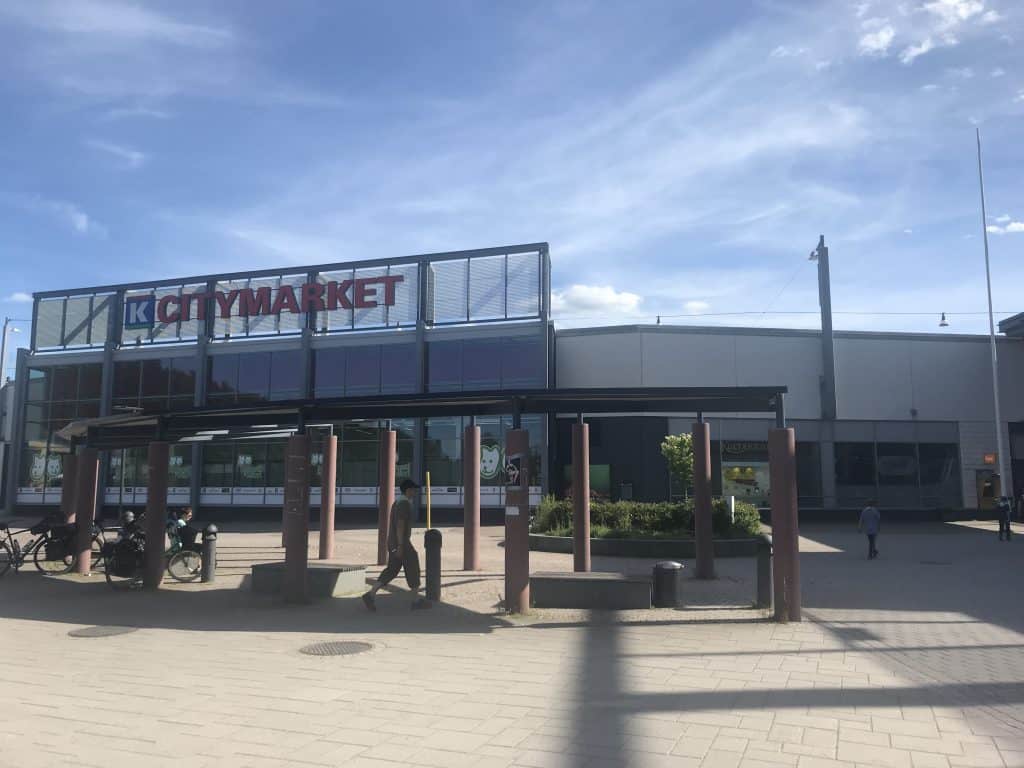 It was pretty massive – and more like a Target in the US than a supermarket. I managed to navigate my way round the aisles finding what I wanted until I got to the drinks section. There were two aisles full of beer, but the wine selection was like four bottles wide on the shelf. On closer inspection they were all low alcohol too! That would not do!
I asked the nearest supermarket person, who explained that in Finland wine, spirits and strong beer can only be sold by a government run monopoly chain of stores called Alko, but there was one nearby in another supermarket.
Navigating around the roundabout and parking up again, I found it.
I was expecting eye-watering prices, as I'd heard about the high tax on drink in Finland, but it seemed pretty comparable to home as I scanned the prices. Although I could have got that wrong, as I don't really buy branded drinks that often!
After picking up a half bottle of Chablis (my preferred tipple), I got back in the car, and drove into the countryside for about ten minutes, before turning up a forest road and driving for another three or four minutes. I'd arrived.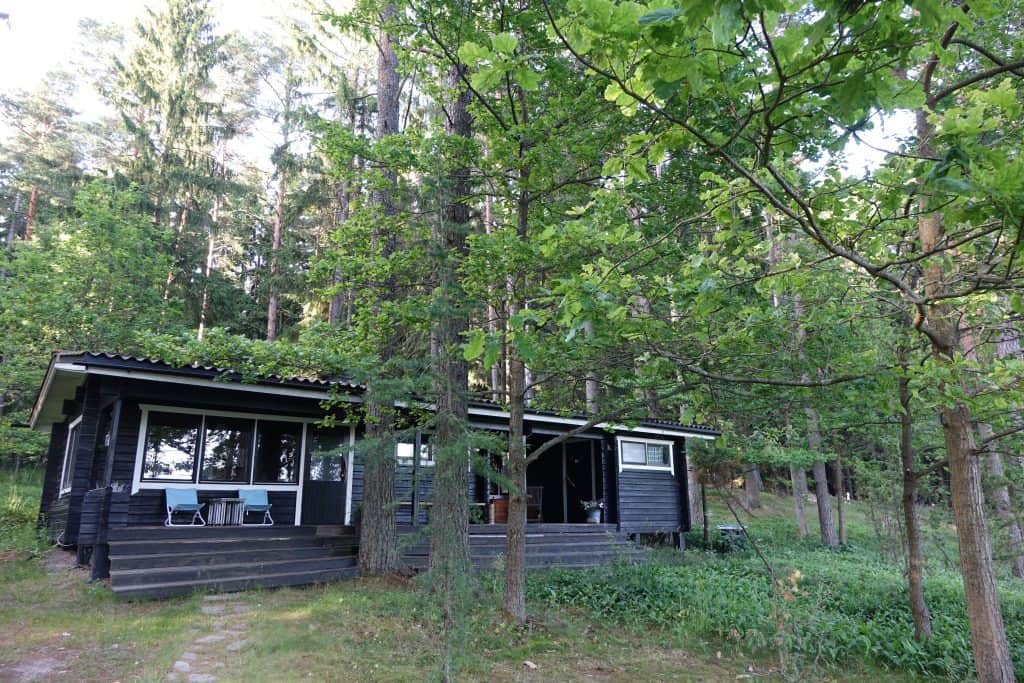 The cottage was owned by a Creative Director called Marju and a photographer called Jukka, who lived in a nearby house with one of their daughters and a cat. It was Marju who met me and showed me where everything was, then I settled in.
The cottage was made up of three separate rooms which weren't connected internally. There was a large living room…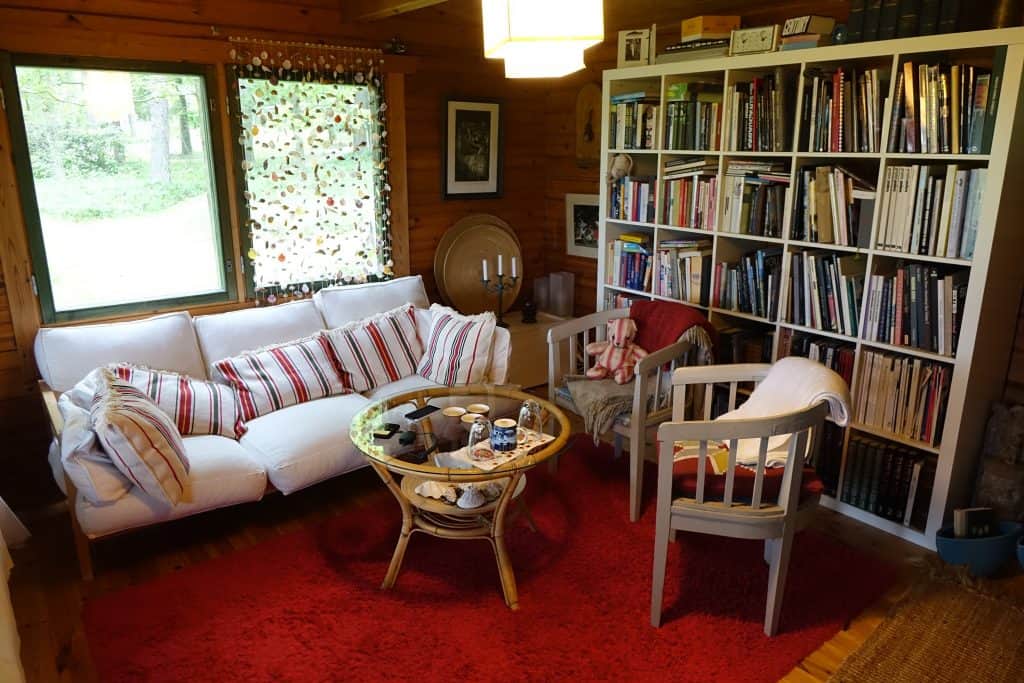 a shower room…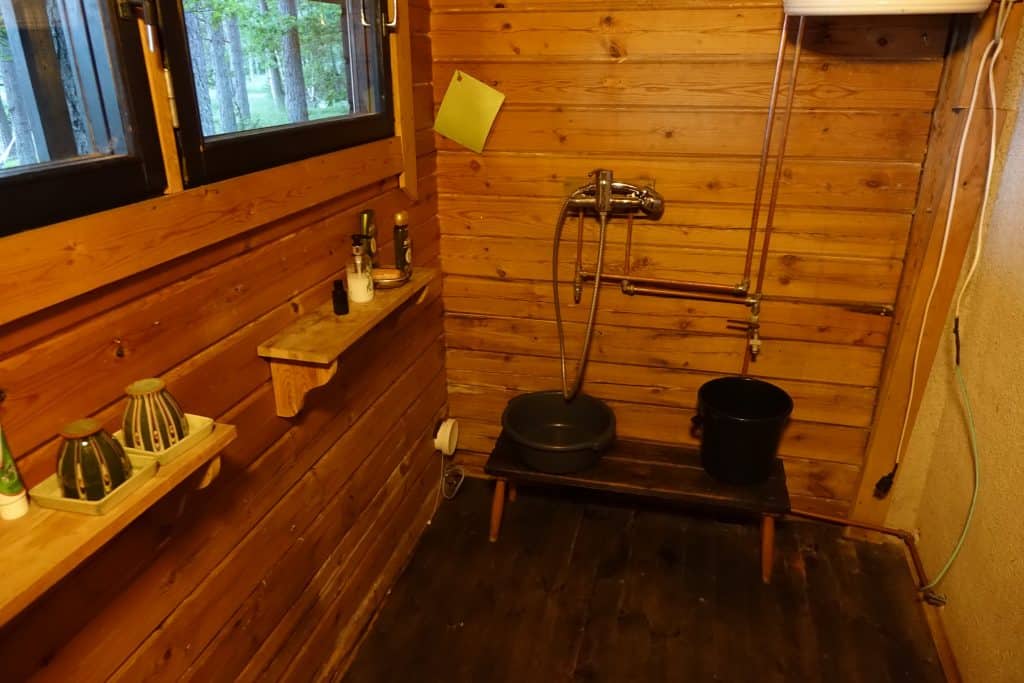 a sauna…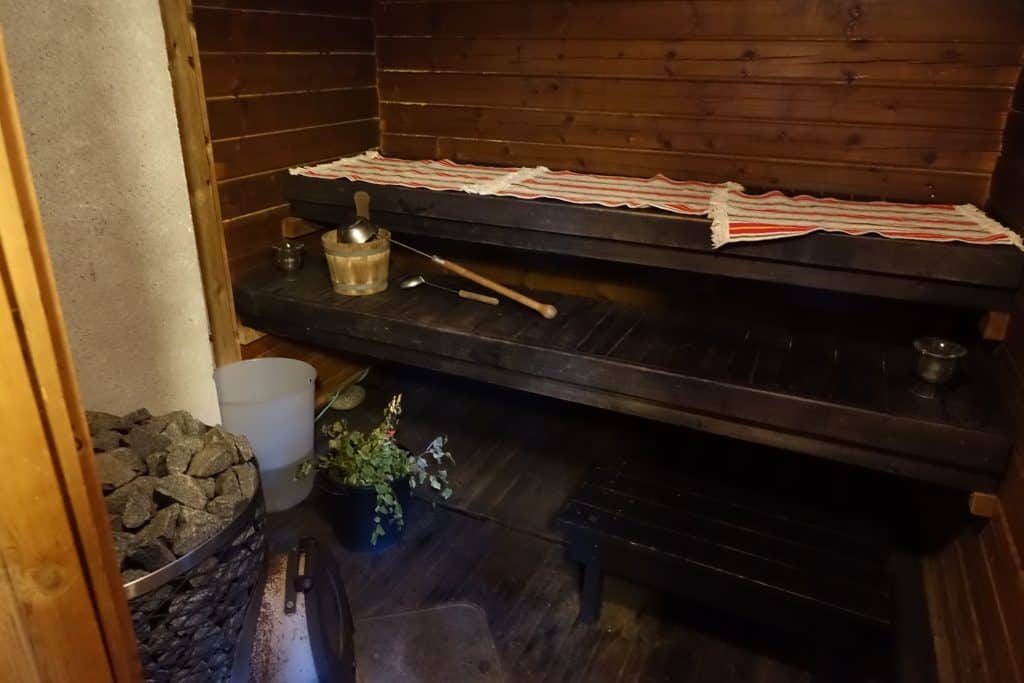 and a bedroom….
The toilet was outside in a separate building – and it had no water. There was a bucket of woodchips instead. But the view from the cottage was very picturesque…
I did a bit of work on my blog, then lay in a hammock for a while and read a book. I felt chilled out already after my fairly hectic time in Helsinki.
From time to time Marju popped down to work on heating up the wood fired sauna, then at about 8.30pm it was ready. I had a quick shower then just lay in the sauna for a while. It was hot, but not too hot – perfect really.
After that, I felt I really had to take a dip in the bay. The water had felt warm when I stuck my hand in earlier, but once again, there was no way I could go for a swim in it. It was just too cold! But refreshing after the sauna.
I sat out on the cottage steps with a glass of wine, and just looked at the view for a while as the sun began to set.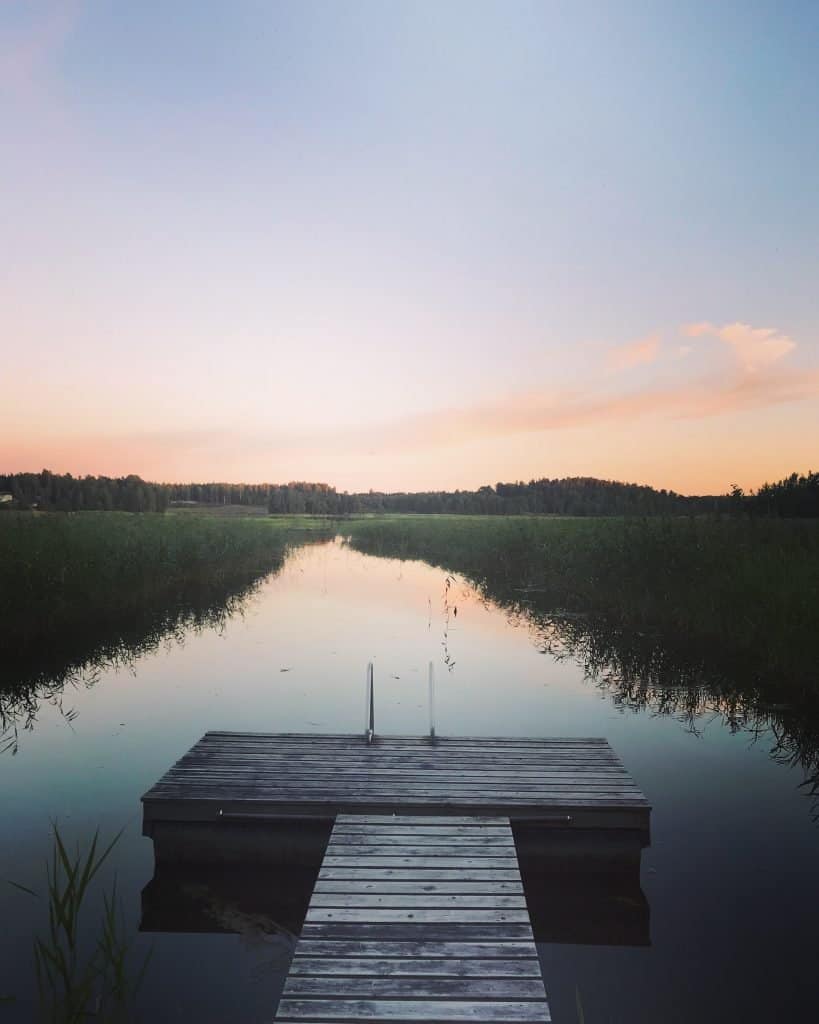 I was already a fan of the Finnish countryside.