I was determined to have a relaxing day on Friday. After a bit of a lie in, I got up and headed downstairs for some breakfast. As I hadn't had dinner the night before (unless you count the crudités on the ferry) I scoffed down rollmop herrings (again), bread, ham and cheese, followed by some scrambled eggs and bacon.
I've been happy with my hotel – Hotel Lilla Roberts.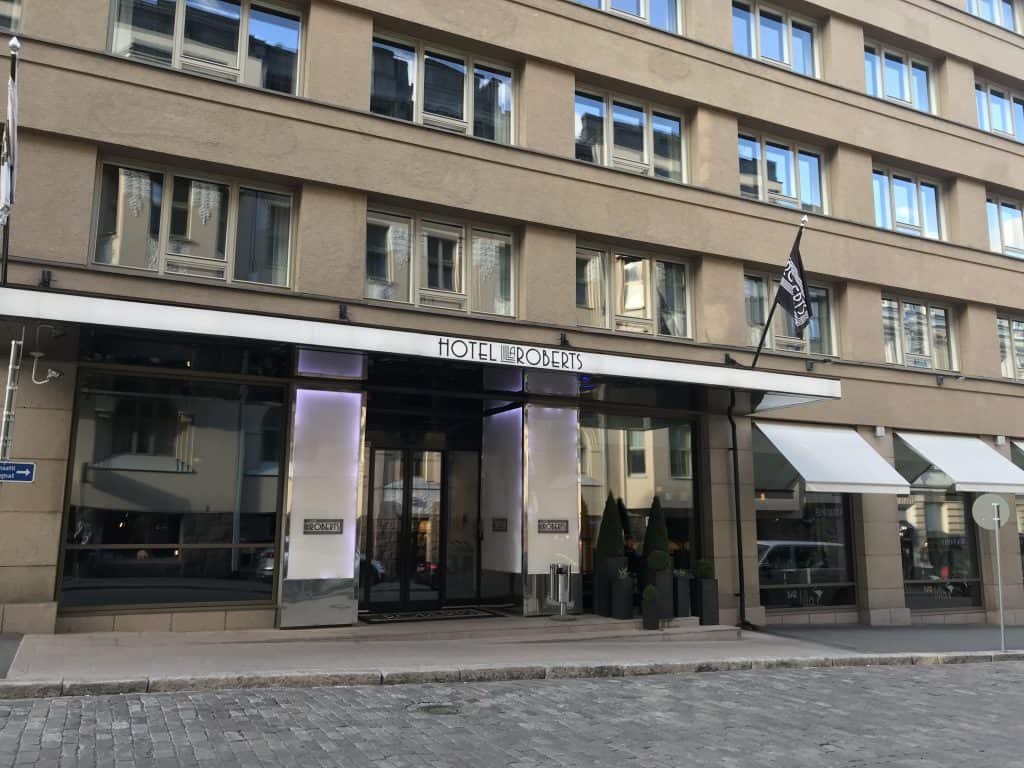 It's all decorated in a kind of art deco style, and it's in a central spot too – it's really only a ten minute walk from major sights, and a five minute stroll to the main shopping area. The only slight downside is that unlike most Finnish hotels, it doesn't have a sauna – but I wasn't too bothered about that.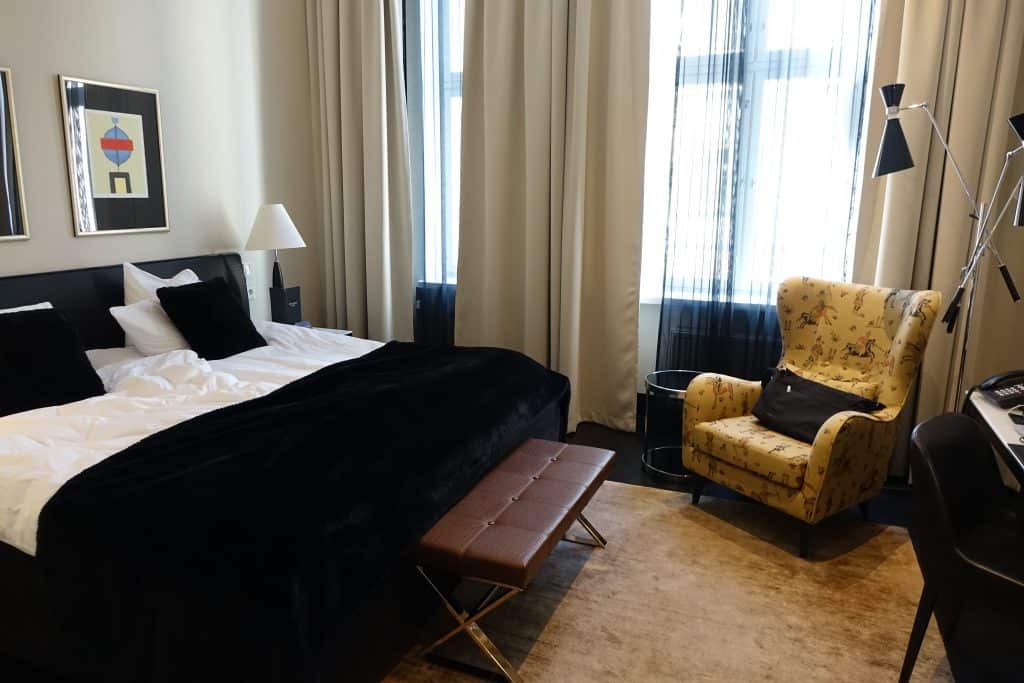 The bed was comfy, and the shower good too (always important to have a good shower!). I was never in my room long enough to watch TV, but did flick it on one night and caught a bit of a strange singing show – it seemed to be two ladies wandering around a crowd singing into mics and occasionally letting people in the crowd sing too.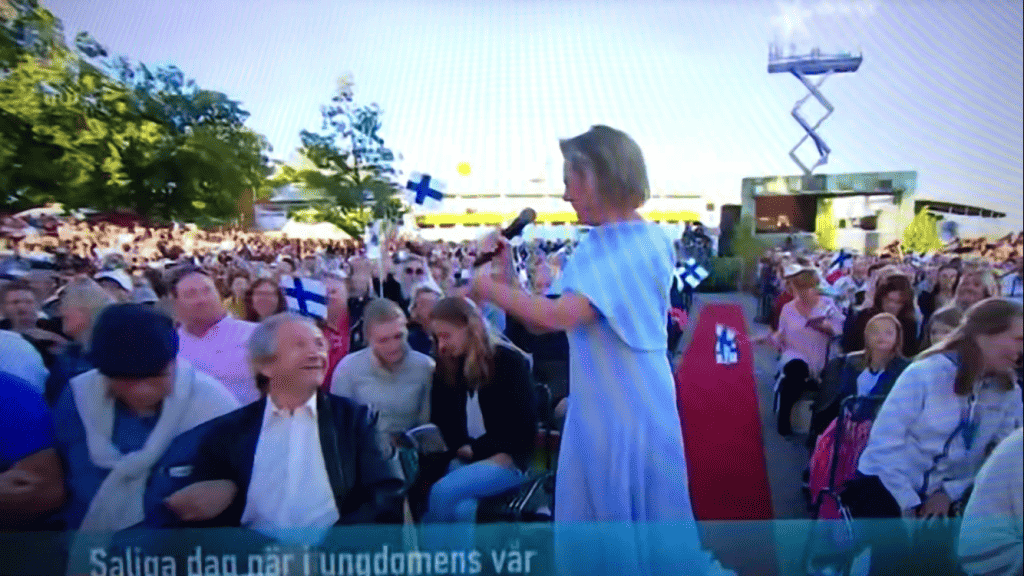 A quick bit of googling told me it's actually a Swedish show called Allsång på Skansen, and apparently (Wikipedia) 10,000 – 25,000 people attend each show!
Anyway, enough of that slight diversion. After breakfast I needed to get some laundry done. The hotel, as usual, was wanting a ridiculous amount of money (I think it was €14 to wash a t-shirt and €7 for a pair of pants!) so I found a nearby laundrette. When I asked if I could leave my clothes to be washed and dried, the lady said they didn't really do that. But my Scottish charm must have worked, as she accepted the job, but said I'd have to come back just after they opened tomorrow (still don't quite get that bit). It would only cost a much more reasonable €14. Then I strolled into town – and after a miserable day the day before in Tallinn, thank goodness, the sun had come out!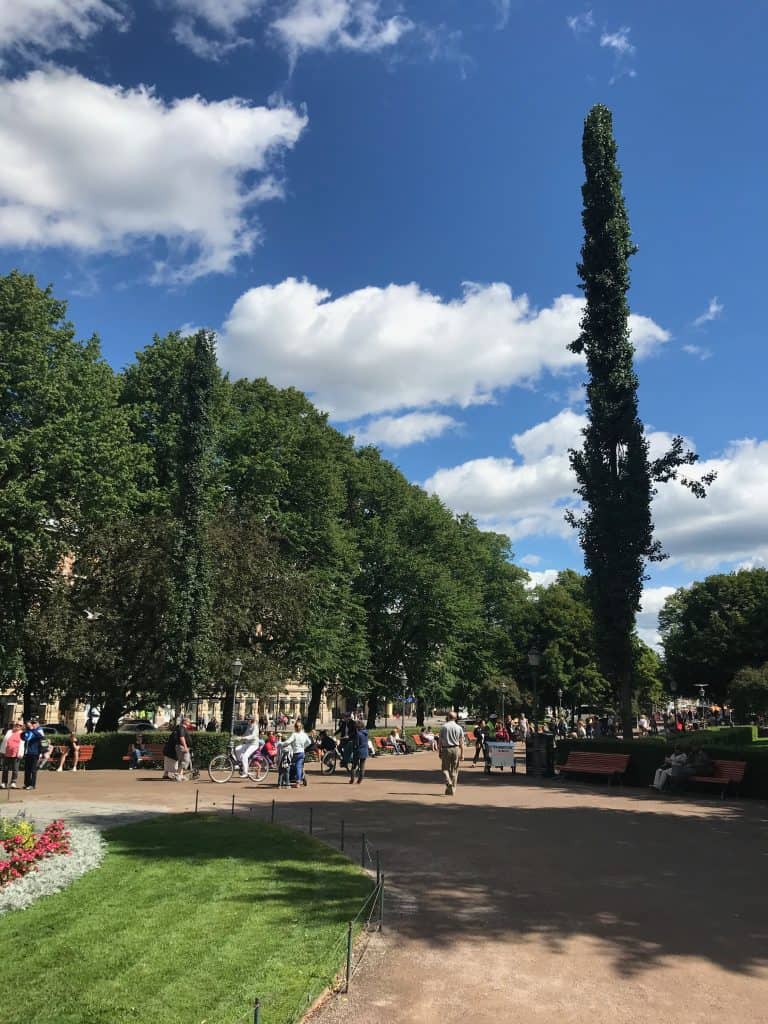 Helsinki dwellers – and lots of tourists from a cruise ship – were strolling around enjoying the sunshine. And Mr Seagull had taken up his favourite spot again. I don't think I actually ever saw that statue without a seagull perched on its head.
I really only had one thing I wanted to do today, so was happy enough just wandering for a bit, and having a look around the shops. I love Scandinavian design so popped into two Finnish companies' stores – Marimekko and Iitalla. Marimekko sells homeware type stuff (and womens' clothes) while Iitalla is a famous glassware brand, with a sister company Arabia that sells ceramics.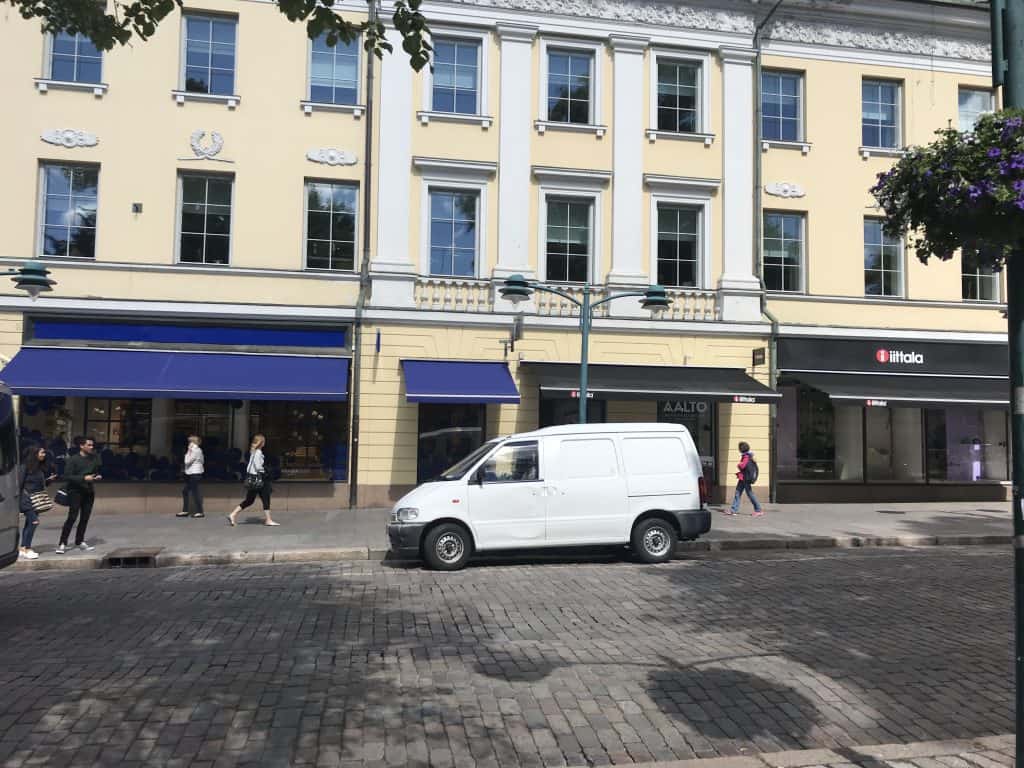 Marimekko didn't really have anything I liked – it was all a bit flowery, but I ended up spending a bit of cash in Iittala and Arabia.
I bought a couple of presents for young family members in Arabia, while in Iittala – though I could have bought most of the shop – I settled on just getting four tumblers instead. They were about 50% cheaper than at home, so I scored a bit of a bargain!
Just a block or so down the street I popped into a Danish clothes shop, Samsøe & Samsøe, and tried on a couple of pairs of jeans and a shirt. I liked them, but decided to come back later on to put down the money.
I headed in to the Tourist Information Office, and just as I did so a very smart marching band came down the street.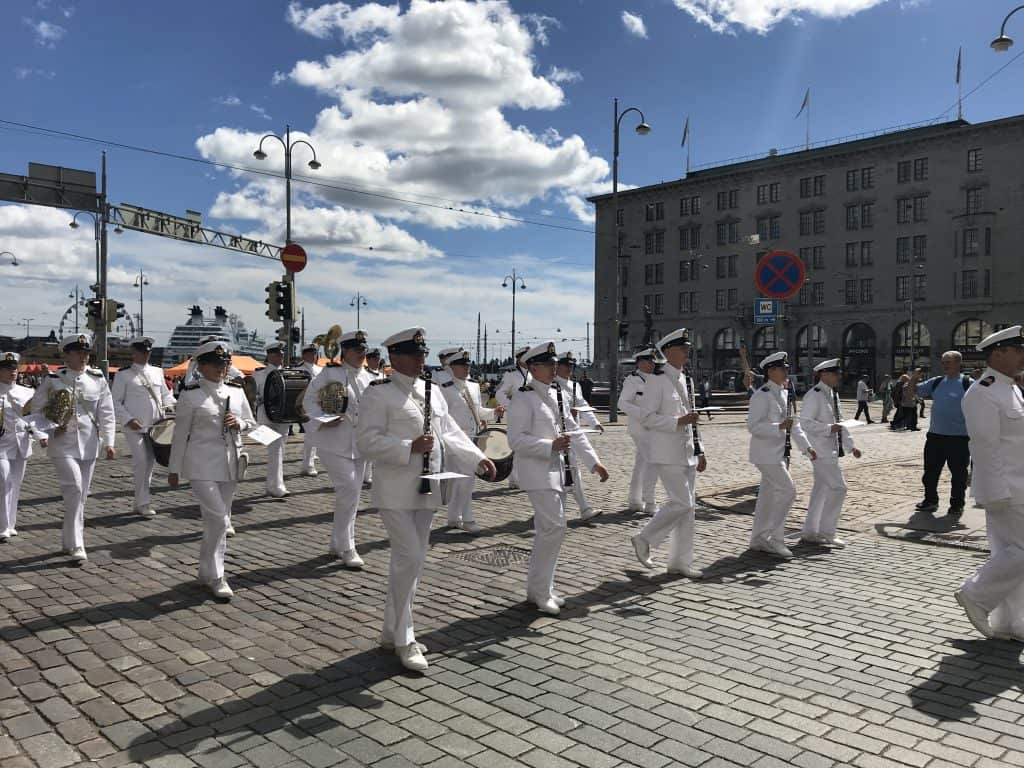 I've got to say that's something I've noticed about Helsinki – there's a lot of music around! Outside cafés, playing in the streets (but looking more organised than buskers), there always seems to be music filling the air.
After I picked up a map of Helsinki's Design District from the Tourist Information Office, I popped in one of the city's market halls for lunch.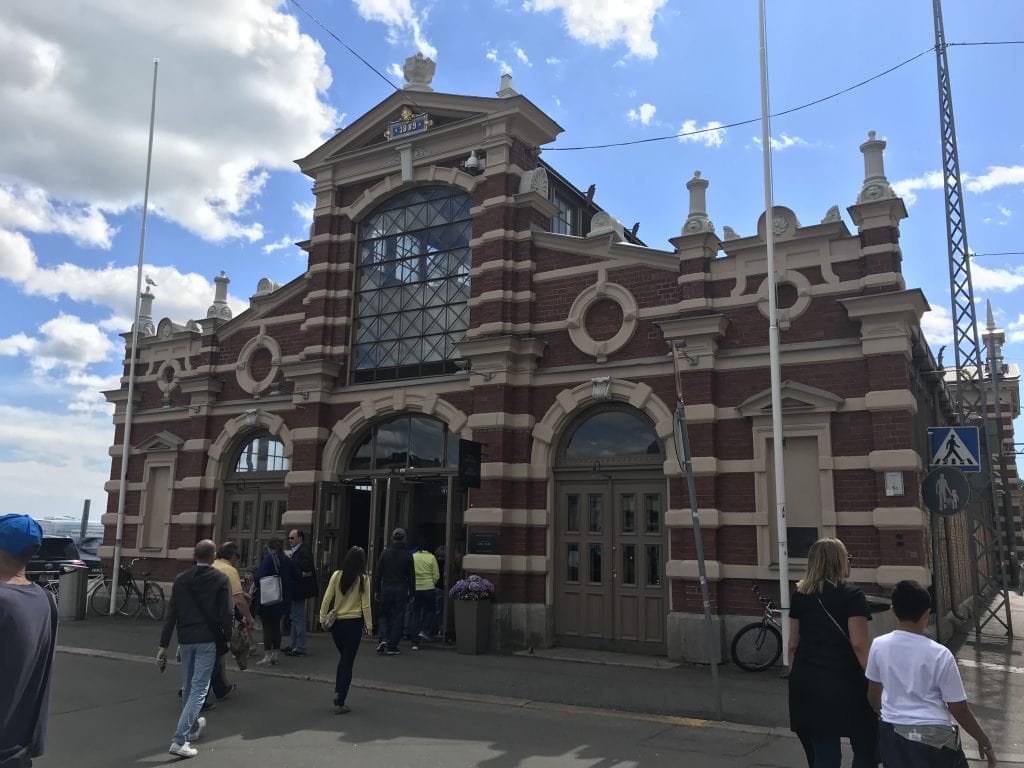 Vanha Kauppahalli – or the Old Market Hall – is right on Market Square – beside all the tour boats cruising for business. So it really is pretty touristy inside too. If I'd had time, I'd have visited another market, but this one would have to do!
Most of the people inside seemed to be non-Finnish, and there were goods on sale like Reindeer Jerky and stuff – but there were also locals picking up that night's dinner. The displays of salmon were particularly impressive.
Ah – there's Reindeer crisps in that picture! So you see what I mean.
I'd read about one little spot in the market that had a good reputation for lunch, so I headed to Story and picked out a sandwich…
It was pretty tasty! And big. That's rose lemonade by the way, not wine! After lunch, I took a short stroll around the corner to see Helsinki Cathedral.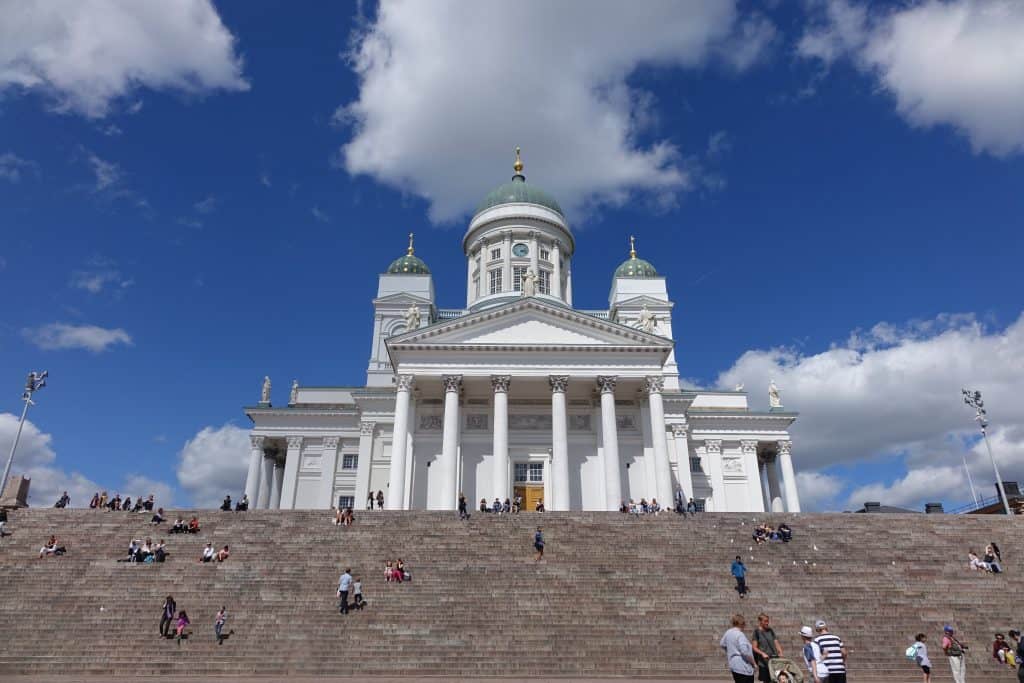 The imposing white building was looking impressive in the sun. I climbed the steps and looked down on Senate Square…
…then had a walk around the outside of the building. Unfortunately there was a wedding on, so I didn't get to see inside. After visiting a couple more clothes shops, I wanted to get the rest of my postcards written, so headed for a coffee and a mid-afternoon snack in a busy little cafe called Paulig Kulma. It seemed to be a bit of a hot spot – everyone behind the counter looked very hipster-ish, and my brownie was gluten free.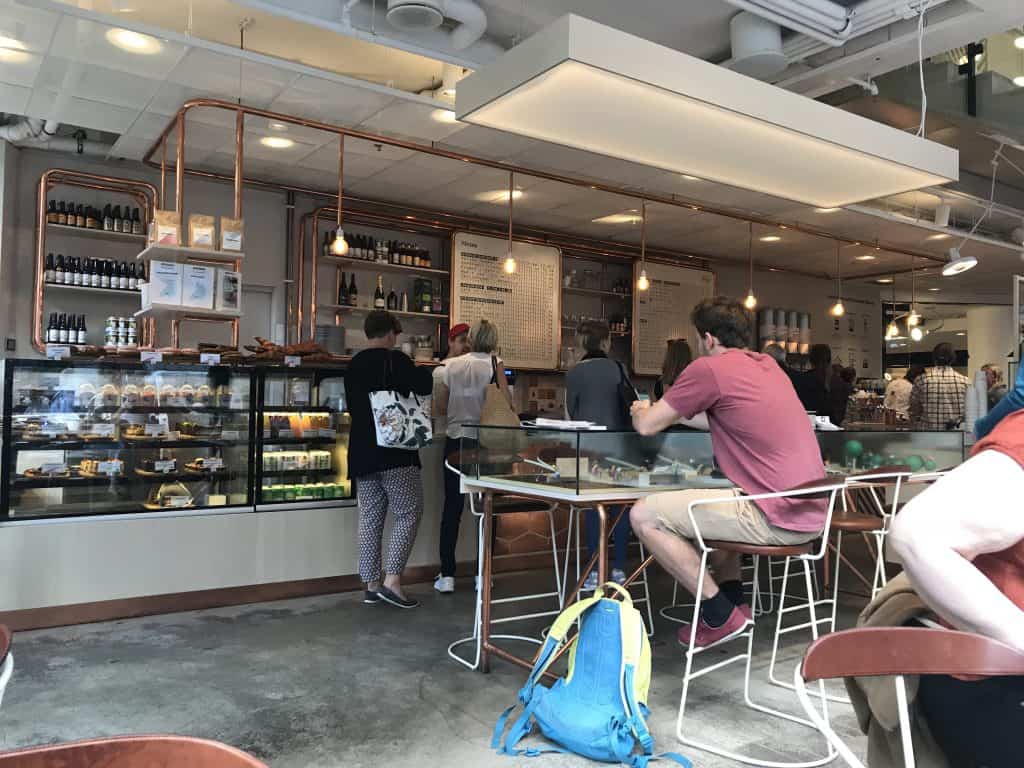 Both the coffee and the brownie were tasty!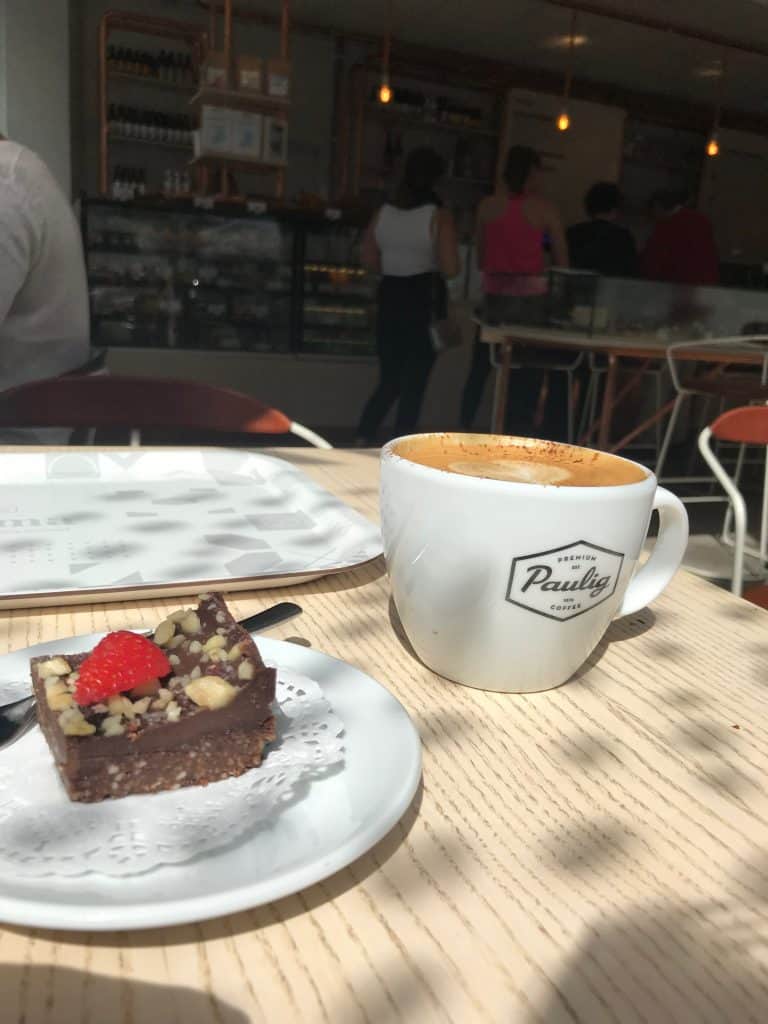 Postcards written, I headed off for my main activity of the day. Around the back of Market Square, and nestled next to the Finnair Skywheel is Allas Sea Pool. Allas has three outdoor swimming pools – a sea pool (didn't see anyone in that, and I think it would have been chilly!), a kids' pool, and a 25 metre heated pool. There's also mixed sex and single sex saunas.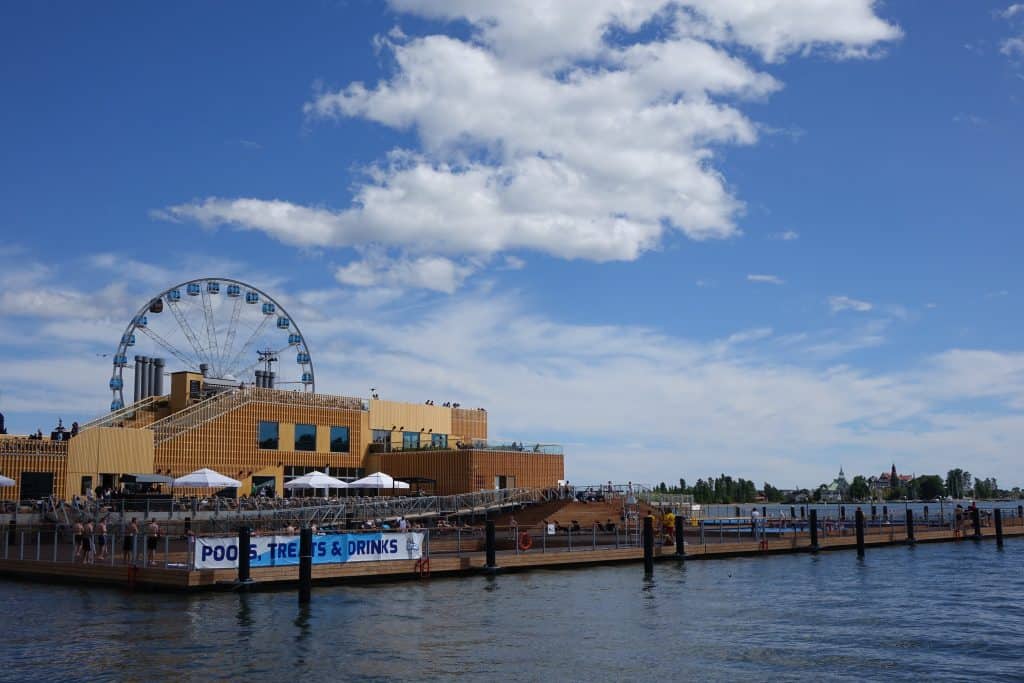 I paid my €20 which included a €12 swimming ticket and an €8 fee for the hire of a towel.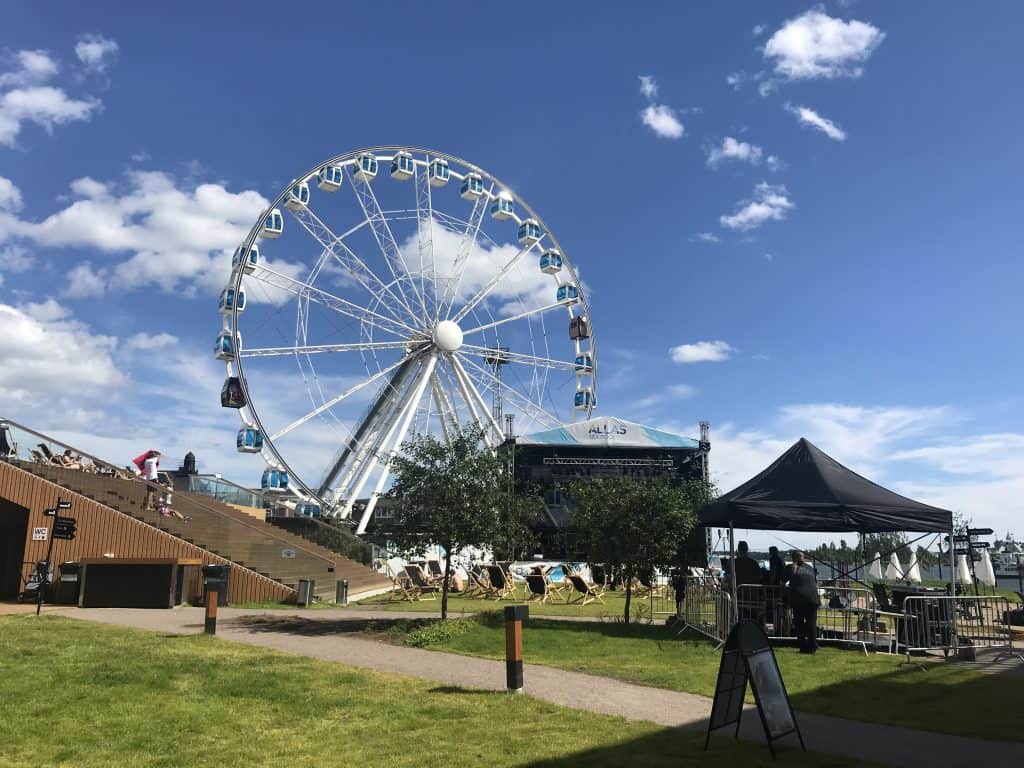 Past the ticket gate, there was a soundcheck being carried out for a concert later that night – it seems Allas holds a whole load of open air concerts throughout the summer – looking back I should have booked in for one!
If I had one criticism of the fairly recently opened pools, it would be that the changing rooms just aren't big enough. I could only find one spare locker, and the changing area was a bit cramped as well. You get a wrist band as your ticket – then use that to close and open your locker.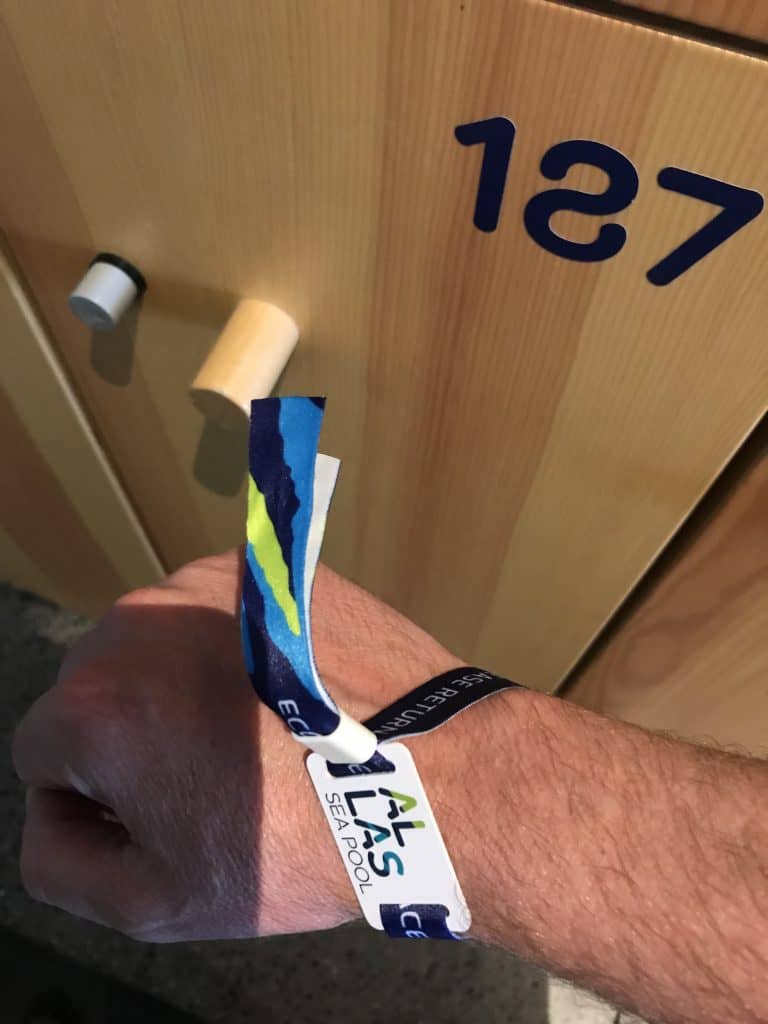 After getting changed, I braced myself and headed outside to the pools. It actually was a fair bit chillier just being in my swimming gear!
Thankfully the heated pool was the perfect temperature. As always, when a pool's a bit longer than the one I'm used to, the first couple of lengths were a bit of a struggle. But after a while, I got in to my rhythm, and ended up doing seventy lengths. I'd missed swimming, and felt wide awake when I clambered out.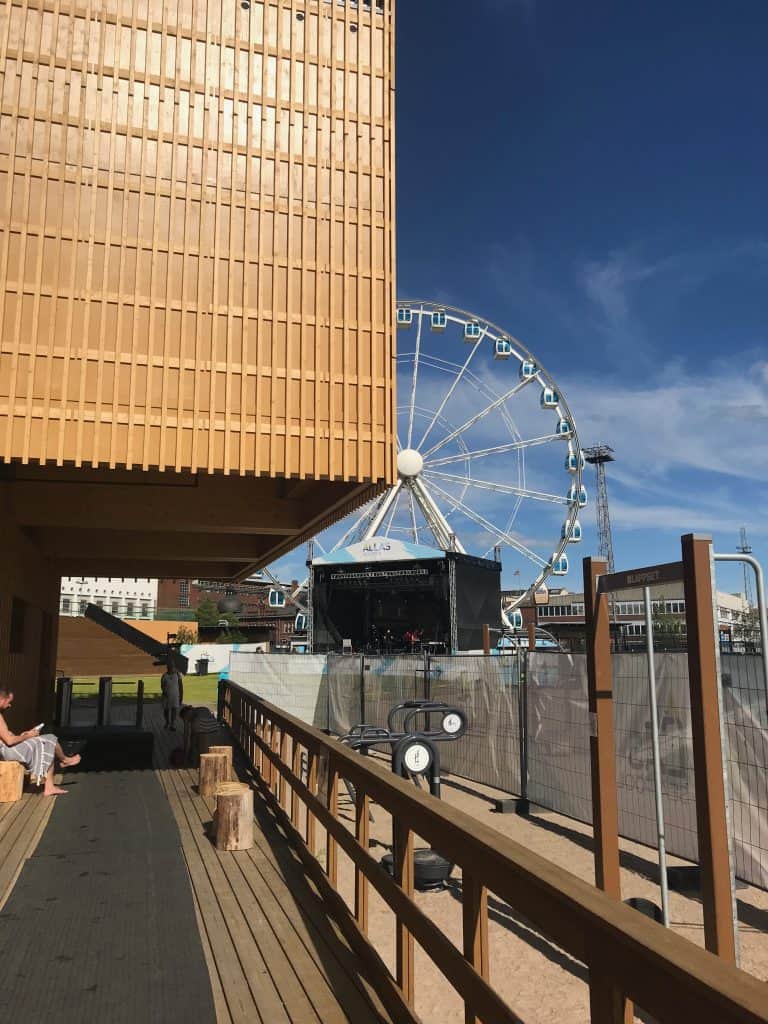 After my swim I headed to the mixed sauna. It was pretty busy – there was a guy drinking from a can of cold beer, and also two Mums with babies! And a couple of toddlers too – I was surprised they were in there being so young, but I guess that's the Finnish way!
Allas Sea Pool is a bit pricy, but if you like swimming and find yourself in Helsinki, I'd recommend it. For me there's just something refreshing about swimming in an outdoor pool.
I'd stayed there longer than I thought – putting my watch back on I saw it was 5.15pm. I still wanted to head to Helsinki's Design District, which is full of little designer shops. But looking at the map I picked up from the Tourist Information Office, I saw most of them would be closing at 6pm.
So walking quickly, I just picked out one shop I thought sounded decent, and headed off.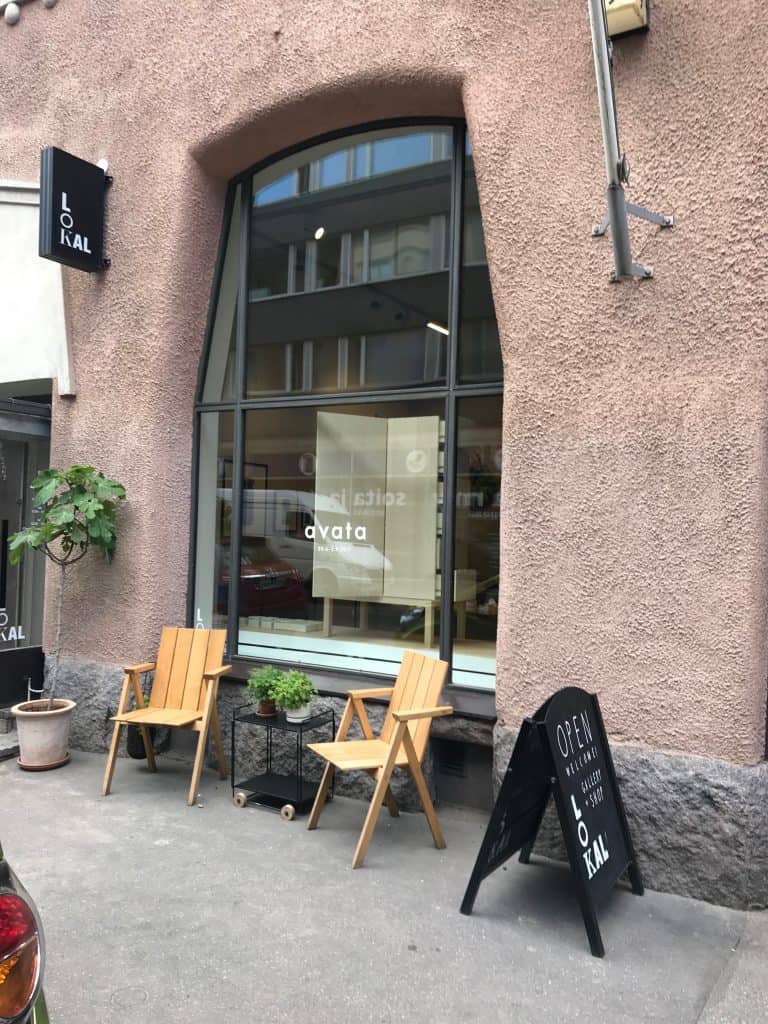 Lokal did have some nice designer stuff you probably wouldn't see in bigger shops, but there was nothing that really took my fancy. I also nipped into a Japanese shop for a quick look around, literally going in the door at 5.58pm.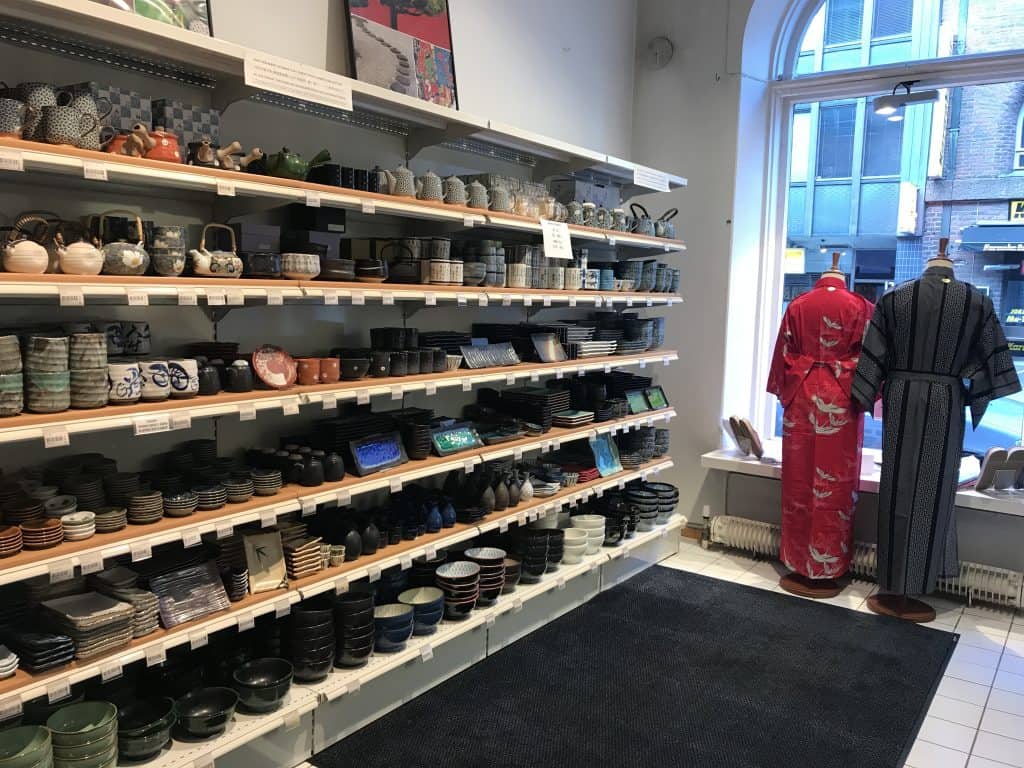 Next, there was one last sight in Helsinki I wanted to see – Kamppi Chapel. A church built in 2012, it's won architectural awards, and was just a fifteen minute walk away.
The position of the chapel's a bit weird – it's literally in a square beside a massive shopping centre. But it's certainly dramatic looking.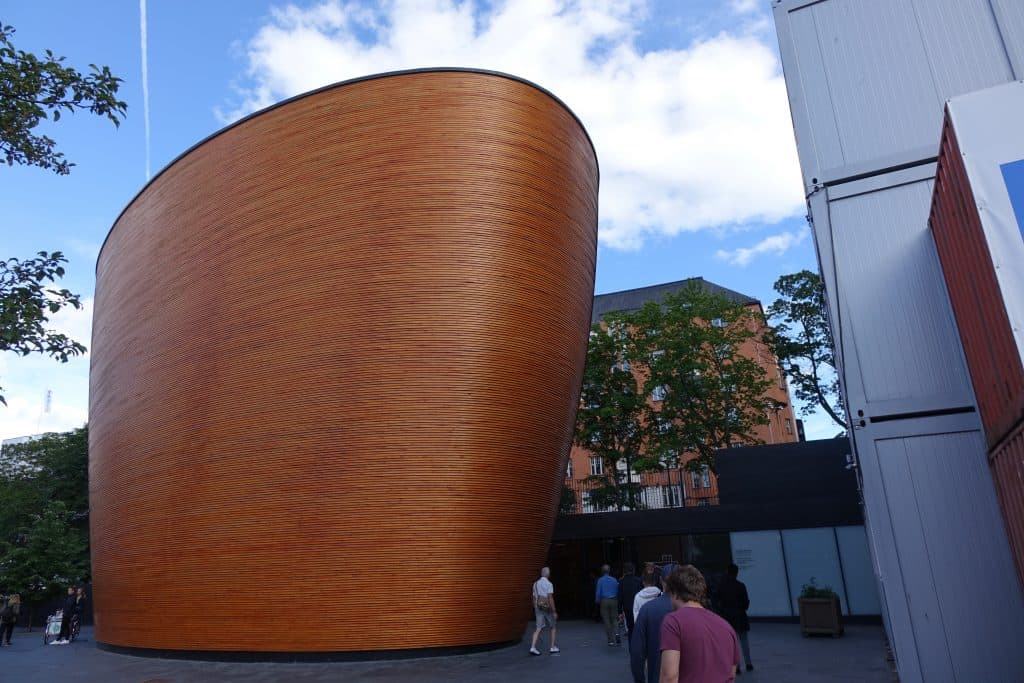 There was a short service going on when I arrived so I waited until that was over and then piled in with loads of other tourists for a quick peek inside.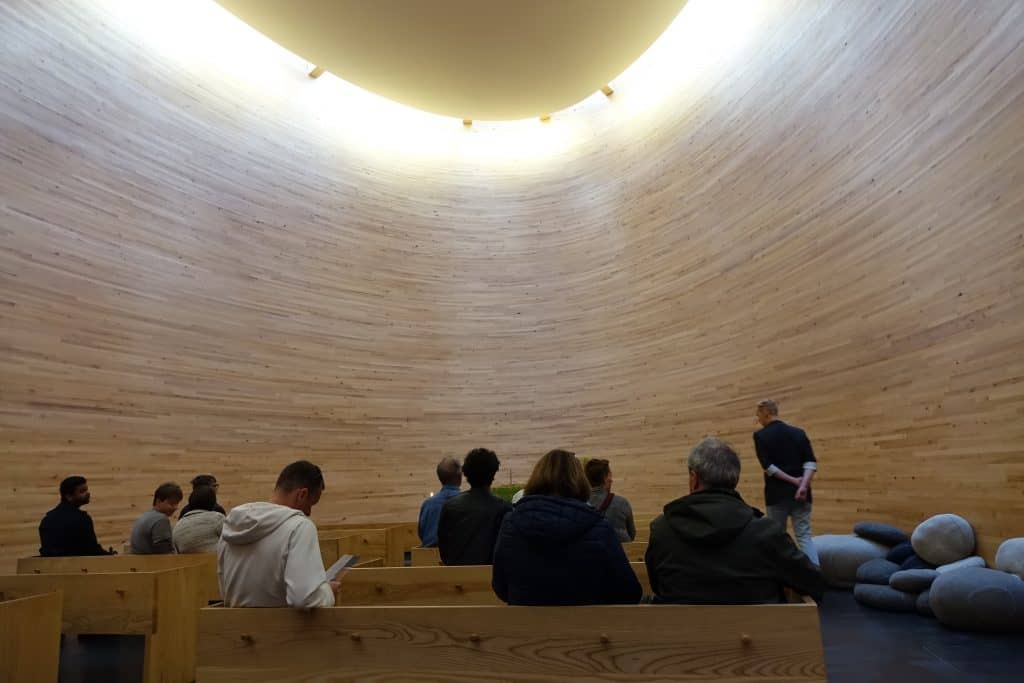 It was pretty small, but I think well designed – it was just a very calming and relaxing space which would be ideal for a bit of quiet contemplation.
I had a quick stroll around the shopping mall next door, but there weren't any particularly exciting shops.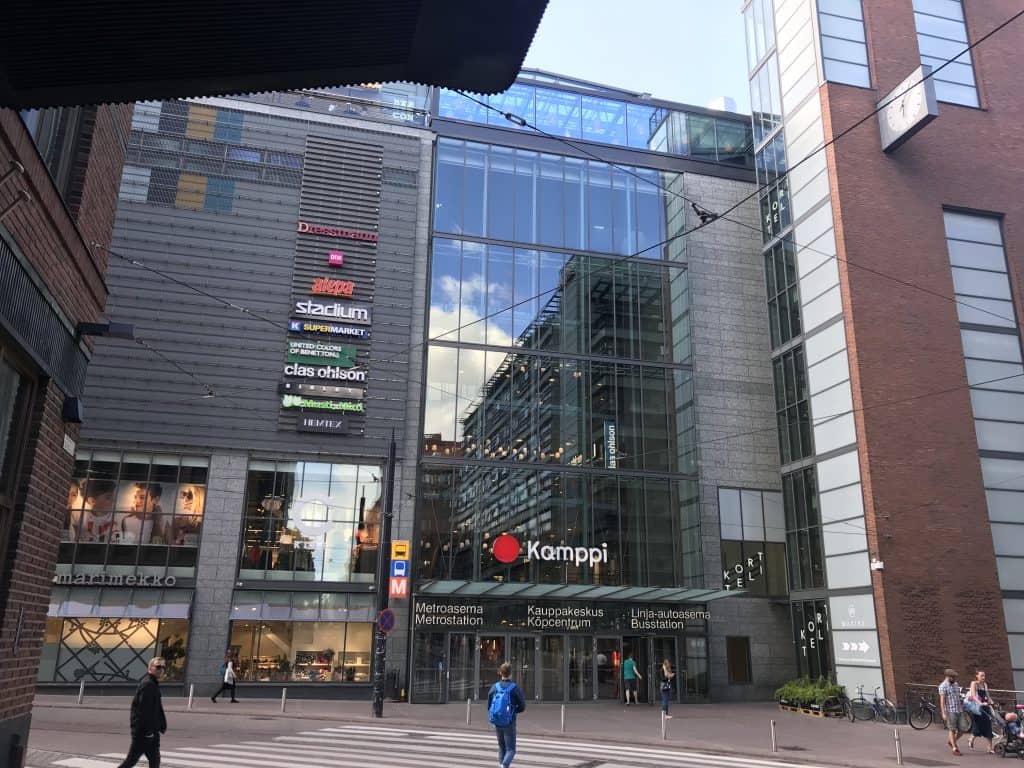 Walking back towards the hotel, I popped back into Samsøe and Samsøe and picked up the jeans I tried on earlier, but unfortunately the shirt I'd tried on had been sold. Should have just bought it when I was in earlier in the day!
After dumping my stuff back at the hotel, I headed out for a bite of dinner, choosing to eat out on my last night in the city.
Skiffer apparently offers up some of the best pizza in the capital, and it looked like a funky and friendly place – they also had a branch just six minutes' walk away from my hotel.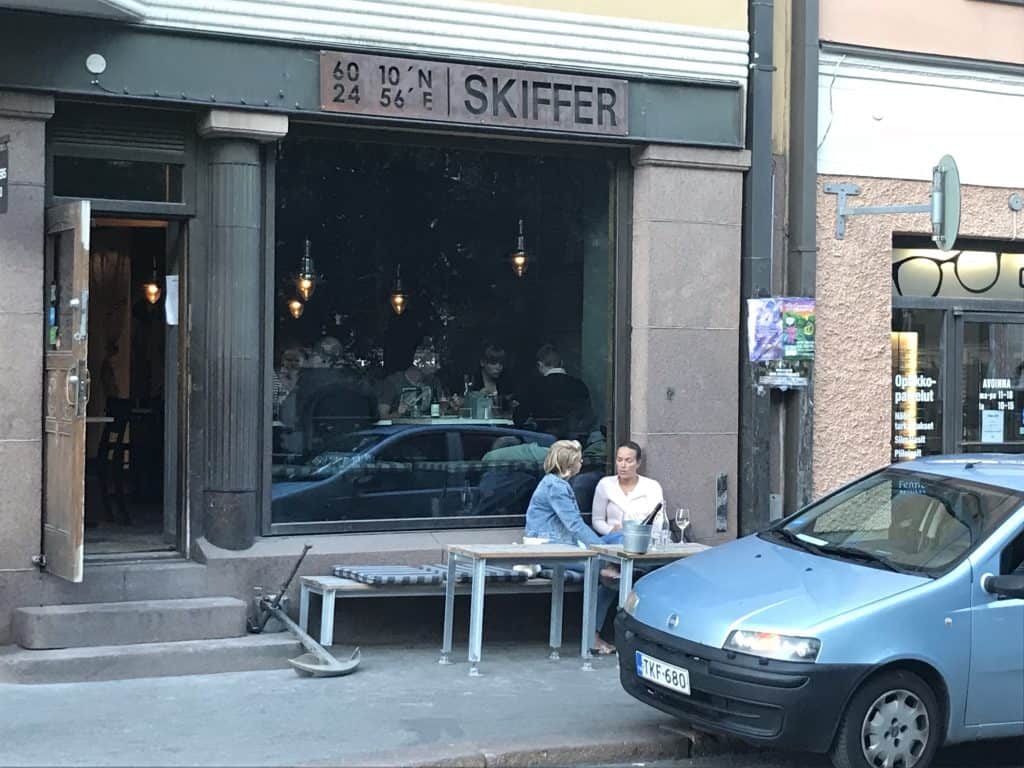 Inside, it was busy with locals, but my first impressions of the service was that it wasn't too friendly! The girl who showed me to my table seemed like she was in a bit of a bad mood, and though I suspected they had menus in English as I saw some tourists being given some later on, I wasn't offered one. I don't think she smiled once, but to be fair, she did seem pretty frantic.
I ordered up a glass of rose, and after finding the menu in English online ordered "Daring Herring" to start – marinated herring (gotta love the herring!), dark bread and sour cream, which came in a little jar. It was delicious!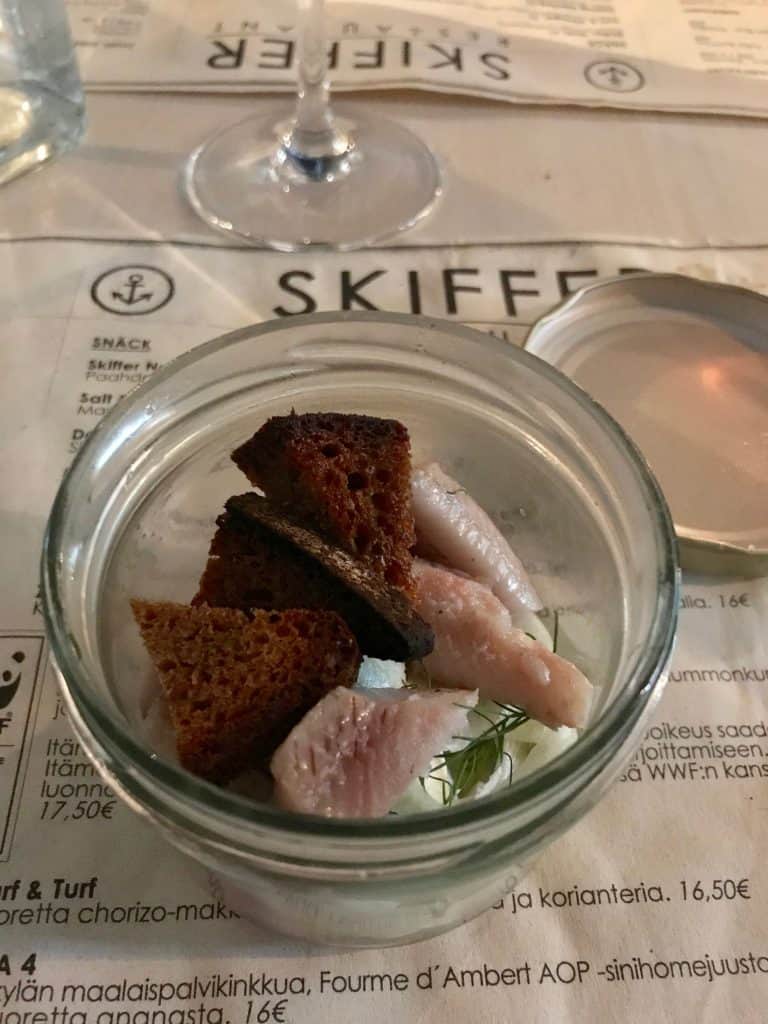 Then for my main, I ordered the "Surf & Turf" pizza – which came topped with fresh chorizo, crayfish, chilli and coriander. It was absolutely enormous.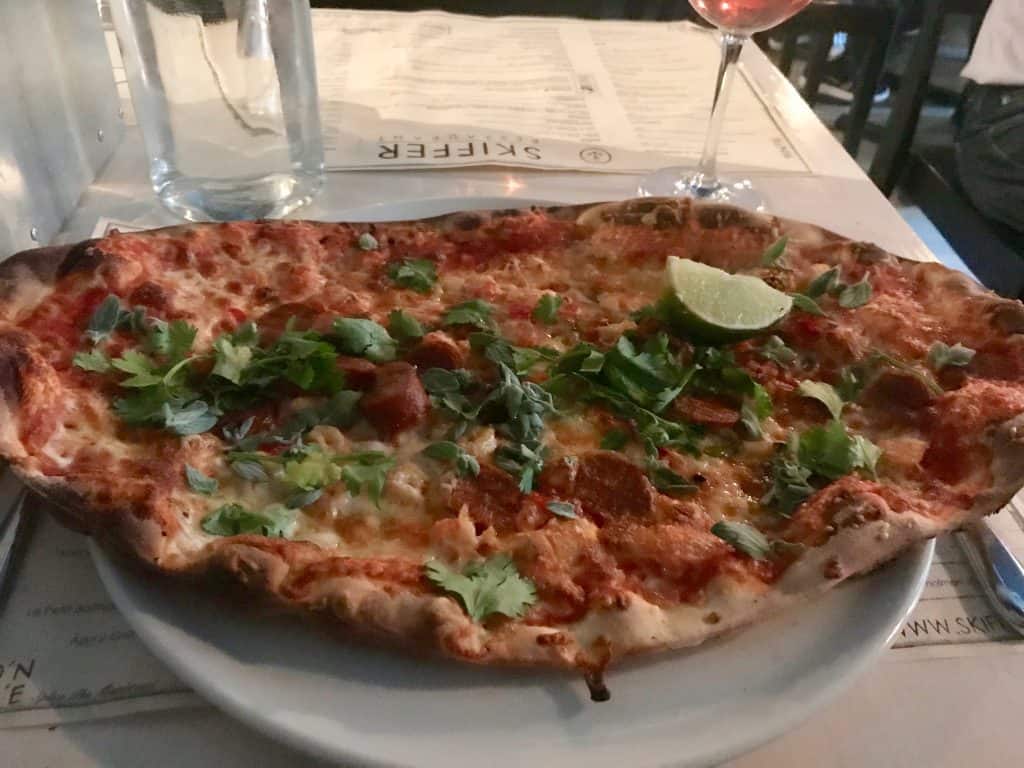 In fact it didn't fit on the plate. But it tasted great – so good I managed to finish the whole thing 😉
When the bill came (this time presented by a very chatty, friendly waitress who I had a fairly long conversation about Helsinki with), the cost of my two course meal was €29. Fairly expensive for a pizza maybe, but fair value I felt. I would recommend Skiffer.
I decided to take a long route back to my hotel – and have one last look at Helsinki. The sun was still shining, and the park was busy with people just chilling out.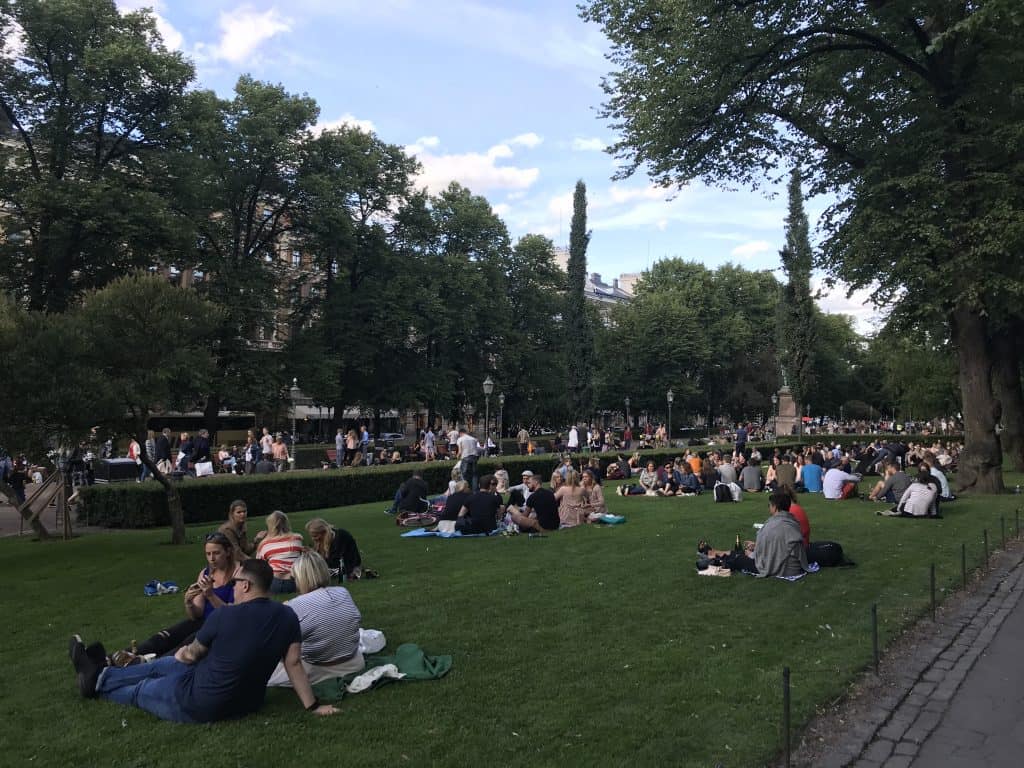 I'd done a fair bit of walking again today, despite swearing to have a more relaxing day, so I was pleased to get back to the hotel. Then I remembered I hadn't left a tip in Skiffer. There was nothing for it – I didn't want them to think I was rude, so I dandered back around and handed my tip to the friendlier waitress.
Reaching the hotel for what seemed like the seventh time that day, I packed up my cases and climbed into bed. Tomorrow I'd be heading off to see a different side of Finland.