On Sunday morning I had a bit of a lie in – I was in the countryside to relax and chill out a bit after all! When I eventually did get out of bed, the sun was shining once more – it really felt pretty hot.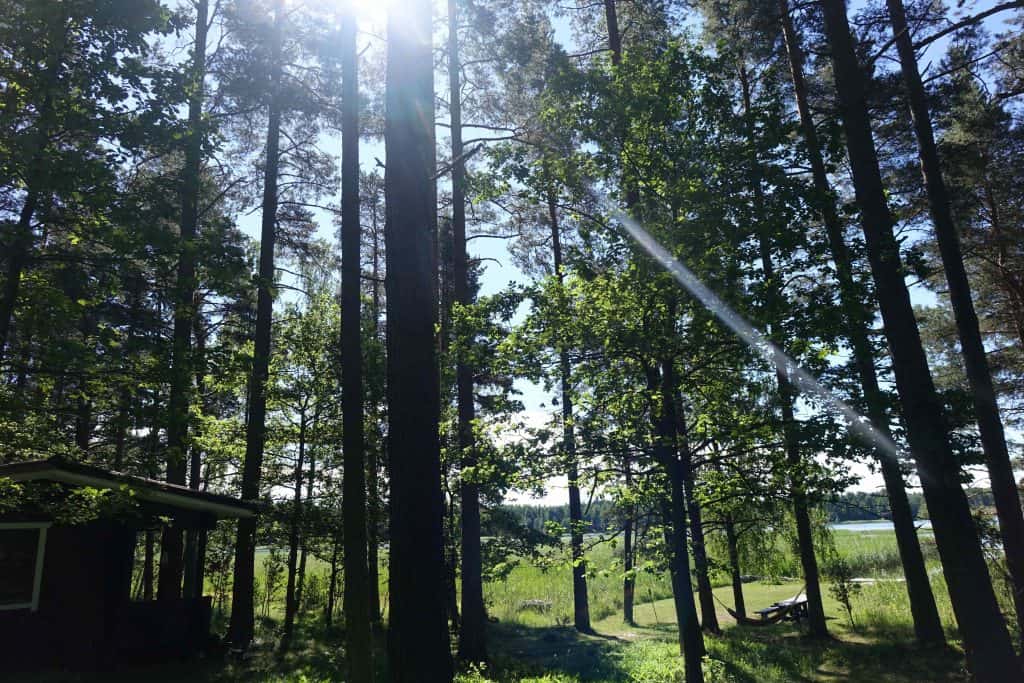 I had a shower, with the water just starting to turn cold as I was finishing. Getting dressed, I began to feel very itchy in places – on my legs, hands and feet. I'd been bitten – a lot – and they were angry looking red bites. Which were extremely itchy! Presumably that had happened at dusk last night after I'd had my sauna 🙁 Down side of being in the countryside I suppose!
Being out in the middle of nowhere, there really wasn't that much to do – so I decided to go for a little walk up the forest track I'd driven down the night before. There was a conference and spa type hotel just a kilometre away, so I headed there to have a nosey and see if it would be nice for lunch.
I really felt like I was deep in the Finnish countryside. Apparently there's moose and deer about all the time – but unfortunately I didn't see any. Jukka, one of the owners of the cottage, did tell me if I woke up in the middle of the night to take a look for deer, but I completely forgot. Although I didn't wake up in the middle of the night either….
I passed a couple of other houses on the way to the hotel…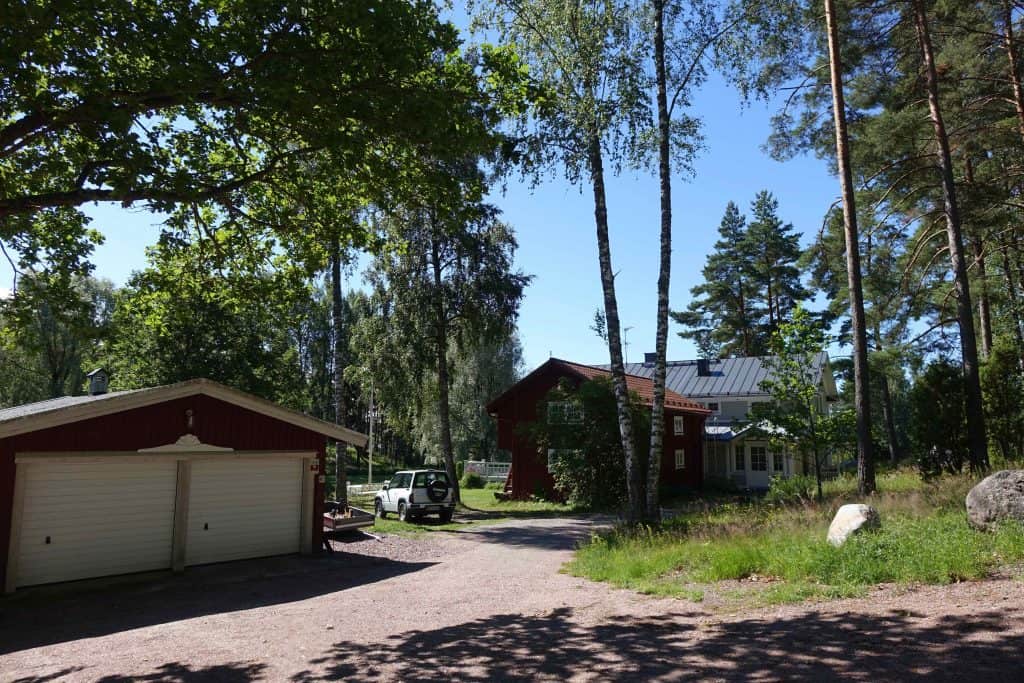 …then once I reached the Långvik resort, before going in, I walked down to the shore for a look.
There were a couple of people paddle boarding, and even sunbathing on a tiny strip of sand. Not really that much to see! So I walked into the hotel, and surreptitiously sneaked in to avail of their bathroom facilities too 😉
Taking a look at the restaurant menu, it turned out that at weekends they were serving BBQ type food on the terrace. The choice really was between steak, beef ribs, salmon or a burger, and I thought that would all be a bit too heavy. So as I walked back to the cottage I decided to drive my car into Kirkkonummi, and have lunch there. I was looking at potential lunch candidates on my laptop, when Marju, Jukka's wife, came over to hang out laundry, and suggested a couple of places. One of her recommendations was Bistro O mat – I'd just been looking at it, and liked the sound of their Sunday brunch. Once Jukka told me people drove from Helsinki to eat there my mind was made up!
Putting directions into my phone, Google warned me the place was closed on a Sunday, but their website did talk about a Sunday brunch, so I headed off anyway.
After a short drive of fifteen minutes, I parked the car and walked up….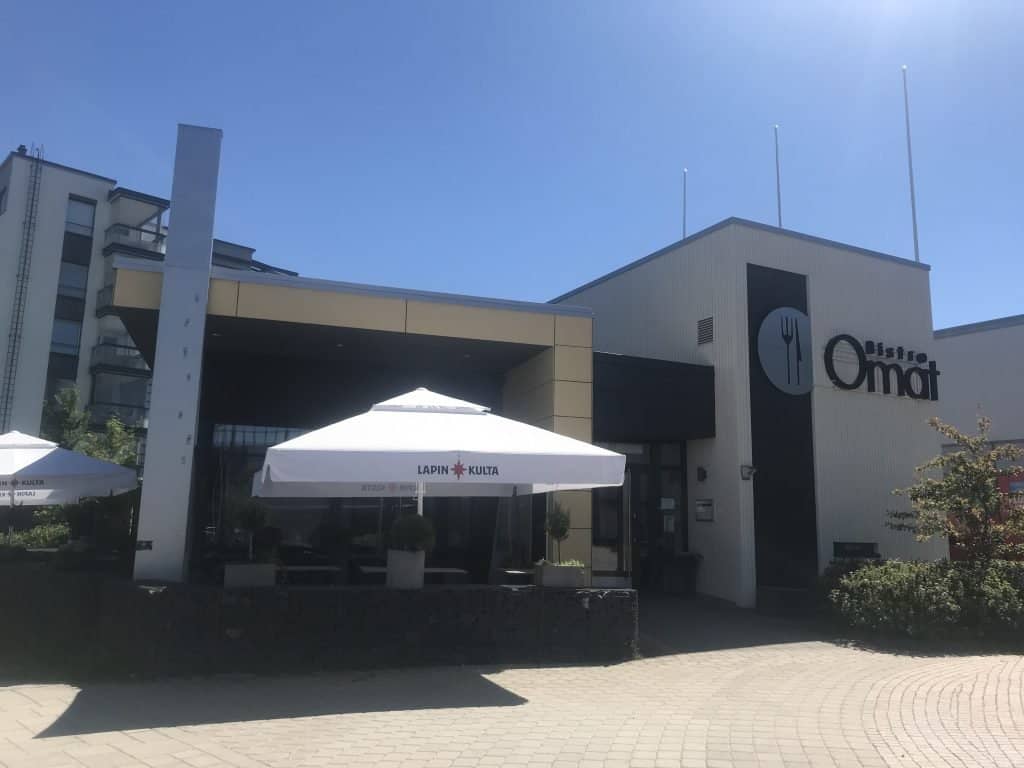 Closed. Grrr! Should have trusted The Google!
I got back in the car, and decided to drive to another of Marju's recommendations – the clubhouse restaurant at a nearby golf course, Hirsala Golf. It was only 4km down the road from the cottage, so it didn't me too long to drive back.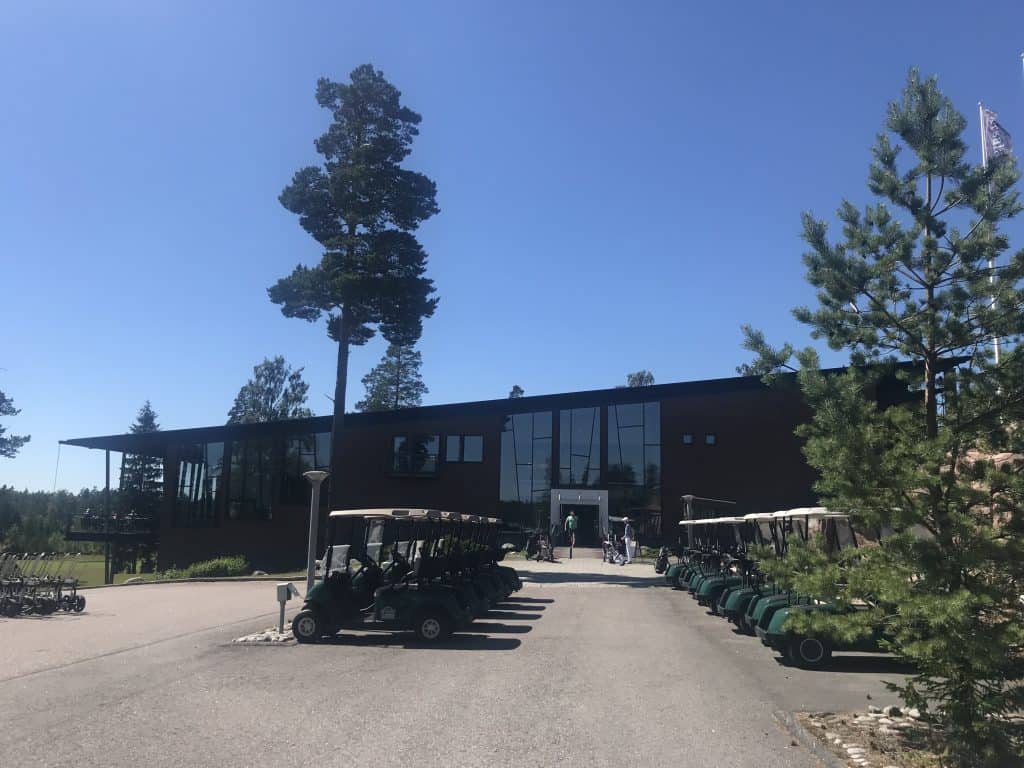 I felt a bit weird going into a clubhouse when I hadn't been playing golf – I'm not sure if that's the done thing?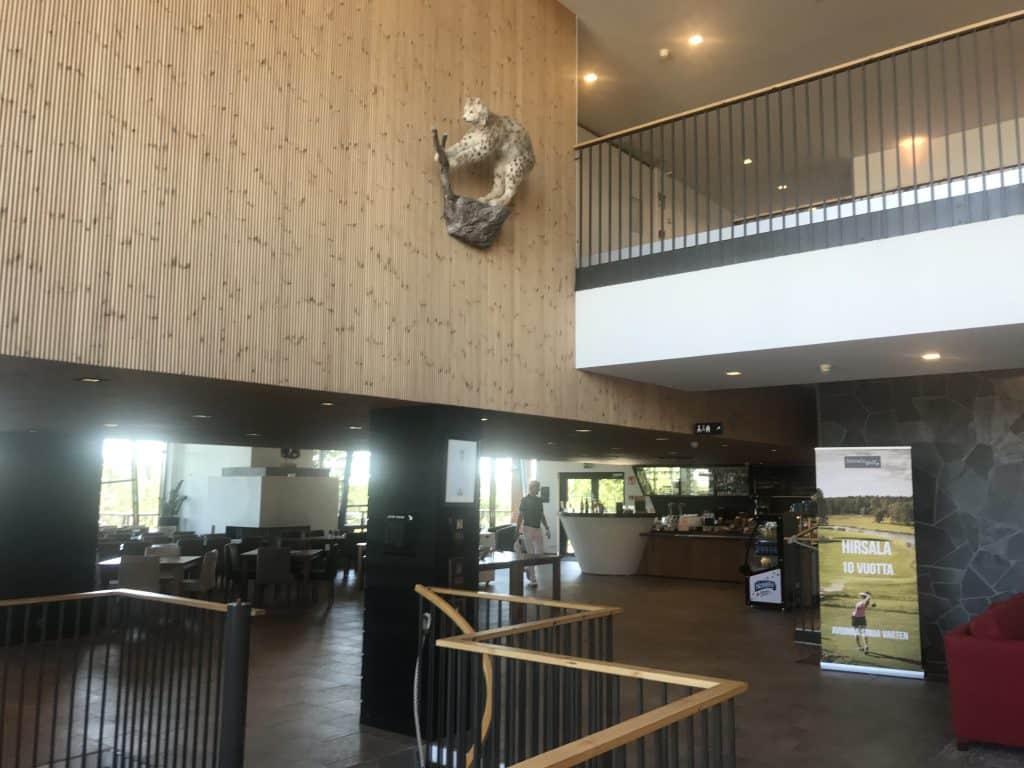 I ordered a club sandwich at the counter and went to sit outside on the terrace, where a handful of golfers were already tucking into food.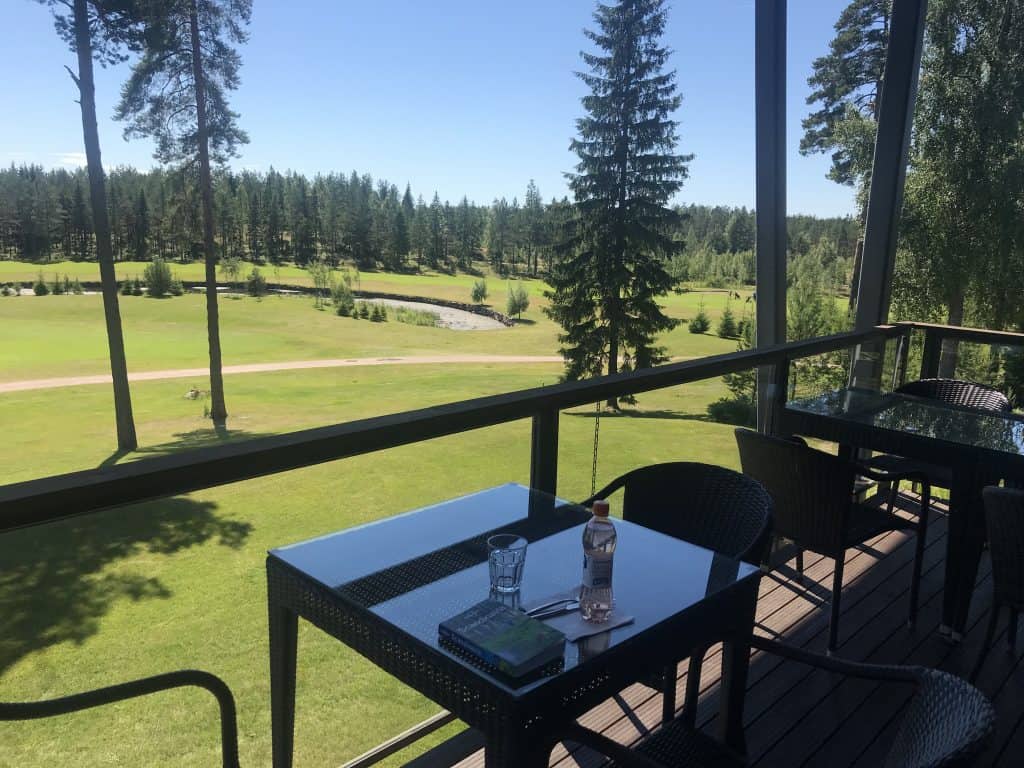 It was a lovely view, and the weather was just perfect! Gorgeously sunny, but with just a very light breeze. I started to flick through my guide book and work out what to see in Stockholm over the next couple of days, and soon my food arrived.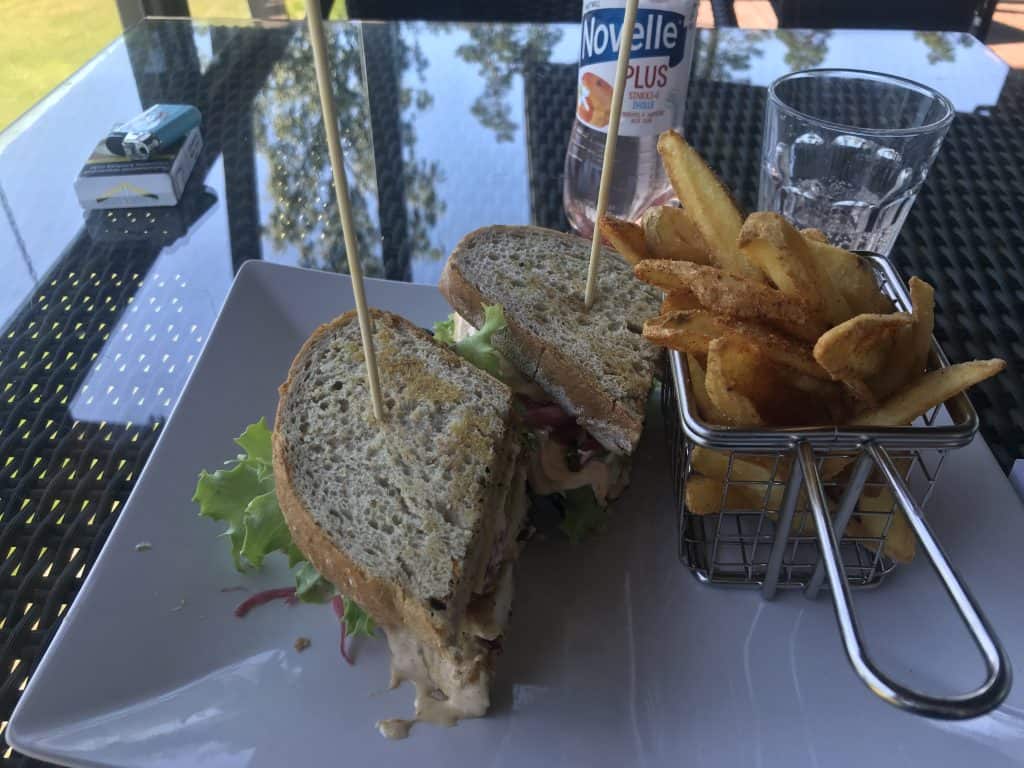 God it was good – if you ever find yourself in Kirkkonummi and fancy a spot of lunch – head there! It came with a kind of paprika mayonnaise, great fries, and was totally delicious.
Arriving back at the cottage, I decided to take Marju and Jukka up on their offer to borrow one of the family's bikes. Soon I was pedalling back towards the hotel. Swerving along the front of the building, I found a little forest trail type thing, so decided to cycle up that path.
That's where it went a bit wrong – I came to the top of a very steep hill, squeezed the back brake, and was still moving when I decided to try the front brake. Too hard. And as a result kind of lay the bike down gently in grass as I went over the handlebars and landed on my knee.
Not great! With blood streaming down my leg, I picked up the bike, and headed back to the toilets in the hotel to wash my wounds, feeling a bit sorry for myself. When I asked for a plaster at reception, they weren't exactly generous!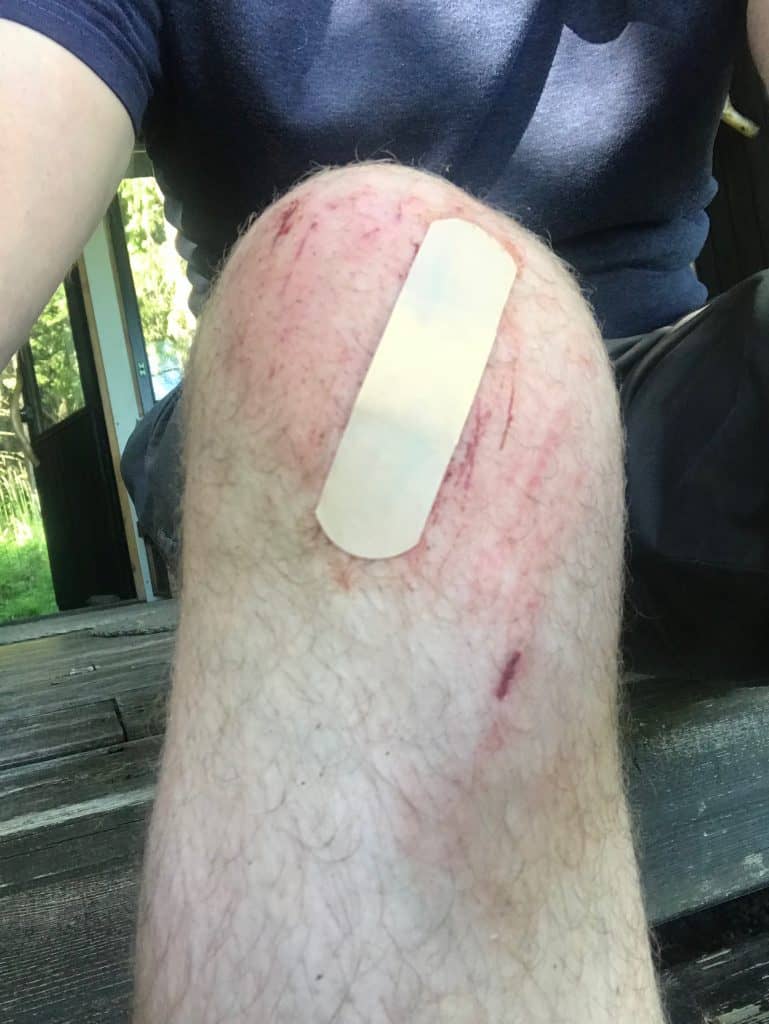 I think I covered the worst bit with it though. By the time I'd sorted my knee out I was kind of over the fall, and got back on the bike and cycled out on to the main road towards Kirkkonummi.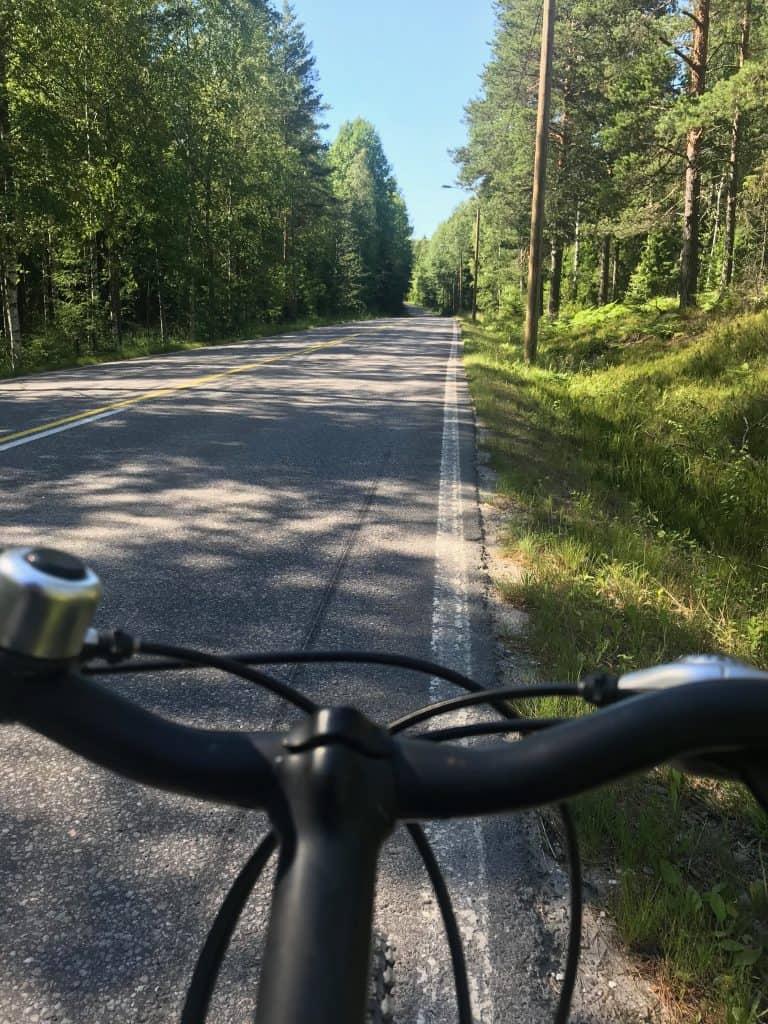 I sped down the road (when it was going downhill at least), admiring the view as I went.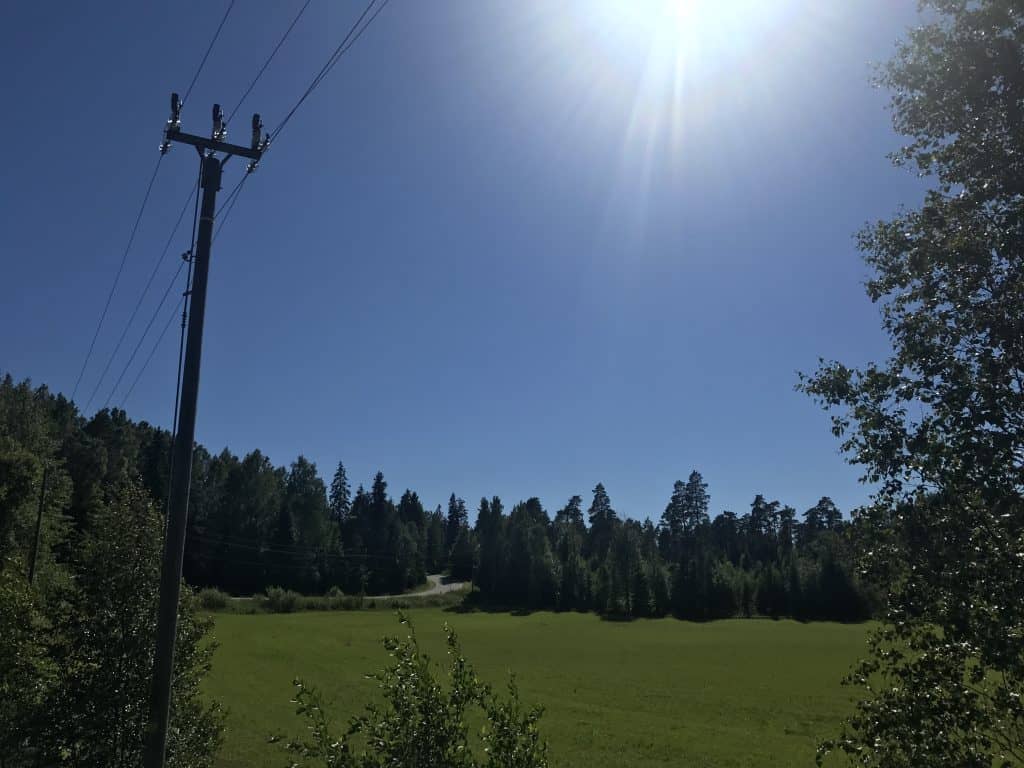 Conscious of the fact I didn't want to go too far as I'd have to cycle back too, I turned around after a while, and cycled back to the cottage. As I laid the bike back against its post, I bumped into Jukka who was very kindly concerned about my leg. I was much more worried about the bike! But thankfully, as I'd laid it down on grass when I'd gone through the air, it was totally fine.
I lay in that very comfortable hammock again for a while reading, before the breeze began to pick up. After moving inside, I had a little snooze. I don't know whether it was all the fresh air or a side effect of the bites, but I was feeling exhausted!
Before I knew it, it was nearly time for dinner. Marju and Jukka provide dinner or breakfast if you let them know in advance, and I thought it would be nice to have dinner with the family one night. After a quick shower and change of clothes, I walked up to the main house, where Jukka pointed me in the direction of the greenhouse – that's where we'd be eating.
Inside was beautifully decorated – it was a unique and lovely setting for dinner.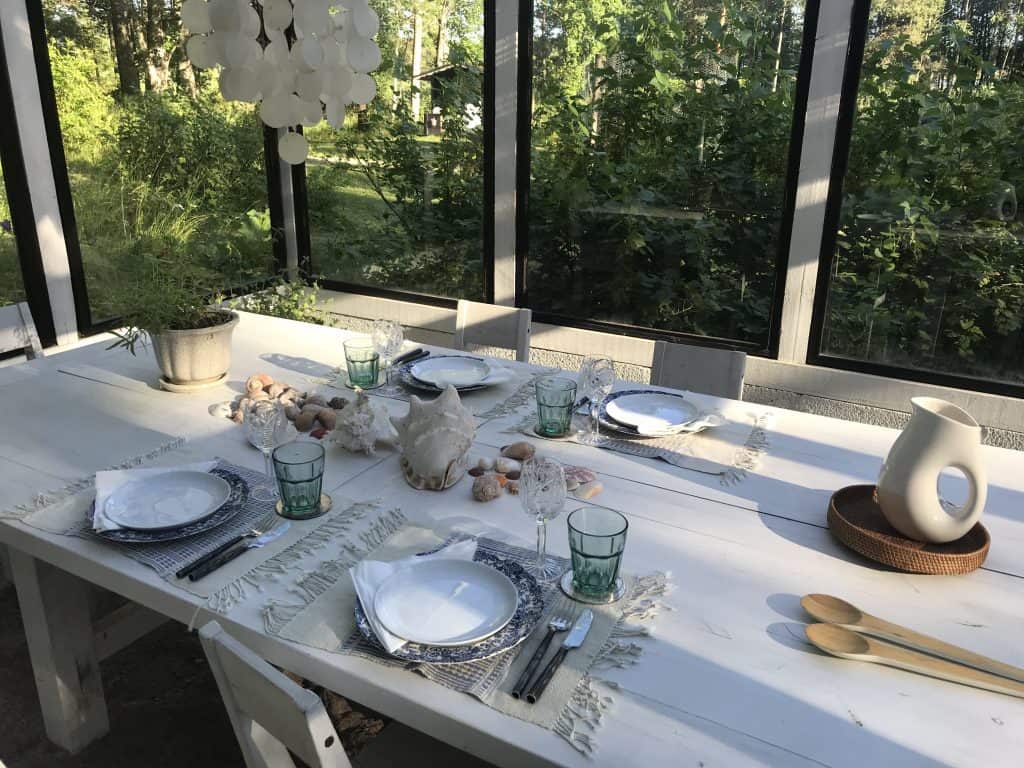 Soon Marju, Jukka and their daughter arrived, carrying pots and plates laden with food. For a main course we had smoked salmon with new potatoes and dill, green salad, chanterelle mushrooms, beetroot with blue cheese, and rye bread with crispy crackers and butter. It was very Scandinavian, very fresh tasting, healthy, and tasty. I'd have loved to have got a photo of it but felt taking one would have appeared a bit creepy!
As we ate, we all had a good chat – about travelling, work, and my experiences of Finland to date. Jukka explained that every Scandinavian country's inhabitants are a bit different – something that I'd noticed too. For examples Danes are a bit different to Finns.
Marju opened a bottle of Calvados that her friend had made, and we tucked into a dessert of cinnamon sprinkled vanilla ice cream and fresh strawberries. Soon Jukka had to leave to pick two young neighbours up from Helsinki, so Marju and I stayed at the table a bit longer and chatted.
It was a lovely meal, with great company in a beautiful setting – I felt really relaxed, and a bit jealous that Marju and Jukka got to live there all year around! Although I'm sure the place is very different when the harsh Finnish winters roll 'round. My only regret was that I didn't get to stay and chat longer after dinner  – I had to get back to the cabin, pack all my stuff, and get ready for an early-ish start in the morning.
After helping Marju back to the house with dishes, I took some last photos as the sun began to sink in the sky…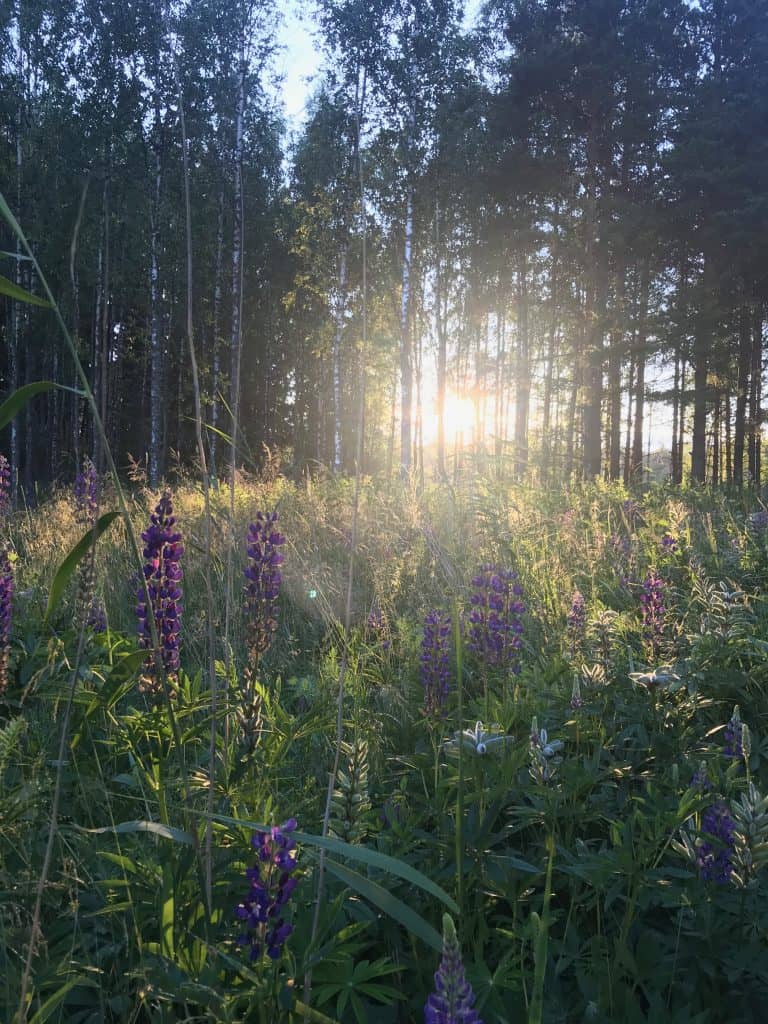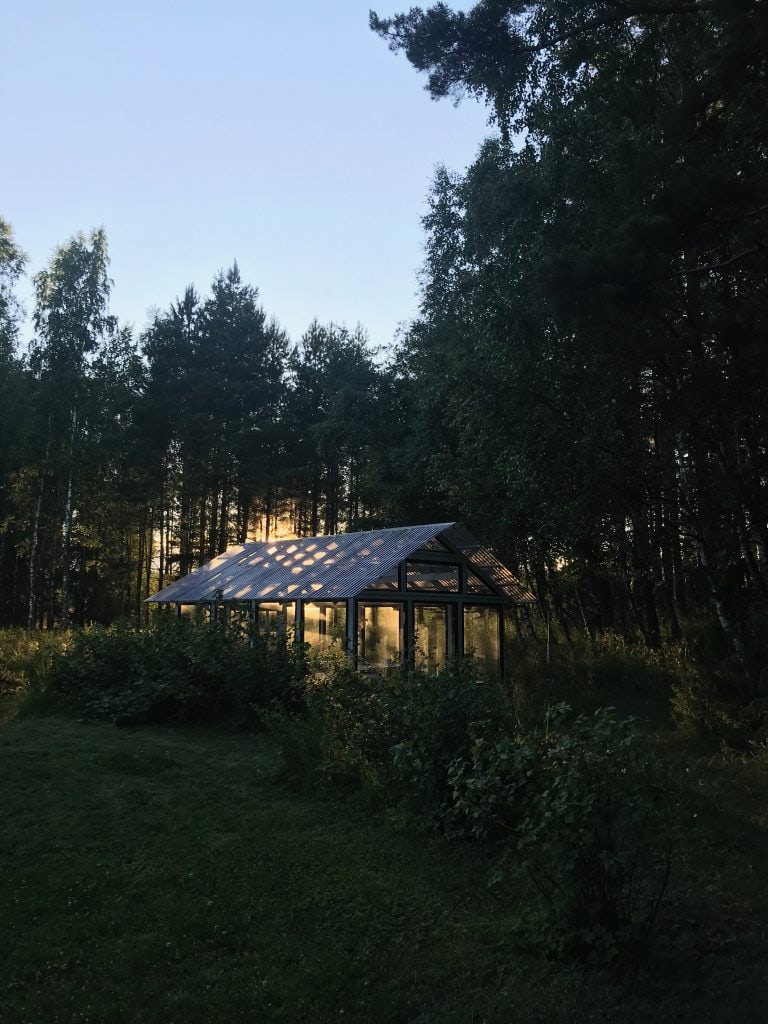 I'd had such a lovely – if brief – stay near Kirkkonummi. As I sat on the cottage's steps for the last time, and gazed at the bay, I really felt like any worries I had had just melted away. I do wish I'd taken one of the rowing boats out though!
I turned in for the night, ready and prepared to head to the last Scandinavian country of my trip the next morning.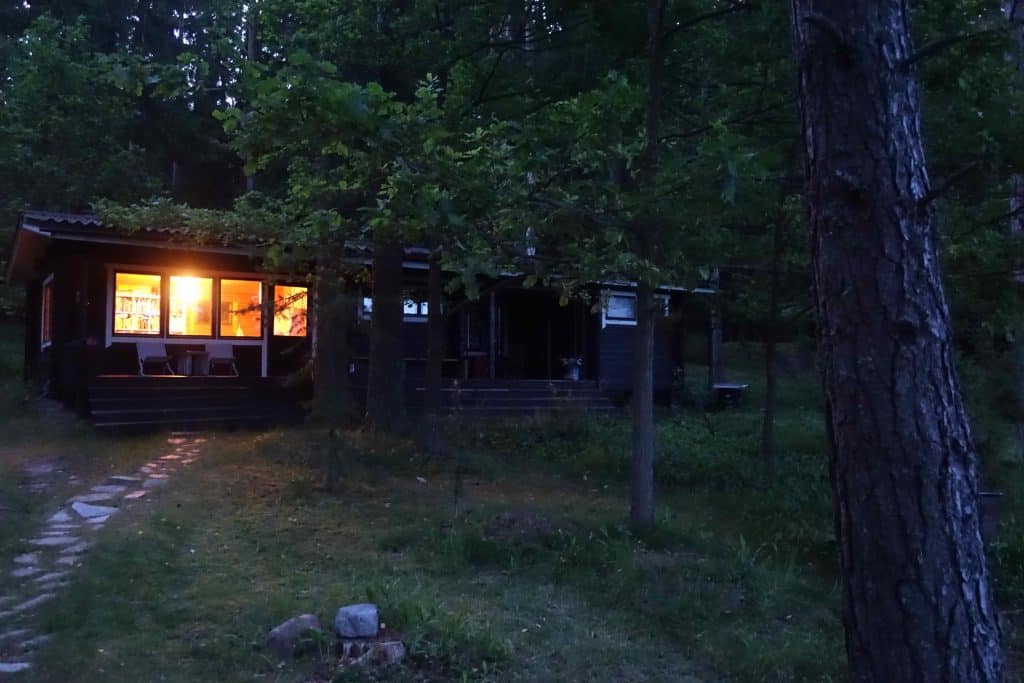 You can see Marju and Jukka's cottage on Airbnb here, and if you haven't used Airbnb before, you'll get some travel credit (£30 off at the time of writing) if you sign up here.