I had a lovely, long lie in on my first full day in Stockholm, taking it easy and not getting out of bed until nearly 10am. After working on my blog a bit, and planning which order to see the sights in, it was around midday before I actually left the hotel. Perhaps just a bit too late, as I'd find out later on!
Again the weather was great – hot but not too hot, with the sun shining high in the sky. I strolled down the street from my hotel, heading towards Gamla Stan – the city's old town, where Stockholm was originally founded in 1252. The first impressive building I came across was the Swedish parliament building.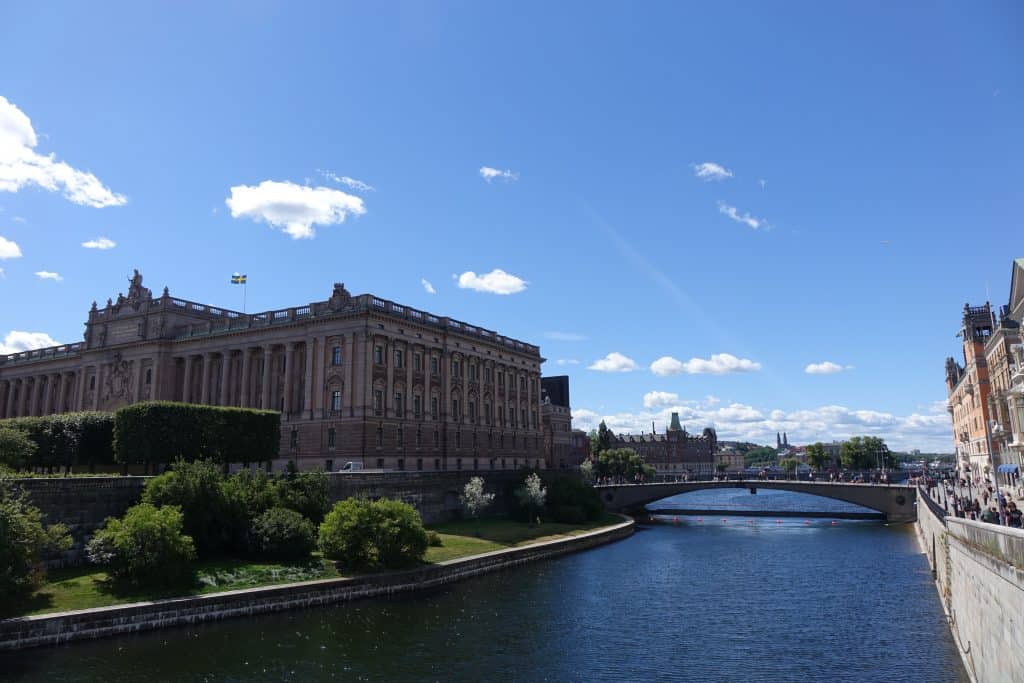 Walking across the bridge in the background of the picture below, I was soon passing under an impressive archway into the old town.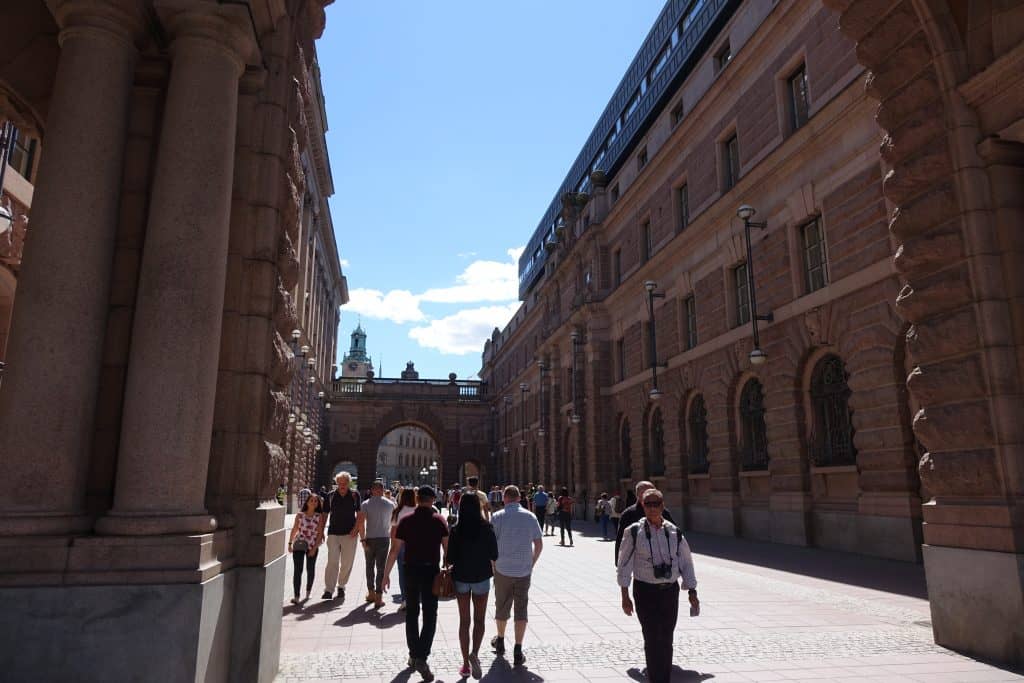 I didn't really have much of a plan for things to see in Gamla Stan – rather, I thought I'd just wander around, and see what I stumbled across. The streets were thronging – mostly with tourists it appeared. I could hear loud music, and following the noise came across the Changing of the Guard at the Royal Palace. I couldn't really get a good look at it because of the crowds, but raising my camera high above my head, I did manage to get a photo!
After a quick peek into the Royal Palace shop, I decided to head on to one of the area's main streets – Västerlånggatan. I'd picked up some bandages for my bike-related knee injury the day before, but by now my bites from the Finnish countryside were driving me mad. So after speaking to the helpful and friendly assistant in a chemists, I was soon rubbing anti-histmaine cream over every bite I could find – and feel. That gave me a bit of relief!
Then I headed back out to stroll around. This photo's blurred, but it'll give you some idea of just how busy the place was.
Rammed basically! And this was on a Tuesday morning. And what is that man on the right taking a picture of?! Actually might have been a selfie.
Gamla Stan is a beautiful part of the city though. The colours of the buildings – which house little shops, cafes and restaurants – just make it very scenic. I made my way through the crowds and arrived in the area's main square – Stortorget.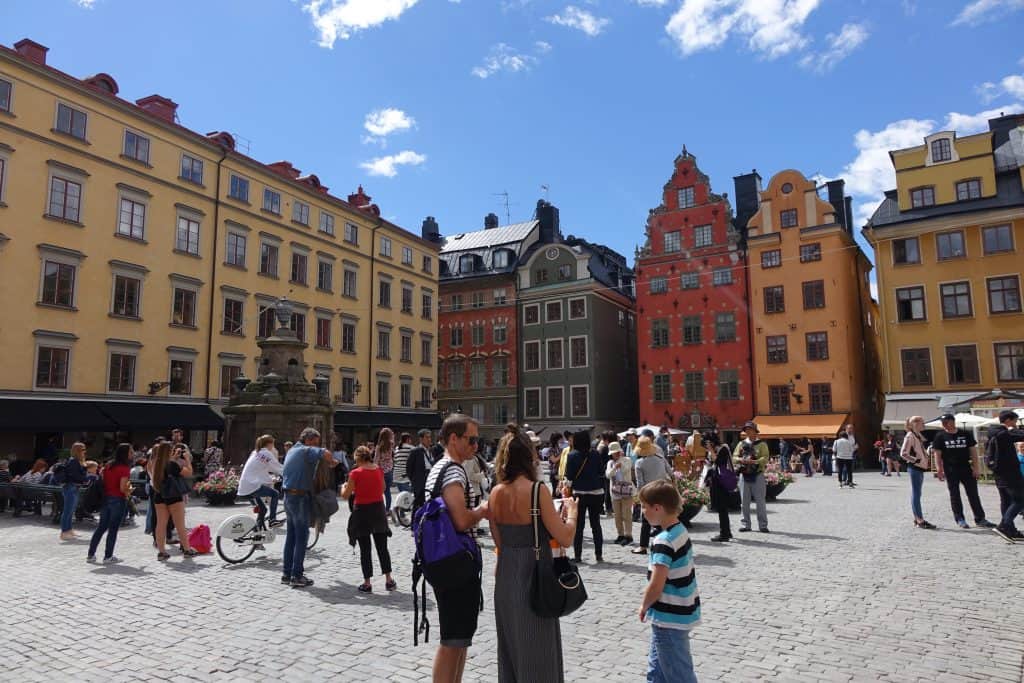 Then I decided to leave the thronging main streets and head off and explore the smaller side streets. Which were just as picturesque.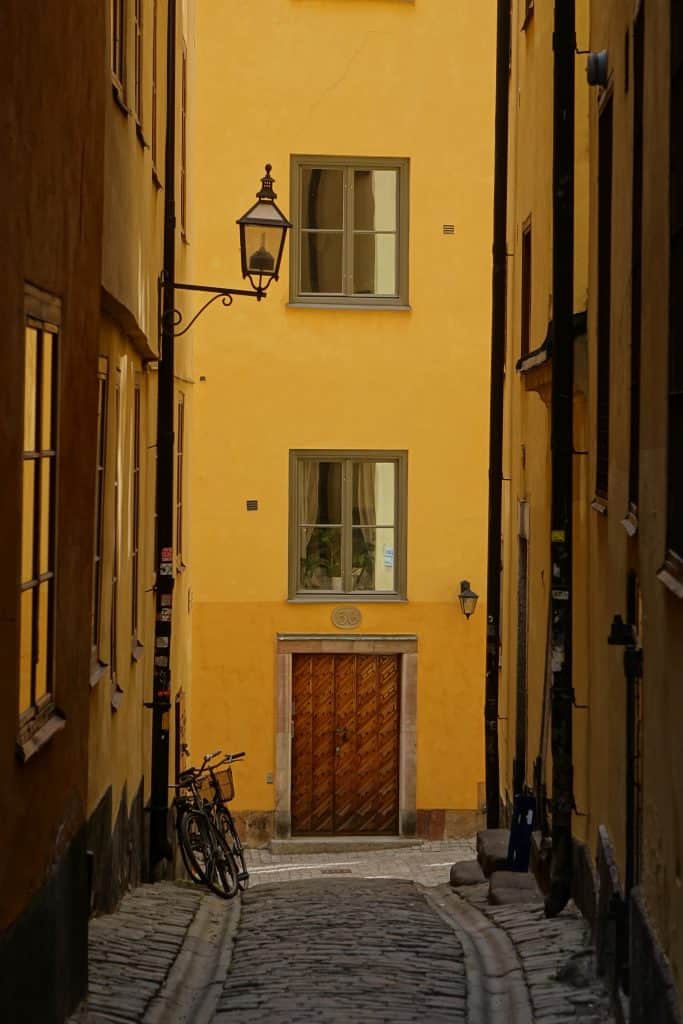 Seeing a 7-11 and feeling a bit peckish seeing as I hadn't had any breakfast, I picked up a coffee and a hot dog – why don't more places sell hot dogs in the UK? Perfect for a snack!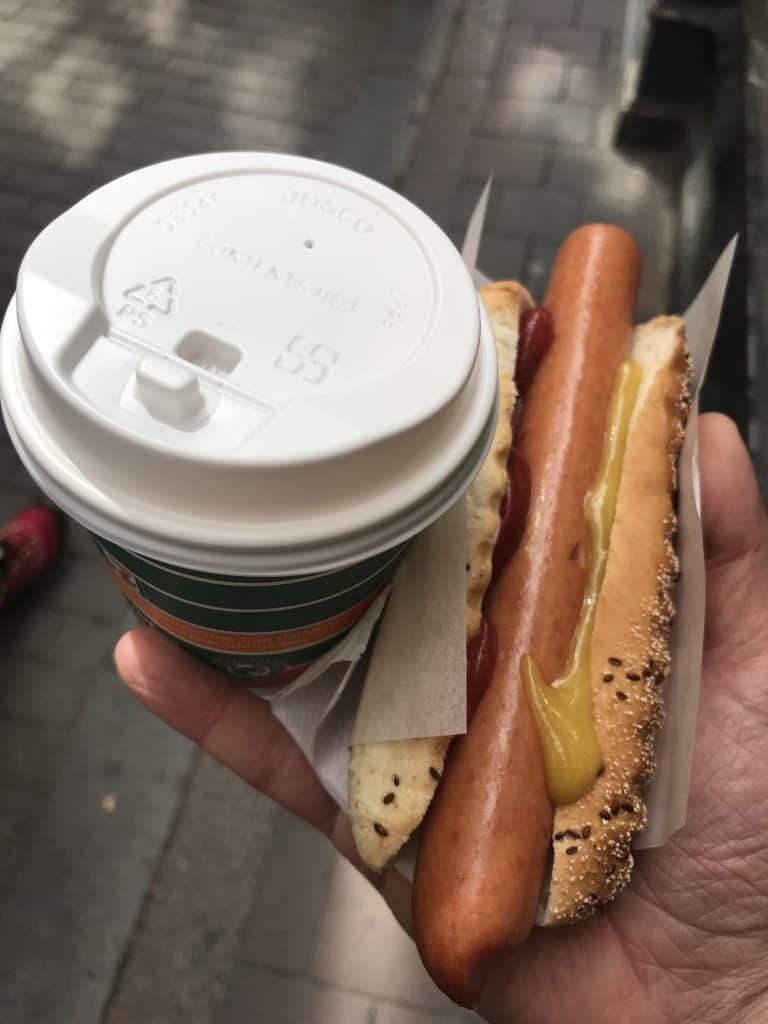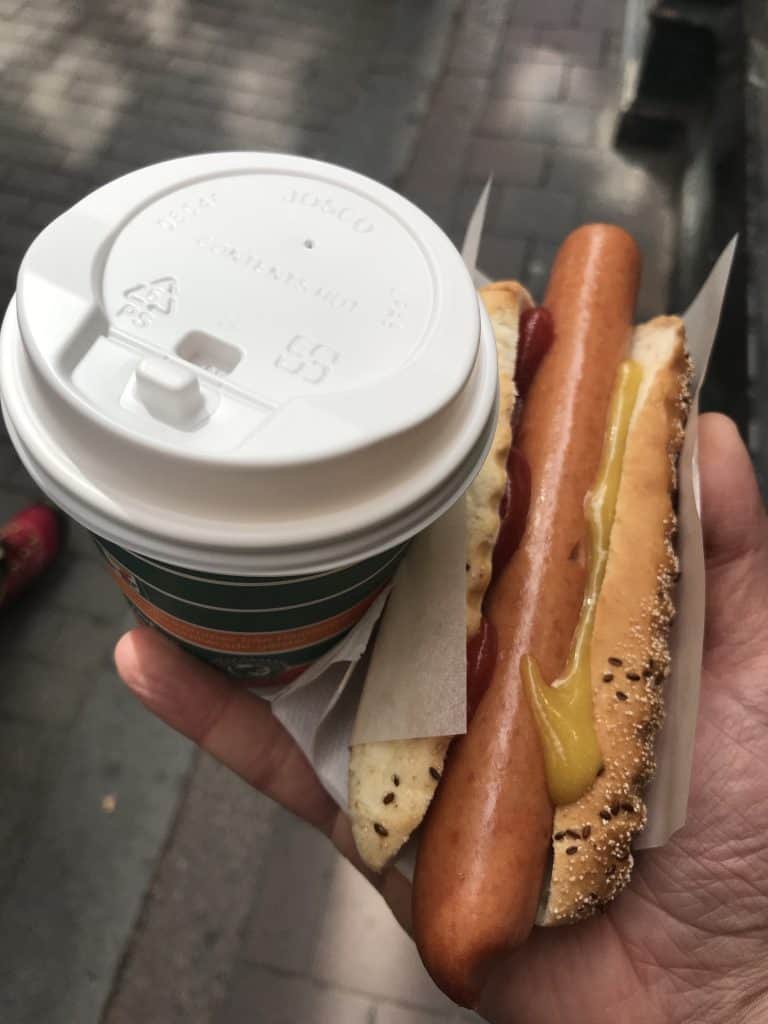 After scoffing that down, I found Stockholm's narrowest street, Mårten Trotzigs Gränd. In places it's just 90cm wide.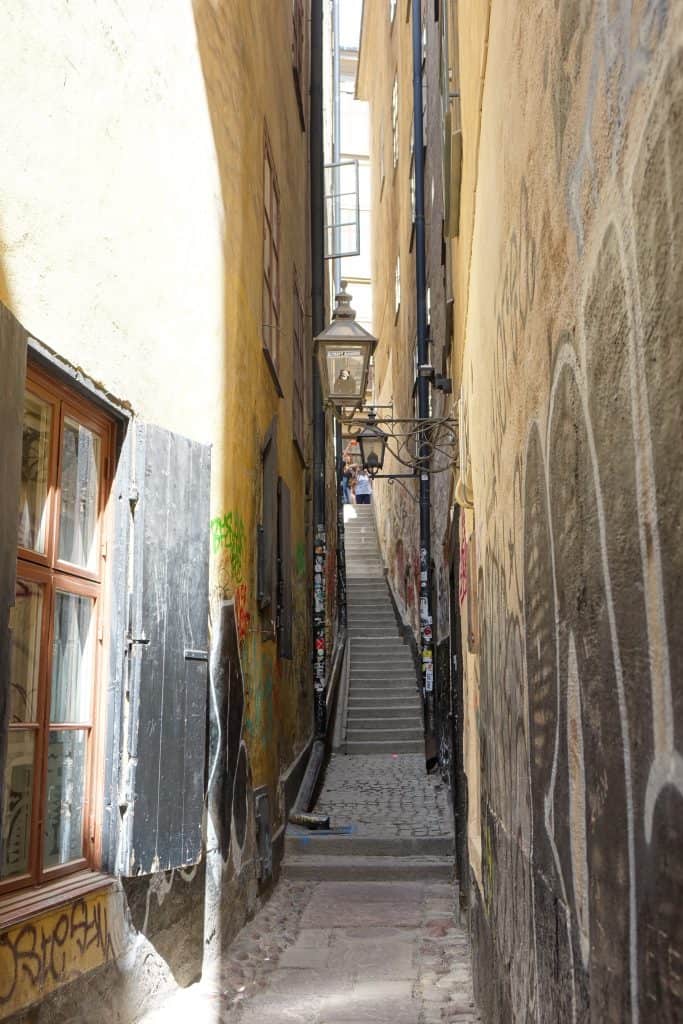 Pretty narrow!
Doubling back on myself I came across the city's German church…
…and slipped inside for a quick look.
I've got to say all the churches I've stuck my head into on this trip have been pretty impressive!
By this point, I felt I needed to crack on with the rest of the places I wanted to visit, so I left Gamla Stan behind, and was yet again slightly baffled by the city's layout. There were tunnels and bridges leading to where I was headed on the island of Södermalm, but Google Maps wasn't very helpful in determining which to take.
And yet again there was construction work happening all over the place – not making navigating the area any easier! In the end I chose the tunnel route – it definitely wasn't as scenic as Gamla Stan!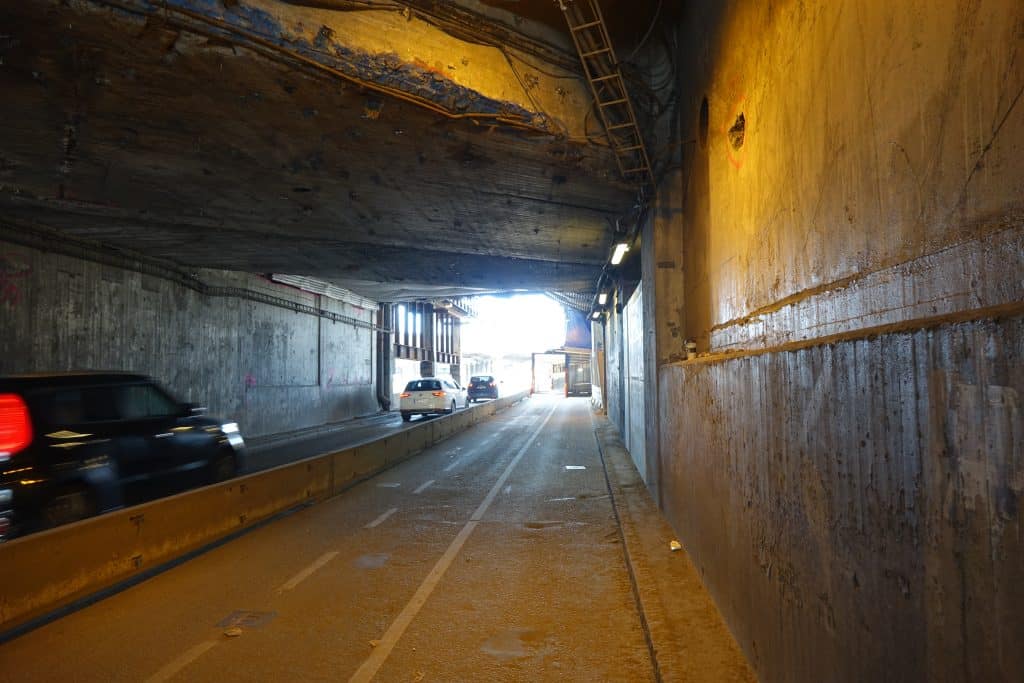 I reckon I was probably meant to take the bridge route, as Google Maps was soon recalculating my route. After a twenty minute walk, trekking up some steep stairs and streets, I eventually found Monteliusvägen, a 500 metre long walking path. Anna at the Tourist Information Office had said it offered some of the best views of the city, and she wasn't wrong.
And after the crowds of the old town, Monteliusvägen was deserted – the only other people around were someone enjoying a peaceful spot of lunch on a bench, and three people taking photos.
By now, it was well after midday, and I was getting a bit peckish – even after my hot dog snack. Södermalm's the hipster area of Stockholm (apparently) – and a fifteen minute stroll away was a part of the island which was home to designer shops and lots of cafes and restaurants. So I started walking again, and headed towards a place I'd picked out in advance as a stop for lunch.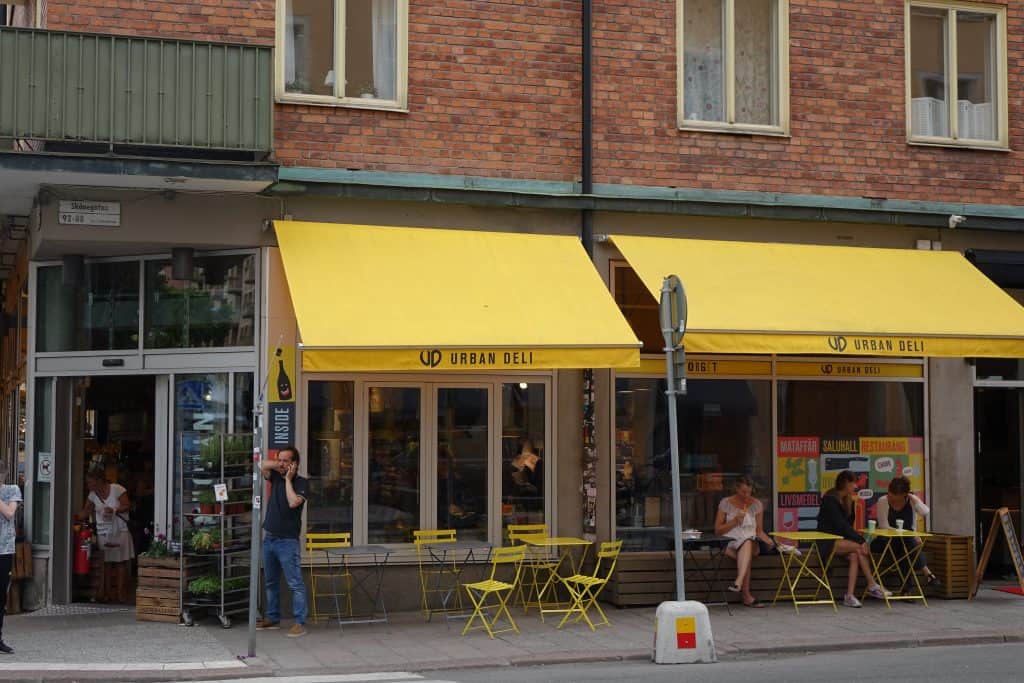 Urban Deli – is just that really – a large-ish deli selling a variety of foods, but with a bar and restaurant attached. After a quick nip to the toilet, I made my way past the shelves of gourmet items, and was soon seated outside on the patio.
That was really the best photo I could get as there were people facing me at the next table, and I didn't want them to think I was trying to get a photo of them!
The lunch menu was slightly fancy – it didn't have sandwiches or the like. I was sorely tempted by a dish of sausages with wild garlic, potatoes and cream, but felt too guilty – so far on the trip I hadn't really been getting my recommended nutritional intake. So instead I eventually ordered (after trying in vain for ages to attract the waiter's attention) a spicy salmon salad with root vegetables, cabbage and lettuce and chilli mayonnaise. And a side of fries 😉 I washed that down with the same rhubarb lemonade I'd had in Berlin earlier in the year – I'm going to have to try and source that here!
Ooh it was nice – and more to the point, tasted healthy. It was actually pleasant tasting some vegetables! As I ate, I caught up on the news at home, and also checked the app I use for keeping a list of places to visit on my trips for the shops I'd wanted to see in the area.
After settling the bill for lunch, which came to 300 Swedish Krona (or about £27.86 at the time – see Sweden is pricy!) I gathered up my stuff, and headed to the first shop on my list.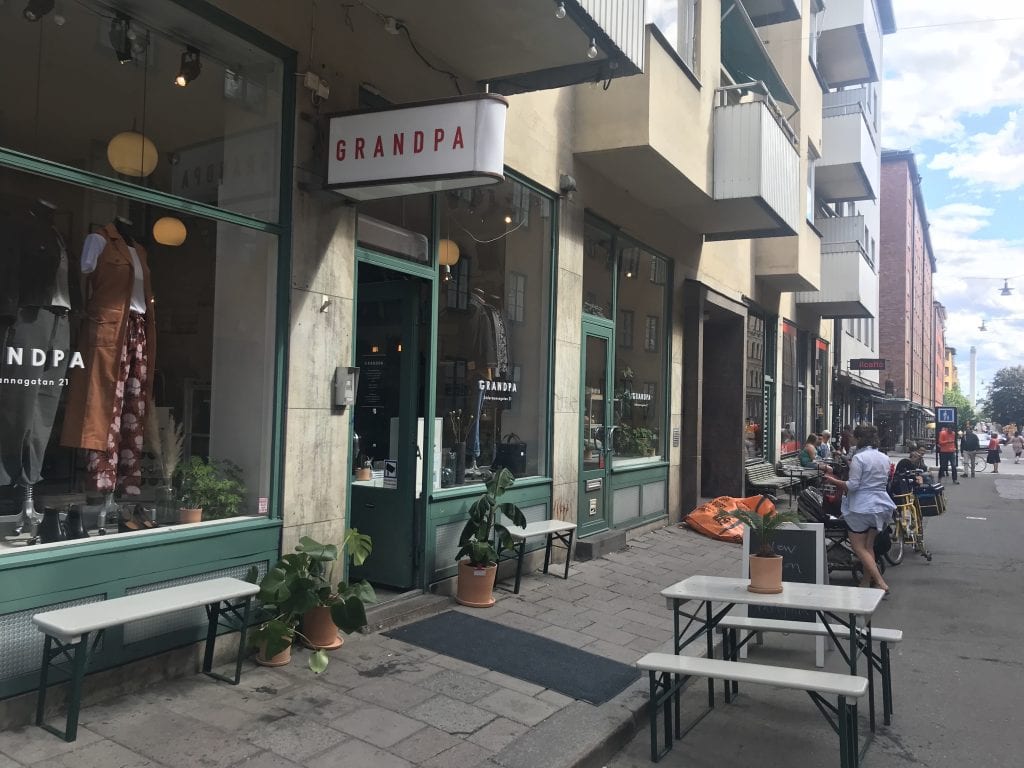 Grandpa's a shop for elderly people – nah only joking. It's a lifestyle kind of store which sells homeware, stationery and clothing. After looking around for a while, I eventually decided to try on a couple of shirts which I ended up purchasing. They were both from brands I'd never heard of before, so chances are I won't bump into anyone wearing the same ones at home!
By now, it was well in to the afternoon – about 3.30 or so. I needed to catch a ferry to my next destination, and apparently last entry once I got there was at 4.30 on Mondays and Tuesdays. So I was in a bit of a rush. There was no time to explore any more of Södermalm's shops – making me wish I hadn't had such a long lie in.
I decided to walk to the ferry terminal, but once again, construction got in my way – due to massive building works around the tunnel and bridges, the boarding point for the ferry wasn't where Google Maps said it was. Luckily after crossing a bridge I soon found a sign pointing the way to the ferry to the island of Djurgården, and quickly bought a £4 ticket for the 10 minute journey.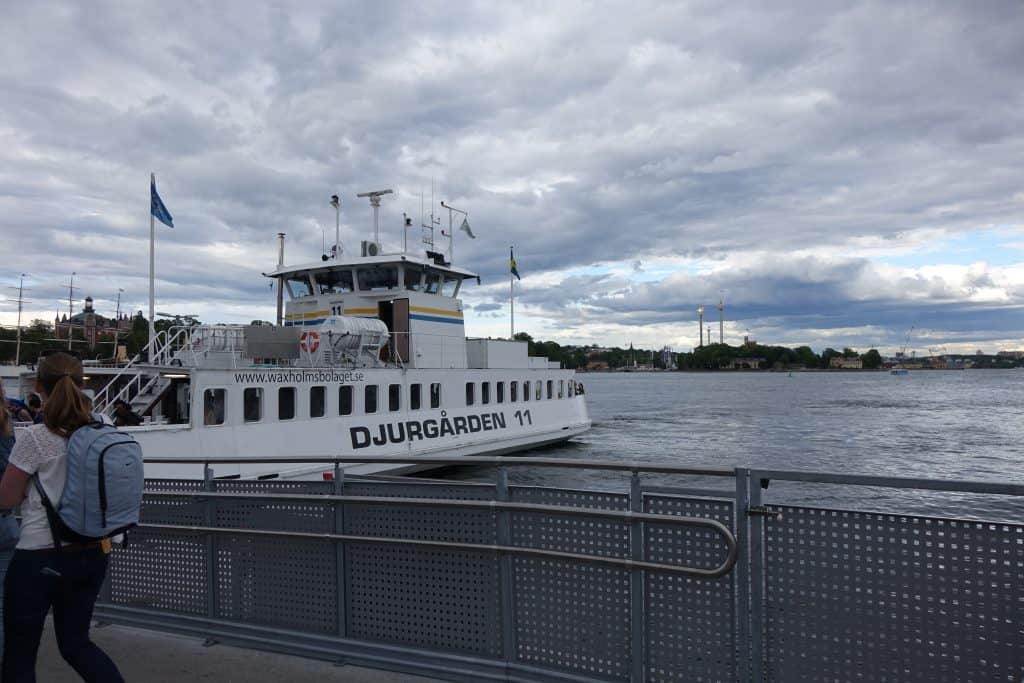 I just made it on to the 4.10pm ferry. It was going to be close!
As we approached the island, I caught sight of Stockholm's amusement park, Gröna Lund.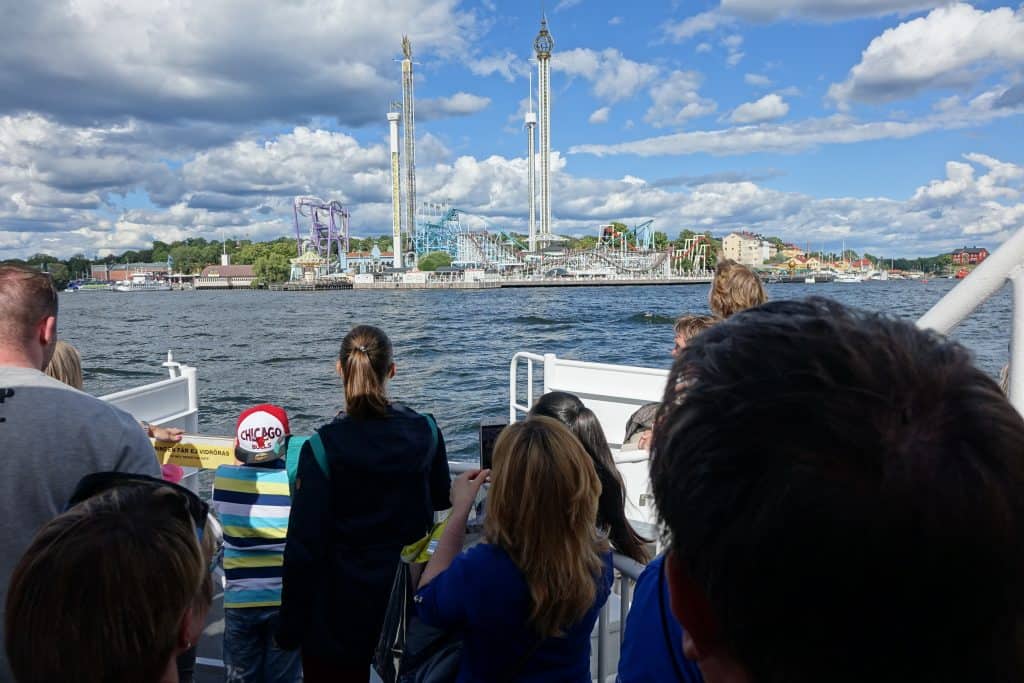 It looked pretty similar to Tivoli Gardens, which I loved when I visited Copenhagen, but much as I wanted to, I didn't have time to squeeze in a visit on this trip. Next time maybe!
After dashing off the ferry and up the street, eventually I arrived at my destination, with about 5 minutes to spare. Now Stockholm is full of museums – there's a design museum, a history museum, and one which displays the only, almost fully intact, 17th Century ship that has been salvaged. Anna at the Tourist Information Office said people raved about that place, but  that she wasn't that interested in boats. Well neither am I Anna! That's why I'd come to…. the ABBA Museum!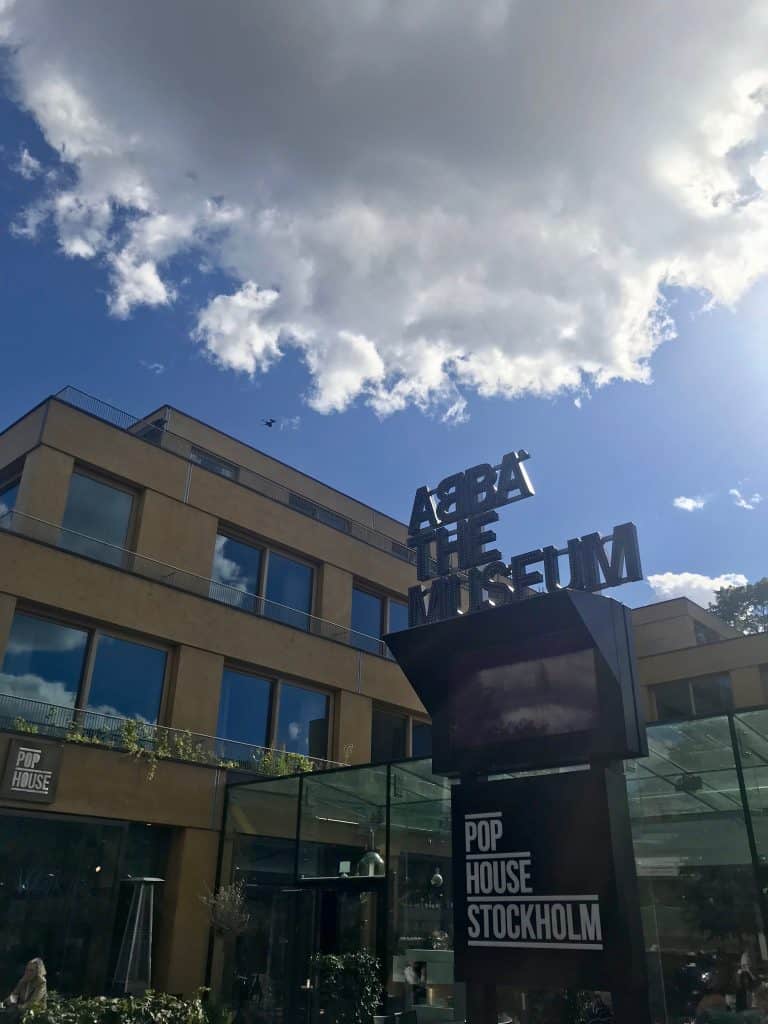 I'm not a massive ABBA fan, but I kind of like their songs (who doesn't) and I thought while I was here it would be a) a fun experience and b) stupid not to do go!
The museum's relatively new and housed in a building called Pop House, which is also home to a hotel. I had thought of staying there, but reckoned being a ferry ride away from the rest of Stockholm might be a bit annoying after a while.
After making my way inside, thinking I was only five minutes away from not being allowed in, it turned out that last entry Monday to Friday is actually 5.30pm – the website had been wrong. But at least I had plenty of time. I bought a ticket for 5.15, and an audio guide, which in total came to 270SEK, or £25. Then I sat down to relax for a bit with a Coke Zero on the hotel's patio.
5.15 soon rolled round, so I scanned my ticket, and entered the museum. There was a small temporary exhibition on the history of Eurovision which I had a very quick look around, then I put my bag in a locker before descending some stairs into the ABBA Museum proper.
The first thing that greets you is that massive ABBA logo – then you walk into a dark room which plays a short film which mashes up various bits of ABBA archive. It was pretty well done. Exiting that, you arrive in the first exhibits area.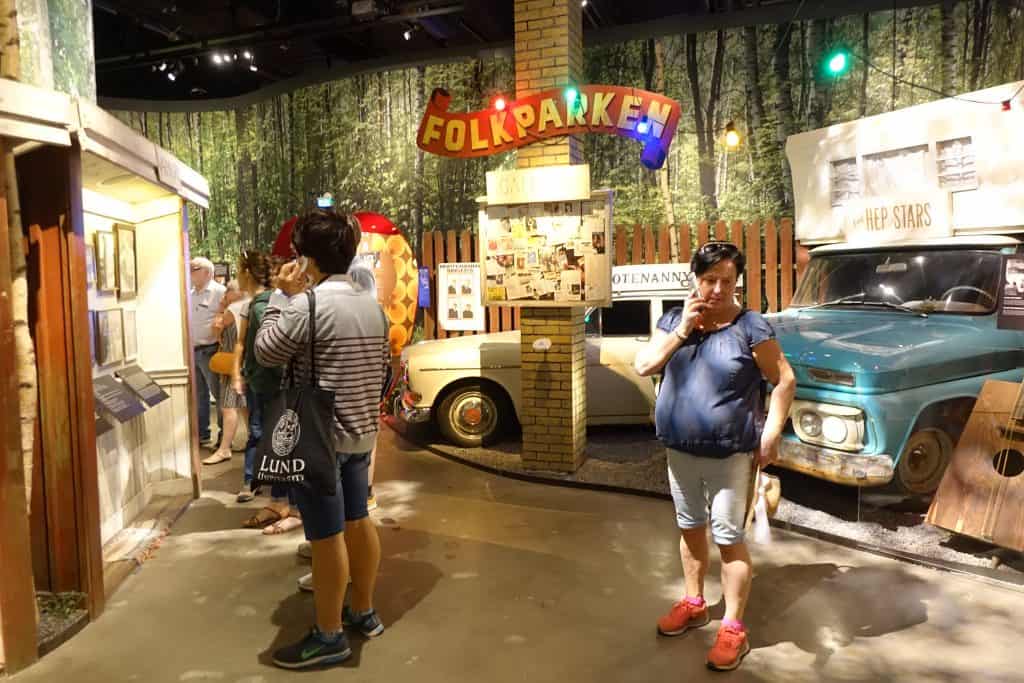 That was all about the childhoods of the various ABBA members, how they got started in music, and how they met. Straight away, it was clear that the band had really bought into the museum – there were loads of personal pictures and mementos on display, and the audio guide featured the band themselves talking about their experiences.
Quickly though, I found out that I'd never get around the museum in an hour and a half if I stopped to read everything, and listen to every bit of the audio guide. Which was a bit frustrating – I wished I had got there earlier in the day, as it was all pretty interesting.
The next room was all about the band's formation and victory at Eurovision, then an area explained the song writing and recording process. There was a big mock up of the Polar recording studios the band used.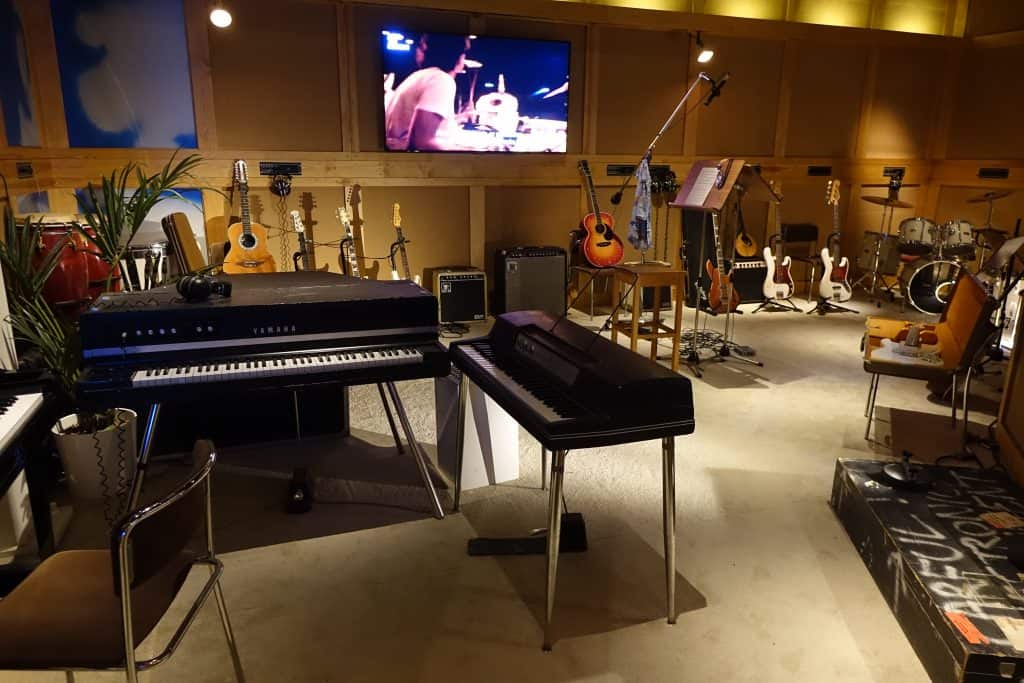 It was all really well done I thought. There were loads of interactive things you could do – like record an ABBA track a la Singstar, have a go at mixing a track, and star in your own ABBA music video. What I thought was neat was that if you scanned your ticket before taking part in one of those activities, you could go online later and download what you'd made. I did a couple of the activities, but must admit I passed on the music video, and the chance to appear on stage (telling the man that offered me that opportunity I wouldn't want to put him through it). I think they would have been fun though if I'd had someone with me.
The museum also didn't stray from highlighting some criticism of the band which I thought was interesting. For example it was explained how political activists and artists managed to get the state broadcaster to stop playing ABBA tracks for a while, arguing 'real', unknown artists deserved promotion instead.
Passing through into another room, there were various bits of memorabilia, and the audio guide explained how the band members' relationships – and as a result – the band – broke up. They had a helicopter which looked like the one off the cover of the Arrival album which you could get your photo taken in. Not sure if it was the real deal though!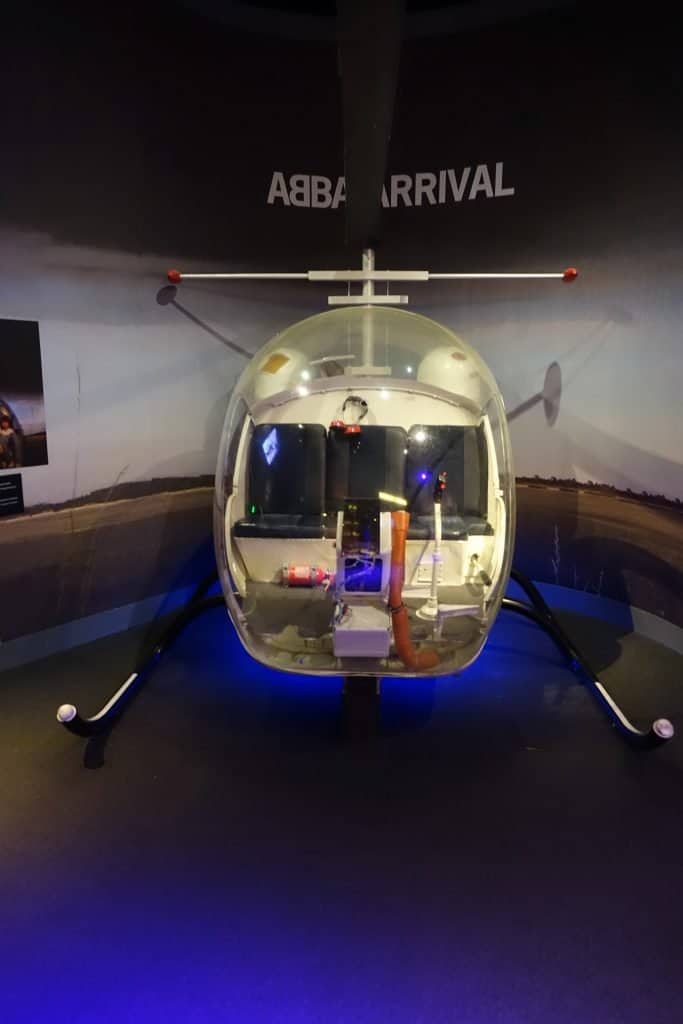 And there were masses and masses of costumes and records displayed.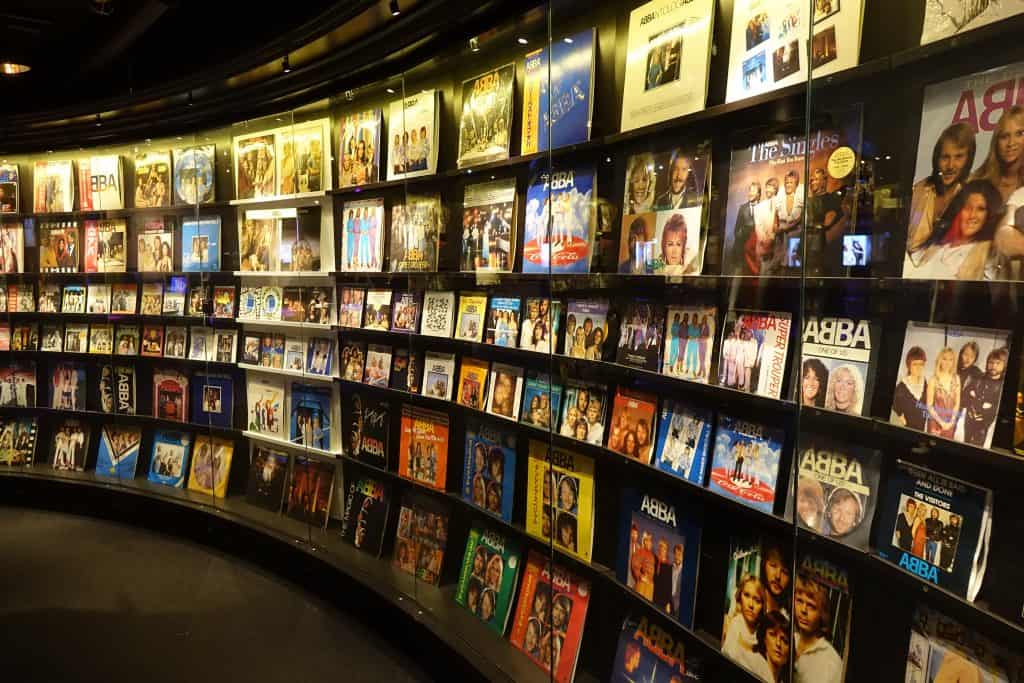 Overall, I'd definitely recommend a visit – just make sure you give yourself a decent two hours to get around it all!
I had a quick look around the museum shop on my way out – I didn't see anything worth purchasing, but these jars of honey did make me smile.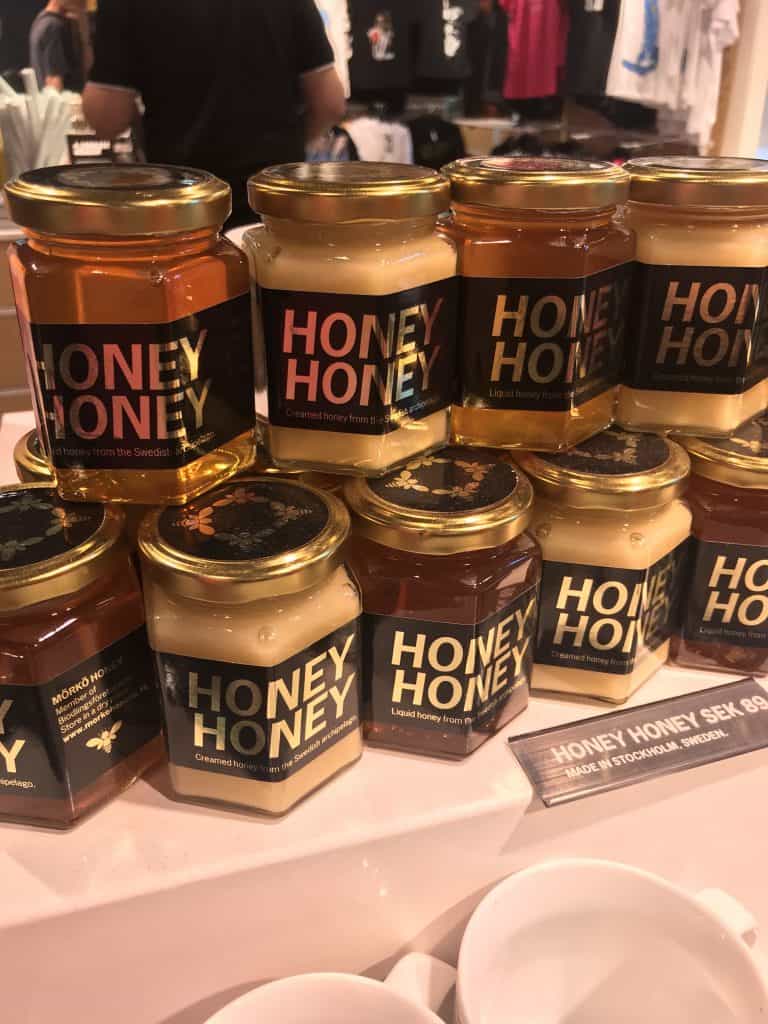 I already felt like I'd seen a lot of Stockholm – but I wasn't done yet! Soon I was back on the ferry heading back to the rest of the city.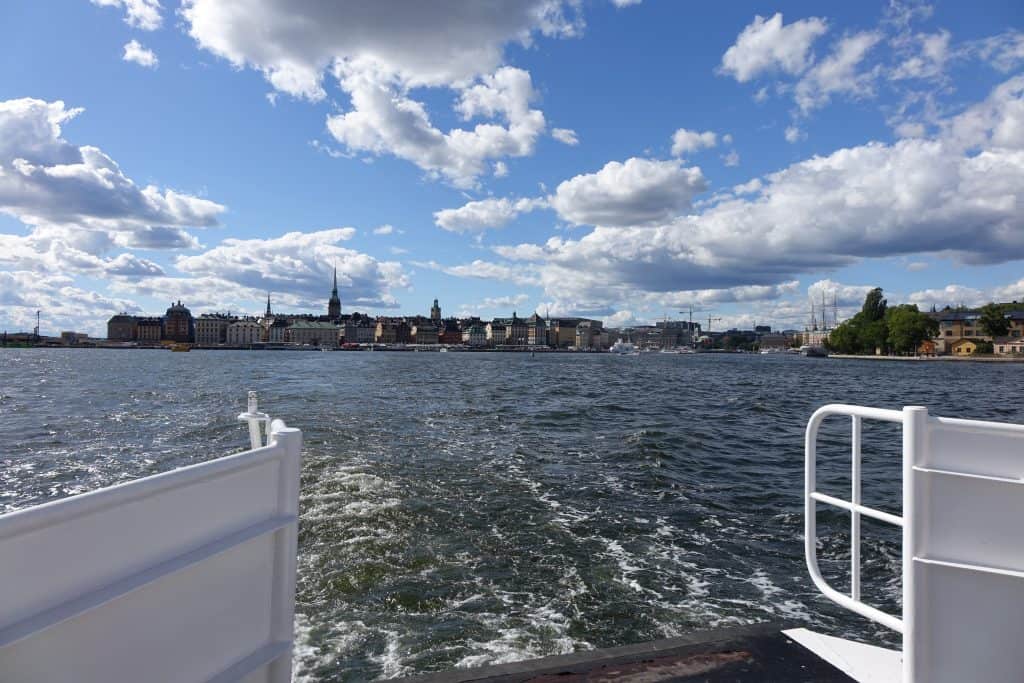 There was no hurry to get to my next destination – Stockholm's contemporary photography centre Fotografiska is open until 11pm Sundays-Wednesdays, and until 1am on Thursdays – Saturdays. It's a brilliant idea to have such long opening hours I think! Slightly annoyingly I'd already walked past it on the way to catch the ferry to the ABBA Museum earlier, and it was a good fifteen minute walk back through a tunnel to get there.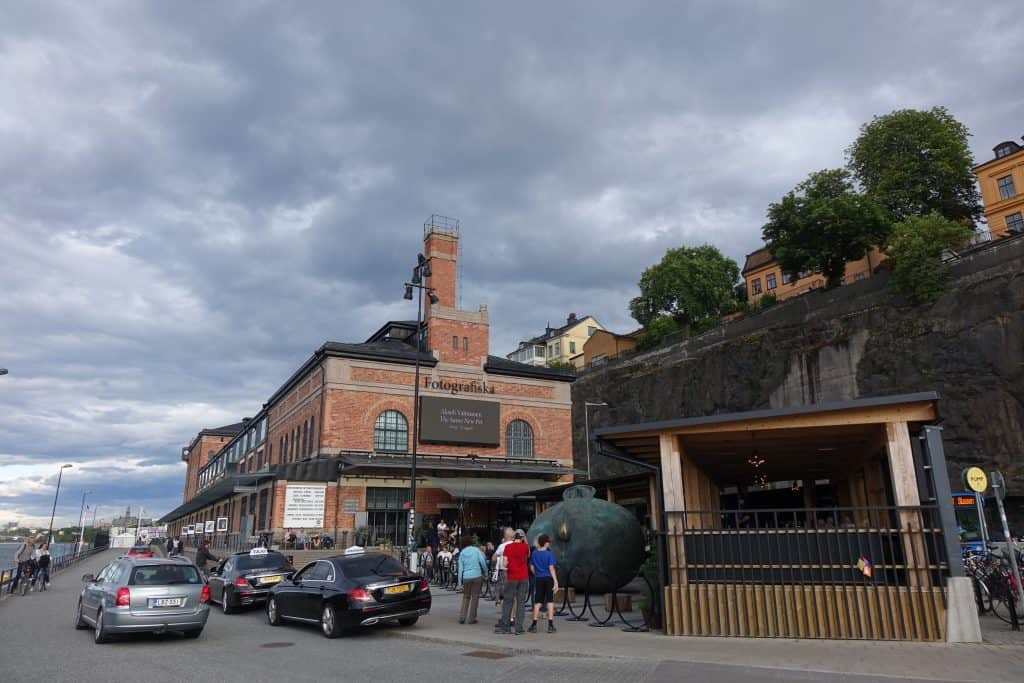 But I made it! The centre has a great shop if you're into photography – selling everything from serious tomes to quirky gifts and iPhone camera related gadgets. I paid the 135SEK entry fee (about £12.50 at time of writing) and entered the exhibitions.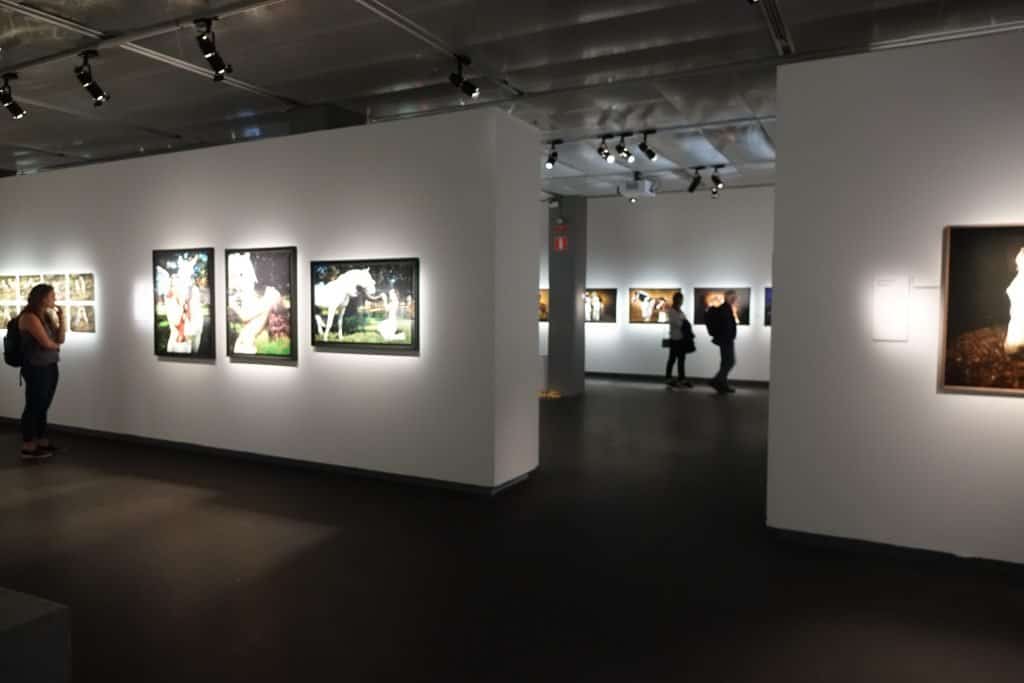 Not a stunning example of photography that blurred pic, but it gives you an idea of what the place looked like inside! I was quite surprised that the centre didn't seem to have a permanent collection. Or if they did it either wasn't on display or I missed it. There were just a series of curated exhibitions, but I enjoyed wandering around them. Like A Horse featured various photographers' works relating to the animal, while there was also an exhibition of work by Irving Penn, a well known American photographer. After a day of walking and rushing, it was relaxing just taking all the exhibits in.
By now it was dinner time. I had a look at Fotografiska's cafe and restaurant, but didn't really see anything I fancied, so headed back outside. I hadn't really planned anywhere to eat that night, so ventured back towards Gamla Stan, and had a look at some restaurants that were listed in the brochure I'd picked up in the information office. They were all just a bit too formal though – I was in the mood for something a bit more casual. Picking another place in the brochure, I decided to get there using the underground – I'd had enough of walking!
With another £4 fare to pay and two ferry trips already under my belt, I think I would have probably been cheaper buying a day ticket, but the benefit of hindsight and all that! Eventually I arrived at Kungsgaten.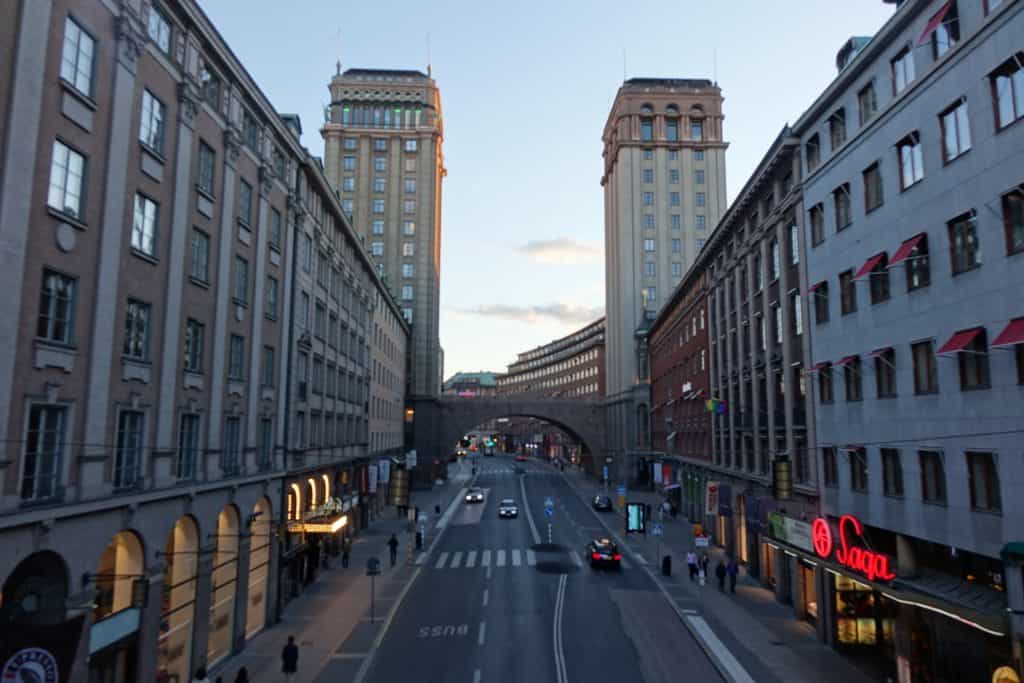 Stockholm's a good looking city!
I'd decided to head to a food court for dinner. But it's not your usual food court! First of all, it's not part of a shopping centre. Secondly, the food's slightly more unique than your usual Burger King or Spud-U-Like!
K25 is home to eleven different restaurants, selling a variety of foods, most of them with an international flavour. It's well laid out, with a cool decor, and it was pretty busy when I arrived.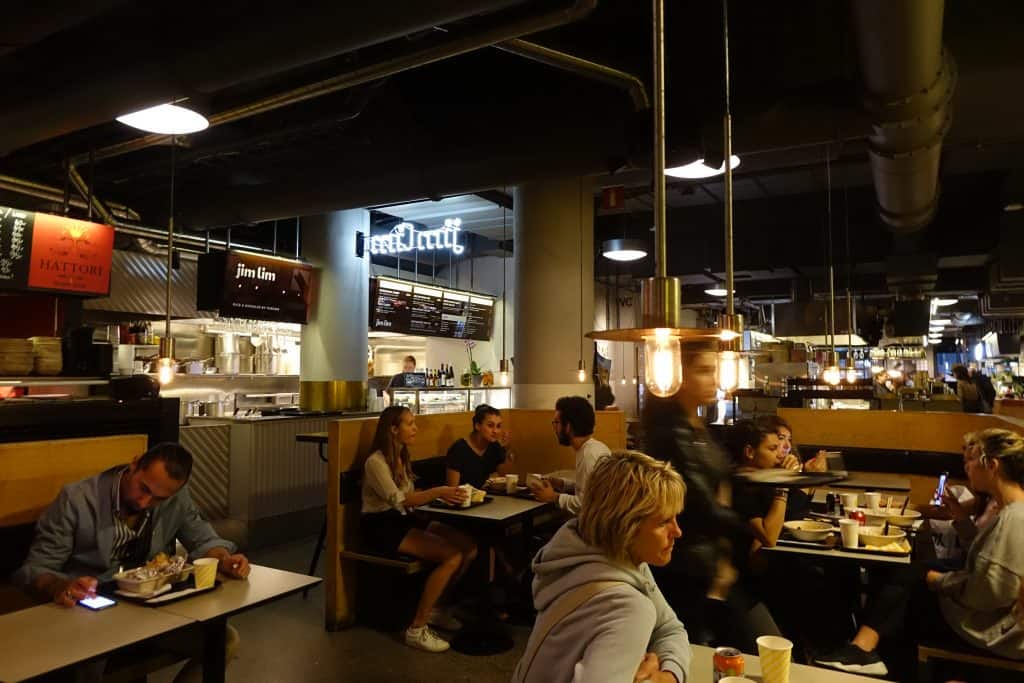 Again, I was in the mood for something relatively healthy, so despite having had fish earlier in the day, I decided to plump for sushi at Hattori Sushi Devil. For 135 krona or about £13.50, I got an eleven piece selection, miso soup, and a soft drink, which I felt was very reasonable.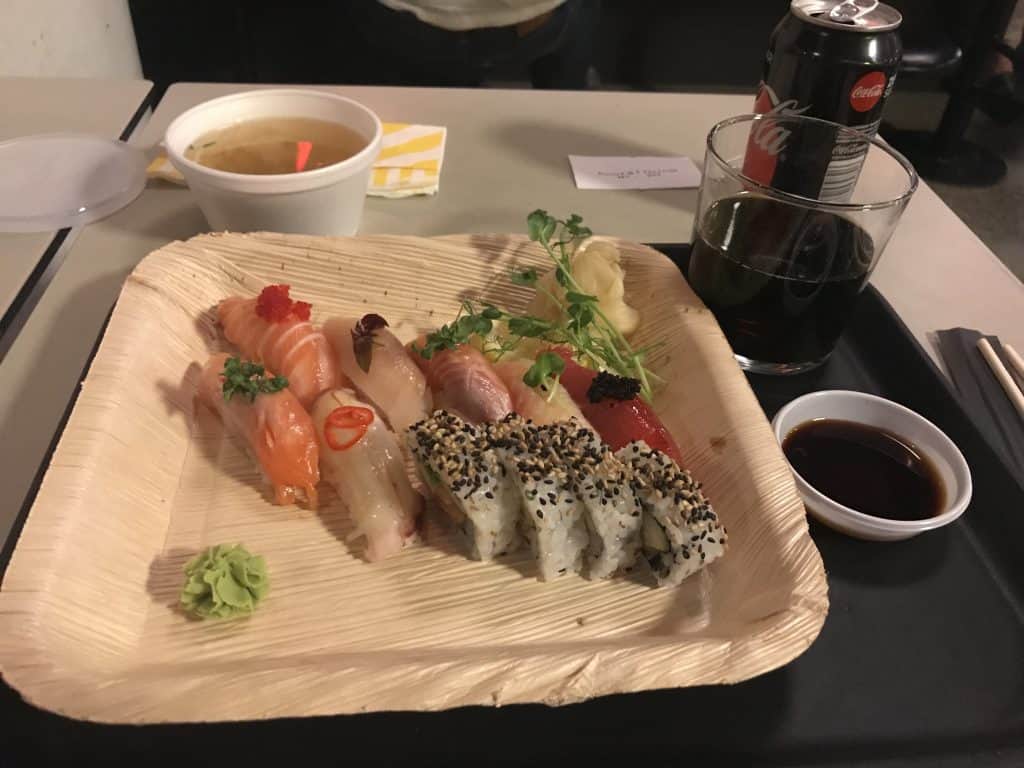 The sushi wasn't bad at all either!
By now it was late – and I was pretty shattered. I'd managed to get around most of the sights I'd planned to see, so walked back to the hotel. After making a call home, I noticed the sun was beginning to set, so strolled back down the street to the parliament building where I'd started the day to get some more photos.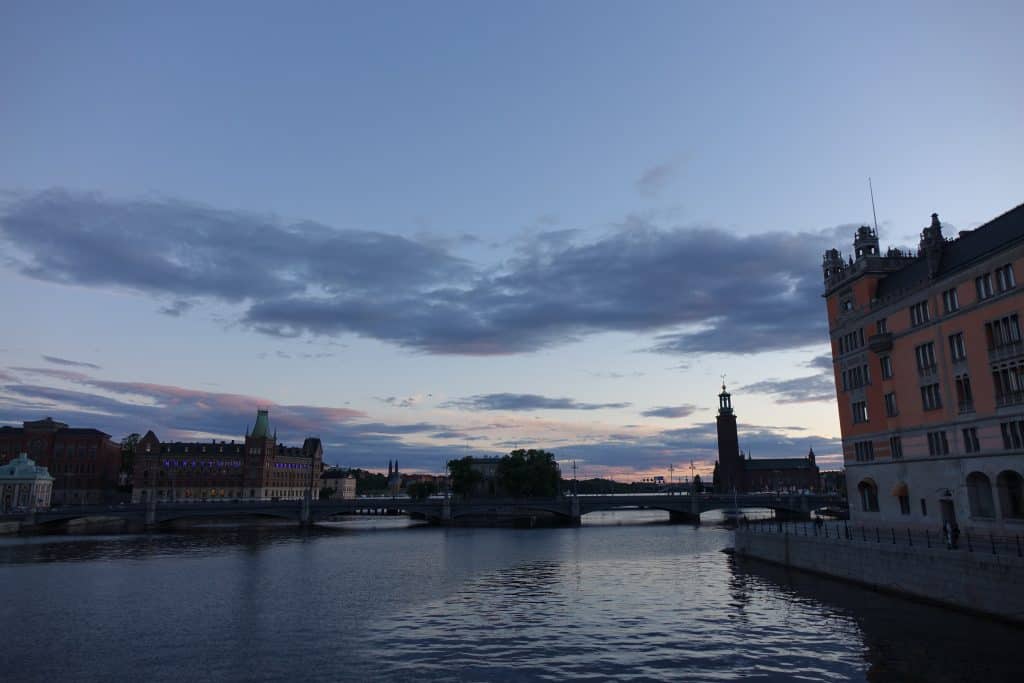 I really felt like I'd squeezed a lot in to the day. I'd walked twelve miles, but to be honest it felt like double that! Arriving back at the hotel, I went for a £14 glass of Chablis (ouch!) in the bar while I wrote up my blog.
Then – finally – it was time to call it a night.