Breakfast At Six
I was really impressed with myself on Friday morning – I was up and dressed by 9 o'clock! Part of the reason for that though was that I'd already pre-paid breakfast in the hotel, and was determined not to miss it.
So while the heading above says 'Breakfast At Six', it wasn't at 6am – I am on holiday after all! Just that it was in my hotel which is called At Six. I'd pre-paid breakfast the night before, saving myself about £8 in the process. Once ready I headed down to the 5th floor restaurant and was directed to a very small table. The place was pretty busy – in fact I felt like I'd been put in an additional room opened just because it was so busy. (There were other people in the room too though, I wasn't alone!)
After having some coffee, I headed up to explore the buffet. And I surreptitiously got some pics! Here is the cold meats selection…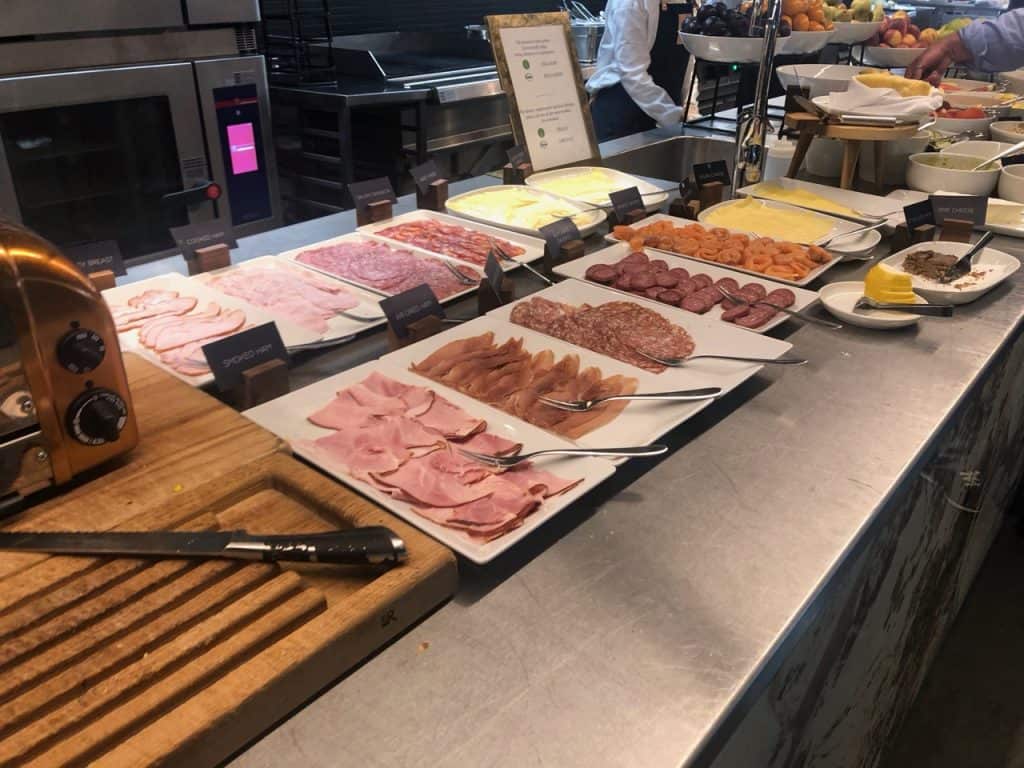 Disappointingly – for me anyway – there was a severe lack of pickled or smoked fish 😞 I was nearly giddy with excitement at the prospect of some rollmop herring, but 'twas not to be!
Next was the salad bit….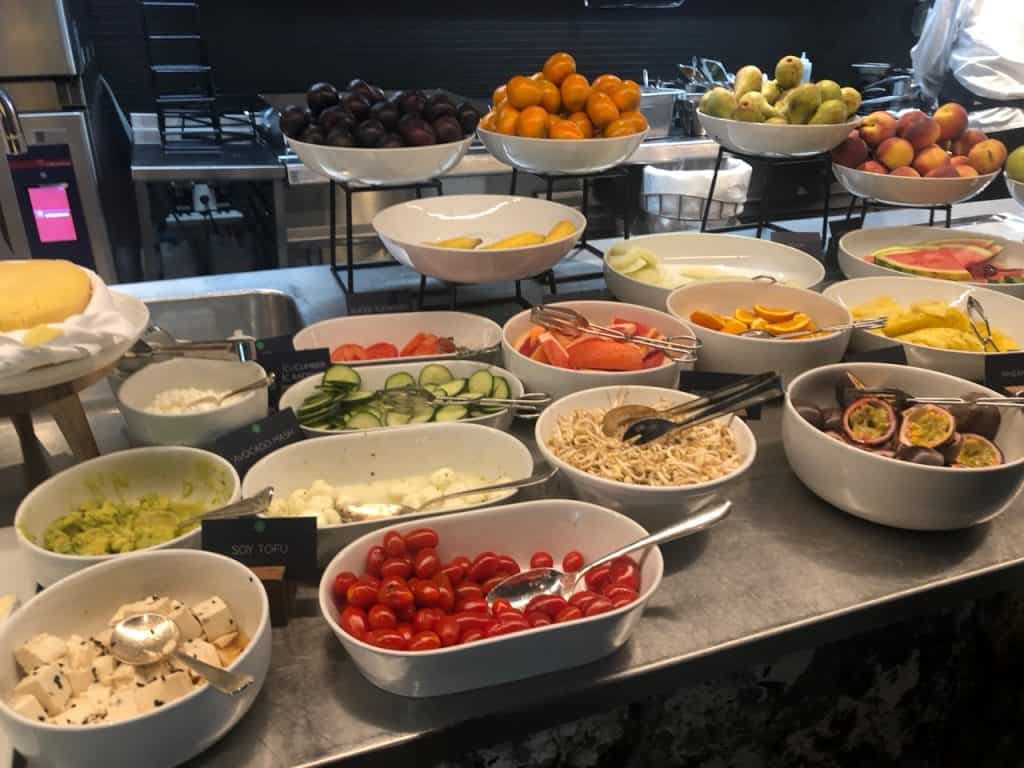 And then (and this was tricky to photograph as you can see) there was a selection of hot food too.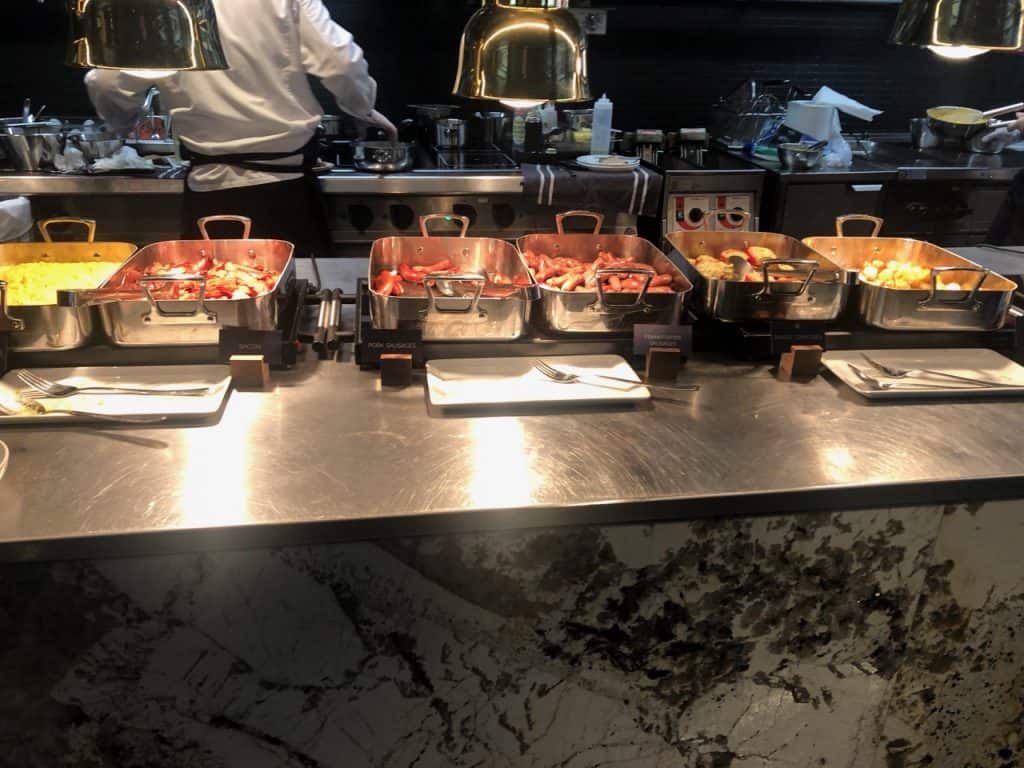 I had some bread and cold stuff to start (the green splodge is avocado mash)…
and then some hot food too. That green thing there is a tomato with some herbs on the top.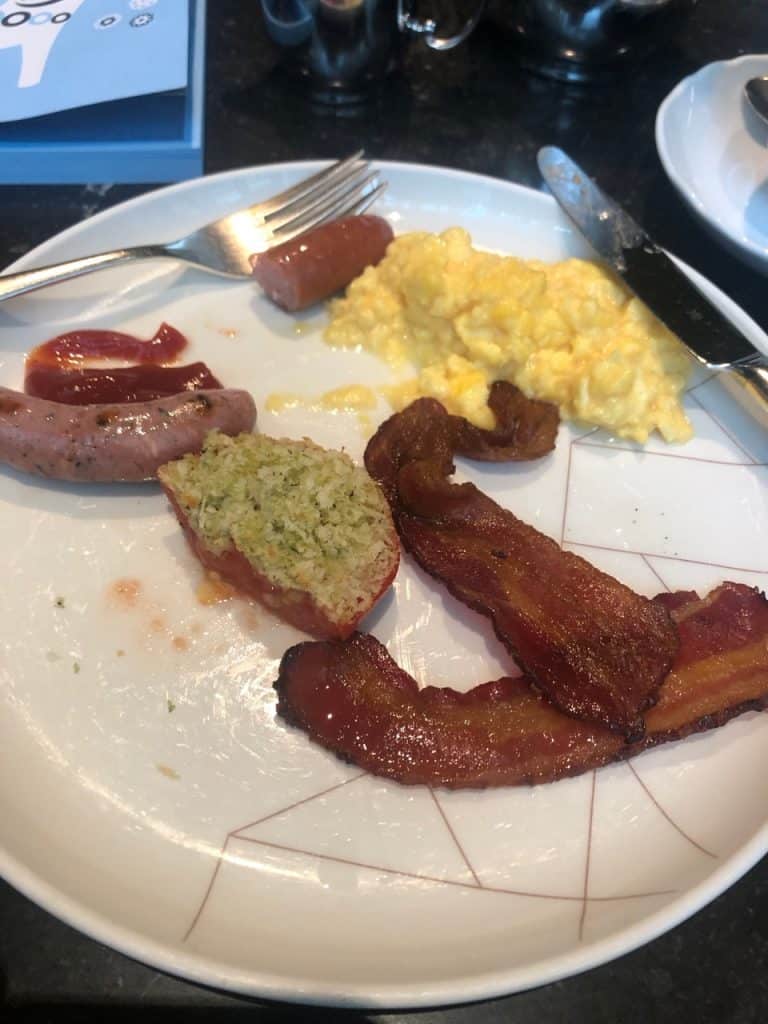 Overall, it was decent and tasty – but I think I would have been slightly disappointed if I'd paid full whack for it. With my eight pound discount I felt it was spot on.
A wander through Gamla Stan
As for the day ahead, I had an appointment I'd already booked in the afternoon, but I didn't really have a plan as far as the morning went.
I was determined to try and keep on top of my blog while I was away, so first I headed for a coffee with my trusty iPad. I specifically wanted to head to a branch of Joe & The Juice, so walked towards the nearest one I'd seen – within the Åhléns department store.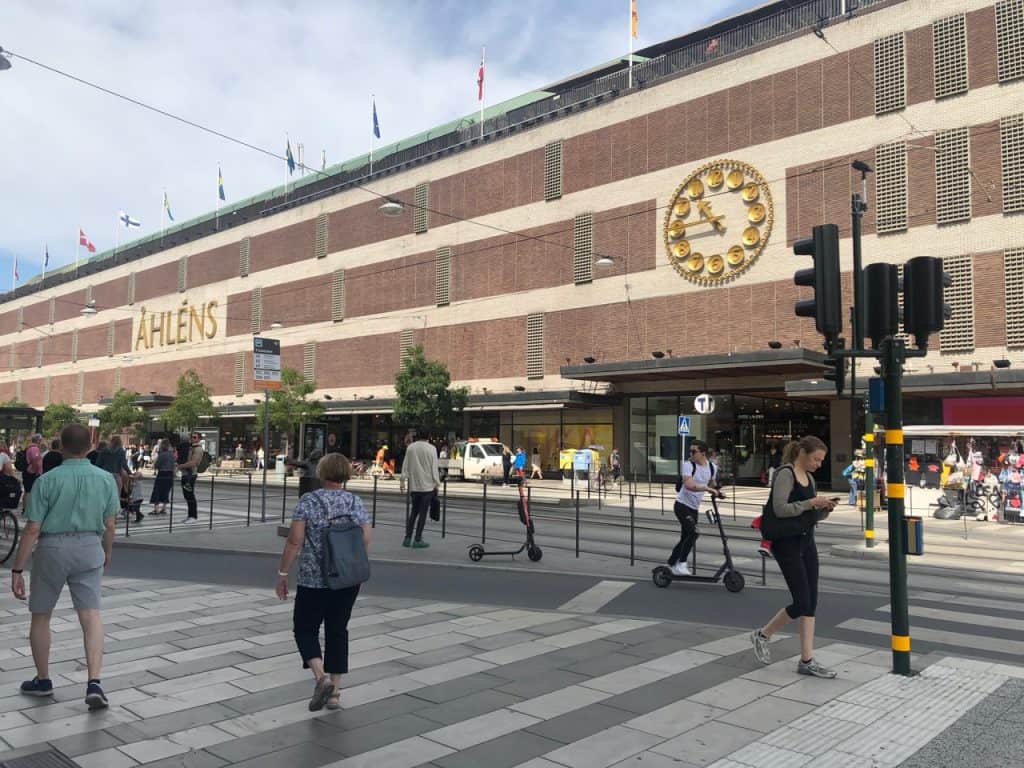 I ordered a cup of joe and a sports juice (pineapple, passionfruit and apple) and sat down and started writing.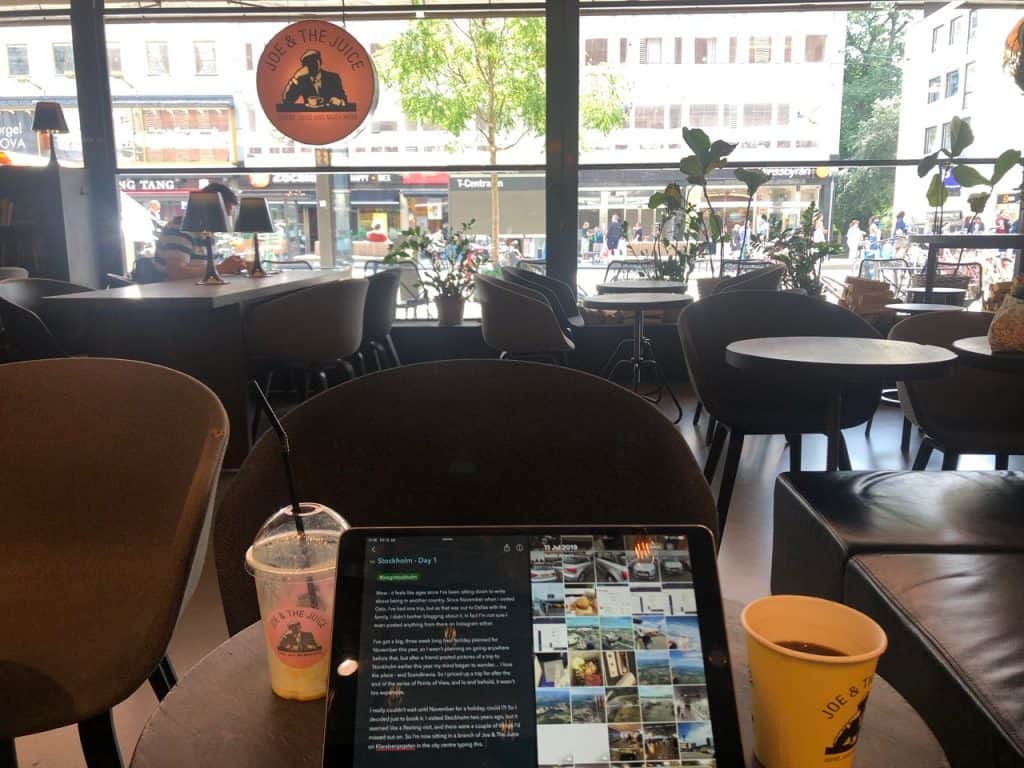 Even though I felt my first day's blog post was boring content wise, as always it was quite therapeutic just sitting there writing and capturing my day.
The juice was really tasty too!
After half an hour or so of writing, I headed upstairs into the main part of the store for a look around.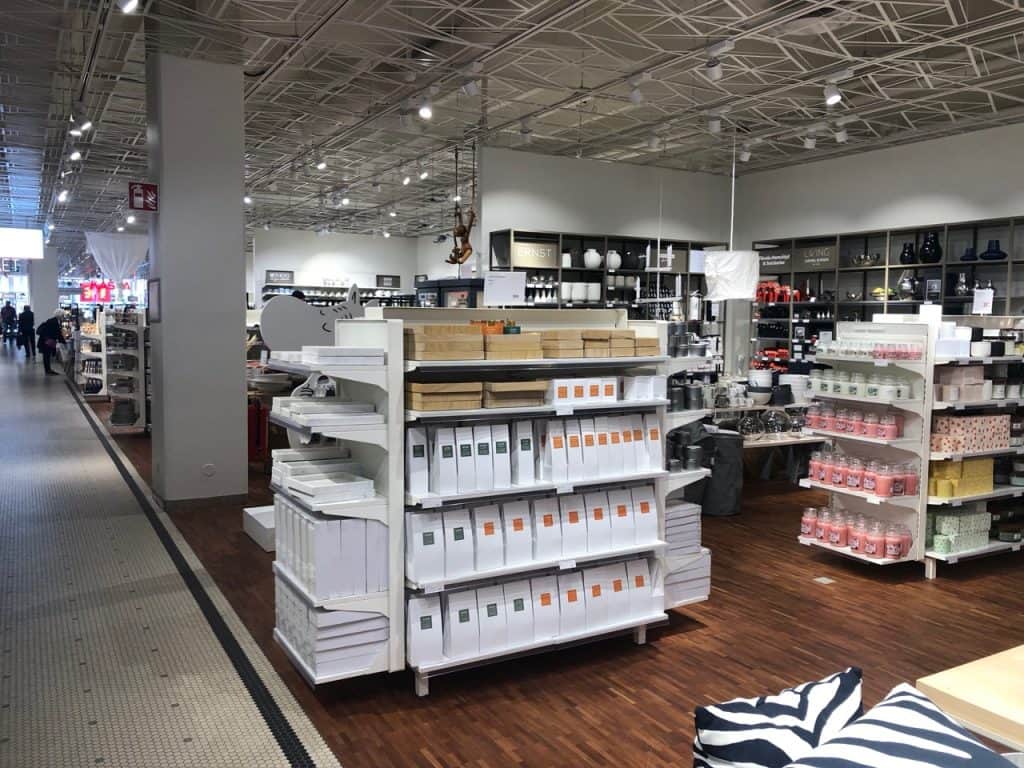 There was some nice homeware stuff I might come back and have another look at, and some cool clothes as well – but nothing really tempted me so much I had to buy it there and then.
Next, I headed towards Gamla Stan – or Stockholm's Old Town. It's usually packed with tourists but there's no denying it's gorgeous to look at and it's nice to wander around the quieter side streets away from the main tourist thoroughfares.
My route to Gamla Stan took me past the Swedish Parliament.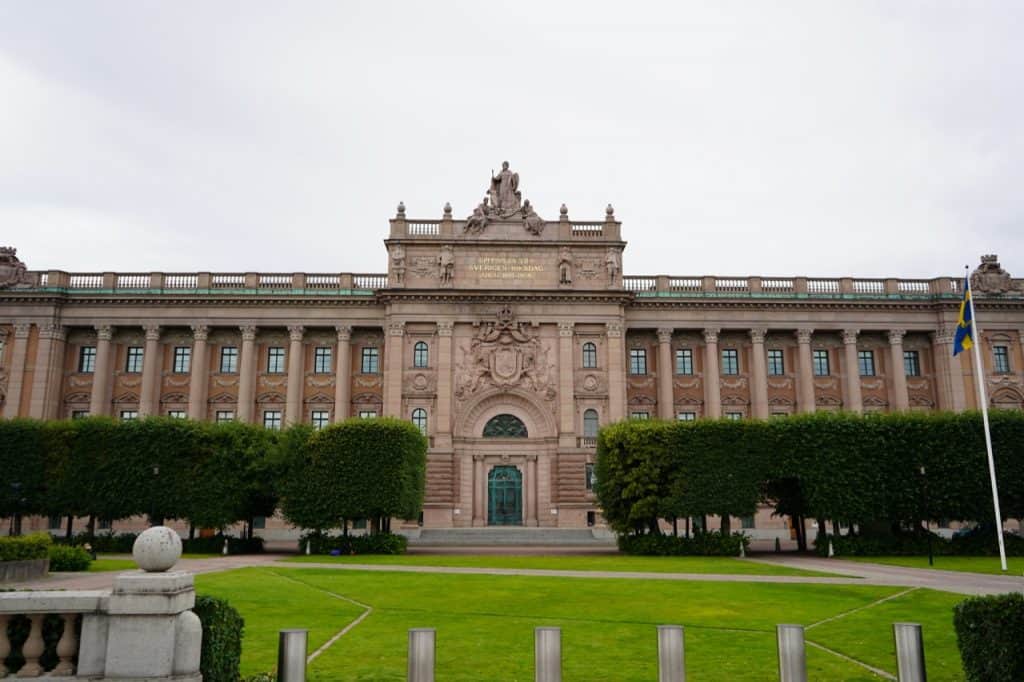 As it was a Friday, I kept my eyes peeled in case I spotted Greta Thunberg – the 16-year-old climate change campaigner who has launched a movement of youth strikes around the world. I'm kind of amazed by what one person like her has achieved in such a short space of time – it really shows you that anything is possible if you put your mind to it and are passionate about something.
Round one side of the parliament building I saw a sign for Greta Thunbergs Plats – which I'm not sure is official!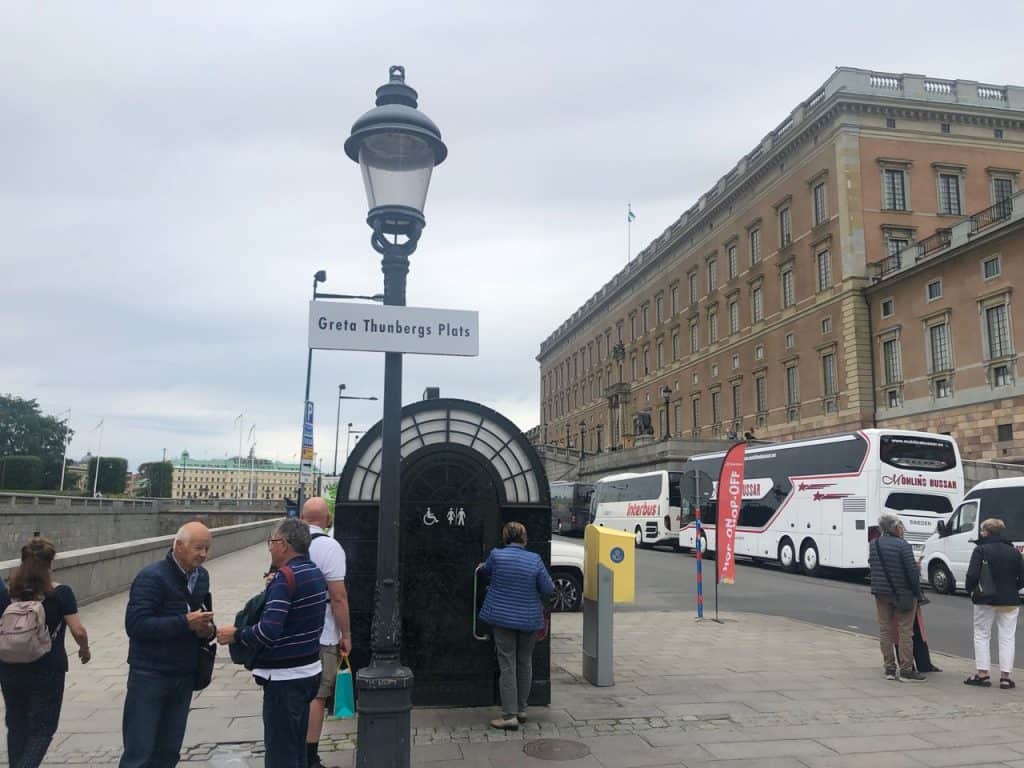 Beside that was a gaggle of young people – and older people too – with placards protesting about the environment.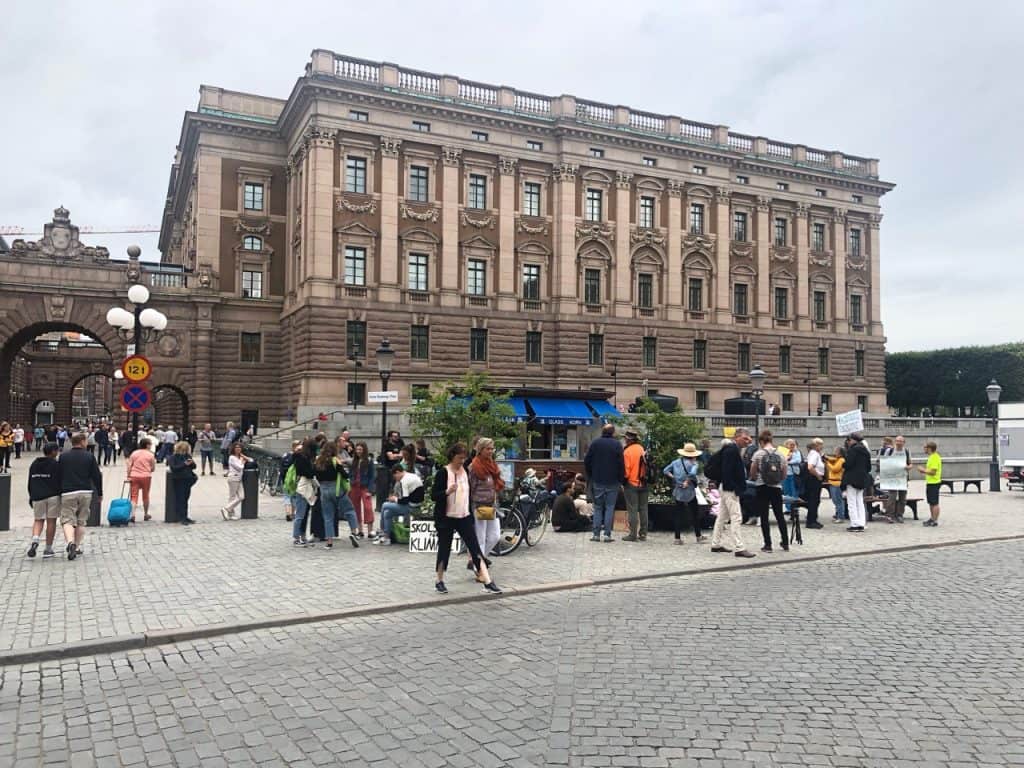 I had a good look without trying to look weird but didn't spot Greta herself. But I did see her sign that she poses with on Instagram!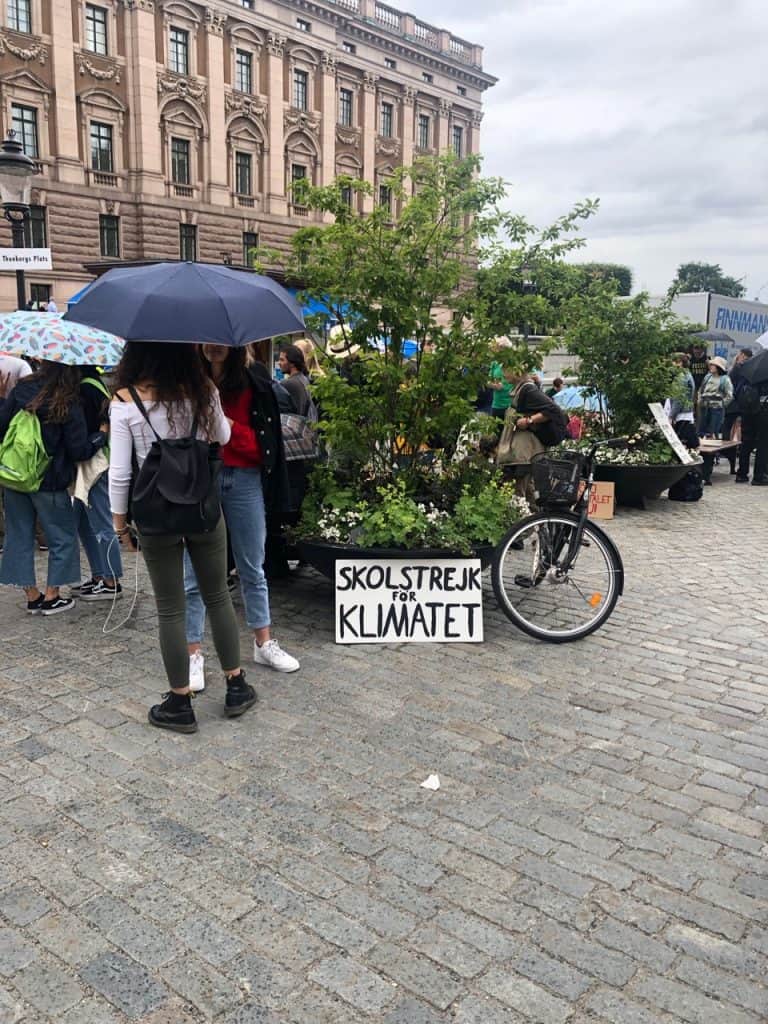 Maybe she was busy….
I wandered around Gamla Stan for a while and nipped into a shop I'd read about. Iris Hantverk is a small store which stands out amongst the touristy shops that smatter the streets of the old town. I guess you'd call it a lifestyle store – it sells homewares mainly but also stationery and so on. What the company is mainly known for though is its brushes – which come in all shapes and sizes and are made by visually impaired people.
Yet again I didn't buy anything, but I may go back for another look.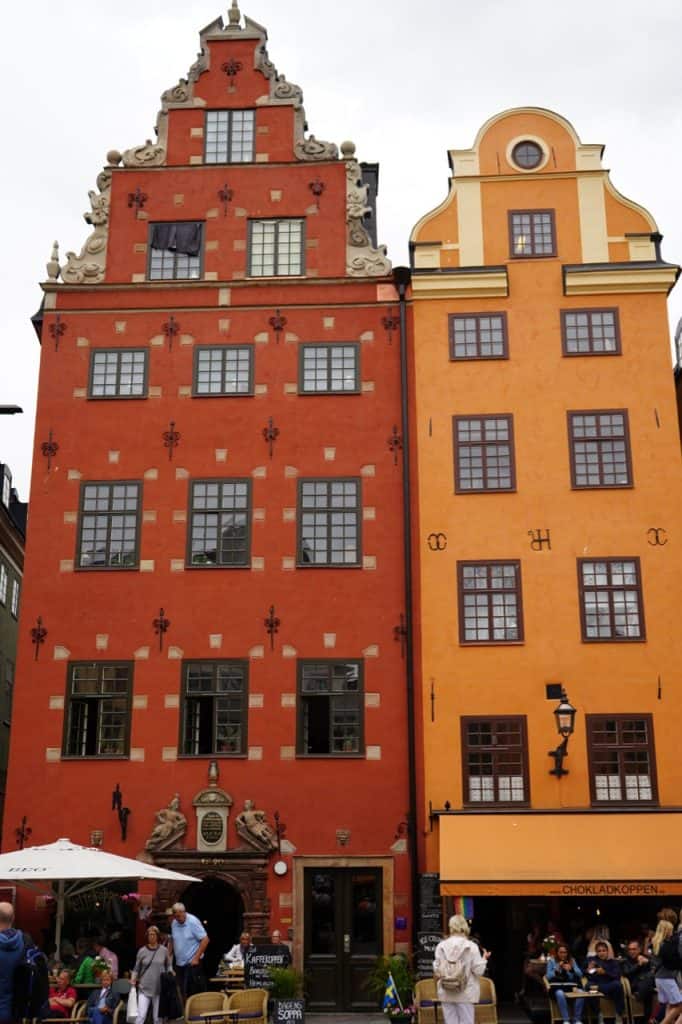 I strolled the streets for a bit, getting some photos and walking down picturesque cobbled lanes and twisting, turning streets before heading back to my hotel. I didn't need everything I had with me where I was going this afternoon, so quickly repacked before heading out again.
A ferry to Hasseludden
I'd bought an SL Access card earlier in the day – like an Oyster card in London, you can top it up and use it on public transport. It's valid for six years from its last top-up and is cheaper than buying a single ticket each time. I'd loaded the card with 150 Krona.
Today I was going to use the card to get to my afternoon appointment – which was a 35 minute ferry ride away from the city centre.
As rain began to fall lightly from the overcast sky, I made my way down to the Waxholmsbolaget ferry company's pier – well whatever you call an area that's home to a group of piers, as there was at least twelve of them!
After speaking to the friendly lady at the information counter, I worked out I had about a forty minute wait until my ferry left at 2pm. So I walked down past the pier, and spotted a grand looking building with some people milling around outside. It turned out to be Sweden's Nationalmuseum. Home to a large collection of classical art, the museum only reopened last year after five years of renovation work.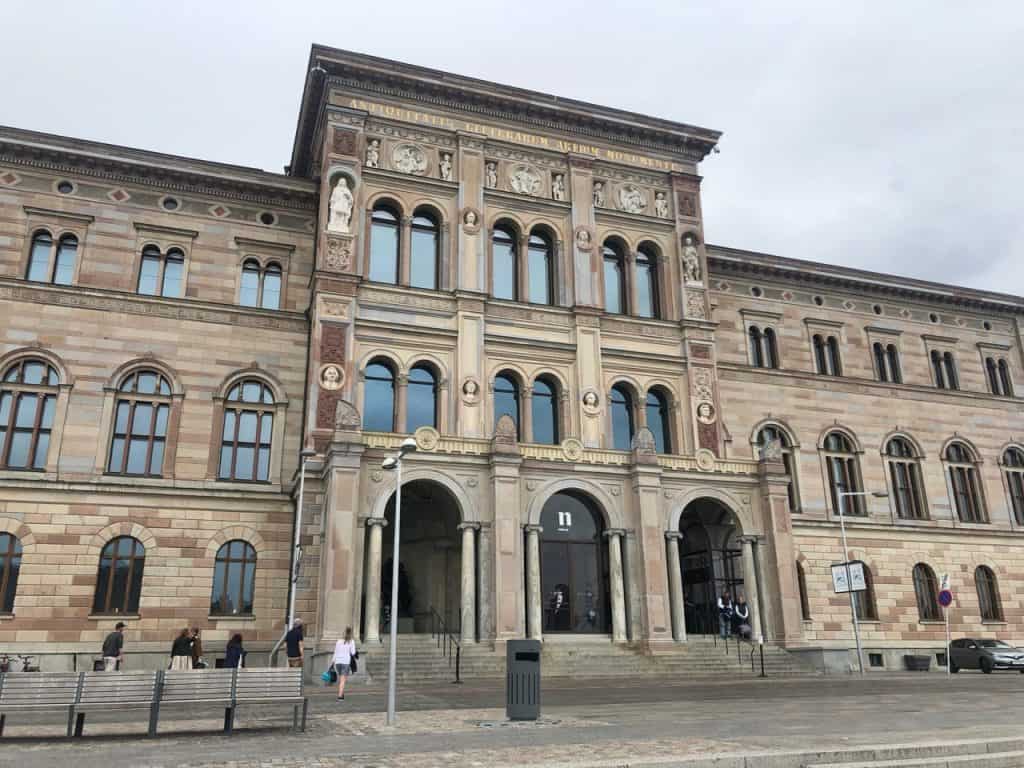 I had time for a quick nosy!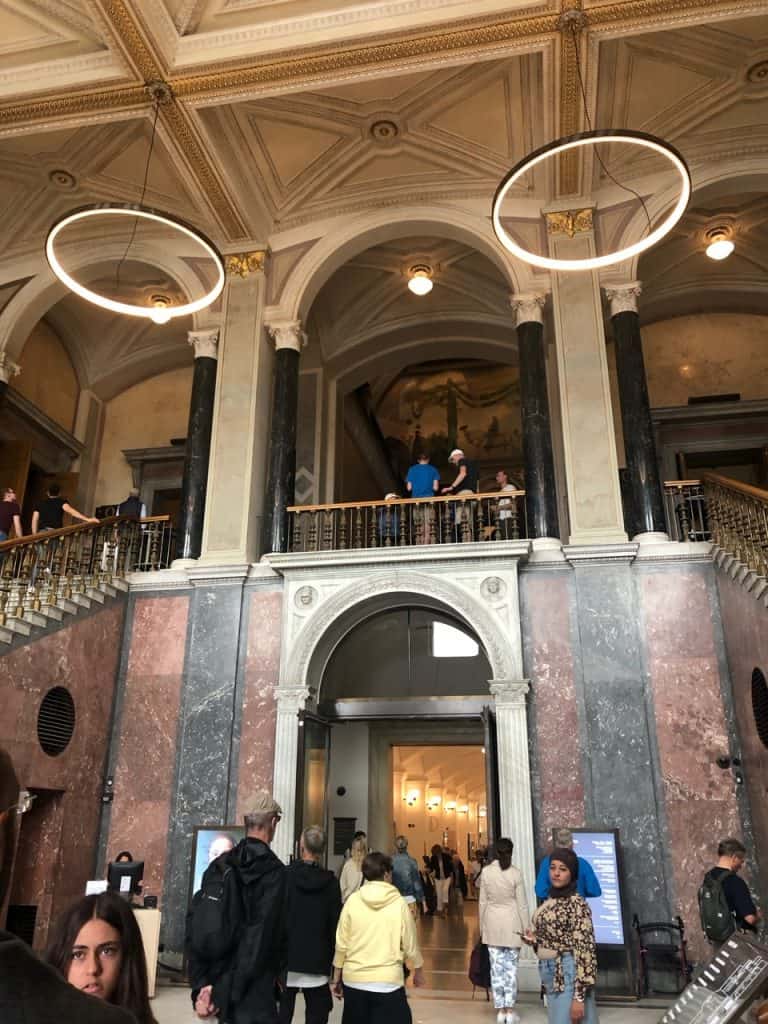 I stepped through grand archways to take a look around the museum shop. Off to the side of that was a sculpture courtyard. I wandered around looking at the impressive statues, each of which were gleaming.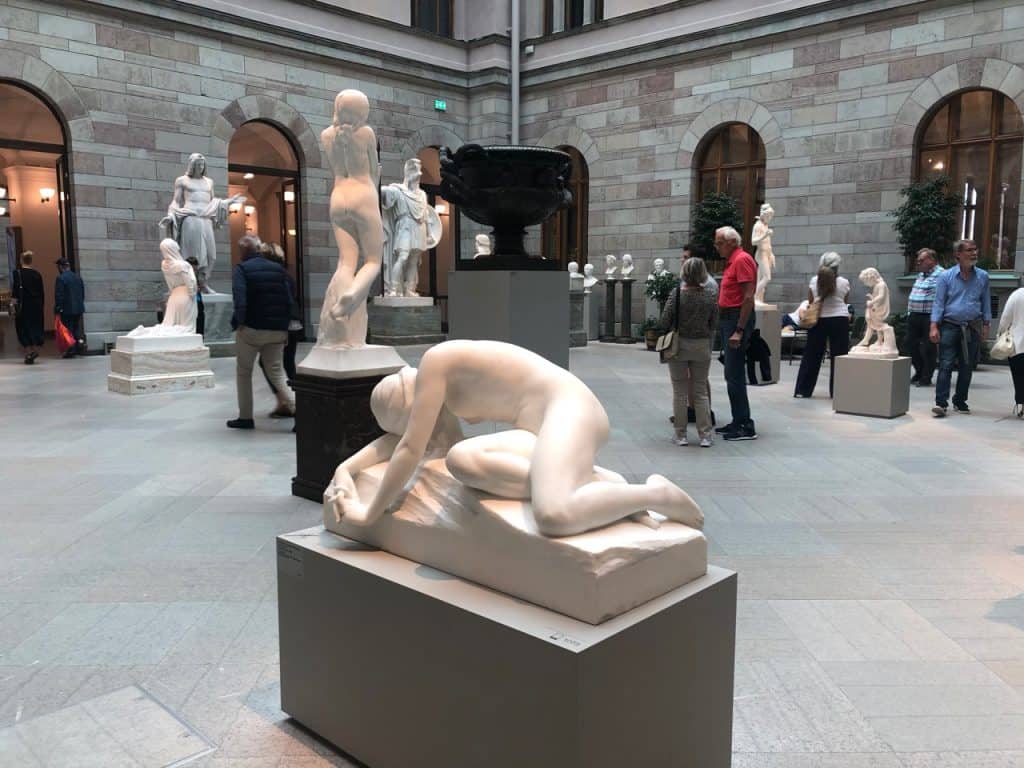 Before I knew it, it was time to board my ferry. I made my way back along to quay number 9, and after waiting for just a minute, was walking aboard.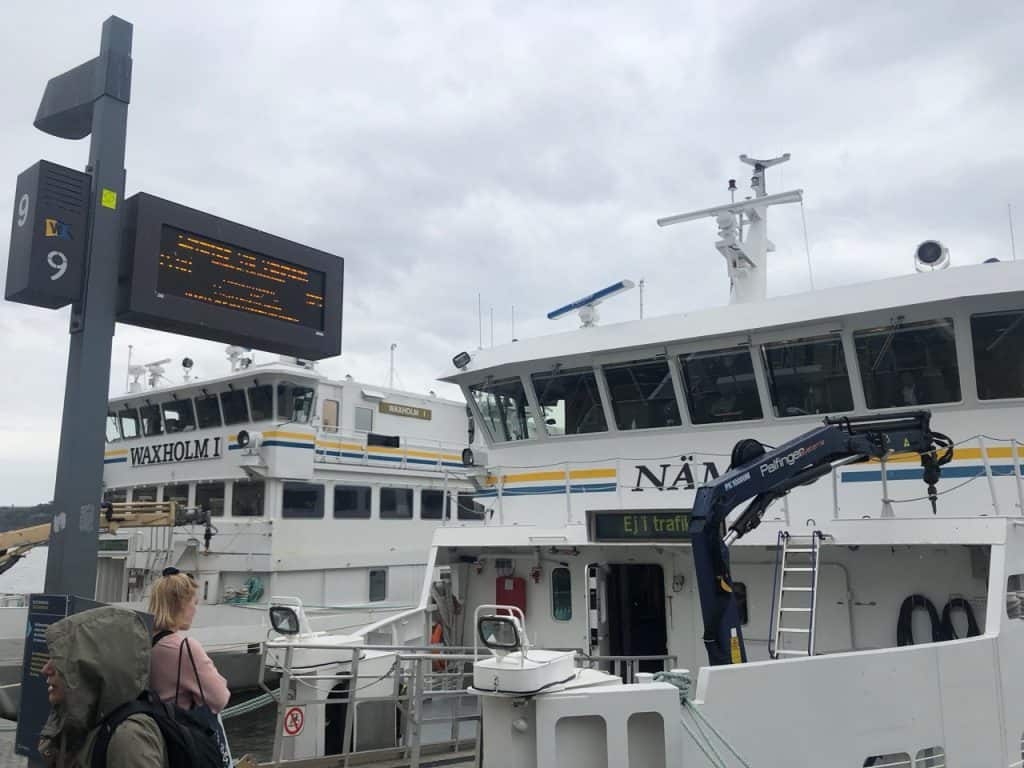 There was a ticket counter as soon as you stepped on the ferry – but with no-one there and a shutter pulled half down. Take a look at the picture below. Can you work it out?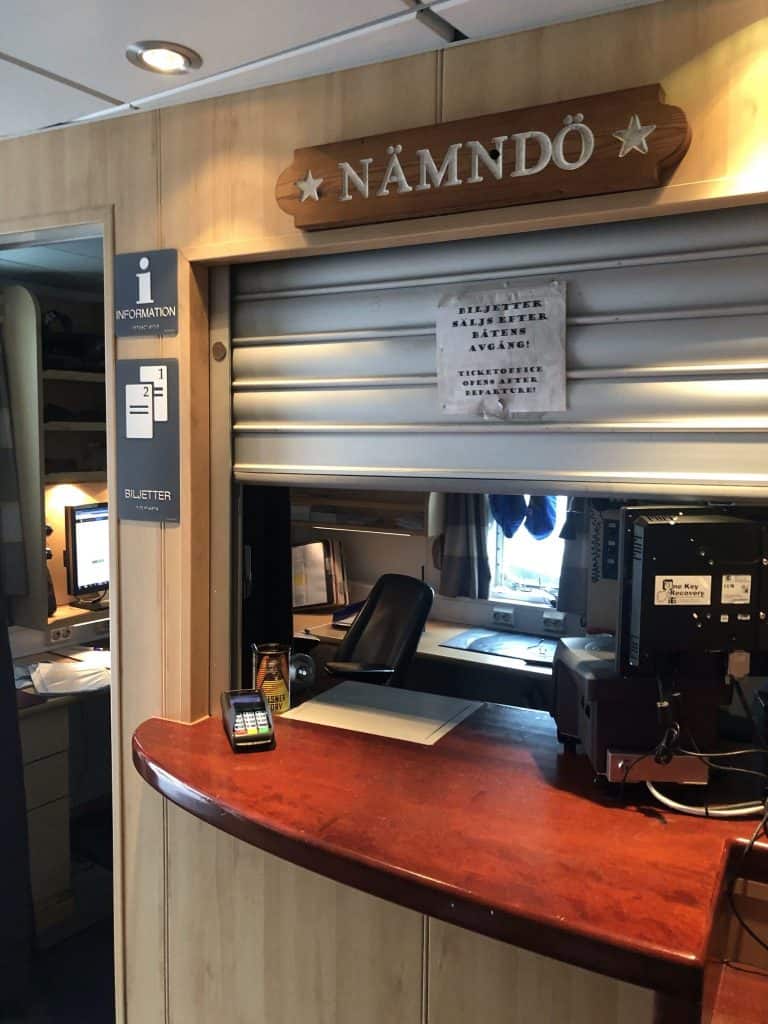 After walking away and coming back to look at it again I eventually noticed the sign which said "Ticketoffice opens after departure". (On the shutter!)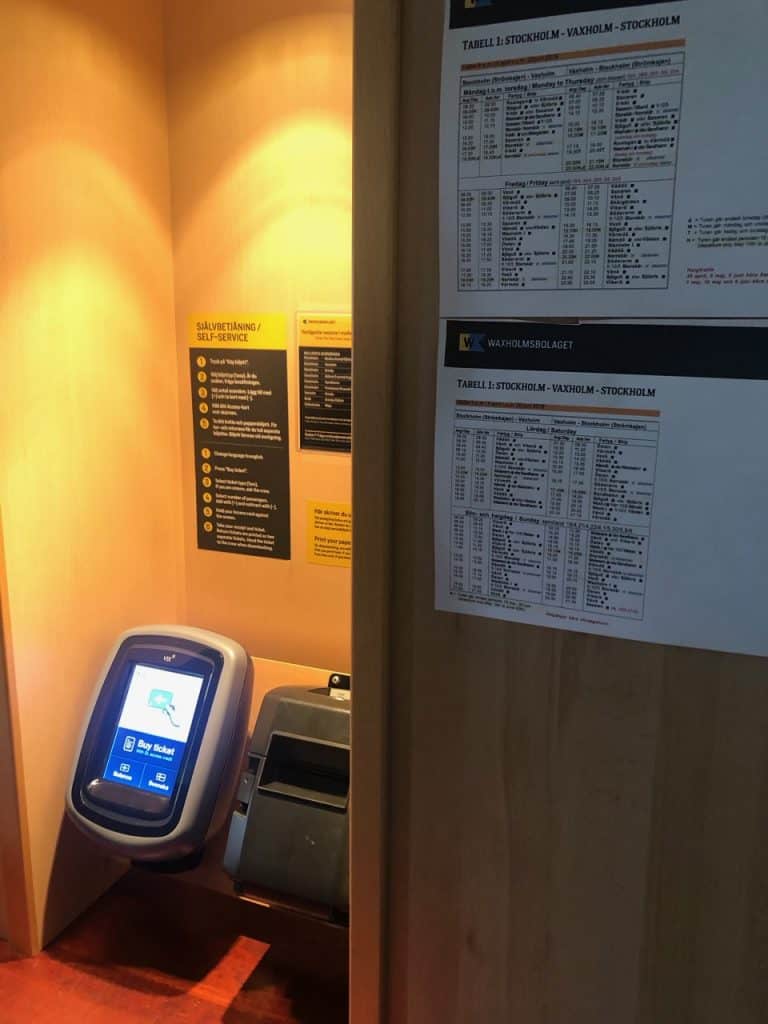 Beside that was a little self-service screen where you could buy a ticket too. And there was a picture of an SL card on it! I tapped my card against the screen and it then asked me what fare class I wanted to pay. I had no idea. Looking around, a couple of people stood behind me looking just as confused as I was. Eventually, I opened up the SL app on my phone and used the journey planner to work out what my fare should be – 63 krona each way, or about £5.35 each way.
The lady at the information desk had given me a timetable – and I noted there was a two hour gap between the last two ferries – one at 9.30pm and one at 11.30pm. It was highly likely I'd be on one of them. So I bought a return ticket, and walked upstairs.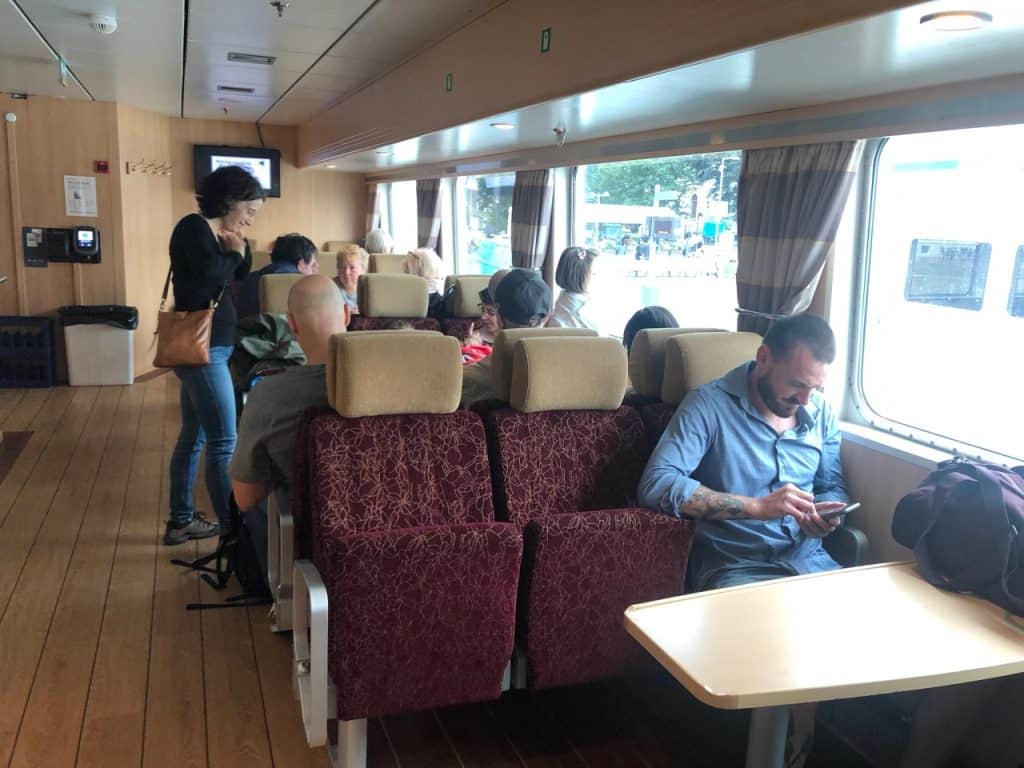 It wasn't extravagant by any means, but it was definitely comfortable!
There was a little cafe and bar on board too.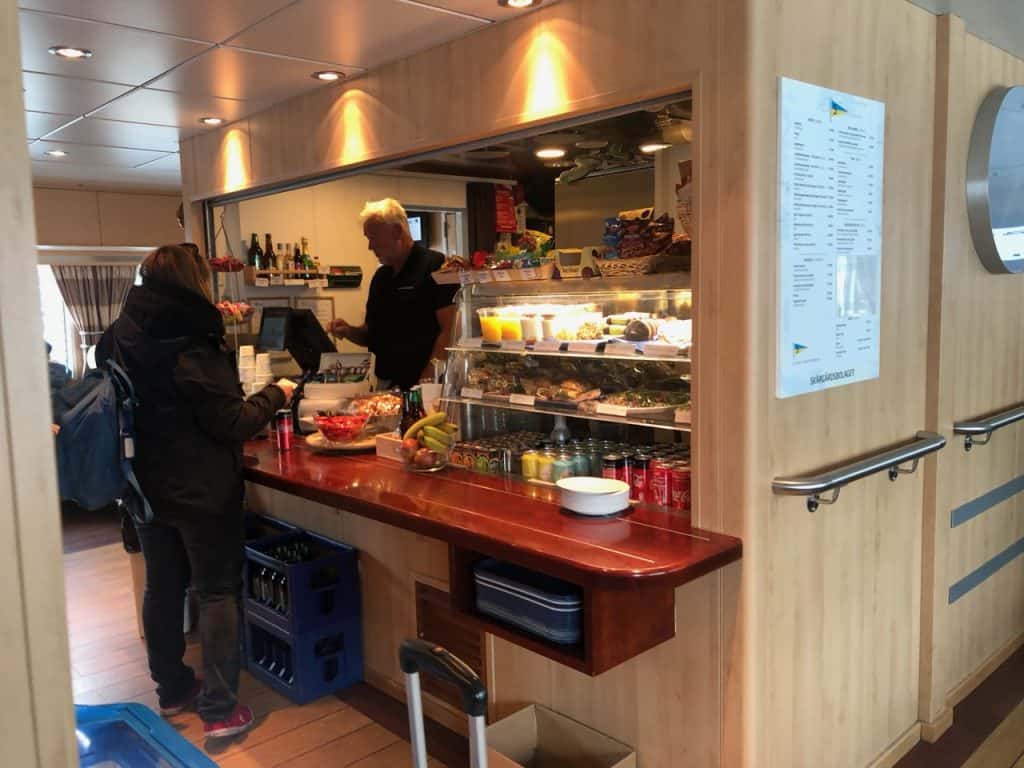 I took a seat opposite an older gentleman and soon we were pulling away from the quayside and on our way. As we slowly meandered along, I looked out the window and noticed Stockholm's more modern architecture side by side the more classic style.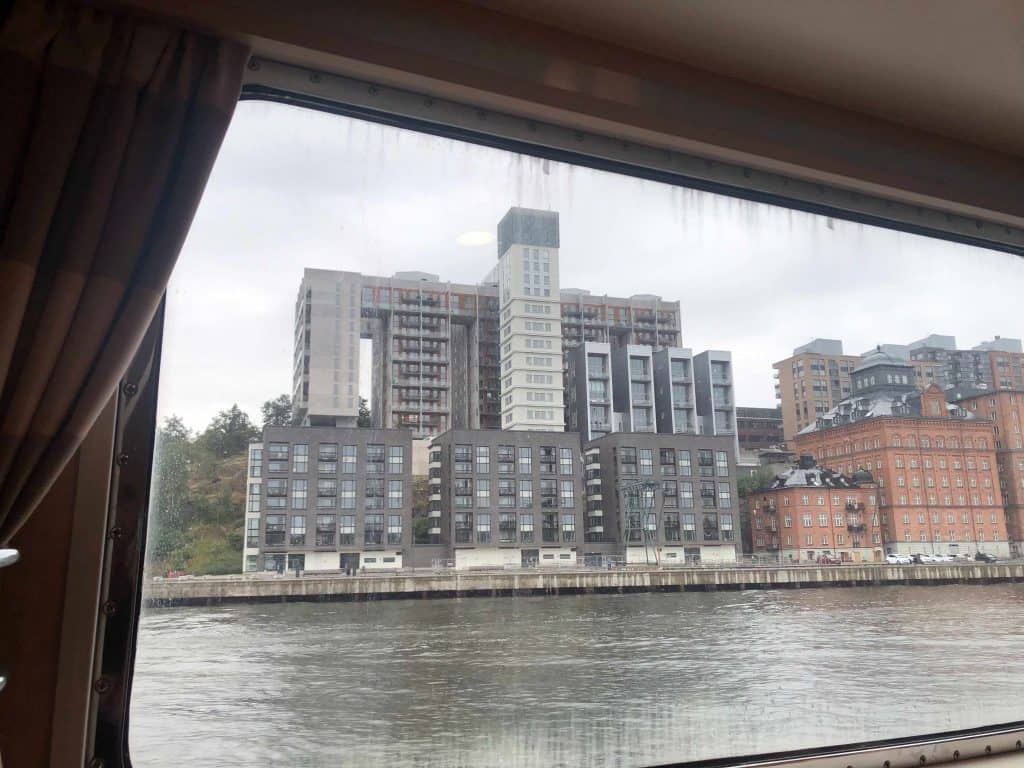 Smaller boats sailed alongside us…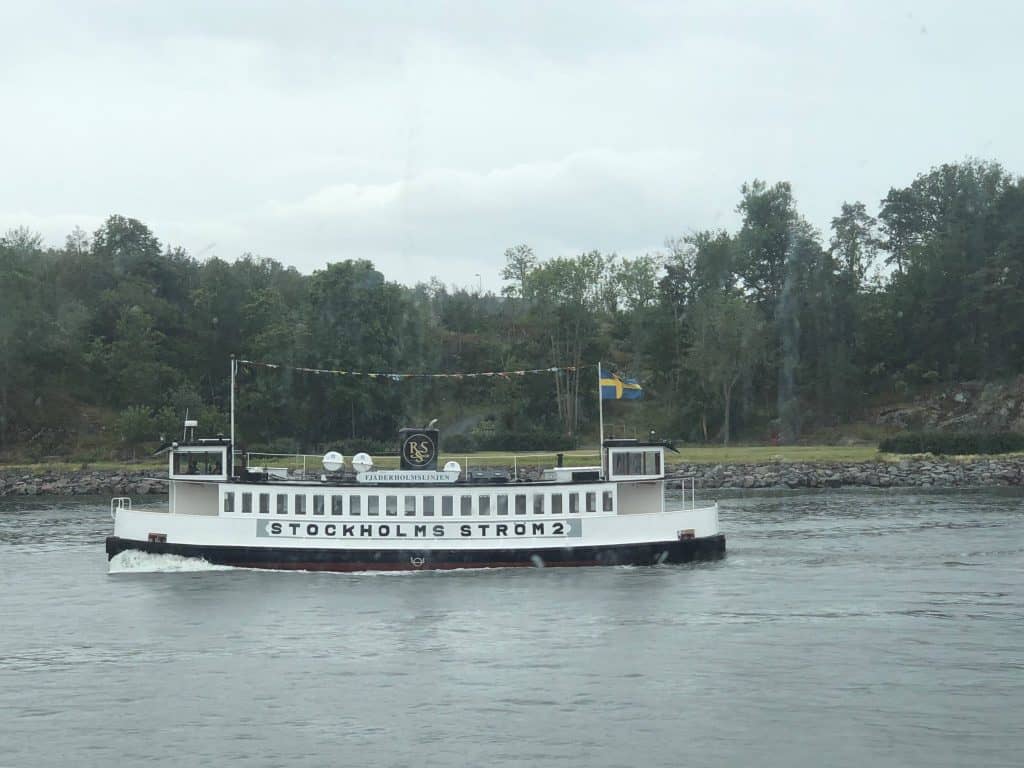 Before the city gave way to forests.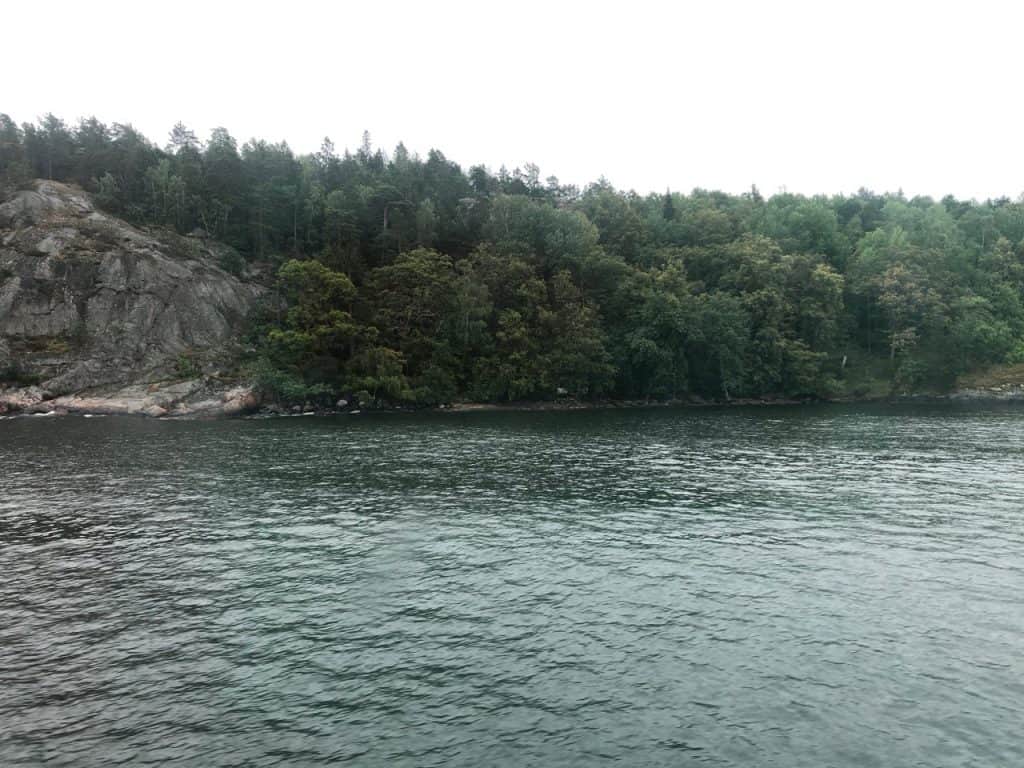 Soon a screen showed that Hasseludden – my destination – was the next port of call. It was only three minutes before we'd be arriving, so I made my way back downstairs.
Three or four people stood on the dock and I could see from their umbrellas it was still raining!
The dock was just that – a dock. No ticket office or anything.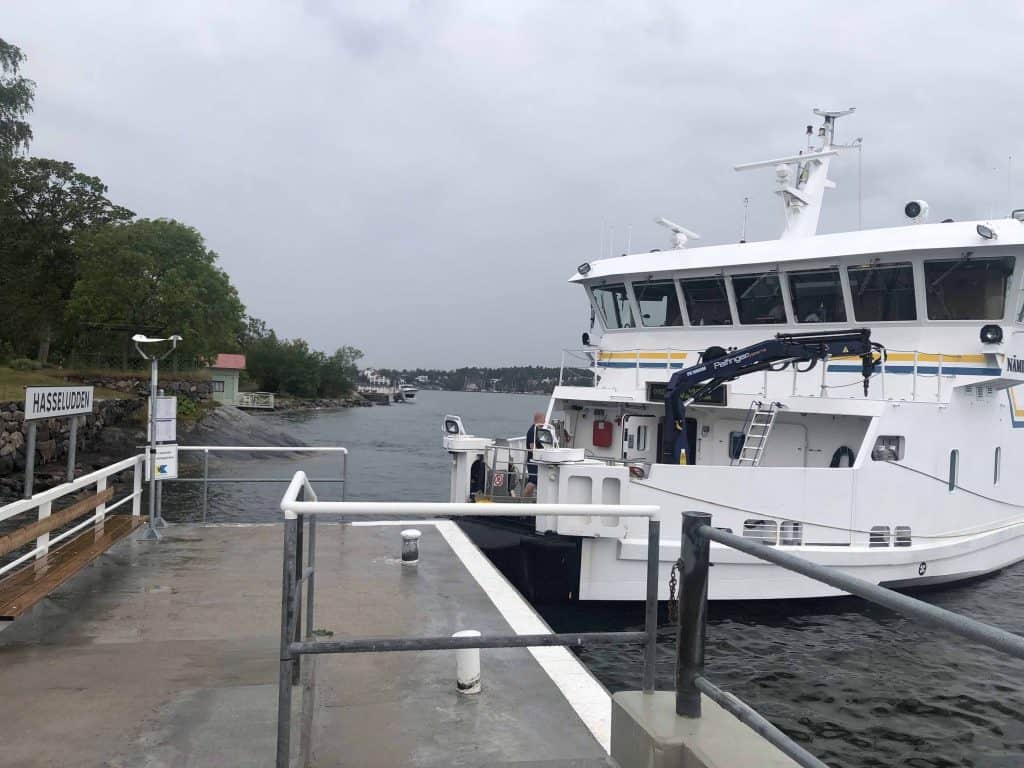 I was very conscious that walking down here at 11.30 that night may not be grrrrrreat. Then I noticed this….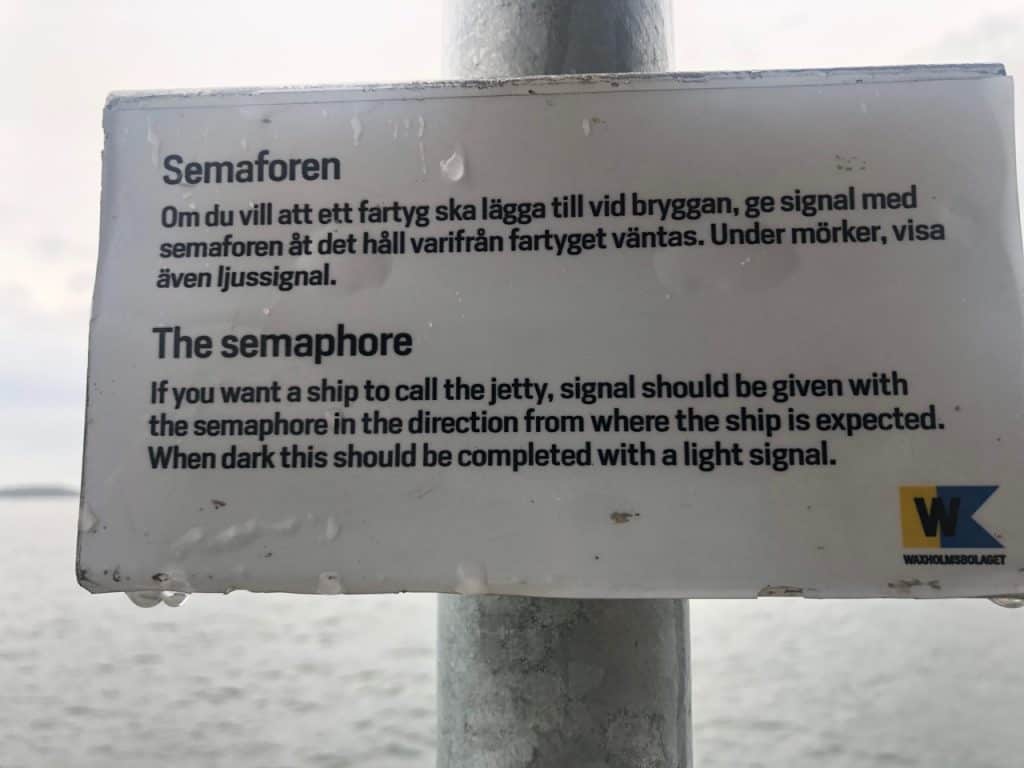 Have a read of that and see if you understand it. Where do you get a light signal from? Would your phone light be enough? 😩 I decided to worry about it later!
I left the dock and started walking up the street towards my destination.
I got the impression from the houses that this wasn't a cheap place to live.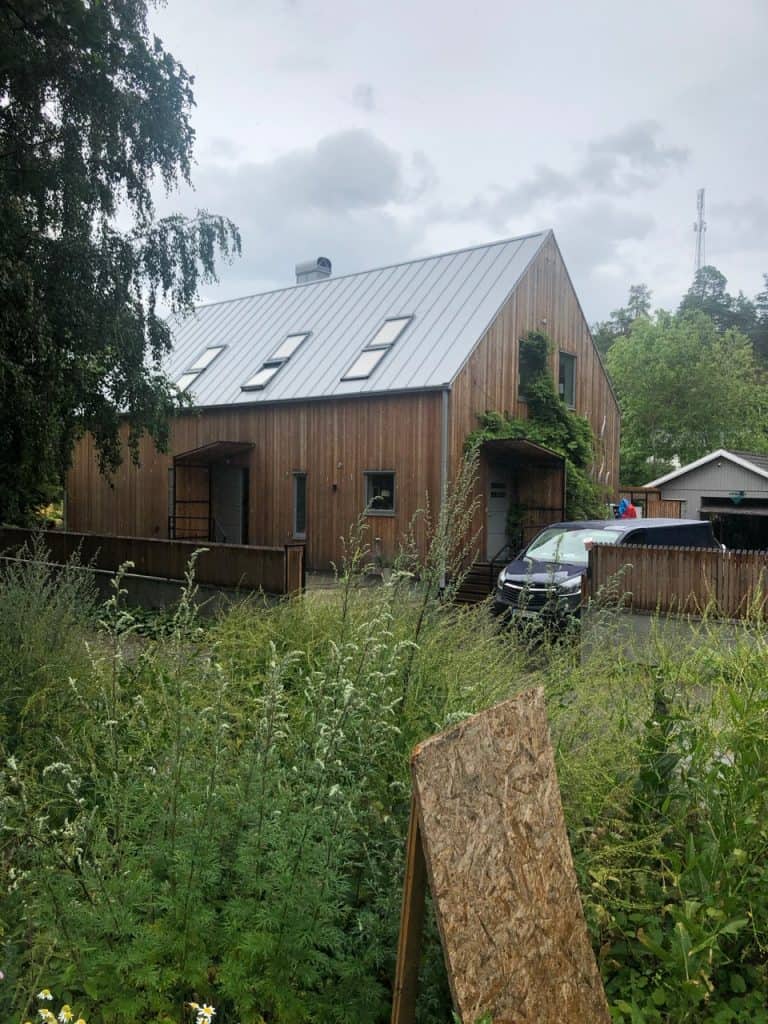 That is not a great photo but that is pretty close to my dream home. Made of wood, modern, and in the countryside. It was a lot bigger than it looked too!
After a ten minute walk uphill (of course!) I spotted a sign for where I was headed, and took a right.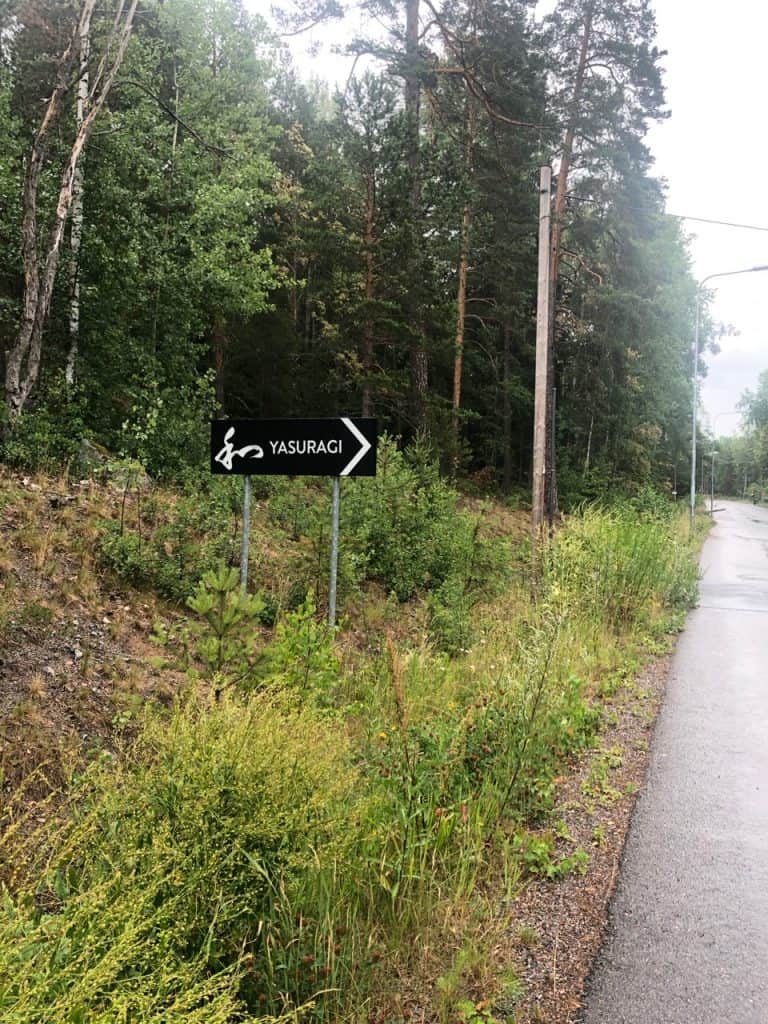 Soon I got the first hint of my destination…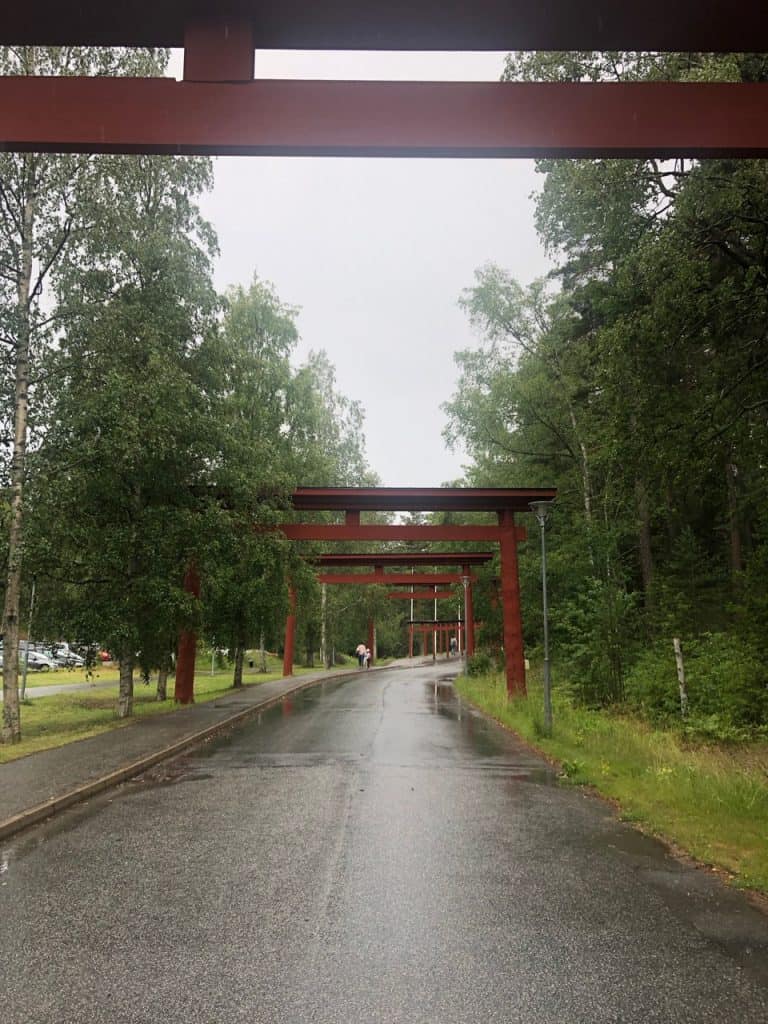 …a spot in the locality of Saltsjö-Boo (what a great name) on the island of Värmdö called Yasuragi. A Japanese style spa hotel.
A Swedish Japanese style experience
I'd had a bit of a Google after I'd booked my trip to Stockholm, looking for a nice spa there where I could start my trip. Someplace to chill a bit – to switch off and totally relax.
I'd come across Yasuragi that way – and gazed at it a couple of times. It looked nice but I couldn't find availability during July. It turned out I was just looking at the wrong packages – with summer low season Sweden it appears. I thought about it for a while, and tossed the idea around in my mind. It wasn't cheap – a Evening Summer Package at the spa was 1090 krone. That worked out at £92.95. Eventually I thought stuff it – you can't put a price on a really relaxing start to a holiday!
And so I found myself walking up a driveway lined with tori gates. The road swept around the corner, uphill, and there it was. It didn't look particularly Japanese!
Inside was a different matter though. It was all wood, concrete and clean lines. I liked it!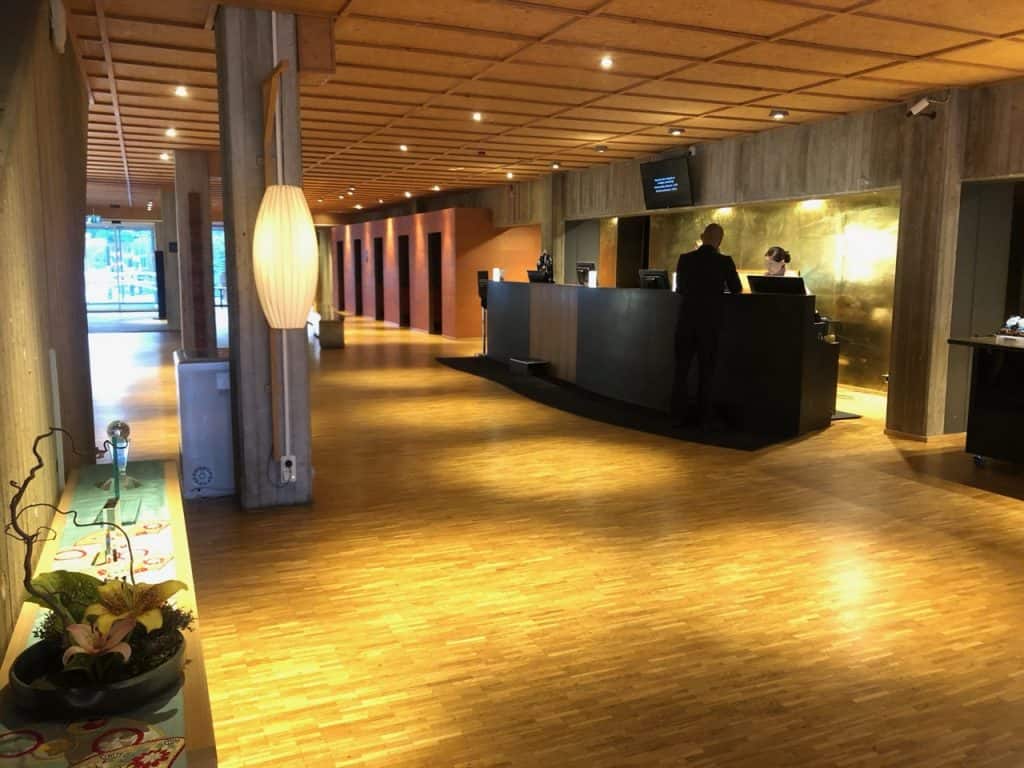 I checked at reception, and was directed towards the spa to check in for my package. First though, as I hadn't had lunch, I asked if they were serving food anywhere. The only option was the bar, so I walked up the stairs and stood at the bar.
And waited…..
And waited….
Eventually someone arrived, so I asked them if they were doing food. They said no. I started to walk away when a couple approached the same member of staff and I heard them starting to order sushi. I was like eh… what?!
So I walked back to the bar, and the guy asked if it was "FOOD I wanted". I was like "Er yeah!" and got an apology as he handed me the menu. Not sure what he thought I'd been saying!
I was slightly disappointed there weren't very many healthy options to be had. The lightest thing available I thought was an 11 piece roll of sushi – unfortunately it was deep fried!
I ordered it anyway, and took a seat in the weird lounge area. Gazing around, the place seemed very, very quiet. The couple that had ordered food before me were taking away, and it was a while before anyone else sat down in the space.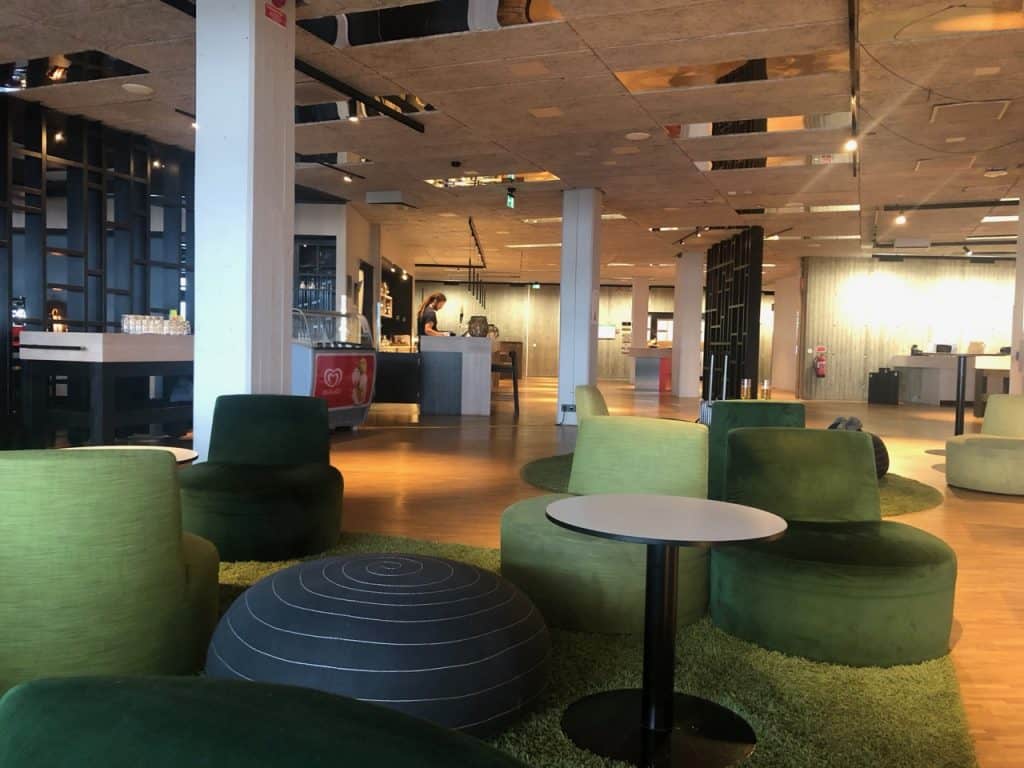 My deep fried sushi arrived.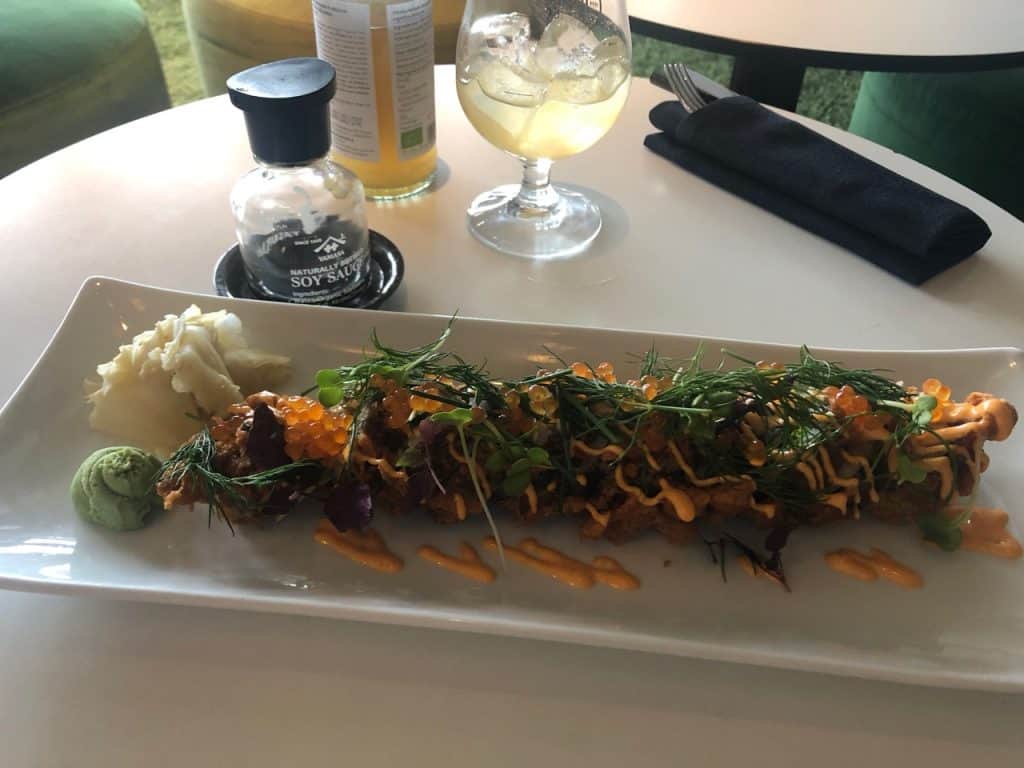 It was meh – ok really. I'd have preferred it not fried, and just as normal sushi! That plus a apple and ginger juice (at least I could pretend that was slightly healthy) came to £17. Fair for Sweden I guess!
Overall my experience of the hotel so far had been disappointing. I was beginning to think I'd made a mistake booking a whole afternoon and dinner here (a two course meal was included in the package I'd bought).
Anyway, lunch eaten, I went back downstairs and followed a long curved corridor to the spa.
After walking down a small flight of stairs, I turned a corner and came to a big reception area.
Photos aren't allowed in the spa – and neither are electronic devices like phones etc. so my photos from the whole experience are limited! This is one walking into the reception area though.
A friendly lady welcomed me and started to explain how everything worked. She gave me a yukata (which I had actually been wishing I'd bought in Japan) – basically a Japanese dressing gown. With that came a little bag for a book etc. (not for phones!) which you could tie around your waist. Then I got a set of swimming trunks and flip flop style sandals. The lady explained that everyone was to wear the swimwear they were given, and to wear their yukata too – even to dinner.
I quite liked that really – I know it sounds weird but it kind of added to the calming atmosphere that everyone was wearing the same stuff. What I also liked was the yukata, small bag and trunks were mine to keep! That £93 was beginning to look like better value!
Taking me to a digital display, the lady pointed out there were different classes I could attend, and there was a clock on the screen too – so you could leave your watch in your locker with your phone. You really were encouraged to have a digital detox while on the premises. I never saw anyone with a 'phone while I was there. Unusual that!
I'd spotted a meditation class online, so asked whether that would be held in Swedish or English. The lady said just to check with whoever was doing the class. I made a note of the time – 7.30pm, and the lady helped bring my dinner reservation forward to 8pm after saying it would be ok to turn up at five past or so after my class.
I was then taken downstairs, where I was ushered into a room for a Japanese Baths introduction. It was behind these doors (I took the pic on my way out).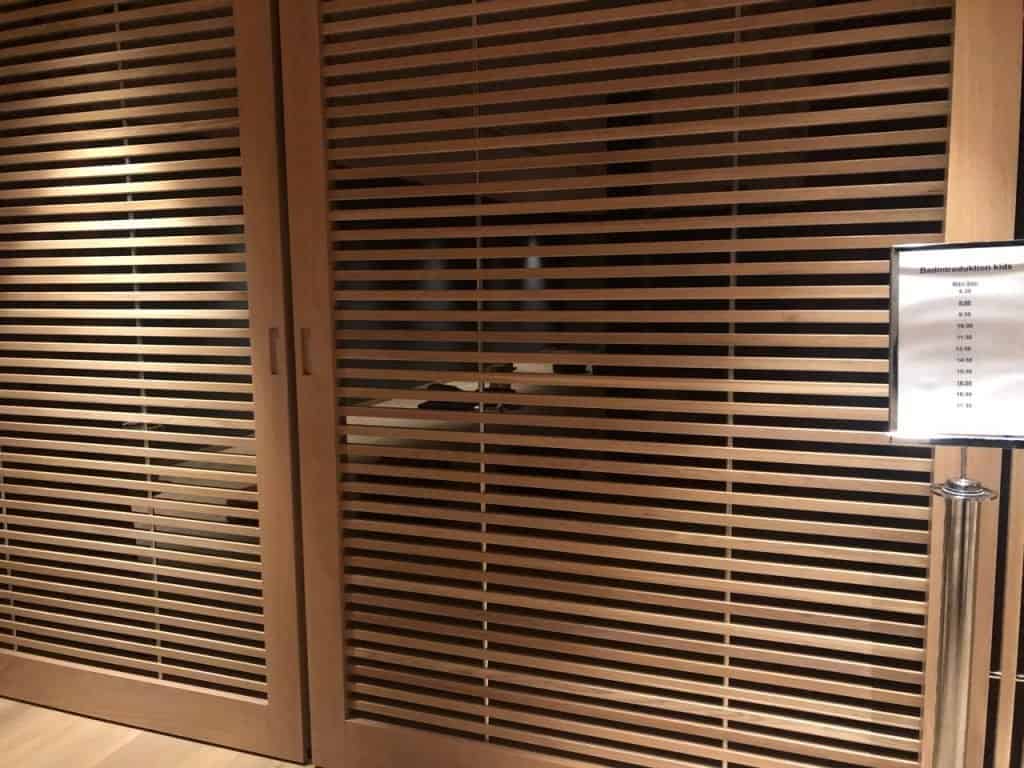 As the introduction was due to take place in three minutes, I didn't have time to change. So I sat slightly awkwardly and self-consciously with my bag and in my normal clothes while everyone else entered already wearing their yukatas.
Things didn't get any easier either when I realised the whole of this introduction was in Swedish. I think I picked up about one word in every ten! There was a bit about relaxing, and how important it was to wash thoroughly beforehand by sitting on a wooden seat, and using the handheld showers available. That I could remember from my onsen experiences in Japan, so at least I was alright with that!
Eventually, instructions over, I made my way through to the changing rooms. And yes I managed to sneak a couple of photos when it was empty! This was the very traditionally Japanese looking entrance…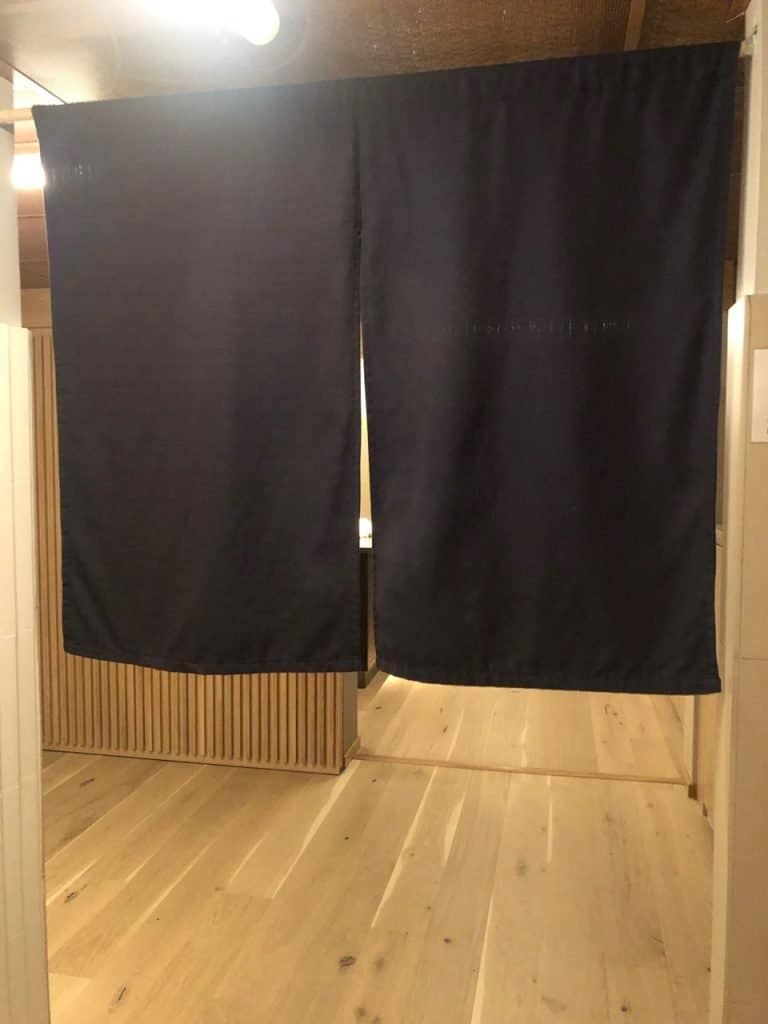 And this was one of the changing areas.
It was all very slick, and spotless (that photo was taken at the end of the night). As I started to get changed a 12 or 13-year-old boy came in and spoke to me in Swedish. I embarrassingly explained I didn't speak Swedish, and he immediately replied in perfect English asking how the lockers worked. I was pretty gobsmacked. Kids here are taught English from such an early age, and everyone here speaks it perfectly. It kind of puts us to shame a bit I think!
After getting changed, I went through to the bathing area and got undressed again to wash. Swimming trunks back on I headed around the corner into the spa.
It was beautiful. Sleek concrete floors and walls divided up different areas, while numbered steel bars along the walls allowed you to hang up your yukata and towel while you took a dip. These images come from Yasuragi itself, but they do kind of give you an idea of what the place was like!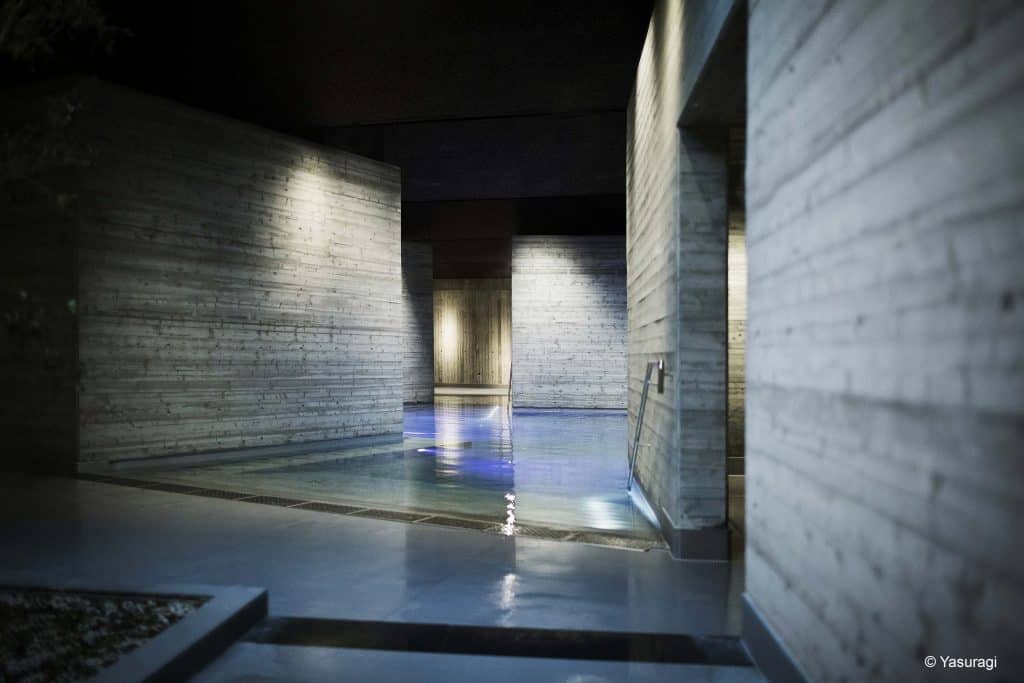 Inside there were four or five different pools. There was one big one with the water just warm enough to be perfectly soothing – I slowly walked down the smooth steps into the water and sat down. It's hard to explain really, but it was just very, very relaxing. I must have sat there for a good twenty or even thirty minutes watching everyone else and just chilling.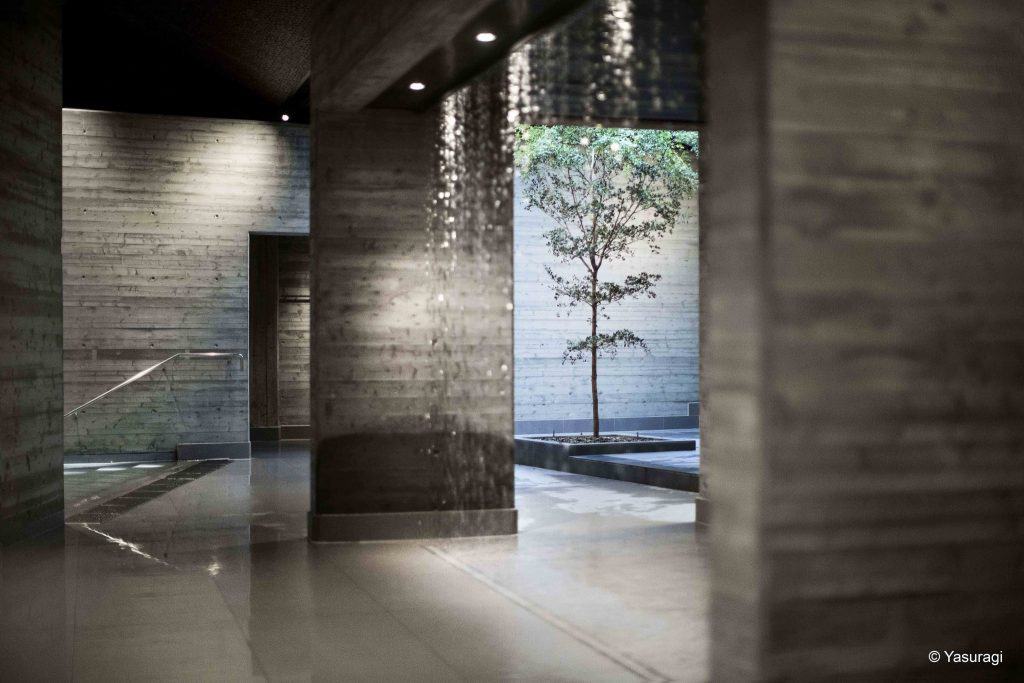 There were a couple of other pools too though – a cold one, and one where bubbles erupted every now and then for a while. I guess you could call it a jacuzzi! But that didn't do it justice when it looked as good as it did, and was large enough for lots of people to stretch out in without it feeling even nearly crowded.
During summer months, kids are welcomed at Yasuragi (normally it's under 16s only) and there were a fair few there. But all of them were perfectly behaved I've got to say. There was no shouting, running, screaming or jumping – just well behaved kids enjoying the experience.
After sampling the sparkling pool (or jacuzzi) I walked around a bit and noticed a dry sauna, and a relaxation sauna. I also saw a big wooden tub filled with salt that you could grab to scrub yourself with in the wet sauna, so I grabbed a handful and entered.
It was basically a massive steam room – with lots of showers built around the edges so you could rinse the salt off you after your scrub. I sat there a good while after rubbing the salt into my arms, legs and chest.
After showering in there, I grabbed my yukata and towel and headed up a curved staircase to a relaxation area. There I had some watermelon and hot japanese style tea before noticing a room lined with posh looking loungers. Surrounded on all sides by ceiling to floor windows overlooking forest trees, I opened the door to the room and heard a gentle, low buzzing.
Looking closer, the loungers were moving backward and forward in a gentle rocking motion. What kind of wizardry was this! Everyone seemed to be fast asleep as their loungers lulled them into a state of pure relaxation. I'll try some of that I thought!
I lay down on a lounger, and pressed every button going on the side. Nothing happened. I stared at the people gently rocking with ecstatic looks on their faces.
I thought about trying another one when a lady got in the one beside me, turned it on and gently moved backwards and forward. Darn it!
I hadn't seen how she'd done it either. In the end I gave up. But! On walking past, I saw a tag attached to one man's lounger which appeared to have instructions on it. Could I bend down, flip it over to the side written in English and read it all without waking him?
I went for it, and saw there was a hidden button to start the rocking action. Chuffed with myself I headed back to the lounger I'd just left, fumbled until I found the button, and heard a gentle whiz as the motors sprang into action.
I felt relaxed, but I didn't really feel like sleeping, so I read a good fifty pages or so of my book while I rocked gently. It was very, very pleasant!
I went back downstairs, and this time went to explore the outdoors areas. There were more, hotter baths there – more like the traditional outdoor onsen I'd experienced in Japan.
I climbed into one, then moved down a level to the next one, then descended down to the bottom one so I could gaze at the lake and trees while sitting soaking.
After sitting there for a while I walked up some stairs to explore an outdoor sauna before I decided to try the relaxation sauna I'd seen earlier. In short it's a wooden sauna with no heat! So I didn't lie there for long. Instead, I sat for a while in the inside dry sauna proper until I worked up a sweat.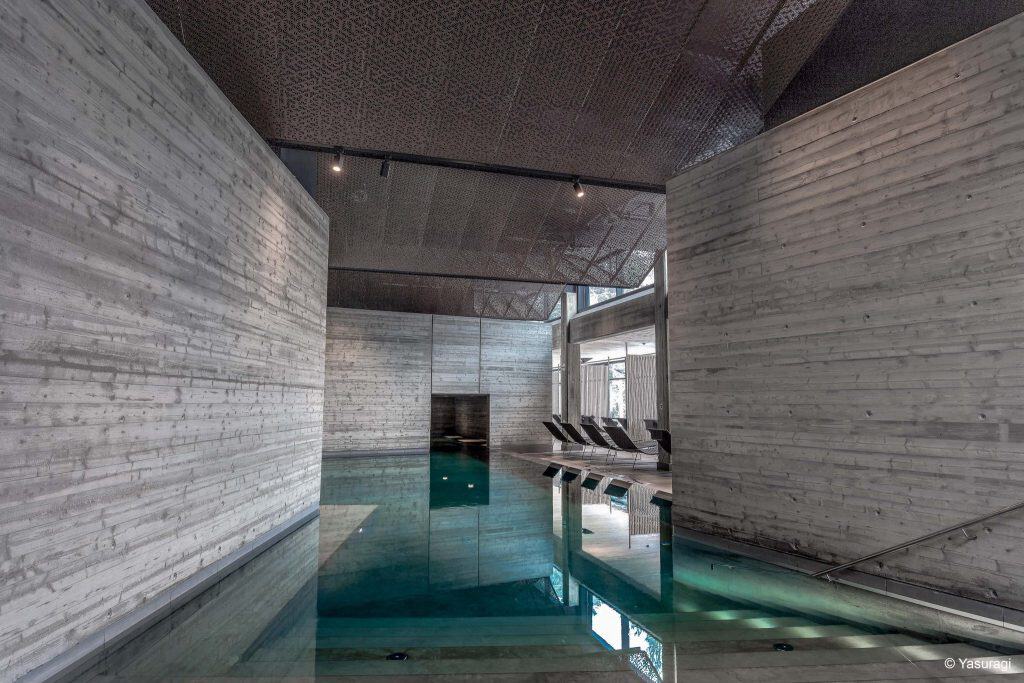 After a freezing cold shower, I glanced at the screen to check the time. It was already approaching seven o'clock – which I really couldn't believe. I'd spent three hours in the spa already when I'd been worried I'd get bored, and that there wouldn't be enough to do.
I went back to the changing room and had a shower to get ready for dinner, donned my trunks and yukata again, slipped on my sandals, and walked along to the activities dojo – where the meditation class would take place.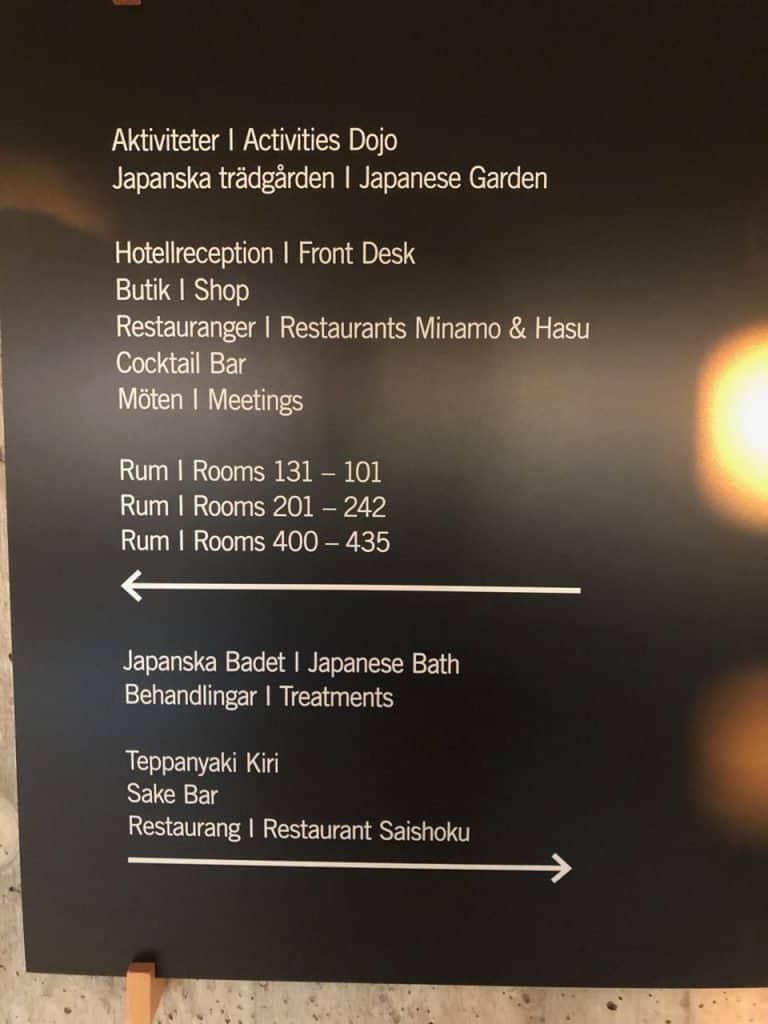 The room reminded me instantly of Japan. It was like a tatami mat room – with large wooden panel doors containing rice paper panels. Practically as soon as I'd stepped inside a lady appeared. I explained I was there for the class and asked if it was in Swedish or English. She explained she'd do it in English if everyone spoke English, and if not, not to worry as she could do it in both.
She directed me to grab a round cusion and a square cushion and place it next to hers facing the panelled doors.
Soon around ten other people of all ages had turned up for the class. I stood slightly embarrassed as she clearly explained in Swedish that there was someone in the class who only spoke English and asked if anyone couldn't speak English. A rather grumpy lady beside me muttered something, then our instructor said she'd take the class in English and Swedish.
I'd love to be able to meditate properly – just even for ten or fifteen minutes a day. I've read a load of books recently which have all mentioned it's key to really leading a happy and successful life. So I was keen to see what I'd get out of the class.
Firstly the lady directed us to place our round cushions on their side on top of the square one, and then sit on the round one, with our legs either side.
I immediately closed my eyes until I head the lady explain you could either keep your eyes open or half open. Fail! She then instructed us to stare straight in front of us at the rice paper. To fix our eyes on a spot and focus on our pose and breathing.
She gave us some more instructions, and then the room fell perfectly silent. Thoughts wandered in and out of my head, and then disappeared again. Before I knew it, she was beating a round beater against a metal bowl creating a gentle clanging sound. The meditation – some 20 minutes or so long – was already over.
And I've got to say – yet again I felt relaxed. I wasn't sure I'd got it exactly 100% right, but I did think I could do it again, focus more, and get better at it each time.
After thanking our instructor, we returned our cushions, and I made my way back to the changing room to collect my 'phone and head to dinner.
Before entering the restaurant I walked through the bar area again and out on to some decking to check out the view.
People sat enjoying the warm sun, and the view was gorgeous. You felt like you were in a really remote area – just surrounded by trees and water.
Dinner
I'd call the service 'slightly with an attitude' as I was directed to my seat! I was handed a menu and basically told I could have a main course and desert. Two courses were included in my package, but yet again the service in a food establishment felt a real step down from what I'd experienced in the spa.
My waiter seemed to warm to me eventually though!
Gazing at the menu (a more limited Summer menu than is usually offered I understand) I was a bit disappointed to see it was almost identical to the menu I'd been given at lunchtime. There was maybe one more option.
I ordered a blueberry mint kombucha (trying to be healthy!) and then chose my main course – teriyaki salmon with grilled summer vegetables, a shizo dressing, and crispy noodles.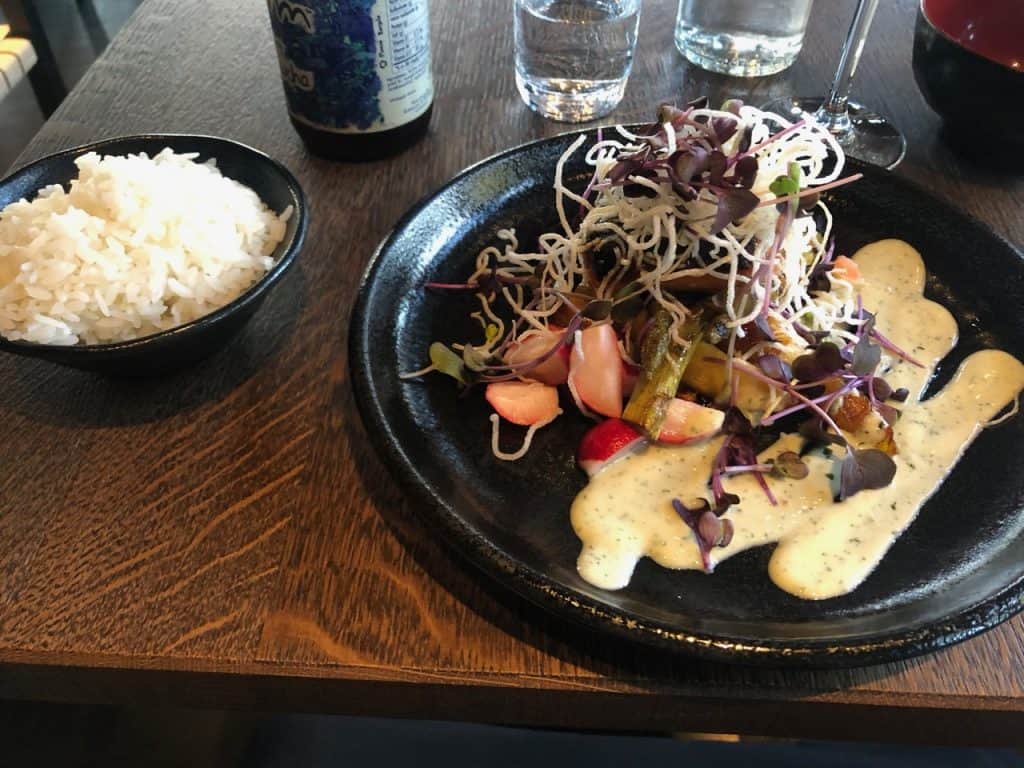 It arrived with a side of rice. Now I've got to say looking at that photo, it looks like a heap of mush on a plate 🤣
But in real life it looked great. And it tasted even better. The dressing was light, the vegetables – such as asparagus – were perfectly charred and tender with just a bit of bite, while the salmon itself was perfectly cooked, and fell apart at the touch of a fork. I really couldn't fault it!
I knew what I was having for dessert as soon as I saw the word rhubarb. I'm not really a dessert person, but add rhubarb into the mix, and I'd do anything for it! Dessert for me was fennel ice cream (a generous serving) with slivers of rhubarb and a rich chocolate crumble.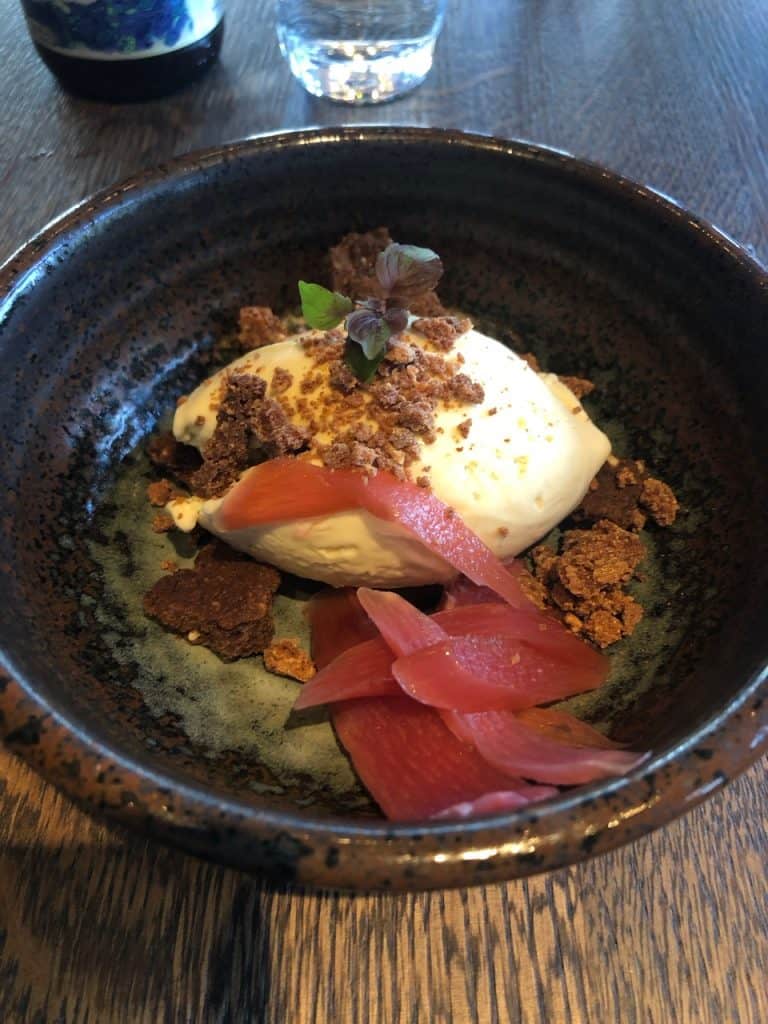 Oh my god it was delicious. It was knock-me-down-please-never-end delicious. I love fennel but would never have thought to use it to flavour ice cream. It really worked, For me anyway! The rhubarb just tasted of pure summer too. I loved it.
By now I was beginning to think about how I was going to get home. I had two options really – a ferry or a bus. The next ferry was the only one for two hours. It left at 9.30, and the ferry terminal was about a fifteen minute walk away. By now it was 9.07 and I still had to get out of my yukata and back into my normal clothes!
I checked Apple Maps for the alternative, a bus journey back to the city, (despite having bought a return ticket for the ferry 😩) and saw the bus to Stockholm was due at 9.37. To walk to the bus stop would take approximately seven minutes. I decided to go for that! I had half an hour to pay, get changed and get to the bus stop. Go!
A gorgeous sunset
I threw my just ordered coffee down me (adding a bit of cold water so it was actually drinkable), paid for my drinks (£13 including a quickly calculated tip) and headed back downstairs to get changed. Quickly.
On my way there I did spot some more of those rocking loungers so quickly grabbed a pic!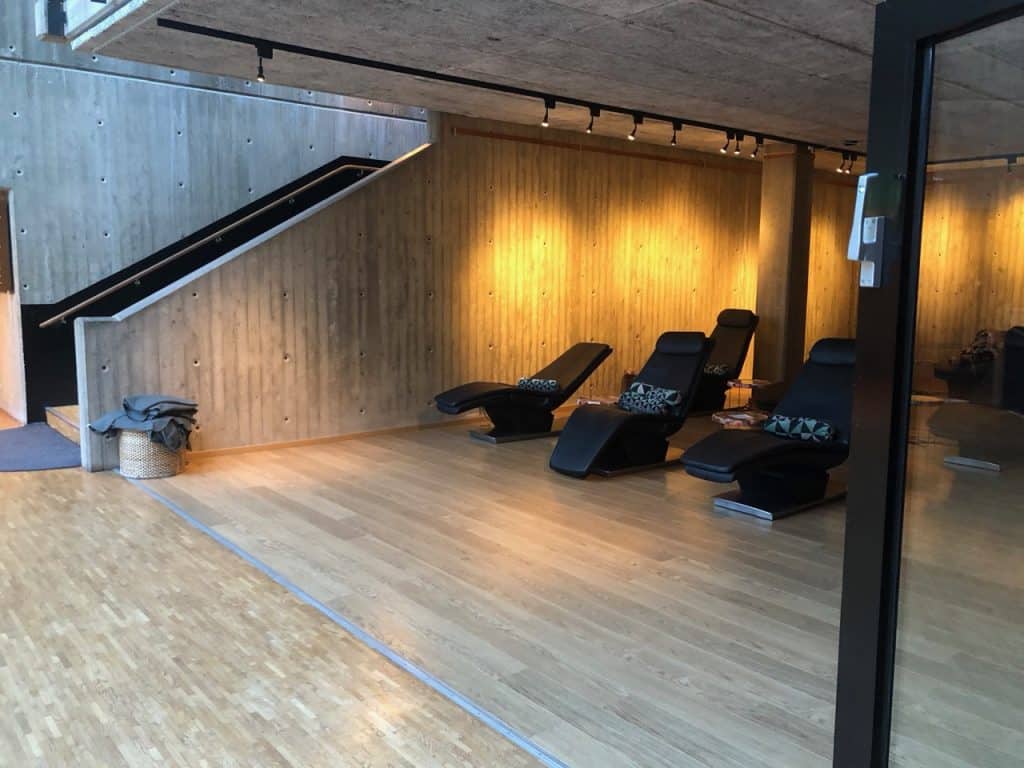 Changed, I left the spa area at 9.22. I had fourteen minutes to get out of the hotel, and down the road to the bus stop.
The drizzle from earlier had long gone, and the sky was still light as I marched at a quick pace down the road.
I knew I'd made it when I saw the bus go past me in the opposite direction – it was a dead end at the ferry dock, so I knew it would be turning around and coming back. Phew!
The bus stop was pretty scenic…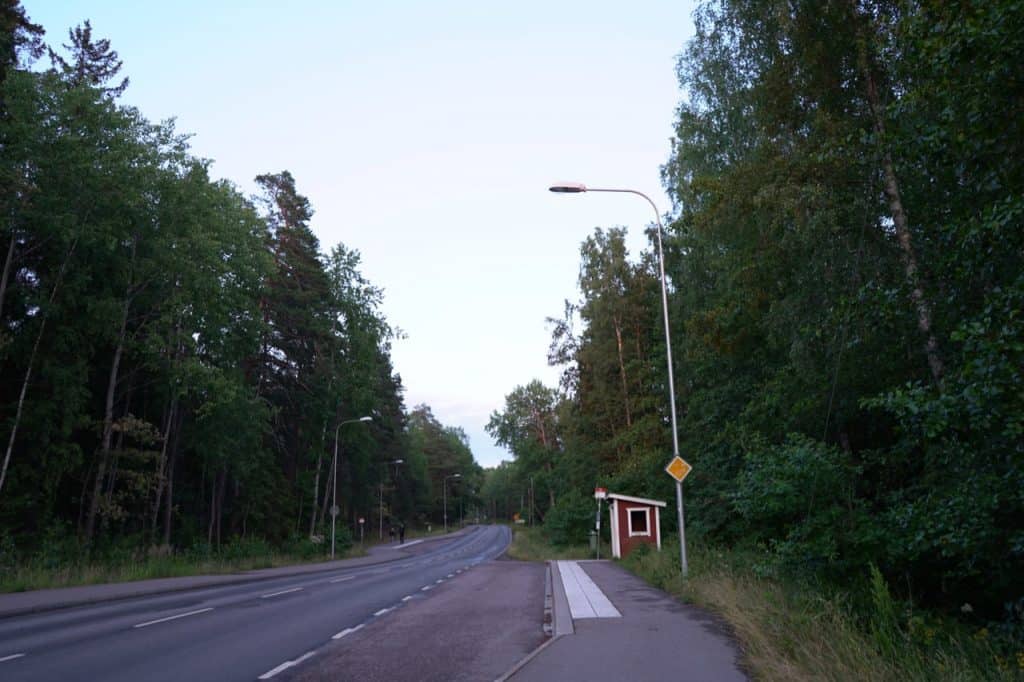 Now I just had to buy a ticket. After buying a return ticket on my SL access card, I didn't have enough of a balance left, so I opened up the SL app on my phone and bought a single ticket back to town.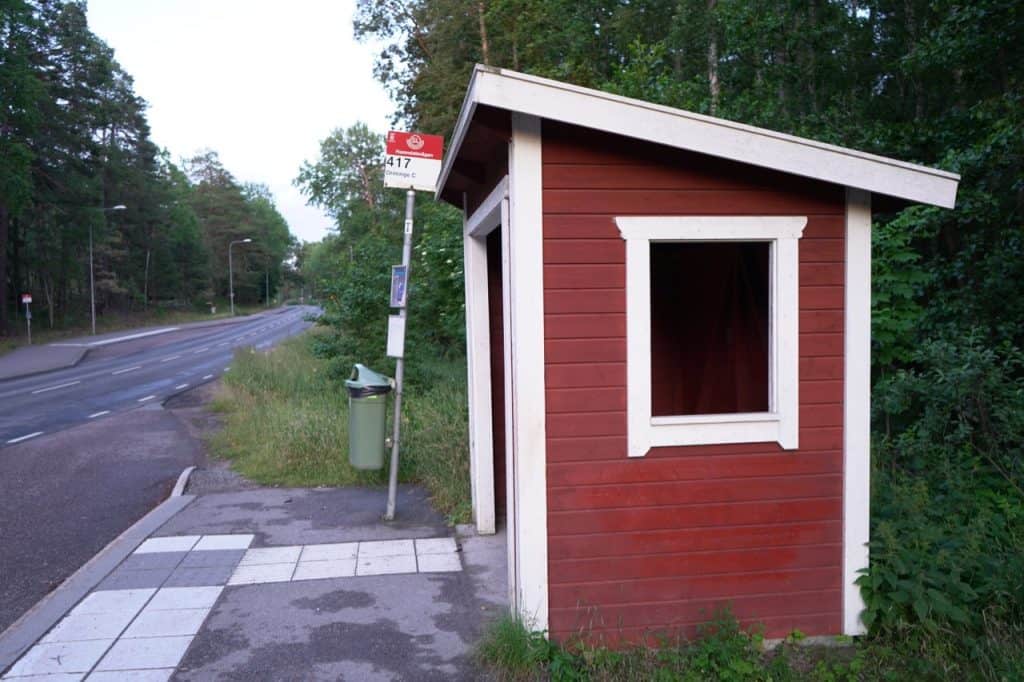 Soon the bendy bus turned up and I clambered aboard, glad I'd made it. After a less than ten minute ride, I disembarked at Orminge Centrum – which looked like a small shopping centre, and waited for the next bus – the one which would actually take me right into the capital.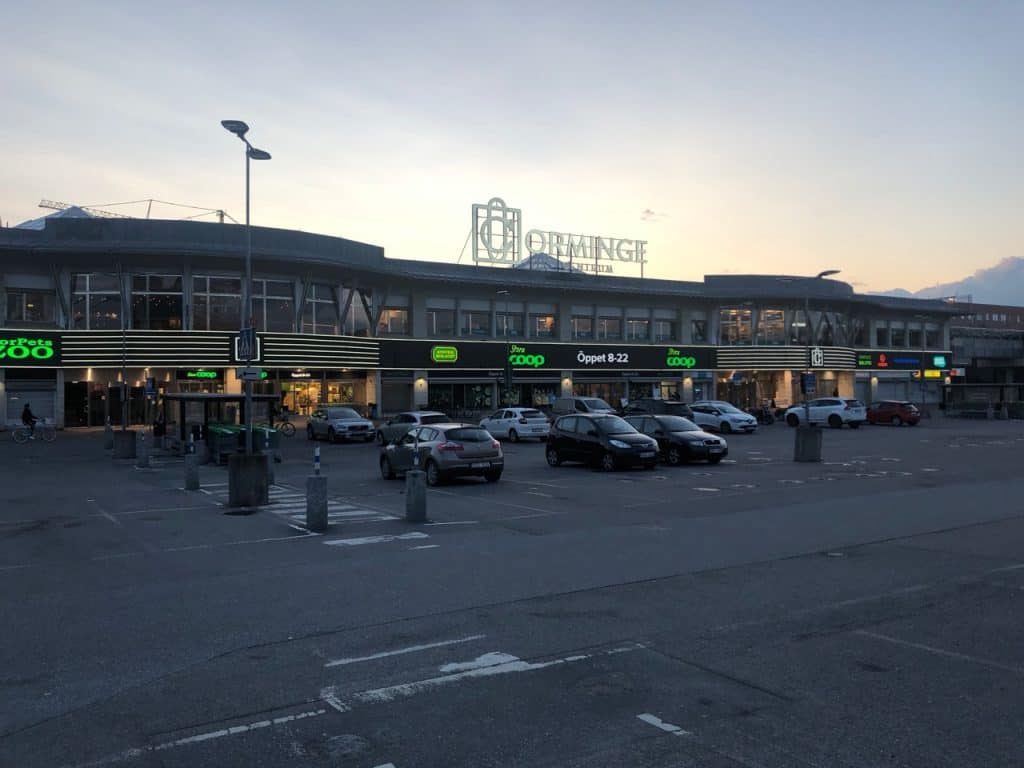 Standing at the stop I gazed at the weird mix of local businesses opposite.
And the cool, but kind of out of place car that drove into the shopping centre car park while I waited.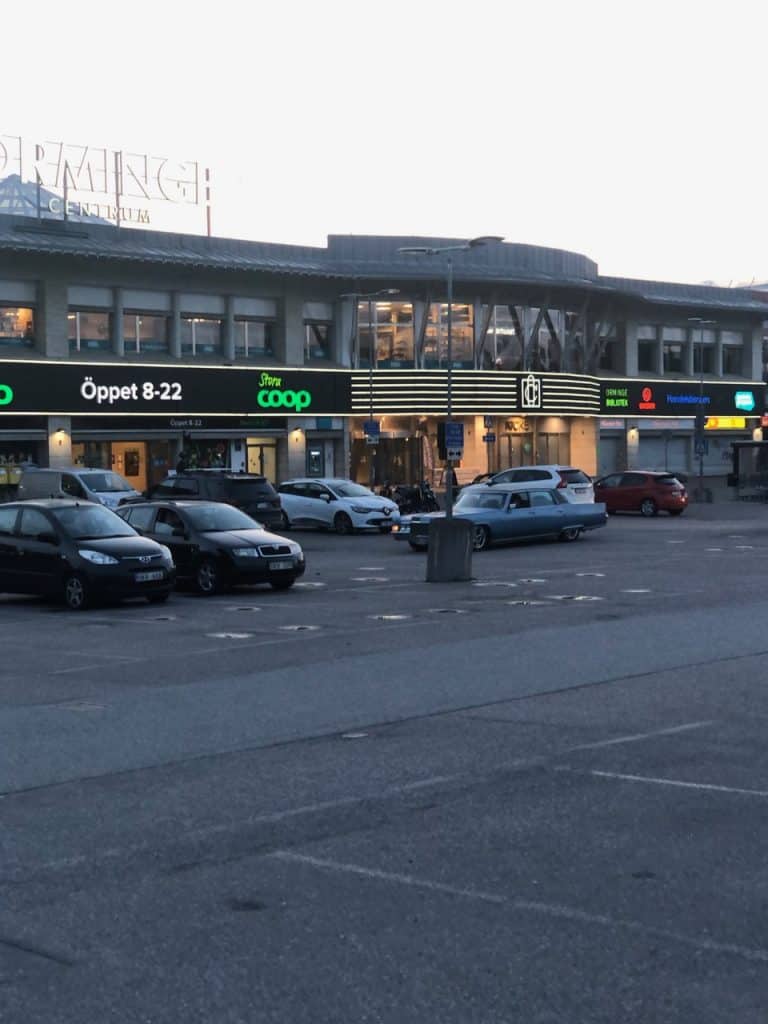 Soon the bus turned up, and an uneventful fifteen minutes or so later, I was getting off at the Slussen transport interchange. The last time I was in Stockholm, the area was a complete mess. Temporary roads and bridges were scattered amongst cranes and roadworks and it was very trying and difficult trying to work out how to get anywhere.
This time – well the works are still ongoing but seem to have calmed down a bit and the place felt a little less chaotic. Or maybe I was just used to it. For Stockholmers, there's a long wait for the disruption to be over! The works started in 2016, and are forecast to last eight to ten years.
It was about ten past ten by now, and though still light, the sky was beginning to turn a gorgeous shade of blue and orange and pink. Rather than head straight back to the hotel I decided to go and try and get a good view of the city and the sunset.
First off I had to try and navigate all the bridges and temporary pedestrian paths! I basically kept going up and along, up and along until I got to the other side of the construction works. I could have kept climbing until I reached Monteliusvägen – a great scenic spot overlooking the city, but I remembered from my previous visit that it was a nightmare of a climb to get to, and by now I was pretty shattered.
Instead I descended back down to the bottom street level, and found a spot with a clear view of the city hall.
A pair of mates sat on the wall and gazed at the view. It was pretty beautiful.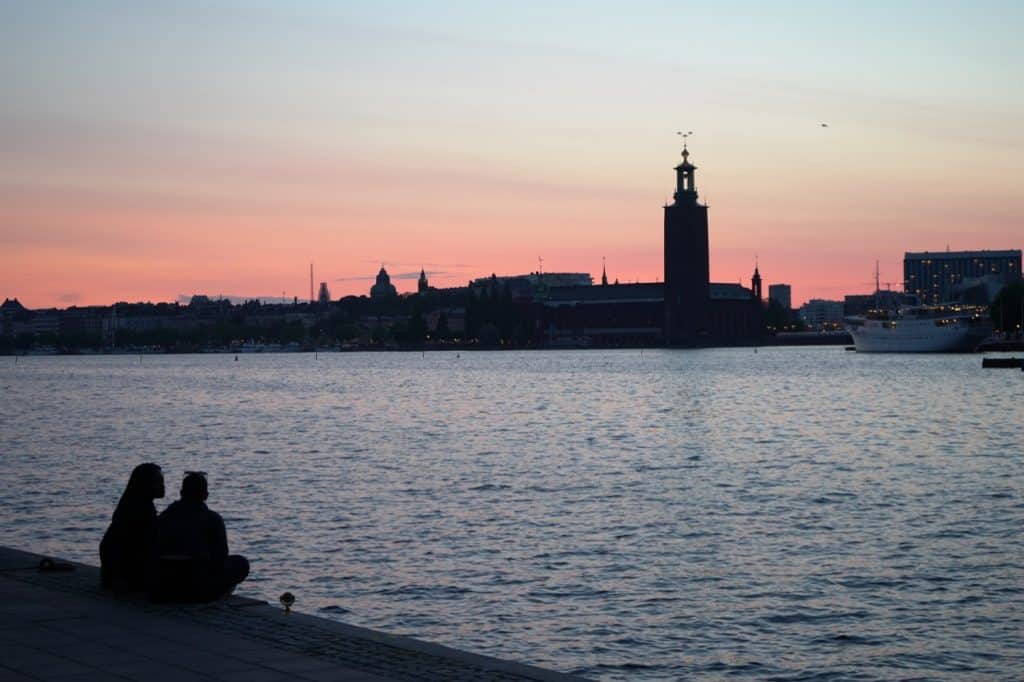 After getting loads of different shots, I started climbing the streets again to get at the right level to get back towards my hotel.
The street lights had come on but it was still naturally light.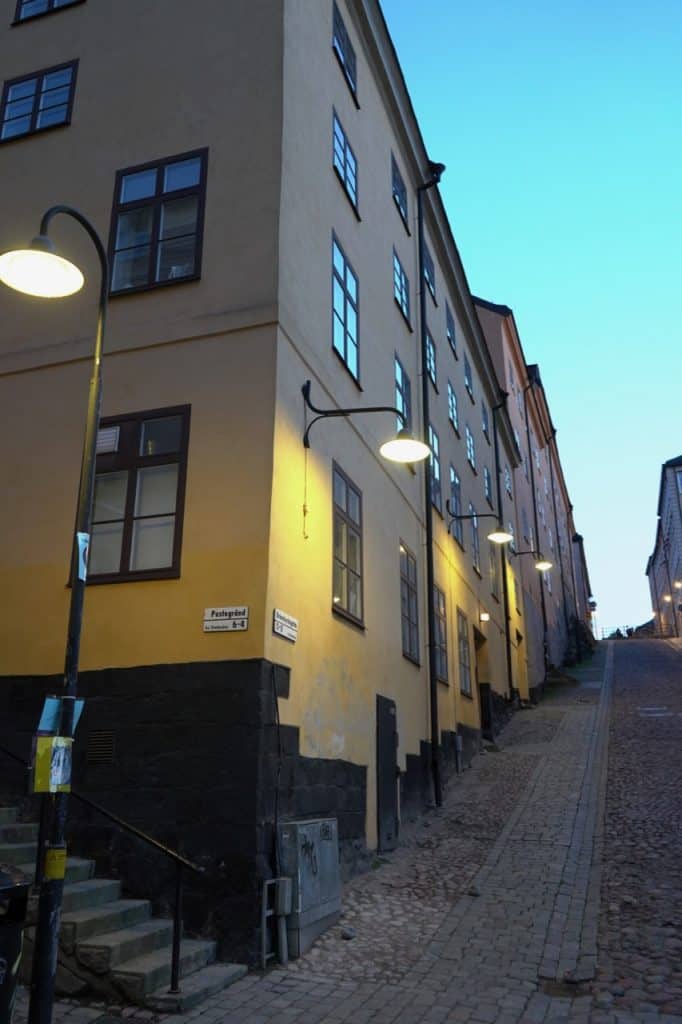 I stopped at the top of the Slussen construction works after spotting another picture opportunity…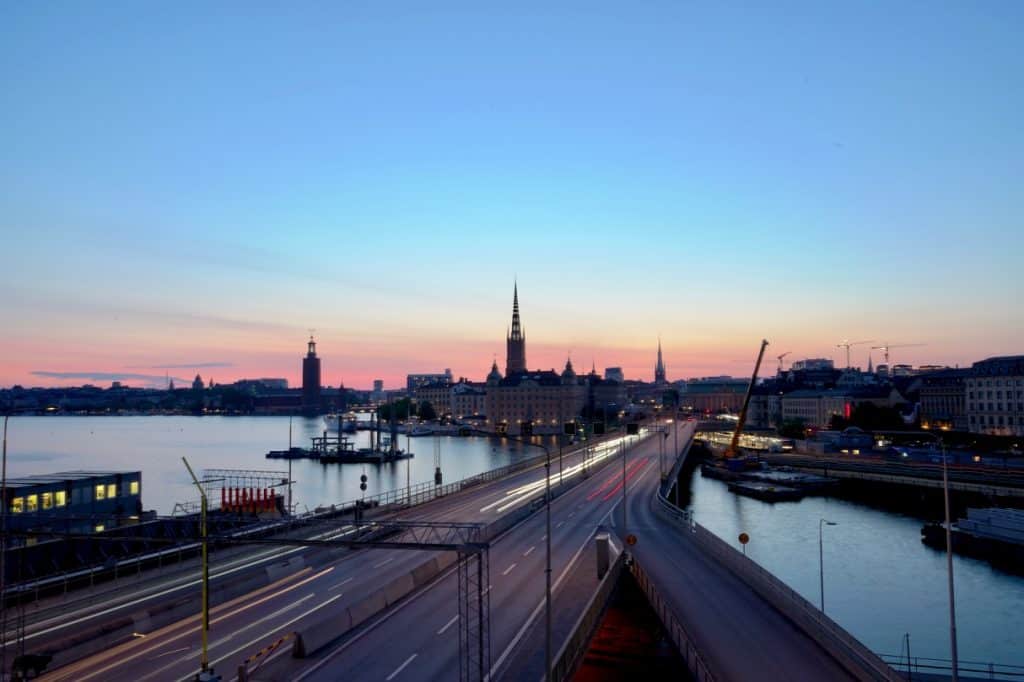 And then started that familiar trek over the bridge and around the works. Helpfully there was a bit of signposting going on!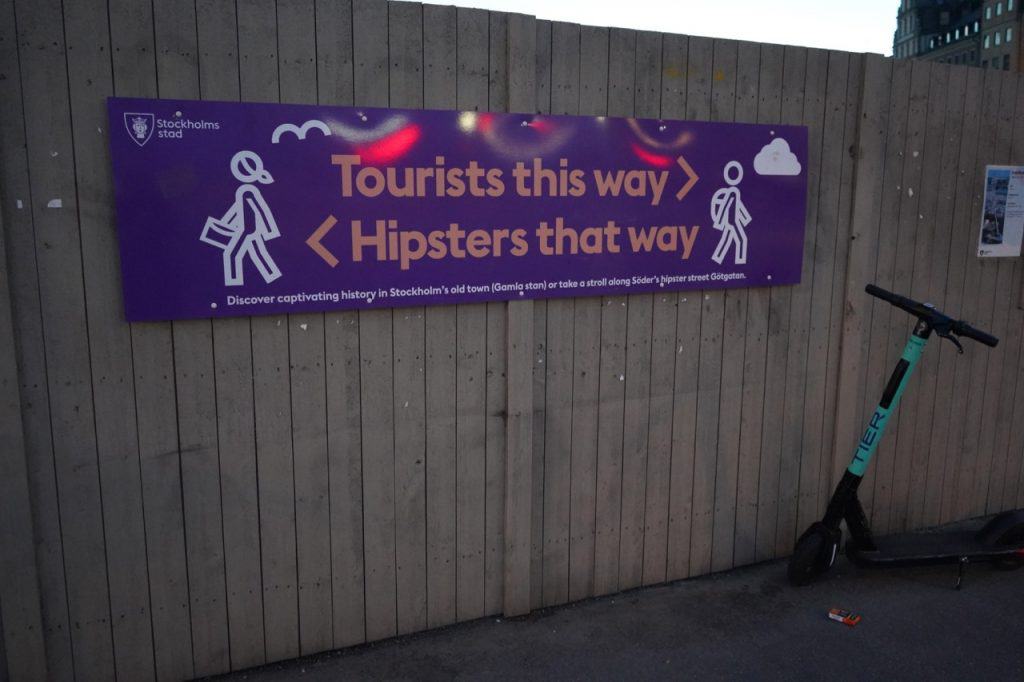 Strolling through the streets of the Old Town was much quieter at this time of night – with most of the tourists away home or out on the town elsewhere.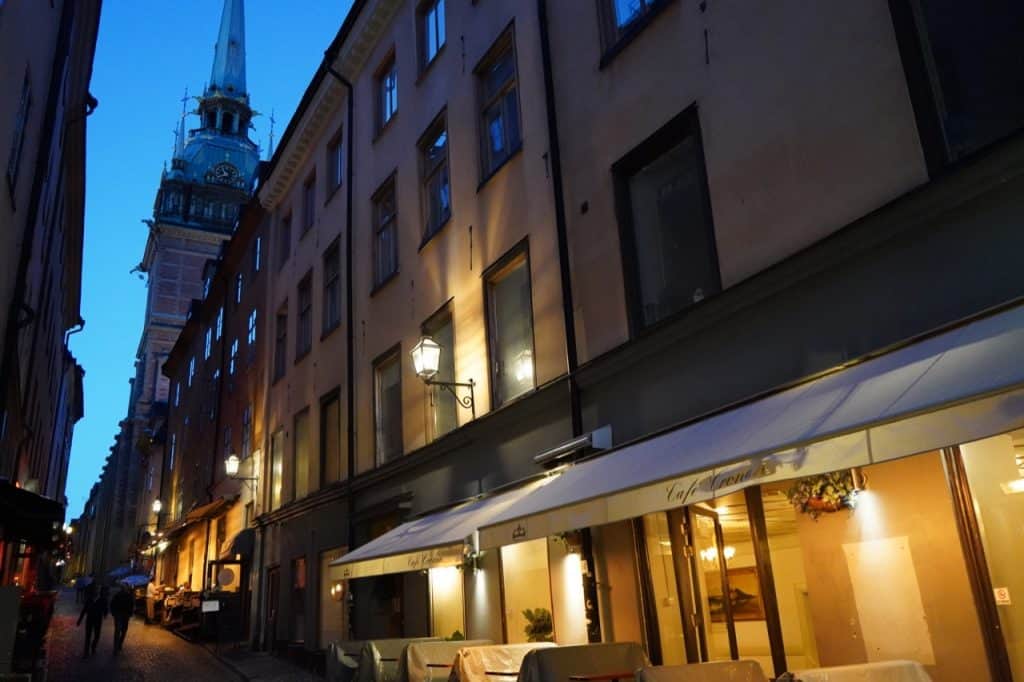 It was nice having the cobbled streets almost to myself. Shops windows remained lit, and cool, old school and very Scandinavian style neon signs displayed the names of stores.
Walking back over the bridge beside Parliament, I felt I'd done loads that day – definitely making up for my rather lacklustre experience the day before!
I dumped all my stuff in my room and headed down to one of the hotel bars where I had a glass of rose and wrote for a bit. I just kept to the one glass though as I wanted to make sure I was feeling tip-top the next day!