I knew exactly what I wanted to do when I woke up on Sunday morning. In close reach of Stockholm's centre is its archipelago – home to an amazing 30,000 islands, islets and rocks. I wanted to get out of the city and explore at least a small part of it – to see a different side of Swedish life.
Having pre-booked breakfast the night before again to save a bit of cash, I was seated at my table for 9.30am. This time I got a view out on to Brunkebergstorg Square – with the sun yet to creep around the side of buildings most of it still lay in shade.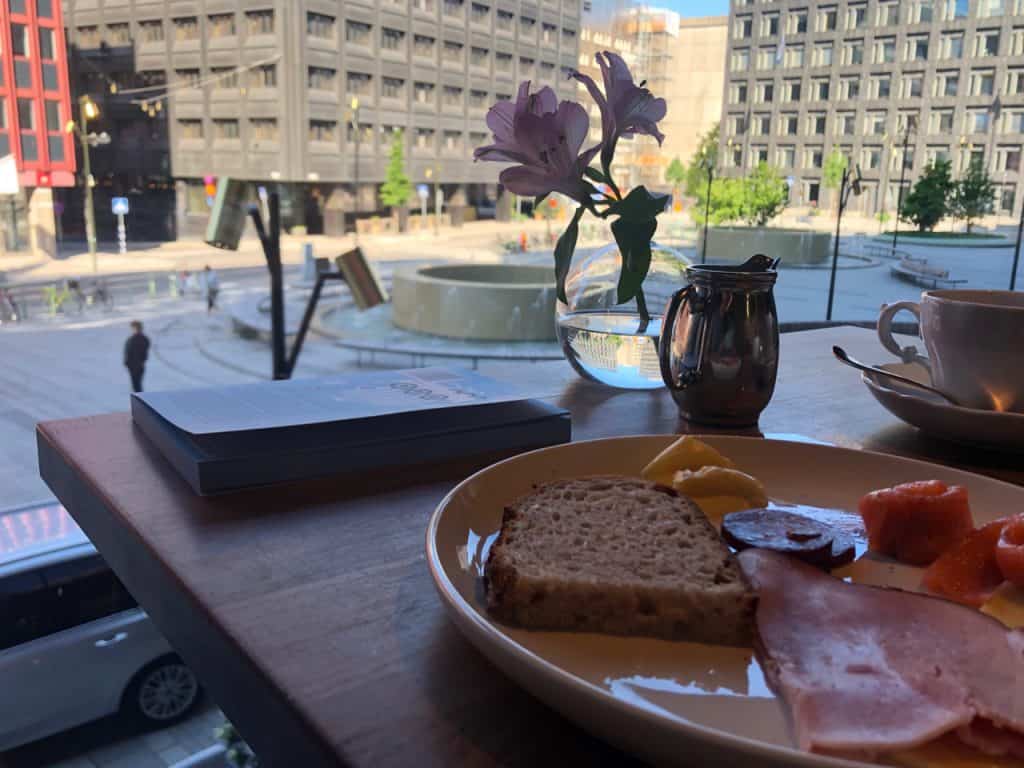 I had a small selection of smoked salmon, cold meats and bread before tucking into some hot food.
Next I paid a quick trip to the Tourist Information Centre just around the corner to check out which island would be the most practical and interesting to visit. A really helpful girl marked a couple of options for me on a map, but the best option for me seemed to be the town of Vaxholm, on the island of Vaxön.
Back in my room, I checked the weather forecast, and checked it again. I decided to lighten my load by leaving my umbrella behind (store that thought!) as the forecast showed a 0% chance of rain. Dressed in just a t-shirt and shorts, I set out on my way.
Getting to Vaxholm
Situated just over an hour's ferry ride from Stockholm's centre, Vaxholm's been home to herring fishermen for generations. And I do love herring! For me, the island Vaxön also seemed the ideal size to explore in a day . With the most recent figures showing a population size of just under 5,000, it wouldn't be too big, while still having enough going on to make a day trip interesting.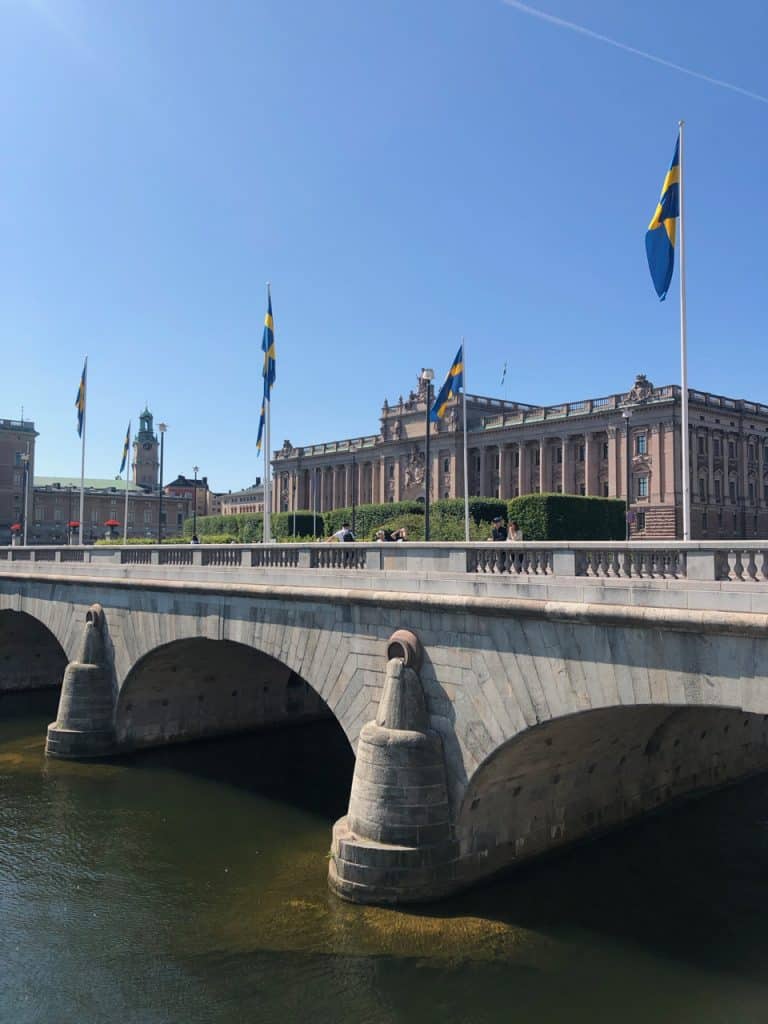 Taking a left just before I reached the Swedish Parliament building and Gamla Stan, I walked under a bright blue sky to Strömkajen – the pier where I'd caught a ferry to the Japanese spa just two days before.
After checking out I was getting on the right boat, soon we were boarding and setting sail. The weather was perfect.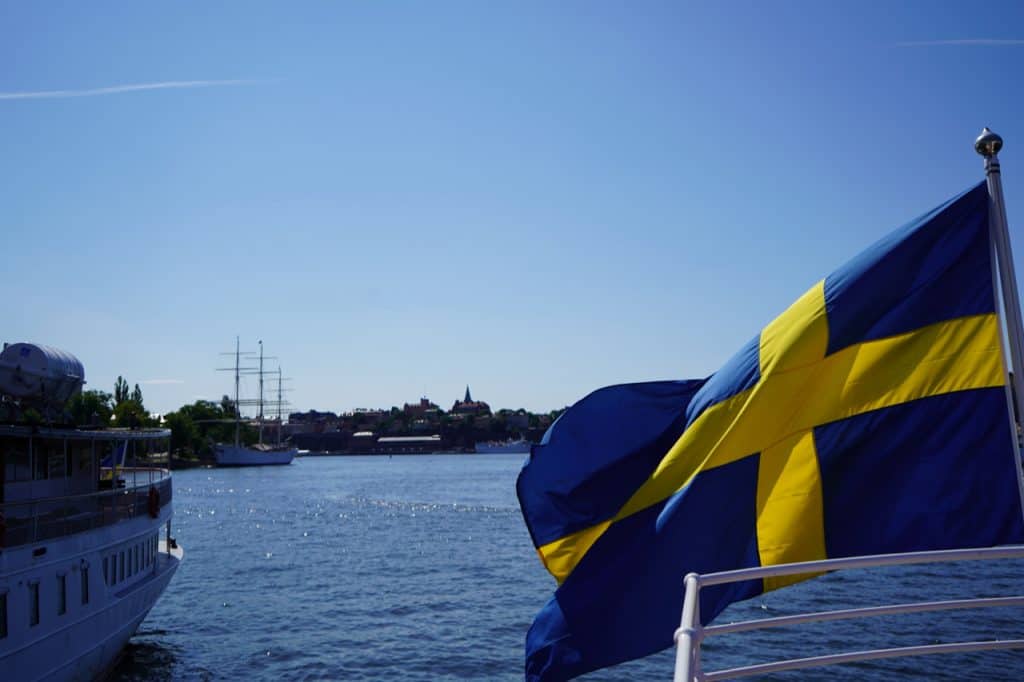 I nabbed a seat outside on the upper deck, and caught a good view of Parliament and the edges of Gamla Stan as we pulled away from the pier.
As we left the city behind, it was soon possible to catch little glimpses of island life – some modest….
Some… er not so!
Annoyingly – and a bit cheekily I thought – it wasn't possible to use my SL access card (like an Oyster card) on this trip. The lady in the tourism office had explained that during the summer it wasn't possible as the company operating the ferries knew they could charge a higher fare. So my one way fare to Vaxholm was 79 Krona – about £9.50. Not cheap really! Hopefully the trip would be worth it.
I think whoever was staffing the boat that day was a dog fan like myself – first of all there was this picture behind the ticket desk….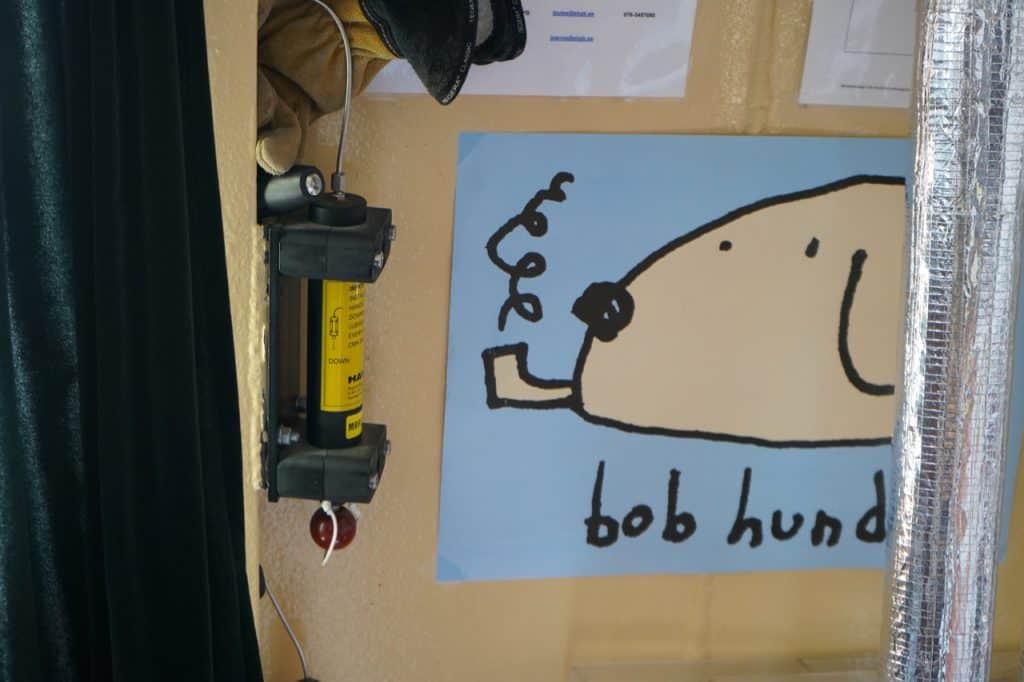 … and also a little "hund-cafe" ☺️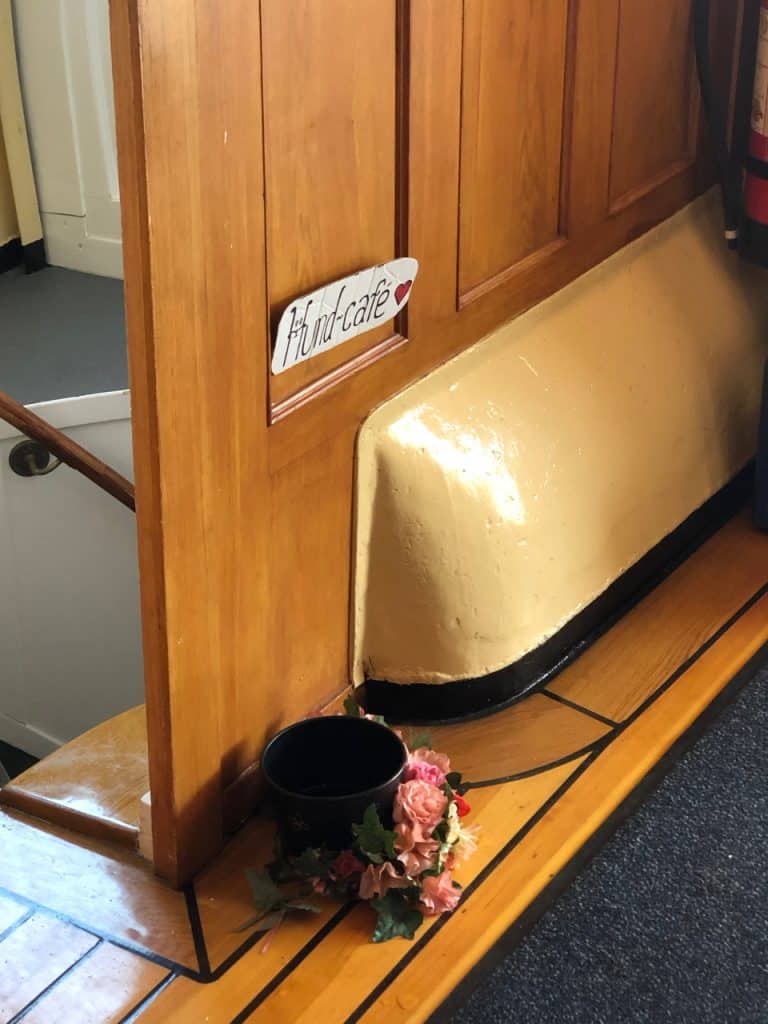 After around an hour and twenty minutes the good boat Västan docked at Vaxholm.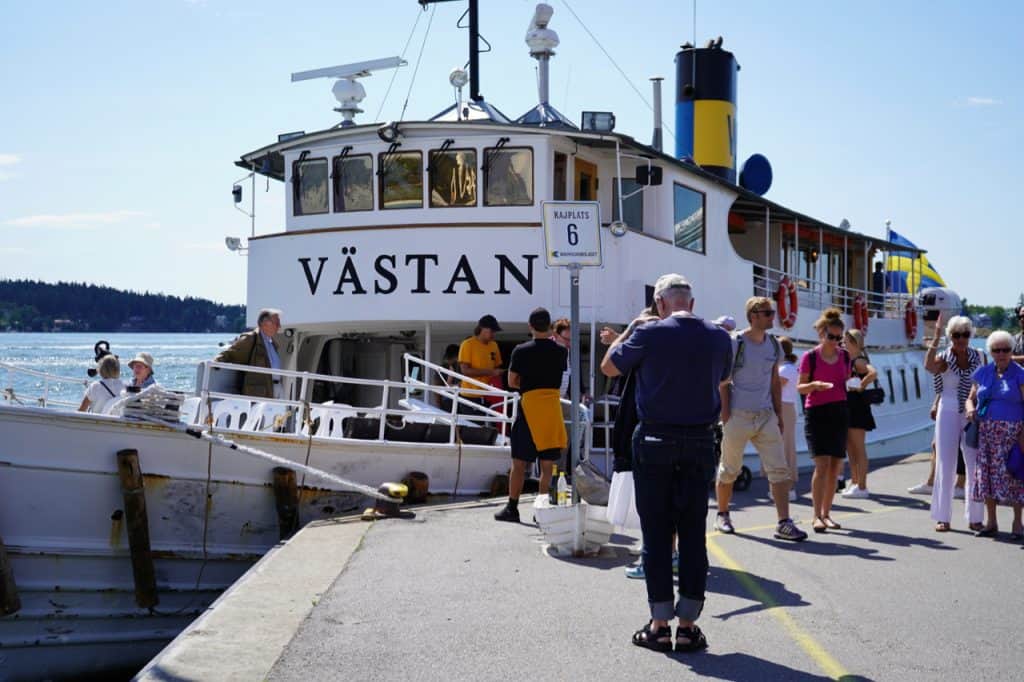 Exploring Vaxön
My first sight on the island was of Waxholms Hotell – the island's main accommodation spot. Tourists strolled around the quayside.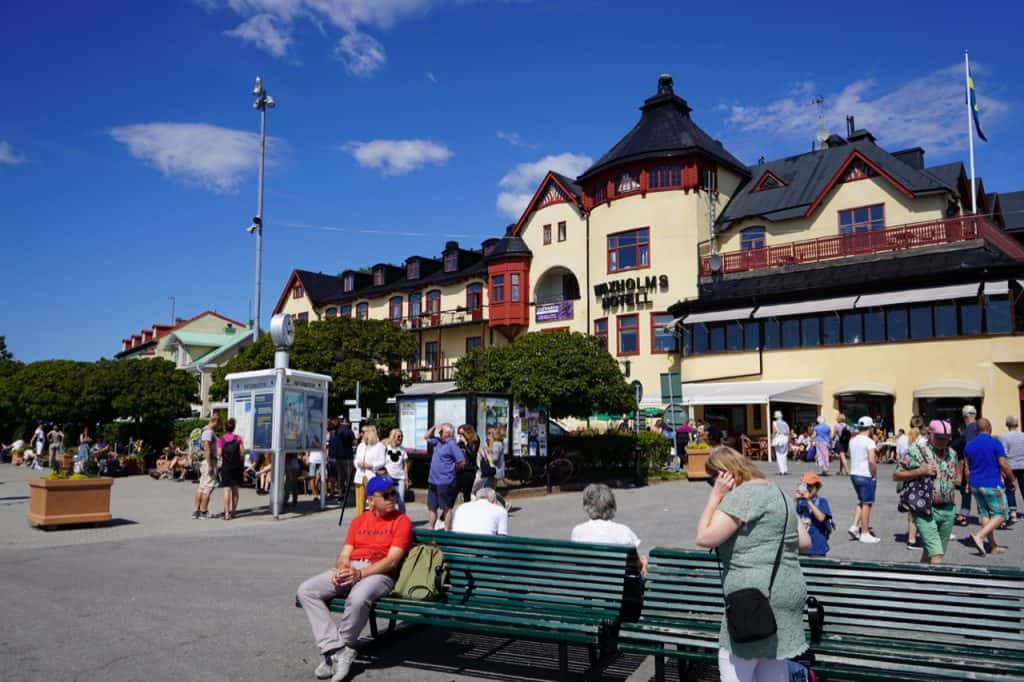 Attached to the hotel was a little gelato shop. With the sun still shining, and being still quite full from breakfast, I decided to skip lunch and go for something from "Glass på Hörnet" instead.
The small shop was doing a roaring trade.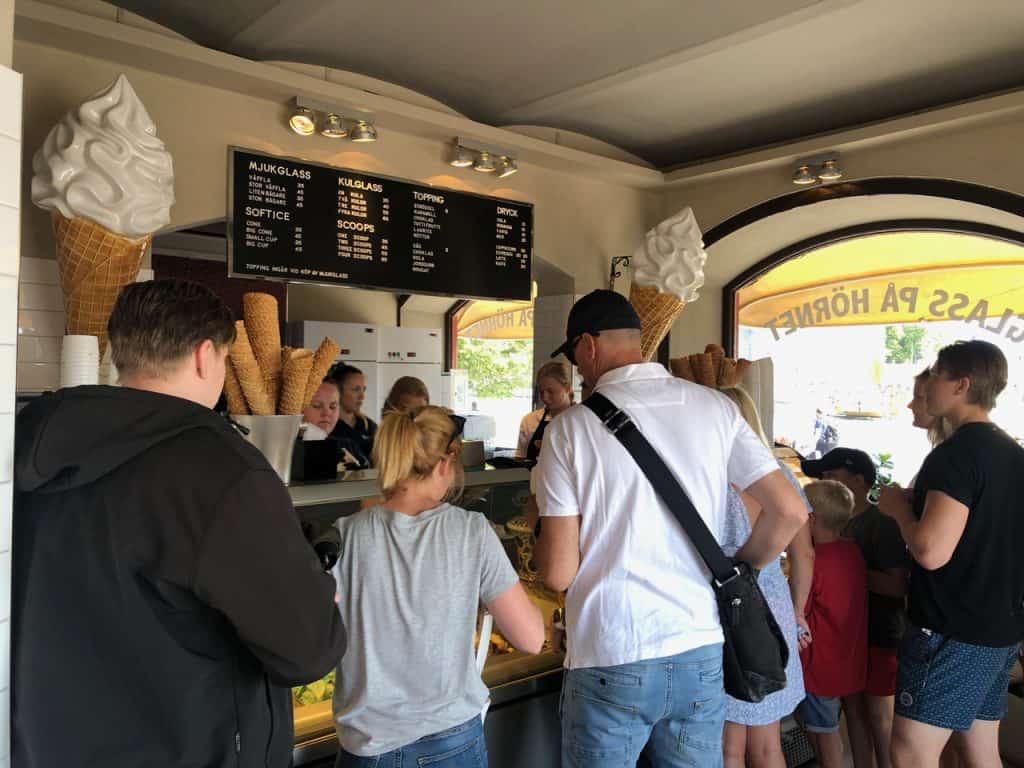 I went for tiramisu flavour in a cone (yum) with chocolate sauce and was surprised by how alcoholic it tasted!
As I frantically licked my ice cream before it began to run down my hand, I set off to explore the island.
There wasn't much along the seafront apart from a couple of cafés and restaurants, so I wandered down what seemed to be the only real shopping street, which was pretty quiet.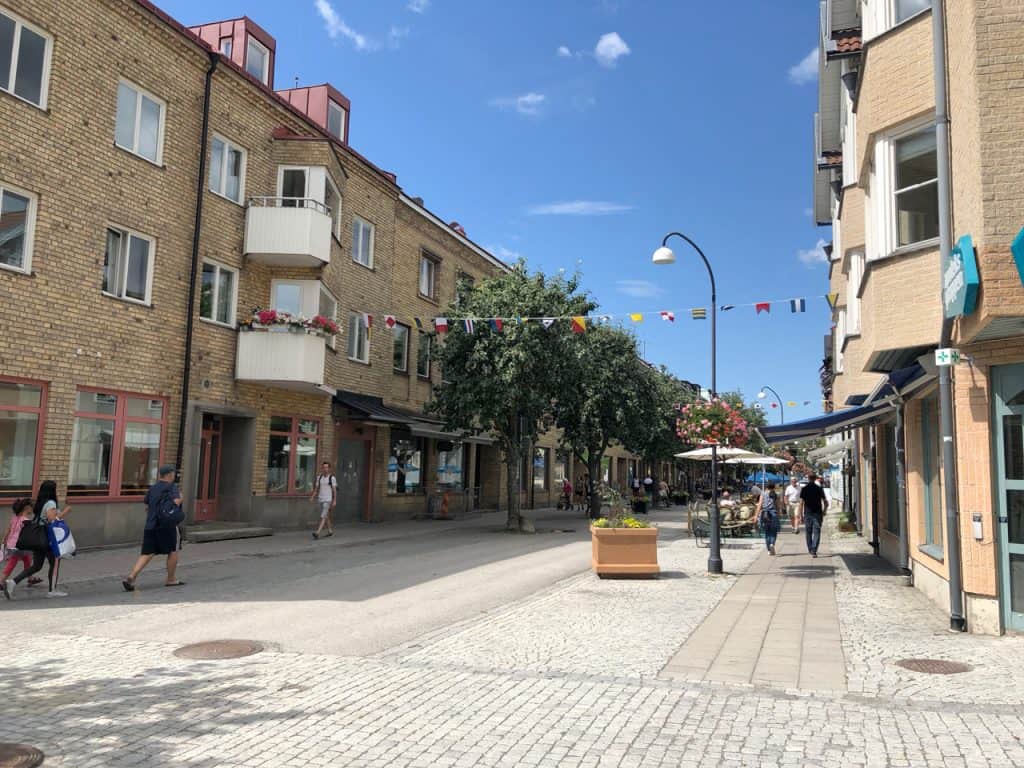 I had a quick look in a cute toy shop and spotted a possible present for my nephew then took a turn up a cobbled side street and stepped into a little shop called Bland Kobbar & Skär.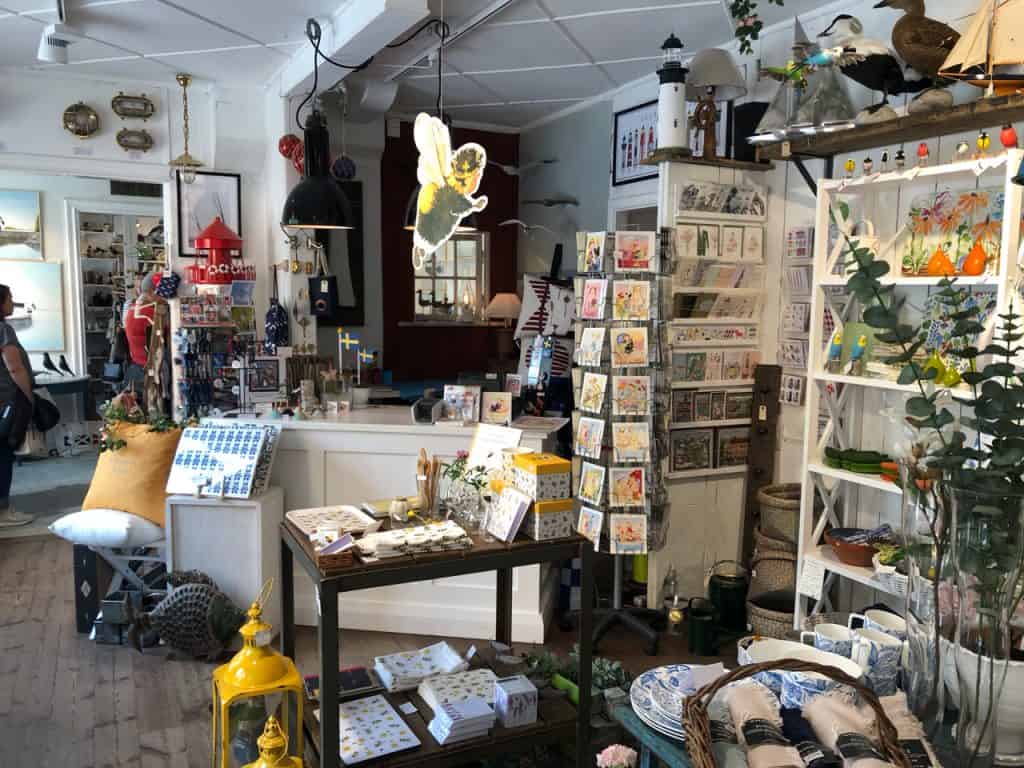 I bought a postcard and a fridge magnet designed by a local artist as souvenirs for myself, and then spotted the Tourist Information Centre – located in the town hall.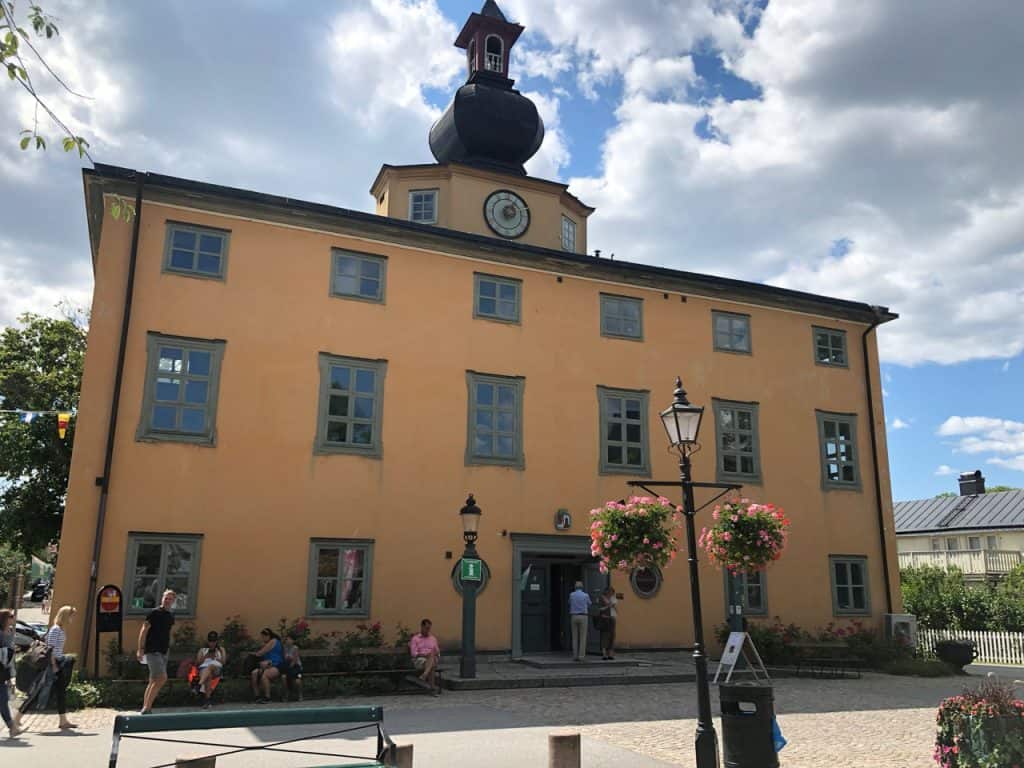 Inside, a really helpful lady gave me a map of the island and suggested how I spend my time. I'd been quite keen to hire a bike, but she advised me to walk, as a path circling the island contained lots of bumps, peaks and troughs. She told me it would be very difficult to get lost, but once I told her how rubbish I was at following maps then said she was a bit concerned – bless her! I turned around to see a queue of four people had now formed behind me, so bade her a farewell and set off.
The lady had explained it should take just an hour and a half to do a full circuit of the island – but there was a shortcut around half way around which would cut that to about forty five minutes if I decided to take it. With plenty of time, even with stops built in, I decided to try the full route.
Pretty quickly I was out of the town centre, and passing cosy looking little houses covered in weather-beaten paint.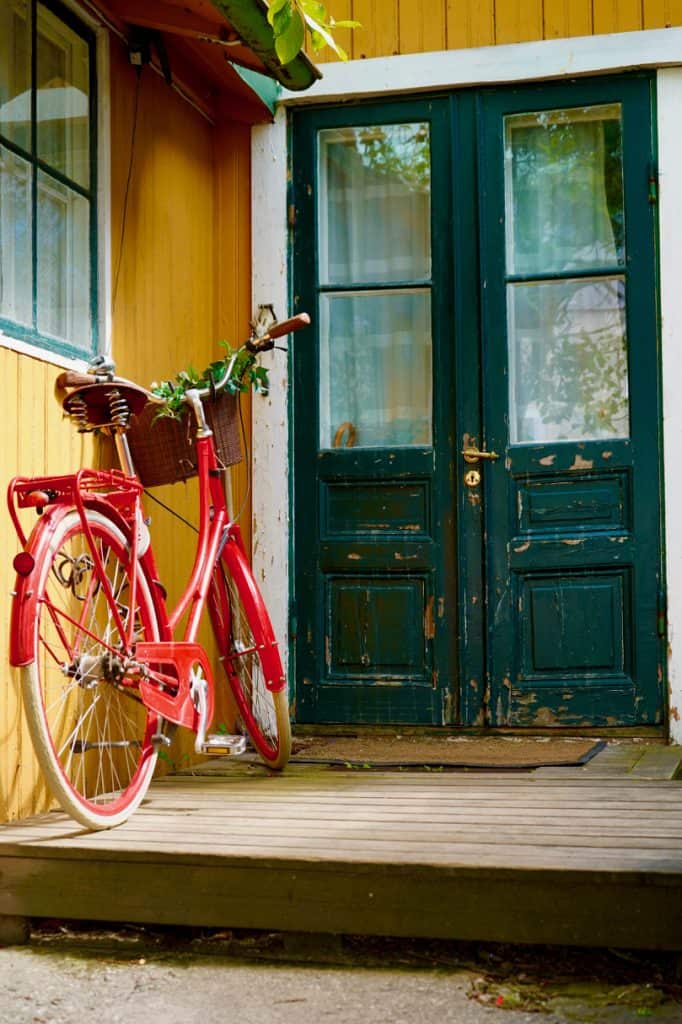 Soon I'd reached the first of the little attractions the lady in the Tourist Information Office had marked out for me – a sculpture garden, gallery and cafe called Roddarhuset.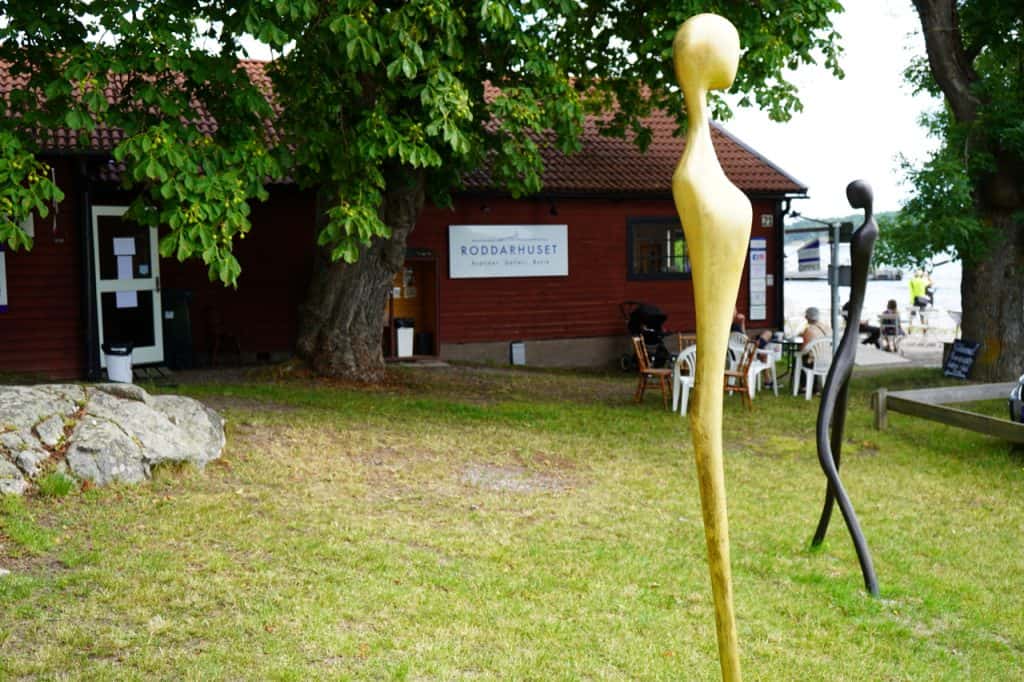 After a quick peek around the very modest gardens, I wandered inside the building housing the gallery and café. I was surprised by what I saw inside. Rather than the little local exhibition I'd been expecting, the art (even to my untrained eye) looked to be of really high quality, and that was reflected in the prices.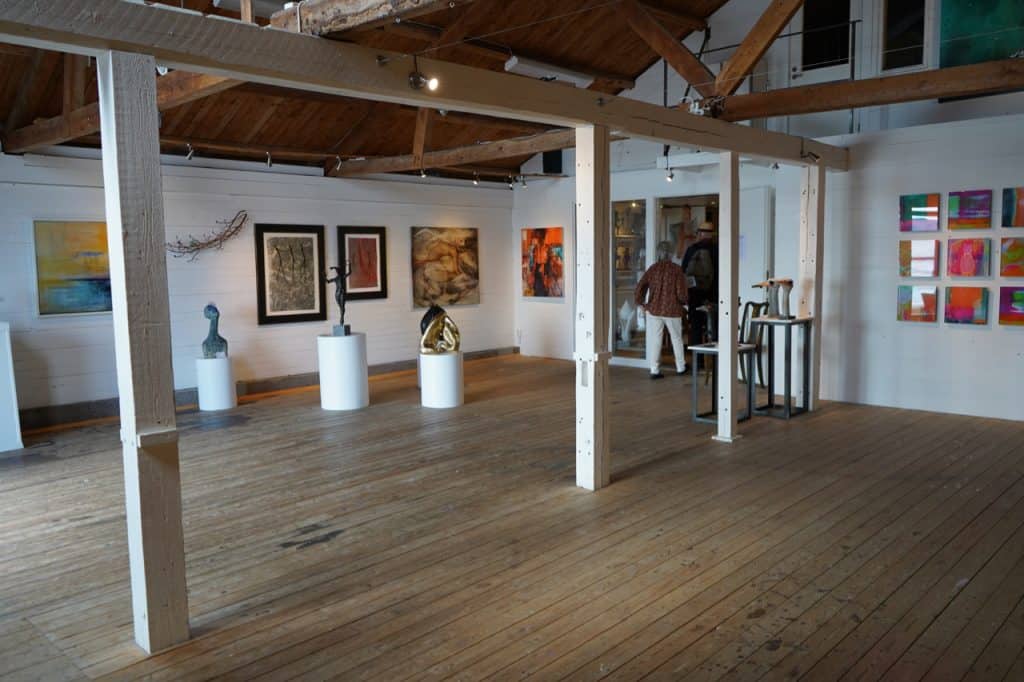 Walking to the back of the gallery, little glass herring caught my eye. They were made by a local artist, Morgan Persson. In shades of black, blue and clear glass; I picked up a dark blue one and ran my finger over it.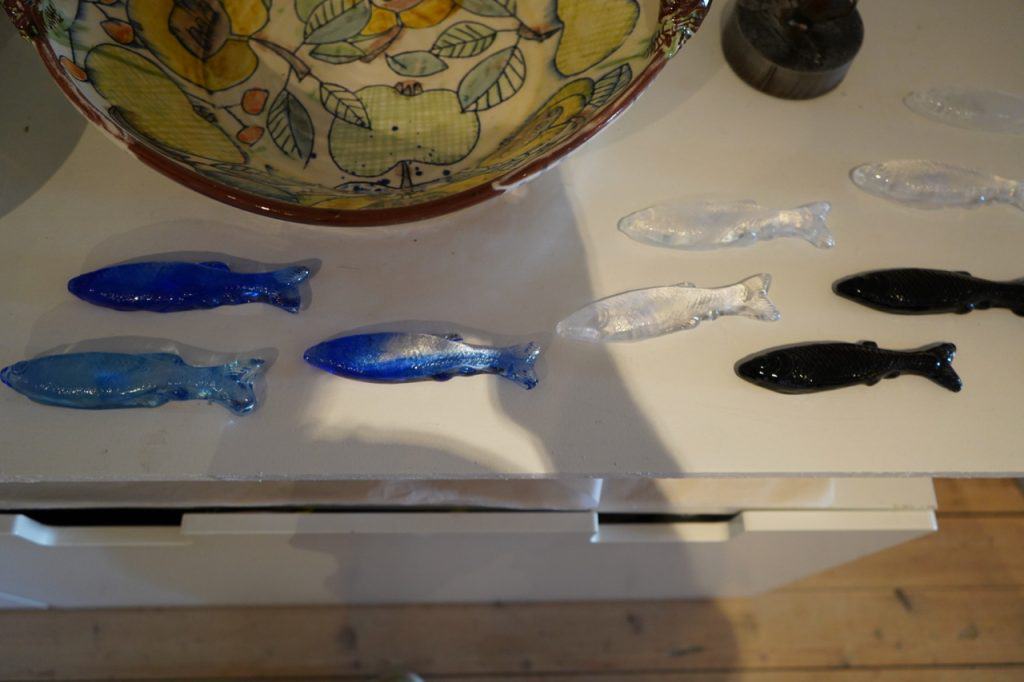 I decided to buy one as yet another souvenir from Vaxholm – I could always use it as a paperweight!
I paid for it and a coffee (to which you helped yourself from a big flask) – in the attached cafe and went to sit outside on a veranda. It was a picture perfect view. All I could hear was the gentle murmur of people chatting in Swedish.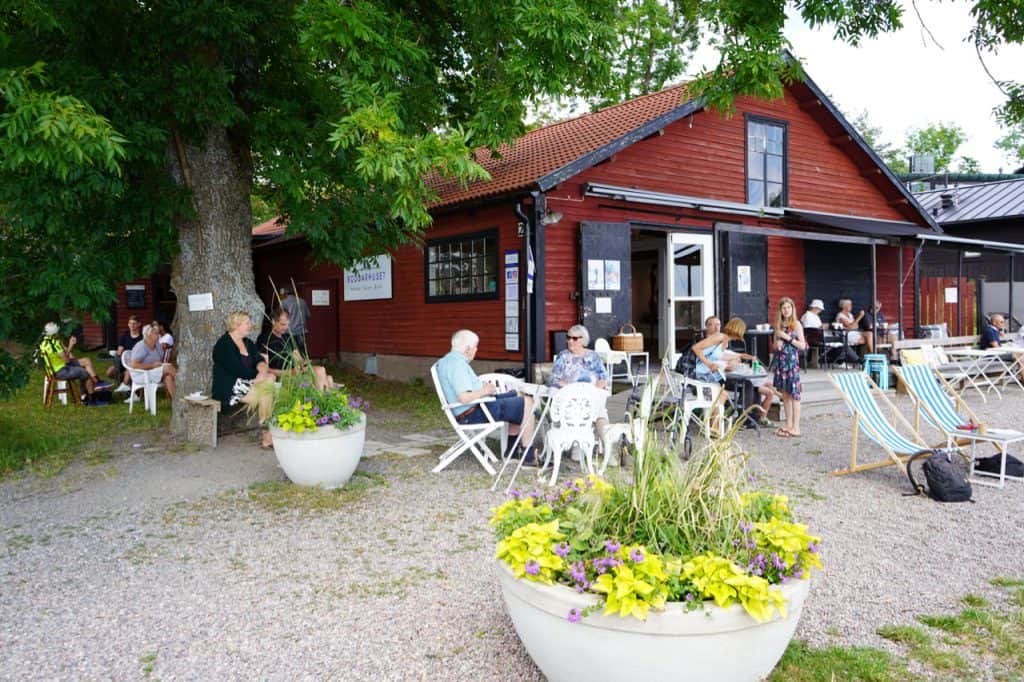 After sitting for a while, I got up and carried on with my trek around the island. Soon houses gave way to just trees and grass, with a path meandering through them. Every now and then as I walked, the trees would clear to offer a glimpse of the calm sea – sometimes with a little jetty and bench from which to admire the view.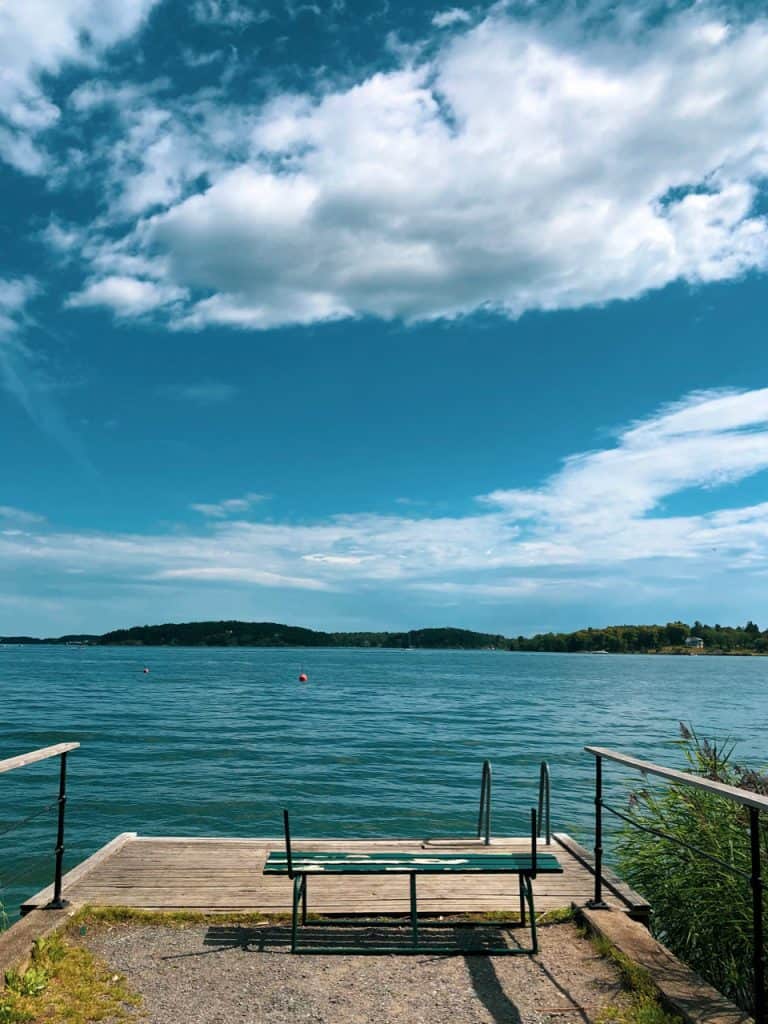 As I carried on walking, I was happy as Larry (whoever he was). The scenery was beautiful, the sun was shining – it was just so idyllic. If I was a dog, my tail would have been wagging. Occasionally as I walked I'd come across a rocky inlet where sunbathers lay, and kids splashed around in the clear, blue water.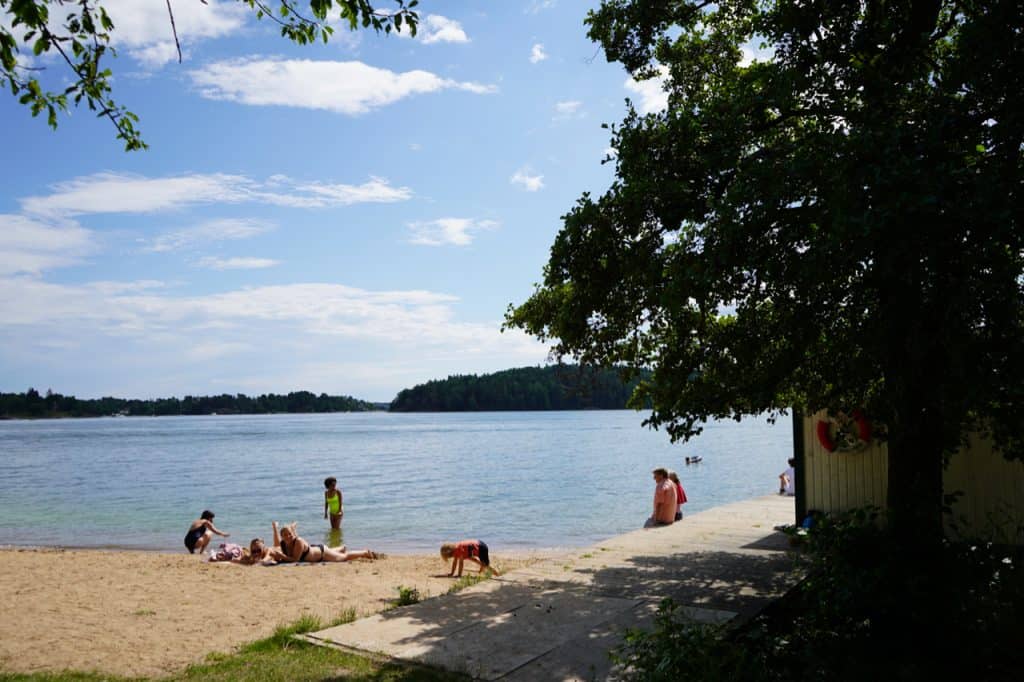 Around a corner, I – and a couple of walkers ahead of me – got a bit confused. There, the path we'd been following reached a much bigger path snaking away from the water, while what looked like a tiny dirt track led between a couple of old buildings. While they took the big path, I decided to take the dirt track, figuring the trek marked on my map stayed beside the shore at all times.
Soon that led me into a forest, with the ground undulating beneath me – a bike definitely would have been out of the question here. The path went up and down as it twisted its way through the trees, but it was never too steep as to become a struggle.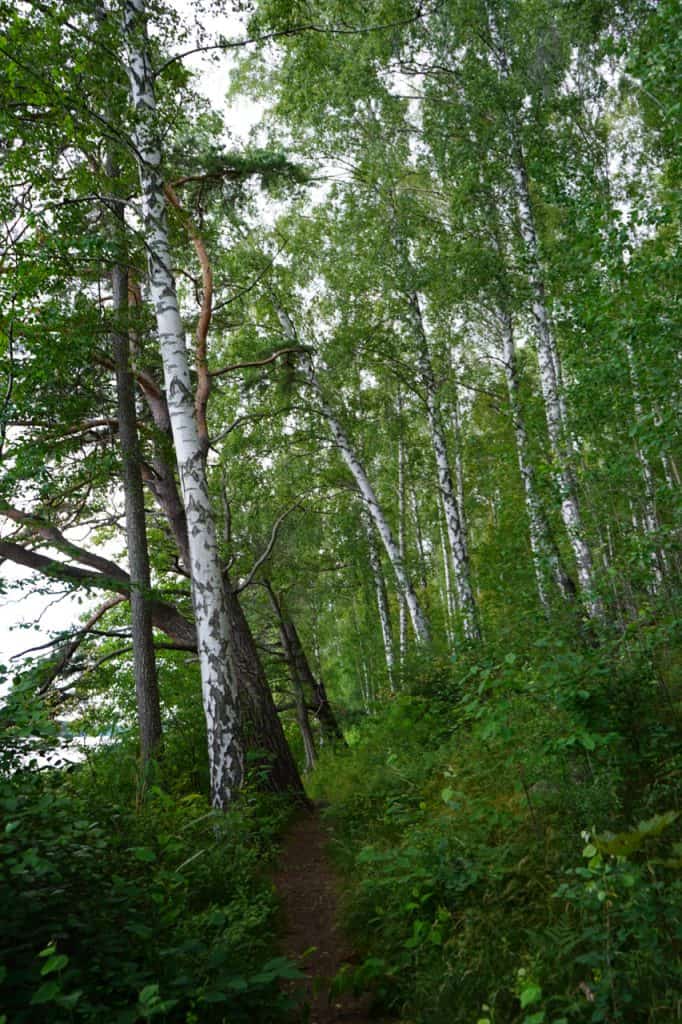 As I walked I slowly realised the blue had disappeared from the sky. Now it was covered in a thick blanket of cloud – rather ominous looking cloud – which I quickly surmised contained rain.
If you remember, with guaranteed sunshine, I'd left my umbrella back at the hotel. I was wearing shorts and a t-shirt and I was in the middle of nowhere, having walked a good 30 minutes away from town. I felt a light splash on my head, quickly followed by another, before the rain started coming down in droves.
I grabbed some shelter under a tree, and looked at my map. I was near the shortcut the woman in the tourism office had pointed out – so after a while standing to see if the rain would stop I decided to make a move and head for that.
As I walked the rain became heavier and heavier. I held a brochure from the tourist information centre over my head to provide some cover, but pretty soon it was soaked through. I reached the end of a residential street, and tried to shelter again under a tree while the sky began to brighten but the rain continued.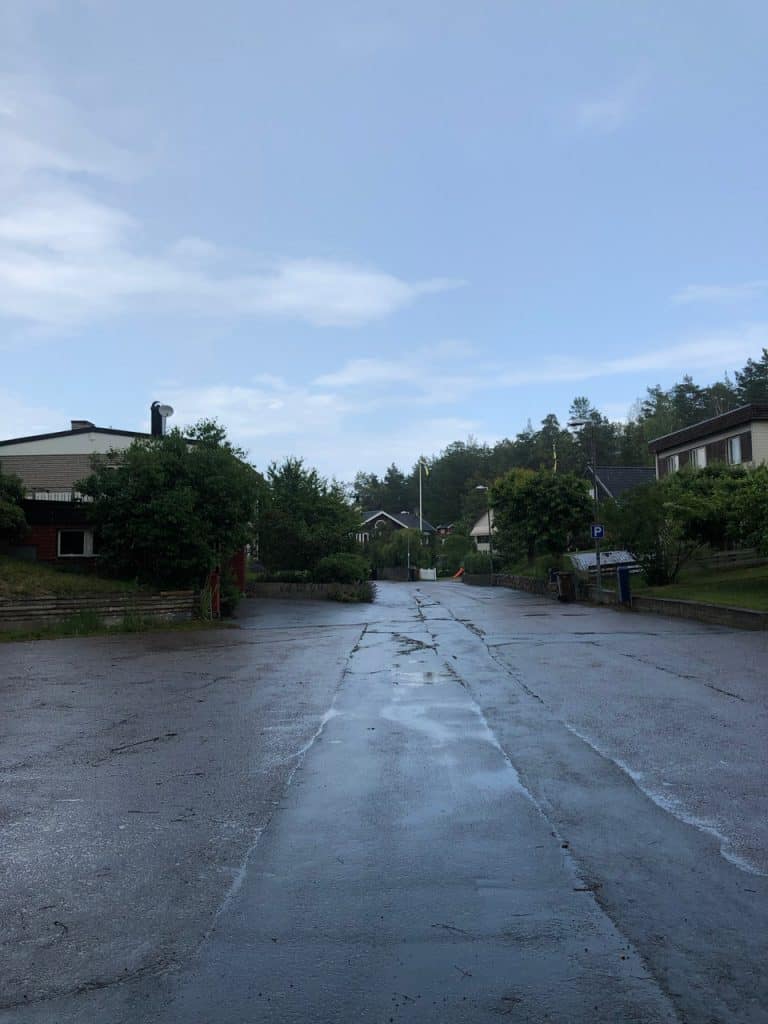 I was feeling pretty sorry for myself by now. What was I going to do? I was literally – I felt – stuck. If I waited for the rain to go off, I could be standing there for an hour. I decided to carry on walking. After walking up the street with houses, soon I was on what looked like a main road – but with no more homes or other buildings.
I opened up my phone to see if I could get a bus back to town. Google Maps didn't bring up any result, so I started trudging in the right direction. Before OBVIOUSLY a bus flew past me. GRRR!
Not long after a local looked at my makeshift hat and told me 'too late for that!" cheerfully, the rain lightened then stopped completely. Thank goodness for that! Walking back towards town I passed a school and a couple of brand new looking apartment blocks…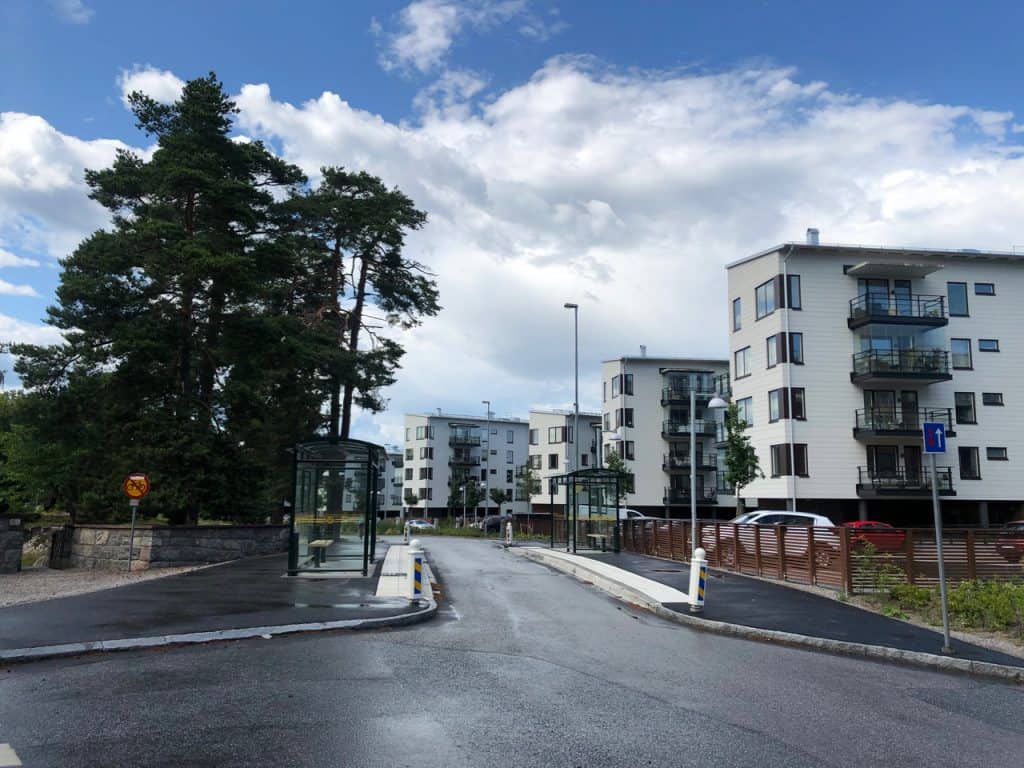 …before I quickly began to realise I must be getting close to the centre again. A tiny cinema confirmed it.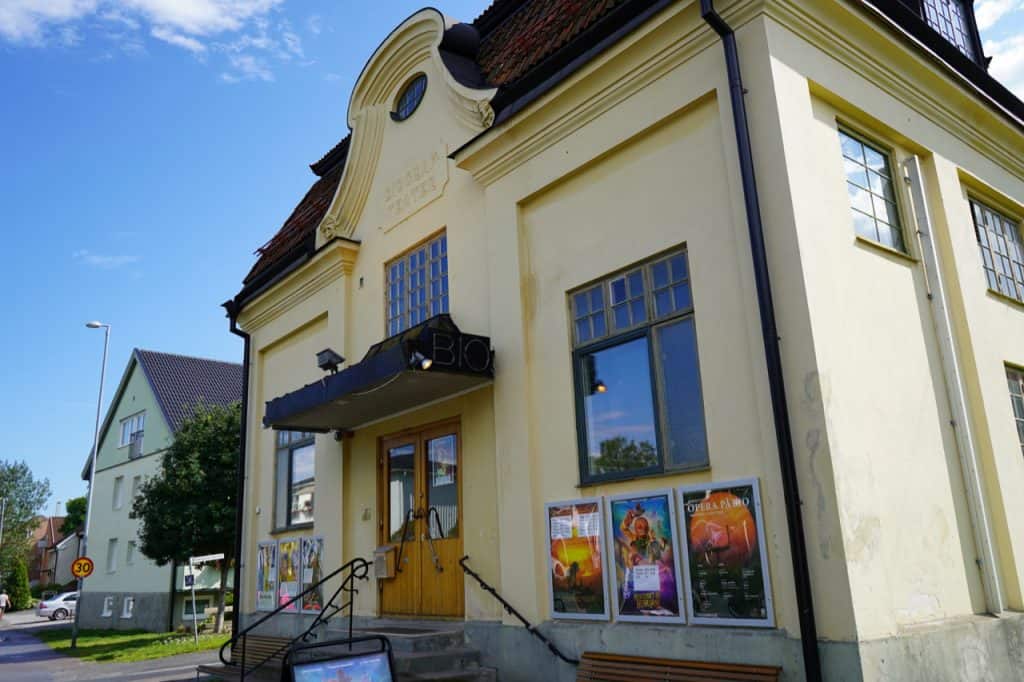 Before I knew it, I was taking advantage of the toilets in the town hall. With the sun out once more, I headed back to the toy store I'd visited earlier to pick up the present for my nephew.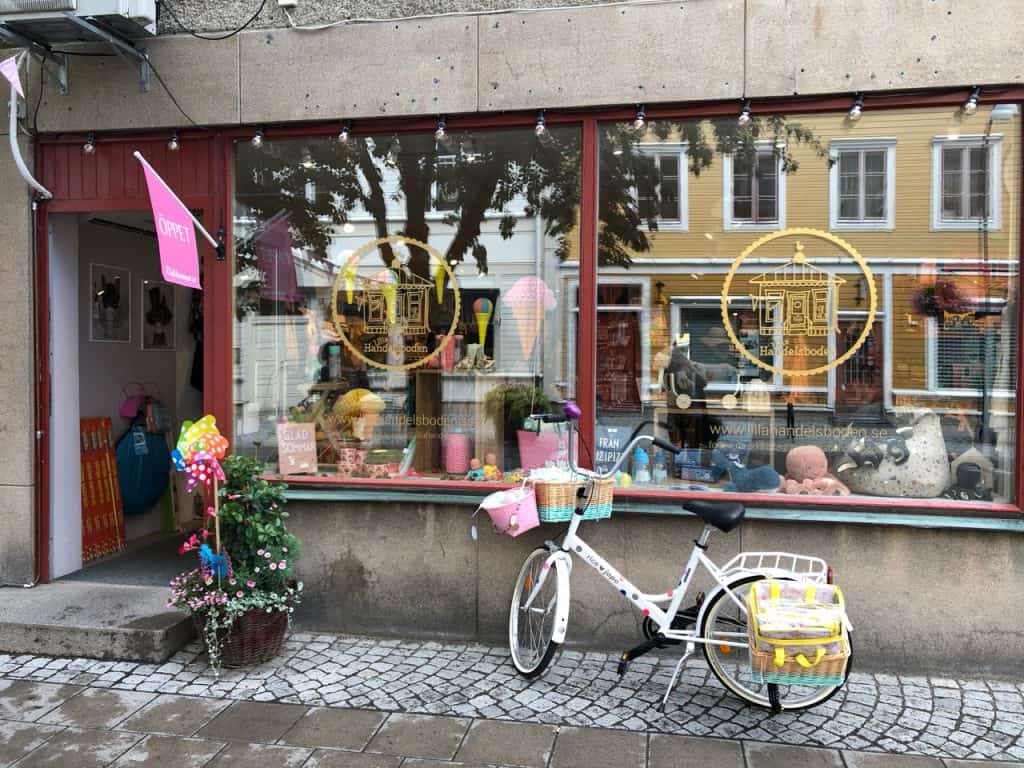 I hadn't totally taken the shortcut route back the lady in the tourism office had recommended – there was a part of town with old houses that I'd missed out in desperation to reach the loo.
Before going to check that area out though, I wanted to have a look at what's the main tourist attraction in Vaxholm – its fortress which is situated on a little island just adjacent to the one I was on. By now it was around ten to four, and with a museum there closing at five, I didn't have much time to spare.
Vaxholms Fortress
To get to the fortress you have to take what is probably the shortest ferry ride I've ever been on. Covering a distance of just 200 metres, the journey takes two minutes. As I waited for the cable boat to pull up at our jetty, I gazed at the water thinking I could swim over to the fortress faster than I'd get there waiting for the boat to arrive and depart again.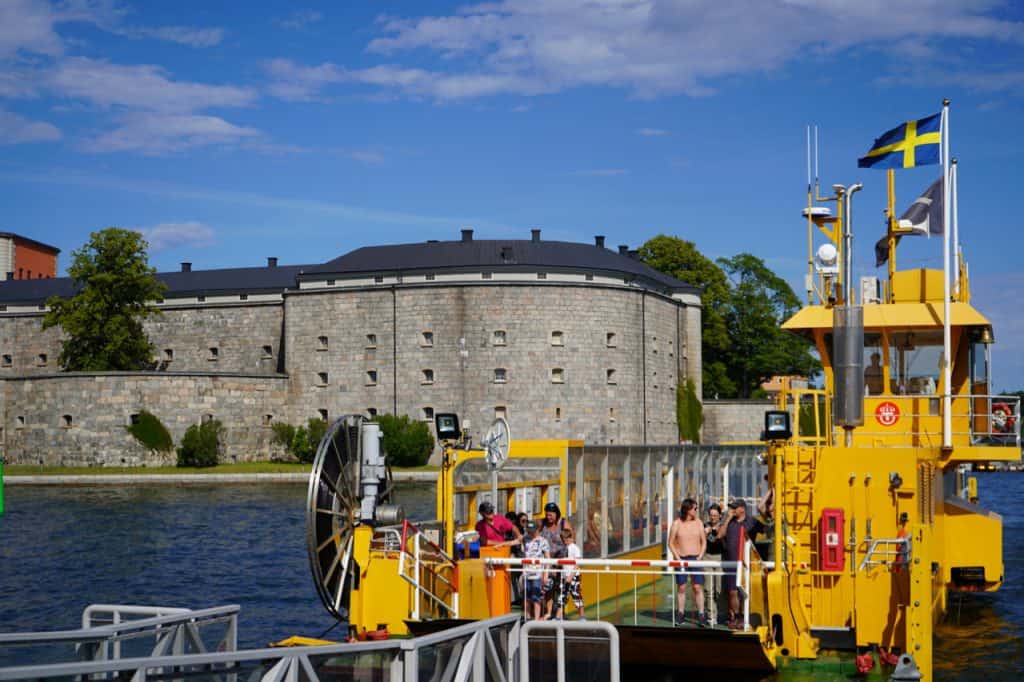 After paying a 40 Krona fare, I boarded the boat with other tourists, and soon the cable drum slowly sprang into motion. A hundred and twenty seconds later we docked almost right beside the fortress entrance.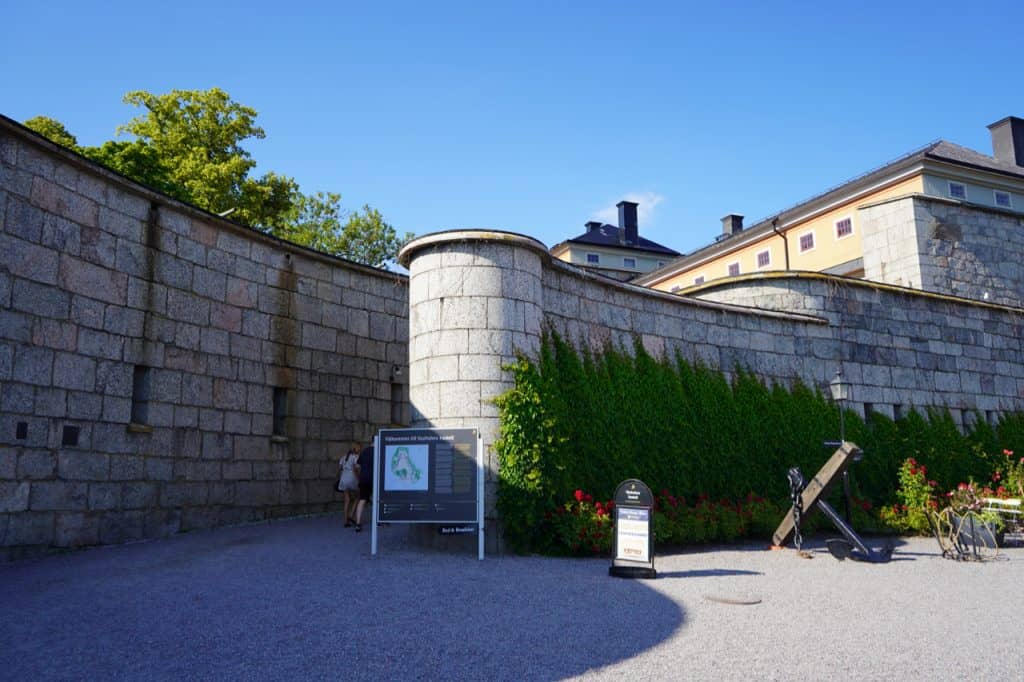 After walking up a curved driveway, I came into a big open courtyard, surrounded on all sides by the fortress. What I hadn't realised is that the museum I planned on visiting took up just one small part of the building. There was also a gallery, a shop, and a bed and breakfast with a restaurant.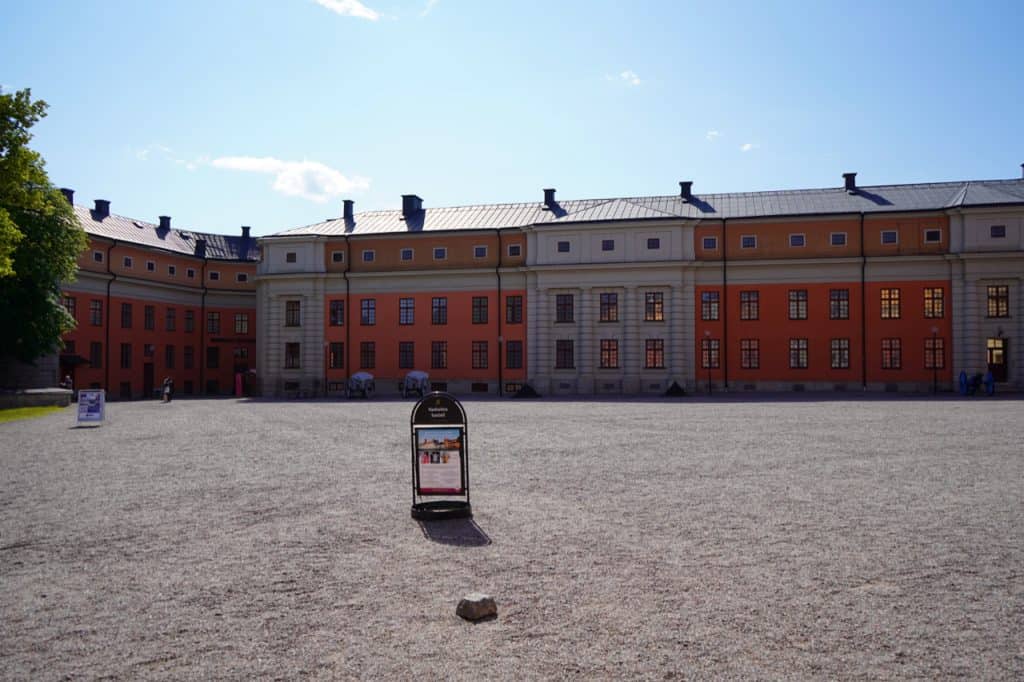 I spotted the entrance to the Vaxholm Fortress Museum over in one corner. As I wavered over whether or not to pay the entrance fee and go in, I caught sight of this sign which swayed it for me.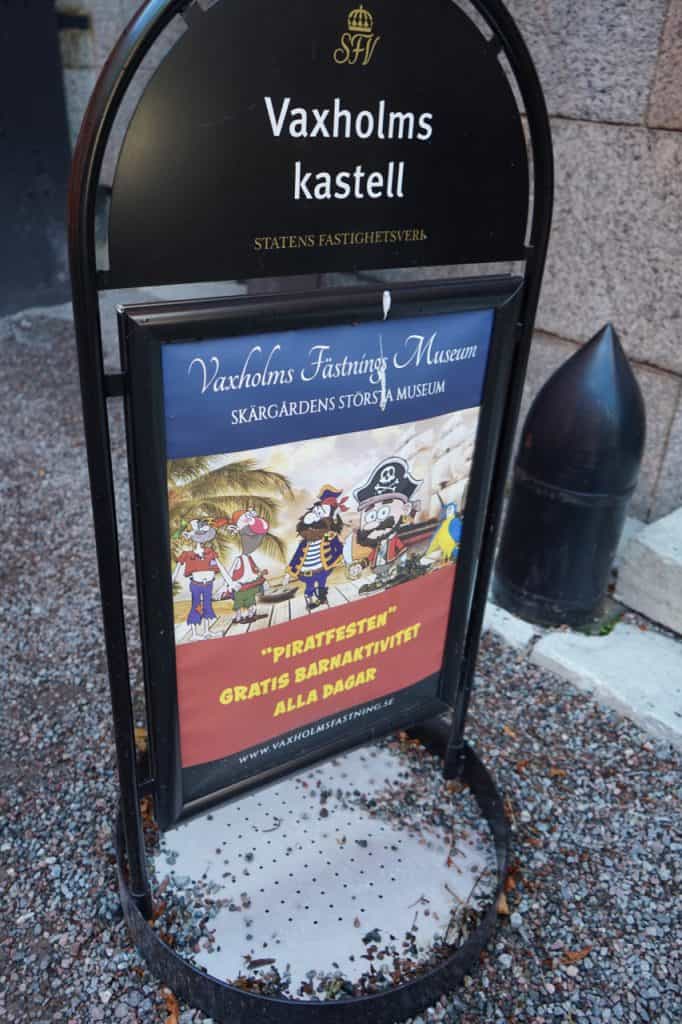 A pirate festival sounded good to me!
I took some stairs up to the small museum shop and ticket desk. The man there explained that I should have time to see everything before closing time if I moved quickly.
I'll confess, I usually find these kind of old building museums a bit dry and dull. I'm not that interested in military history either, so I wasn't expecting much. Surprisingly this little museum surpassed my expectations!
It's split over two levels – with the first floor telling of the origins of the building, and its roughly pre-20th Century history. Though the current building dates from 1833, its origins actually date from 1544 when the then Swedish King identified Vaxholm as a key point for defending Sweden and its capital.
I made my way around the top floor quite quickly. Though I spotted cute wee elements of the Pirate Festival…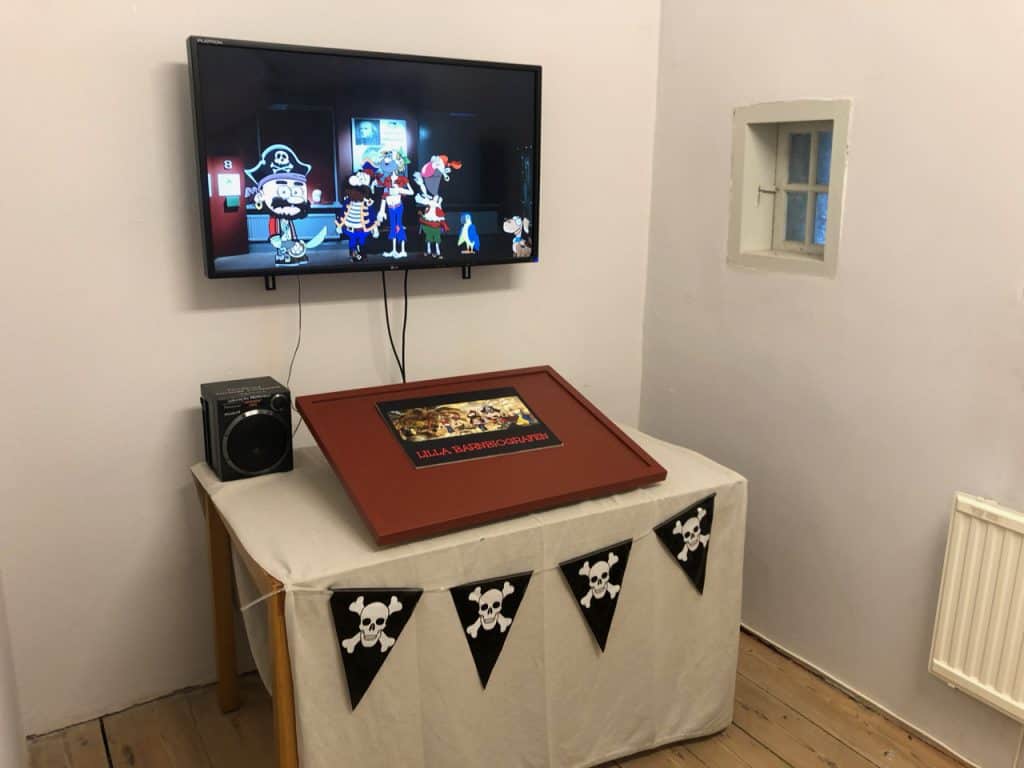 …there were some other interesting things there too. I was intrigued by this optical telegraph which was built in 1794.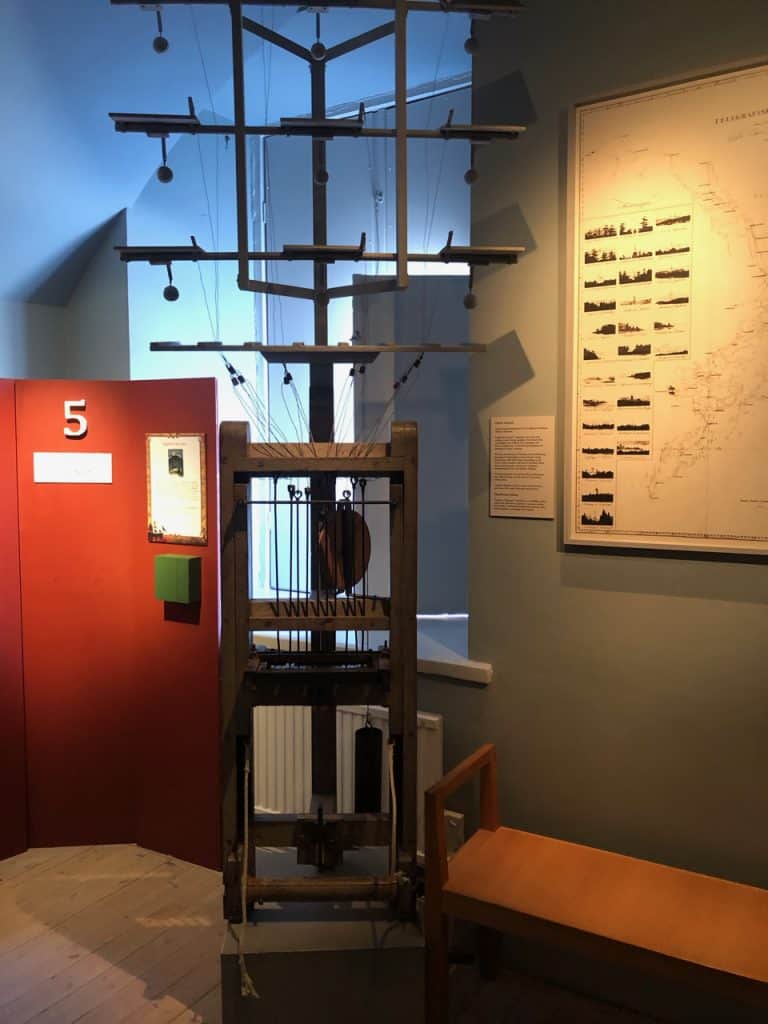 It could produce messages at a rough speed of ten characters a MINUTE. It would have been painstaking spelling anything out with that!
Other rooms explained how from the mid 1700s to 1843 the fortress served as a prison, and there were real mines, cannons and guns on display too.
As I approached the last room on the upper level, I heard a phone ring. Assuming it was a phone in an office somewhere I ignored it, before eventually realising it was in a phone in a display. Lifting the phone up you could hear a Swedish man's gruff voice. What it said was a mystery to me but it intrigued me!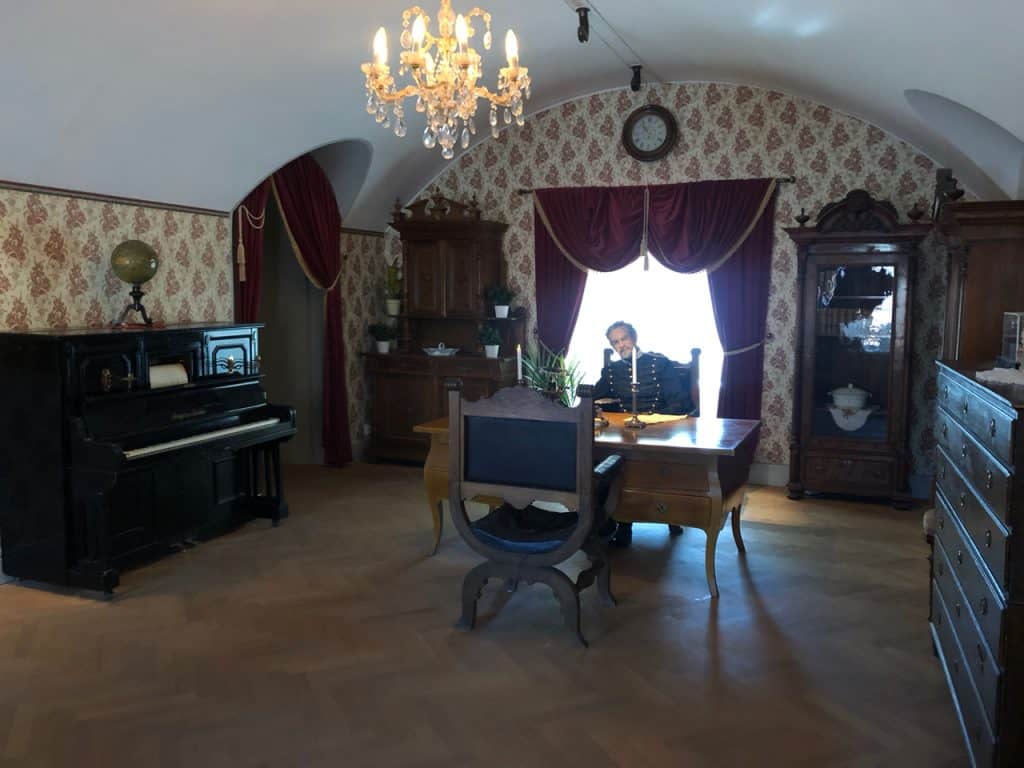 I tried to get a recording of it but no joy 😞. I also saw another pirate themed room – which looked like it was all set out for some kids to have a lot of fun in…
Downstairs was where things got really interesting – telling the story of the citadel in the 20th Century. It was full of really weird stuff the likes of which I'd never seen before. I was standing reading a display in a room when I felt something move behind me – I'll admit it freaked me out! It turned out to be this…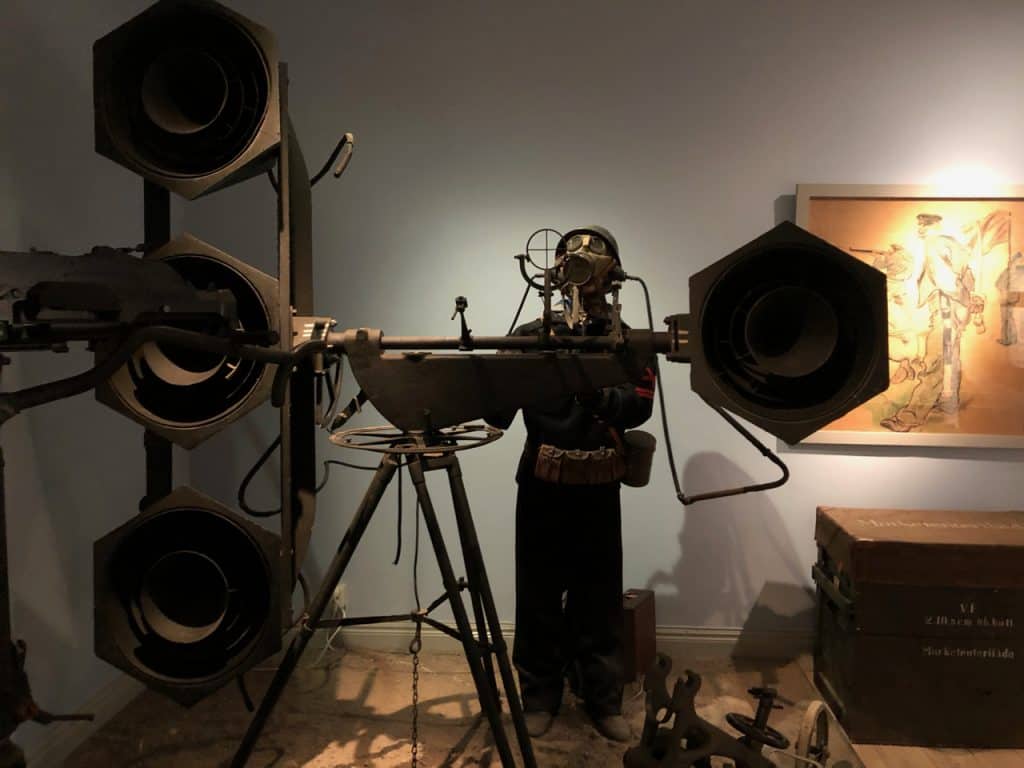 A dummy standing at what looked like something out of a rave or steampunk themed DJ set but was actually listening apparatus used to locate enemy aircraft prior to the Second World War.
There were loads of old pieces of equipment and displays – showing soldiers' accommodation during the war…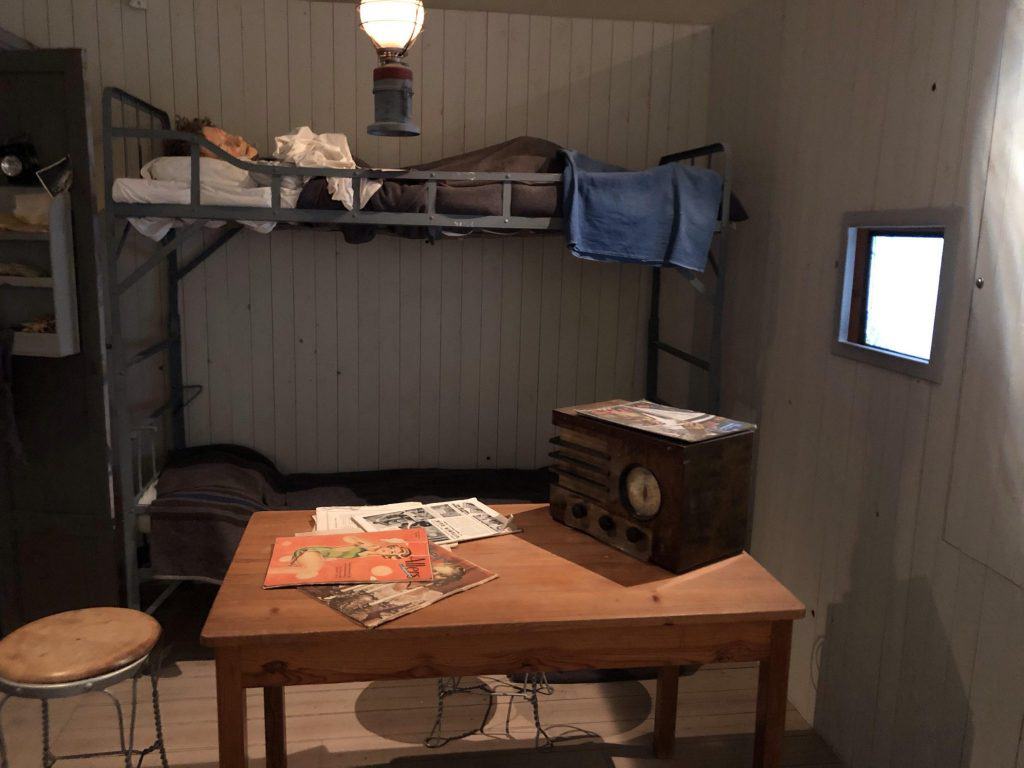 … rooms like this, with a periscope….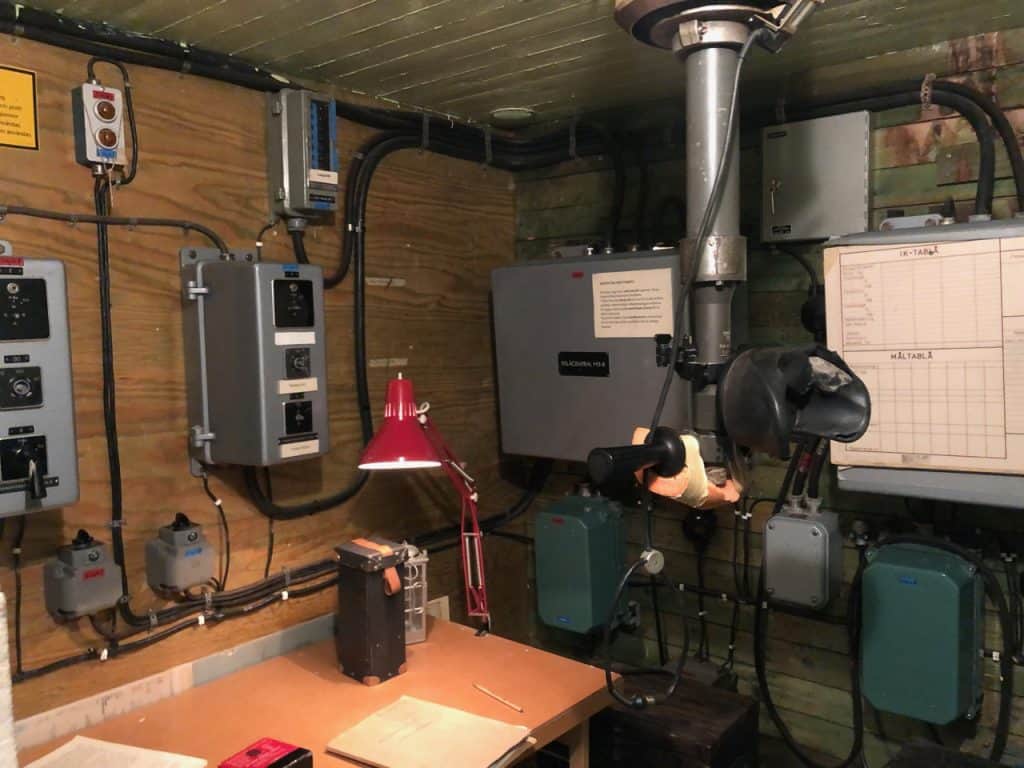 and more big guns!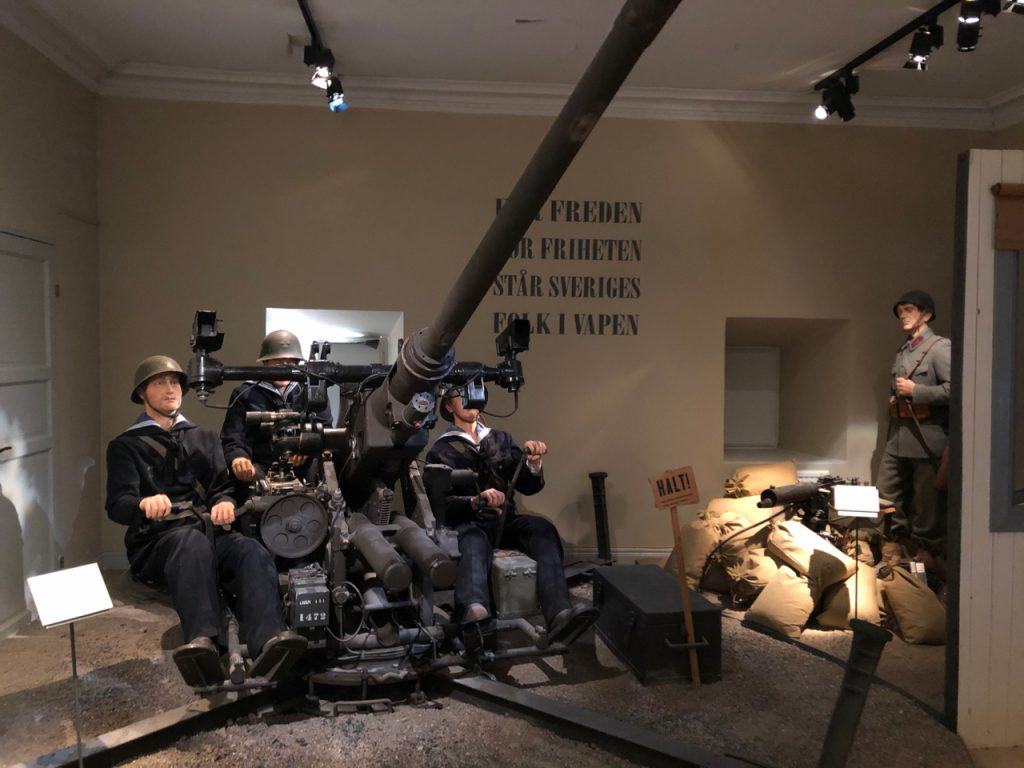 I've got to say I was really surprised by the museum. Given its size and subject matter I really wasn't expecting that much, but I learned quite a bit and enjoyed my visit, so I'd recommend it. Entrance was 80 Krona, or around £7.
Before catching the cable ferry back to the town, I had a quick stroll around the outside of the fortress, admiring the view as I went.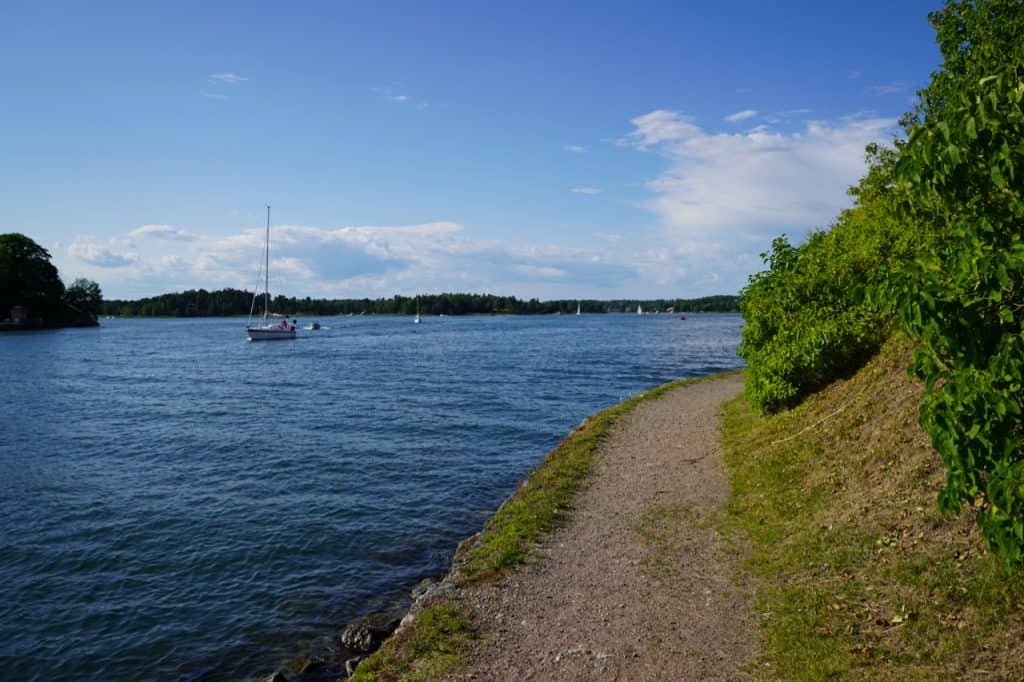 A picture perfect café and dinner
After a short and uneventful ferry ride back, I decided to go and explore the part of the island that contained older houses – the one the lady in the tourist information office had told me about.
I took a right up a small street called Badhusgatan, and ignoring the route marked on the map walked right to its end for a nosey. It wasn't the most exciting view….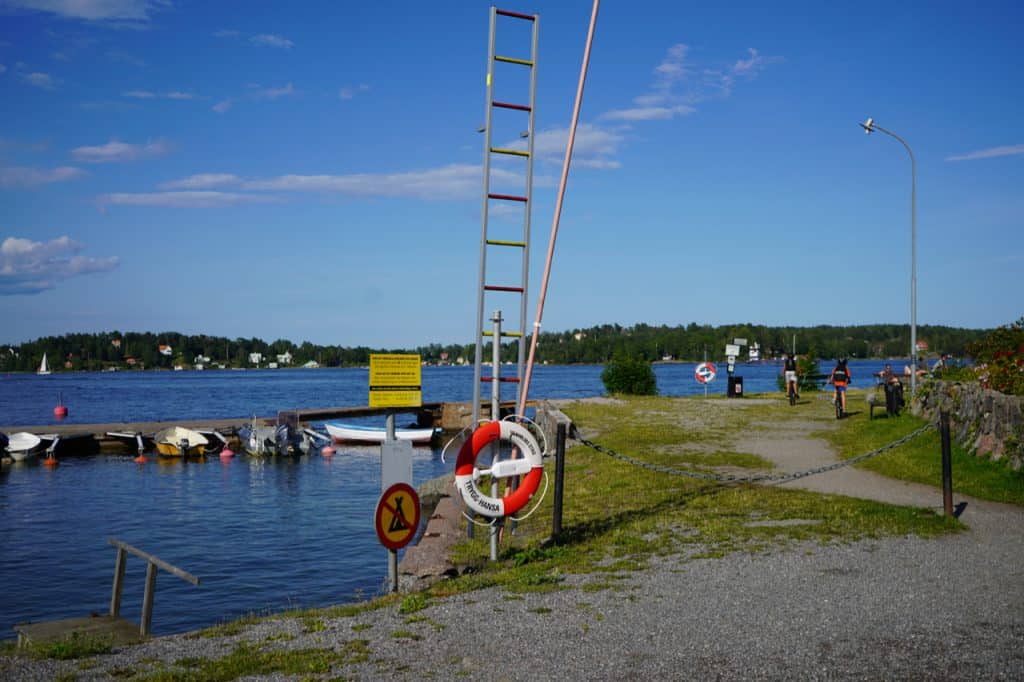 But I decided to walk around the corner and see if there was anything there. At the end of a small grassy area was a little archway made out of a hedge. I hesitated, not sure if going under it would lead into someone's garden or not. Then decided just to give it a go – I could always plead ignorance if trespassing!
I ducked under the archway and emerged into this…
If someone said "Swedish summer" to me, this is what it would look like. Overlooking the sea was a spot laid out with pristine white tables and chairs. Bunting was strung between trees, and families sat having drinks and cake while kids ran around in the sunshine. It's hard to describe really just what a lovely scene it was.
Following the trail of tables and chairs took me past an outside bar to an old building which I quickly worked out was a café. Inside tempting looking cakes were laid out on a big table.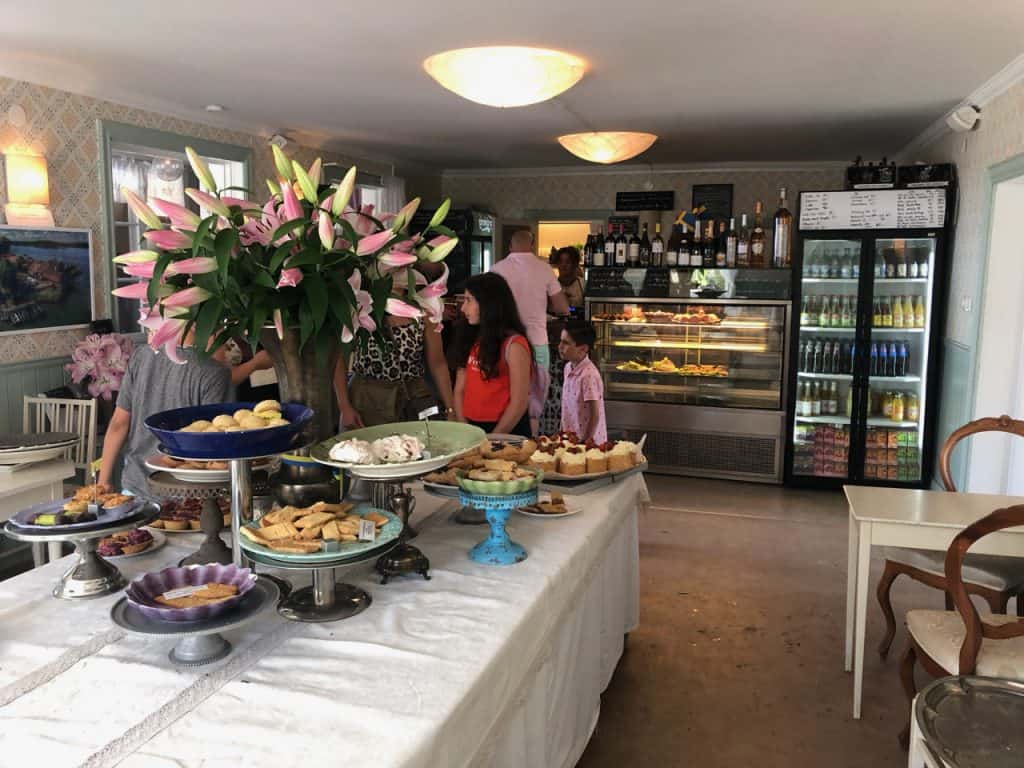 It was just such a gorgeous setup. Looking at the menu, I saw they offered herring, which I was determined to have for dinner while I was on Vaxholm. I was really keen to eat there but it turned out it wasn't to be – they closed at 6pm, and by now it was after half-past five. Reluctantly I grabbed some more photos and walked back out on to the street.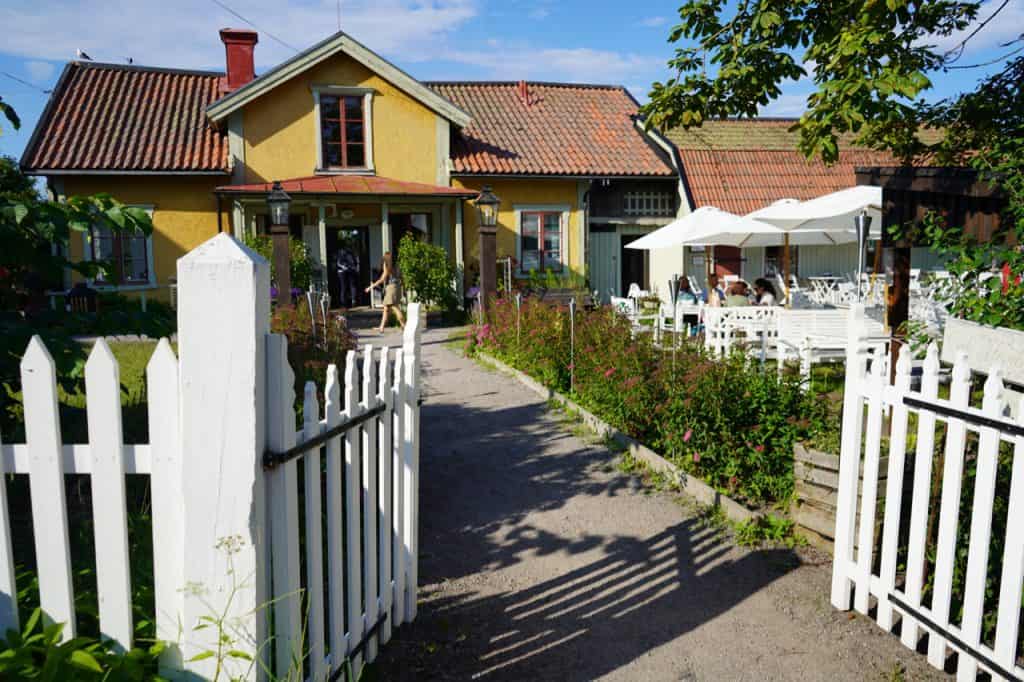 Pretty quickly I came across the old houses, all neat and tidy.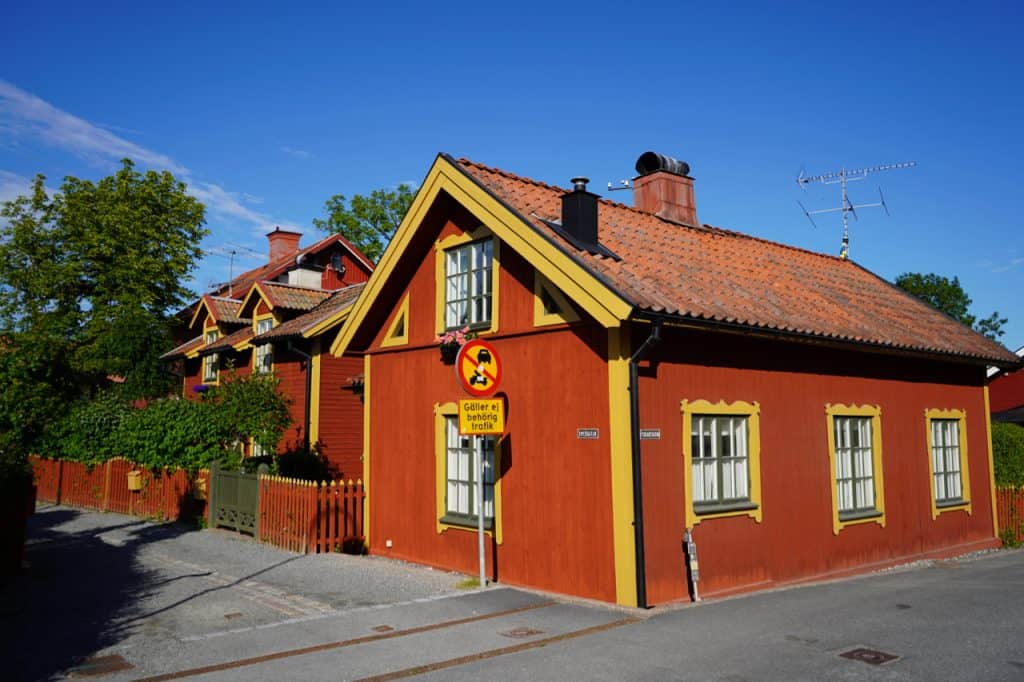 Following a trail down one street, I walked up a small hill, and came to some steps which descended on to a tiny beach. Friends sunbathed together and were having picnics while kids splashed in the sea.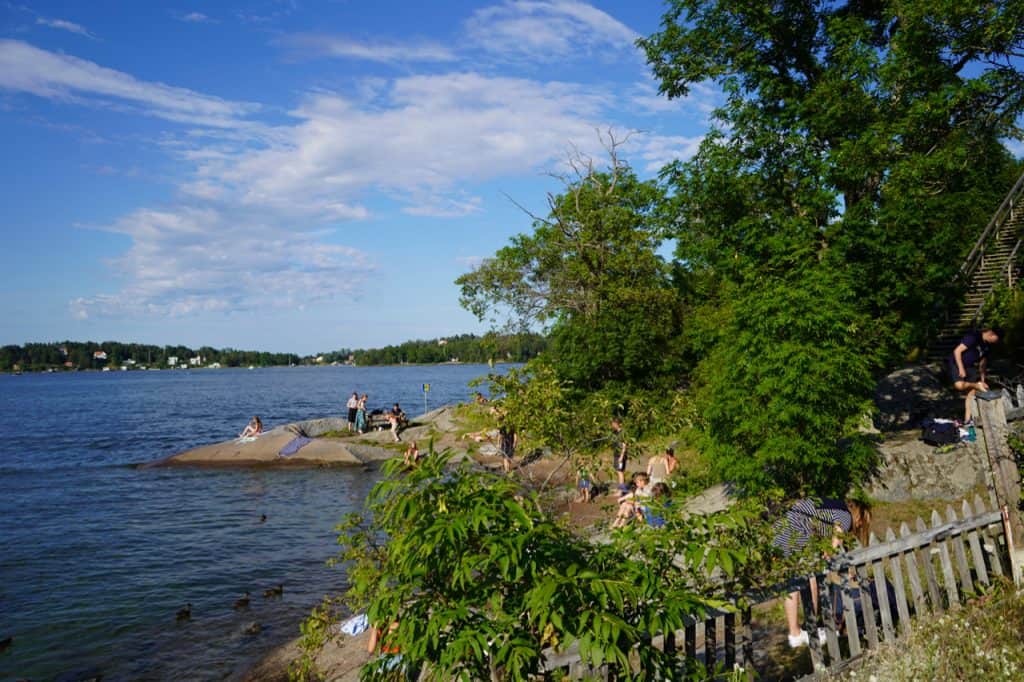 It really made me think that the Swedes have just cracked it – there's something just so calming and attractive about their lifestyle. They always seem so happy, and chilled out – and I could understand why!
Feeling happy and chilled out myself, I headed back towards town, and chose the Waxholms Hotel's bistro, Lilla Strand, for dinner.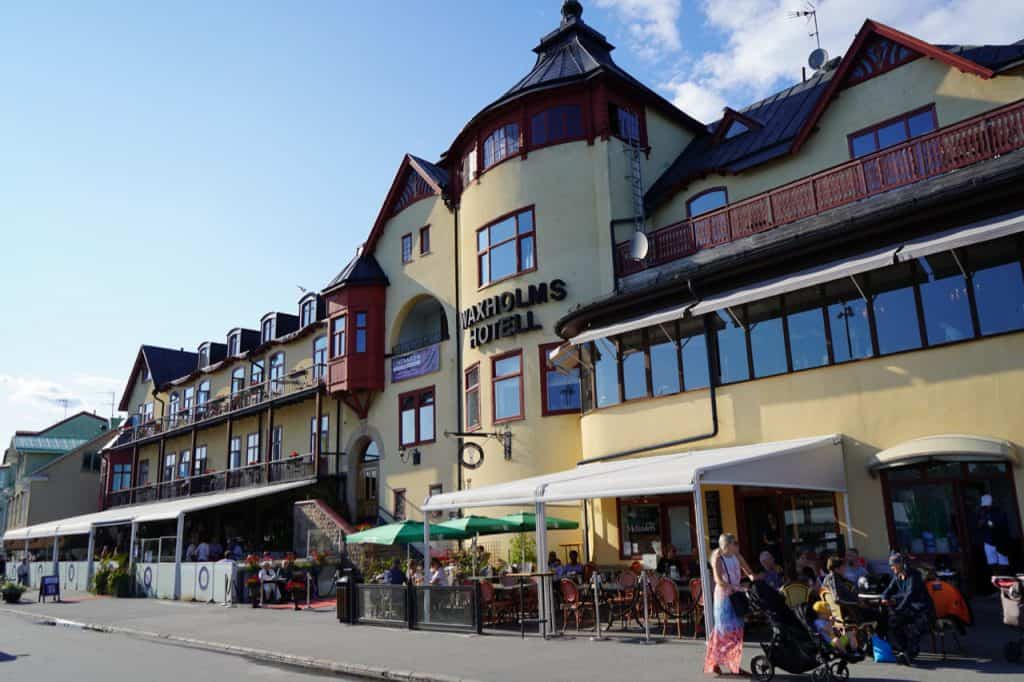 I took a seat on a shaded veranda and decided straight away I was going to go as traditional as I could with my choices from the menu.
It was going to be seafood all the way! To start with I ordered smoked shrimp from a local smokehouse with focaccia and a pot of aioli.
When they arrived I was gobsmacked for two reasons. 1 the portion was massive! There were at least twenty shrimp. 2. They still had their heads and shells on 😩 which meant a lot of work and very messy fingers!
They were worth it though – it was absolutely delicious. And they looked as good as they tasted too.
Next, it had to be herring for a main. There were two options here – one with mash and lingonberries, but as I'd had that with meatballs two days previously, I decided to go for the second option. A herring burger – with cumin-spiced Swedish cheese and a dill mayonnaise. It arrived looking very, very tasty – if again somewhat bigger than I'd expected!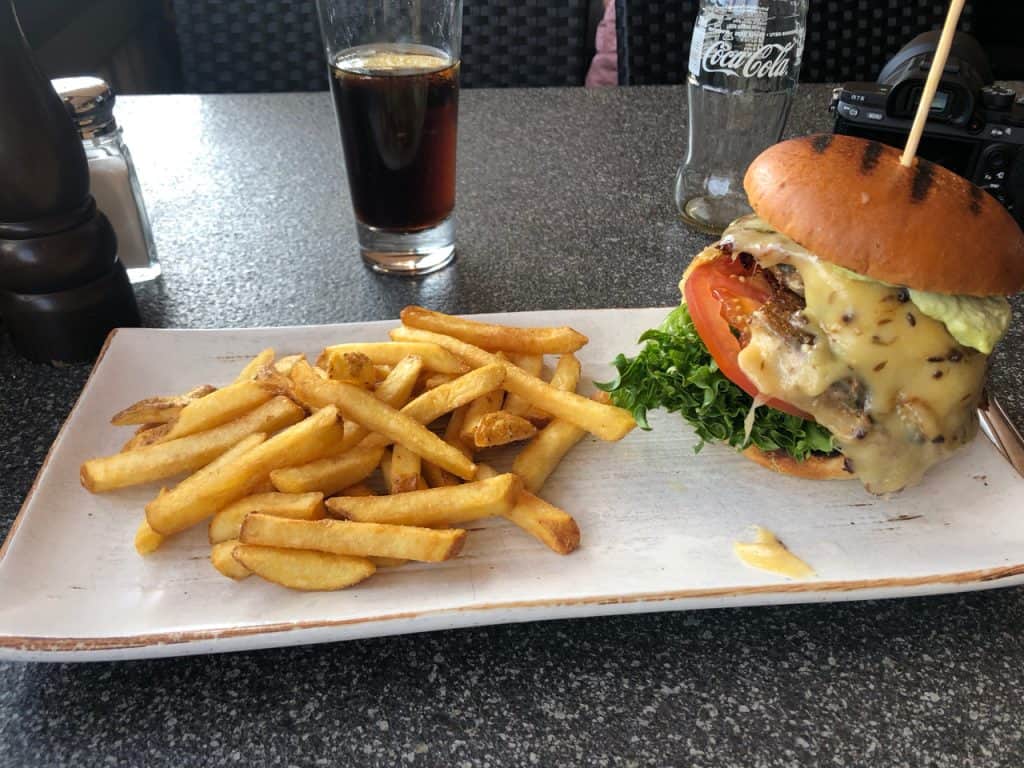 It was again delicious, despite the herring being somewhat overwhelmed by what seemed to be about twelve slices of cheese. To be honest though I couldn't finish it – for perhaps the first time in my life it was a burger that was simply too big for my stomach 😩
With a Diet Coke as a drink, and including service, my two course meal came to 383 Krona which worked out at about £32.50. After successfully getting my stomach out from underneath the table, I nipped inside to the toilet. Coming back I noticed this intriguing sight. I have never seen this before!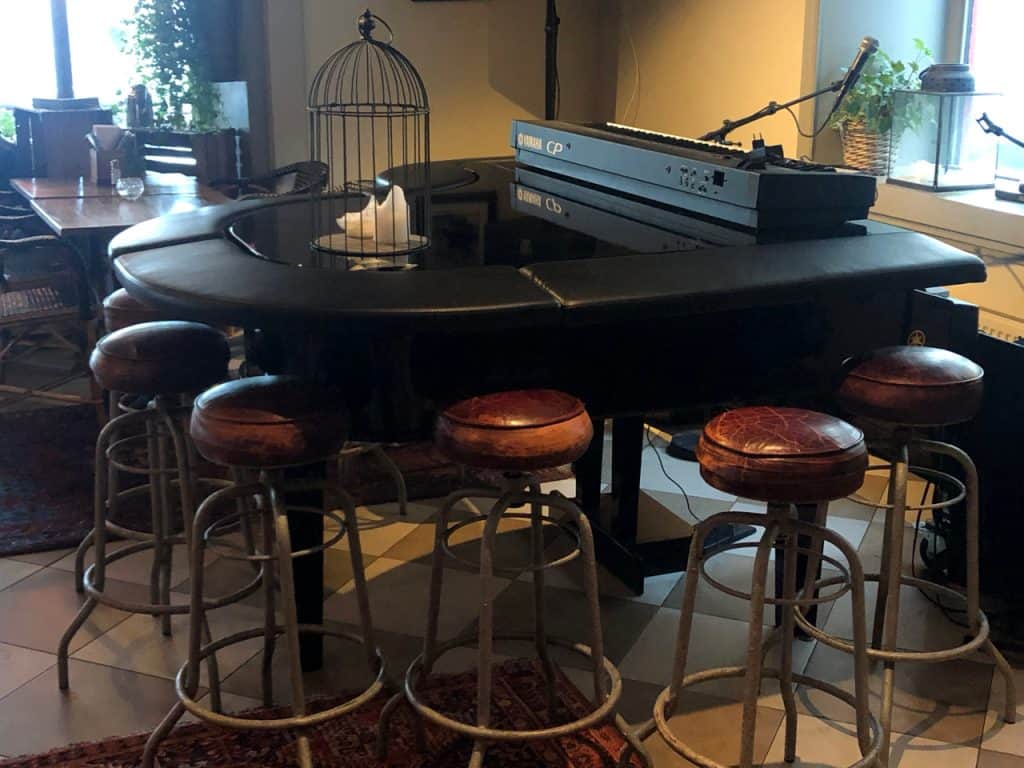 It was a grand piano (with a keyboard placed on top) which was surrounded by a leather bar and bar stools. That is quite a good idea I thought! I could imagine the nights getting very lively there.
By now there were just twenty minutes to go before a ferry arrived to take me back to Stockholm. I wandered around beside the quayside looking at notices for intriguing looking upcoming events.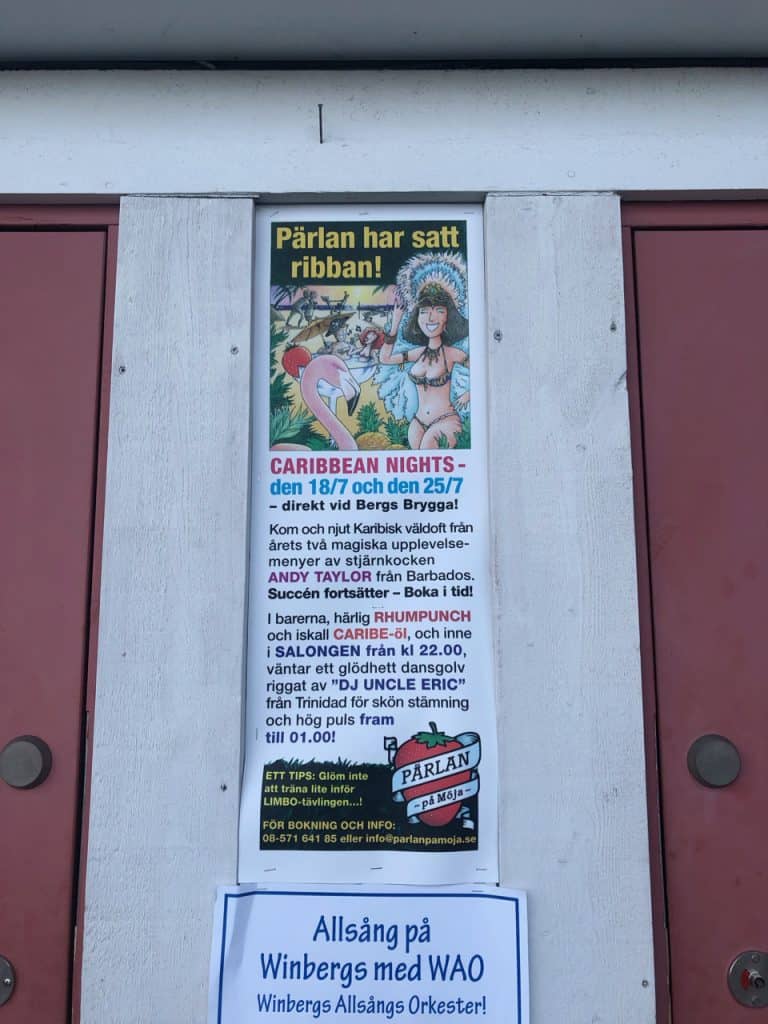 Before long, the ferry approached.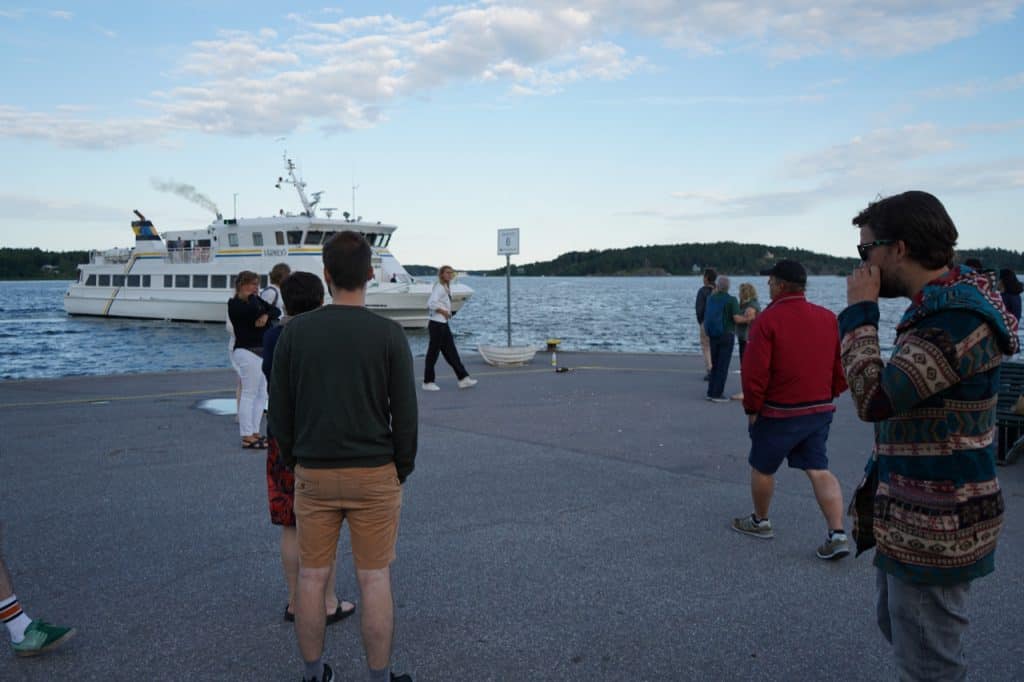 The only incident of interest on the ride back was when the ferry seemed to bump right into the dock at Hasseludden (where I'd got off to visit the spa). There was a big bump, and a loud noise followed by scraping and lots of 'oohs!' before everything just seemed to return to normal. So I'm not quite sure what happened there!
I decided to get off the ferry one stop early to stretch my legs on the way back to my hotel, so ended up getting off at Slussen.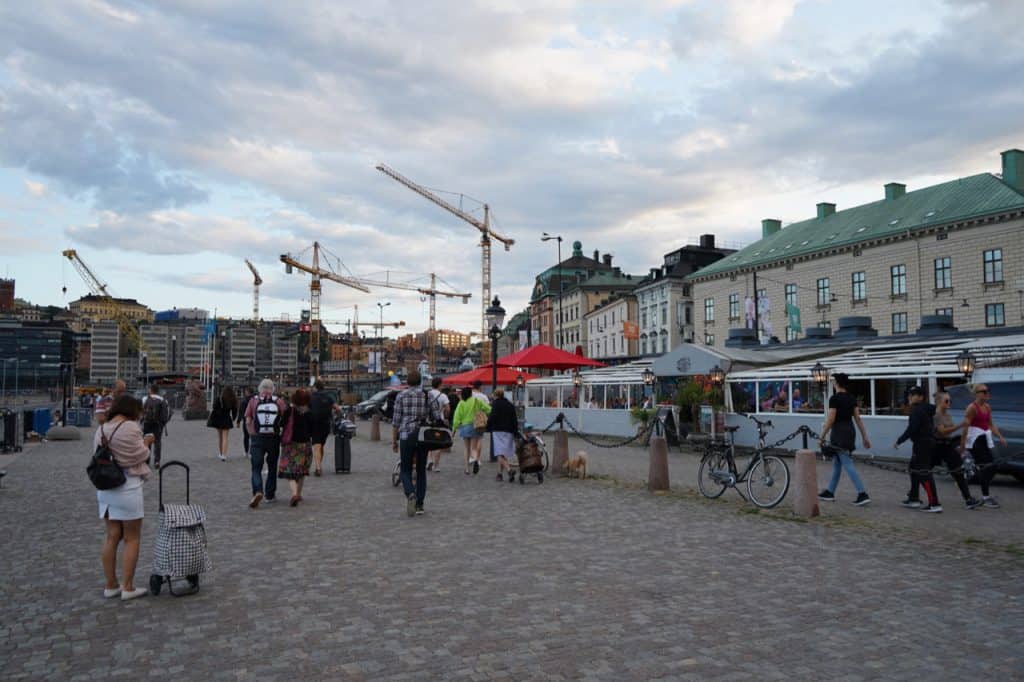 Yet again my walk took me through Gamla Stan, where I nipped into a supermarket for some supplies and stamps for my postcards. I also took advantage of a bottle recycling machine to get some money off my shop. The faster they introduce them in the UK the better!
I also saw this intriguing looking man on a can of hot dog sausages.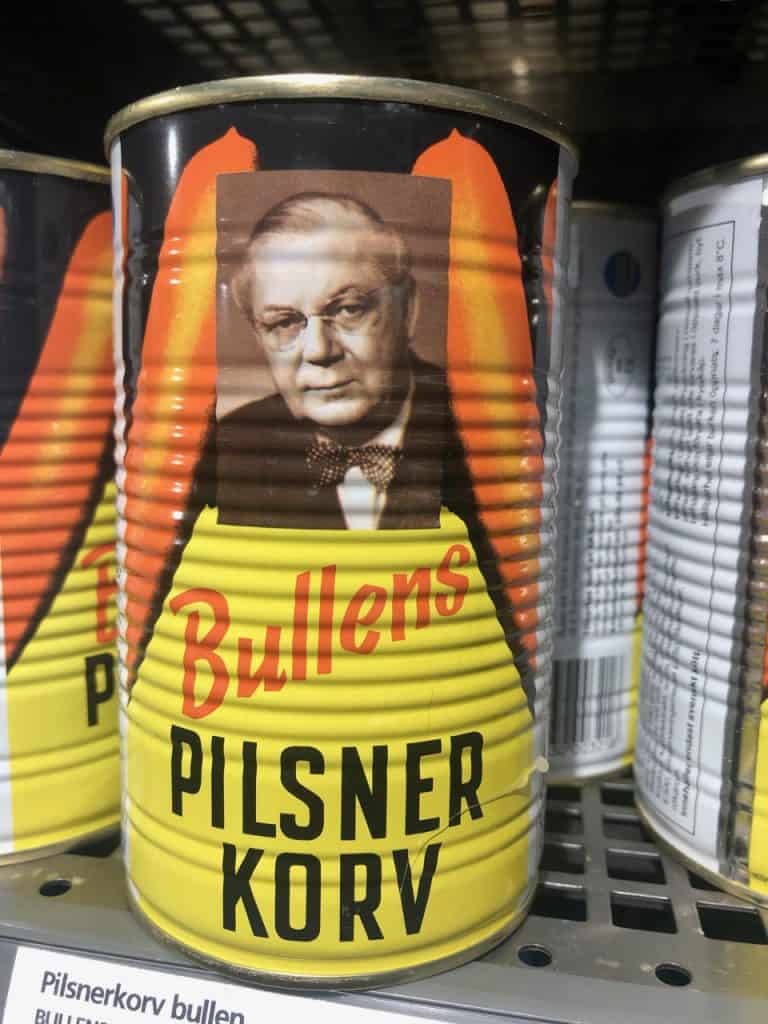 Yet again Gamla Stan's streets were quiet given the time of night.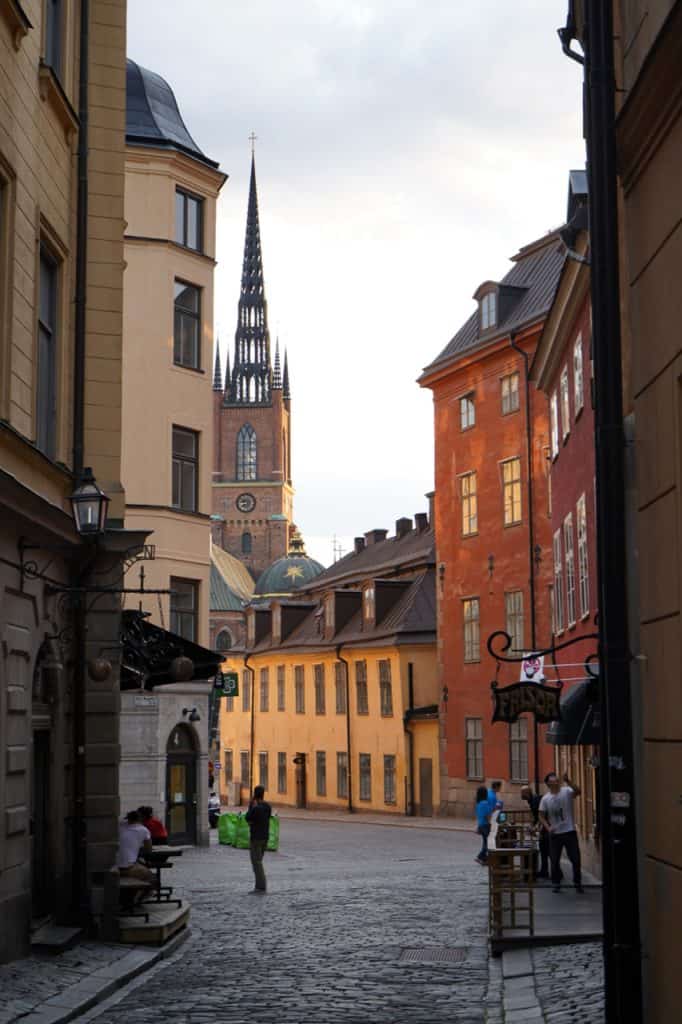 I was back at the hotel for about half past nine, and headed to the bar for a glass of rose. I'd had an amazing day out. Yes the rain had sucked big time, but I hadn't felt as relaxed in a long time. The Swedish countryside had proved to be a great tonic. That night I fell into a deep, happy slumber.