First off, an apology – I am obviously way behind with writing this, sorry! I have resolved never to leave writing my blog so long again. Now that's out of the way 😉 let me tell you about my last day in Vienna….
I'd deliberately left the day pretty clear in terms of plans – I wanted a day of just chilling out and wandering around the shops and city centre. And I was determined to go for some authentically Austrian foodie experiences after failing spectacularly on that front so far!
After a bit of a lie in, I made a quick trip to the supermarket just up the road from my hotel to get some supplies for the day.
Then I headed off on foot towards the city centre.
This time I deliberately took a different route from the ones I'd taken previously – heading through the Museumsquartier which was adjacent to my hotel. I'm not a massive fan of museums (well, depending on the subject anyway!) – and I'd only visited one of the many in the quarter (Mumok) on my trip. But just strolling through the area made me realise a) there were a LOT of museums and things to see there and b) that I should have checked more of them out.
Looking back on it now, I kind of regret not exploring more of them. There's absolutely no way you could see everything there in a day, but I could have spent a day cherry-picking some to visit. You get a real sense just walking around that part of town that Vienna's a culturally important city.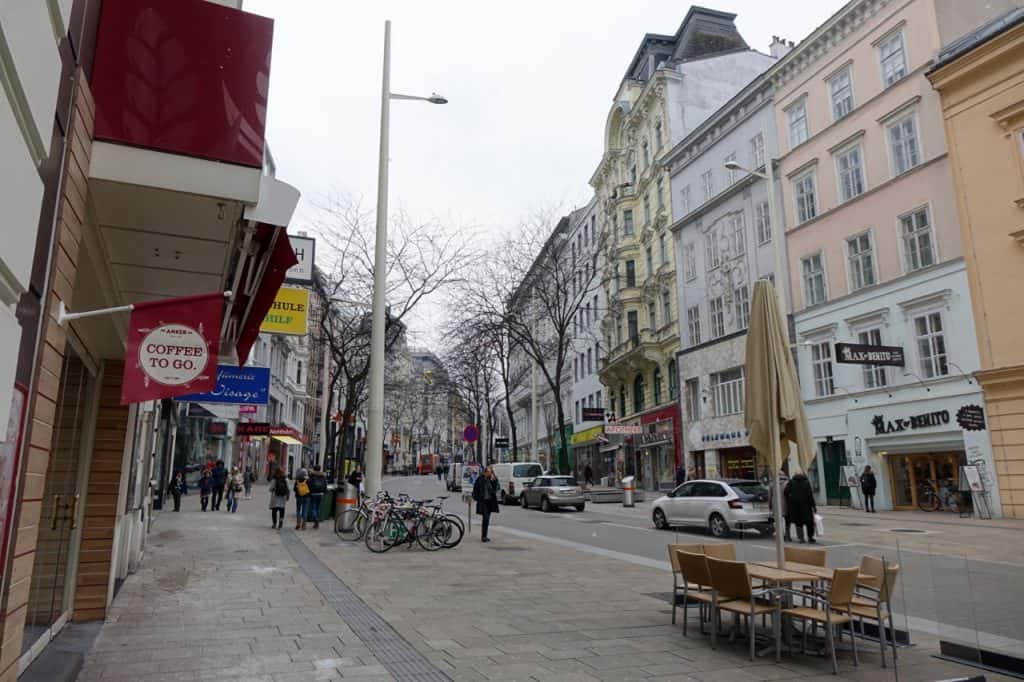 After about a ten minute walk, I turned into Mariahilfer Straße – one of the longest streets in Vienna, and one of the city's main shopping thoroughfares. One of the first shops I came to was called Leiner. It looked like a homewares shop, so I popped in for a look around.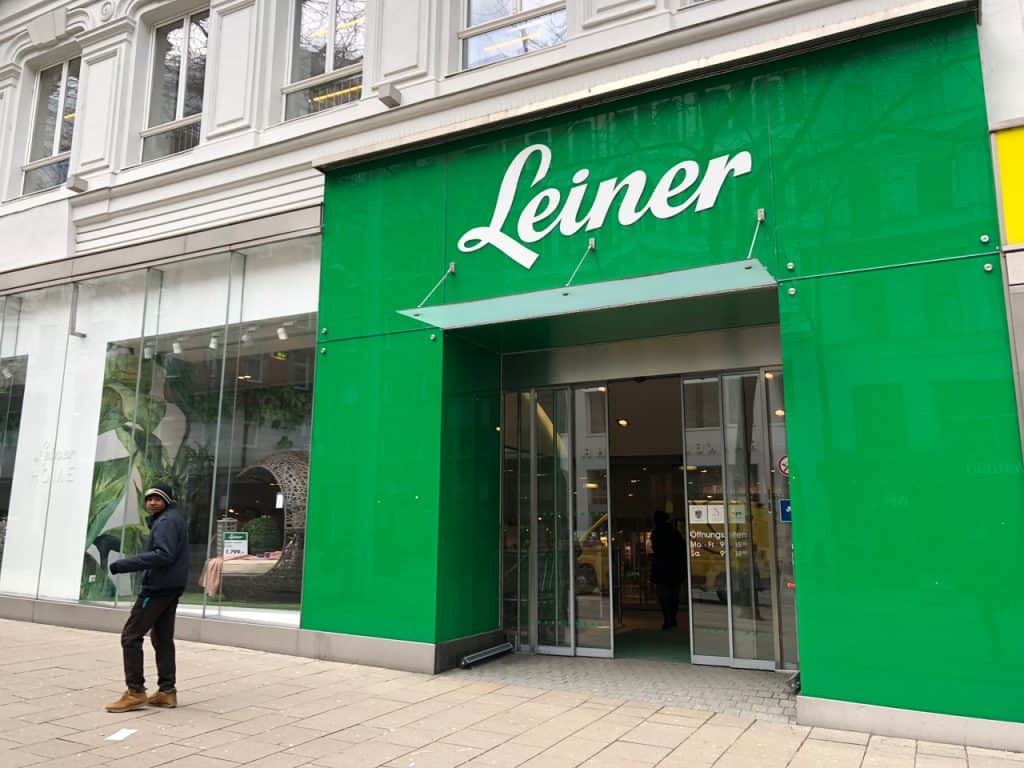 It was absolutely ENORMOUS! It seemed to stretch back forever, and I think was spread out over about seven floors. I wandered around each but didn't really see anything worth buying.
I did think though that it would be brilliant to have a shop at home like that, and couldn't really think of a UK equivalent. I guess the nearest thing we would have would be the home department of M&S or John Lewis – but with its size multiplied by about fifty. Or Ikea maybe – but with a less round-the-houses layout. May be a business opportunity there! 
Lunch in a Viennese café

Walking back out on to the street, it was just a shade after midday. As I hadn't had breakfast, I thought I'd go and grab an early spot of lunch – in a typical Viennese cafe.
I'd done a wee bit of research around a venue – looking for a cafe which was authentic, and not too touristy. Luckily there was one just a five minute walk away.
Cafe Sperl has been around since 1880, and at one point counted Archdukes Josef and Karl Ferdinand among its regulars – as well as famous writers and musicians. From the outside, it didn't look like anything special…
But when I heaved open the door and took a step through the heavy curtains, it was like going back in time. Looking around, it wasn't hard to imagine intellectuals of the late 19th Century sitting there sipping on coffee, surrounded by billowing smoke and discussing events of the day.
The interior managed to be basic yet luxurious at the same time. Dark wood panelling ran around the room, while ornate lamps hung from the ceiling and walls. Seats and tables were placed down both sides and the middle of one long part of the room, while in the other section was a billiard table and a table covered with newspapers in several languages – all attached to wooden poles.
I grabbed a copy of the previous day's Times (no Guardian unfortunately!) and was seated by a waitress at one of the tables in the centre of the room. I think the tables at the side were perhaps kept for regulars or non-solo diners. This was my view….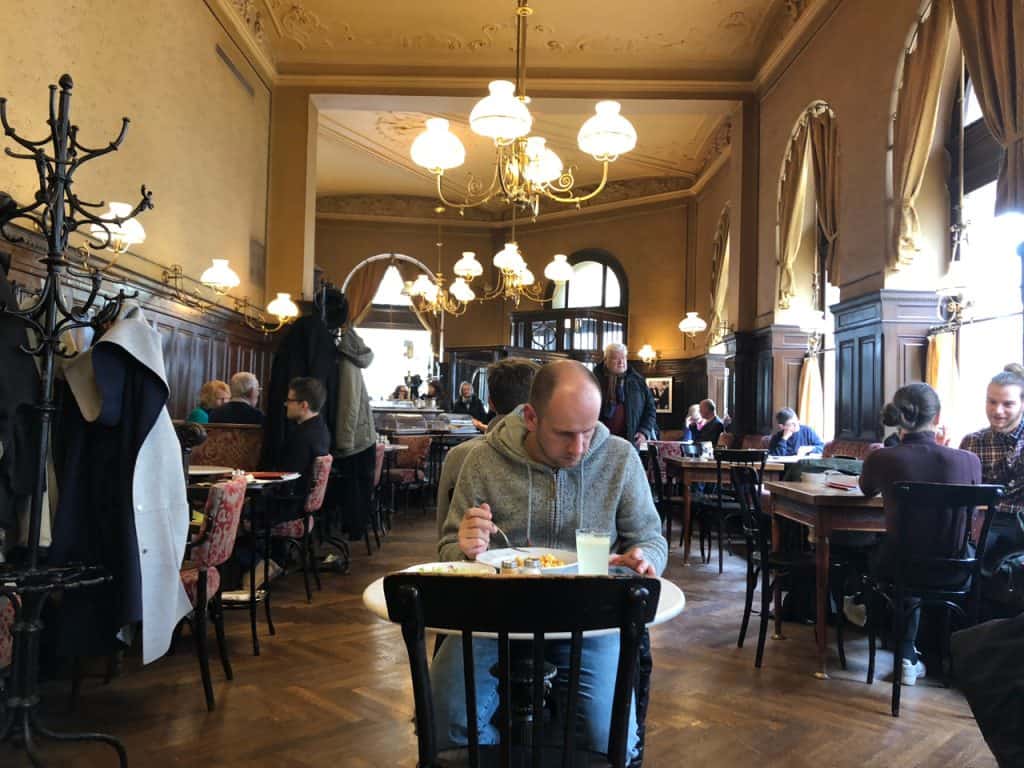 Perusing the menu (thankfully in English as well as German), I decided to go for something that was genuinely Austrian, but also light enough for lunch. I ordered a coffee – which I managed to get right this time! Ordering an Einspanner got me a coffee with whipped cream on top.
As soon as I'd ordered, I realised I didn't have any cash on me, and a slight feeling of panic began to gather in my stomach. I suspected this was the kind of venue that may operate on a cash only basis. But it was too late now. And, I figured, if the worst came to the worst, hopefully they'd accept me leaving my passport or something behind while I nipped to the nearest cashpoint.
I sipped on my coffee and flicked through the paper, and before long my lunch arrived. Typically Austrian it may have been, but light? Definitely not! I'd ordered Schinkenfleckerl – pasta with ham, served with a salad. That sounds light, right? Take a look…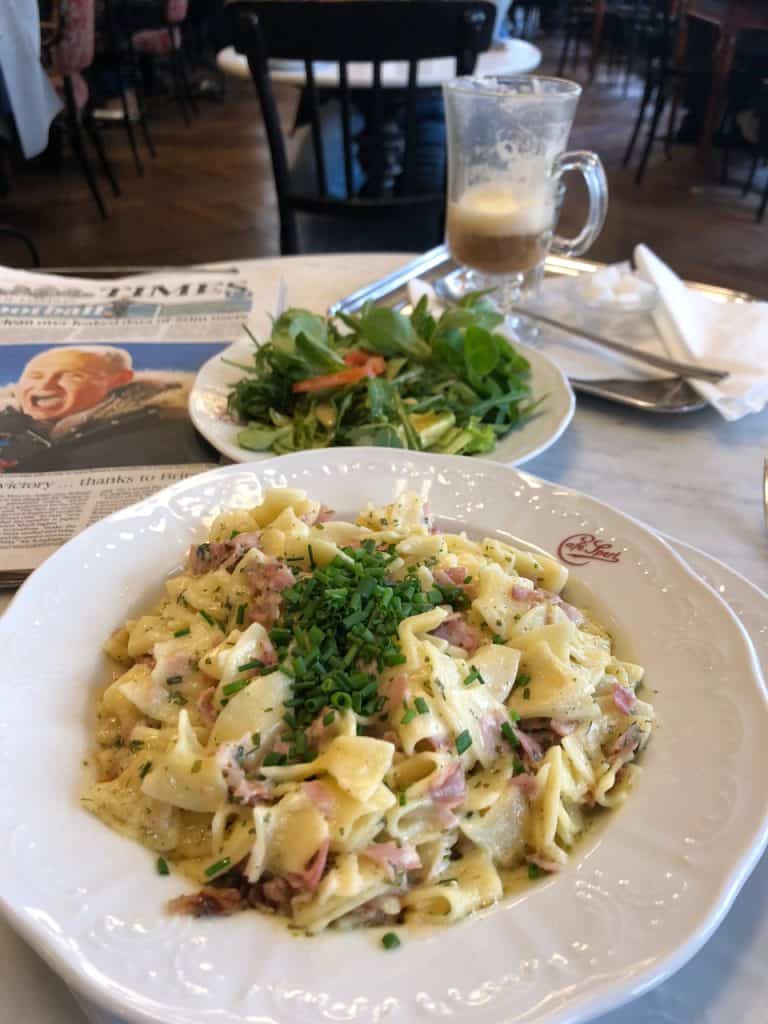 At least it would keep me going for the day! The salad was simple, delicately dressed and fresh tasting, while the Schinkenfleckerl itself was piping hot and comforting. I managed (somewhat struggling towards the end) to polish off the lot. After letting it settle in my stomach, I asked for the bill – and the moment of truth arrived. I offered my credit card to the waitress, and got what I'd call a slightly flustered / disapproving look in return. Apologising, I explained I had forgotten to take cash out that morning.
The waitress explained kindly that it wasn't really a problem, but when she came back with the card reader, she explained that in Austria most places weren't keen to take cards for small amounts – say for bills under twenty euros. So that's something to remember if you're heading to the country soon! I thought it was interesting how that was exactly the opposite of what I'd experienced in Sweden. Many shops there had a sign in the window which simply said "no cash".
Thankfully my card was accepted. Lunch came to €12,20 which I thought was fair for a filling meal. The cafe had been a pleasant place to pass an hour too and I felt I'd got the real Viennese cafe experience. Again I regretted not trying more over the previous couple of days.
A stroll around the shops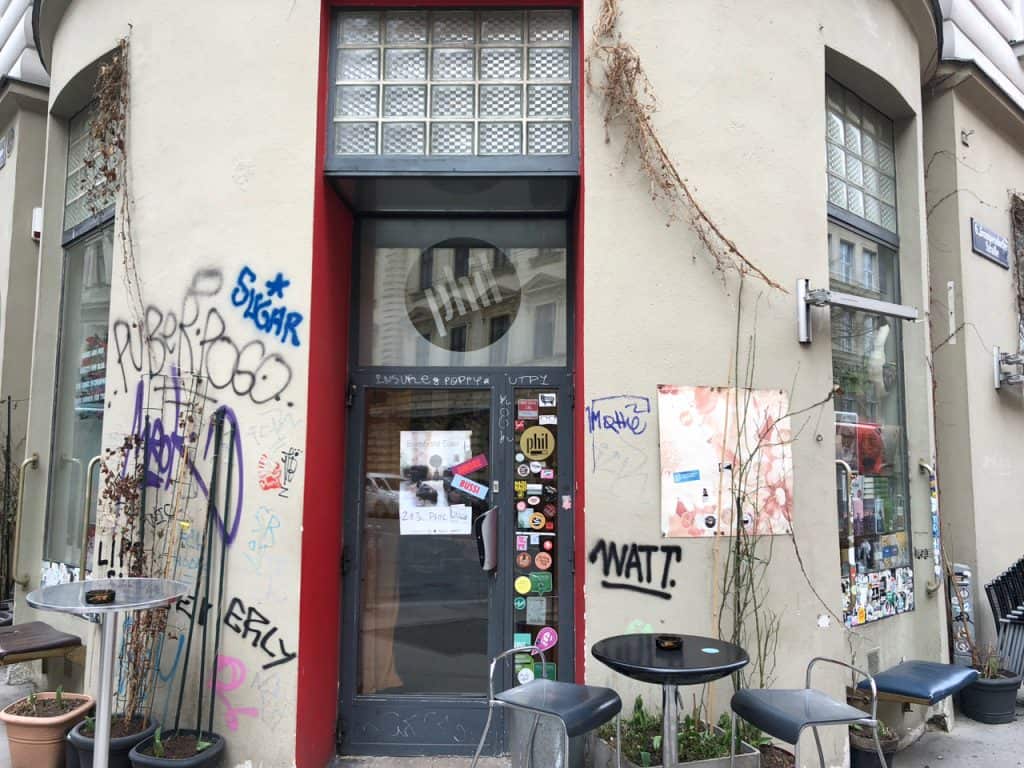 Crossing the road I went to check out a shop I'd read about. Phil is a furniture and lifestyle store with a more hipster than traditional cafe. I took a quick once around inside but yet again failed to get my wallet out. I'd done a good job saving cash on this trip!
Looking at my phone I worked out I was actually really close to the food market I'd visited on Saturday – and therefore near Babette's, the cookbook and spice shop.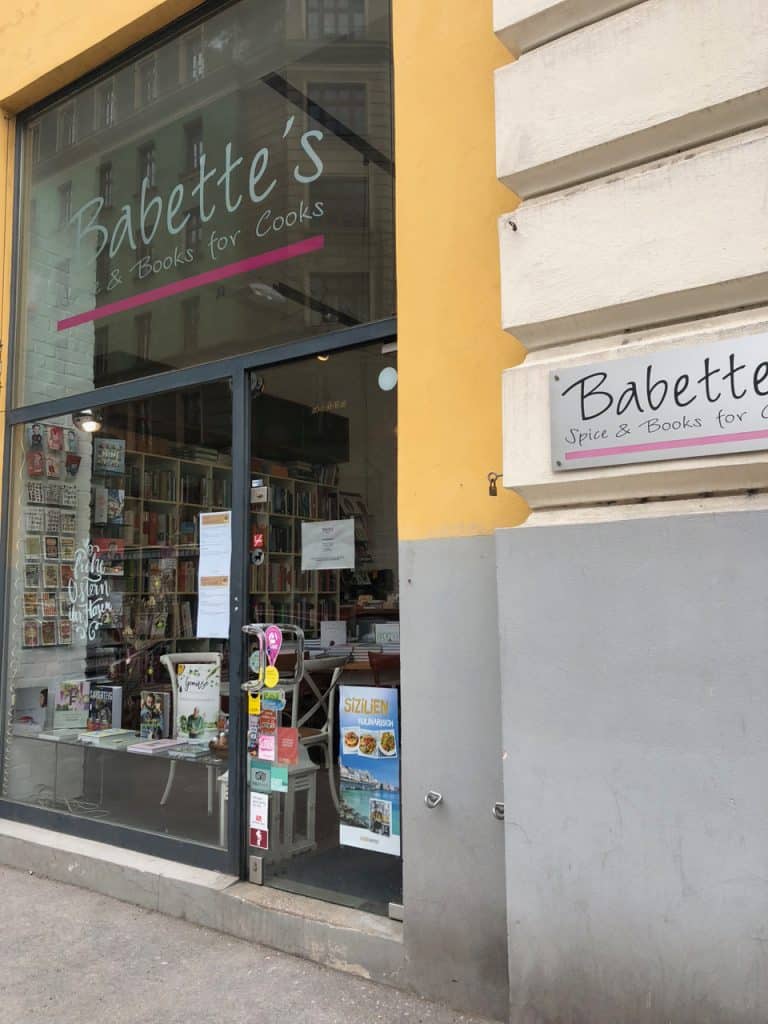 After picking up my curry spices on the Saturday, I'd begun to wish I'd also bought the shop's Goulash spice mix, as I thought it would have made a good souvenir with which to cook up an authentic taste of Austria once I got home. So I headed back to the shop and picked up the last tub with the recipe in English. You can find the recipe here if you fancy trying to recreate it (obvs you'd need the spice mix for that recipe, but you can buy that online here).
I strolled back to Mariahilfer Straße and walked along the street for a bit – passing old churches which seemed out of place in the modern pedestrianised shopping street.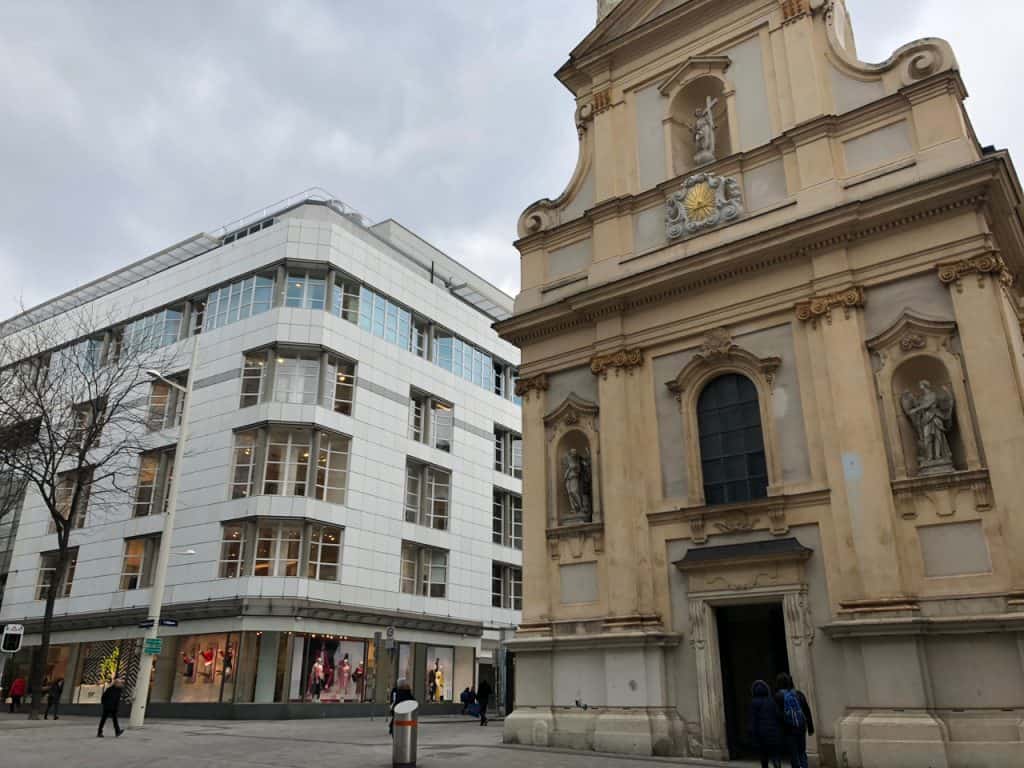 I had a quick look in Weekday and turned up a side street to visit Cos, but again, my wallet resolutely remained in my pocket.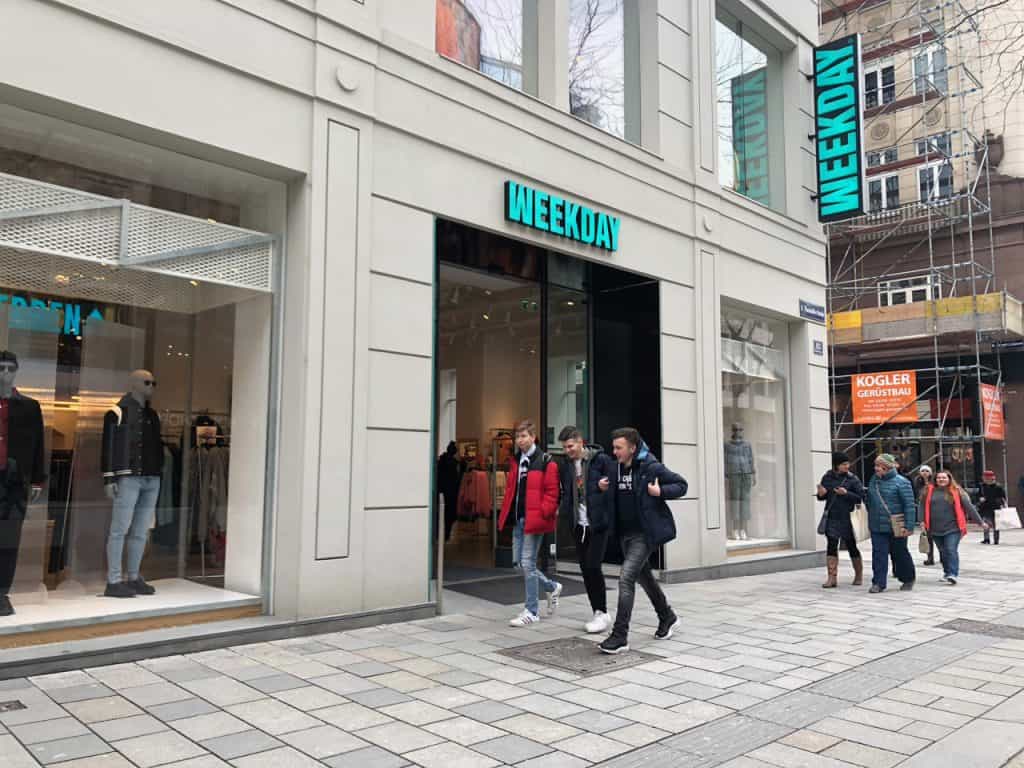 That was all the shops I really wanted to check out in the centre, so I decided to head off to the last tourist attraction I wanted to see in the city. I walked to the nearest U-Bahn station and picked up a 24 hour ticket as my Vienna Card had expired. After validating it in the stamp machine, I jumped on the underground for the fifteen minute journey.
It still felt refreshing not to have to go through a barrier to get on public transport – as in Berlin – and when I'd taken the underground around Vienna I'd often wondered how many people just didn't bother buying a ticket. When I got off the train at my destination's station though I saw that if you don't pay your way, you are definitely at risk of being caught! A line of fluorescent tabard-wearing employees had created a solid line across the corridor leading to the exit, and were checking everyone had a ticket.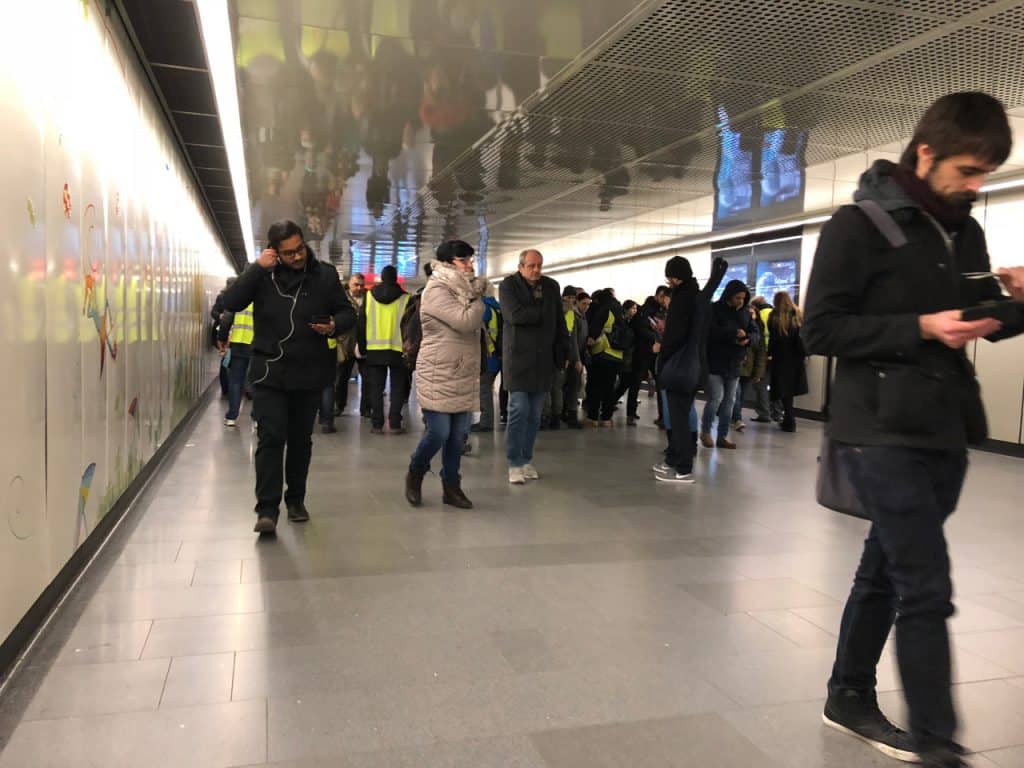 I made my way to the exit, following the signs for the attraction.
Climbing out of the station, I spotted it straight away – Vienna's Riesenrad – or ferris wheel.
Vienna's Big Wheel

While the wheel was originally built in 1897 to celebrate the Golden Jubilee of Emperor Frank Josef I, it had been destroyed in World War II. I was going to be riding on a structure that was built in 1945. And I'd be taking the views in from inside one of the cabins – unlike the circus rider in 1914 who completed a full rotation of the wheel on a horse standing on the roof of one!
The wheel's most famous appearance probably came in the film The Third Man – in the scene where Rollo finally meets up with Harry Lime. But it's also starred in the James Bond film The Living Daylights and numerous others.
I crossed the road from the underground station and saw that the wheel is situated beside Vienna's Madame Tussaud's and a small amusement park – apparently the oldest in the world. On a rather grey Tuesday in March the amusement park was empty, but I could imagine on summer nights it would be full of families, like Tivoli Gardens in Copenhagen.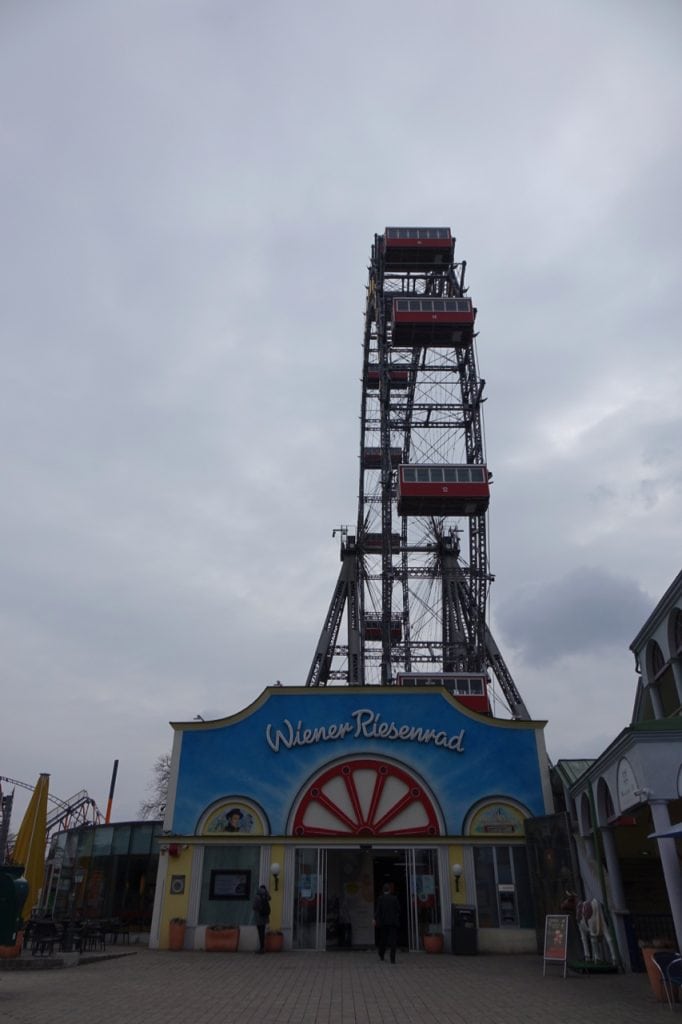 Of course a benefit of visiting the Riesenrad on a Tuesday afternoon in March is that there were no queues for the ticket desk or the wheel itself ;).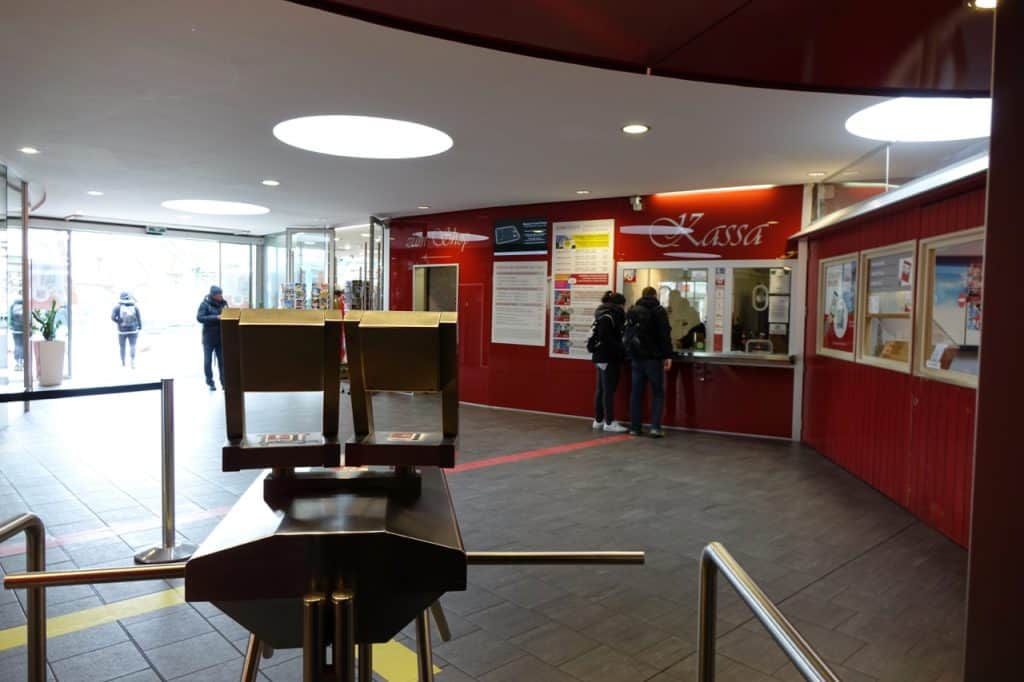 I paid my €10,00 and wandered through a circular room which had small displays inside replicas of the wheel's cabins.
Next it was time to climb on board.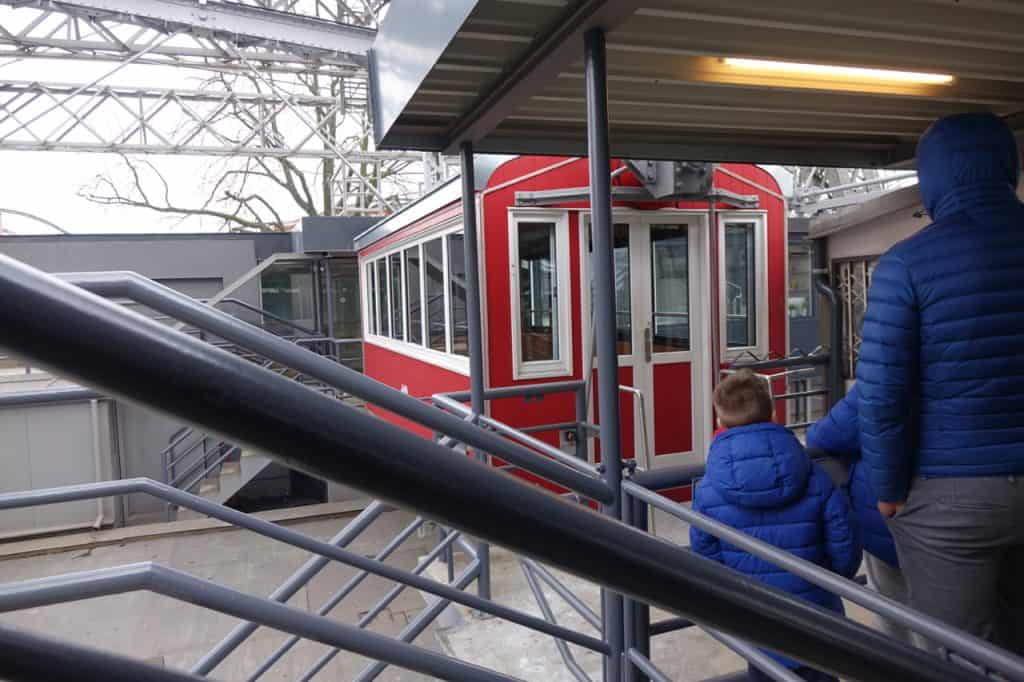 I stepped into a cabin with some other tourists, and as we started our slow ascent, an Italian baby started screaming blue murder.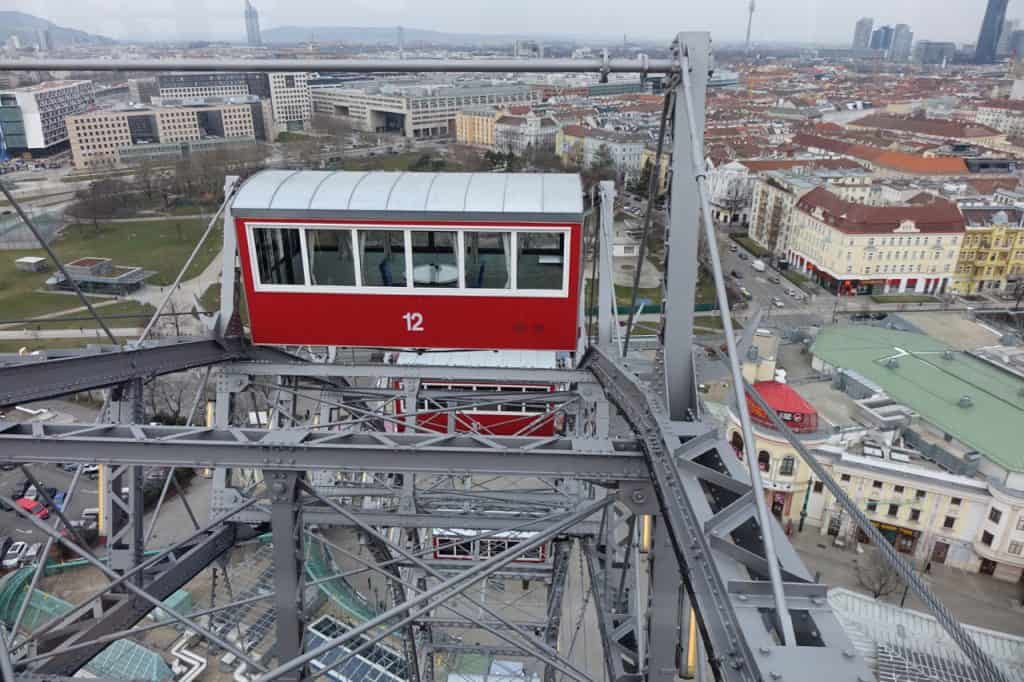 That continued at least until we reached the summit of the wheel's slow revolution, which I must admit kind of spoiled the experience! But I stared out the window and tried to enjoy the view regardless. I took a quick video….
Ever since I jumped off the top of a 53 story building in Auckland, I've always got a bit jittery when high up – even though heights had never bothered me previously. However, for the first time in ages, as the cabin continued to move up and around, I didn't get that familiar topsy-turvy feeling in my stomach when I looked down towards the ground.
The views were mostly of the amusement park below and then buildings which to me were unrecognisable, but I did spot St Stephen's Cathedral at one point. 
Before long we were back on terra firma. The whole thing had gone pretty quickly, but as an experience, I'd recommend it if you're in Vienna. Just try and avoid a cabin with babies on board!
After exiting the building at the base of the wheel, I remembered I had to pick up some postcards – and spotted a machine offering the perfect souvenir for my niece and nephew. A postcard showing Vienna sights which would also feature a photograph of my face!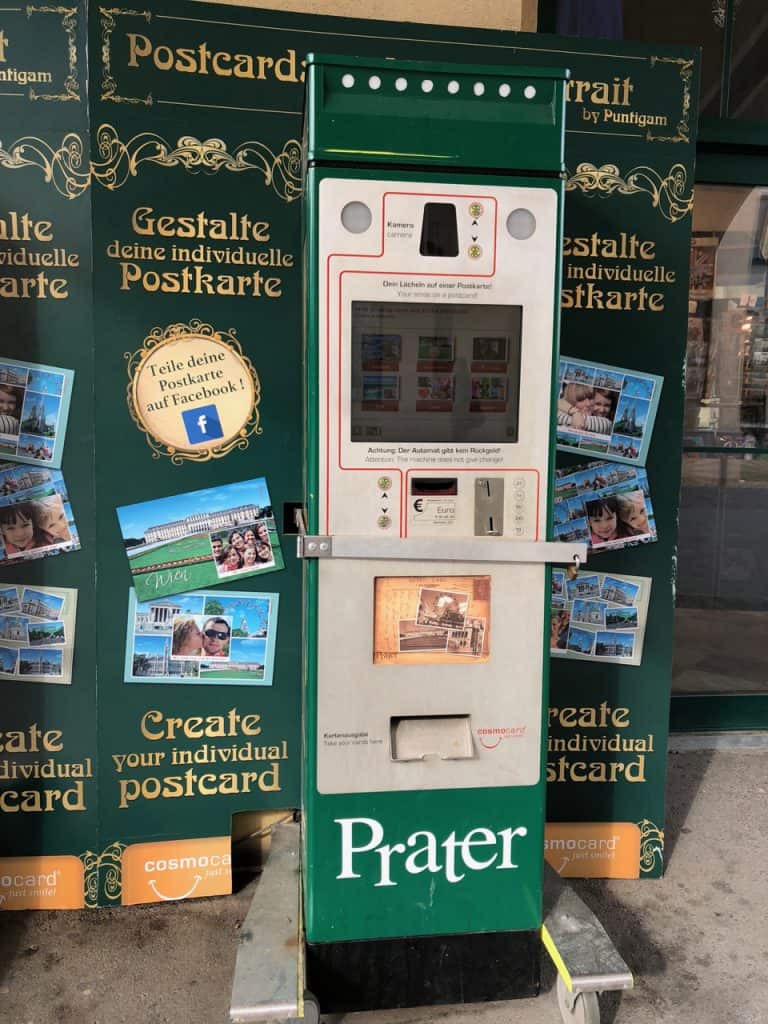 Obviously I didn't have the right change, so I bought a couple of normal postcards in a shop opposite, and then proceeded to try and look happy in the freezing cold as I posed for my pic.
Five minutes later, a slightly still damp from printing postcard in hand, I jumped back on the U-Bahn. Next I was hoping to experience a famous slice of Viennese confectionary.
A slice of Viennese history
The origins of the city's Sacher-Torte cake aren't under dispute, but the chocolate cake was the subject of a seven year long legal battle in the mid 20th Century. To cut a very long story short, in 1832, Prince Metternich asked his court kitchen to create a special dessert. With the kitchen's chef ill, the task fell to a 16 year old apprentice Franz Sacher, who came up with a chocolate cake covered in dark chocolate icing with a layer of apricot jam.
Sacher's son later developed the torte into its current form, having worked at the Demel bakery and later at the Hotel Sacher which he established. It was the hotel that then sued the bakery in 1954, claiming that they had the rights to sell the cake under the name the "Original Sacher-Torte". In 1963 both parties settled out of court in an agreement that gave the hotel the right to use that name.
And it was the hotel I was headed to. Wandering around the outside of the building, I saw what looked like the cafe part of the hotel and wandered inside.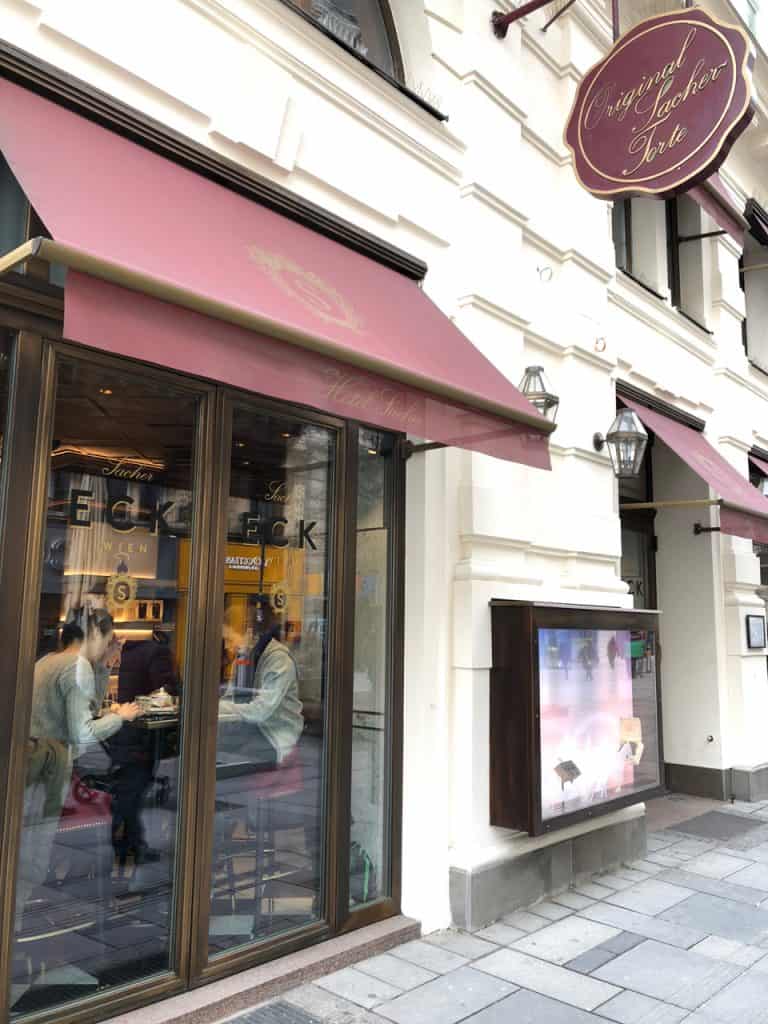 There was a short queue, but the cafe didn't look quite as I'd expected. It was really modern looking, so I suspected I wasn't in the right part of the building. I walked back outside, around the corner, and after asking at the hotel's reception, entered the correct door off the street and walked into the real Cafe Sacher. 
The first room I'd been in to was called Sacher Eck – and seemed to be busy with tourists – but if you want the real Cafe Sacher experience, look for the doors below…
I'll warn you now – it ain't cheap! I took my seat at a marble-topped table in a luxuriously decorated room.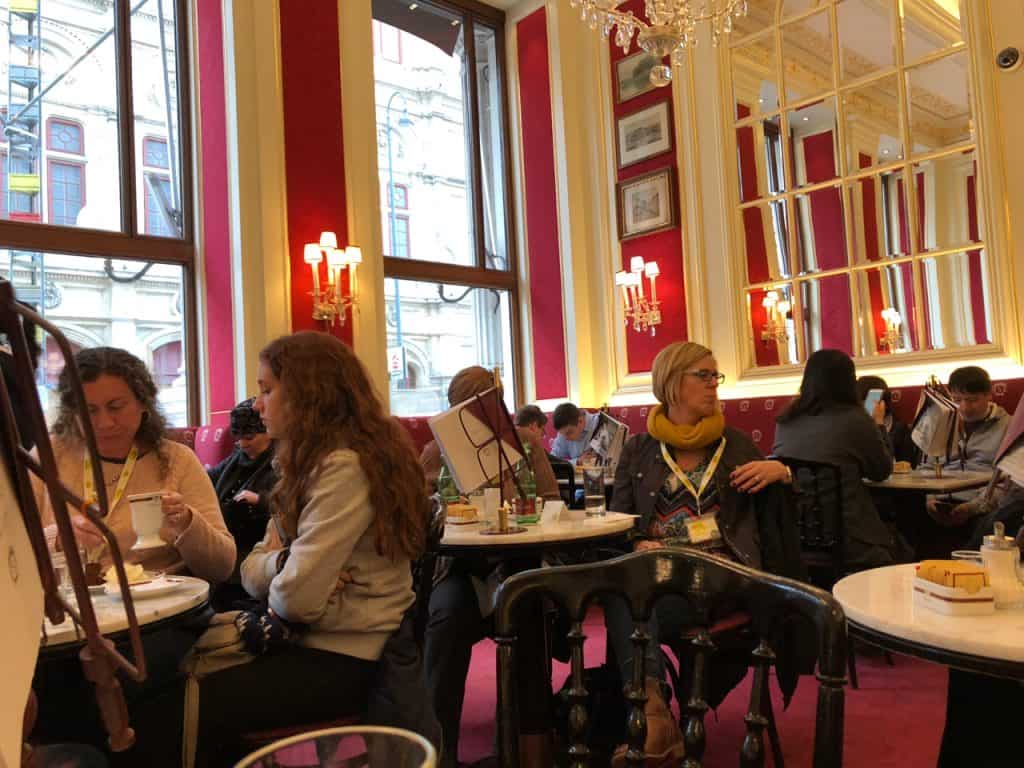 It was the kind of place I imagined rich ladies taking afternoon tea. A menu with photographs (slightly tacky I thought!) gave you various options for cake and coffee combinations. I ordered a slice of Sacher-Torte and an Einspanner, and before I knew it both were placed in front of me. Coffee with cream on top again!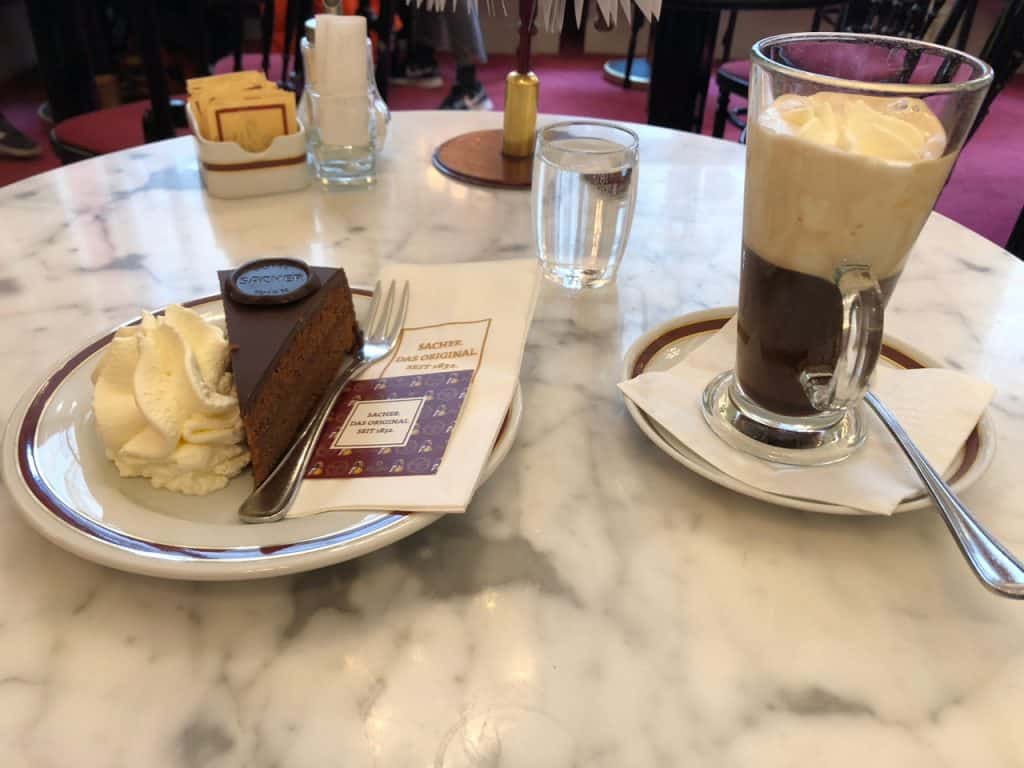 The slice of cake wasn't what I'd call a generous portion, but that was fine with me given I was still pretty full after my pasta-based lunch. I'm not a massive cake fan, but I enjoyed this one, and could see why the dessert had become so well known. It was rich yet light at the same time, and beautifully moist.
My bill came to €12,80 – €7,10 for the cake and €5,70 for the coffee. Like I said, not cheap! But an experience nonetheless. 
After sitting there a while writing my postcards, I headed to the toilet (nothing special) and then around the corner to the shop which adjoined Sacher Eck. The shop sold lots of different sizes of Sacher-Torte for you to take home, chocolates, and other Hotel Sacher related goods. I decided to pick up a small version of the cake for one of my sisters and Mum and Dad – they were pretty pricey too at €16,50 each!
A last stroll through the city's streets

I found a post office just around the corner from Hotel Sacher, and headed inside to get stamps for my cards. And this post office turned out to be no different from ones at home. The queue was enormous – with people obviously posting hundreds of parcels each when all I wanted to do was get some stamps for some postcards!
After getting served, I decided to go for one last wander past St Stephen's Cathedral, as it was just up the street.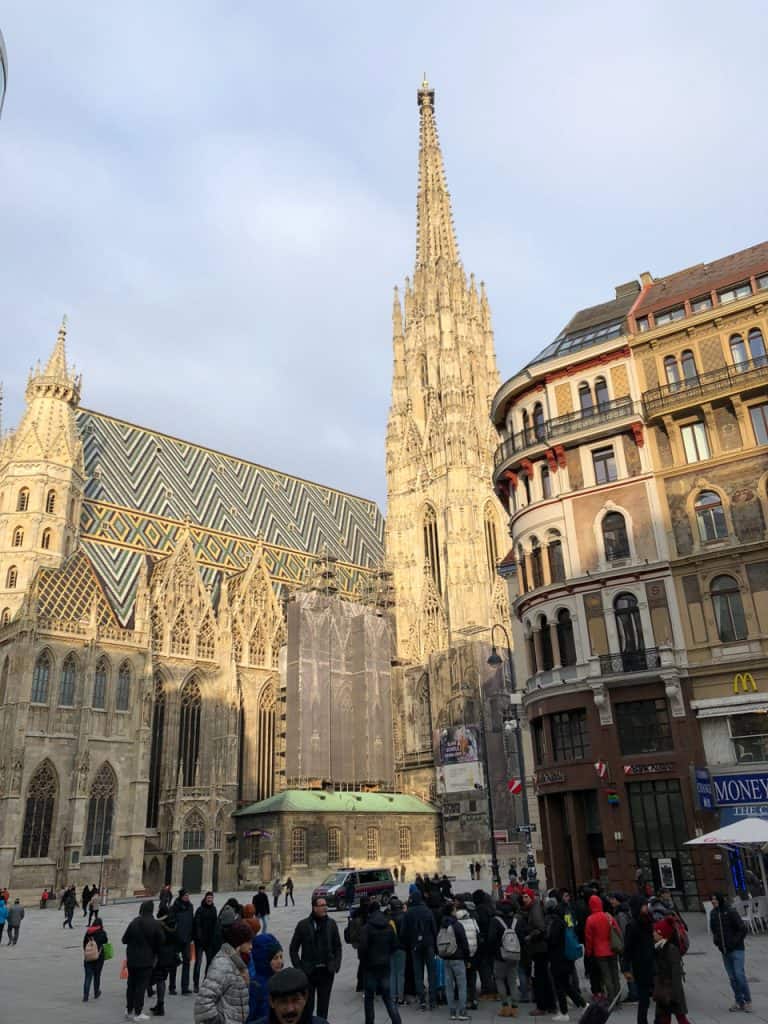 Around the corner from that I gazed at the exterior of another attractive church – and yet again decided to stick my head in to see what it was like inside.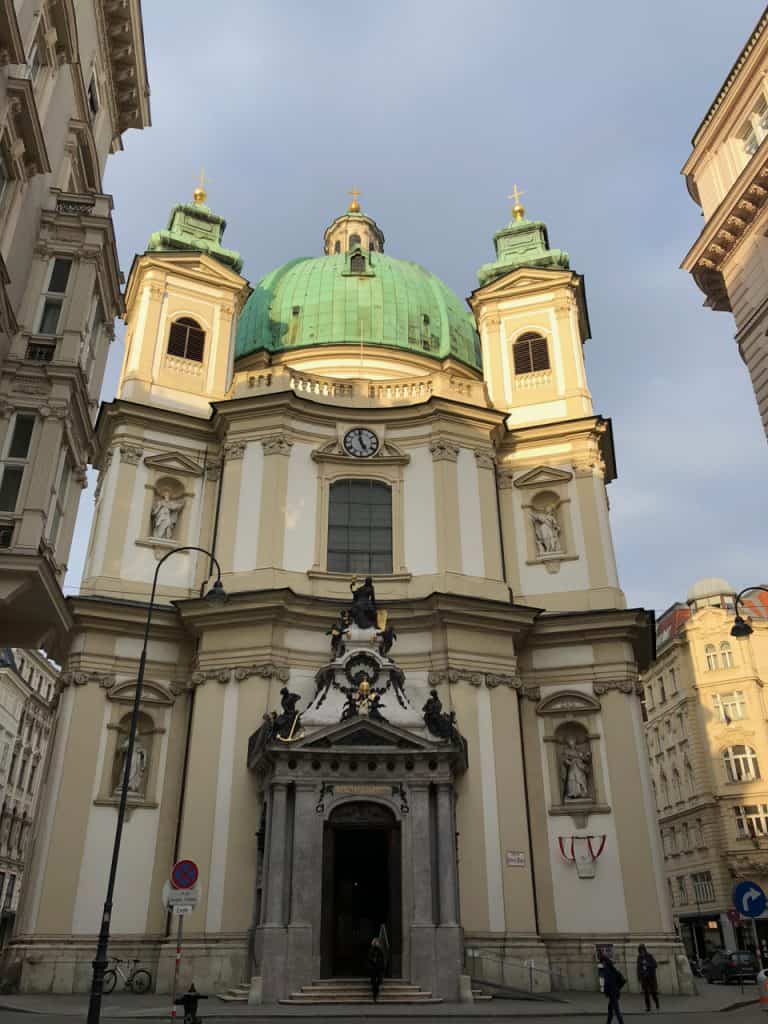 There was a sign saying basically not to go in…
But – what a rebel! – I ignored it and went in anyway…
Like every church I'd stepped inside on my trip, this was one was beautiful too – really ornate, and with an amazing fresco on the roof's dome.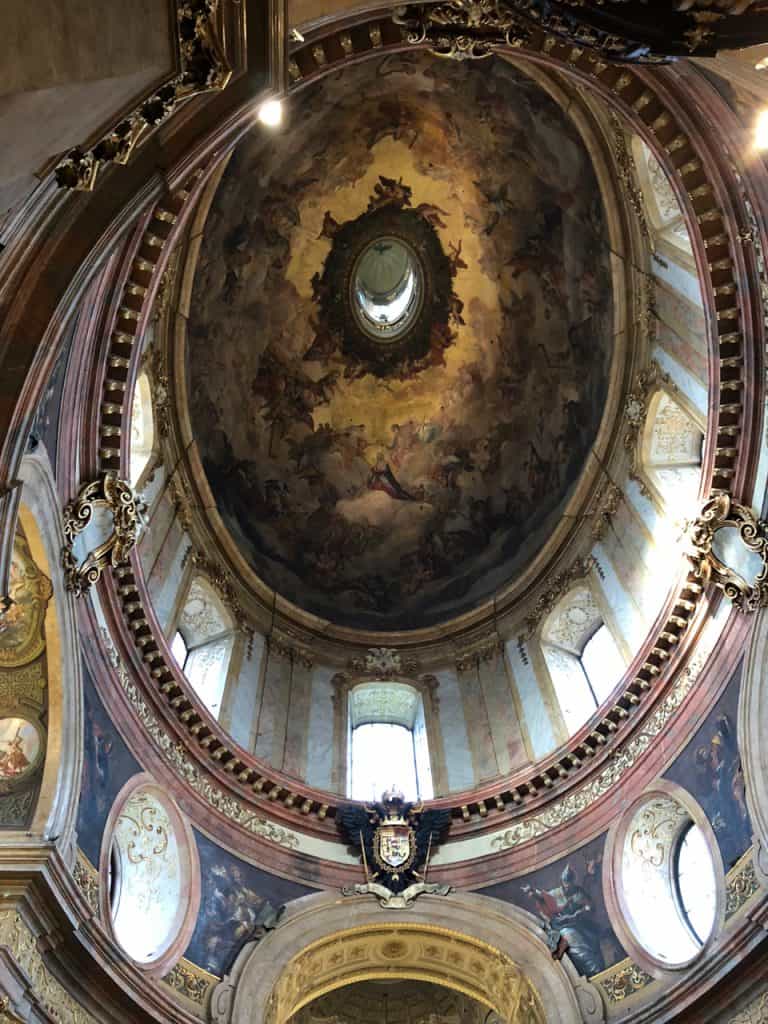 I just stood for a couple of minutes gazing at it before turning around and exiting back on to the street.
As I walked back in the direction of my hotel, I gazed in shop windows full of fancy looking confectionary, leather goods and the like…
…before taking a right at the Spanish Riding School and cutting through a scenic but pretty deserted wintry looking park…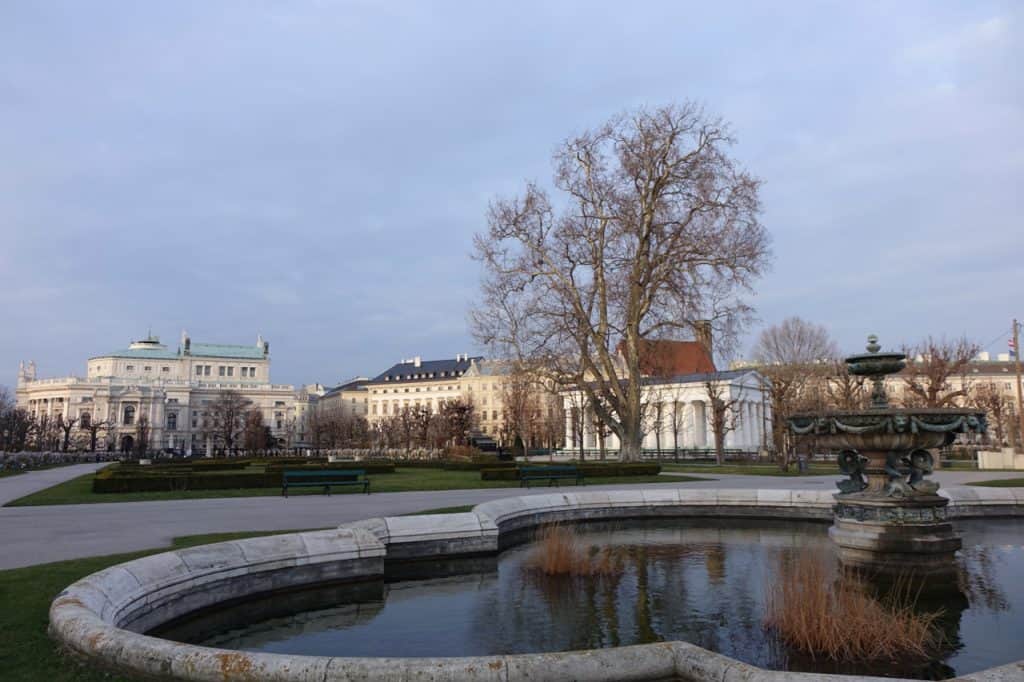 Taking a left, I took one last look at the Parliament building…
… and was back at my hotel for about half past five. That gave me just enough time to chill for a bit before jumping in the shower and getting changed for dinner.
Dinner at a beisl
I was determined to go to a beisl for dinner on my last night in Vienna to round off my day of authentic Austrian eating experiences. A beisl is basically an Austrian bistro – a relaxed, cosy type of restaurant with a bar, and which serves up traditional fare. Having again done a bit of research, I'd found a beisl close to my hotel which as well as being featured in a couple of different guides and places online also got good reviews. Rather than risk embarrassing myself over the phone, I'd booked a reservation online for 7pm at Glacis Beisl.
Having spotted the restaurant on my first day in Vienna, I knew exactly where it was – just behind the Museumsquartier, nestled underneath the art covered small pedestrian bridge I'd seen.
Heading downstairs, there was a lovely garden area with booths which I imagined would be great for al fresco dining in the summer. It was empty that night though, given the chilly March air.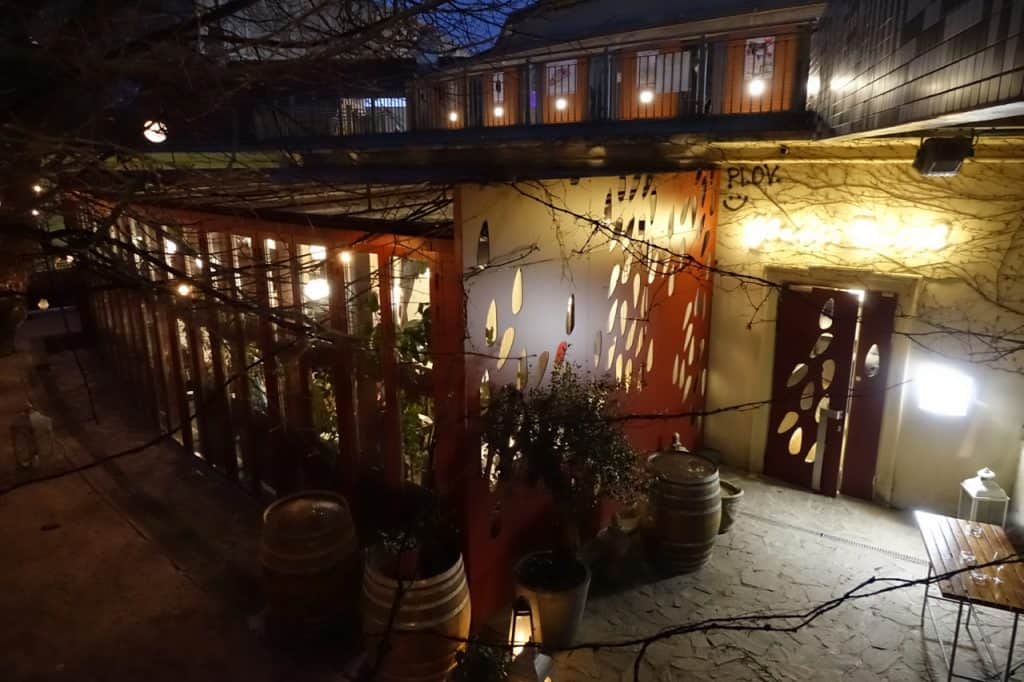 After a friendly welcome, I was soon seated at my table. Going out for dinner as a solo diner always feels a bit awkward, but I felt less self-conscious after I looked around and saw I was far from the only person to be dining alone. There was a large communal table with lots of people eating by themselves, and others like me seated alone at other tables.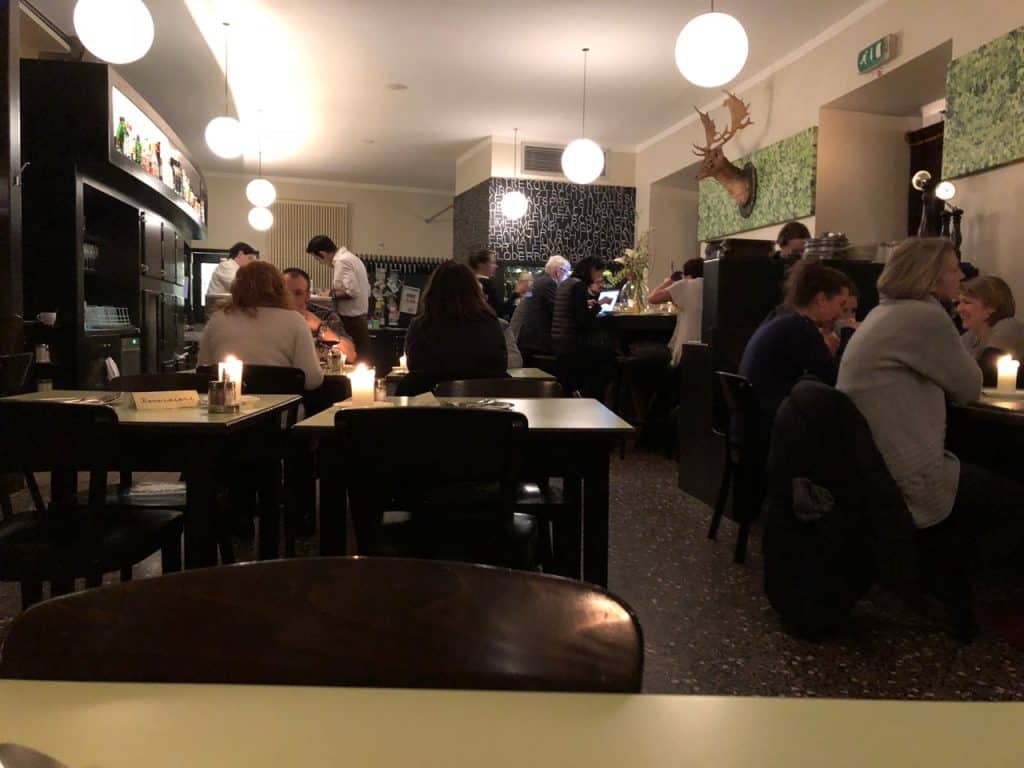 The atmosphere was lively, with the place full of locals chattering away. A friendly waiter appeared quickly and handed over my menu, which thankfully again had English descriptions. I ordered a glass of Austrian Riesling to sip on while I made my choices. Not many people know Vienna has vineyards within its boundaries – I would have visited them if the weather had been a bit better.
I don't usually like sweet wines, but the Riesling actually wasn't bad at all. Soon I'd made up my mind, and placed my order for dinner. As a starter I chose zwiebelsuppe – or onion soup – OK so that may be more French than Austrian but I love it, so that's what I settled for!
Next I had a bit of a discussion with my waiter. I really wanted to try wiener schnitzel – here it came with a mixed salad. But, the waiter told me, it was possible to order a half portion. Would I look like a gannet if I ordered a full portion? Was the full portion for two people or one? The waiter said it really depended on how hungry I was, and said the larger portion wasn't for two. So I decided to settle on that. It was a bit pricy at €19, but as I hadn't bought anything for myself that day I thought that was fine.
I'm aware my pictures won't make the food look that appetising – the restaurant was pretty dimly lit – but both courses were deeeeelicious. The onion soup was so hot it made me break out in a bit of a sweat, but it was tasty.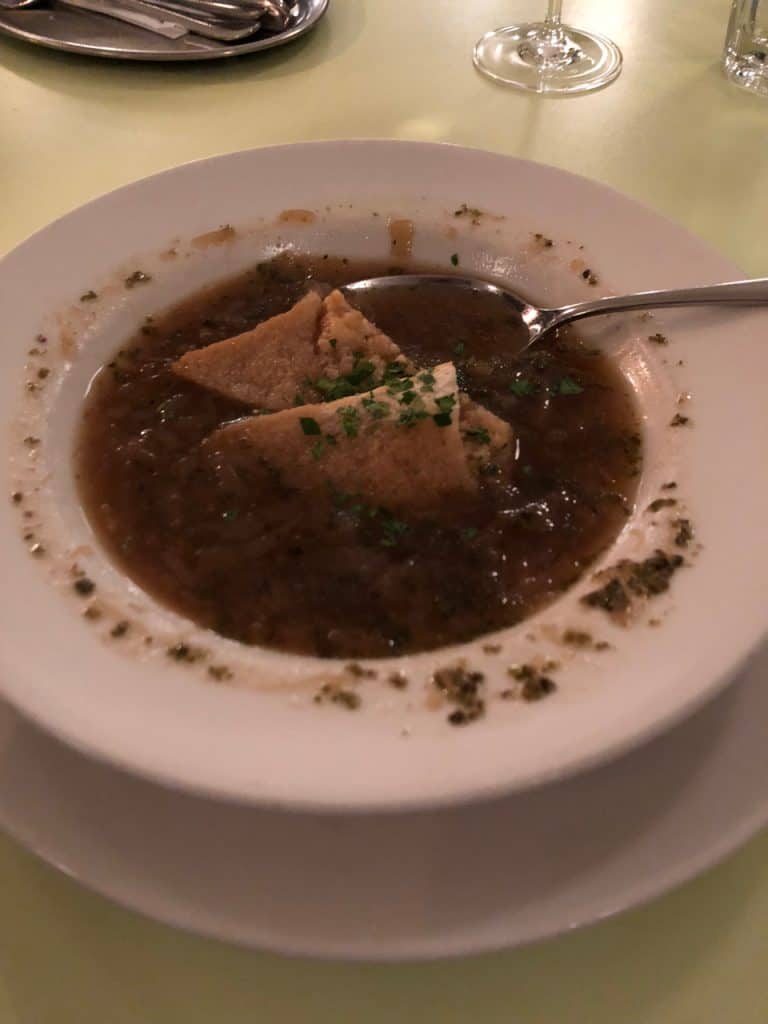 Practically as soon as I'd polished it off, my main course arrived. I ordered another glass of Riesling and gazed down at the enormous schnitzel in front of me.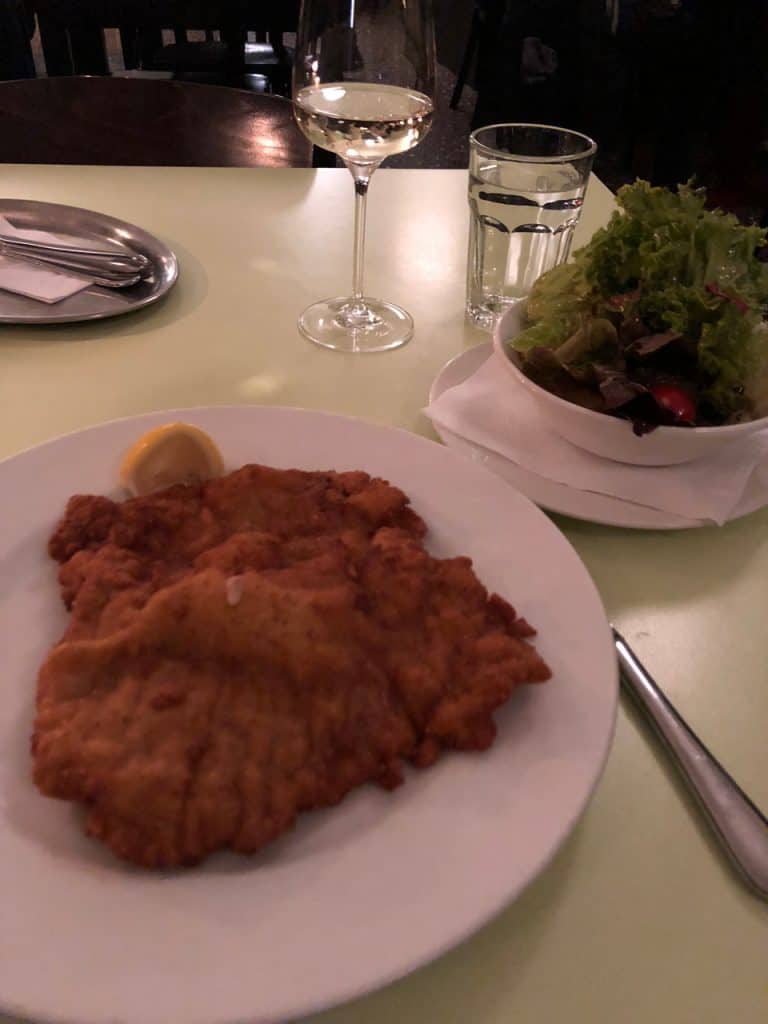 It was a real slab of meat. That's the only way I can describe it! But I was fairly confident I'd be able to finish it. I squeezed lemon over the golden, crisp coating of the pork, and tucked in. Yet again it was really good – food simply done but delicious. The salad was crisp and lightly dressed and balanced well with the schnitzel.
I would definitely recommend Glacis Beisl if you find yourself in Vienna – the only slight negative was that I was seated, served and out of the place in just over an hour, but that actually worked quite well for me given that I had a very early start the next morning. My bill – with a tip – came to about 32 euros, but the schnitzel made up nearly two thirds of that. Again, I felt I'd got good value for money, and the atmosphere in the restaurant was really pleasant. I'd go back.
One last sauna

Stepping out into the cold Vienna air, I began to get that slight sinking feeling you get when you begin to realise a holiday is nearly at an end – and you don't want to go home. I took a scenic wander across the arty bridge and around a plaza within the Museumsquartier…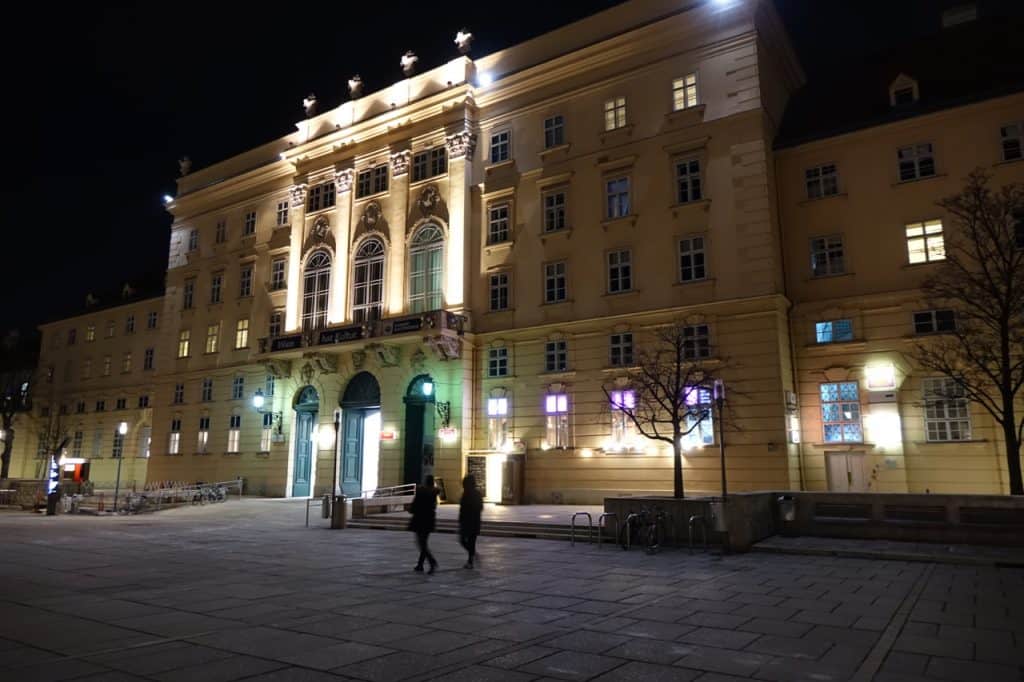 …and took one last look at the Volkstheater I'd passed almost every day on my way to get on the U-Bahn.
Soon I was back at my hotel again, but I had one last thing to do before turning in for the night. I wanted to take advantage of the hotel's sauna and steam room. Though the hotel advertised bags available with everything you need for the sauna, when I enquired about them at reception I was told they were no longer offered. They did, however, send someone up to my room with a dressing gown, slippers and towel, so I quickly got changed into those and headed down to the basement.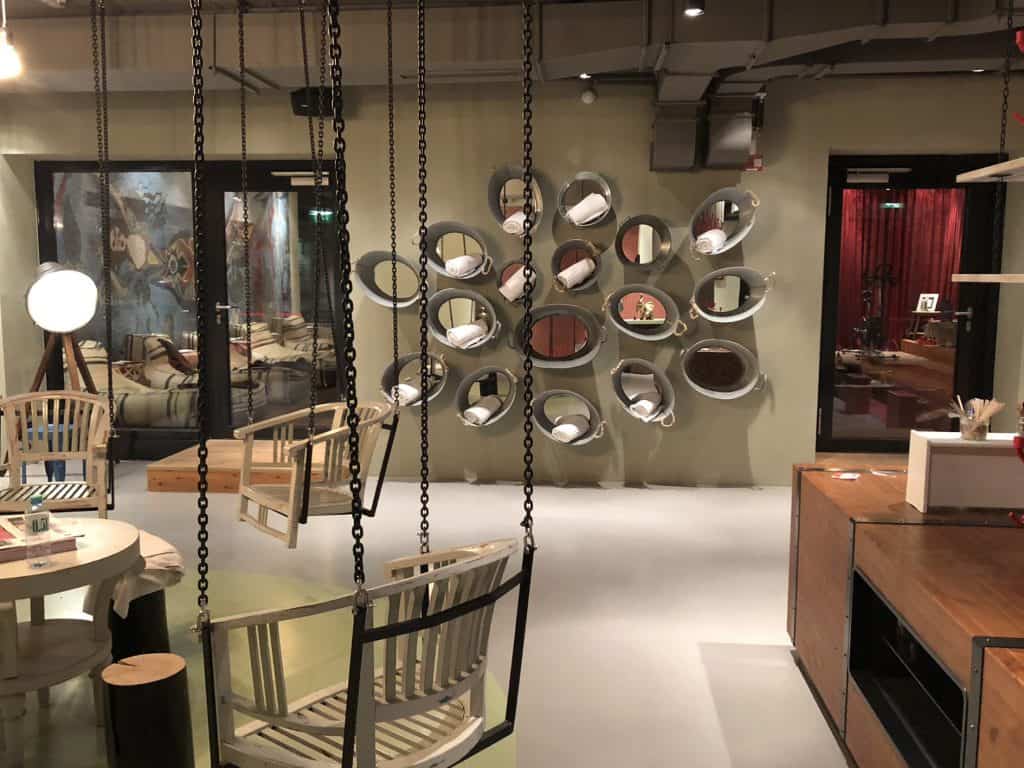 There was a cool room with suspended chairs and a fridge with bottled water (of which I got the last one) – and towards the back of that was a unisex shower area and the sauna and steam room. I had a quick shower, stripped off, and stepped into the dry heat of the sauna. Lying there, I thought back over my time in Austria's capital. I'd expected it to be much like Berlin – but overall I'd found it a lot less edgy, more refined and basically posher. It felt to me like a wealthy and polite city, and I got the impression most people there had a good standard of living.
I did feel I'd only scratched the surface of the place in my time there – all too often I'd been tempted to have a bit of a lie in, but I think I'd been encouraged to do that given it was always pretty chilly outside. That's my excuse anyway!
Pretty soon beads of sweat formed on my forehead, indicating it was time to take a cool shower. After doing that, I headed into the steam room…
before getting in back in my gown and lying on a lounger in a walled garden. It was nice to just chill there for a bit, lying in the cool air.
I took the lift back up to my room and after finishing off my packing, clambered into bed. I set my alarm for 4.30am (😩) and switched off the lights.
The trip home

I really wasn't ready to get out of bed when my alarm jolted me out of my sleep on Tuesday morning. Reluctantly, I dragged myself into the shower, got dressed, grabbed my gear, and checked out of the hotel.
It was still pitch black outside as I headed to the tube station for one of the first trains to the Wien Mitte station (I'd triple checked that was the right station after my experience trying to get to Bratislava a couple of days earlier!)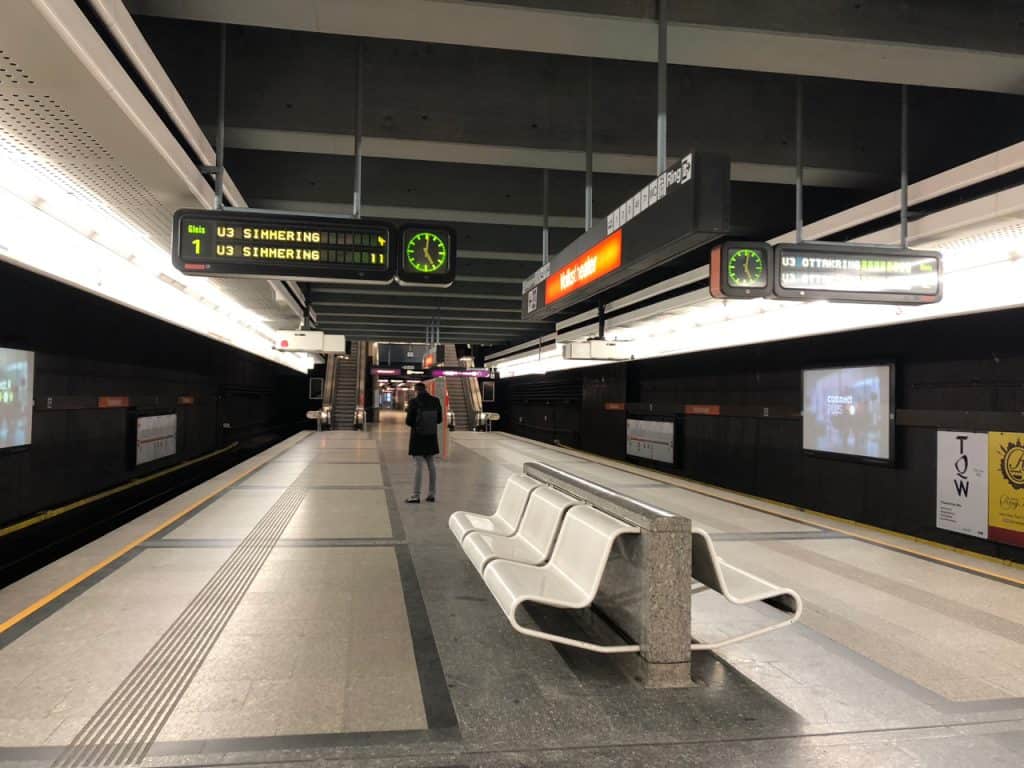 The mall at the station was deserted as I made my way to the Airport Express platforms – which were weirdly not connected to other platforms in the station, but accessed through doors in the shopping mall.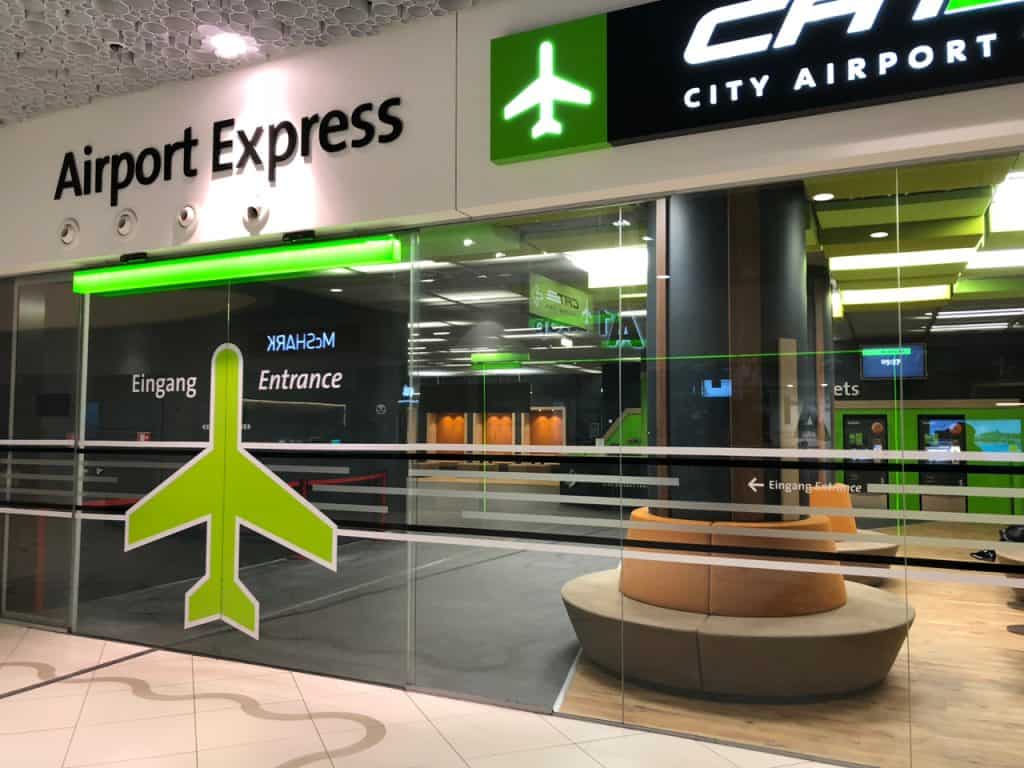 I had a fifteen minute wait before the train left the platform, but I lugged my bag up on to the train's top deck, and sat there feeling like I could fall into a deep sleep.
Before long the train pulled out of the station, and twenty minutes later I was at the airport. I took a look outside, and saw the sky filled with deep orange hues as the sun began to rise.
I had what seemed like a very long walk in and out of terminals before I arrived at check in.
Then, after dropping my bag off, I made my way to the lounge. Vienna Airport's a bit unusual in that there is no central security – you can basically walk right from check-in to the gate. Each gate has its own security, which is where your bag gets X-rayed.
The upshot of that you can get to the shops, cafes or lounges faster, but the downside is you need to be at the gate earlier to go through security.
As most of the shops were still closed because it was so early, I headed for one of the lounges. It was light and airy, and I could see our plane out the window….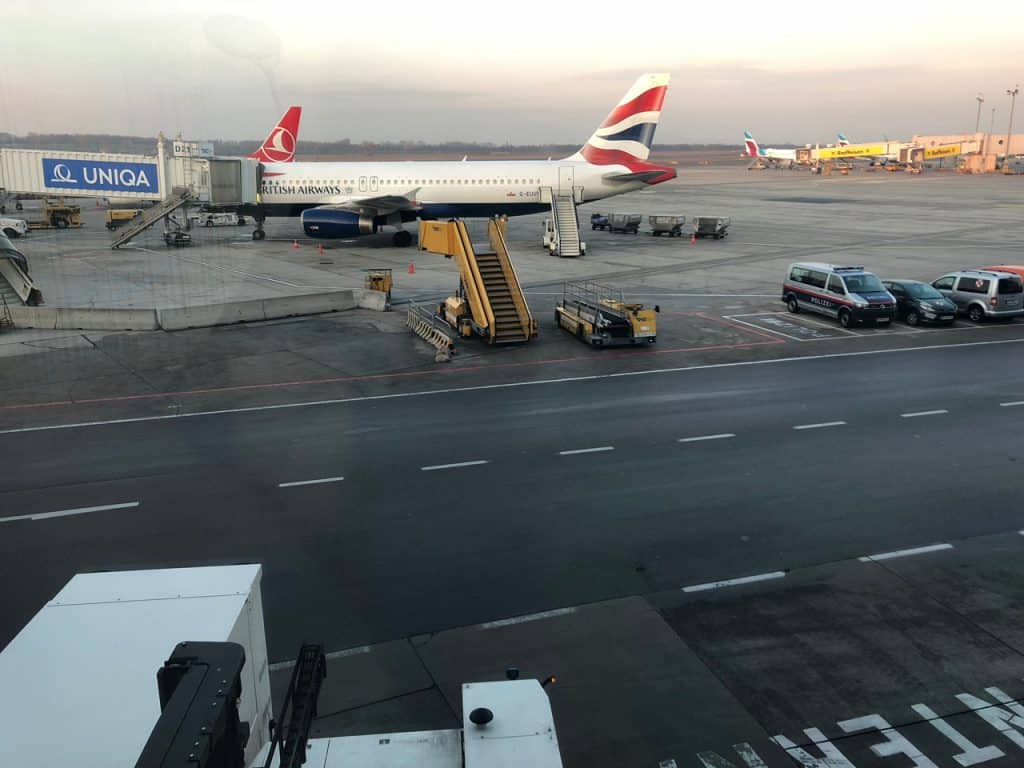 I had a wee croissant, some ham, cheese and some stuff which could have perhaps been potato salad, and an americano as I waited for my flight's departure time to draw closer. A couple of tables away a businessman's AirPods were blasting out Little Mix which made me lol a bit inside.
I quickly nipped to the loo, but on opening the door found myself in another little room where a) I couldn't spot the toilets and b) I couldn't see which way to go for the mens – or ladies. It took me a good two minutes to actually find the door and the man symbol, the place was so well camouflaged!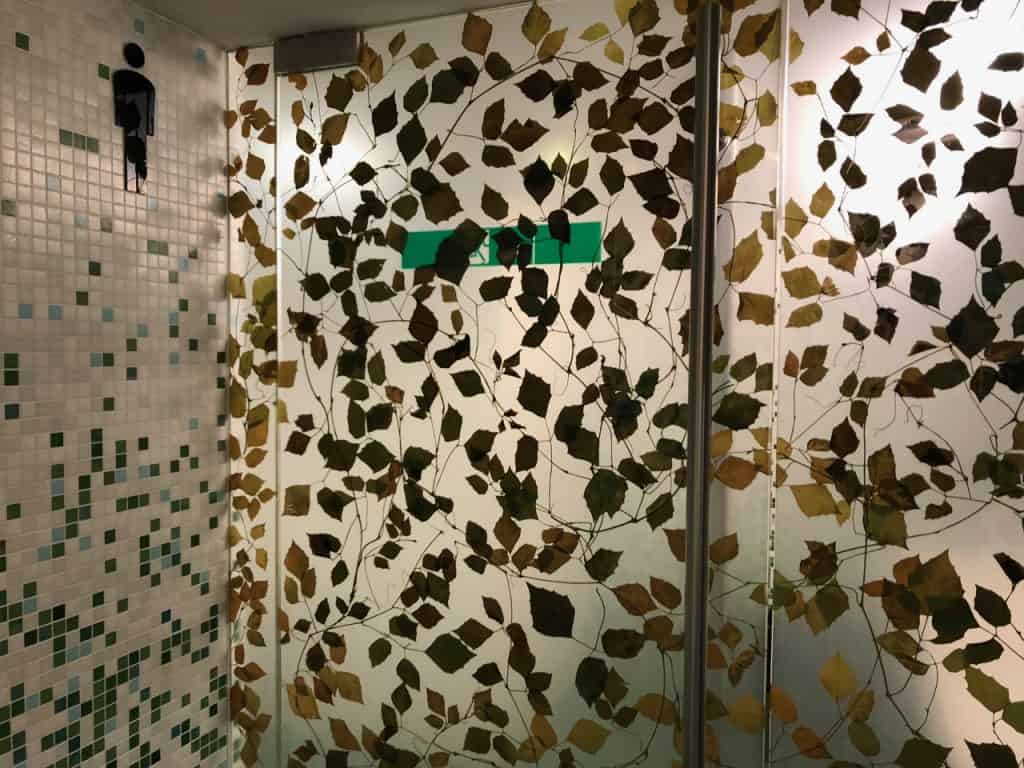 With half an hour to go before my flight took off, I made my way to the gate, only to see that boarding had already started. Security was pretty fast, and before I knew it I was on board.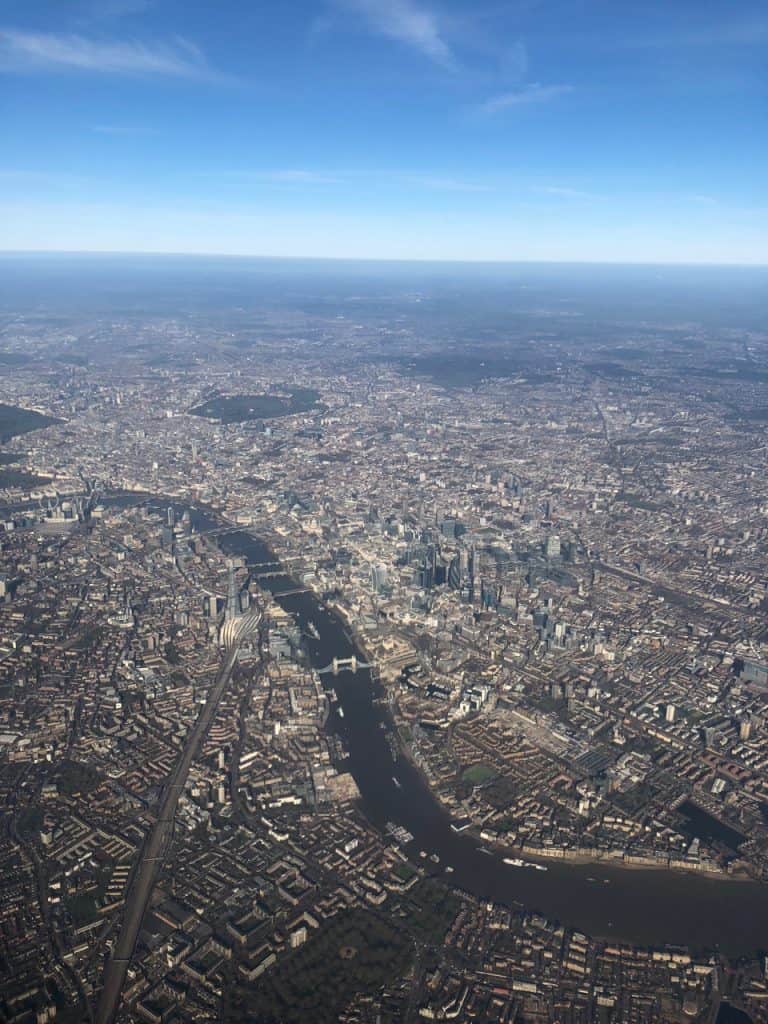 The flight was uneventful, and despite having breakfast on the plane, when I landed at Terminal 5 in Heathrow, I couldn't resist topping up on bacon and eggs in the lounge before I got on my last flight of the day to Belfast.
My trip to Vienna was at an end, and I'd managed to check off another two European countries I'd never visited before. Where next? Well I'll be taking a trip to the US this month – you can see what I get up to there on my Instagram (though I'll blog if I do anything out of the ordinary while I'm there!). My next trip I'll definitely be blogging will be in September – when I take advantage of a free flight I won in a recent competition. I'll leave you in suspense as to where I'll be heading though! 😉
SaveSave
SaveSave