It's been a bit quiet 'round these parts of late! I have taken a couple of trips recently – to Dallas and Bruges – but as I'm in Texas quite a bit I was just doing my usual stuff, which I didn't feel was worth writing about. And my trip to Bruges was really a flying visit.
Now though, I'm in Vienna – after the second attempt to visit the city in as many weeks. A fortnight ago I'd schlepped down to Dublin, only for my flight to the Austrian capital to be cancelled thanks to Storm Emma. I rebooked onto a flight two days later, but that also failed to depart. After four very long days and nights in an airport hotel, I decided to call it quits and head home. Back in Belfast, I started the what will no doubt be a long process of getting my money back from Aer Lingus and my travel insurers. I also decided to rebook my trip as I had really fancied a break – and this time I've made it to Vienna.
Getting there
As I couldn't face traipsing down to Dublin again, this time I decided to fly from Belfast. The down side of that was having a four hour layover at Heathrow. My BA flight to Vienna was leaving from terminal 3 there, so I took the opportunity to check out the brand new Qantas lounge.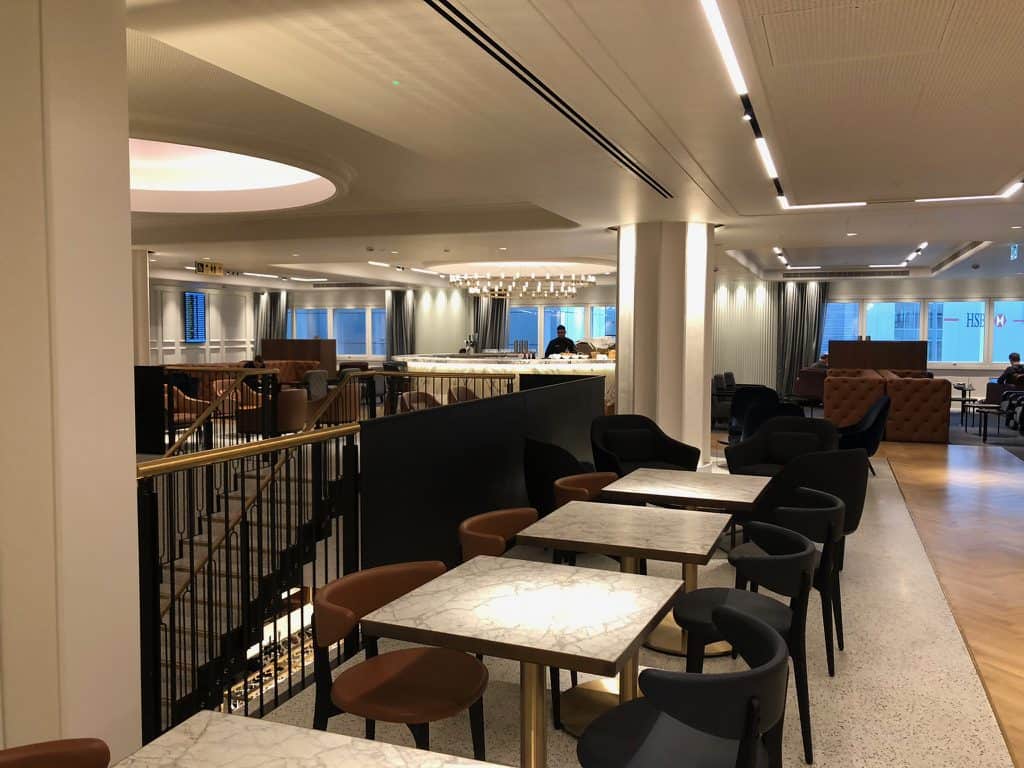 It's still got that new feel about it and was split over two levels. 'Though it was busy when I arrived, it soon quietened down. There was a gin bar (I didn't partake!) and waiter service or a buffet for food. I grabbed a quick shower after my early start and then a spot of lunch. If you have Oneworld lounge access and are in Terminal 3, I'd actually recommend the Cathay Pacific lounge before the Qantas one. The latter is definitely ok, but there were some tiny niggles – the lack of temperature controls on the taps in the shower suites means you have to clean your teeth with warm water (yeuch), and a lot of the power sockets are frustratingly just out of reach from seats. First world problems!
Anyway, after spending waaaay too long in the lounge, I was soon on the two hour long, uneventful flight to Vienna, which I spent catching up on some TV. After landing, and with what's perhaps typically Austrian efficiency my bag was already travelling around the carousel by the time I got to it, so I scooped it up and headed off to catch a train in to town. Before that I took a quick peek outside, but with it being around 5.30pm it was already getting dark, so it was hard to tell what the weather was like.
There are a couple of train options for getting into Vienna from the airport – I decided just to go for the fastest one – the CAT or City Airport Train. Tickets cost €19 return online – I just got mine from a machine so ended up paying €2 extra.
I sat upstairs for the novelty, and we were soon whisked off for the 16 minute journey into Vienna's Mitte station. I was tempted to walk to my hotel to see a bit of the city, but 'though it was only a four minute journey on the underground, according to my 'phone it would be a 35 minute walk. I decided to take the quicker option.
By the time I ascended the steps from the Volkstheater underground station, it was pitch dark, so I couldn't really get a good sense of what the place looked like. Every building I could see though was floodlit and impressive looking. The city is spotless, and every street looked pretty and neat.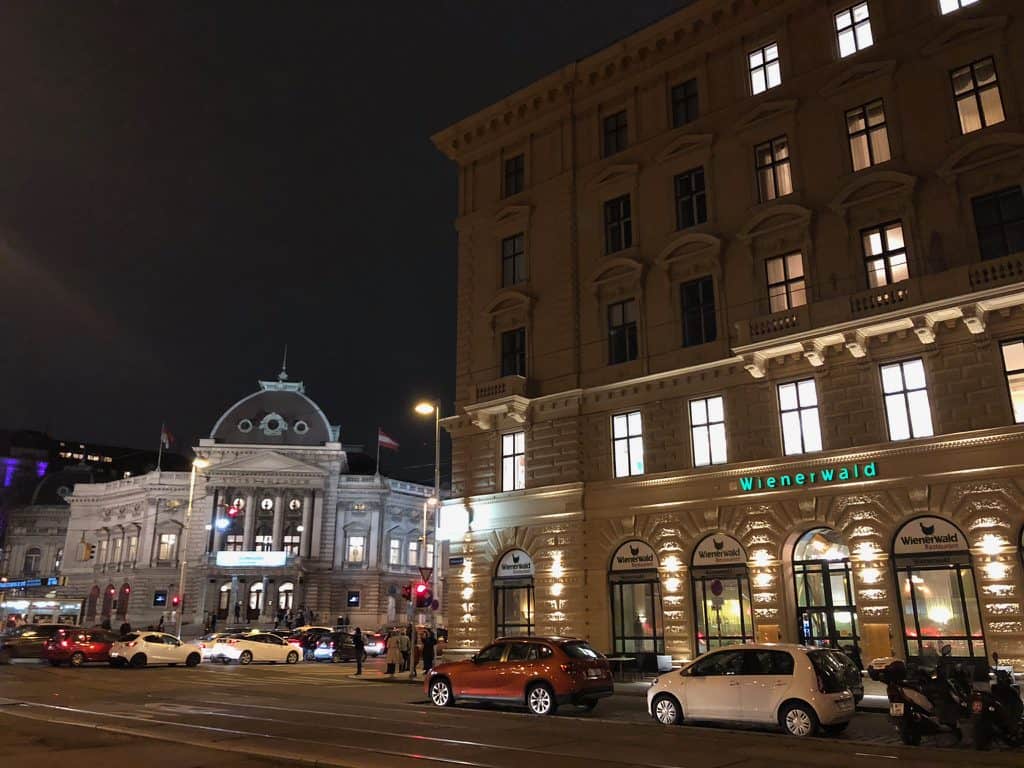 Following a great stay at the 25hours hotel in Berlin last year, I'd decided to book into the small chain's Vienna property. It was a five minute walk from the Volkstheater underground station, and check in was friendly and efficient.
I'll post some pics of my room over the next couple of days.
For some reason I was absolutely exhausted by this point – all I wanted to do was crawl into bed! It was either down to all the travelling, or the lack of sleep the night before when I'd been constantly waking up worried I'd slept in for my flight. After unpacking I strolled to the nearest supermarket, and picked up a sandwich and paprika crisps (yum) for a quick and easy dinner. I watched a bit of TV before falling into a lovely deep sleep.
Day 1
The next morning I woke to a familiar sound. Opening the curtains to my balcony…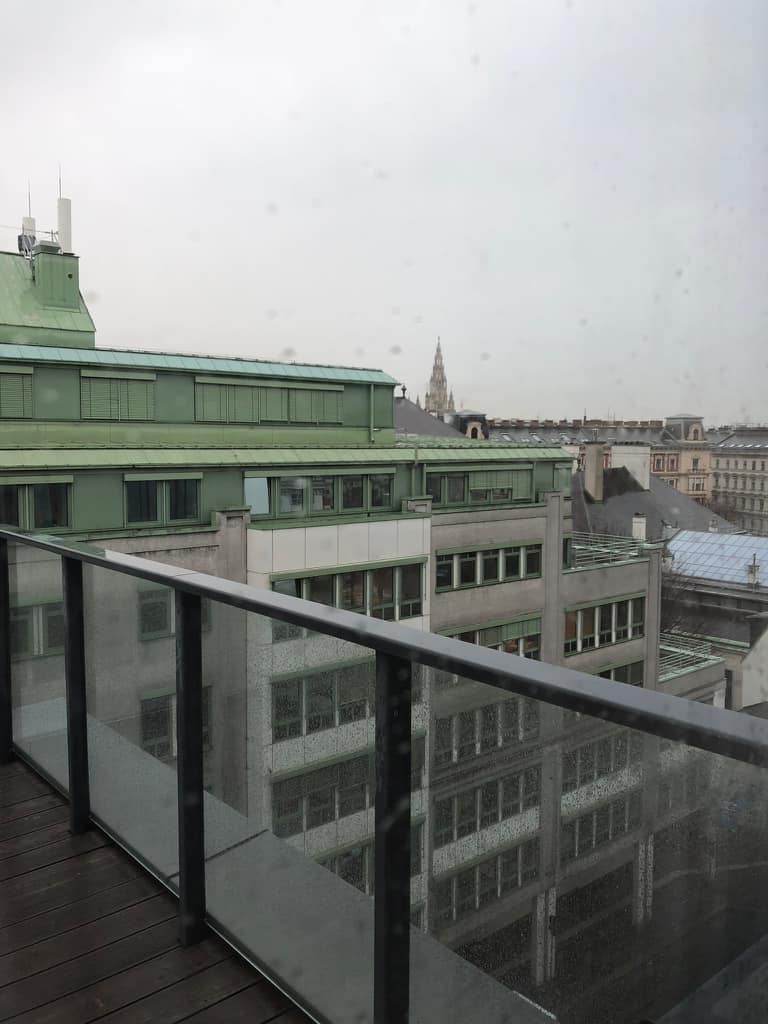 … I was greeted by a grey sky and rain pelting against the window. I was determined not to let the weather put me off doing a bit of exploring though. After getting showered and having a quick look around the public areas of the hotel, I raised my umbrella skyward and started walking towards the centre of the city.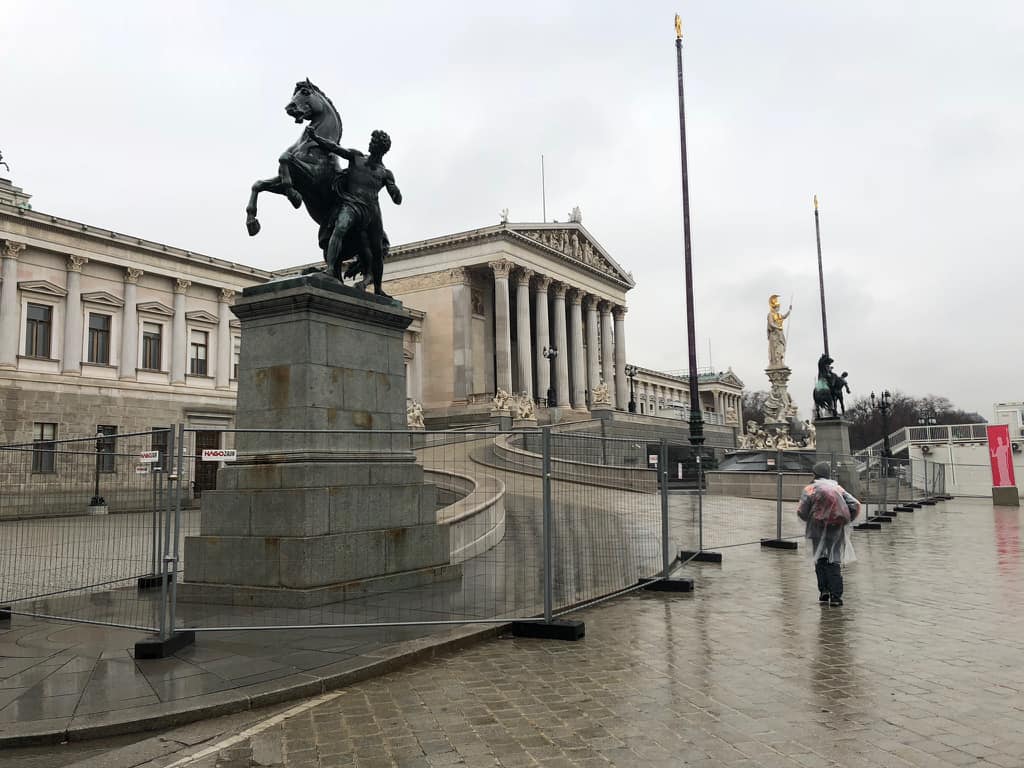 No doubt the city would have looked better had the sky been blue, but almost every building I walked past was pretty stunning. They all looked like they'd been built at least a hundred years ago, and the architecture is impressive. The building in the picture above is the Parliament building – which seems to be closed for refurbishment.
After walking in the rain for twenty minutes or so, and with by now damp socks, I arrived at the main Tourist Information office on Albertinaplatz.
Inside I decided to pick up a 72 hour Vienna City Card. It gives you free public transport in the city for 72 hours from the point you validate it at a station or stop, plus discounts at some sights, restaurants and shops. I'd done the sums and worked out that with the places I planned to visit, I wouldn't be any worse off buying it over a normal public transport 3 day ticket.
Heading back out into the rain, it was a short trudge to the first destination of the day.
St Stephen's Cathedral
St Stephen's Cathedral – or Stephansdom's – construction started in the 12th Century, and it's now one of Vienna's best known sites. There were two parts of the church I wanted to visit…
…and neither of them were in the main part of the church, impressive as it was. After a short wait at the back of the church, I descended some stairs for a tour of the church's catacombs.
Annoyingly, our guide told us you weren't allowed to take any photos. So you'll have to use your imagination for the next bit!
Our half hour tour started in a relatively modern looking section. We were told the crypt's still in active use – with an archbishop being the most recent person to be buried there in 2014. Next we were led into a small room with massive metal coffins at one end, and shelves lined with metal jars on either side. The jars held the organs of Austrian royals. Apparently when a royal died, their bodies were split up and buried in three different parts of the city. It was a bit creepy knowing pickled organs were within touching distance, but that wasn't anything compared to what was coming next.
Going down a corridor lined with what looked like marble, we turned a corner and were suddenly walking down what looked like a much older corridor with bare bulbs swinging from the brick ceiling.
In this section of the catacombs lie the bones of 11,000 people. After an outbreak of the bubonic plague, bodies from cemeteries around Vienna were thrown into a pit underneath the cathedral. You might want to skip the next paragraph if you're squeamish!
Apparently the smell from the rotting corpses would waft into the cathedral during services, so prisoners were employed to scrape flesh off the skeletons and snap them into individual bones. The bones were then stacked tightly upon each other, with the skulls placed on top. Peeking through holes in the walls, you could see heaped piles of bones and skulls in the middle of rooms, with the walls looking like they were literally made out of packed bones.
There were gasps as we all took turns to take a look – I've never seen anything like it really. It was pretty spooky. Turning another corner, we climbed up some stairs and were suddenly outside again – where our guide took the €6 fee for the tour. I felt that was a fair price for the experience. You can get times etc. for the tour here. If you want pictures you'll have to google for them 😉
It was 11.30 by now, and while I wasn't ready for lunch, I was a bit peckish, so I nipped into a cafe right by Stephansdom called Aida – which is part of a chain.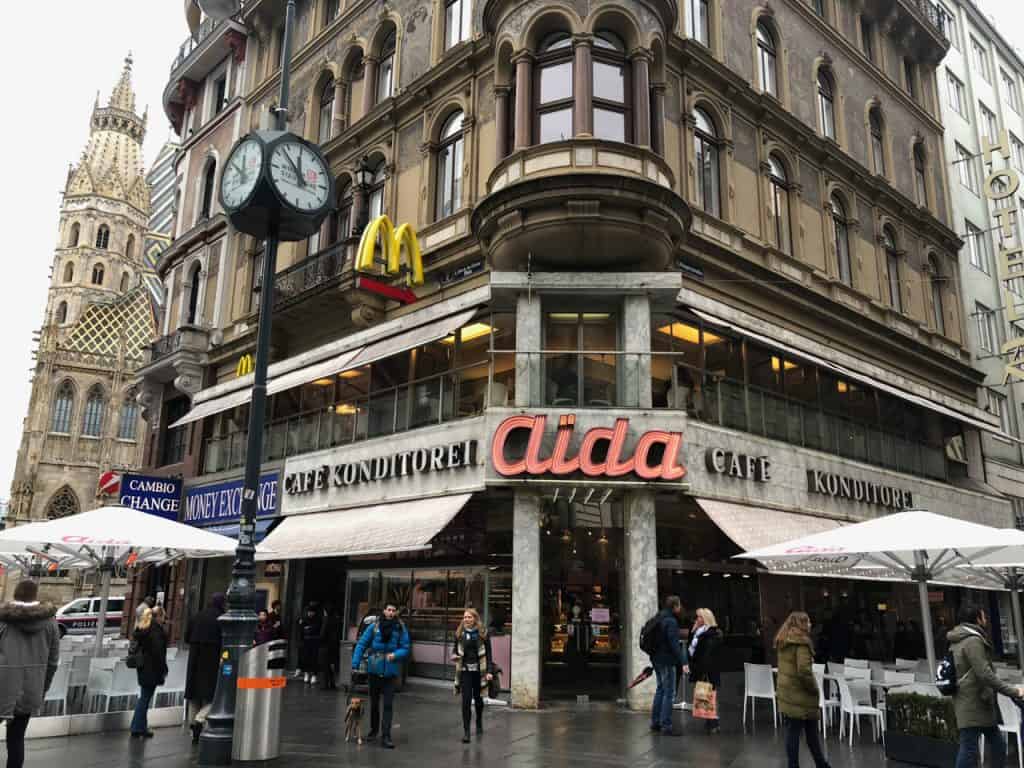 It was pretty busy inside, but I got a table, and was glad to rest my feet. The place had a traditional, olde worlde feel about it. There was a lot of pink – particularly in the waitresses' uniforms.
That was the best picture of them I managed to get. But basically they were dressed in pink from head to toe, with big, pink, bow-adorned hairbands.
Helpfully the menu had diagrams with English descriptions showing the make-up of each kind of coffee on offer – and it was a long list. Deciding to go traditional, I went for a 'Kleiner brauner'. That's basically an ordinary coffee, but here it came with milk already added and a little whipped cream on the top. I usually take my coffee black, but I liked this! I also had a croissant which was deliciously flaky.
I wasn't done with Stephansdom yet, but decided to go for a quick stroll down nearby Kärtner Straße – Vienna's best known shopping street. I had a wander around the newly opened Apple Store, then headed for a look at the clothes in Steffi – Vienna's main department store. I took the escalator up to the 7th floor – where there's a bar, but also, just at the top of the escalator, a window giving a good view of Stephansdom's elaborate roof.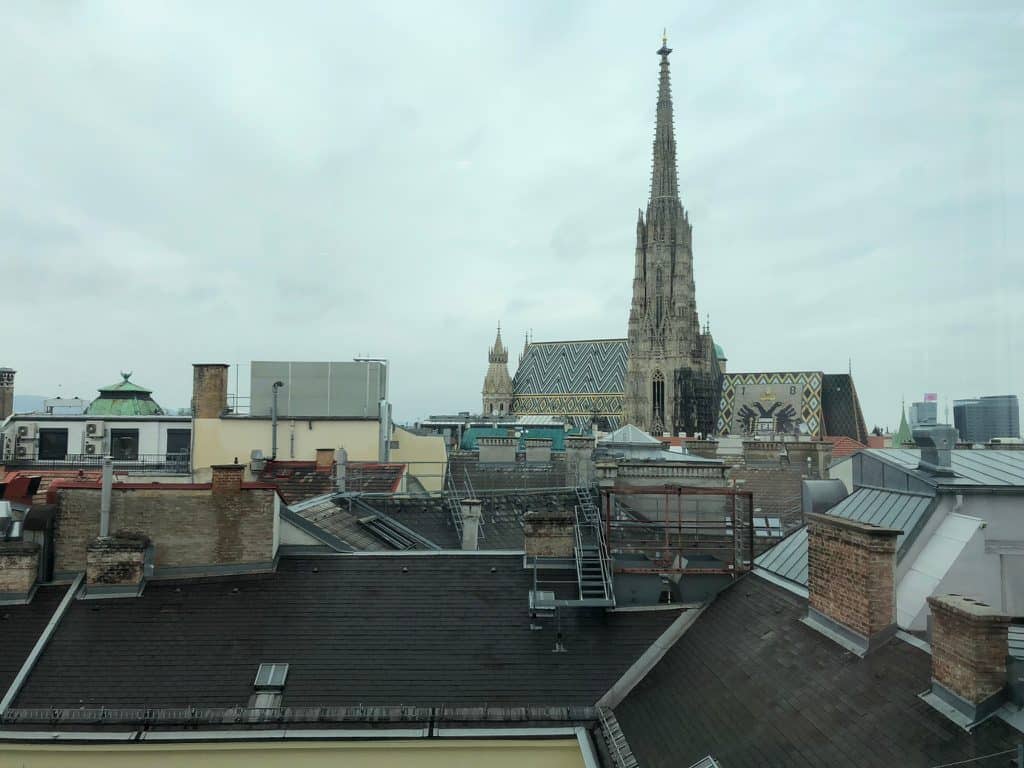 I was about to get a much closer look at that. I got into the glass elevator running down the outside of the store and headed back to the cathedral.
After paying a €5 entrance fee, I started climbing the 343 stairs that would take me to the top (well nearly) of the cathedral's South Tower.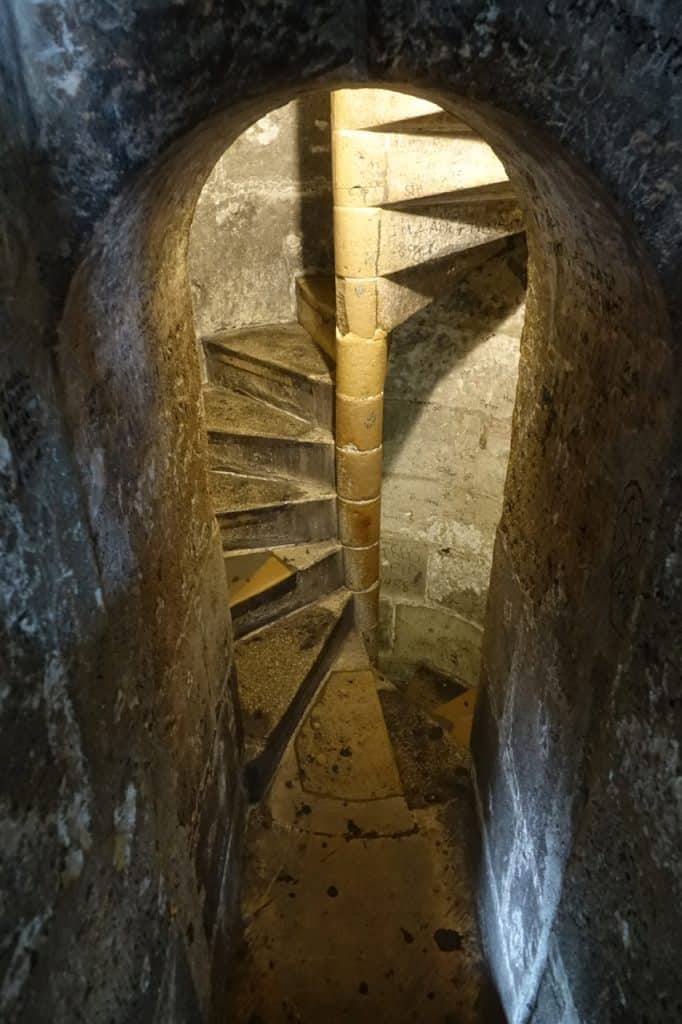 To be honest, the climb wasn't too bad! There is no lift though – it's take it or leave it when it comes to the stairs. After a while, I'll admit I was pechin' as they say in Scotland, but there was a bit of respite when I came into a space without stairs.
Not a great photo that but you can get the idea!
Carrying on up the stairs I eventually came to a narrow walkway with some windows, where I got a close up view of the cathedral's roof.
I'd read reviews of the tower on Trip Advisor that moaned about how when you get to the tower's summit there's basically only four windows to look out. So looking out the window above I thought that was probably as good as the view was going to get. But I carried on walking along the walkway and came out in a space with a small shop.
This was where the real views were. And yes – there were only four sets of windows, but I think the view was worth the climb, and the entrance fee. This is what you could see….
I think that view's well worth €5! I think it's probably the best view of Vienna you can get, so I'd definitely recommend taking a trek up the cathedral's South Tower.
Lunch with a view
After spending a while taking in the view out of each of the windows, I headed downstairs and back on to the city's streets. It was time for lunch, and I was hopefully going to have it at a rather unusual venue which apparently offered another good view of Vienna.
It was a 15 minute walk away, and though the rain was still falling, it was nice just soaking up the city's atmosphere. At the end of one street I came across a particularly grand building – which turned out to be home to the Spanish Riding School.
Eventually I arrived at my lunch venue, which turned out just to be a stone's throw from my hotel.
I was going to have lunch in the staff cafeteria at Austria's Palace of Justice – home to the country's Supreme Court. After checking I definitely had the right address, I stepped inside and was greeted by a friendly security guard who had a look through my bag. After walking through a metal detector, I stepped into the building's grand atrium.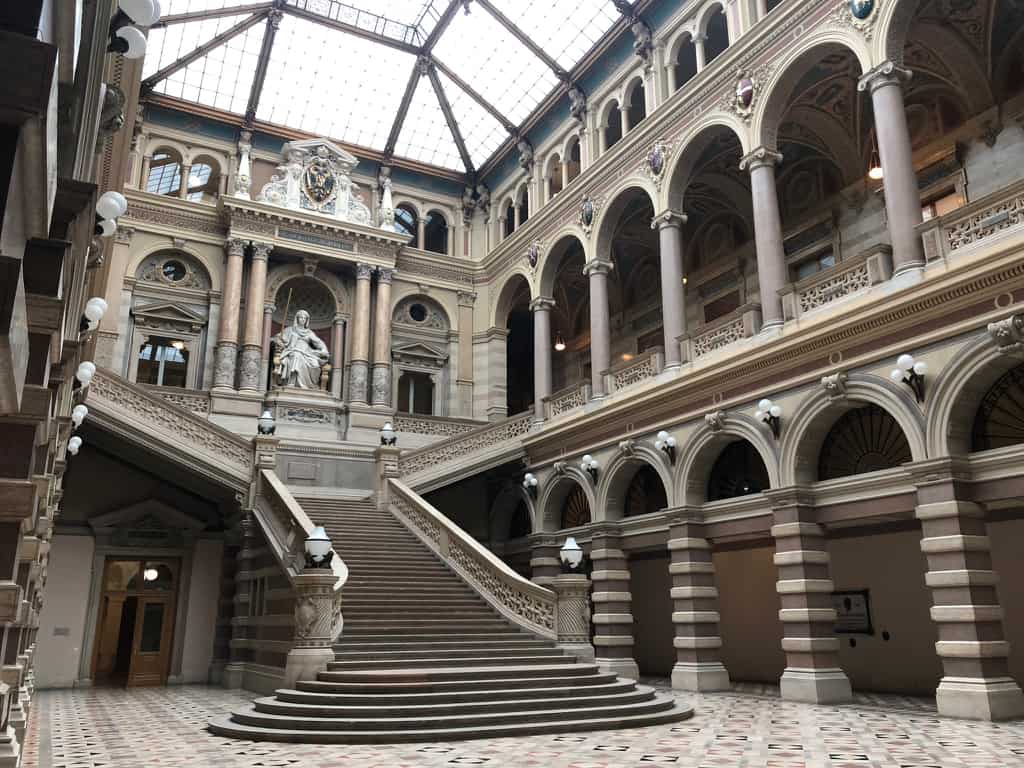 There are no signs or anything to tell you how to get to the café, but the security guard had given me some directions. I got in a lift just to the left of the picture above, and pressed the button for the 5th floor. Turning left when you get out the lift, the Justiz Cafe is up a short flight of stairs.
It looks quiet in the picture above, but when I arrived it was pretty busy with workers sitting chatting over their lunch. The menu was handwritten above the counter, so I stood for a while laboriously typing everything into Google Translate. Which basically failed me. Either that or I wasn't deciphering the writing correctly. After about ten minutes I suddenly had a sinking feeling when I realised I didn't have any cash on me. I looked around the till for a credit card machine, and after failing to spot one, waved my card at the man behind the counter and enquired "Carte?". Not even sure that's German for card, but it sounded like it might be right!
Sadly he shook his head. Man! They only took cash. At this point I did consider just ditching the whole idea of having lunch there. But I thought it would be neat to say I'd done it, so I headed back downstairs, back through security and out of the building. Putting 'ATM' into my phone told me the nearest ATM was a 16 minute walk away. Hmmm. I tried putting 'bank' in instead but after walking for eight minutes to the nearest one, it turned out just to be a business bank with no cash machine. Trying in 'ATM' again, this time pulled up different results – there was one only a two minute walk around the corner from the Palace of Justice. Grrrr!
It turned out the ATM was actually on the outside wall of the Palace of Justice. But it wasn't easy to find!
Yup that's it practically on the pavement on the right. Anyway, I took some cash out, walked back to reception, went through the whole security rigmarole again (although the kind lady had kept my bag for me), and then headed back up to the cafeteria.
When I'd been there earlier I saw some ladies getting some soup and what looked like a sausage roll with some small dumplings. I thought that would do me perfectly! Luckily the person behind the counter spoke English, so I asked them about that. He started to talk about a traditional Austrian dish with cream and something else so I said 'ah no that wasn't it' – and pointed at a dish of what I thought was sausage rolls. The man started serving it up as he told me it was cod in pastry with spinach and boiled potatoes 😩. I was gutted! But it was too late to change my mind.
That was part of a 'menu' which also came with mushroom soup – and I think a dessert – but I didn't bother with that. I got a Diet Coke to drink and sat down by the window to enjoy my soup and cod.
I've got to say it was actually really tasty. The soup was nice, and the cod in filo pastry was actually delicious! The two courses came to €11,50 which I thought was a bargain. After polishing my lunch off, I headed out on to the balcony which wraps around two sides of the cafeteria to take in the view.
It wasn't really as good as I was expecting – I think the view from St Stephen's had spoiled me, but it was still nice to see the city's rooftops from another location. I'd definitely recommend the Justizcafe if you're in Vienna. You can check out the menu deals and a la carte options on their website – if only I'd known that beforehand I might have got that sausage roll thing! The food's decent, it's well priced, and the novelty factor of saying you've had lunch at the Austrian Supreme Court is cool too.
Strolling the 7th District
After my fishy lunch I had a bit of an errand to run, and walked just a short distance past the Volkstheater to Neubau. Vienna's Seventh district is home to loads of independent shops and boutiques, cafes and restaurants. It felt cool and laid back walking around, and there was lots of street art.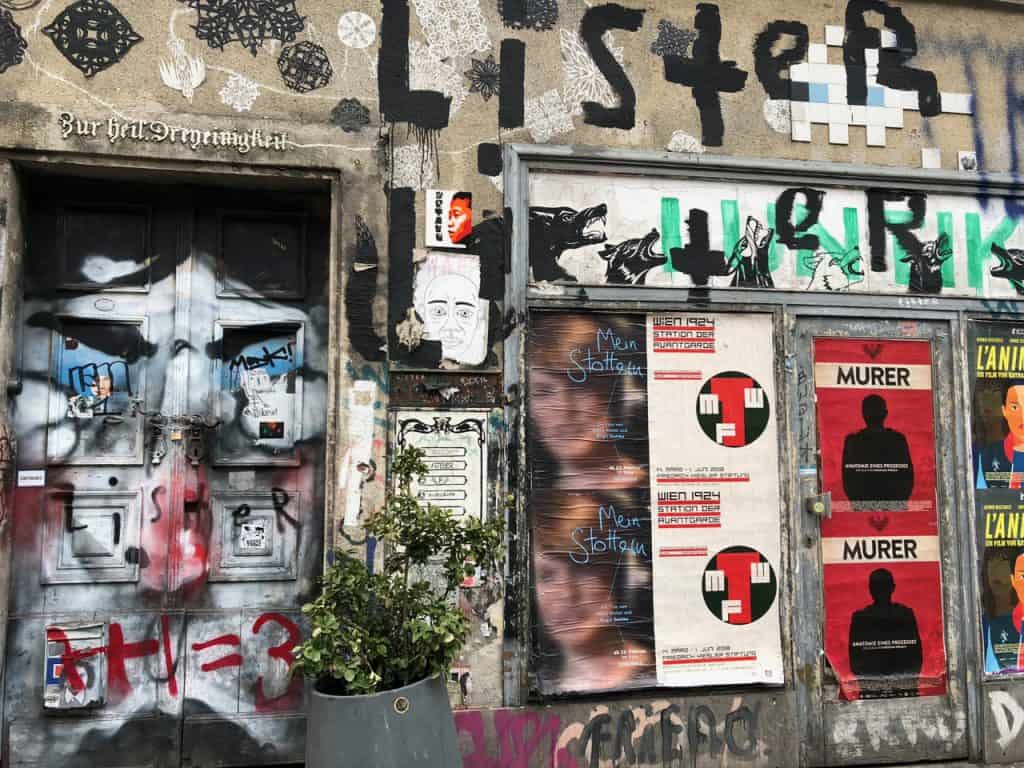 Spotting a heavily decorated area with a sign I crossed the road to have a closer look.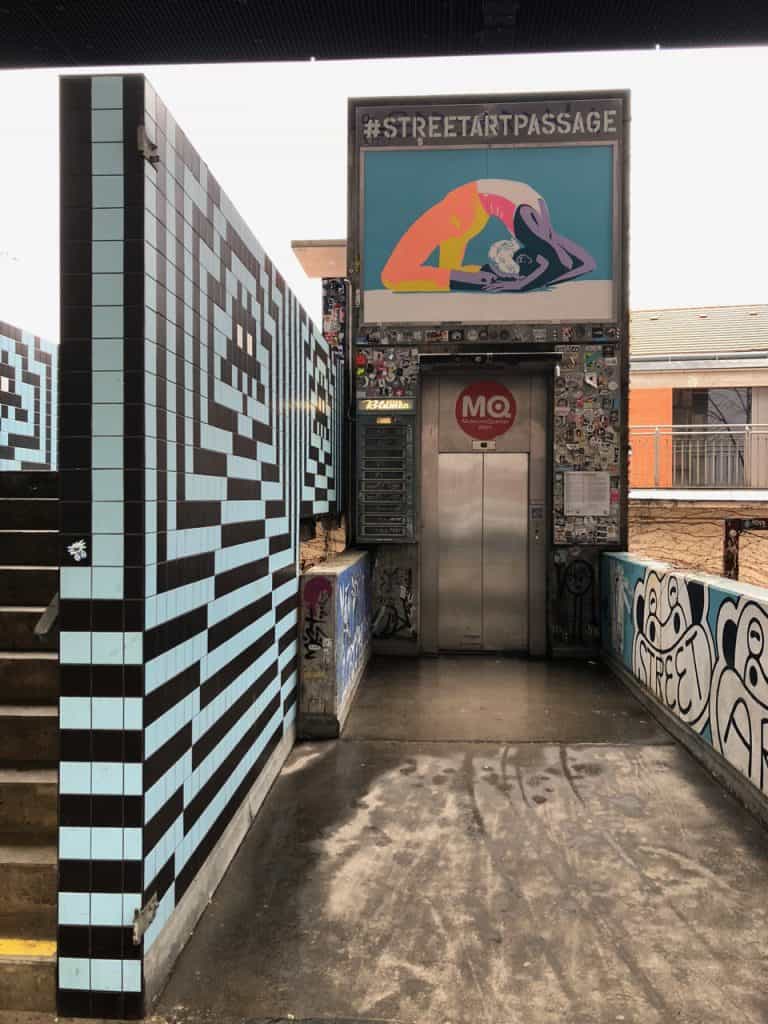 Just behind the MuseumsQuartier complex of museums was a little pedestrian bridge – it and its surroundings were covered in street art. The sign explained that the passage was one of six in the area which were 'micro-museums' with changing works by street artists. Quite a cool idea I thought! A nearby vending machine sold accompanying catalogues and sticker sets.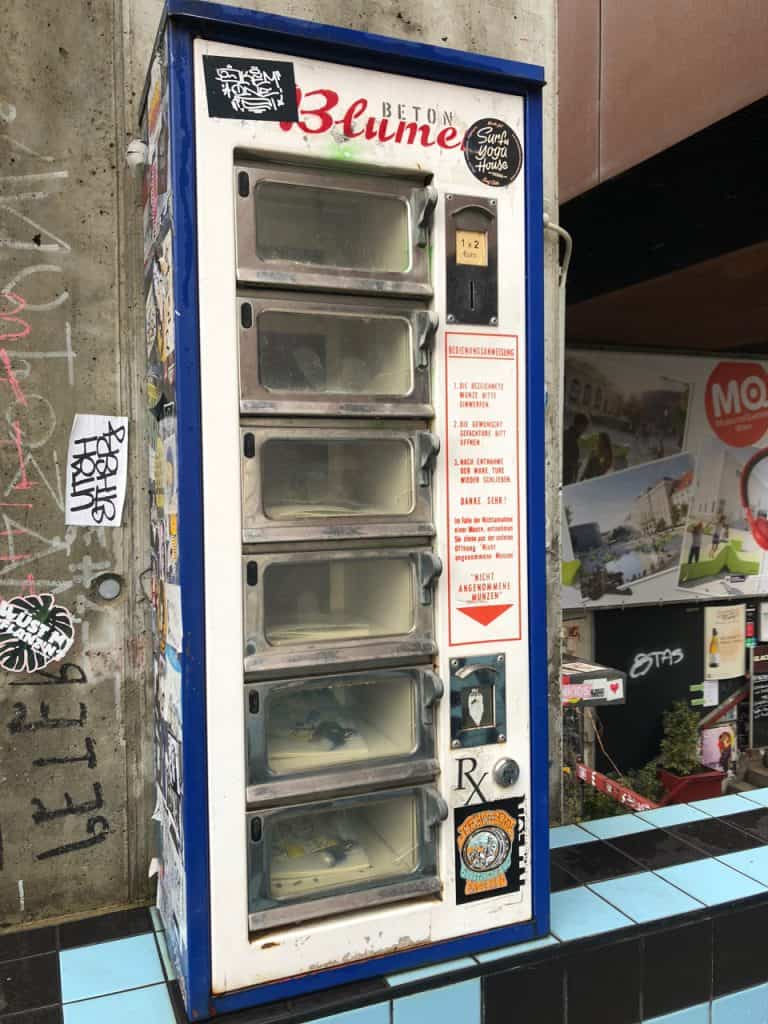 Across the street from the bridge I popped into a designer gift shop which was selling locally made goods like these little jewellery tributes to Vienna's cafe culture.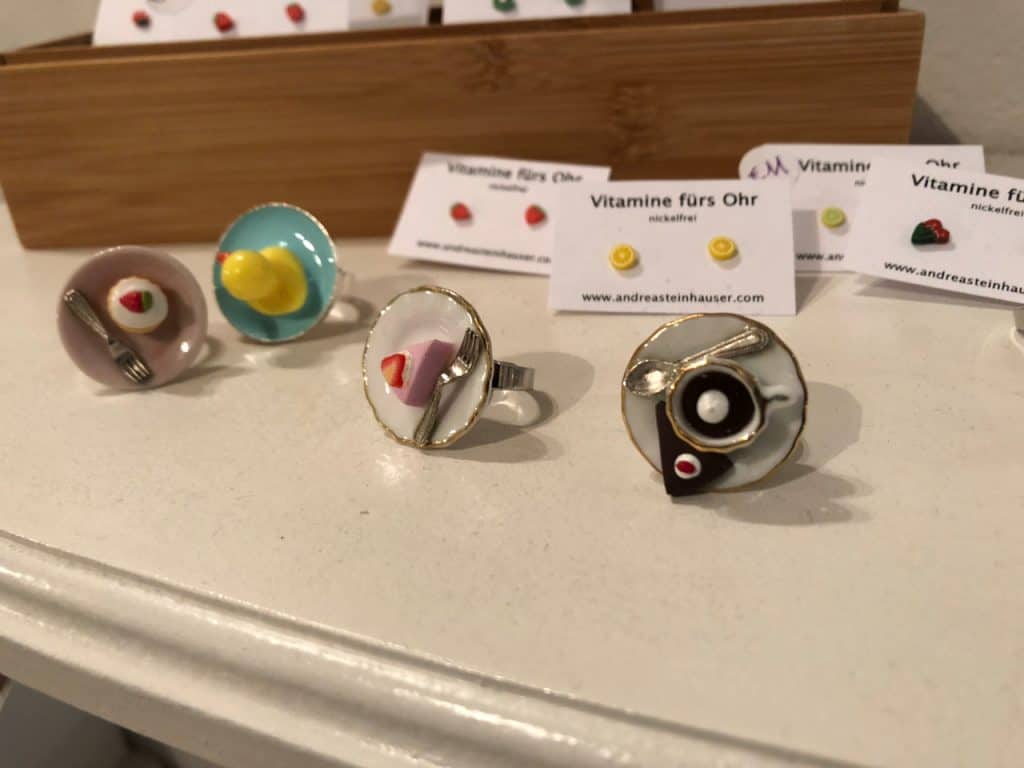 I was in Neubau to visit a store run by the company that made the carry on luggage I have. It's a great bag which I've used loads, but as it's made out of material, one of the corners has become worn and a small hole's appeared. I'd emailed Qwstion on the off chance that their Vienna store did repairs. It turned out they didn't, but they did offer to send the store some material for me, free of charge. Which was good service I thought, considering my bag was out of guarantee.
As I walked the areas streets on the way to the store, what struck me was just how many small independent shops there were, and how specialist they seemed. I think you could literally get anything you wanted in Neubau!
I saw a shop that had a very weird range of musical instruments…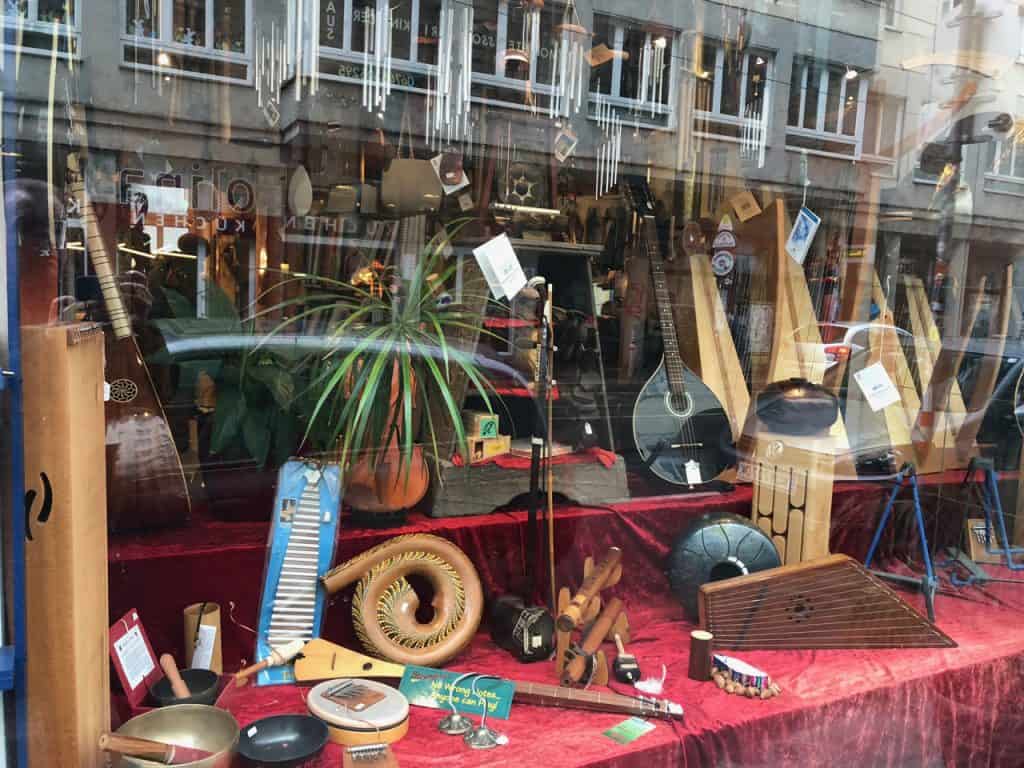 And one which only sold salt and pepper grinders.
Talk about niche! It was cool just browsing the window displays though. I also spotted one of Vienna's famous same-sex pedestrian lights.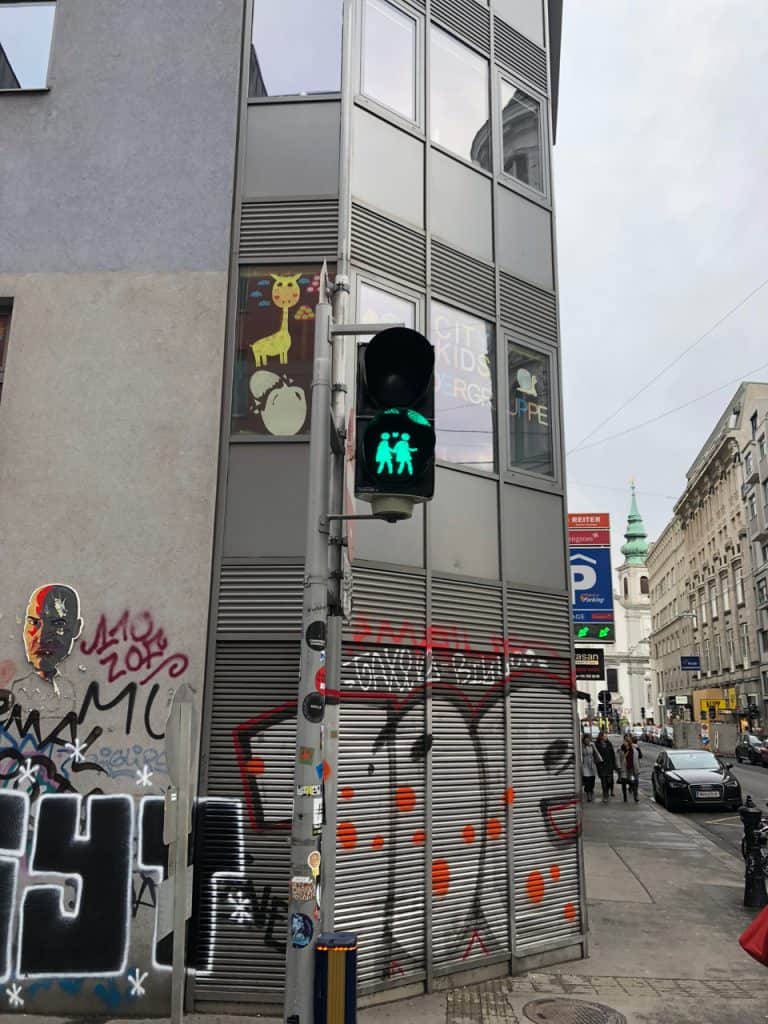 Finally I arrived at the Qwistion store and picked up my package. Not only had they put some of the bag fabric in the package for me, but some of the strap fabric as well. Now I just need to get it patched up when I get home.
By this point I was feeling a bit weary. I felt like I'd been walking for ages, and I just wanted to sit down and rest my feet. Turning to trusty Google Maps again I found a nearby Starbucks. Not the most authentic Viennese cafe maybe, but sometimes you just want what you know! I headed there, and sat down with a coffee and brownie. It was pretty rammed. In fact I managed to grab the last free table.
Suitably rested, I headed back the way I'd come. By now the sun was beginning to set in the sky, casting a golden glow over Neubau's streets.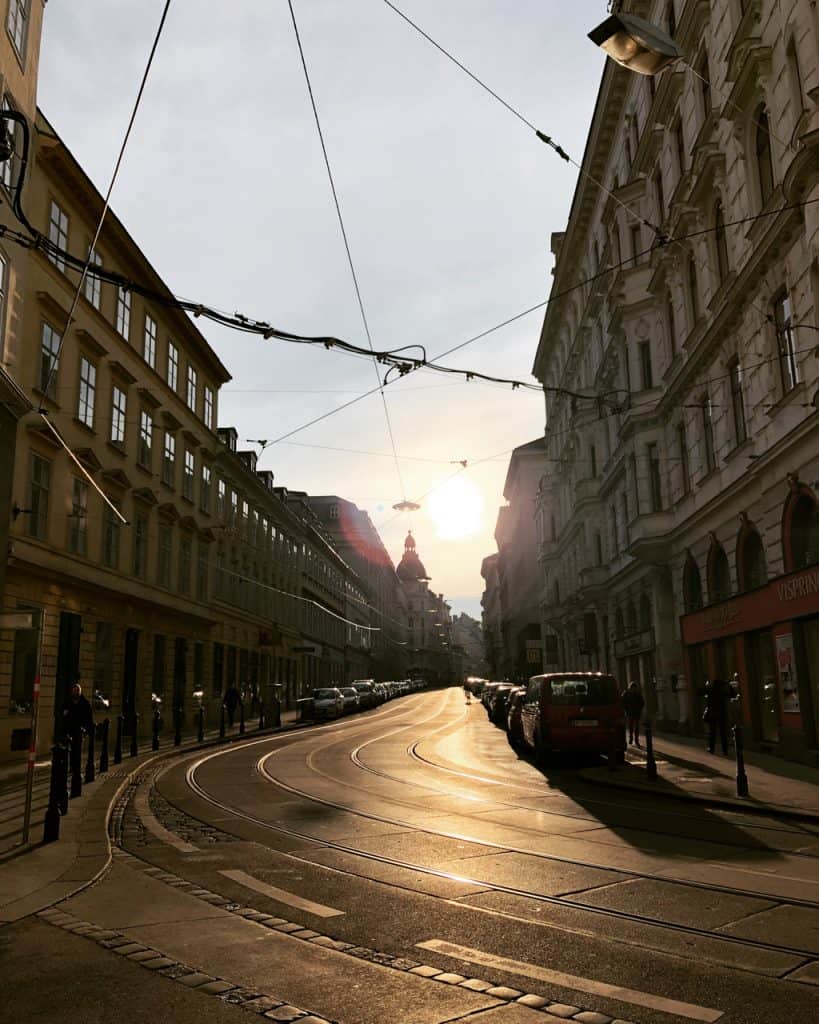 mumok – museum of modern art
For my last sight of the day I fancied getting a bit of culture. Vienna's MuseumsQuartier is pretty unique as far as I know. Spanning some 60,000 square metres, it's a cultural area which is home to art museums and agencies, as well as cafes and restaurants. It would be impossible to get around all the museums on site in a day, but I wanted to visit at least one – and had picked mumok – the museum of modern art.
Walking across the pedestrian bridge with the vending machine I'd seen earlier, I descended some stairs and reached the museum.
By this time it was about 5pm, but I knew the museum was open until 7pm, so I thought two hours should be enough for a good look around. Entry's €12 usually, but I just paid €10 thanks to my Vienna Card.
After a quick look around the museum's shop, I downloaded the free audio guide app and headed up to the top floor. The top two floors were displaying works of art from one of Germany's most important private collections of contemporary art.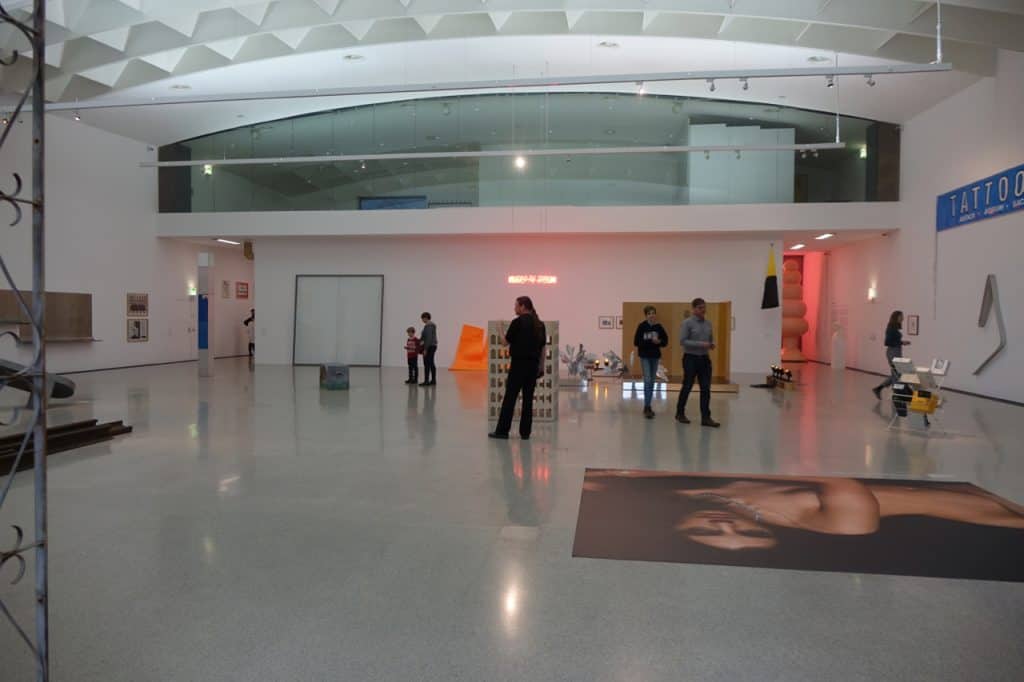 Now I'd love to say I was creatively inspired by some of the works, or that I really loved some of them, but truth be told, I think the vast majority of it went over my head. I did listen to the audio guide's description of some of the pieces, but it was more about the artist rather than what the piece was actually about. This piece below was 'interesting'….
It was a man standing in front of a bell pointing at another mannequin sitting at the bottom of a wooden slide studded with nails. Note his blood soaked derriere. I was like 'hmmmm' *thinking emoji face*
Heading downstairs from the works from the private collection, there was an exhibition of work by an artist called Bruno Gironcoli. He was an Austrian artist whose work included a lot of sculptures – like the one below.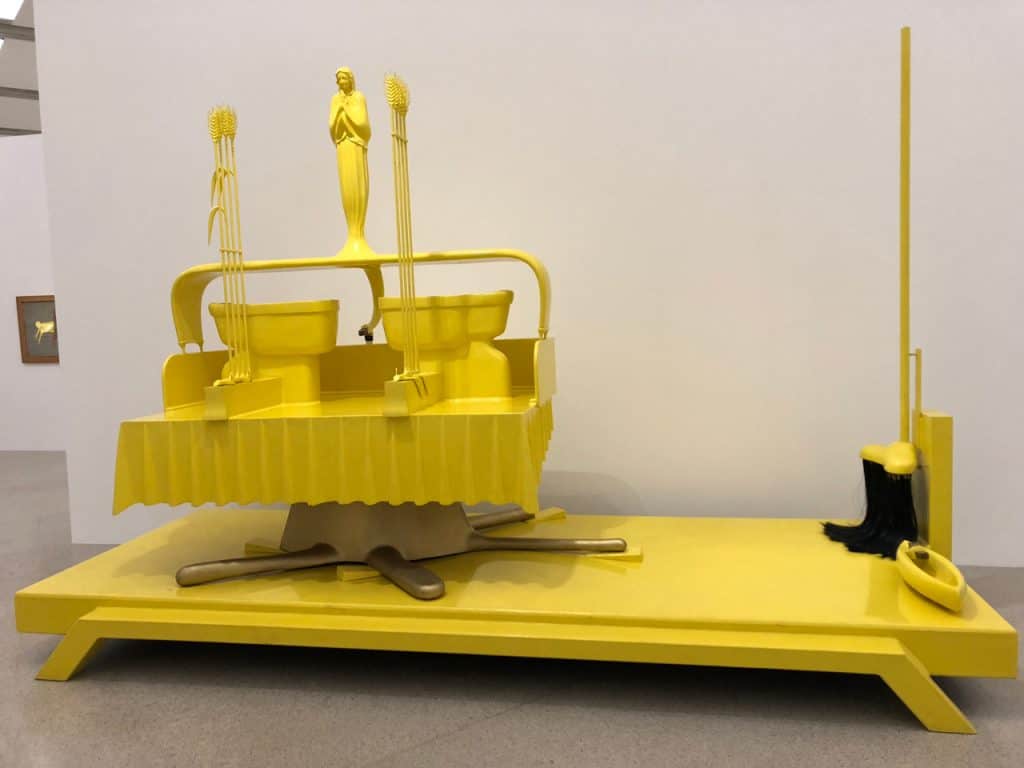 One thing in the gallery which I thought was cool was Cafe Hansi – a work of art that's also a small cafe which is only open for three hours on the last Thursday of every month.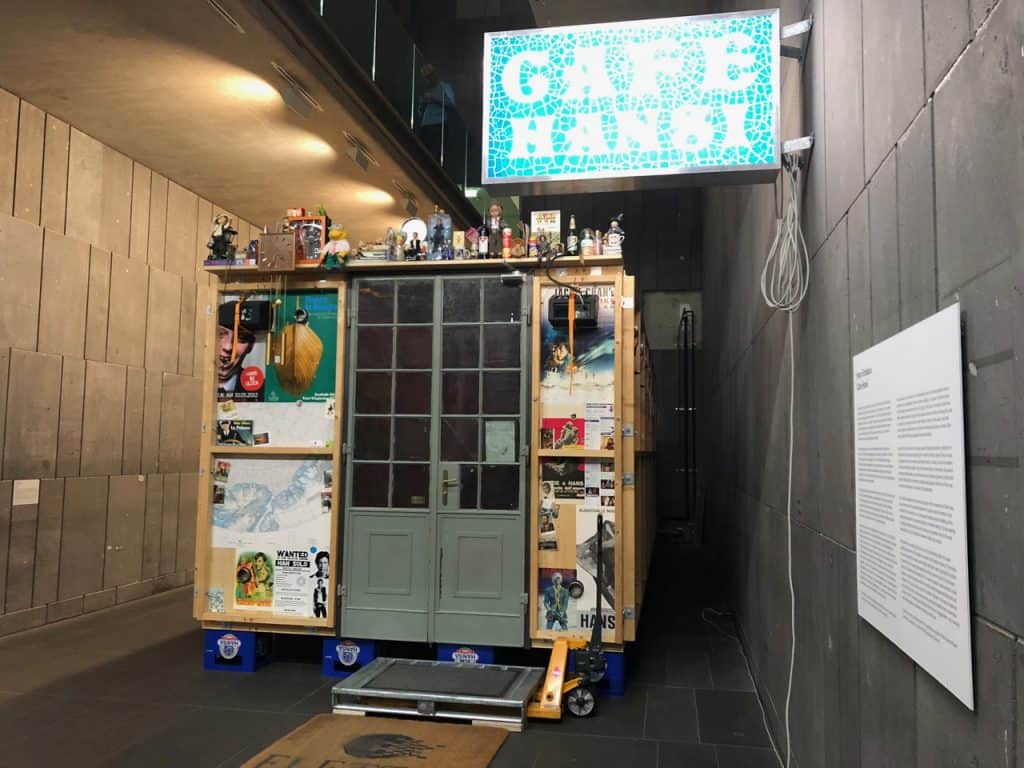 The outside is covered in bits and pieces collected by the artist responsible over the last fifteen years. While inside is apparently covered in mirrors. Unfortunately I didn't get to see inside as it wasn't open.
Burger time
After walking around the last floors of the museum, I decided to go and grab a bit of dinner. I'd walked twelve miles by now – and just fancied someplace quick and again familiar. There was only one place for it!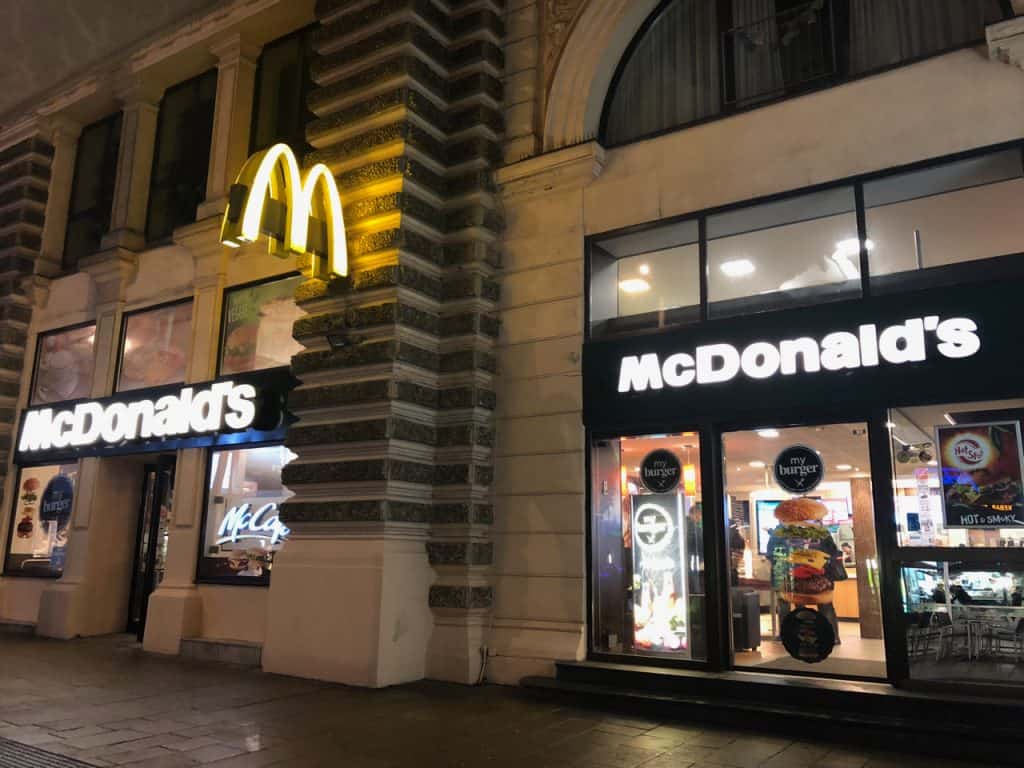 Again I was just glad to rest my feet! I ordered using one of the touch screens, and was delighted to see that curly fries were an option! For the burger, I went with the HotSpot – which I think was a promotional burger. It came with smoky bacon sauce and jalapeños, and was delicious. It definitely hit the (hot) spot!
Full – and satisfied – I headed back to the hotel and clambered into bed, once again exhausted. I was going to try and take it a bit easier on my second day in Vienna!