I'm on my travels again! More blogging! As always I'm keeping a blog of my trip, so I have a record of what I've done and where I've been.
With a couple of days off, and taking advantage of a refund I got on my flight to Iceland (thanks to Easyjet's little known price promise), I decided to head someplace sunny rather than cold – so I've come to Barcelona for five days.
It was an early start, I was up out of bed at 3.30am – and typically although I'd been in bed by 10pm the night before I didn't get to sleep until about midnight. So not much sleep! The flight to Barcelona's El Prat airport was pretty painless, and I was delighted to see blue skies when we landed!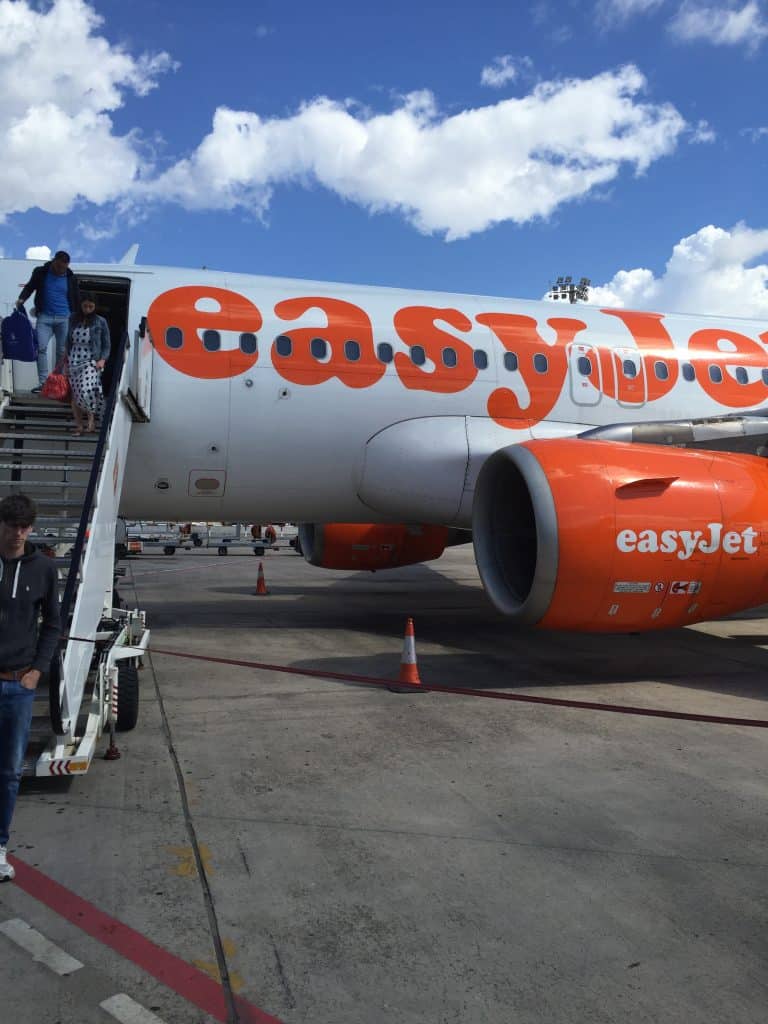 The flight was pretty painless really – helped along by watching this week's River City and an episode of Chris Lilley's We Can Be Heroes – the only series of his I haven't managed to catch yet. It's genius if you haven't seen it.
Luckily, thanks to 3's Feel at Home, I get to use my unlimited data allowance (and calls and text allowance) in Spain, so there was no need to pick up a sim card in the airport this time. I was straight on the A2 bus into town (after an annoyingly long wait for my luggage). A quick hop on the metro later, and I arrived at my hotel – Barcelo Raval. It's in an area which can apparently get a bit dodgy at night, but it seems fine (so far!) during the day. My room wasn't ready, so after swapping stuff into my messenger bag, I was off to explore the city.
My plan for today, given my early start, was to take it pretty easy. I wasn't going to go crazy doing loads of stuff. First stop was lunch. I've done my research for Barcelona, and decided to head to the restaurant I was keenest to check out. Dos Palillos was opened by a chef that worked at ElBulli – frequently (before it closed) named as the best restaurant in the world.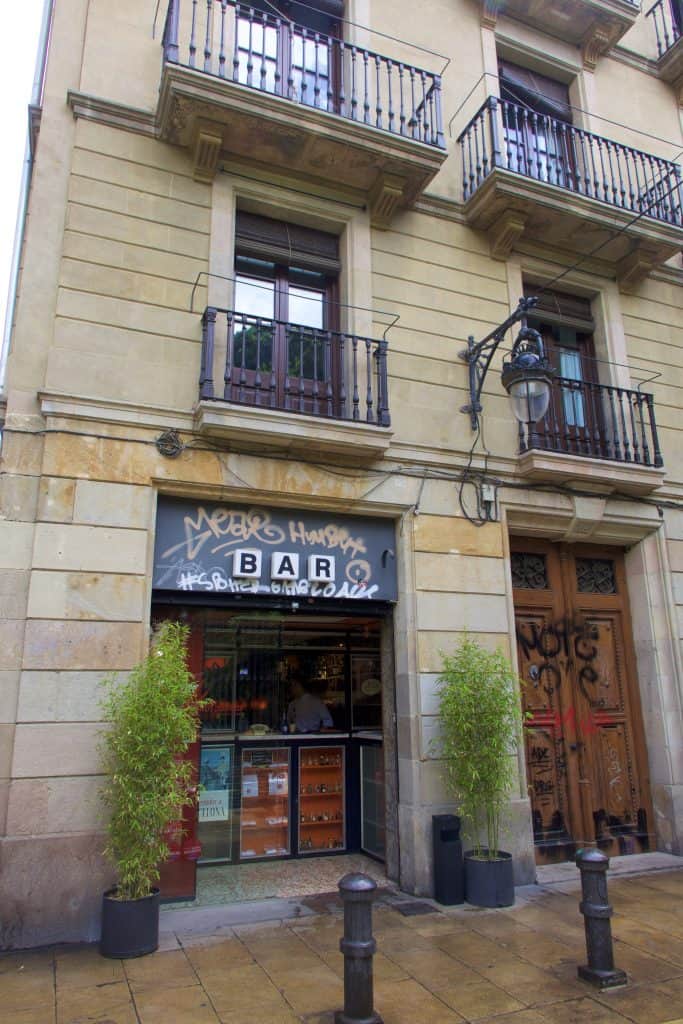 It offers tapas – but with an Asian twist – and you know how much I love Asian food! I arrived about ten minutes before it opened, hung around in a bit of drizzle, and then took my place at the bar.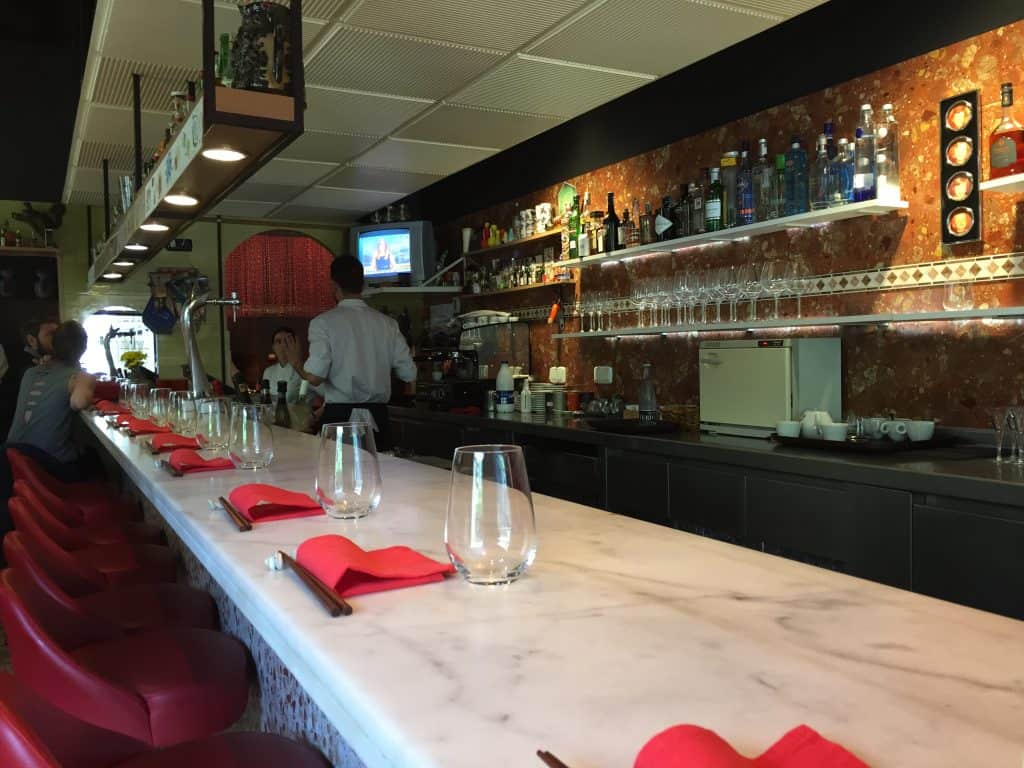 Thankfully they had a menu in English. I asked the waiter how many dishes he'd recommend, and he suggested four or five. The menu sounded so amazing it was pretty hard to pick just five dishes. In the end I plumped for "naresushi of sea bass" which was delicious, it had a sake flavour to it. Next fresh anchovy tempura with japanese plum sauce. It was sour plum – or umeboshi, which I love anyway, but these were absolutely amazing.
They literally melted in my mouth. The batter was really light and the fish just tasted WOW – there's no other word to describe it really. After that, I had steamed dumplings with fresh prawns and iberian pork belly, then two beautiful dishes – "nippon burger" and the restaurant's take on Peking duck.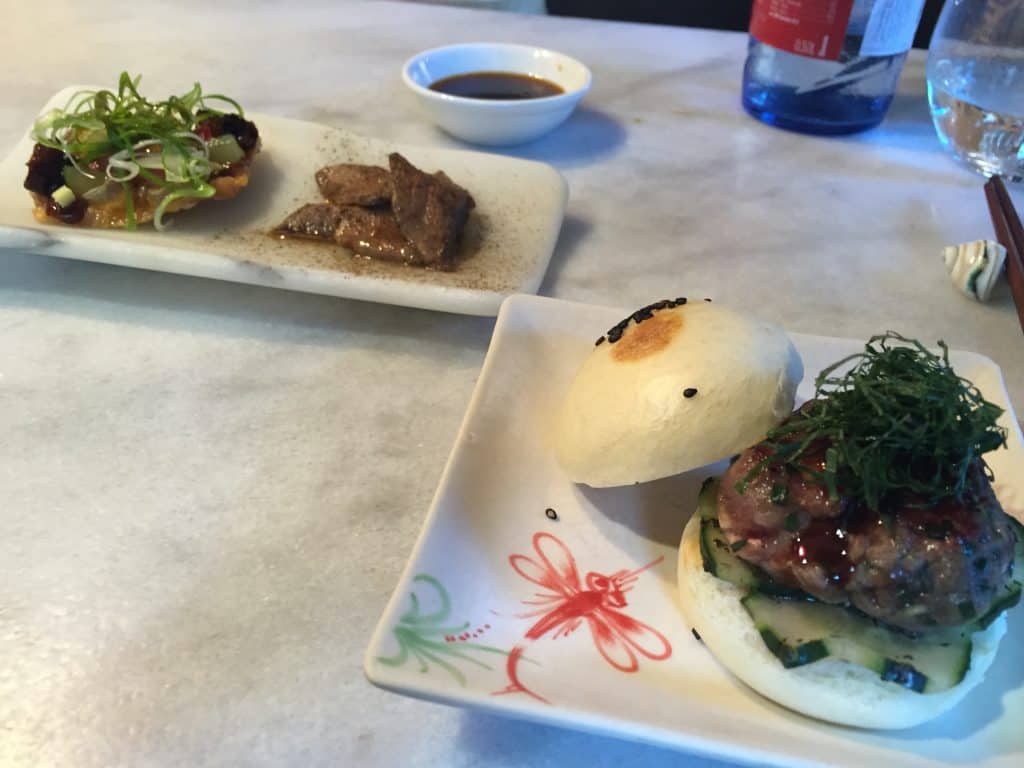 The pictures really don't do it justice. While the Peking duck looked nothing like how Peking duck usually looks, it tasted like the dish we all know well, but taken to another level. And the burger was beautiful too.
All in all, I wasn't disappointed. The bill came to about €43 – or roughly £34 at the time of writing. I only had water to drink, so yes, it was an expensive lunch, but I'd really recommend it. Apparently at the bar they also do a set menu for lunch – for about €22, but I was glad I went with the a la carte option so I could choose from a bigger variety of dishes.
Fully fed, I wandered through the Bohemian feeling El Raval district…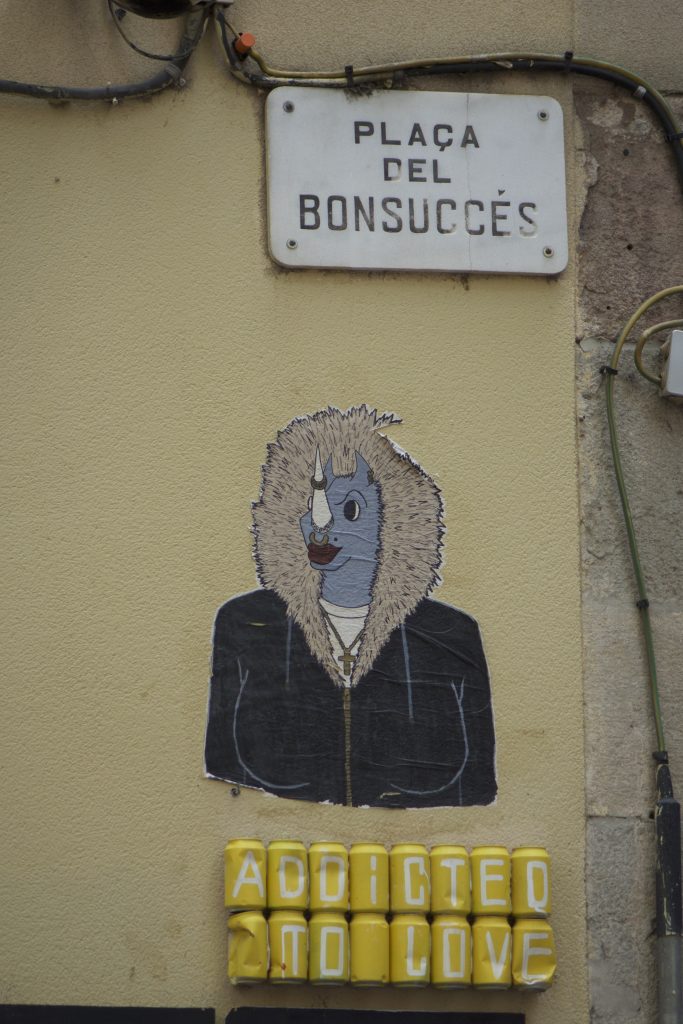 …and up the main tourist drag La Rambla, to Plaça de Catalunya. By this time the sun was coming in and out, and the rain was on and off.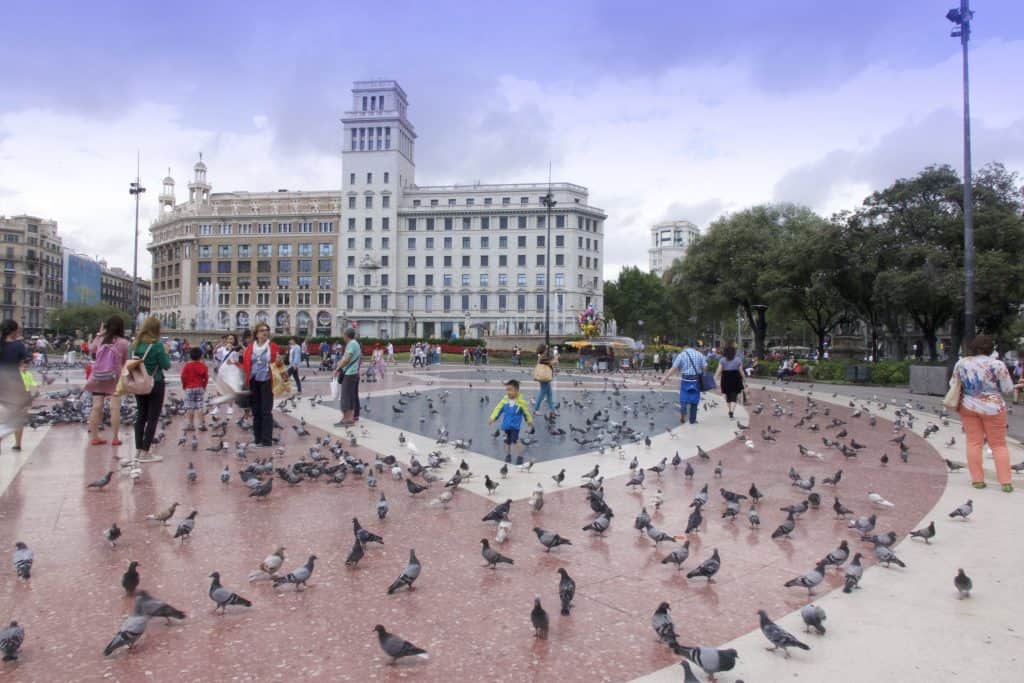 I'd bought a tripod to try taking some hyperlapses while I was in Spain, so spent about twenty minutes doing that in the square before the rain came on. Not wanting to wander around getting wet (I'd left my umbrella back at the hotel, optimistically), I headed into the city's main Tourist Information Office. Ever since I was in Copenhagen last year I've realised how useful they can be. I spoke to a really friendly guy and ran through a list of what I wanted to see, and he gave me some great tips, and helped me work out when to see what. The rain was still on outside, so I decided to head inside to some shops. First was El Corte Inglés – Spain's major department store chain.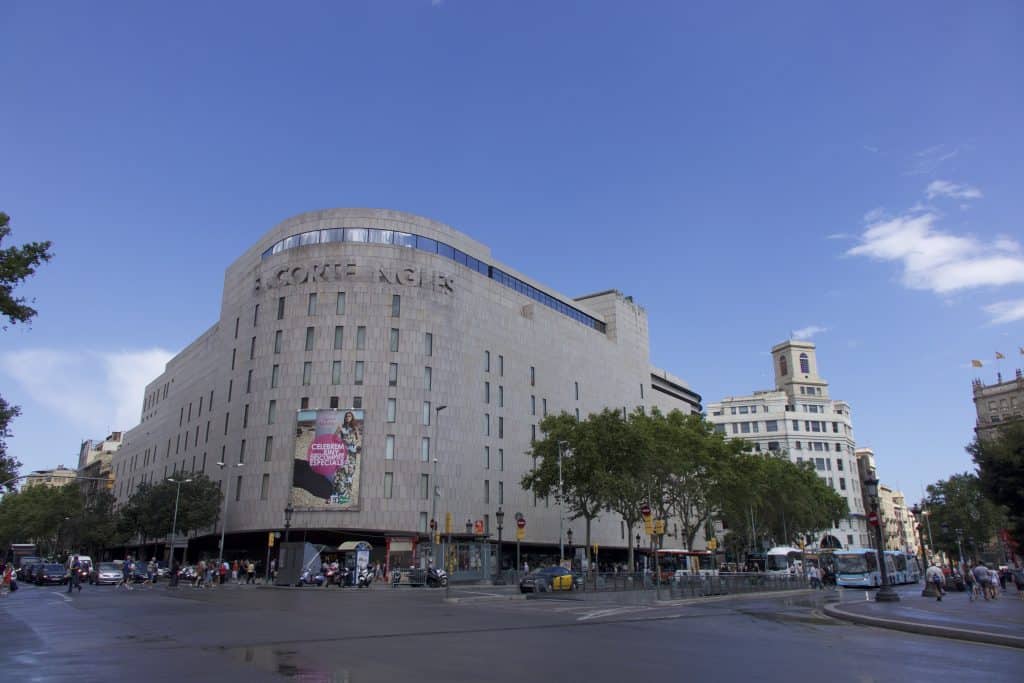 It was alright really – kind of like a big Debenhams. After that I headed for a quick scoot around the Apple Store, before heading to fnac. It's a French music chain, but a bit more than that once you step inside really – it sells cooking stuff, electronics, books, t-shirts, concert tickets, loads of stuff really. It's a neat shop, and I wish we had them in the UK.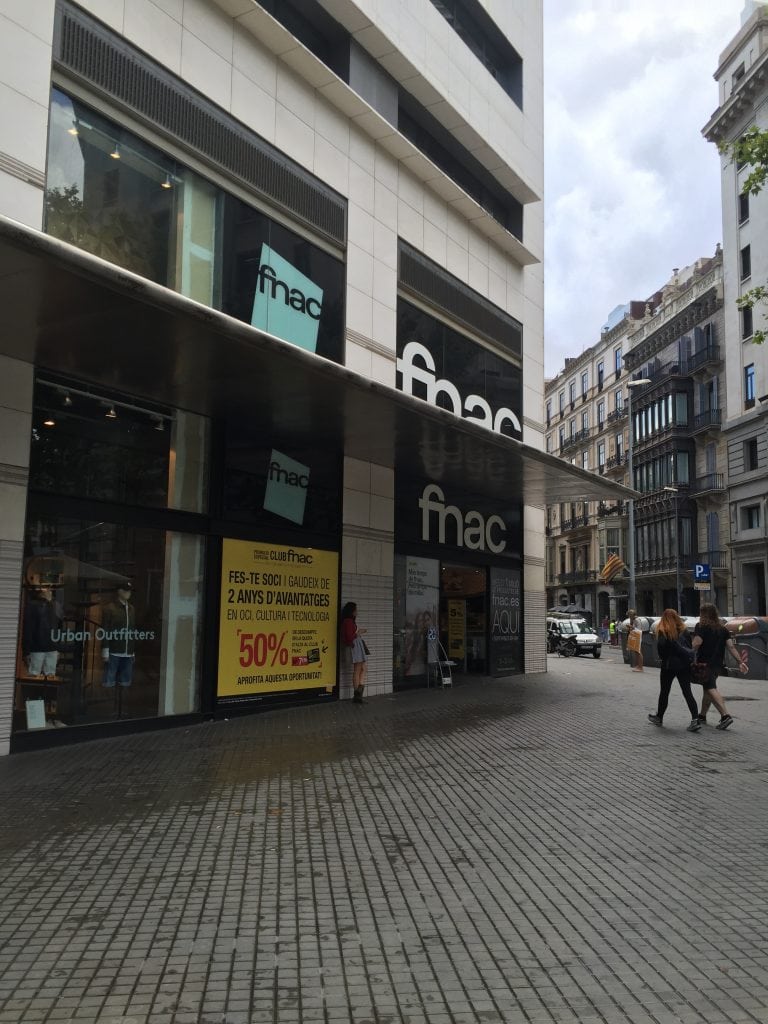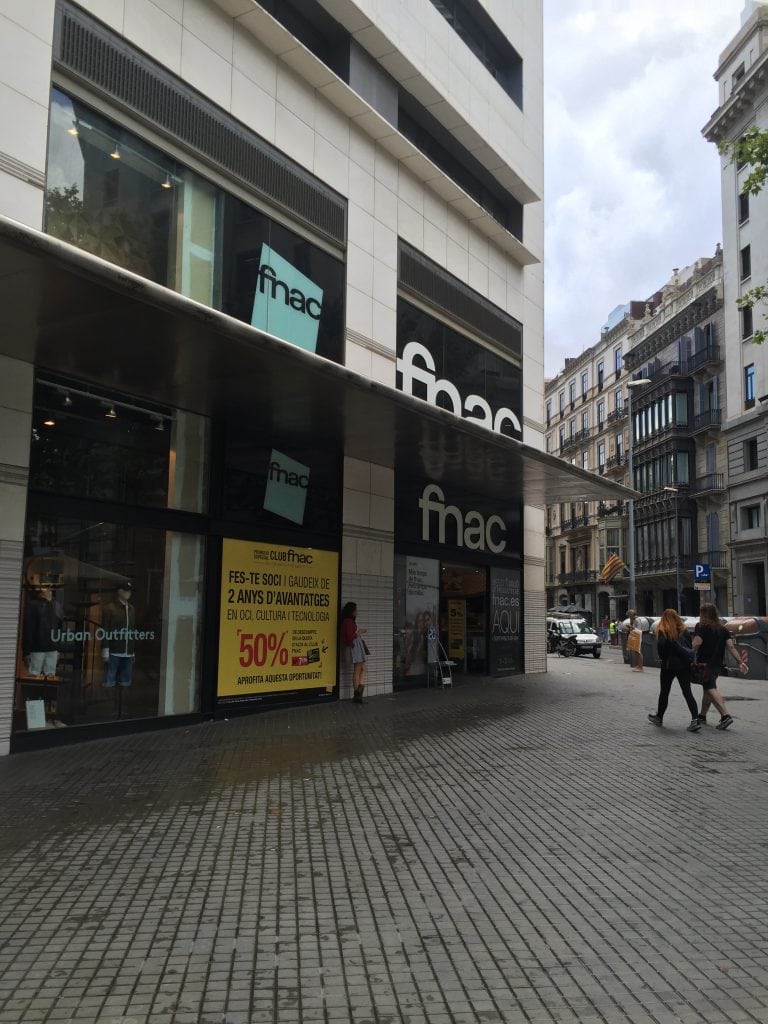 The rain was off, so I grabbed a mocha (making sure I asked for it with low fat milk, which I realised had been kind of pointless when it arrived).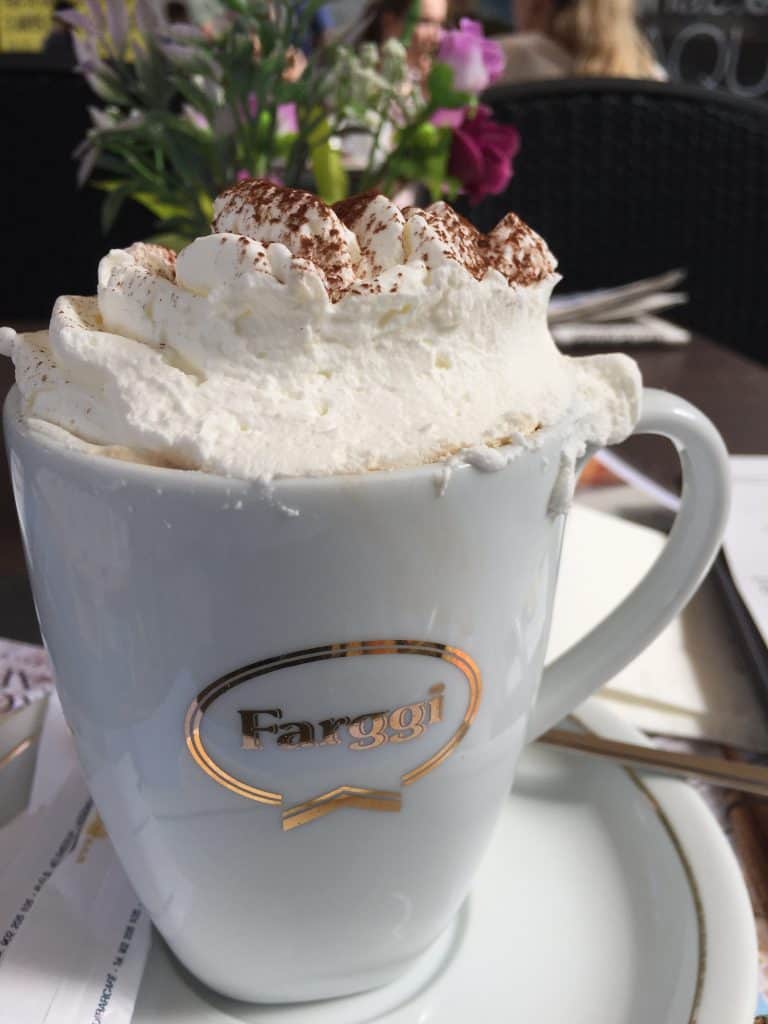 It was like 50% whipped cream with a half cup of coffee. I flicked through my guidebook and set off for a wander up Passeig de Gràcia – Barcelona's fancier shopping street, where you'll find Louis Vuitton and the likes.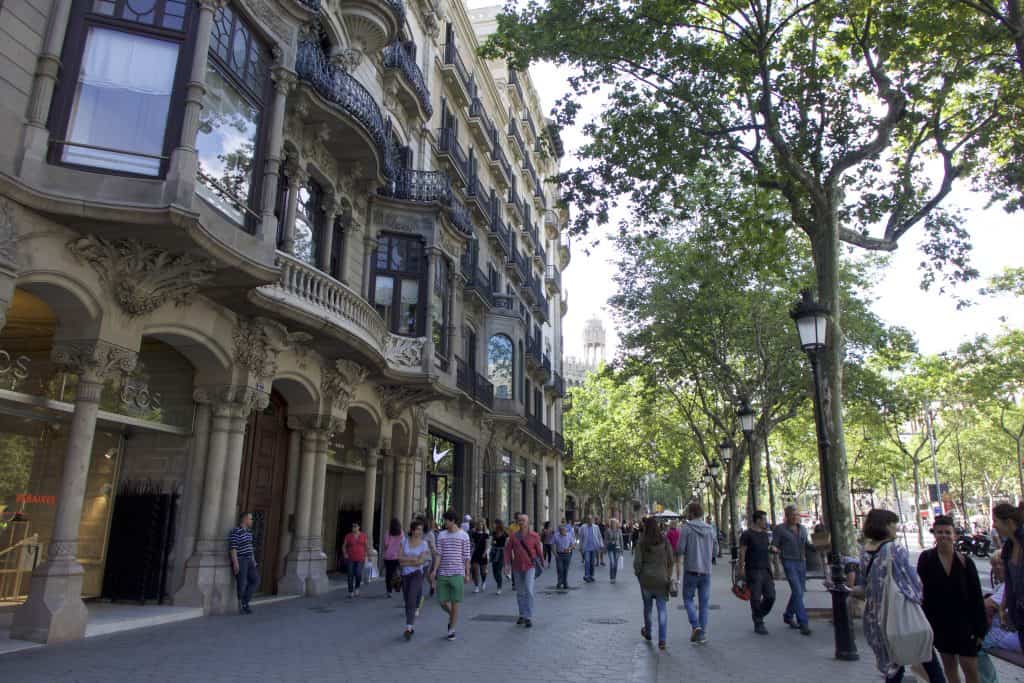 I'm in desperate need of some new jeans, so wandered into a couple of shops, but couldn't see any I liked. I decided to check out a 'cool and quirky' shopping street I'd read about in one of my guidebooks – Career de Verdi. It was about a twenty minute walk away, which was pleasant enough now the sun was out again. En route, I spotted my first Gaudí building, Casa Batlló…
…and the city's inhabitants going about their daily routines.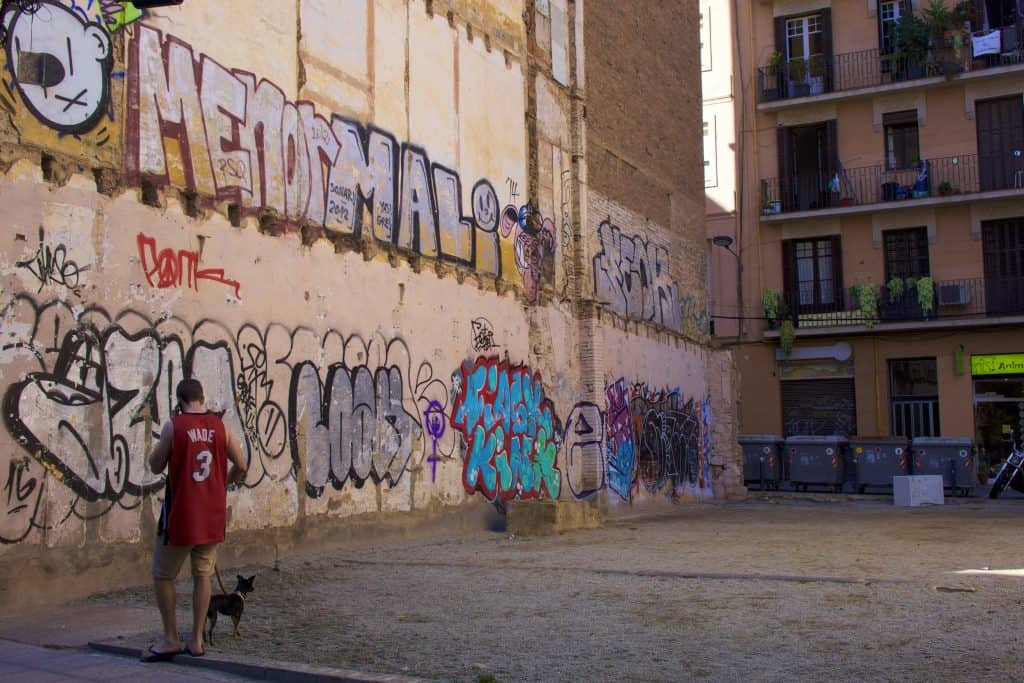 After what seemed like a very long walk, I arrived at the 'quirky' shopping street. It was full of cool off licences, grocery shops, hairdressers and women's clothes shops, but there wasn't really anything there for me, so it was a bit of a wasted walk!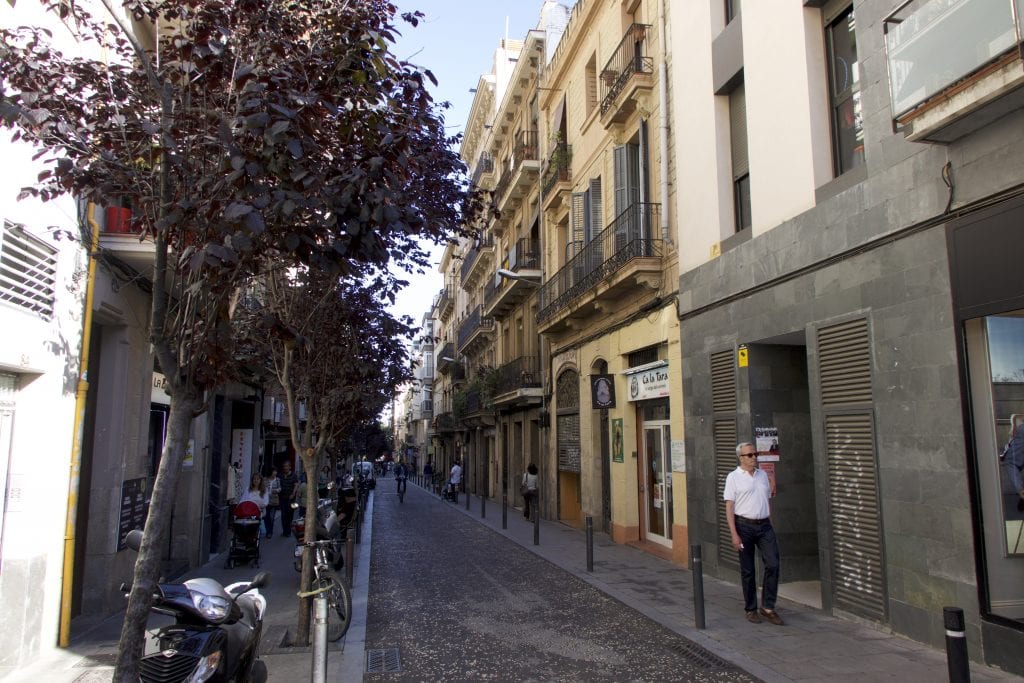 Meh.
By now it was about 7pm, and I had one touristy place I wanted to check off my list, so I headed to Casa Milà.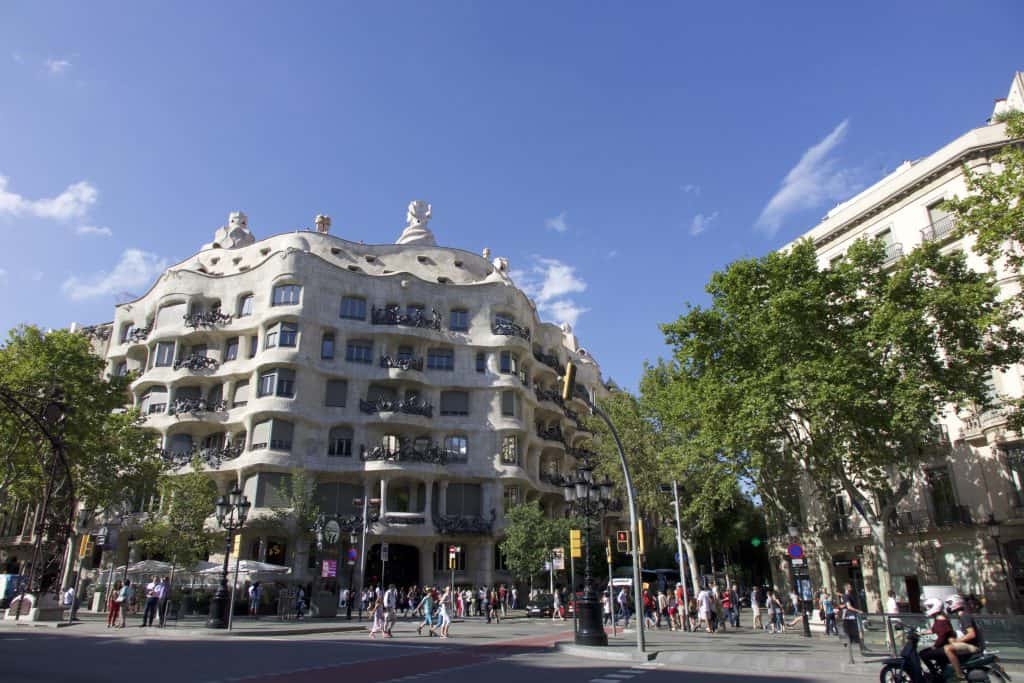 It's another Gaudí building, built between 1906 and 1912 for a rich couple who rented out some of the space in the finished building to businesses and individuals. I paid my entry fee, and wandered in to the central courtyard.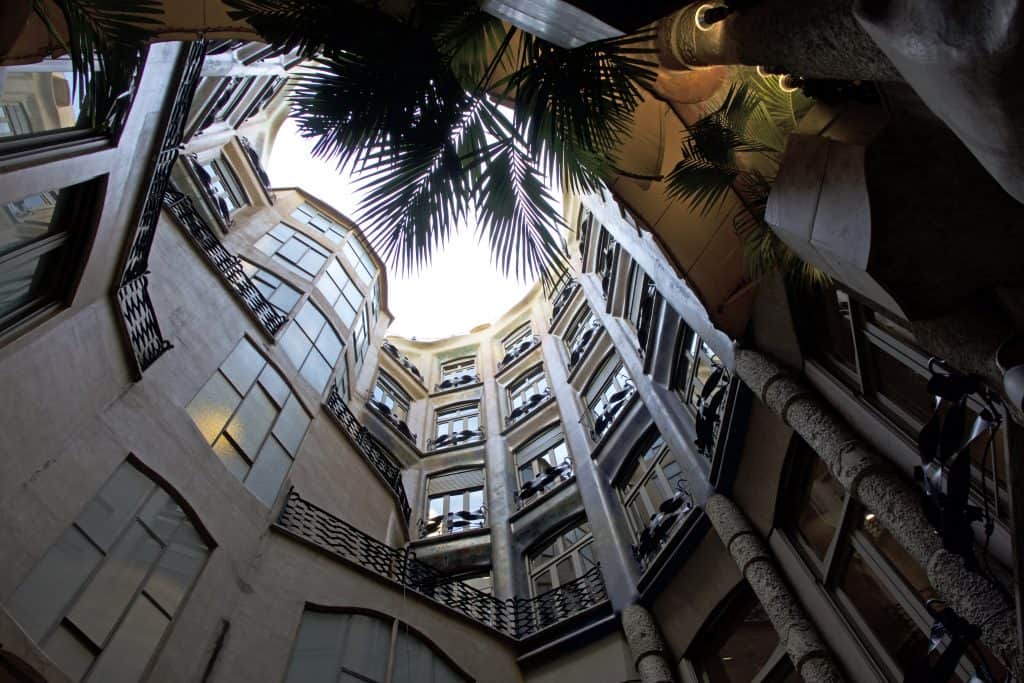 An audio guide was included as part of the ticket price, but I soon found that if you listened to it, it took you a LOT longer than it would take you to wander round the place at your own pace. I did kind of keep listening to it though. Getting in the elevator, we were whisked up to the rooftop, which was just amazing.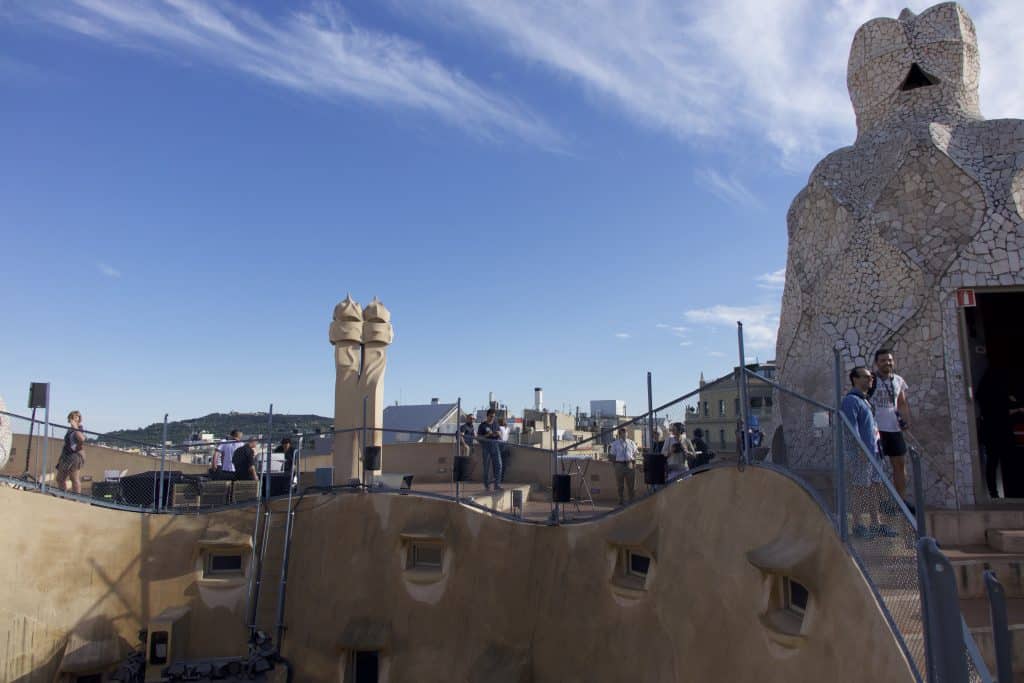 All the safety railings kind of took away from the way it was probably meant to look, but the large, undulating space with twisted decorated chimneys and towers was really cool.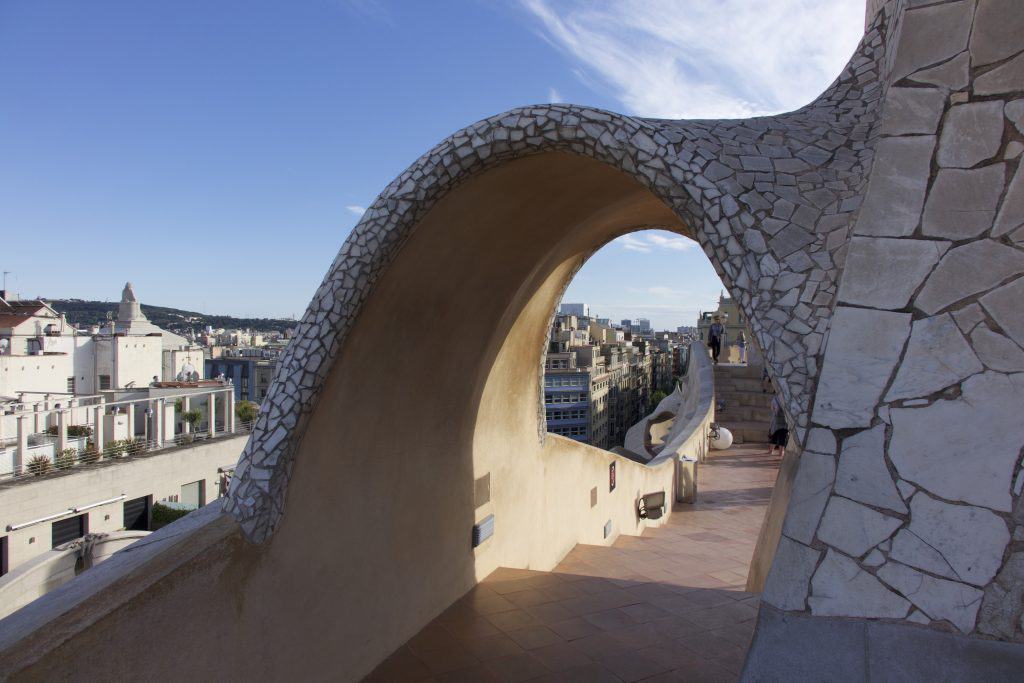 And the views were great too…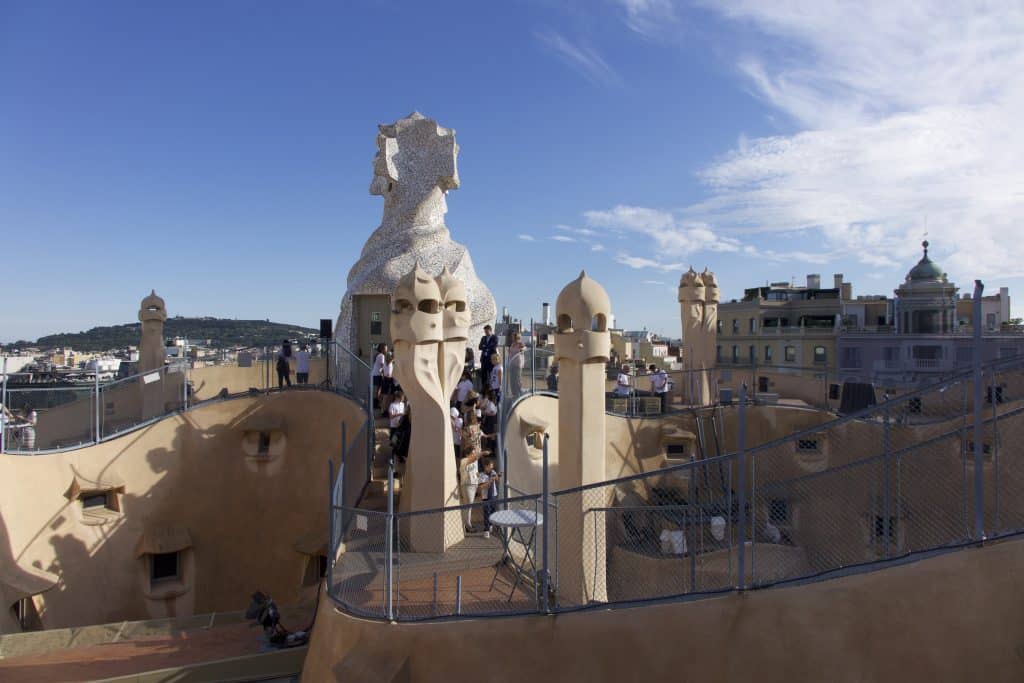 I spent a good thirty minutes just wandering around and taking it all in! And listening to that audio guide 😉
Then I headed down in to an exhibition space. What really surprised me was that the inside of that part of the building looked nothing like what you'd think. It was full of brick arches.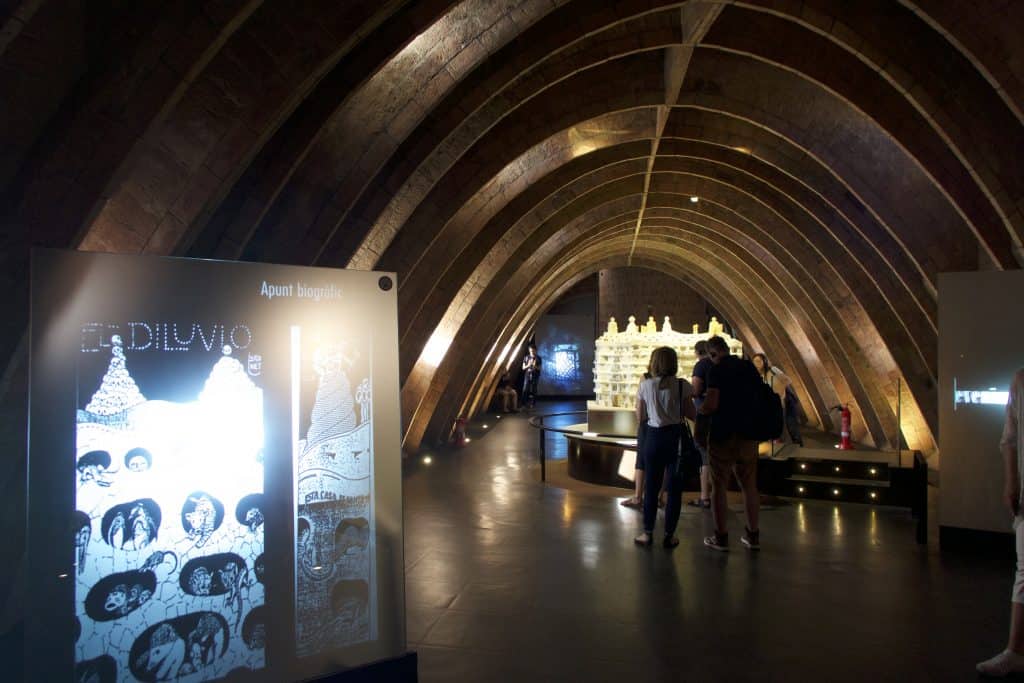 Models of the building let you see just how amazing and intricate the building's design was. I'm looking forward to seeing more of the architect's work on Sunday.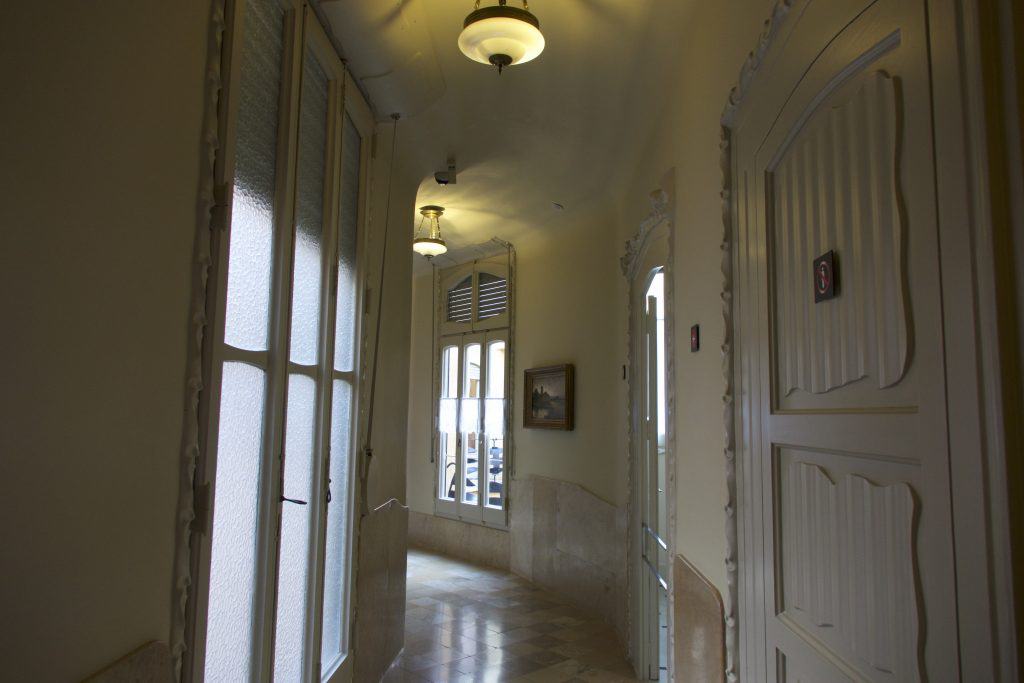 After looking at all the exhibits on that floor, I headed down to explore what one of the apartments would have looked like back in the day. And they were large, and spacious – just what I'm looking for! People do still live in the building, which I think would be an amazing place to call home.
By now my early start, and the effect of having walked 12 miles was beginning to take its toll, and I was feeling very, very tired. So were my legs. So after my splurge lunch, I grabbed a sandwich in Carrefour, and headed back to the hotel.
On the 11th floor, there's a rooftop terrace and bar, so as it was still sunny, I headed up for a little glass of vino. The 360 degree views of the city are definitely one plus of staying here.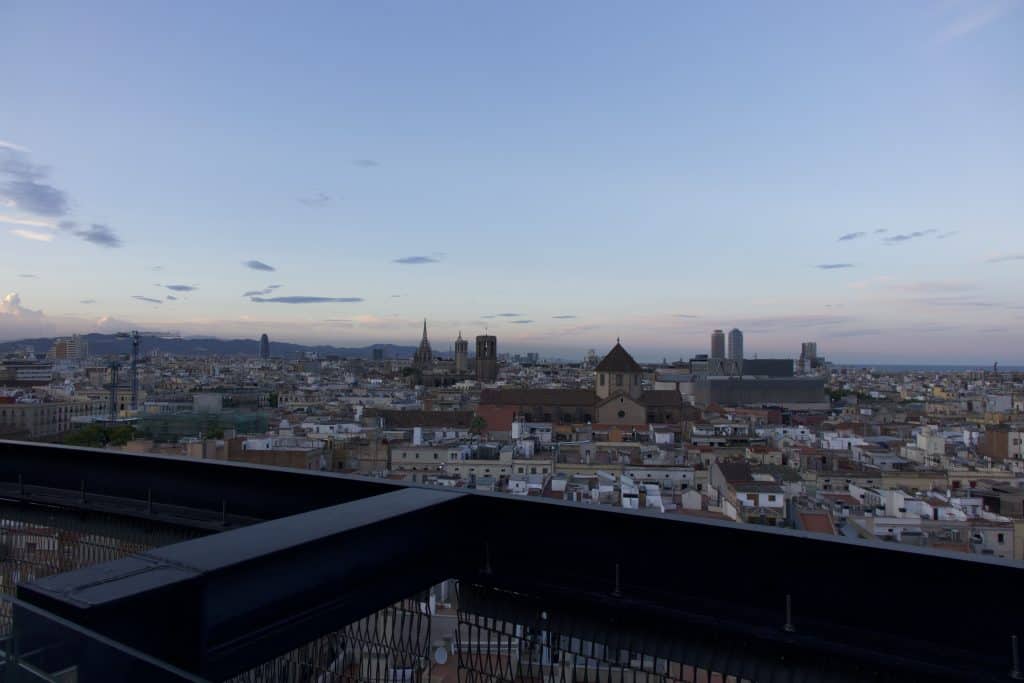 Suitably relaxed after my wine, I headed to bed.