After a restful night's sleep in Vik, I headed down for a spot of breakfast – I wasn't going to get a chance to eat until about 3.30pm so I wanted to make sure I had some fuel in my body for what lay ahead!
Breakfast was a kind of typically Scandinavian affair – bread, yoghurt, ham, eggs, fruit, cereal and so on. There was also baked beans and omelette – but every time I went to get a bit of omelette there was none left! Boo! There was also a station where you could make your own waffles, but it looked a bit complicated, so I didn't bother.
In reception they were selling little bottles of this…
I decided against a purchase, packed up and checked out. Stepping outside, I could see much more of my surroundings than the night before, when visibility had been really low. There was not a lot to see at all – Vik really is a tiny town.
Across the road from the hotel I could see the town's black beach – which I wanted to go and explore, but I didn't have enough time, and also it was really, really windy and cold, so I didn't fancy it for that reason either! The man at AVIS had told me that most damage to car rentals is done to car doors when people open them in strong winds. So following on from his advice, every time I park up, I open the window, stick my hand out and check which way the wind's blowing and how strong it is. So far, no damage done!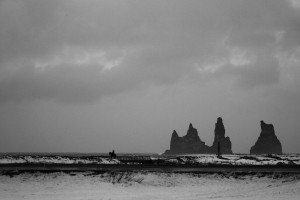 After sitting outside the local supermarket for ten minutes before realising it wouldn't open for another hour as it was a Saturday, I popped into the petrol station and picked up a sandwich and bag of crisps for later, then popped into a local clothing and souvenir shop and picked up a hat. I hate wearing hats, but I had a feeling I was going to need one, as I'd be outside for most of the day. Then it was back in the car for the half hour drive to Sólheimajökull.
I turned off the main Route 1 after about twenty five minutes, and then on to a gravel path. At this point, I was a bit worried – there were no other cars in sight, and Google Maps was telling me I was heading away from where I was meant to be going. That was despite me entering the GPS co-ordinates. I decided just to keep going, and eventually arrived at a small car park. The sign of a cafe – the only building for miles, showed I'd reached my destination.
I was going glacier walking on Sólheimajökull, through a tour I'd booked with a company called Artic Adventures. After wandering around the car park, I eventually found the tour (they run a pick up service from Reykjavik, so some of the rest of the group had arrived by bus). Then we got kitted up.
I don't own any outdoor hiking type stuff at all, so I'd rented boots and a waterproof jacket and trousers. Then we were given an ice pick type thing, crampons, helmets and a harness.  We were split into groups – two of fifteen people, and my one – which was a smaller group of just eight. Then, we set off on the fifteen minute walk to reach the glacier.
Passing this sign along the way…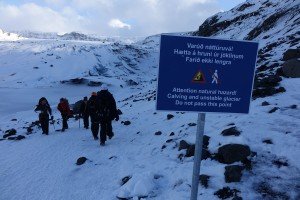 Then we reached the glacier – which was pretty busy with other groups, including one of about fifty school kids.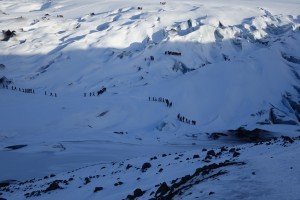 It does look a bit like just a snowy hill, but underneath that snow is just pure ice, mixed in with some volcanic ash. We'd see proof of that later on. Our guide, Biggi, then gave us a safety briefing. We basically had to always stay in single file, and if he drew an 'X' in the ground with his stick, it meant we weren't to walk anywhere near that, as there was likely a hole there under the snow, with a potentially lethal drop. And then we were off!
The whole walk would take about two and a half hours. Some bits were easier than others, but I soon found (as did other people in the group so it wasn't just me!) that walking up what is basically a mountain in deep snow is a) not easy and b) pretty tiring! We kind of stopped every fifteen minutes or so, and were told a bit more about the glacier. Apparently, in 1997, it would have reached as far as the car park we'd just come from – but now, it was in retreat.
Once again, the scenery was just amazing. But I was glad I was wearing six layers of clothes – and that I'd purchased a hat. It was very cold, and in places an icy wind was whipping around us. But I never actually felt too cold.
Pretty quickly we were away from any other groups, as we were led through cool mini caves of ice.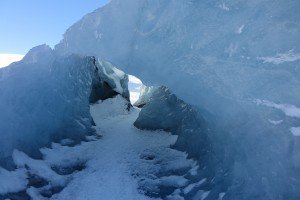 Every time we'd done a twenty minute walk upwards, I was like 'ok – surely we won't be going any further uphill' – my legs were beginning to feel pretty tired, but nope, we kept going up!
I really don't have enough adjectives to describe the view – it was just breath-taking.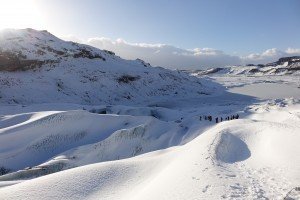 Eventually, we began our descent, but we weren't done yet! Our harnesses had been provided to allow us to try a spot of ice climbing. We took a short break while Biggi attached some ropes to the top of a bit of the glacier, and then we took turns having a go. Basically this involved using ice axes to get a grip in the ice. Then you'd use the metal spikes on your crampons to secure your feet, pull yourself up, and repeat.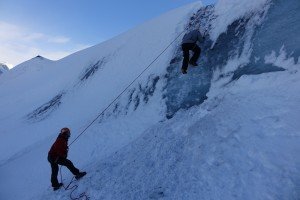 Now, that's not a massive piece of ice to climb up – I do appreciate that! But I did think it probably was a lot harder than it looked, and wondered if I'd actually be able to do it. It was easier than I thought though – so I did make it to the top. Then, we headed back down the glacier, stopping to take photos along the way.
All in all, we'd been on the glacier for about three hours, but it didn't feel nearly as long as that. I was in a nice group, and it was a pretty incredible experience. I'd definitely recommend it if you're ever in Iceland. It's just kind of cool to say you've walked on a glacier!
After saying bye to the group, and handing back all my gear, it was time to hit the road again. I was headed back to Reykjavik, which would be my base for the next four days or so. I managed to keep up a pretty constant 90 kmph on the way back. Some bits of the road were definitely worse than others – covered in snow, a couple of bits a bit slippy, but nothing too dangerous, and I only really felt the car slide a bit once, when thankfully I wasn't going very fast.
The sky was an array of blues and pinks – just gorgeous, so the two hour drive was pretty pleasant – with the radio tuned into a local music station, the time went pretty quickly.
When I looked at booking accommodation in Reykjavik about five weeks ago – I was pretty stunned to see the only options left were either a room in a hotel at £30 a night, or one at £250 a night, with nothing really in between. To make sure I got someplace sorted, I booked a single bed room in a hotel – but at about £175 a night it felt a bit like a rip off. So, I decided to check out Airbnb, not having used it before. And I think I got lucky – thankfully there were plenty of options, so I picked one that seemed pretty central, and cancelled my hotel booking.
I met the husband of one of the owners at about 6.20, and he showed me around. It's a great space, with a washing machine, kitchen, amazing shower and super fast wifi, and an underground parking space for my hire car.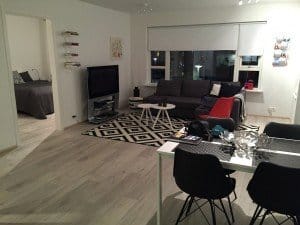 And it's costing me a lot less than £175 a night, so I think it was the right move! I headed out for a bit of a wander round the block just to get my bearings, and then back at base, ordered a pizza for delivery. I just couldn't be bothered going out to eat, and was feeling pretty knackered by this point! Tomorrow, I was planning on having a bit of a lie in.